Rent a Party Bus for your Bachelor or Bachelorette Party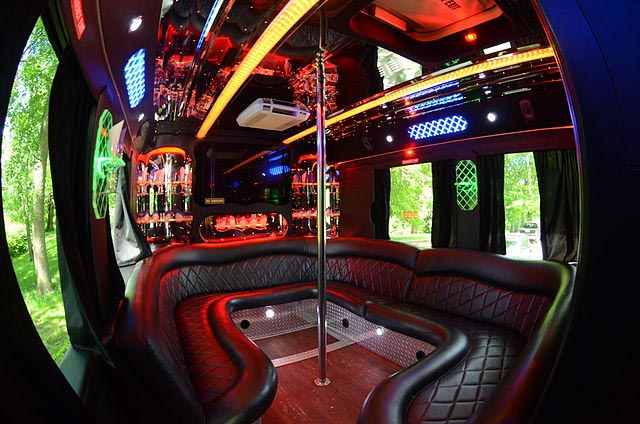 This post may contains references to products from one or more of our advertisers. We may receive compensation when you click on links to those products or services.
If you decided that a destination vacation is not in the cards, you definitely need to come up with an amazing local bachelor or bachelorette party alternative (especially if you want your friends to show up and chip in for the costs). Since you are deciding to stay within your metropolitan area, a great option would be to book a party bus for your bachelor or bachelorette party as described below.   
What is a Party Bus?
To make sure this is something you want to do for your special occasion, you should know the true definition of a party bus, which underscores its difference from a conventional limousine. In brief, like limousines, party buses are also operated by experienced, sober drivers (hopefully) with proper licensing, but party buses can hold anywhere from 10-40 people depending on your party size and budget (the owner of Zappos even has a party bus that seats 60!). Party buses also differ from even the best stretch limousines because you and your friends can stand up and walk around freely when driving conditions permit or you're parked.
Although party buses are being specially manufactured for this purpose, not all party buses started out that way. We have seen old school buses converted into party buses, as well as retired Greyhound buses. Although the inventor of the original party bus has been lost to history, perhaps the archetypical school bus turned party bus is best exemplified by Ken Kesey (author of One Flew Over the Cuckoo's Nest) and his zany band of Merry Pranksters' psychedelic party bus chronicled in Tom Wolfe's The Electric Kool-Aid Acid Test. One version of the Merry Prankster's party bus even featured a Plexiglas dome on the top for sightseeing. 
Although configurations differ and you probably won't find many Plexiglas domes available, most party buses do offer many of the same features. Within the actual bus itself is something more spacious and magical than what you were used to on your ride to high school. Instead of rows of seats, there is usually long leather comfortable couch interior-facing seating on both sides of the bus. Many party bus companies offer plus leather seating. The floor is typically laminated so that spilled alcohol (and vomit) can easily be mopped up. The middle of the bus will usually have a stripper pole (or two) for the imaginary or real-life exotic dancers, depending on the package you select. Most party buses also have a state-of-the-art sound system, disco, strobe and/or neon lights, a cooler to keep drinks cold and hold ice, restrooms, and in some cases, even a retractable moon roof (but no dome). In rare instances, we have seen these buses come equipped with fully stocked bars and a Jacuzzi as well. In fact, even the Barbie line of dolls features a "Barbie Hot Tub Party Bus."
Basically, the point of a party bus adventure is to take you and your friends to and from a location in a safe and comfortable manner, while you and your friends drink, smoke, snort, or whatever makes you happy while in transit. Many people decide to book party buses to take them on a bar crawl, to go clubbing, to sightsee or just to drive around aimlessly for 4 or more hours. After all, where else can you "drink and drive" and party legally? Alternatively, many American cities have a number of interesting historic and cultural attractions that can be enjoyed even more from the comfort of a party bus complete with all of the amenities. After spending a great deal of time as teens driving around with a can of beer held just below the car window, this freedom to legally imbibe and sightsee at the same time can be a truly exhilarating and releasing experience. Even traffic jams can be a blast when you have a party on wheels!
It should be pointed out that this is a perfect idea if you are traveling long distances, but if you are just going to a club 10 minutes away from your starting point, it would not make sense to entertain this option. In addition, it should be pointed out that some party bus operators do not comply with all required regulations and safety inspections and standards, so be sure to do your due diligence before booking a party bus for your bachelor or bachelorette party. Otherwise, if an accident occurs, the attorneys might be looking at you.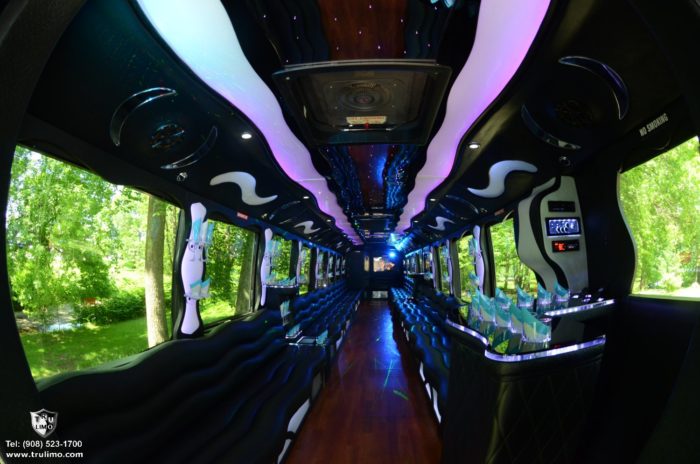 Party Bus Rentals
If you decided that booking a party bus is a great option for your group, the next step would be renting one. Since most of these buses are privately owned, the prices will differ from each company and each destination. Prices can start anywhere from $400 per hour up to $2000 per hour; the current average for hiring a party bus in the U.S. is $605. The rates are determined based on the following variables:
Type of Bus (newer buses with more amenities will naturally cost more);
Size of Bus (the more seating available, the more expensive);
Amount of Time (party buses are booked on an hourly basis, so the longer the rental time, the more expensive it will be)
Location and Date (specific cities will be more expensive, so will holiday weekends, peak times such as 5 p.m. on weekdays and Saturdays when 80% of party bus business takes place, etc.)
Most party bus companies offer bachelor and bachelorette party packages beginning in minimum 4-hour increments. This means that even if you and your friends only use the party bus or a couple of hours, you'll still be charged the full price so plan on spending the full amount of time purchased in order to get your money's worth. In contrast to taxicab companies, the price charged by party bus companies also typically includes bus preparation and cleaning prior to and after your party and the driving time required to pick you and your friends up and return you to a destination of your choice.
Chicago
If you are located in the Windy City and looking to rent a party bus, we recommend Chitown Party Buses.  If you have 30 friends or just want to ball out a bit, book their Triple-D bus, which is literally a nightclub on wheels. You can contact Chitown Party Buses at 630-930-4316 or through their Web site for more information or to make reservations.
Another reputable party bus rental company in Chicago is VIP Limousine, Inc. which offers party buses that will seat up to 40 people. This company even features modified Humvees with double axles with a capacity of 24 passengers. All party buses come complete with large bars and some even feature plasma screen televisions. Call VIP Limousine toll-free at 800-611-2502 or contact them through their Web site for additional information or reservations.
Atlanta
If you are in Atlanta and planning on a local bachelor party, we recommend Top Shelf Party Buses, as they have over 22 different options for rentals, ranging from 10 people to 50 people.  Their hourly rates range from $400 to $1300 depending on the bus you select and the amount of time desired. They can be reached at 770-640-6008 or through their Web site.
Likewise, the aptly named Atlanta Party Bus company offers 16-, 20- and 40-passenger party buses that are complete with all of the amenities typically featured in upscale party buses. Moreover, Atlanta Party Bus will take you and your friends to a destination of your choice outside Atlanta and the surrounding suburbs if you prefer. Atlanta Party Bus can be reached at 678-818-9700 24/7.
New Jersey
If you are located in the Garden State and are looking for a place to rent a party bus, choose Platinum Coach Transportation.  You can call their toll-free number at 1-800-797-7953 and get an immediate quote over the phone.  They have plenty of options available, so it will be easy for your group to pick the best one to accommodate your needs.
Likewise, All Inclusive Limo offers a 14-passenger Mercedes Sprinter party bus, as well as 26- and 38-passenger buses. As their name implies, their party bus packages are all-inclusive . You can contact them toll-free at (866) 707-5466 for an immediate quote based on the number of passengers and party bus style.
Houston
If you are in Houston looking to rent a party bus, check out Colony Limo as they have a ton of inventory.  If you really want to get crazy, find out how much it would be to book a party bus from Houston to New Orleans, and party on Bourbon Street for your bachelor or bachelorette party. Call Colony Limo at 281-265-5466 or contact them through their Web site.
In addition, Houston Party Buses (713-952-2221) specializes in bachelor and bachelorette parties and has a fleet of party buses that seat 18, 20, 22, 24, 30 and 48 passengers so they'll be sure to have the right vehicle for your party. This company's party buses feature granite top bars, surround sound stereo, mind-blowing light shows, flat screen televisions and luxurious leather couch seating.  
San Diego
This company claims to have originated the party bus concept (including a dance pole) in 1987 with a single converted used airport shuttle bus. Since that time, San Diego Limobuses (619-225-8466) has grown to become one of the leading party bus rental companies in San Diego today. Besides local Temecula wine tours, this company also offers trips to local world-class casinos such as Harrah's, Pala and Pechango. They will also take you and your friends for a trip through the Santa Rosa Plateau Ecological Reserve as well as other sites of interest.
Established in 2012 Starlite Transportation provides party bus rentals for the San Diego area including a 14-passenger Mercedes Sprinter. This party bus company is a member of the National Limousine Association, Chauffeur Training Certification Program, the San Diego Chamber Of Commerce and has an A+ BBB rating, You can request an immediate quote through their Web site or by calling 619-734-9485.
Detroit
Party Bus Detroit has a large fleet of party buses, ranging from 14-passenger to the largest 40-passenger buses, with everything in between. Specializing in bachelor and bachelorette parties and featuring all-inclusive pricing, Party Bus Detroit offers wine tours, trips to professional sporting events and bar crawls specifically for bachelor and bachelorette parties. Party Bus Detroit can be reached at 248-630-5605 for more information and an immediate quote.
Another source in Detroit for your party bus needs is Detroit Party Coach. Also specializing in bachelor and bachelorette parties, Detroit Party Couch provides round-the-clock services and features licensed, friendly, professional chauffeurs and party buses with all the amenities you expect. In addition, Detroit Party Coach has a great reputation and has provided party bus services to major celebrities and sports stars. This company can be reached toll-free at 800-908-1405.
Miami
Despite their name Miami Limo features 20-, 24-, 30-, 34- and 40-passenger party buses complete with neon and LED lights, state-of-the-art sound systems, tinted windows, full-size bar with ice bins, champagne flutes and glasses, a flat screen television, and an iPod connector. Miami Limo encourages early reservations and does not require a deposit. You can reach Miami Limo toll-free at 888-595-4662 or you can make reservations online.
Providing services to Miami and Fort Lauderdale, I Love Miami Limos offers 24- and 40- and even 50-passenger party buses  All of I Love Miami Limo's party buses come complete with all of the lights, sounds and creature comforts you and your friends expect and the firm specializes in bachelor and bachelorette parties so they know what you want. You can contact I Love Miami Limos at 305-697-5942 or through their Web site.
Dallas/ Fort Worth
Dallas Limo offers 18-, 21-, 22-, and 29-passenger party buses, and its rates are among the lowest in the Dallas/Fort Worth metropolitan area at just $90 per hour (4-hour minimum) Sundays through Friday and $100 per hour (4-hour minimum) on Saturdays and it specializes in bachelor and bachelorette parties. All party buses from Dallas Limo feature plush leather wrap around seating, light displays, a flat screen television and dance pole. In addition, the party buses come complete with cup holders, soft drinks, water, ice and coolers as well as iPhone/iPod connectivity. For reservations or more information, call 214-646-4287 or contact them by email through their Web site.
Another great party bus company serving the Dallas/Fort Worth area is Executive Transportation offering 28- and 40-passenger buses that come complete with experience, professional drivers, a full- service bar and a surround sound speaker system. You can make reservations for your party bus from Executive Transportation by calling 469-777-0065 or through their Web site's reservation page.
Oklahoma City
Home of the NBA's "Thunder," there are several party bus companies in Oklahoma City, including Royal Limos OKC,  which offers a spectacular 40-passenger party bus that features two dance poles and four high-definition televisions, an awesome sound system, disco lights, and a complete bar as well as other amenities. This company is also veteran owned and operated and enjoys a solid reputation for providing the best bachelor and bachelorette parties in the city. For more information or reservations, you can contact Royal Limos OKC at 405-973-4331 or through their Web site.
As its name implies, OKC Party Bus specializes in helping people have a good time, and its fleet of 28-32 passenger brightly colored and tricked-out party buses including "The Green Goblin" (with color-changing acrylics throughout), "The Cherry Bomb," "The Blue Magic" and "The Hot Rod" will make any bachelor or bachelorette party a special occasion to be remembered. You can check out a virtual tour of the interiors of these vehicles – and be sure to turn your sound up! Contact OKC Party Bus by calling 405-447-2446 or through their Web site.

San Antonio
A-List Party Bus has 16-, 22- and 40-passenger party buses available that will take you and your friends on a wine tour of Fredericksburg or to see the Tower of Americas, the River walk, The Alamo, and Spurs games at the Alamodome as well as all the best clubs so you can enjoy the city's nightlife. These party buses come complete with all of the popular amenities, including a dance pole, flat screen television, night club lights, a state-of-the-art sound system and built-in coolers. For quotes or reservations, call (210) 765-0697 for reservations or (210) 740-5294 for current specials.
Likewise, Lone Star Party Buses specializes in bachelor and bachelorette parties and has a fleet of 30- and 50-passenger party buses that will provide you and your friends with surround-sound stereo, built-in trash bins, limo-style inward facing seating, multiple party lights, and dance poles. Lone Star Party Buses is also veteran owned and operated. Contact Lone Star Party Buses at 512-665-6166 or through their Web site for more information or reservations.
This list of party bus rentals options from around the country is certainly not exhaustive, but it should give you a good idea about what options are available. There are some other things you should also take into account when planning a bachelor or bachelorette party, including what to bring to eat, drink, listen to and watch as discussed below.
New Orleans
Looking for a party bus in New Orleans?  We like AM Party Bus.  This party bus service, which operates in New Orleans and Baton Rouge, is a great way to get you and your drunk friends safely around the New Orleans area.  Why is this necessary?  Well, you may think that you will never leave the French Quarter and can just walk everywhere, but some of the city's best gentleman's clubs and most delicious restaurants are located outside of that famed party district.  Secure a party bus and you do not have to stop partying, designate a driver, or rely on the luck of the draw with a cab service to get you to your destination.  Instead, you can take the party with you.  They have buses of various sizes.  The smaller Speakeasy buses come equipped with three bars, the Big Easy party bus has its own dancer's pole, and the namesake AM Party Bus is fitted out like a club on wheels, with everything you need to create a traveling party.  Call them at 504-252-0087 for a quote, to find out current specials, or to make your reservations.
Party Buses New Orleans is another great option for large group transportation in New Orleans and the surrounding area.  A bit more versatile than some of its competition, this is a great business to consider if you want a party bus or if you are simply looking to transport large groups between locations.  This might be our pick if you are traveling to or from nearby locations, like if your group is going to hit a game at LSU or is traveling into New Orleans for the night.  Whether your large group is on the small side with 8 to 10 people, or you need to move 40 to 50 people, they have a bus that can fit your needs.  They even have a pink-lit bus that is exceptionally popular with bachelorette parties.  Contact them at 985-205-8985 for quotes, to make reservations, or to ask about bachelor and bachelorette party specials.   
Seattle     
You may not think of upscale and party bus in the same sentence, but you will if you hire a party bus from Washington Coach International.  This company has a well-earned reputation for providing immaculate transportation, courteous and safe drivers, and great customer service.  While they offer some amazing well-appointed and comfortable buses designed just to move large groups around, their limo buses offer the traditional party bus amenities, but with an upscale twist.  However, do not let their luxe vehicles make you think their services are only for the well-heeled or the boring; their party buses have everything you need to start the action as soon as you step on the bus.  For more information, to make reservations, or to get a quote, contact them at 877-414-2121.
Seattle Party Bus Rentals advertises their business with the tagline "start your party on the way to the party," and that is exactly what they deliver for their customers.  This is a premiere party bus service that knows how to combine safe and sober transportation for you with a seamless party atmosphere inside the bus.  You will feel like you are in a rolling nightclub, while you travel between popular Seattle destinations.  You can also customize your own Woodinville Winery Tour or Seattle Microbrewery tour, relying on the transportation professionals at Seattle Party Bus Rentals to get you to your destinations safe, sound, and with a smile on your face.  Another reason this party bus company is popular with locals and tourists alike is that the drivers are knowledgeable.  Not sure where you want to go?  Ask the drivers for their recommendations and you are sure to end up at some of Seattle's most happening hot spots. Contact them at 206-910-8858 to get a quote for your group, make reservations, or get any additional information. 
Savannah
Looking to travel in style?  Look no farther than Image is Everything, Savannah's own party bus company.  Offering a variety of different bus sizes, depending on the size of your group, Image is Everything is known for its exemplary customer service.  Not sure how to incorporate a party bus into your plans?  They can help you schedule your event, whether you are wanting to arrange transportation between bars, heading to a nearby location to check out a male revue, or just want to have a consistent, safe, sober driver and luxurious accommodations for your trip.  Whether you are a little bit mild or a little bit wild, they have a bus that will meet your party needs.  Do not forget to ask about their dancer polls.  They are also great about helping plan surprises, so if you want to surprise the group with a party bus rental, you can arrange the surprise with them.  Call them at 912-272-8734 for scheduling or to get some more information. 
Savannah's party buses by Luxury Savannah can help you find the luxe party bus experience you want for your party. They work with bachelor and bachelorette parties all of the time.  One of their specialties is providing a party bus for transportation from the airport; it is a great way to help your guests transition immediately into a party mood.  Of course, they also handle the traditional party bus, whether you are looking for a pub crawl type experience, or visiting some of Savannah's must-see locations like Tybee Island or River Street.  You can pop the champagne and relax in comfort or crank up the music and get a little rowdy.  Whatever you choose, your driver will make sure you get to your destination in safety and style.   For more information, contact them at 912-
Austin                
Want to see Texas's most infamous party city in style?  Consider booking a party bus through Limos of Austin.  This transportation company has a number of different party bus options, so that it can meet your personal party expectations.  All of their party buses offer limo-style seating, state of the art stereo systems with iPod connections so you can customize your party play list, party lights, beverage wells, and the ice-cold AC you may need to help with Austin's hot summers.  Their smaller party bus is big enough for a crowd of up to 16 people.  Their larger party bus can fit up to 22 people and also includes a stripper pole, which can increase your entertainment options.  The party bus can be available to take you from destination-to-destination or your experience can be customized for a tour of Austin or the nearby Hill Country.  In fact, Limos of Austin is known for its Hill County winery tours, which can be a stand-alone activity or combined with a party bus experience. Call for more information or to book your party bus at 512-345-5466. 
Lonestar Party Buses is another great option for party buses in Austin.  Offering larger, more traditional buses than many of its competitors which can accommodate from 30 to 50 passengers, this company is known for letting the party roll in Austin, San Marcos, New Braunfels, San Antonio, and other popular Hill Country destinations.  With plenty of comfortable seating, these party buses are a great option for tailgaters, but still have the space to dance if you are planning bachelor or bachelorette party transport.  Another thing that many guests adore is that the company is owned by a veteran and strives for total transparency with its customers.  Want to know the exact pricing of your planned trip?  Call them up at 512-665-6166 with the date of the event, number of people, pick up and drop off times, and pick up and drop off locations. 
Nashville            
Looking for a luxurious, safe, reliable, and fun way to see Music City, U.S.A.?  We suggest a party bus.  Party buses are a great way to make sure that there is sober, reliable transportation for a night out, while never having to stop the party.  Nashville Executive Charter is known for providing upscale transportation options for Nash Vegas and can hook you up, whether you need a fun ride from the airport or a bus to take you to all of the city's famous hotspots.  Whether you have a large party or a small party, they can fix you up with awesome transportation.  Smaller parties love their luxury limo service. Each of their classic stretch-style limos is equipped with mood lighting, a television screen, CD/DVD player, glassware, fountain drinks, and ice so you can BYOB and have a party on wheels.  Bigger group?  No problem, they have passenger buses big enough for groups as large as 30, and you can get mild or wild on that bus- just let them know whether or not to have the dance pole in place for your crew!  Of course, they are a great go-to for simpler transportation options as well, handling everything from hotel runs to moving large groups of people from place to place.  You can contact them at 888-311-9530 to book or to find out more information. 
Looking for plenty of variety in your Nashville party bus selection?  Then you might want to consider Nashville LX Limo.  This company has over 20 party buses so that you can pick the one that is absolutely perfect for your group!  They also offer a variety of sizes, so that you can customize your options.  One of the things customers really like about this company is that, because of the size of their fleet, they are often able to accommodate even last-minute requests for a party bus.  That can make them a great option for you to keep in mind if you need to make a last-minute change of plans and want to incorporate a party bus into those plans.  They have dispatchers available 24 hours a day and you can reach them at 615-970-6365.    
Ideas for Party Bus Food, Drink, Sounds, Decorations and Video
Finally, it's not a party without plenty of good food and beverages, so make sure you plan an appropriate menu for the number of guests, taking into account you're going to be moving so make sure you choose non-messy finger foods and snacks. If your bachelor or bachelorette party will take place during a meal time, plan on bringing at least eight of every item and five of each item for non-mealtimes for each guest.
Unless the party bus operator offers an open bar, plan on bringing enough booze, beer and other beverages so that everyone can have a couple of drinks during the first hour and another drink (or two) each hour thereafter. Be sure to bring plenty of choices (you might want to ask everyone what they prefer in advance).
In addition, your party bus will likely have a great sound system so take advantage of it by bringing your own favorite tunes (make a mixed DVD beforehand). You and your friends can also decorate your party bus for a bachelor or bachelorette party them if you want (use decorations that are easily removable), and party buses with televisions can play a video of the groom's single days as a final celebration and lamentation of their passing.
Conclusion
We hope that after reading this article you know the true definition of a party bus and the amenities they offer, how the rental prices are calculated, and more specifically how to book one for your bachelor or bachelorette party. Given the luxurious accouterments provided by most party bus companies, this is a great option for getting a large group of people together for a night on the town, concert, or even local pub crawl.  This tends to be a much cheaper and safer option than traveling abroad for your final days of freedom. If possible, try to schedule your bachelor or bachelorette party later than 5 p.m. on weekdays and avoid Saturdays. Generally, Mondays through Thursdays are the best days to schedule party bus adventures. In addition, make every effort to plan ahead as far as possible to make sure you can get your preferred party bus and take advantage of any discounts that might be available. Finally, make sure the groom or bride has a good time, take plenty of pictures (create a digital photo album that can be shared with all attendees), and tip the party bus driver generously (15-20%) if he or she provided exceptional service. Have fun and par-tay!