Bachelor Party in St. Maarten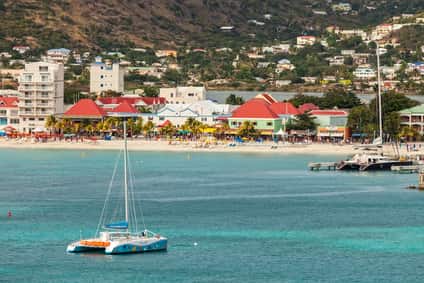 This post may contains references to products from one or more of our advertisers. We may receive compensation when you click on links to those products or services.
So you decided to book your bachelor party to the wonderful St. Maarten?  There are two sides to this island oasis, so make sure you stay on the Dutch Side, not the French Side (Dutch side is perfect for what you are trying to accomplish).
Important Bachelor Party Information for St. Maarten:
There are two sides to St Martin, the French side and the Dutch side. The Dutch side is the part of the island you want to be at. If you like the beach you can get a place on the beach side and then cab it over to the dutch side at night or vice versa. It is a 30-minute ride each way, so plan accordingly. All the clubs, casinos, massage parlors, strip clubs, and brothels are on the Dutch side.
Best Places to Party in St. Maarten:
Sunset Bar and Grill – located on the beach next to the airport, you can actually see the planes take off and land right above your head.  This is a great spot for a cold beer or islandy drink but even a better photo opportunity.
Tantra (Formely Q Club) – Modern nightclub located on the French side.  This club features the latest hits and has a decent crowd.  Open from 10:30pm till dawn on Wednesday, Friday, and Saturday.
Casino Royale is the largest of casinos in St. Maarten at 21,000 square feet of gaming with 21 gaming tables and 400+ slot machines.  They also have a Vegas style sports book which makes watching any game more fun.  This is a great before or after dinner activity, especially with a large bachelor party.  You are also bound to find some working women scouring the floor for high rollers (so act like one).
Best Strip Clubs/Massage Parlors in St. Maarten:
El Capitan (former Seaman's Club) – brothel located on the Dutch side, Colombian women, full service. prices start at $50
The Platinum Room – nicest gentleman's club on the island. 50+ total women, mostly European. $30 lap dances, $1000 to take the women home for the evening.
Average Cost for Women, Pay 4 Play in St. Maarten:
$100 – $200 per hour in the brothels. If you want to take the woman back to your place you would need to pay a house fee to the club then an additional fee to the woman.
Extra Curricular Activities:
Prostitution: Legal on Dutch Side, Forbidden on the French side.
Green Stuff: $50-60 for an eighth.
White Stuff: $50-60 per gram
Drugs are illegal, so use and abuse at your own discretion!
Best Resorts for Bachelor Parties to Stay in St Maarten:

View all Hotels and Resorts in St. Maarten
Best Villas for Bachelor Parties to Stay in St. Maarten:
5 Bedroom Villa in Simpson Bay
5 Bedroom Villa in Philipsburg
6 Bedroom Villa in Simpson Bay
4 Bedroom Villa in Simpson Bay
View all Rental Houses Available in St Maarten
If you decide to book a house or villa, use my Airbnb link and get $40 off your total rental cost!
Best time for Bachelor Party to Travel to St. Maarten (no budget restrictions):
Mid December – April is peak season in St. Bart, a time when the weather is best, and hotel/airfare prices are the highest.
Best time to travel to St. Maarten (budget restrictions):
May – June prices are generally much lower for flights and accommodations (sometimes 50% less).  The crowds are much less during this time as well.  Make sure you plan before the heart of summer and hurricane season as a lot of places close during this time.
Regardless of when you go to St. Maarten, make sure you protect your investment and purchase travel insurance.
Crime in St. Maarten in 2014:
In recent years crime in St. Maarten has increased.  Most appear to be petty thefts like valuables stolen from cars and passports stolen to some more serious crimes like carjackings and murder.  As with any populated area there is always a chance for crime, so exercise caution.
Rating: 
Conclusion: 
A destination with two completely different sides, one being calm and the other being crazy.  It reminds us of the angel on one shoulder and the devil on the other.  During the day you can checkout the beautiful beaches on the french side and party all night on the dutch side.  The perfect recipe for an amazing bachelor party in St. Maarten.