Plan a Bachelor Party in St. Maarten (2023 Guide)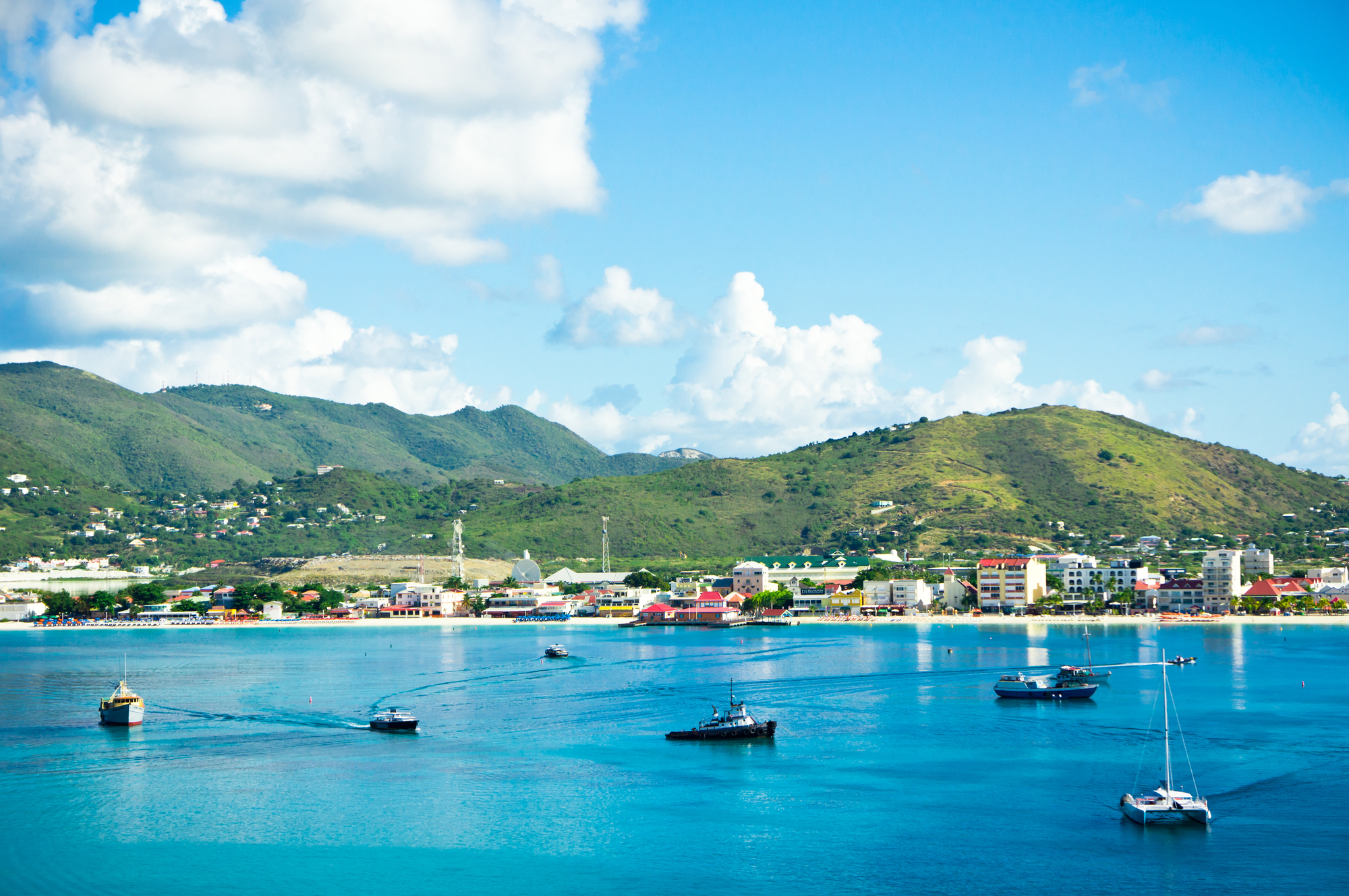 This post may contains references to products from one or more of our advertisers. We may receive compensation when you click on links to those products or services. Please also consider
donating to our website.
So you decided to book your bachelor party to the wonderful St. Maarten?  There are two sides to this island oasis, so if you are planning a wild party, you need to make sure you stay on the Dutch Side, not the French Side (Dutch side is perfect for what you are trying to accomplish).
There are two sides to St Martin, the French side and the Dutch side. The Dutch side is the part of the island you want to be at. If you like the beach you can get a place on the beach side and then cab it over to the Dutch side at night or vice versa. It is a 30-minute ride each way, so plan accordingly. All the clubs, casinos, massage parlors, strip clubs, and brothels are on the Dutch side.  Of course, if you are looking for a milder vacation, then you can plan on staying on the French side.  Just keep in mind that it will be a very, very different experience than if you stay on the Dutch side.  However, given that travel between the two sides of the island is not very difficult, you can always stay on the French side, with planned excursions over to the Dutch side, if you want to give the impression that your wild party will actually be a mild one.  We would never suggest deceiving a bride-to-be, but if you have a bride who is freaking out about what kind of bachelor party you are throwing, planning to stay on the French side of St. Maarten can be a way to calm her fears, while still ensuring that your party has access to all of the wild things you can find on the Dutch side of the island. 
How to Get There
St. Maarten/ St. Martin is a Caribbean island that is half Dutch and half French.  There is an international airport located on the Dutch side of the island and regional airport located on the French side of the island.  You can get to the island by plane or by boat, but the boat trip would require a charter from another location, as there is not regular boat service between the island and other destinations.  St. Maarten is a very popular cruise destination, but generally cruises stop there for a day or possibly an overnight, but they do not drop off and pick passengers for longer stays. 
Airport
St. Maarten's international airport is Princess Juliana International Airport (SXM), which is located in Simpson Bay, St. Maarten, on the Dutch side of the island.  You can get a flight to St. Maarten from anywhere in the world, but you may have to make connections because there are only a few direct-flight options. The international airlines that operate out of SXM include: Air Canada, Air Caraibes, Air France, Air Transat, American Airlines, Caribbean Airlines, Copa Airlines, Delta Airlines, Inselair, JetBlue, KLM, Spirit Airlines, United Airlines, and West Jet. 
Getting form the airport to your hotel or rental house is relatively easy.  SXM offers rental services from most major car rental companies, including Hertz Car Rental, tour buses, VIP transportation operation services, and taxis.  Rideshare companies like Uber and Lyft also operate in St. Maarten, but may not have drivers available in all areas of the island. 
Getting Around
Getting around St. Maarten can be a little challenging, especially if you are new to international travel.  Many of the services run on "island time," which can make planning events based on reliable transportation a little tricky.  Renting a car is probably the most reliable way to get around the island, and it probably doing to be necessary if you decide to stay on the French side of the island, but party on the Dutch side.  The biggest drawback to car rental is that traffic on the island, particularly near big tourist hotspots, can get a little intimidating.  For drivers from the United States, driving on St. Martin/ St. Maarten is not a huge adjustment.  They also drive on the right side of the road.  However, if you are going to be doing any driving on the French side of the island, you will need an International Driving Permit.  If you want to add a little interest to your transportation, you might consider renting a scooter instead of a car.  Scooters are a very popular way for people to get around St. Maarten and they give you greater maneuverability than you get with a car.  However, they are not a less expensive option; you will need multiple scooters for a group and each scooter will cost around the same amount of money as a rental car.  St. Maarten does have public transportation, though their buses work differently than what we expect in the U.S.  Their buses are smaller; they are actually minivans that are labeled as buses (look at the license plates).  They also do not follow traditional routes.  This is great, because the bus will take you exactly where you want to go.  However, it can also mean that you are waiting and waiting for a bus to arrive.  You can also opt for Taxis, which handle traffic around the island day and night.  You need to know your rates before you get in a taxi; they are unmetered, which can result in unexpectedly high charges.  The plus side is that most taxis, especially on the Dutch side, will let you pay with U.S. dollars. 
Things to Do
You are probably aware that St. Maarten was devastated by a hurricane.  This means that many favorite tourist destinations and hot spots closed down, at least temporarily, in the aftermath.  The island is officially open for tourists, but some of your favorites may no longer be around or may be in different locations than you expected.  Do not let that scare you away from St. Maarten.  There is still plenty to see, experience, and do on the island, with lots of daytime and nighttime activities to keep your group having a great time!   
Daytime Activity Ideas
You may have heard that the best beaches are located in French St. Martin, which we think is a pretty subjective assessment.  The reality is that the entire island is pretty amazingly beautiful and the water surrounding it is everything you could want from a Caribbean island and more.  Therefore, it should come as no surprise that our most recommended daytime activities are pretty water-intensive.  You will be in a tropical island paradise; make the most of it!
Looking for a laid-back daytime trip?  Then book Captain Bob's Most Popular Speed Boat, Snorkeling, and Beach Tour.  On this tour, you get to see some of the stunning big-money properties on the island, as you enjoy a speed boat cruise out to some of the best snorkeling around the island.  At your snorkel destination you will get to swim with turtles, fish, and rays.  The tour will take you to some beaches, and they hook you up with drinks and snacks.  It is the perfect lazy-man way to see a great side of the island.
Want a little more control over your daytime plans, but still want to get out on the water?  Then book a boat you operate on your own and head out for the adventure of a lifetime.  With boat rentals, you can choose the style of your boat, often rent pull-along toys and floats, and get directions to some of the area's best snorkel spots, beaches, and fun spots. 
Have more than one captain in your crew?  Then do not settle for renting a single boat, when you could rent jet skis instead.  If you are already a jet ski fan, then you know just how much fun these personalized watercraft can be, but if you have never flown over the crystal clear waters of the Caribbean on your own jet ski, then we think you have to give it a try.  Sea Fun SXM not only offers jet ski rentals, but also flyboards, hoverboards, jet packs, jet surfing, sea bobs, and tubing.  If you want adventure on the water, they are the place to hook you up!
Want to see the beaches of St. Maarten in a different way?  Consider renting an ATV or quad bike or taking one of the popular quad bike tours that show you around the island, letting you take in the scenery, while getting you off of the beaten path.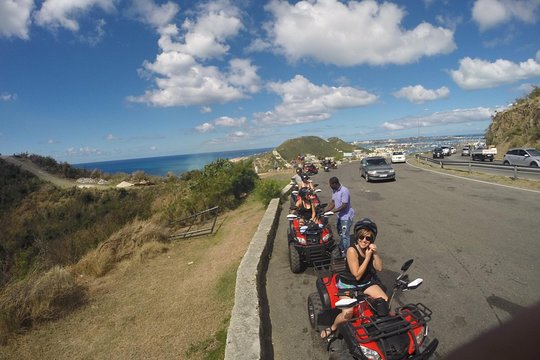 Rockland Estate in St. Maarten is a full-service rainforest adventure park that offers some amazing activities like ziplines, a schooner ride that is a little like an alpine roller coaster, and a swing-ride over the island.  However, we feel like we have to warn you that it is a very popular destination for cruise-ship tourists, so expect to encounter some kids and family travelers if you choose to visit!
Of course, you are in St. Maarten, you are going to visit the beach.  Which beach will you go to?  Well, if you get off the plane and head to the Sunset Beach Bar, you will be looking out at one of the most popular beaches on the island:
If the crowded Maho Bay beach next to the airport can offer such amazing crystal blue waters and white sands, just picture what some of the islands more secluded beaches have to offer.  Looking for waves you can surf?  Check out Mullet Bay Beach?  Want to catch a glimpse of a celebrity?  Then, Orient Bay Beach is where it is at.  While Friar's Bay Beach is great for families, we suggest avoiding this kid-friendly spot for your bachelor party plans.  Snorkeling off of Dawn Beach is a must for die-hard snorkel fans, but only if everyone in your group is a strong swimmer; it is known for its rougher waters.   
Because you are going to be on a gorgeous island with so many great things to do during daylight hours, we almost hesitate to recommend any indoor activities.  However, St. Maarten is also known for its rum, and a bachelor party trip can really kick-off with an awesome rum distillery tour and the requisite rum tasting that comes along with it.  Staying on the Dutch side of the island?  Then, it is easy to get to Topper's Rhum, and tour the facility (and pick up a few bottles for the rest of the time you are on the island).
Nightlife Activity Ideas
The thriving nightlife in St. Maarten did take a hit with the last hurricane, but there is still plenty of things to do on both the French and Dutch sides of the island.
Tantra (Formerly Q Club) – Modern nightclub located on the French side.  This club features the latest hits and has a decent crowd.  Open from 10:30pm till dawn on Wednesday, Friday, and Saturday.
Casino Royale is the largest of casinos in St. Maarten at 21,000 square feet of gaming with 21 gaming tables and 400+ slot machines.  They also have a Vegas style sports book which makes watching any game more fun.  This is a great before or after dinner activity, especially with a large bachelor party.  You are also bound to find some working women scouring the floor for high rollers (so act like one).
The Red Piano is not your typical bachelor party bar.  A piano bar, it is more like what we tend to recommend for bachelorette parties.  But you dismiss this place as a "chick bar" at your own peril.  It is known for having the island's best bartenders, best pool room, and best live music venue.  It is a great place to start out your evening, and maybe to pick up some unpaid female companionship, since, as we mentioned previously, it is very popular with bachelorette party groups.
Bars
The Blue Bitch Bar is everything you could want in a beachside bar and more!  This bar, with its funny tongue-in-cheek name is actually named after a type of shiny rock that can be found along the shore of the island, and which played a surprising role in the island's economy.  However, the playful name is reflected in everything you will find in the bar, from the delightful take on creole Caribbean cuisine, to the variety of rums, and the general laid-back atmosphere.  Normally we do not recommend "American" food when people are traveling abroad, but if you want a great burger, this is the place to order it.  We love the Philipsburger!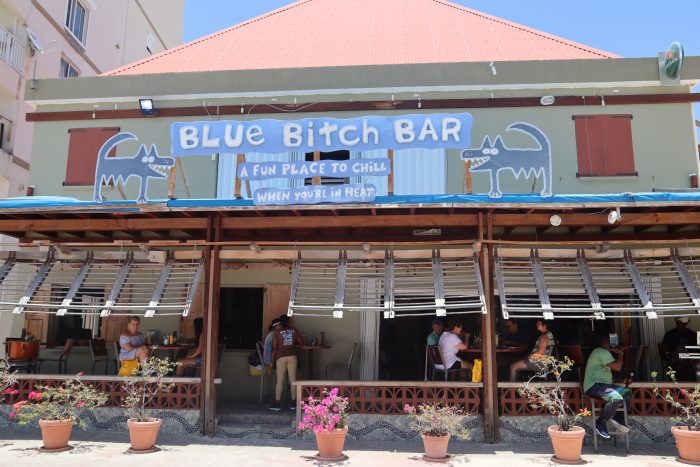 One of our favorite bars is the Sunset Beach Bar.  This bar is located on Maho Beach, which is literally right next to the airport.  We love to head right there after getting off the plane, relax, have a drink and a delicious bite to eat, before catching our transportation to our hotel, or while waiting for friends coming in on other flights.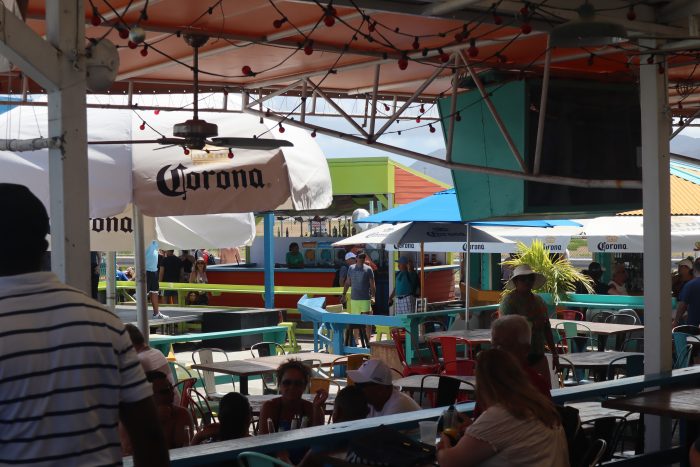 It is surprisingly tranquil to just watch the flights arrive, or to have a drink before heading to the airport for a departure: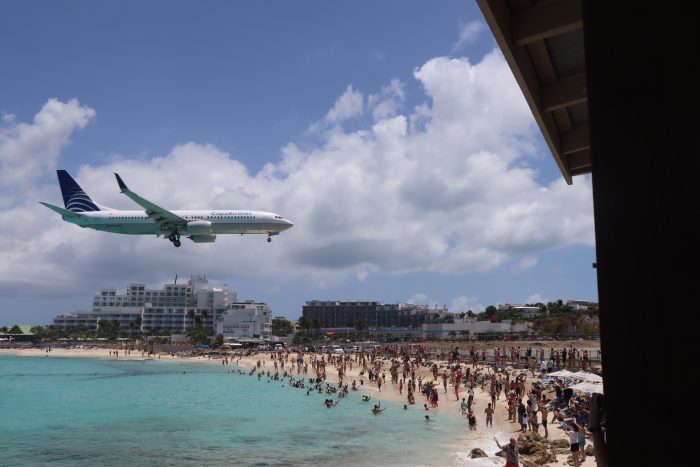 Strip Clubs
El Capitan (former Seaman's Club) – brothel located on the Dutch side, Colombian women, full service. prices start at $50
The Platinum Room – nicest gentleman's club on the island. 50+ total women, mostly European. $30 lap dances, $1000 to take the women home for the evening.
Where to Eat
St. Maarten is actually developing quite a reputation as a foodie destination.  However, some of its best restaurants were hit by Irma.  They are rebuilding, and many of the island's favorites are still operating, but may be in new locations.  The rebuild has also provided opportunities for new favorites, so feel confident trying almost any place you see on the island. 
Breakfast /Lunch / Brunch
Vesna Taverna is a great option for breakfasts.  We love their Salmon Benedict. 
Al Pasha is another of our local favorites for breakfast, lunch, and late-night foods.  They have international and Lebanese cuisine.  WE recommend the conch fritters, the lamb shawarma, or any of the shish kebab. 
The Lazy Lizard is probably our favorite lunch place in St. Maarten.  Their menu offers a little something for everyone and they even have their own banana-vanilla infused rum.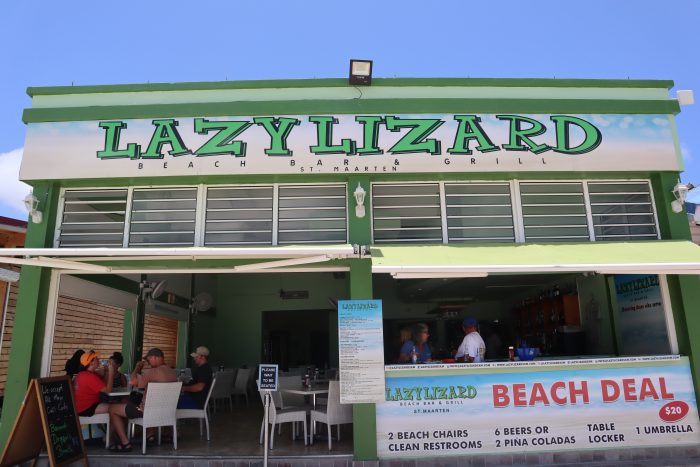 If you are a fan of onion rings, then we are going to suggest you order them.  Feeling like you want some comforts of home?  Order them with their all white-meat chicken strips: 
Dinner
Bamboo has long been one of the island's best kept culinary secrets.  After Hurricane Irma, Bamboo relocated to The Shops at Puerta de Sol, but it continues to serve the island's best sushi.  We pork gyoza, tiger shrimp and pineapple tacos, and the angry dragon roll.
Chesterfields is our favorite place to go when we want lots of good, inexpensive food.  This open air eatery is close to the cruise ship terminal, so it is definitely more tourist hotspot than local favorite, but the food is awesome.  The roast duckling with pineapple and banana sauce is one of the most unique and delicious meals to be found on St. Maarten.
Pineapple Pete's offers surprisingly upscale food in a very casual setting.  So, while you should not expect fancy plating, you can order dishes like their lobster thermidor with confidence that it will be prepared   
Where to Stay
Whatever destination we discuss; we always have the dilemma of whether to choose a hotel or resort property or go with a rental home.  There are pros and cons to both, but given that some activities that might be frowned on in other locations are perfectly legal in Dutch St. Maarten, you do not have to pick a rental home to hide your activities!
Hotels and Resorts
Atrium Beach Resort  This newly renovated vacation property offers a variety of different accommodations, with rooms or suites sleeping from 2 to 6 people.  All units have kitchens or kitchenettes, so you have plenty of space to chill drinks, and the resort amenities mean that you have space to spread out and the services of a concierge if you need any help with transportation or activity planning. 
Simpson Bay Resort The Simpson Bay Resort and Marina is the perfect combination of boater's paradise and luxury resort.  We recommend renting one of the Villas, which are located on the bay, and offer walk-up access to some of the best water sports in the region. 
LaVista Resort offers the type of boutique hotel experience that can really make a vacation unique.  It is a smaller property, but can still help you create a luxury experience.

Hotels Available in St. Maarten
Rental Houses
Because many of the resorts and beachside hotels sustained damage in Irma and are not yet functioning, you may find your best accommodations by looking at vacation rentals.  You can go onto services like AirBnB, VRBO, and Homeaway to find great and reliable vacation rentals.  Unsure about whether they are still in great shape after Irma?  Check out the user comments to see what recent visitors have had to say about the properties.  You can also use our link to get $40.00 off your first AirBnB reservation. 
VRBO
Having a huge party?  Then you need to consider booking this 5-bedroom beachfront villa.  Completely rebuilt, this rental offers a complete luxury experience for parties of up to 13 guests.  Near the French/Dutch border, this property is conveniently located on the Dutch side, which opens up the party possibilities.  
This four-floor, four bedroom villa offers amazing views, huge spaces for your group to hang out, air conditioning in every room, and an amazing ocean view from the pool.

Rental Homes Availables in St. Maarten
Homeaway
This two-home villa offers space for up to 9 guests, a private pool, and even a private tennis court, but our favorite feature may be the mosquito-misting system, which means you can party outside without having to worry about bugs. 
With room for up to 10 guests, this luxury villa comes equipped with everything you need for a great trip, including snorkeling equipment for you to use. 
Rental Homes Available in St. Maarten
AirBnB
With some of the most amazing views in the entire Caribbean, this historic property offers everything you could want in a vacation rental.  It has a pool, a hot tub, and is secluded enough for you to have some rowdy parties, because there are no nearby neighbors to be bothered by your noise!
If you have a big party, then this vacation rental that can hold up to 16 people might be the place for you.  We love the clean lines of the private beachfront property.
When to Go
Best Time
Mid December – April is peak season in St. Bart, a time when the weather is best, and hotel/airfare prices are the highest.
On a Budget
May – June prices are generally much lower for flights and accommodations (sometimes 50% less).  The crowds are much less during this time as well.  Make sure you plan before the heart of summer and hurricane season as a lot of places close during this time.
Worst Time
Late summer is probably the worst time to visit St. Maarten, but not for the reasons you might assume.  In the tropics, the weather is still gorgeous during that time of year, and you can find some great travel bargains.  However, late summer is the height of hurricane season, which not only makes for some vacation stress, but actually means that some places will be closed for the season. 
What Else
Big Events
Like other Caribbean islands, St. Maarten celebrates carnaval in a pretty wild manner.  The added bonus is that French St. Martin celebrates carnaval in February, while Dutch St. Maarten celebrates in in April, giving you two opportunities to hit the Caribbean's biggest festival. 
The St. Maarten Heineken Regatta is one of the most fun serious boat races you will find anywhere in the world.  Sailors come from around the world to race each March and the parties surrounding it are legendary.  We highly recommend visiting during this time, if it fits with your bachelor party plans.
Sample Itinerary
What we love about St. Maarten is that you can start the party as soon as you arrive at the airport.  Seriously, before you head to your resort or bachelor party villa, head over to Sunset Beach Bar on Maho Bay and get your first taste of paradise while you wait for the rest of the party to arrive.  Once they do, drop your bags at your vacation spot, grab a quick early dinner at Pineapple Pete's, then head over to the Platinum Room.  There, you can enjoy some bachelor party entertainment.  For those guests who are not quite ready for the party to stop, it does not have to.  You can bring the ladies home with you for about $1000 for the night.  For those that are not into pay for play, the night does not have to come to an end; hit Casino Royale and prepare to spend a night in an upscale casino, reminiscent of old school Vegas style.   
Travel Insurance
Regardless of when you go to St. Maarten, make sure you protect your investment and purchase travel insurance.  Hopefully, it will be many, many years before St. Maarten experiences another devastating storm like Irma.  However, if that does happen, you want to make sure that you are not out the expense of a trip, but stuck with no place to go party.
Why Go
Traveling the Caribbean offers a unique opportunity to see how different colonial influences helped shape tropical island countries, and this is most evident on the few tropical islands that have multiple sides.  With French and Dutch areas, St. Maarten provides you with full-scale history, as well as the naughty temptations that the Netherlands is known to provide. 
Star Rating
4.5 Stars.  We take everything into account when planning our star ratings, and, while St. Maarten really does seem to have it all, we had to give it only 4.5 stars because it can be a little difficult to reach, depending on your starting destination.  It would easily be a 5-star destination if travel to get there was slightly less time consuming.   
Conclusion
A destination with two completely different sides, one being calm and the other being crazy.  It reminds us of the angel on one shoulder and the devil on the other.  During the day you can checkout the beautiful beaches on the French side and party all night on the Dutch side.  The perfect recipe for an amazing bachelor party in St. Maarten.