Bachelor Party in Cancun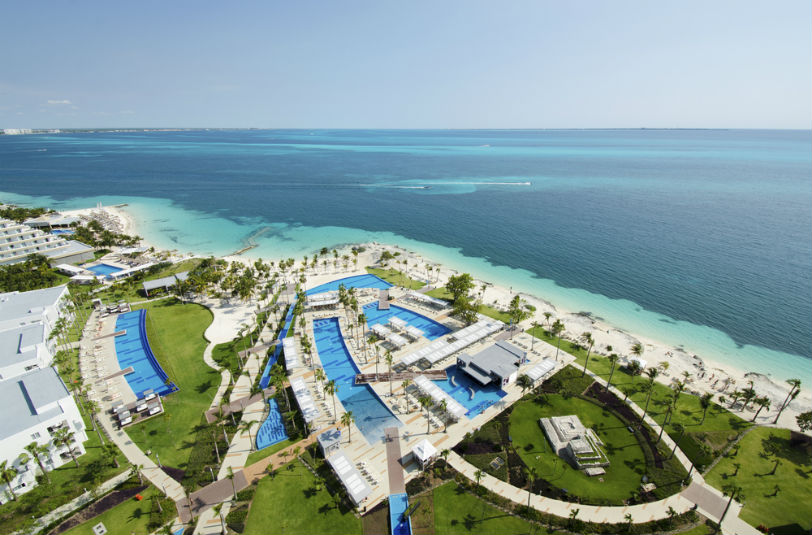 This post may contains references to products from one or more of our advertisers. We may receive compensation when you click on links to those products or services. Please also consider
donating to our website.
So the guys decided to head to southeastern Mexico and to throw the most insane bachelor party in Cancun?  You will definitely want to read this article on planning the ultimate week or weekend of debauchery.
Yes, you have heard of Cancun before.  It was most likely the place you went to on Spring Break in High School or even College.  The drinking age is 18 years old, so you know this place has to be amazing.  Unlike other parts of Mexico that are no longer desirable (Acapulco), Cancun appears to be the hot spot that is here to stay.
The first thing you want to do when planning your bachelor party in Cancun is finding a place to rest your head after a long day and night of drinking alcohol.  Now you can go with the famous accommodations of your younger years (Grand Oasis), but hopefully you moved out of your parent's basement and can afford a more top notch hotel this time around.
How To Get There
Airport
When planning your epic bachelor party to Cancun make sure you choose Cancún International Airport (airport code: CUN) as the destination.  To rent a private van will cost about $55-60 and will take roughly 30 minutes to get from the airport to the hotel district.  Make sure you book your flights to Cancun using priceline.com as they normally have the best rates and flight options available.
Things to Do
Daytime Activity Ideas
So after you attempted to eat breakfast and realized you would rather drink beers instead, definitely head over to Mandela beach club.  Forget the fact that this is a party on the beach with tons of alcohol and great DJs, the one thing you should be concerned about is the bikini contest, yes you read this correctly, the bikini contest, where 20 hot chicks get on stage and prance around in provocative poses to get your cheers and win prizes.
Nightlife Activity Ideas
So you took your 30 minute nap from all the day boozing and ate some chicken tacos, now you are ready to drink the night away.  Once you had a few shots and beers during pregame, it's time to head over to a nightclub.  There are several options downtown, but the one that seems to be everyone's favorite is Mandala Nightclub.  Now when you think of clubs you think of nice button down shirts and black shoes.  Remember you're in Cancun so throw that out the window.  There is no dress code at this establishment but you should probably stick to polos over wife beaters and sneakers over those old navy flip flops.  You should ask about the bottle service here because not only is it cheap, it will convince the young chicks that your bachelor party group maybe actually investment bankers.
Bars
You can not go wrong with Carlos N Charlies.  If you have ever been to Cancun and have not stopped here, then you missed out big time.  Bring the bachelor and be prepared for a lot of drinking, while undressing in your mind, all the hot 20 year old females that frequent this location.
No better place to have your first drink than Senor Frogs.  I wouldn't advise you taking a swig from the house made punch because it's not strong enough for what you are trying to accomplish.  Stick with what Mexico is known for, tequila.  Start off with a nice shot of cabo wabo and chase it down with a corona. (then send us a thank you).
Where To Eat
Restaurants
So you are in Mexico which has the best authentic cuisine, but you decided you do not want to be in the toilet all night.  Head over to Peter's Restaurante which is located in downtown Cancun.  Their menu has a little bit of everything so everyone who is eating will find something.  Some of the favorites include the rib eye, veal marsala, and pork tenderloin.  Remember that the prices are in pesos, so when you see 450 for a steak, it's not really a car payment.
If you are deciding to be brave and want to experience some great Mexican food, you need to check out La Destileria.  Some of their best dishes would be the fortin chicken, arrachera skirt steak, and tamarind shrimp.  Make sure you save some room for dessert as they have daily specials which will be a great base for all your tequila.
Where To Stay
Hotels & Resorts in Cancun
If you are opting for hotel accommodations instead of a villa, there are several good options in this beach side town.  Fiesta Americana Condesa would have to be your #1 choice.  This all-inclusive hotel has 10 restaurants on-site as well as ocean view rooms and suites.  Depending on the season, rates run about $418.00 per night.
Another good hotel option is the Omni Cancun Hotel and Villas.  This location is also near all the other hotels and close to the bars and clubs as well.  You can't go wrong with Omni and the fact that you can stumble back to your room makes it a winner.
Other popular hotels / resorts amongst bachelor parties are RIU Cancun, ME Cancun, and the Grand Oasis.  This also tends to be popular amongst the ladies who travel to the area, so you may end up running into a bachelorette party in Cancun 🙂
In our opinion the best all-inclusive resort in Cancun for your bachelor party would be Villa Del Palmar.  Not only is this property beautiful it is also relatively new (opened in 2012).  They include the option to add the all-inclusive package for each guest which includes all your meals and alcoholic beverages (high quality like grey goose, and jack daniels).  This is definitely worth it, especially if you are big drinkers.
Rental Houses & Villas
This 5 bedrooms 4 bathroom house with pool sleeps about 12 adults comfortably.  You are roughly 20 minutes away from all the bars and clubs, but a great place to bring some chicas back and throw the ultimate bachelor pool party.  The nightly rate for this spot is $357.  Also, if you book with airbnb, we will give you $20 discount off the total.
If you have less guys and a lower budget you should definitely look into renting this amazing villa directly on the ocean.  This villa has 3-bedrooms and sleeps up to 6 adults, with some couches as well.  It includes a pool, hot tub, and wireless internet (for all your late night backpage searches).  The price for this villa is $129.00 per night, which is basically peanuts once divided out by 6 guys.  The house is also located 3 minutes from a ferry which will take you right into downtown Cancun, where all the fun happens.
If you decide to rent a house or villa in Cancun, make sure you use my Airbnb link which will give you $40 off your entire stay!
View all Rental Houses in Cancun
When To Go
Regardless of when you decide to head to Mexico, protect your investment and purchase travel insurance.
Best Time
If blowing through your life savings is not an option and you are looking for amazing deals on flights and hotels, the best time to travel to Cancun would be August – November which is known as quiet season.  You should be aware that this also coincides with hurricane season so you may want to splurge on some travel insurance and protect your investment
On a Budget
If money is no problem because you sold your dot com company, the best time to travel to Mexico would be December through April.  These are the times when the weather is better suited for getting your drink on.  Prices will be higher and the town will be filled with more tourists.
Current Weather
What Else
Extra Curricular Activities
It will be very easy to score some green and white, and the prices are extremely affordable.  Most of the product is coming from Colombia so you can expect the quality to be pretty good as well (although maybe stepped on).  The cartels run all the hotels and nightclubs in the area, so just ask the doorman at your hotel to point you in the right direction.
The green you will not be that impressed with but it will do the trick in calming you down from your blow induced panic attack.
As for escorts, they are also on the cheaper side.  We do not recommend companionship from the ladies of Cancun, rather try to bunk with a group of local women that are there for vacation, that is unless you find one that looks like Selena Gomez.
Items to Pack
Tips
The Cancun Convention and Visitors Bureau partnered with Smart Group to create an app for Iphone and Android that visitors can download when visiting.  The application will include things like weather forecasts, an event calendar, currency exchange, as well as information on hotels and restaurants.  [ full story ]
Southwest Airline is in the process of receiving approval from U.S. to start year-round, daily non-stop service from Los Angeles to Cancun.  This is part of their expansion to Caribbean destinations.  This will also give fliers more options coming from the west coast of the U.S. [ full story ]
Unfortunately, ridesharing services such as Uber and Lyft have not invaded this town yet, so you will have to use regular taxi cabs to go from the airport to your hotel and to travel around Cancun.
Cancun Bachelor Party Forum
If you still have questions about planning the ultimate Cancun Bachelor Party, head over to our forum and post questions so one of our other loyal members or staff can respond.  If you have already visited Cancun and have advice or reviews for other parties, leave them there as well.
Why Go
Star Rating
Conclusion
Choosing Cancun as the location for your bachelor party is a great choice.  There are tons of things to do, lots of tequila to drink, non-stop tacos, and hoards of beautiful ladies to creep on.  The prices for drinks and hotels are very reasonable so you don't have to break bank.  There are also tons of flight options available from all points of the United States.