Bachelor Party Austin Texas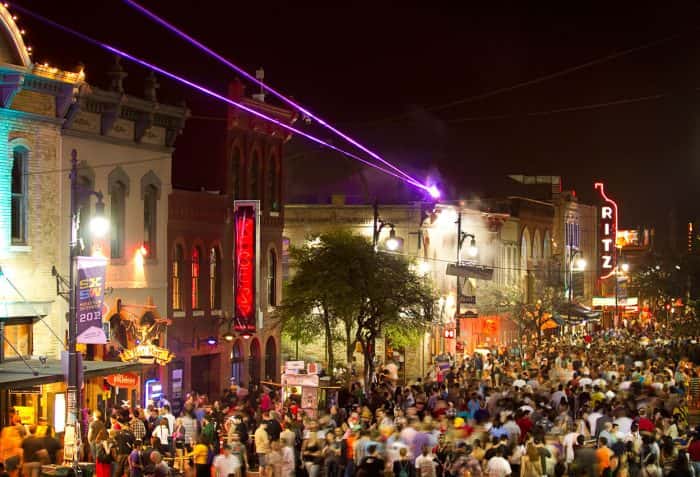 A bachelor party in the Lone Star state of Texas can definitely be a great choice, especially if your journey takes you to the city of Austin.  Austin is known for it's music scene, brew houses, Titos vodka, and down to earth ladies.  The heart of Austin is downtown 6th Street which consists of 7 blocks that are packed with bars, live music, restaurants, and people.
This article will provide you with the ideas you need to become the best bachelor party planner in Austin, as well as provide you with a basic itinerary.  We update this on a regularly basis with the latest information and reviews so that you can make the best decision for your crew.
How To Get There
Airport
When booking flights to Austin, make sure you fly into Austin–Bergstrom International Airport (airport code: AUS).    To get the best flight prices and availability, we recommend using priceline.com.  It will be about a 36 minute cab ride from the airport to downtown, and will cost about $26.00.  Uber and Lyft discontinued service in Austin in 2016, but there are a few other ride-sharing services that can save you some money such as Fasten and Ride Austin.  As of 5/29/2017 Lyft and Uber are now back in service in Austin, Texas, so use our referral code to get your first ride of up to $20 for free!
Available Flights to Austin
If you decide an ride sharing service will cheapen your image, you can book either a limo or party bus to help you get around town.
Things to Do
Daytime Activities Ideas
For the daytime venturing you most likely want to go for brunch.  Most of the popular restaurants offer brunch on the weekends and have cheap mimosas and bloody marys to entice you to get your drunk on.  If your group decided that you would rather save the drinking for night, you can check out Redd's shooting range and shoot a variety of guns at some targets to kill a few hours.  There is also Morris Williams golf course if your group wants to play 9 or 18 holes.
The other option for daylight is simply recovering from the night before.  There is going to be a lot of drinking on this journey so you want to make sure you are rested.  Although it is recommended you do some fun things while the sun is out, all the wild stuff usually happens after sunset anyway.
If you are looking for a great service that will plan and setup all your day activities while in Austin, check out Spark Parties.
Nightlife Activities Ideas
Kung Fu Saloon located at 510 Rio Grande is another great place to start the night off.  This is a full bar, with old school arcade games and board games.  Not ideal for getting crazy but with cheap drinks its definitely a pregame place.  They are known for their sake bombs and $1.00 mimosas for brunch.  They are usually very busy for Sunday brunch so if this is what you decide, get there early.
Living room bar which is located on the ground floor of the W hotel (located at 200 Lavaca Street).  This bar/lounge is more on the classier side where you will meet plenty of people from out of town.  Maybe even meet a bachelorette party and join forces?  The drinks are more on the pricey side, but if your staying at the W hotel, there is no reason not to knock down a few drinks here.
Now that your bachelor party is feeling drunk, it's time to checkout the night spots in Austin.  If you are looking to bump into groups of hot chicks, besides going to a strip club, your best bet is to head to J.Blacks and Ranch (offers bottle service which is ideal for groups).
If you want to venture off the beaten path a bit, you should head down to Rainey Street.  It is a short cab ride from downtown.  The street is lined with bars so it makes it easy to setup your own pub crawl.  Some of the good spots on Rainey Street are Bangers, Clive, Icenhauers's, and Lustre Pearl.  You will definitely run into some fun women at these places as well, because it isn't a bachelor party without some temptation.
Strip Clubs / Gentlemen's Clubs
Palazio Gentlemen's Club located at 501 E Ben White Blvd, is most expensive and has the best looking girls but they are just topless, call ahead reserve corner VIP booth.  they offer packages for bachelor parties including free cover, shuttle service, bottles, etc.
Yellow Rose on North Lamar Blvd is also a good option for getting over your stripper fix.  They do offer full service bar which means the women will only be topless.  They have special deals for bachelor parties as well and offer free transportation for groups.
XTC Cabaret at 3015 Andtree Blvd is all nude and bring your own beer.  As a result, the women are hit or miss but at least you can bring your own beverages while trying to find a reason you want to get a lap dance.
Where To Eat
Restaurants
Lamberts BBQ, if you are looking for a good bbq joint that is in the downtown area, this is where you want to go.  They consider their food fancy bbq, with an eclectic menu of anything from gulf oysters, to boar ribs, to your usual pulled pork and beef brisket.  They also offer both oak smoked and oak grilled items.
Taverna is the place for Italian food.  Located on 2nd St district (258 W 2nd St), this restaurant is known for their focaccia, pizza, and risotto.  They also serve  fish, chicken and beef for your buddies on a low carbohydrate diet.  There is outside seating which is great for people watching, assuming the outside temperature is reasonable.  Taverna also has brunch on the weekends with favorites like vanilla french toast and new orleans style beignets.
Second Bar + Kitchen located at 200 Congress Ave, is another great option for group dining.  They offer the new restaurant trend of farm to table cuisine with items like buffalo fried pickles, braised short rib, and rainbow trout.
Trudy's Tex Mex – Well you planned your bachelor party in Austin for the food, right?  With it's close proximity to Mexico you will find some of the best tex/mex around.  Trudy's has three locations in the Austin area which are all equally good.  Their menu has favorites such as crispy beef tacos, chicken
quesadillas, and fish tacos.
Where To Stay
Hotels
W Hotel located at 200 Lavaca Street is close to all the action.  You can get a room here during peak season for $250 a night and $175 off season.
Another option for resting your head would be The Westin Austin Downtown.  This is a beautiful property with tons of amenities.  Expect to pay around $260.00 per room on a normal weekend and as much as $800 per night during peak times or if there is a large event/festival in town.
If you are looking for very comfortable beds with floor to ceil windows, you should look into booking the Omni Hotel in Austin.  It also includes a heated pool and business center so you can day trade bitcoin while celebrating your friend.  The location is perfect as you are roughly one block from all the good restaurants, bars, and live music.  Look to spend about $200 per night for double beds (sleeps 2) during peak times.

Hotels Available in Austin
Rental Houses
If you decide to rent a house, make sure you use Airbnb, and if you sign up with our Airbnb link you will get $40 off your entire trip!
If you would rather rent a townhouse, you should go with this one on Airbnb, which sleeps a total of 10 people, and is right in the heart of 6th street.
If you have a smaller group of around 8 guys, you should definitely look into renting the "Holiday Downtown Loft" which is located near 6th street and walking distance to everything.  This 3,000 sq foot loft has 3 bedrooms, 2 baths and can sleep up to 8 adults.  Includes chef's kitchen (chef not included), washer/dryer for when you soil yourself, and free wifi.  This amazing spot will set you back about $1000 per night during peak times, but divide that by 8 dudes and it will only run about $125 per person per night.
Assuming that money is no object with your crew, you must rent this 8-bedroom mountaintop mansion.  This will elevate your game to a new level.  You can bring a crew back from downtown and throw an epic all night bash.  The price will run you about $1200.00 per night, but it does sleep a total of 20 people, which makes the price more appetizing.  The best part about this mansion is that it's only 10 minutes from downtown!
Rental Homes Available in Austin
When To Go
Regardless of when you decide to make the trip to the Lonestar State, make sure you protect your trip with travel insurance. This is especially true if you decide to book during June-November which is also considered hurricane season.  
Best Time to Go

February through May and late September through mid November are considered peak months where the temperatures are a bit cooler and the city is a little more crowded.
Bachelor Party on a Budget

If you are looking to book your bachelor party in Austin and want to save a few bucks, you should consider booking during the summer months of June – August.  Be advised that it is very hot during these months so you may need to pack some extra deodorant.  Since it's considered off-peak during these months you will definitely save money on hotels and flights.
Current Weather
What Else
Extra Curricular Activities

White can go for $60 – $75 a gram and is normally decent to high quality.  Remember that Austin is close to the Mexican border so all the importation from Columbia goes through Mexico and into Texas.
Green will run about $50 an eighth and is also mid to high grade.
Escorts will run you about $150 – $300 for a few hours of companionship.  You can find most of the contacts via backpage or the old traditional way, yellow pages.  You can also check out eros.com, and you may even find a few lonely ladies at some of the bars you visit.
Remember, these activities are illegal!  Do at your own risk.
Items to Pack
Big Events
To find out any events or concerts going on in Austin the weekend you are there, check out austin360.com.  The biggest event to happen in Austin each year is the SXSW which is a music, film and gaming conference that happens in middle of March.  Yes, the bars and restaurants will be packed during that time and hotels/flights will be more expensive.
Other Tips
Austin has a little bit of everything for your bachelor party.  Even if your group drank too much and can barely move, revival bus will come rescue you.  Yes, you read that correctly, there is a business that operates a bus which will come to your location and give you IV fluids to get you back on your feet.  This is definitely recommended for your party given the amount of drinking and lack of sleeping you will do.  For more information on this option or to schedule an appointment, contact them at rollingrevivalbus.com.
Austin also has a service which can deliver beer, wine, liquor, chasers, mixers, cups, ice, and more directly to your hotel or rental home.  The service is called drizly and you can order directly from their website or mobile app.
Travel Discounts
Booking a house or condo in Austin, Texas for your bachelor party?  Get a $40 travel credit with Airbnb.com.  This offer only applies to new members of Airbnb.com, not existing ones.
Austin Bachelor Party Forum
Still have some questions about planning your big weekend in Texas?  Post it on our forum (anything goes) and another bachelor or staff member from our community will provide you with a detailed response shortly.  Already been to Austin and have advice, recommendations, or reviews for other groups?  Post that as well, and help make our community stronger.
Why Go
Rating
Conclusion
In conclusion, Austin should be put at the top of your list of bachelor party destinations.  It all depends on the group in your party and what they really want to accomplish on this magical weekend.  If your group is into eating and drinking craft beer, then you would have to go to Austin.  However, if your group is into the nightclubs, casinos, and beautiful women to party with, you may want to look into another spot.