Bachelor Party Cruise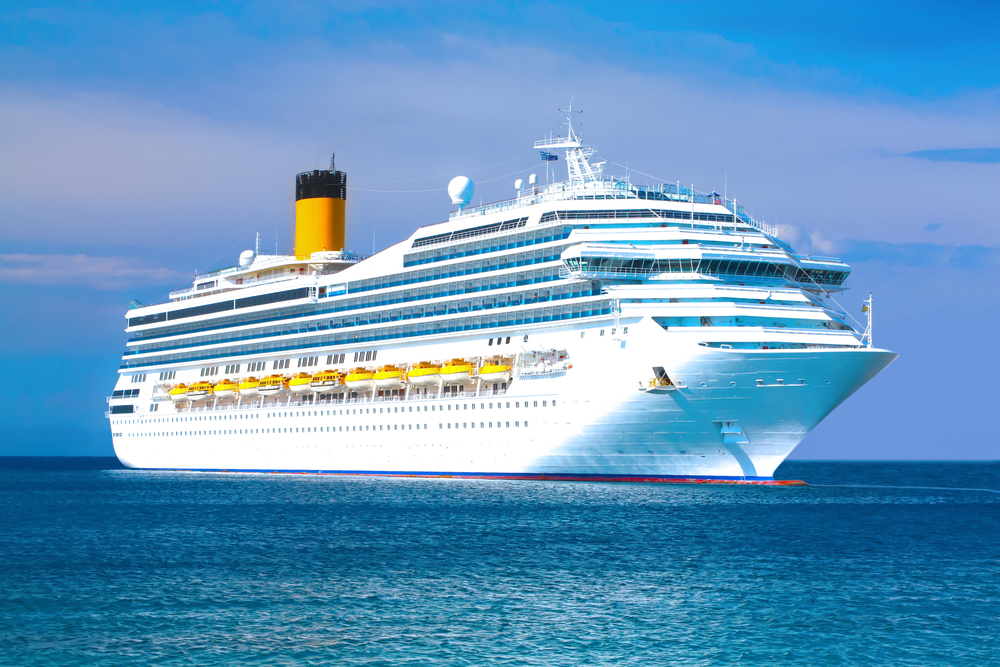 This post may contains references to products from one or more of our advertisers. We may receive compensation when you click on links to those products or services. Please also consider
donating to our website.
So you have decided to round up the guys and take a cruise for your bachelor party.  Make sure you understand all the pros and cons of this type of trip before taking your talents to the high seas.
We'll be the first to admit it.  Some guys are initially very skeptical about the idea of a bachelor party cruise.  Even if they like the idea of a destination bachelor party, their image of cruising may bring to mind elderly couples or lots of families.  However, bachelor party cruises are a great, affordable bachelor party destination.
The main reason we like cruises for destination bachelor parties is so that the best man can be lazy bastard and still pull off an awesome bachelor party.  No googling for creative bachelor party ideas.  No checking out venues, worrying about reservations, planning a designated driver- just pick the cruise and make the plan.  One and done.  It you want to really complicate things, you add in some excursions.  Still takes less time to plan a whole cruise than a single night's entertainment for some destination parties.
Cruises also mean guaranteed guy-time.  Your cell phone might not even let you make international calls, and, if it does, it is going to be ridiculously expensive.  So, your guys can cut the leash for a few days and just enjoy time with the boys.  We've been told this sounds insensitive, but really, what can you do about some pseudo-wedding-planning emergency from the middle of the ocean, anyway?  Nothing.  You can do nothing about it, so enjoy the boat with your friends and feel guiltless about ignoring the fiancé.
---
---
Another reason we love it?  Finances.  First, let's say your friends run the gamut from moneybags to paupers.  They can all take the same cruise.  Inside cabins on some of the most popular 3 to 5 night cruises cost less than $500 per person at almost any time of the year, while your rich friend can reserve a suite on the same ship for five or six times the cost.  Even on a big ship, you'll still be in the same place, able to meet at the same destinations.  Plus, we all have that one friend who conveniently forgets his wallet or takes forever to pay you back.  You pay for cruises before you go, which means no waiting six months to a year to collect for the trip; work with a travel agent on the cruise and have everyone pay for their accommodations up-front, avoiding having to turn into a bill collector when Johnny doesn't cough up the cash he owes you.  Plus, because cruises are all-inclusive, if one of your buds runs out of dough, that doesn't mean the party is over; there's plenty of for-free fun on a cruise ship.
The destinations are also awesome.  Where you can go depends on your departure port, how much time you have to travel, and your funds.  However, you can get to fun and sun from almost anywhere in the U.S. on a short cruise.  Mexico bachelor party cruises leave from California, Texas, Louisiana, Alabama, and Florida ports.  These bachelor party Mexico cruises are often very inexpensive and may be accessible from smaller ports, like Galveston.  Bachelor party cruises in Miami head to the Easter Caribbean, the Western Caribbean, Barbados, the Bahamas, Bermuda, and even Cuba.  In fact, if you are planning a bachelor party cruise, Miami might be your best departure point because of its high concentration of party cruise lines.  Bachelor party cruises out of NYC are only a few days' travel from Bermuda and the Caribbean.
Finally, can we just say it?  Bachelor party expectations are sometimes just too much.  Sure, some guys might want to spend 72 hours knee deep in strippers, hookers, and drugs, but that's not for everyone.  A bachelor party cruise guarantees a good time, but also means you're far less likely to do things that you can't afford, that you will regret forever, or that could lead to the wife permanently banning one or more of your best buds from your life if she ever finds out about it.  Now, while your opportunities for foolish decisions are limited by a cruise, they are not eliminated.  Want to engage in some questionable behavior?  Choose your destinations accordingly.
How To Get There
Cruise Ports
Alabama – Mobile – Port of Mobile
California – Long Beach – Port of Long Beach
California – Los Angeles – Port of Los Angeles
California – San Diego – Port of San Diego
California – San Francisco – Port of San Francisco
Florida – Fort Lauderdale – Port Everglades
Florida – Jacksonville – JAXPORT Cruise Terminal
Florida – Miami – Port of Miami
Florida – Port Canaveral – Port Canaveral
Florida – Tampa – Port of Tampa
Hawaii – Honolulu – Honolulu Harbor, Oahu
Louisiana – New Orleans – Port of New Orleans
Maryland – Baltimore – Port of Baltimore
Massachusetts – Boston – Port of Boston
New Jersey – Bayonne – Cape Liberty
New York, New York – Port of New York – Brooklyn
New York, New York – Port of New York – Manhattan
Oregon – Portland – Port of Portland
Puerto Rico – San Juan – Port of San Juan
South Carolina – Charleston – Port of Charleston
Texas – Galveston – Port of Galveston
US Virgin Islands – St Thomas – Charlotte Amalie Harbor
Virginia – Norfolk – Port of Norfolk
Washington – Seattle – Port of Seattle
Airport Codes
Unless you live within driving distance of a port, you will probably need to arrange a flight to get to your departure city.  Here are the airport codes for the cities closest to some of the nation's ports with cruise departures.
Mobile – MOB
Long Beach – LGB
Los Angeles – LAX
San Diego – SAN
San Francisco – SFO
Fort Lauderdale – FLL
Jacksonville – JAX
Miami – MIA
Port Canaveral – MLB, MCO, SFB
Tampa – TPA
Honolulu – HNL
New Orleans – MSY
Baltimore – BWI
Boston – BOS
Bayonne – EWR
New York City, New York – JFK, LGA, EWR
Portland – PDX
San Juan – SJU
Charleston – CHS
Galveston – IAH and HOU
St Thomas – STT
Norfolk – ORF
Seattle – SEA
What To Do
Daytime Activity Ideas
Daytime activities on a cruise are broken into two categories: fun days at sea and port days. Depending on your destinations, there is no limit to bachelor party cruise ideas.  At sea, you can expect to spend your daytime hours at the pool or in the casino on any ship.  Some ships are going to offer some really cool active opportunities: rock climbing, surfing, skydiving, zip-lining are just a few of the activities some of these cruise lines offer.  However, they vary from ship to ship, so you have to check, not just your cruise line, but the actual ship scheduled for the cruise, to see what type of onboard activities they offer.
When you do hit a port, you have two ways to go.  You can disembark and explore the port on your own.  At just about every port you are going to find tons of locals offering to show you the sites, take you on an excursion, or transport you to a local beach or sightseeing destination.  You can use these locals, just be sure to be back at the ship in time to exit because they will leave you.  Want to plan your port adventures more carefully?  Then, book excursions through your cruise line.  They might be a little more expensive, but the bonus of excursions booked through your cruise line is that they run like a well-oiled machine.  If something happens to delay you, but you have booked your excursion through the ship, they are much more likely to wait for you.  In fact, some cruise lines even guarantee that they will wait.
It is impossible for us to list every type of excursion that you can have on a cruise.  In tropical destinations, expect to find scuba, snorkeling, boating, jet skiing, and parasailing adventures, just to name a few.  Anywhere that land you close to nature will probably offer some type of rugged adventure tour that combines hiking with some type of outdoor vehicle.  Where the terrain permits, you can expect to find zip-lining.  You may opt to just head to a beach for sand, sun, and drinks.  Under the ports in the itinerary for each cruise, you will find lists of excursions that will tell you what options each city offers.
Nightlife Activity Ideas
On a cruise, you will almost always be aboard the ship at night, which means that, other than places in your departure city, your nightlife options are going to be limited to on-board entertainment.  Fortunately, most cruises offer some amazing onboard entertainment options.
First, with the exception of the Disney Cruise Line, which for many, many reasons that we should not have to explain to you is not the cruise line you want to pick for a bachelor party anyway, all cruise ships departing from the U.S. are going to have on-board casinos.  Like casinos in any big gambling city, these casinos tend to be open 24 hours, as long as the ship is in international waters.  So, spend every night, or until you run out of money, playing casino favorites like blackjack and poker and other games you're more likely to find on a cruise, like bingo or slot pull contests.
Cruises also features some top-quality entertainment.  From Broadway-style productions to themed entertainment on certain lines at certain times of the year, trust that there is going to be something to see or do each night.  You can tailor the cruise to your interest, because there is literally something for everyone in the cruise theme industry.  An older female relative went on a Property Brothers' cruise a few years ago, while an adventurous married couple we know is going on an erotic couple's only cruise this fall.  So, whether you're all fans of comedian Jeff Foxworthy or singer Carrie Underwood, look for a cruise that features your favorite entertainers.  Carnival is best known for its celebrity guests, but most cruise lines offer something similar.  Check them out; you might be surprised what you find.
Then, you have to consider the pools.  Some cruises are known as party cruises, and are going to feature far more adults than families.  In fact, certain ships on Carnival Cruise are bachelor party hotspots.   Other cruises are more family-friendly.  However, even the most family-friendly cruises tend to have adult-only recreational areas. So, grab a cocktail and go hang out at the grownups' pool.
The grownup fun isn't limited to an adult-only pool.  Most ships have nightclubs that are adults-only, and some of these nightclubs offer dance music, drinks, and sounds that rival the best clubs in any major city.  To find out what clubs your contemplated cruise has, check out the ship online before you book it.  Some of our favorite nightclubs include:
Carnival's Havana Bar.  Not every ship has a Havana Bar, but those that do are known for their awesome mojitos and great Latin dance music.  On a Carnival ship without a Havana Bar?  Never fear; Carnival has you covered for nightlife.   Every Carnival Cruise ship has its own unique themed nightclub.  Themes include things like the moon landing and Frankenstein.  What the clubs have in common in industry leading sound and light systems and DJs personally trained by Carnival's official DJ, DJ Irie.
Want to experience a South Beach style club while on the high seas?  Royal Caribbean thought you might, so it created Club 20 for your partying pleasure. It is like Royal Caribbean had a bachelor party in mind when it designed these clubs.  They feature go-go dancers, DJs trained by the Scratch DJ Academy, and are known for their neon parties.  A great bonus is when the retractable glass roof over the club opens up and takes the party outside.
B.B. King's Blues Club, which is featured on some of Holland America's ships.  These clubs don't actually feature blues; their live bands play music that we would call classic R&B.  You might not get up and dance, but you'll find yourself singing along, almost like you're at a great piano bar.  When the band stops playing, DJs take over and play some of today's hottest dance music.
MSC Cruises feature the Galaxy Lounge Restaurant & Club, which are like 1950s supper clubs mixed with a modern dance club. These lounges don't have the frenetic energy of the hottest nightclubs, but are a great place to hang out and chill if that's more your style.
If swanky Vegas clubs are your thing, then Norwegian Cruise lines might be the way to go.  Their Bliss lounges capture the feel of Vegas, but not in a casino-atmosphere.
Of course, in our opinion, the absolute best cruise nightclub out there is on the Regal Princess by Princess Cruise Lines.  This club is somewhat exclusive; it only happens one night of each cruise, but when it does the cruise converts the top-deck pool into a dance party.  You can expect glowing drinks, colorful lights, and a DJ.  Met some people you want to get to know better on your cruise?  Then reserve one of the poolside cabanas and get bottle service during this party.
Finally, for most people, a bachelor party means doing some drinking.  Cruises have tons of bars, making it easy to grab a drink, and no one has to worry about designating a driver.  To make things even better, some cruise lines give you the option to add an unlimited alcohol package, which means that, once you've paid that fee, you get to drink for free on the cruise.  Which bars are the best really depends on the ship, but the best thing is you can walk around and sample all of them until you decide on a personal favorite.
Where To Eat
Restaurants and Dining for a Bachelor Party on a Cruise:
Cruise dining really does offer something for everyone.  Most cruise ships have buffets with some pretty dang good food on them open just about 24/7.  Casual dining restaurants, usually located near the pools or other popular hang-outs, offer typical "American" type food like pizza and burgers.  You will probably be rotated through some of the cruise's other nicer restaurants for dinner, though some cruise lines offer what they call free-style dining.  Expect most larger ships to have at least one high-end joint offering specialty dining (and reserve space there, if you want to eat there, because many of these places get fully booked well before the cruise departs).
When To Go
Regardless of when you decide to take the cruise to freedom with the guys, make sure you purchase travel insurance to protect your investment.
Best Time
We know you expect us to say spring break is the best time to take a cruise and it is.  Maybe we're pigs, but the overwhelming likelihood that a huge portion of the passengers will be drunk college girls sways our thinking.  But, if you don't want to see a bunch of hot chicks in bikinis, then don't take our word for it.
Another great time to take a bachelor cruise?  Carnival or Mardi Gras; while the party might not be on the boat, you can combine a party destination with a cruise for the ultimate vacation.
On a Budget
Late spring, just before summer vacation starts, and early fall, just after kids go back to school, tend to be the least expensive times to cruise.  Generally, weather in destinations is still going to be gorgeous.  Just don't forget travel insurance if your itinerary includes tropical hurricane-prone destinations.
What To Bring
Items to Pack
You can buy almost anything on a cruise ship, but you will pay ridiculous rates for everyday stuff.  So, go ahead and pack it, just check with the cruise about what you can bring.  Most cruise lines won't let you bring any of your own alcohol (a non-issue if you've been smart and purchased the unlimited drink package), but many also limit stuff like how much bottled water you can bring on board.  (However much bottled water they tell you that you can bring per person, go ahead and bring it.  A 48 pack of bottled water is less than $5 at a big box store, while you can expect to pay $2 or more per bottle on board.  You will all need to stay hydrated in the sun; bringing water can literally save you hundreds of dollars).  You're planning on drinking and you're planning on being in the sun; massive hangovers can occur.  So, bring some ibuprofen, acetaminophen, electrolytes and recovery formula, just in case.  Hoping to find some lovely ladies to share special times with on the cruise?  Then go ahead and bring some condoms and lube, so you can let the good times roll without running from gift shop to gift shop trying to find protection.
What Else
Massage Parlors and Strip Clubs
While there are sometimes erotic adults-only themed cruises booked on a ship for specific sailings, even these cruises do not feature massage parlors or strip clubs.  In fact, these adult-themed cruises are generally not a good choice for bachelor parties, because they tend to be couples-only.  If a strip club is a must do for your bachelor party, your best bet is to look at the departure city or the cities in the cruise itinerary and plan to visit a club during the cruise.  Given the time constraints of a cruise's rigid departure schedule, we suggest having the guys meet the night before and hitting a strip club in your departure city.  Some of our favorite clubs in some of the nation's most popular cruise departure cities are:
If your bachelor party cruise leaves Los Angeles, you can't get more iconic than Seventh Veil.  Its flashing neon sign proclaiming "Girls, Girls, Girls" was the inspiration for Motely Crus iconic song.  While you are unlikely to run into any celebrities there, this all nude joint located at 7180 Sunset Blvd. is iconic.  It features two stages, private rooms for lap dances, and doesn't discourage a little friendly touching.
Departing from the Big Easy?  While in New Orleans, Bourbon street is a must, which is why we recommend Rick's Cabaret – located directly on Bourbon Street, this two floor establishment is full of beautiful women, features a frozen bar top which is great for shots, and has an excellent location.  The drink prices and the cost for a lap dance are a little pricey at Rick's, but the experience is worth the extra cost.
Leaving from Miami or Fort Lauderdale?  Spend the night before at Scarletts.  While you don't get to touch the women at Scarletts, like you do at some strip clubs, the dancers are known for their amazing hot-ness.  You can also check out Cheetah Gentleman's Club in Pompano Beach, which has a reputation for throwing wild themed parties.
Taking a bachelor party cruise from NYC?  Well, you're in luck, because New York features some of the best strip clubs in the city.  What makes us call them the best?  Well, they are classy, not skanky, but still offer some of the most gorgeous and talented dancers out there.  Hey, where do you think all of those babes with Broadway aspirations work till they are discovered?  Some people will tell you that the Penthouse Executive Club is the best one to visit, and it is pretty swanky, but we think that Sapphire's VIP bachelor party packages make it the Big Apple's best choice in erotic entertainment.  Unless you're from the City, take an extra day or two to check out some of our bachelor party ideas for NYC; whatever you like, New York has it.
If you are cruising out of Galveston, be forewarned that you aren't going to find quality gentleman's entertainment on the Island, itself.  However, you can take a very short drive to a little town called Dickinson, which features a place called Heartbreakers, where you're going to see some of the best looking women in the whole greater Houston area, taking it off, for you.

Does your bachelor party cruise depart from San Diego?  Hit Goldfingers the night before.  Be forewarned; the exterior is pretty boring looking, so you may feel skeptical when you arrive.  However, inside you'll see some of the best girl-on-girl "dancing" that you're likely to find in the lower 48.
Bachelor Party Friendly Cruises
Just about any cruise can be bachelor-party friendly, as long as you aren't stupid when you're booking them.   Check out the scheduled entertainment for that particular cruise and plan accordingly.  That said, there undoubtedly some cruises that are better than others, and in our opinion the cruises below are the best bachelor party cruises:
The Norwegian Sky might be the best bachelor party cruise ship out there.  It travels out of Miami for three and four day cruises to the Bahamas and Cuba and the Bahamas.  It offers an open bar, so all of your drinks are included which, if your friends are like ours, makes it the best cruise for a bachelor party.  It is inexpensively priced, fitting in just about every budget, and it's short enough that even friends who don't have vacation days available can usually manage it.
Carnival is the best cruise line for a bachelor party and the Carnival Vista is the ultimate bachelor party cruise on Carnival.  It cruises out of Miami and Galveston and the ship is so much fun that you could skip all of the destinations and still have a great time.  First, it has an on-board brewery, which is just frickin' cool, but the brewery alone does not make it the best bachelor party Carnival Cruise.  Before you get too drunk, go hop on the Skyride, which is literally a flying bicycle track that takes you over the ocean.  Instead of just the traditional pools, this ship has WaterWorks, which is like an onboard waterpark.  It has two Guy Fieri restaurants; Guy's Burger Join and Guy's Pig & Anchor Smokehouse.
The Norwegian Escape cruises out of Miami and also offers a shipboard brewery.  This is the cruise ship if you and your crew are foodie snobs, because it offers some of the best food and drink variety among Miami-based ships.
Norwegian Cruise Lines is offering a free promotion for all new bookings on all of their ships, where you can choose unlimited alcoholic beverages for your entire cruise.  This is definitely a really good option for a bachelor party as your biggest cost on the vessel will be booze.  The demo for this specific cruise line is very similar to that of Carnival.
What if you are looking for a one-day experience?  Well, the bachelor party cruise in San Francisco, offered by the San Francisco Sailing Company, might just be one of the best bachelor party ideas in San Francisco.   In fact, it might be the best bachelor party in the bay area.  The staff of your cruise will cater the party to your individual tastes, whether that means a relaxing tour around the bay with fine liquor and cigars or a raucous atmosphere complete with strippers or whipped cream.  The company's motto is "what happens on the boat, stays on the boat."  No wonder it is the premiere bachelor party boat in San Francisco.
Chicago is another place where you can find awesome on-day bachelor party boat experiences.  Whether your bachelor cruise is on Lake Michigan or down the Chicago River, you can find something for everyone.  VIP Bachelor arranges cruises in the Chicago area, and they can hook you up with a Chicago bachelor party cruise on a big ship like the Anita Dee or a smaller, private cruise on a chartered yacht.
While Spring Break isn't exactly an event, it is one for the cruise industry.  Are you young, ready to party, and looking for hookup opportunities?  Then hit a spring break cruise out of a party-friendly city.
One trend in the cruise industry is to offer music festival cruises.  Holy Ship, the Groove Cruise, the Groove Cruise L.A., Inception at Sea, Shipsomnia, and It's the Ship are all developing reputations as some of the world's best music festivals. Any one of these cruises could be a contender for the title of best party cruise.  If you want a 24/7 party, can afford these cruises and find space available on them, then you are going to have the wildest one-of-a-kind-bachelor-party experience out there.  It's like if you mixed Coachella with an EDM club and put it all at a beach with a bunch of drunk spring break girls.
Are your tastes a little nerdier?  Fan2Sea cruises offer the best of a comic con and a cruise, including cosplay.  The JoCo Cruise might be the most famous nerd cruise extravaganza and could be the perfect destination bachelor party for you and your friends if you are more gamers than game-players.
Other Notes
Getting seasick is a real thing.  It might seem funny if you're not the one who is sick, but it can ruin an entire trip.  So, even if you don't think you're prone to motion sickness, be prepared.   Try to book a mid-ship room near the water line; get plenty of sleep; use an acupressure wristband and/or antiemetic drugs; and get plenty of fresh air.  While it may seem counterintuitive, keeping your belly full can actually help prevent motion sickness, so take advantage of the ship's food.  Also, if you notice that the motion sickness is a major problem for you, you may need to dial back the drinking.  Which, yeah, that sucks, but not as much as spending the whole cruise praying to the porcelain god sucks.
Keep in mind that being seasick combined with being hungover and too much sun can actually put you at risk of getting really ill.  In that case, call the cruise's health clinic; you won't be their first or last totally dehydrated person, so let them help you.
If you decide that a cruise ship is the best way to celebrate the loss of your manhood, I would recommend choosing a cruise line like Carnival which tends to have a much younger clientele, is normally cheaper than the rest, and is more of a party ship than the other lines.  I would also recommend taking the 3-7 day trip during the month of March (March = Spring Break = hot chicks in bikinis = parties = amazing)
Discounts
Make sure you take an Uber from the airport to your hotel or cruise terminal.  If you use my Uber link you will get your first ride up to $20 for FREE (new signups only).
If you decide to rent a house or villa before or after you cruise, use my Airbnb link and get $40 off your entire stay (new accounts only)
Forum for Bachelor Party Cruise
Still have questions about planning the weekend cruise getaway with the guys?  Ask a question in our forum (anything goes) and another member of our community or someone from our staff will answer it shortly.  If you already have been on a bachelor party cruise and have tips, recommendations, or reviews for other groups, please post to our forum as well and help our community grow.
Why Go
Pros
Cruises are inexpensive – The best part about a cruise is the low cost.  You can go on a 3-4 day cruise for as little as $300 per person and a 6-7 day for $500 per person.  The only other cost factor would be your flight to the port (unless you live near a port and can drive).  Most cruises include all costs (voyage fee, port taxes) except alcohol, shopping, and gratuities. (see right below for more information)
All You Can Eat and Drink? – Cruises are known for stuffing your face.  What better way to spend your bachelor party than eating 24/7, before your future wife makes you starve so you can look good in person and in pictures.  Cruises these days have upwards of 10+ restaurants including their famous stuff yer face buffet.  Also with all the drinking you will be doing on your bachelor party, the food will provide a good base and hopefully alleviate a hangover.  Most cruise lines now offer an all-inclusive alcohol package for $50 – $60 which will be the biggest expense on your on-board account.  For a bachelor party, we recommend getting the alcoholic drink package.
You Can Party in Multiple Islands – Most cruises will make stops at multiple ports on your trip.  This means your bachelor party can move to shore as well.  Why pick one destination when you can have your bachelor party in three different islands and on a boat?  Most cruises dock at one specific location each day which gives you enough time to travel to multiple beach bars and get your drink on.  Just make sure your group keeps an eye on the clock and the local time, so you aren't those "guys" left behind.
Cons
No Strip Clubs or Lesbian Shows – With a cruise you are limiting your night time entertainment options.  Yes, you can belt out a song in karaoke, or you can do a pub crawl (most cruises have 10-15 different bars), but what about hot chicks getting naked and the infamous lesbian show or the overnight orgy?  You are not going to find any of that on your bachelor party cruise, unless you are lucky enough to get on board Holy Ship  or the Groove Cruise.
Smaller Boats = Less Opportunities – With the smaller boats doing the shorter itineraries, there is a lot more to risk.  The odds of finding a bachelorette party or even a group of single ladies on a small boat are highly unlikely.  Even on the larger boats it could be a gamble.  Make sure when you're booking your bachelor party cruise, you choose a larger boat, so the odds are more in your favor. (larger boats = newer boats = better accommodations = a higher class of single ladies)
Rating
Conclusion
In conclusion, to understand the grade, you have to understand how we came up with it.  We looked at pros and cons and them considered the whole wide range of guys that have destination bachelor parties.  Then, we factored in the huge number of available cruises and different destination cities.  Taking all of that into account, we determined the average grade that these groups of guys would give the cruise ship.  Honestly, for some groups of guys, a destination bachelor party on a cruise ship just is not going to match the all-out debauchery that you're going to find some bachelor party destinations like Jaco or Las Vegas.  These guys are going to have a good time, but not a great time, so they're likely to give it a C.  Other guys are going to have the best damn time they've ever had, so the cruise is going to earn an A+.  So, we gave it a B- average.  If you and your crew are seriously hardcore, then a cruise isn't for you, but you knew that already.  If you are more middle-of-the-road, then look at the pros and cons we considered.