Top 10 Bachelor Party Destinations (2023 Guide)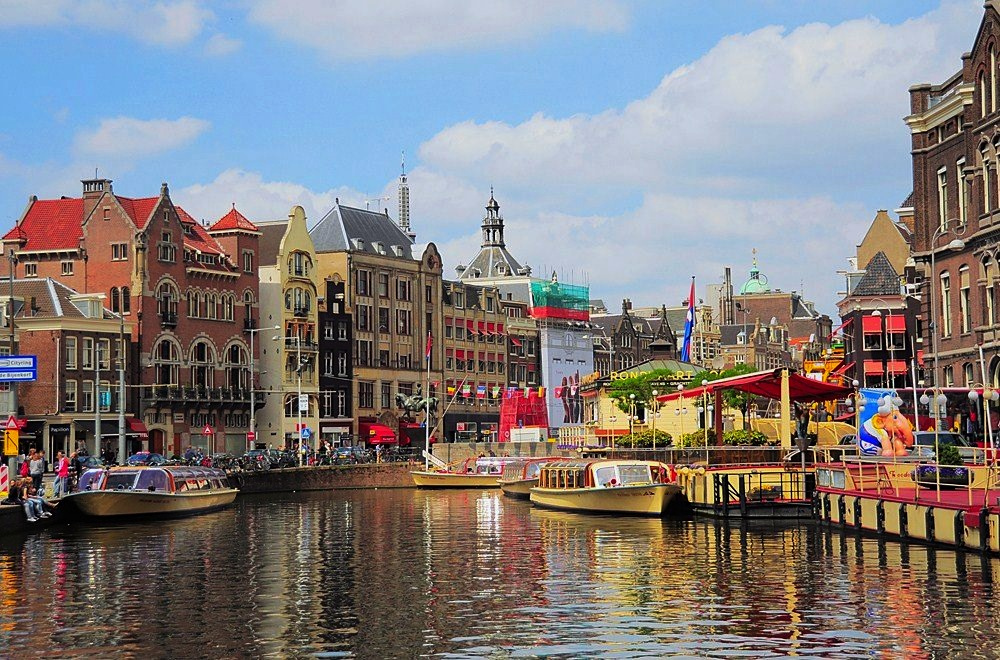 This post may contains references to products from one or more of our advertisers. We may receive compensation when you click on links to those products or services. Please also consider
donating to our website.
If you're planning a bachelor party and you're not quite sure about the best place, the following list of the top 10 bachelor party destinations can help you decide on the perfect venue for you and your bachelor party buddies. The following list, however, is not exhaustive but it does provide some useful information concerning domestic and foreign destinations that have been consistently cited as great places bachelor parties.
#10 Austin, Texas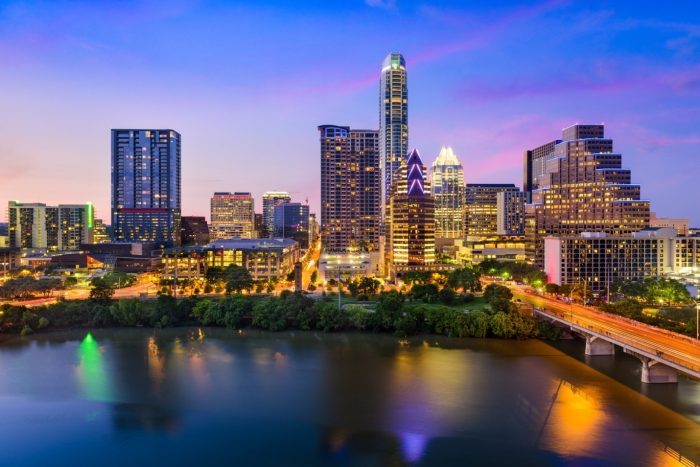 Known worldwide for its great music (the city is known as the "Live Music Capital of the World") and more than 250 music venues, Austin is the state capital of Texas and also boasts a number of other entertainment and recreational opportunities that will make any bachelor party a memorable event. Everything is big in Texas, of course, so you may want to consider flying there instead of burning your valuable bachelor party time off driving across this enormous state. The Austin-Bergstrom International Airport features nonstop flights from many American cities beginning at just $99 one-way.
Once you've arrived, be sure to take a ride on the 3-hour Twisted Texas Live Music & Brewery Tour. This brewery tour includes a local band which rides along with you and your buddies and performs some of their best music. More importantly, this tour includes three stops at local breweries where samples of the craft beers are served and a behind-the-scenes glimpse at how craft beers are made.
If you're interested in seeing more than just breweries (it happens!), you can see the main attractions of the city on the Inclusive Austin City Tour. Featuring visits to world-class barbecue spots and bars, this tour includes stops at the state capitol and friendly guides who provide interesting facts about the city and its history. The tour ends with a craft cocktail or a margarita (which are virtually synonymous with Austin).
Don't miss Austin's Schlitterbahn Waterpark where you can cool off and watch the gorgeous bikini-clad women enjoy the 70 acres of water sports and activities, including the "Boogie Bahn," Sky Coaster, and tubing on the Torrent wave river. You and your bachelor party buddies can even get rocketed uphill on the Master Blaster Water Coaster.
There's also plenty of eateries and accommodations available to meet any budget, including the highly rated Wyndham Austin located conveniently downtown, and The LINE Austin. Finally, don't miss out on the exotic entertainment at Perfect 10 which features $3 champagne cocktails all day and all night.
Read more about planning your bachelor party in Austin, Texas
#9 Montreal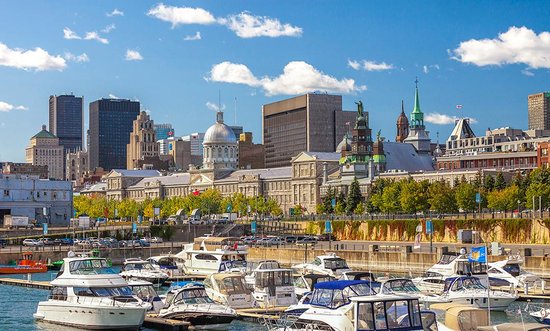 Today, with a population of about 1.7 million people, Montreal is the most populous city in the Canadian province of Quebec and the second-most populous city in the country. You'll also enjoy the generous exchange rate of 1.3 Canadian dollars for American dollars, making your bachelor party highly affordable. Montreal is also famous for its nightlife including numerous clubs and bars that feature different themes and specials. The city's close proximity to many American cities places it within driving distance, and the Montreal-Trudeau Airport offers nonstop flights from many cities in the U.S. A good way for first-time visitors to see the city and its numerous attractions is the Montreal Hop-On Hop-Off Bus Tour. For just $45 this double-decker bus narrated tour allows you and your bachelor party friends to hop on and off as many times as you like at 10 different stops.
Although Montreal is a French-speaking city, many residents speak English and the city is known the world over for its European-styled architecture, including the Basilique Notre-Dame and the Plateau Mont-Royal district. Recreational marijuana is also legal in Montreal and the city features several dispensaries where some of the best weed in the world can be found. In addition, Montreal is known as the "sex capital of Canada" Interestingly, although it is illegal in Montreal to purchase sexual services, it is legal to sell them and the city features hundreds of "erotic massage parlors" that live up to their name. Some of the more popular strip clubs in Montreal include Club Super Contact, Club Super Sexe, and Club Octopussy.
Besides legal pot, Montreal also boasts some of the best beer in the world, and the city is home to dozens of craft breweries such as the EtOH Brasserie and the Brasserie Harricana where you and your bachelor party friends can sample the goods and learn more about how the suds are made. In addition, because Montreal is a popular tourist destination for Canadians and Americans alike, you can also count on finding some great deals on world-class hotels the year round.
Read more about planning your bachelor party in Montreal
#8 New Orleans
Known the world over as "the Big Easy" (purportedly to distinguish it from "The Big Apple"), New Orleans is a great destination for your bachelor party for a number of reasons. First of all, the city is within easy driving distance of more than 58 million Americans but New Orleans is also served by the modern Louis Armstrong International Airport. In addition, the city is home to some of the best strip clubs in the country, including Larry Flynt's Hustler Barely Legal – New Orleans Strip Club and The Penthouse Club which specialize in bachelor parties.
Although recreational marijuana is still illegal in Louisiana, medical marijuana has been legal since 2015 so make sure you pack your prescription. Many bars in New Orleans also offer great drink specials, including three-for-one drinks at the Cat's Meow in the historic French Quarter.
Another good reason for having your bachelor party in New Orleans is the grub. Not surprisingly, New Orleans features numerous seafood dishes but the city's restaurants cater to all tastes and budgets.
There's also plenty to see and do during your visit to New Orleans, including fishing and boating and even gondola rides in the city park. Likewise, you and your friends will enjoy the 2-hour excursion on the Steamboat Natchez (just $34!) or the creepy but fun narrated tour of the French Quarter, Cemetery and Voodoo sites in the city (starting at just $13!) or the 2-hour Ghosts and Vampires walking tour (only 20 bucks). Nature lovers will enjoy the 22-passenger boat that takes them on a Honey Island Swamp day tour where you'll see all types of exotic wildlife in comfort and safety.
Finally, New Orleans has numerous world-class hotels and resorts that feature special discounts for groups, including the top-rated Bourbon Orleans Hotel and the New Orleans Marriott.
Read more about planning your bachelor party in New Orleans
#7 Miami Beach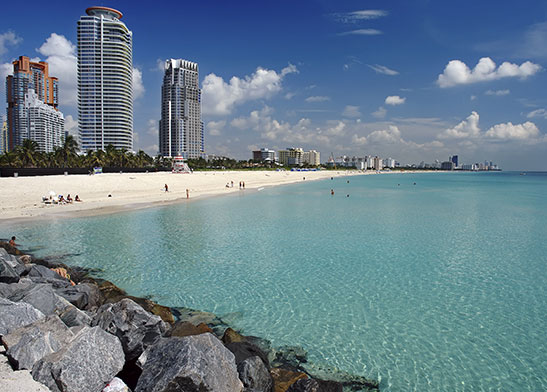 Miami Beach is located in southern Florida and is situated on an island that is connected by bridges to mainland Miami. The city is known far and wide for its spectacular beaches and water sports as well as its historic palm-lined streets which make it a great place for your bachelor party. Things really heat up at night in Miami Beach along Ocean Drive and the Lincoln Road Mall where you and your bachelor party friends can enjoy a relaxing drink while watching thousands of pedestrians stroll along the way. Given its location in southern Florida, you'll probably want to fly to Miami Beach instead of driving. The Miami International Airport provides easy access to the city and offers car rentals and shuttle services to many local hotels.
Many of the activities available in Miami Beach are either free or inexpensive, including the South Beach, Ocean Drive, Haulover Beach Park. Lummus Park, and the above-mentioned Lincoln Road Mall.
In fact, you and your bachelor party friends can spend an entire day just relaxing on the beaches, or kayaking, jet skiing, swimming and surfing in the Atlantic Ocean. Be sure to check out the half-day Ocean Forces Adventure tour of the city and the half-day airboat tour of the Miami Everglades where you'll see alligators and crocodiles up close and personally, as well as exotic snakes and other wildlife.
Miami Beach is also home to a number of world-class sex clubs, including Tootsie's Cabaret and Club Madonna which specialize in bachelor parties. Prices at Club Madonna range from just $25 per person to the blow-out $100 special which includes a roast of the groom on stage as well as two dancers and a free polo shirt.
Although accommodations in Miami Beach are typically pricey, there are several low-cost alternatives available at world-class resorts that cater to bachelor parties, including the Fairwind Hotel and the Clevelander Hotel (adults only).
Read more about planning your bachelor party in Miami Beach, Florida
#6 Las Vegas, Nevada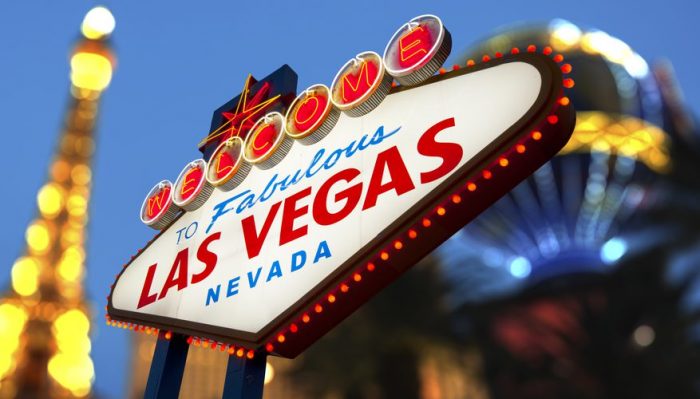 Las Vegas is consistently rated as the top destination for bachelor parties in the United States. You'll probably want to fly to Vegas unless you live close by in Los Angeles, for example, but many major carriers offer discounted flights and all-inclusive accommodations are the norm.
Las Vegas is served by the McCarran International Airport (IATA: LAS, ICAO: KLAS, FAA LID: LAS) and you'll be able to see "The Strip" from your plane. Even though it looks temptingly close, though, actually getting from the airport into the city requires a shuttle, rental car or taxi. It's also hot in Vegas and temperatures above 100 degrees are common so pack accordingly.
"Sin City" has earned its name and you can count on finding countless gentlemen's clubs and strip clubs everywhere you go. Although prostitution is illegal in Las Vegas proper, numerous so-called "sex ranches" are conveniently located nearby. In addition, recreational marijuana is legal in Las Vegas and the city has some upscale dispensaries located in or near the city (no dope smoking in the casinos of course). If you plan on gambling, set a realistic budget and be sure to take advantage of players' club discounts and benefits.
Expect to pay a lot for table service at clubs and strip clubs if you want women to even talk to you, but there are some venues that are more popular than others because of their friendly hostesses, such as the Crazy Horse III Gentlemen's Club and Centerfolds which specialize in blow-out bachelor parties.
Las Vegas also has much to offer besides strip clubs such as the High Roller Observation Wheel that has a Happy Half Hour cabin with an open bar with mixed drinks and beer (just $47!) or the Helicopter City Lights Tour with Limo & Champagne ($84 per passenger). There's also some interesting museums in Las Vegas, including the Mob Museum and the Neon Museum (don't miss this one).
Read more about planning your bachelor party in Las Vegas
#5 Nashville, Tennessee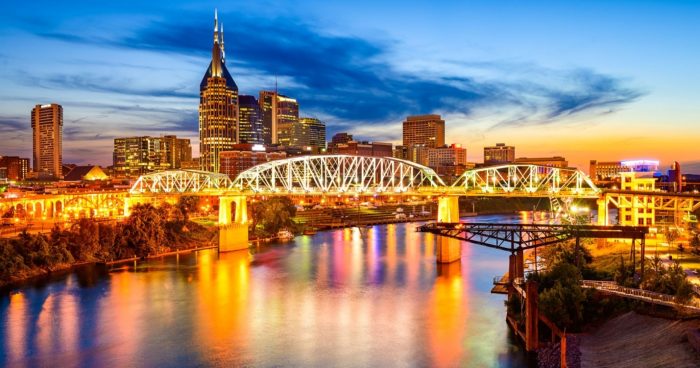 You may be surprised to learn that Nashville is the top rated destination for bachelorette parties in the United States, and many of the same features also make it a great destination for your bachelor party. For instance, Nashville's central location makes it easily drivable for nearly 108 million Americans and the city is also served by the Nashville International Airport which also offers car rentals and shuttle services.
The city is home to a number of legendary country music venues, including the world-famous Grand Ole Opry House and the Country Music Hall of Fame and Museum. In addition, you'll find the Ryman Auditorium that features live "honky-tonk" music in downtown Nashville together with the Johnny Cash Museum.
You and your friends can take advantage of the Nashville Old Town Trolley Hop-On Hop-Off City Tour (about $40) that includes 15 stops such as Lower Broadway, the aforementioned Country Music Hall of Fame and Museum as well as the Parthenon/Centennial Park and the Belmont Mansion. Another great tour is the Jack Daniel's Distillery Day Trip (about $60) in nearby Lynchburg, Tennessee. You'll also be sure to enjoy the Guided Pub Crawl Tour that takes you and your friends to four to six great local bars in downtown Nashville. In you're in the mood for something more adventurous, check out Nashville's Treetop Adventure Park Ropes Course with Ziplining (only $39 per person) which features five different rope courses and ten ziplines that navigate an obstacle course.
You can also "zip" around downtown Nashville on a Segway tour. You and your friends will be provided with a short orientation course to help you learn how to use the Segways safely, then hop aboard to visit the Schermerhorn Symphony Center and modernistic Bridgestone Arena. Other sights of interest on this tour include the Country Music Hall of Fame and Nashville's famous Music Mile.
The city's historic music scene has also made it a major tourism destination, and there are plenty of luxury hotels and resorts available, including the Gaylord Opryland Resort and Wingate by Wyndham.
Read more about planning your bachelor party in Nashville
#4 Reykjavik, Iceland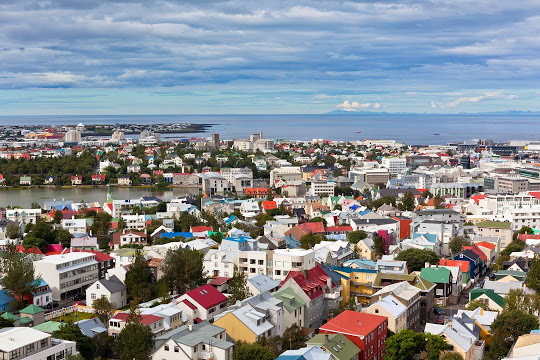 You probably hadn't considered Reykjavik as a top bachelor party destination, but Iceland has much to offer. Flying to Iceland is a simple matter and the Reykjavik Airport features nonstop flights from many American cities as well as rental cars and shuttle services. Round-trip tickets to Reykjavik begin at just $319 from the U.S. Moreover, with a population of just around 330,000 people, Iceland offers more fun per capita than most other popular bachelor party destinations and you can be sure of having the time of your life.
Besides numerous cultural and historic attractions, Reykjavik also features the geothermal Blue Lagoon spa and numerous bars and clubs for an exciting nightlife. Be sure to check out the "Golden Circle" tour that visits the Gullfoss Waterfall, active geysers and the Thingvellir National Park. If you're lucky, you may even be able to see the Northern Lights (typically during the winter months). Icelandic women are also beautiful and friendly, but you shouldn't mistake this for being sexually adventurous. In other words, mind your manners and you'll be treated just fine by the locals. Iceland is also known as "The Land of Fire And Ice" and things do in fact get heated up at night but strip clubs and prostitution have been outlawed in Iceland since 2010. Instead of strip clubs, Reykjavik features "lingerie bars" such as Goldfingers where there are private rooms and beautiful women who will perform for you and your bachelor party friends. The bars in Reykjavik also stay open until the wee hours on weekends (around 4:30 to 5:00 a.m.) and there is usually no cover charge. The nightlife in Reykjavík is conveniently centered around the main shopping street; Laugavegur and the adjacent street, Hverfisgata, and most bars are within easy walking distance of each other.
Accommodations in Reykjavik are also competitively priced, ranging from the Oddsson Hotel for just $41 per night to The Base at Keflavic Airport for just $56 a night.
Read more about planning your bachelor party in Iceland
#3 Amsterdam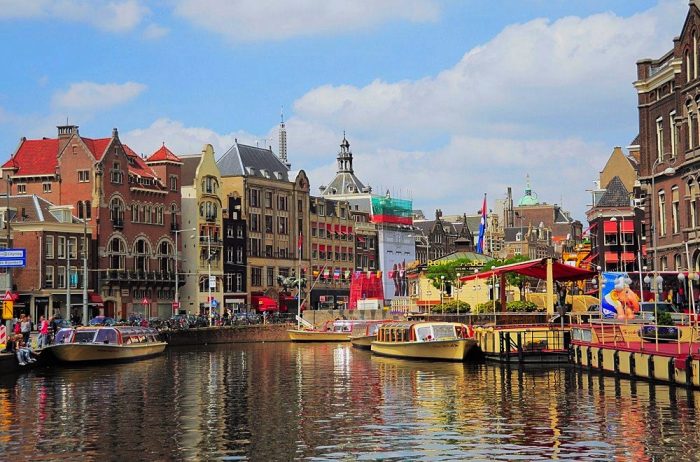 If money's no object and you want to throw the best bachelor party in living memory, Amsterdam is the right place for you. You'll fly into Amsterdam's Airport Schiphol, known informally as Schiphol and is served by all major air carriers. The airport also has rental cars available or you can take advantage of the top-notch public transportation. Getting around Amsterdam is also easy and you can rent a bike or take a tour of the city's canals in covered sightseeing boats.
Although technically illegal, cannabis (including some of the best hash in the world) is widely available in bars and coffee shops and is smoked openly. The same tolerant policy also applies to most other recreational drugs. Prostitution is legal and well regulated in The Netherlands, and Amsterdam has a number of brothels, with most located in the De Wallen red light district. The women are also beautiful, and if blonde hair and blue eyes are your thing, you're in for a treat. There are also hookers from all over the world working in Amsterdam so you're sure to find what you're looking for. Beware of brothels that have a blue light instead of a red light outside since this means the sex workers are transvestites or transgenders (unless that's your cup of tea of course).
Some of our favorite places to party in Amsterdam include the Melkweg ("Milky Way") which is a popular live music venue located on the Lijnbaansgracht, near the Leidseplein which is the main nightlife square of the city. Another great activity for bachelor parties in Amsterdam is the Amsterdam Heineken Experience that includes a beer museum and an amusement gallery Besides learning something new about how this world-famous beer is brewed, you'll also receive two free glasses of beer at the end of the tour (group offers are also available).
Its status as a highly popular tourism destination also means you'll be able to find some great deals on hotels and rental homes in and near the city, and Amsterdam's reputation for being laid-back and casual means that even if you do something really stupid, most people will simply look the other way. In sum, Amsterdam has it all and you can be sure you and your bachelor party friends will have a great time. Be sure to take lots of pictures and come home safe.
Read more about planning your bachelor party in Amsterdam
#2 Jaco Beach, Costa Rica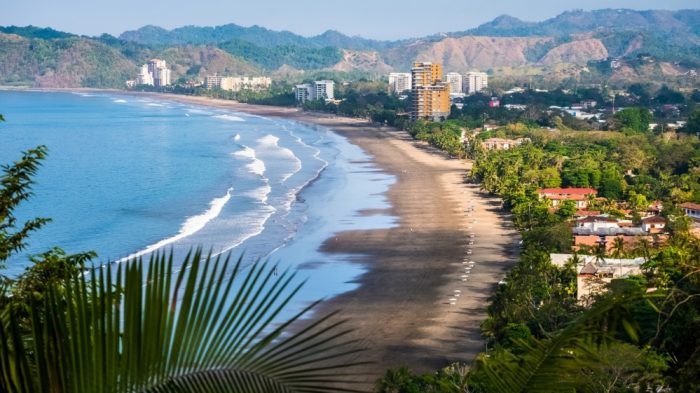 Jaco Beach continues to rank among the top three destinations for bachelor parties year after year – and for good reason. American visitors don't need a visa and are automatically granted a 90-day tourist visa upon their arrival. Although Jaco Beach does not have its own international airport, you and your friends can fly to the nearby San Jose Juan Santamaria International Airport (airport code SJO), located in the Alajuela province. This airport is served by a number of major airlines, including Continental, United, American Airlines, Jet Blue, Spirit Airlines, Delta, and USAir.
Located on the Central Pacific Coast, Jaco Beach features two-and-a-half miles of pristine sandy palm-lined beaches with a wide array of water sporting activities available as well as wildlife and rainforest canopy tours during the day. Other fun things to do in Jaco Beach include rappelling in a waterfall, renting an ATV for a ride along the beach, river rafting and parasailing.
The nightlife in Jaco Beach is also something to experience and you and your bachelor party buddies can relax in a beach bar or visit some of the hot clubs in town or try your luck at one of the local casinos, including Casino Cocal located on the beachfront and newly opened Croc's Casino and Resort. Beautiful women also abound in Jaco Beach and prostitution is legal in Costa Rica. In addition, Jaco Beach features Centerfolds (the city's only gentlemen's club) which is located on the main strip above Kokomo's. Centerfolds even provide free limousine service that will pick you and your bachelor party friends up and drop you back off after a memorable night of exotic entertainment.
World-class resorts are also available at bargain basement prices, such as the Beach Break Resort (just $77 per night) and the Hotel Poseidon (just $65 per night and breakfast is included). Rental homes are also readily available in Jaco Beach and these make a great alternative for your bachelor party. For example, for just $153 per night, you can rent a three-bedroom villa with a beachfront pool (see picture below) or a beachfront three bedroom home with breathtaking ocean views for just $300 per night.
Finally, because it is a popular tourist destination, there are occasional pickpockets so you should be careful, especially after dark but the city is by and large safe for American visitors.
Read more about planning your bachelor party in Jaco
And our choice for the absolute best damn destination for your bachelor party anywhere in the world is (drum roll please) …
#1 Cartagena, Colombia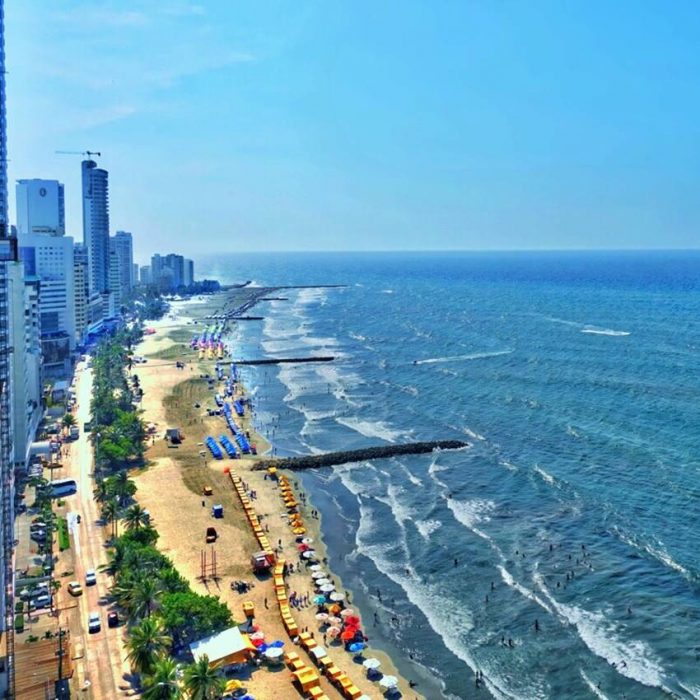 If you want your bachelor party to consist of hookers and cocaine, why not head right to the source of it all? The coke will be the freshest – and cheapest (less than the price of a Big Mac) — you will find anywhere and the hookers are friendly and drop-dead beautiful. In fact, possession of up to one gram of cocaine has been legal in Colombia since 1994 for personal use. Although sales of cocaine are still illegal, personal production or gifts of cocaine are allowed. In other words, coke is everywhere. Likewise, prostitution is also legal and well regulated in Colombia and sex workers are required to undergo regular health checks.
Flying to Cartagena is also a snap with the Rafael Núñez International Airport (IATA: CTG, ICAO: SKCG) providing fast service from the states with carriers such as JetBlue and American Airlines.
There's plenty more to do than coke and babes, though, just in case you want to have some other types of fun. Cartagena is situated on Colombia's Caribbean coast and has some of the best beaches in the country. Snorkeling is a popular activity among locals and you can rent everything you need for this and just about any other water sport you can think of, including jet skis, windsurfing and parasailing.
You can also rent a yacht for a party boat trip and have a barbecue on the beach or tour the nearby Rosario Islands. There are also a number of world-class luxury resorts such as the oceanfront Hyatt Regency Cartagena Resort as well as rental homes available in Cartagena for any budget.
Although Cartagena has suffered from a bad reputation in the past, it is now one of the safest places in Colombia and the city has become a port of call for luxury cruise ships. This has also made Cartagena one of the top destination choices amongst bachelors.
Read more about planning your bachelor party in Cartagena