Plan an Epic Tampa Bachelor Party (2023 Guide)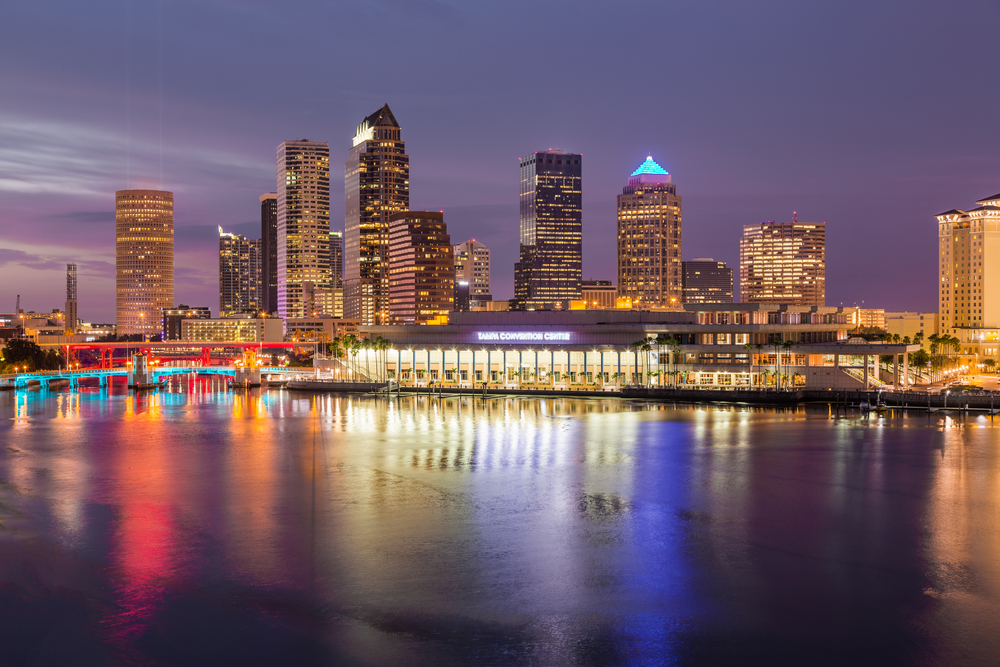 This post may contains references to products from one or more of our advertisers. We may receive compensation when you click on links to those products or services. Please also consider
donating to our website.
With a population of around 377,000 people (and about 2 million in its metropolitan region), Tampa is not only the largest city in the Tampa Bay area, it also packs a lot of partying punch into its prime location near the Gulf of Mexico on Tampa Bay. Indeed, nearly 23 million tourists visit Tampa and its surrounding communities in Hillsborough County each year for good reason: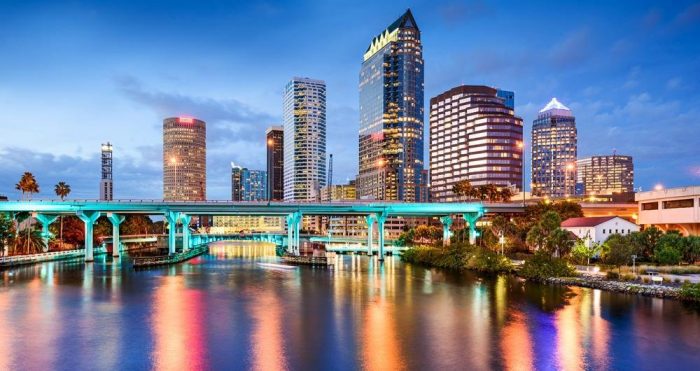 This up-to-date guide provides first-time as well as seasoned visitors with everything they need to know to throw an epic Tampa bachelor party, including how to get there, where to stay, the best places to ear and some especially fun things to see and do during your visit.
How to Get There
With ready access to several state and national highways, driving to Tampa is a straightforward matter.
In addition, for those living along the U.S. East Coast with Amtrak access, Tampa features efficient and inexpensive passenger train service with a terminus at Union Station which offers rental cars as well as nearby hotel and resort accommodations.
Airport
Unless you live on the southern U.S. East Coast or just want a great road trip as part of your bachelor party adventure, you'll probably want to maximize your time off by flying to Tampa. There are a couple of international airports providing service to Tampa, with the closet being Tampa International Airport (airport code: TPA) located less than 5 miles away (one of only two American airports offering direct flights to Cuba). Tampa International is serviced by Frontier Airlines, JetBlue Airways, and Southwest Airlines.
Getting Around
Despite its reputation to the contrary, Tampa is actually easy to get around in, especially with the assistance of a good GPS system. Please be aware, though, that there is always a great deal of construction on the city's streets and highways that may not be reflected in GPS systems, but like other major cities on the U.S. East Coast, its grid system helps first-time visitors navigate their way around.
Want to rent a party bus in Tampa to explore the city?  Check out our latest guide for all available options.
A good way to learn your way around town while still having fun is taking a tour (and taste) of Tampa's craft breweries on the Brew Bus which specializes in group events including bachelor parties.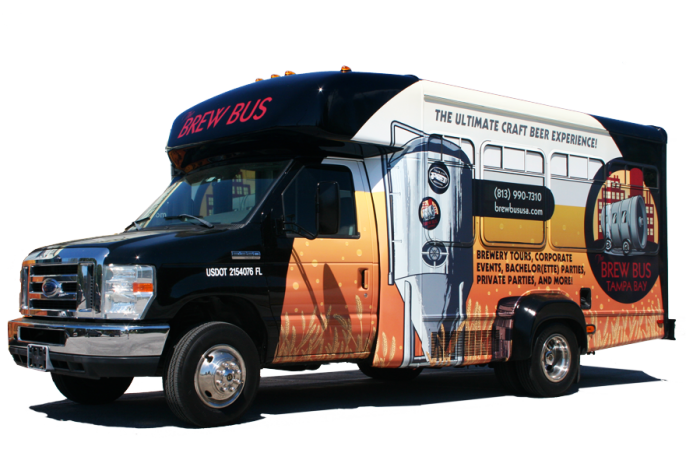 Things to Do
Daytime Activity Ideas
The two million tourists who are attracted to Tampa each month don't go there for the great food, world-class accommodations or beautiful bikini-clad women (although these are certainly reasons enough) – they visit Tampa because of the wide array of entertainment and recreational venues that it offers.
Of course, you and your bachelor party buddies can make a day out of bar crawling and sex shows, but there are plenty of other activities available that are appropriate for a bunch of footloose guys looking for a great time. For example, besides several major and minor league professional sports teams, Tampa also features the mind-blowing Busch Gardens and the world-famous Museum of Science and Industry (don't miss the IMAX theater!).
Be sure to take advantage of all of the water sports activities available in and around Tampa as well. Some of the best include the top-rated Chute 'Em Up Parasailing (charter boats, parasailing and more), Suncoast Watersports (waverunners, parasailing, snorkeling, dolphin watching, paddle boards and kayaks) and Fly-N-High Waverunners & Parasailing (the name says it all).
If you're in the mood for a few drinks and a relaxing cruise or fishing adventure, visit Afishionado Guide Services which offers the best light tackle sport fishing for tarpon, snook, redfish, trout, king mackerel, cobia and more exotic species in the Tampa area.
View Other Activities in Tampa
Nightlife Activity Ideas
Bars
Relax and enjoy the ambience at The Hub Bar with people from around the world. Featuring strong drinks, craft beers, regular live music and the world's best jukebox, The Hub Bar is famous for its large drinks and friendly service.
The top-rated and laid back Red Star Rock Bar has it all – generous drink portions, karaoke, live music and outdoor tables and sports TVs.
Even if you're not a golfer, you can still score an ace at Topgolf which specializes in bachelor parties. With full service restaurants and bars, a rooftop terrace complete with fire pit and more than 200 high definition televisions, Topgolf is a great venue for you and your bachelor party friends.
Located in the International Plaza and Bay Street complex, Bar Louie features martinis, unique microbrews, American style pub grub and regular happy-hour deals.
Finally, no visit to Tampa is complete without a visit to the Fly Bar & Restaurant that features a rooftop deck, signature cocktails, eclectic small plates and regular live music (please note that the Fly will reopen early in 2019 after renovation).
Strip Clubs
While Tampa is known as a family friendly destination, the city and its surrounding communities also feature plenty of adult entertainment, including the top-rated Mons Venus World Famous Nude Strip Club Tampa which specializes in bachelor parties complete with clean and comfy VIP rooms. This strip club has gorgeous and friendly staff and dancers, a live feed so you can check out the action ahead of time. Mons Venus is open daily from noon to ? so this venue can be an impromptu addition to your Tampa bachelor party itinerary.
Another top-rated strip club in Tampa is Deja Vu Showgirls which is known far and wide as a great bachelor party destination. With a mains stage, an array of theme rooms and a large VIP room and prices ranging from just $100 for a "Fun Party" (up to 5 guests) to $650 for their "Out of this World" VIP package (up to 15 guests), Déjà Vu is perfect for any sized bachelor party budget.
Lastly, the Mermaids Gentleman's Club is a little more expensive than their competitors, but the management claims they have "the hottest ladies on the Pinellas Beaches" and we tend to agree. Treat the groom to special treatment in one of their champagne rooms and be sure to take plenty of pictures.
Looking for bachelor party strippers in Tampa for a private event?  Check out our updated list of available services and venues.
Where to Eat
The below restaurants are the perfect choice for your Tampa bachelor party.
Breakfast / Lunch / Brunch
You know you've come to the right place when you and your bachelor party buddies arrive at the aptly named and top rated Daily Eats restaurant. Featuring sandwiches, veggie bowls and a breakfast that is served all day (brunch is served until 2:45 p.m. Saturday and Sunday only). Brunch at Daily Eats, though, is worth the wait until the weekend with delicious offerings such as home fries, omelettes, eggs sandwiches, steak and eggs, signature French toast, and "The Monday Morning" (scrambled egg whites, diced red onions, fried jalapenos, chopped turkey sausage and American cheese served over fresh spinach – OMG!).
If you and your buddies need a hair o' the dog the morning after, check out Datz, one of the top rated restaurants for brunch and lunch in Tampa. Datz features upscale craft beers, American comfort food and even a gourmet grocery store so you can pick up some snacks for later. Be sure to try their "Datchos," a house specialty that is made with sweet and salty chips, chili, cheese, jalapenos, sour cream, blue cheese drizzle and scallions.
Finally, located in the upscale Grand Hyatt Tampa Bay, Oystercatchers specializes in group events and features a gourmet lunch as well as a brunch with a menu that includes steak, seafood surrounded by great vista views of the waterways.
Dinner
An active day of water sports is enough to make any ravenous by evening, and when your stomach starts to growl head for Al's Finger Licking Good Bar-B-Que, named the "Best Barbecue Joint in Florida" by TripAdvisor, one of the top ten restaurants in Tampa by Yelp and one of the top ten bargain restaurants in the city by Creative Loafing. With barbecued beef, pork, chicken and turkey dinners on the menu with all of the traditional sides, an inexpensive but delicious dinner at Al's will provide you with the all of the energy you need for the rest of your evening on the town.
Customers are all smiles at Happy Fish at dinner time where they specialize in positively fresh Peruvian and Latin seafood dishes. Be sure to try their house specialty, Chaufa de Pollo (Peruvian style chicken fried rice). Happy Fish even delivers, so you and your buddies and kick back by the pool and enjoy the ocean view and bikini-clad babes.
Finally, and despite their modest prices, Brocato's Sandwich Shop offers an upscale but casual atmosphere and some of the best food in Tampa. Featuring the best devil crabs in the city and specializing in group events, Brocato's makes a great place for a relaxed meal with your bachelor party friends. Check out their $10 foot long sandwich special (made with boar's head meat and a variety of cheeses, and the price includes chips and a drink).
Where to Stay
Hotels and Resorts
Occupancy levels in Tampa hotels and resorts are high year-round, so try to make reservations as soon as possible. Notwithstanding the high demand, there are some world-class hotels and resorts available in Tampa that can make your bachelor party a truly memorable occasion, including the top rated Tampa Marriott Waterside Hotel & Marina.
This hotel/resort is situated on Tampa's scenic downtown waterfront and is within easy walking distance of the Tampa Convention Center, the Tampa Riverwalk, Florida Zoo at Lowry Park, Channelside Tampa, Amalie Arena with world-class entertainment and Water Street Tampa. Recently renovated, the Tampa Marriott also features an unbelievable rooftop swimming pool and has its own marina with all of the conventional water sports available This hotel/resort can be one-stop destination for your Tampa bachelor party!
You can receive top-notch value when you stay at Holiday Inn & Suites Tampa North Busch Gardens Area. Comfortable rooms and suites, a great swimming pool, a gym and an on-site burger restaurant and bar, Burger Theory, make this a great place to unwind after a busy day partying in Tampa. Rooms and suites come complete with standard amenities including a microwave and refrigerator so you can have a quick meal and a few drinks, as well as free wi-fi and two high definition televisions.
Another great all-in-one hotel/resort in Tampa is the award-winning, 3-star Emerald Greens Hotel Condo Resort. Featuring condo-style hotel rooms right on the Carrollwood Country Club grounds for you golfing fans because their offer a special package deal that provides full access to all of the hotel's golf courses and other luxury amenities as well as an on-site 1972 Bar & Grille.

Hotels Available in Tampa
Rental Houses
Property values continue to skyrocket in the Tampa area, but you can still find some great deals on rental homes, including the listings provided below. All prices quoted below are based on a 4-day occupancy with six guests during an off season month. Note that Tampa has a quiet time ordinance in effect from 10 p.m. to 8 a..m. for rental properties so please respect your neighbors.
AirBnB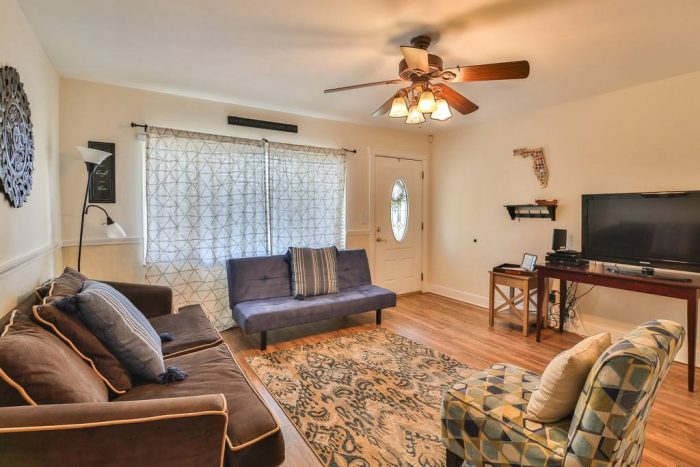 Promoted by the owner as "South Tampa Charmer, 4 miles from Airport!!," this rental will only set you back about $118 a night, but don't let the low price fool you. This rental has everything you and your bachelor party buddies need, and it's just 10 minutes from the Tampa Buccaneers stadium and 30 minutes to Florida's top rated beaches. The rental is located in a quiet, residential neighborhood that comfortably hosts a group of friends and includes full access to all rooms (including a full laundry (except for a shed in the backyard).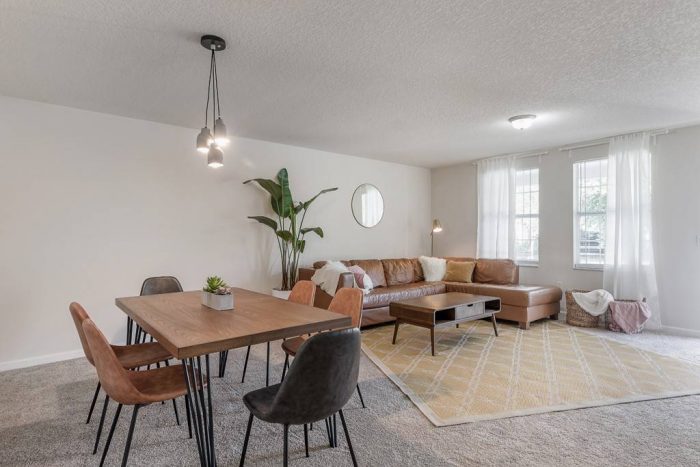 There's plenty of space available in this Teal Door Superhosted Hip Mid-Century Modern Home that features all of the standard amenities for just $89 per night. Conveniently located just 10 minutes away from virtually any major attraction in Tampa, this home sleeps up to 8 guests in three spacious bedrooms.
There is also plenty of room available in this rental, promoted by the owner as "The Eclectic" – A Tropical Urban Oasis. At just $107 per night, this home sleeps up to eight guests and features a fully fenced in lush tropical backyard complete with fire pit, charcoal grill and mango trees with a brick patio. The home also has all of the standard amenities as well as a 50-inch smart television, and lightning-fast free Internet access. Conveniently located in the middle of Tampa, you and your bachelor party friends will be able to visit your attractions in a minimum of time.
Homeaway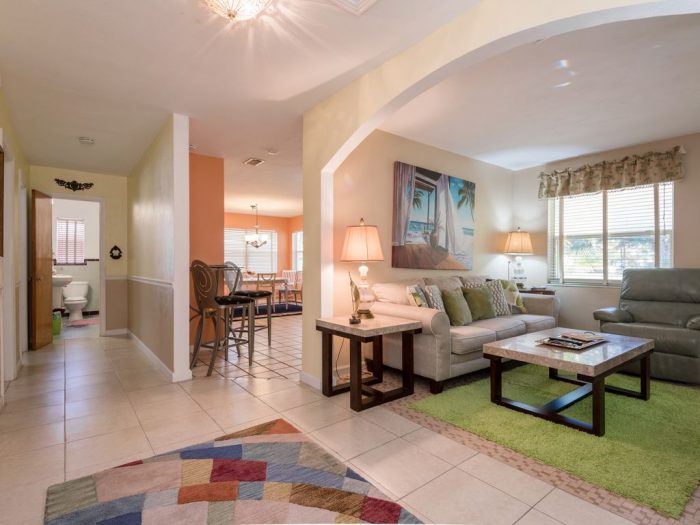 This highly rated and newly renovated, comfortable home is conveniently located near Busch Gardens and Adventure Land as well as other major local attractions. A large flat-screen in the living room with a sound bar and smart DVD /Netflix and Pandora together with free fast internet service are complemented by a secluded lush private back yard with a shaded patio and grill. At just $160 per night, this rental property will make a great staging base for your forays into the heart of Tampa's day- and nightlife.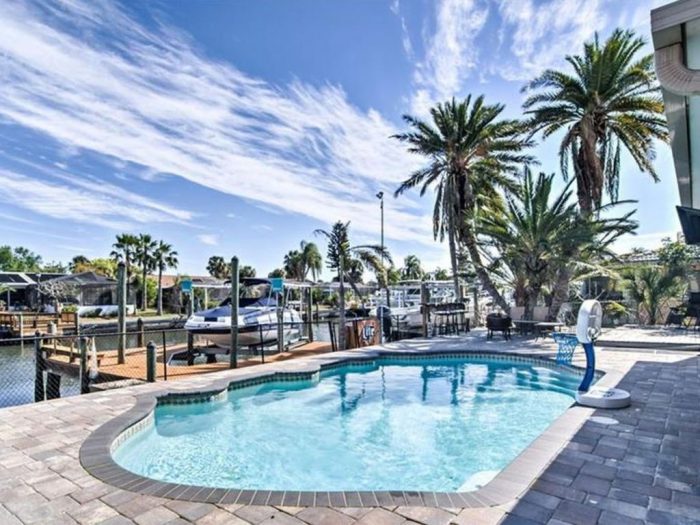 Located right on the waterfront and complete with a dock, this Gorgeous Florida Pool Home costs a little more at $200 per night, but the price is well worth all of the amenities you receive. Located on a bridgeless canal, this newly renovated rental home features high-speed Internet, a great swimming pool, a family room complete with various board games and Jenga, and it sleeps up to 10 guests.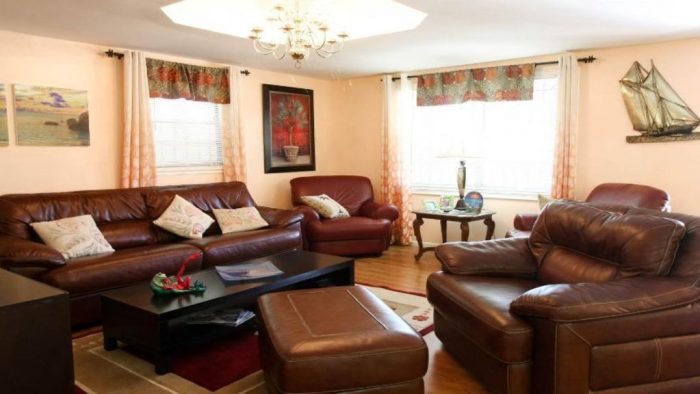 You and your friends can "Walk to Amusement Parks" when you stay at this four-bedroom rental home that sleeps up to 12 guests. Not only is it within walking distance of Busch Gardens et al., you can even hear the ocean from its two patios. The secluded fenced-in backyard is a literal tropical paradise complete with papaya, avocado, oranges, grapefruit, tangerines, and four mango trees. Three flat-screen televisions, high-speed Internet and all of the amenities make this a perfect staging base for your Tampa bachelor party at just $165 per night.
Rental Homes Available in Tampa
VRBO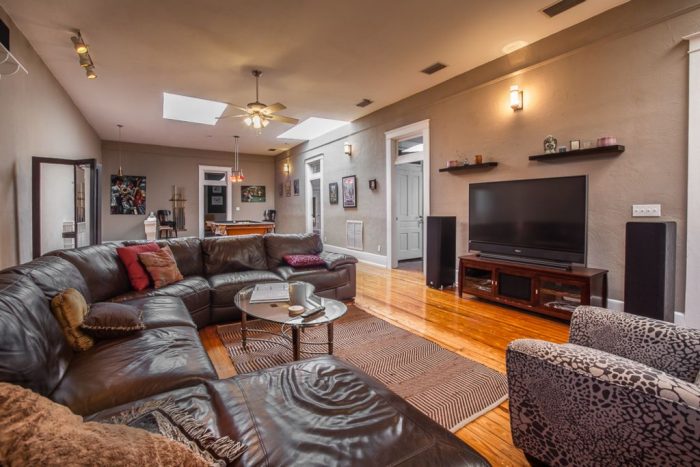 This top-rated, four bedroom Penthouse located in the Heart of Downtown Historic Ybor City in Tampa has a shaded backyard balcony patio with outdoor grills, all of the amenities you'd expect and within walking distance of restaurants and much more. In fact, this home even features ready access to trolley service as well as a large pool table that's in great shape. It's also within walking distance of Palmetto Beach, the Florida Aquarium and grocery stores in case you need to stock up on some grub and brewskies.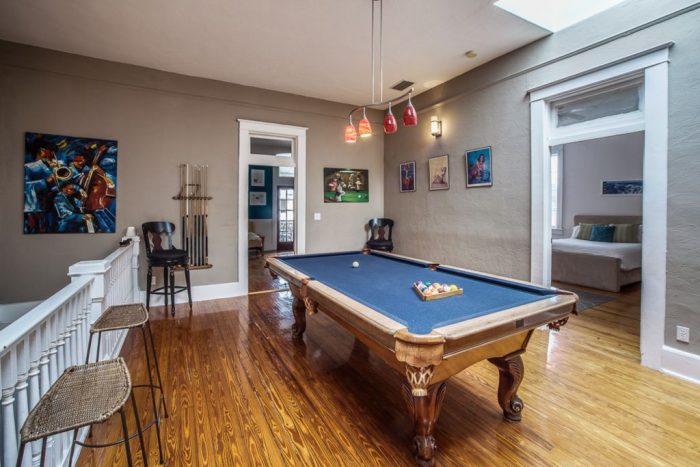 At $295 per night, this rental property is slightly higher than many others in the area but we feel the price is more than justified in view of all of its excellent features. That's one kick-ass pool table, huh?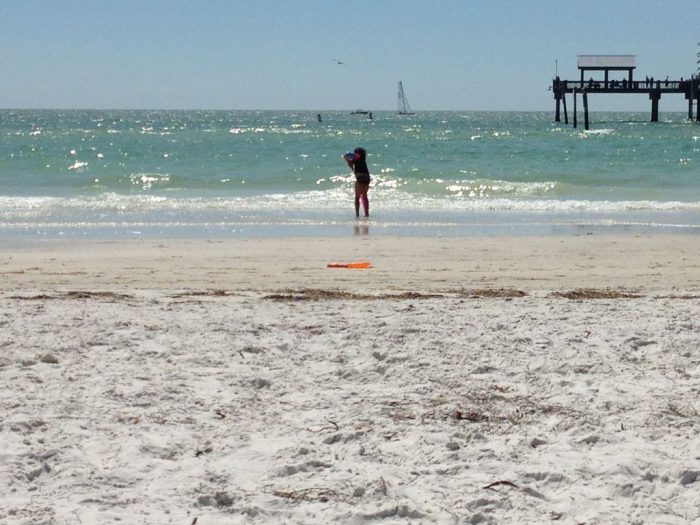 As expected with all VRBO properties, this home comes complete with all of the amenities including satellite and cable television. At just $150 per night, this rental home is a great value.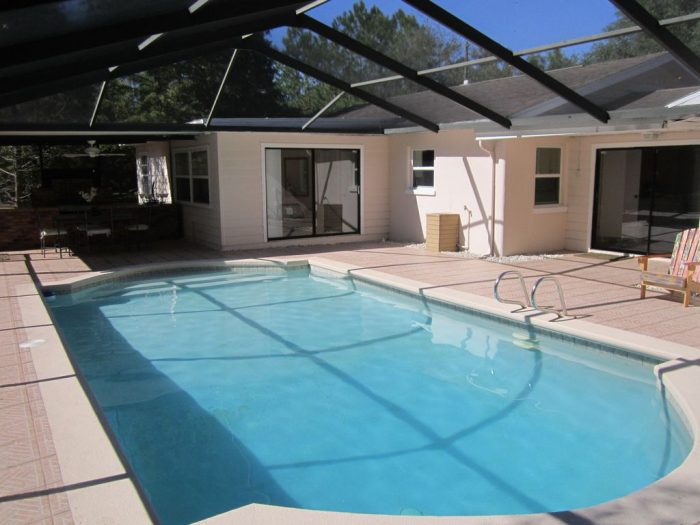 This four bedroom rental home sleeps up to eight guests comfortably, and is centrally located so that all of the major Tampa attractions are within easy access. The swimming pool features a screened lanai with a grill and outdoor seating areas. You and your bachelor party buddies can go swimming most of the year while your friends back home shiver in the cold. Shopping and grocery stores are also located nearby, and the whirlpool tub in the master bedroom makes this property at great value at just $156 per night.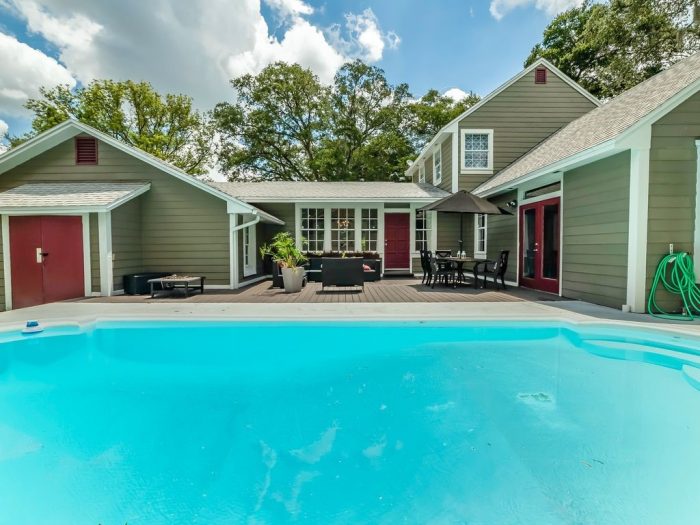 Finally, this "Luxurious Modern 4-Bed Home" sleeps up to eight guests and comes complete with satellite television, a fireplace, a private patio as well as a grill and large swimming pool in the backyard. This home has everything you and your bachelor party buddies need for a great time during your Tampa visit, and it's located in the center of trendy Old Seminole Heights close to the downtown area. At $394 per night, this home is pricier than many others in the Tampa area, but this truly is a case where you get what you pay for.

Rental Homes Availables in Tampa
When to Go / Not to Go
Best Time
Due to its temperate climate, the months from September through December are the best times for a bachelor party in Tampa.
On a Budget
January through April are the best months to visit Tampa if you're on a budget since the city is less crowded with tourists but the weather is still mild enough to enjoy many of the outdoor venues.
Worst Time to Visit
Be prepared to suffer from crowded venues as well as the heat and humidity if you visit Tampa during the summer months from May through August as shown below.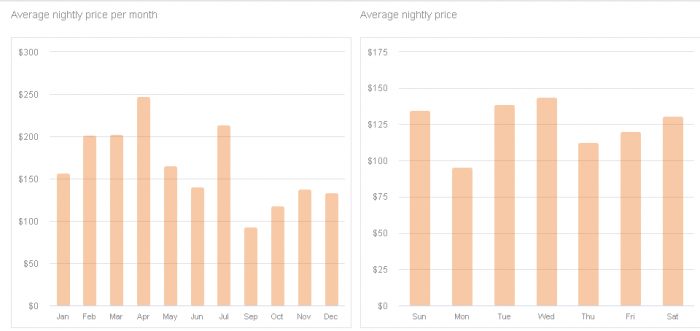 Tampa from May through August
Current Weather


What Else
1. Tampa boasts the longest continuous sidewalk in the world.
2. Tampa's temperature has never exceeded 99 degrees.
3. Tampa is home to Florida's oldest restaurant (as well as the world's largest Spanish restaurant).
4. Ybor City is purportedly one of the most haunted places in the world.
5. Tampa is home to Florida's largest port.
6. Shocking fact: Tampa Bay is the lightning capital of the world.
7. Although medical marijuana is legal in Florida, possession of even small amounts by individuals without a prescription is a misdemeanor.
Big Events
The year-round temperate weather means that there's always something going on in Tampa, but some of the larger events include the following:
January: Arrr me matey! The annual Gasparilla Pirate Festival in downtown Tampa is a major event that features colorful pirates of course, but also free beads, boats, floats and free-flowing booze. The festival is kicked off by the pirate ship "Jose Gasparilla" sailing along Hillsborough Bay prior to docking at the Tampa Convention Center where civic leaders fork over the key to the city to the ship's crew, the Ye Mystic Krewe of Gasparilla. After the surrender of the key, more pirate-themed "krewes," floats and marching bands parade through the downtown area throwing Mardi Gras=type beads to the spectators.
April: The 2-day Festa Italiana is a celebration of all things Italian, but most especially the food, beer and wine. Live entertainment, bocce ball, and much are held in the Centennial Park where you can spend an entire day people watching, sampling the great brews and wines and delicious Italian eats.
May: If you're in town, don't miss the annual 2-day Tampa Bay Margarita Festival at the Julian B. Lane Riverfront Park. While margaritas are the specialty of this festival, they also feature great craft beers and ethnic foods that make this an enormously popular annual event.
What to Pack
Swimwear: With water sports surrounding the Tampa area, be sure to purchase some well-fitting swimwear before you leave.
Sunscreen: Nothing can spoil a bachelor party faster than sunburn (unless it's getting arrested) so packing some good quality sunscreen is essential for your visit to Tampa.
Sunglasses: You can count on the sun shining during your visit to Tampa, so it's a good idea to find some quality sunglasses that not only look cool, but provide you with solid UV protection as well.
A light jacket: As the weather chart above indicates, the weather can get nippy during the winter months so be sure to pack a light jacket or two.
Comfortable footwear. With the world's longest sidewalk and large venues such as the local theme parks, it just makes good sense to pack some comfortable footwear and clothing that is appropriate for the time of year of your visit.
Luggage and accessories: We know you've grown fond of that suitcase that saw you through college and your first apartment, but times have changed and you'll want high quality luggage and accessories that can fit in as small as space as possible, especially if you intend to fly to Tampa.
Vitamins and supplements: Stay alert and stay alive! The hectic pace of most bachelor parties can wear anyone down, so be sure to pack some vitamins and supplements to keep you going during your visit to Tampa.
Condoms: In addition, play it safe if you're planning on getting some action during your visit to Tampa (or even if you aren't – who knows?) and be sure to pack some high quality condoms.
Sample Itinerary
The sample itinerary below is for your first full day in Tampa and assumes you and your buddies didn't get back to the hotel room at 6 a.m.
9:30 a.m. – 10:30 a.m. A leisurely brunch at Datz, Try their Buffalo Cauliflower Popcorn ("Delicious!") and a"Datz-a-Mary," an eye-opener made with Wodka vodka, Jones bacon (whatever that is), celery, and Salish Alder Smoked Sea Salt.
10:30 a.m. – 2:30 p.m. Parasailing, snorkeling, waverunning and other water sports activities at Fly-N-High Waverunners & Parasailing.
2:30 p.m. – 4:00 p.m. You're going to be hungry after all of that fun at Suncoast, so head on down to Grand Hyatt Tampa Bay, Oystercatchers for some of the freshest seafood in the city as well as American comfort food. You may also want to have a couple of drinks to steel yourself for the next activity which is …
4:00 p.m. = 7:00 p.m. A "3-hour cruise" along the coast and dolphin watching with the top-rated Suncoast Watersports.
7:00 p.m. – 10:00 p.m. When the sun goes down, Tampa heats up when you visit the Mermaids Gentleman's Club. This is no time to be a piker so treat the groom to VIP treatment.
10:00 p.m. – 11:00 p.m. A late dinner at Al's Finger Licking Good Bar-B-Que,
11:00 p.m. – ? Relax, drink and swim.
Bachelor Party T-Shirts
What better way to remember your Tampa bachelor party than with a customized bachelor party t-shirt?
Travel Insurance
Don't let all of that investment in planning and ticket purchase go to waste in the event of an unforeseen event that prevents you from going on your Tampa bachelor party, so be sure to purchase some travel insurance from a reputable travel insurance company. This type of insurance coverage typically includes the following benefits:
Up to 100% cash back for trip cancellations, delays, and interruptions;
No deductibles for emergency medical and dental coverage;
Covers purchase of personal items when baggage is delayed for longer than 24 hours;
24/7 travel assistance; and,
Airline change fee and frequent flyer mile redeposit fee coverage
Why Go
Tampa's weather makes it a great destination for a bachelor party during any time of the year, and the city is positively awash in entertainment venues, world-class bars and restaurants and some of the most beautiful women in the country.
Star Rating
On a scale of one to five stars, we give Tampa 4.5 stars (if the state gets is 420 act together, this rating may increase in the future).
Conclusion
If you want a sure thing, you can count on Tampa for your bachelor party needs. The 23 million tourists that visit the city each year recognize a good thing when they see it, and there is dozens of activities available that cater to every taste and budget. Treat your friends right and plan an epic bachelor party in Tampa.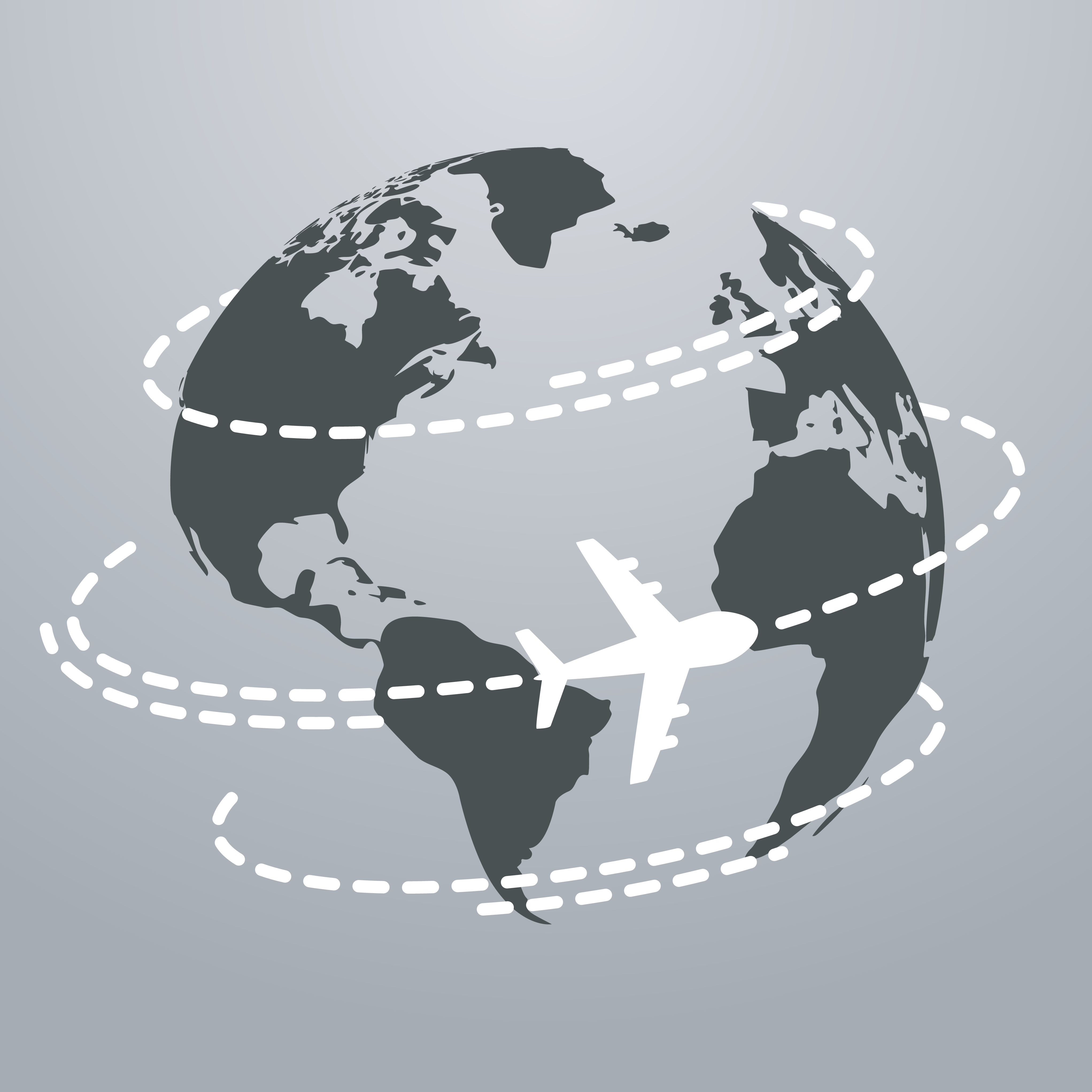 Get The Help You Need!
Want to Book a Bachelor Party to Tampa?