Bachelorette Party Ideas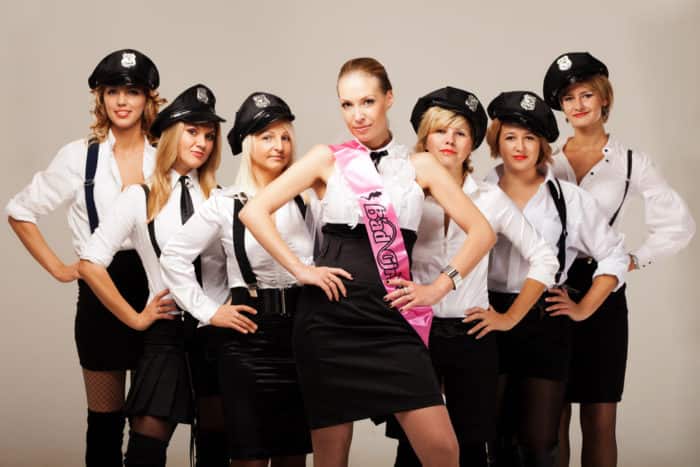 This post may contains references to products from one or more of our advertisers. We may receive compensation when you click on links to those products or services. Please also consider
donating to our website.
So, you've been given the awesome responsibility of planning your friend's bachelorette party.  Whether you're an experienced party planner with tons of parties under your belt or a party-planning neophyte, we know you want to plan the best bachelorette party imaginable.  Of course, the best party for one bride could be a horrible idea for another bride.  Add to that the fact that different bridal parties have different budgets, time constraints, and planning a bachelorette party can be challenging, even for the experienced party-planner.  However, we have some time-tested bachelorette party ideas that can help you plan the perfect celebration for your friends.
Timing
Timing is a crucial part of bachelorette party planning.  You don't want to have it too far in advance of the wedding, but you also don't want to have it the night before the wedding (no bride wants to be hungover in her wedding pictures).  So, figure out when the party will be before you start to plan.  This is crucial, because when is going to dictate what activities are available, affordability, and where you can travel if you choose a destination bachelorette party.  You are also going to want to figure out whether guests can take additional time away if you're planning a destination event. 
Budget
Be realistic about budget.  For a bachelorette party, the guests ideally will cover their own costs and chip-in for the bride's costs.  However, as party planner, you will probably be handling more than your equal share of expenses.  So, be realistic about what everyone can afford.  Who wouldn't want a week in Fiji with her girlfriends for a bachelorette party, but how many of us can actually afford it.  Talk to the other people who are going to be invited and find out what kind of budget they have and if anyone is willing to pitch in extra for any guests who may come up short.  Keep that in mind when planning the party. 
Consider the Guest List
Before you start planning the party, ask the bride for her guest list. How many people she wants invited, along with who those people are, will make a difference in your party planning, so know her expectations before you start.  Once you get the guest list, give it a good once-over.  Do the people on the guest list all get along or is there some bad blood between potential guests?  Will anyone on the guest list require you to modify plans?  Future in-laws, recovering addicts or alcoholics, a number of pregnant guests?  Keep them in mind when making the party plans, so all of your guests will love the party! 
Be Prepared
Designated drivers?  Emergency cash?  Condoms?  Ibuprofen?  Recovery formula?  When planning the party, hope for the best-case scenario, but be prepared for the worst-case scenario. 
Extremely Affordable Favorites
Short on time and money?  Never fear; we have some affordable one-night (or day) bachelorette party ideas that are crowd-pleasers.  The ideas in this list can practically start at about $50 per person and can be accomplished in about 12 hours or less, though you can always tweak them to make them longer or shorter.  They are, in no particular order:  Lady Luck, Slumber Party, the Scavenger Hunt, and the Boudoir Photo Shoot, the Fortune Teller, Pole Dancing, Pool Day, and Brunch. 
Who doesn't love brunch?  A group of girlfriends gathered together, with decadent food and flowing drinks.  You may think of brunch at pricey-places, but you can find a great brunch restaurant that helps you manage your costs.  Our pro tip is to find a brunch that offers unlimited drinks and a set menu price.  Of course, you don't even have to head out to lunch; a brunch gathering is actually a very easy and affordable DIY bachelorette party idea.  Pick the friend with the nicest home and have her volunteer it for the brunch- bonus points if she has a gorgeous garden space.  Use a service like Evite or SignUpGenius to guide a potluck, assigning each of the guests something to bring from an easy brunch menu.   Stock up on the orange juice and champagne to keep the mimosas flowing, and you have a classic brunch bachelorette party that is easy, affordable, low-stress, and fun.
Every bride wants to feel sexy on her wedding day, and nothing is sexier than confidence.  Pole dancing classes are a hot new fitness craze that help women get in touch with their inner strippers.  Participants talk about how empowered and strong they feel after the classes, and studios around the country are working with groups for bachelorette parties.  These parties are surprisingly affordable per-person, and make a great bachelorette party, whether done as a stand-alone activity or as part of a bigger celebration.
If the bride is more chill than thrill, consider a pool day for her bachelorette party.  You can always book a room at a hotel in order to use their pool or book another a local pool facility, but you may not even have to do that.  Look at your guest list.  Do any of them own a home with a pool or live in an apartment complex with a great pool space?  If so, tap them to help you hostess.  Head over to your closest discount store (we love Five Below and Dollar Tree and stock up on pool floats, pool toys, and themed décor super-cheap.  What to serve your guests?  Pool parties don't need to be fancy; you can grab some fruit, veggie, and sandwich platters from your favorite warehouse store.  Then, fill up a couple of coolers of your favorite beverages; we love the idea of freezing some Daily's frozen drink packages the night before and having a cooler full of them for the party.  This party is so inexpensive per guest, that you might even want to throw in a fancy gift like a custom-embroidered beach towel for each guest. 
One party theme that is growing in popularity is the bachelorette scavenger hunt. Instead of collecting items, most modern bachelorette parties are photo hunts, and Cosmo has a list you can tweak for the perfect scavenger hunt, wherever you decide to party.  Of course, what makes a bachelorette party perfect is that you can tailor it to the bride's interests.  Is the bride a book-nerd?  Then, what about a scavenger hunt where you have to take pictures of a men that match the descriptions of her top-ten book boyfriends?  Just keep in mind that a scavenger hunt usually means going from place-to-place, so you want to arrange reliable, sober transportation for your party goers!  If you aren't sure about transportation, look into party buses in your area; they are a relatively affordable way to transport large groups of people.
Let's face it; marriage is probably the biggest gamble of our lives, so what could be more appropriate for a bachelorette party theme than a gambling party?  Sure, you can head to a casino for a gambling weekend, but you can also go with a DIY gambling party.  A gambling party can be super-affordable.  Choose a friend to host at home; have a potluck menu of tailgate-type foods like submarine sandwiches, chips, and beer; have an affordable buy-in; and split the winnings among the top-three winners of the night.  Of course, if you have more cash to spend, you can get a little more extravagant.  Find a casino service in your town and hire it to send dealers for various games, awarding prizes to the top winners.  Of course, if you are close enough to one, you can always head to an actual casino for your gambling party. 
One our very favorite ideas is the boudoir photo shoot.  We absolutely love this idea because it is so body-positive and provides such an ego boost, not just for the bride but also for all of the guests!  This one can be get pricey, but can also be surprisingly affordable, especially if you and your girlfriends are great with hair and makeup.  If not, spend a little more and hire someone to handle hair and makeup, bring your sexiest things, and hire a highly-rated boudoir or pinup photographer to turn you all into lingerie models for the day!  This a great party to combine with the lingerie shower or the slumber party.
Remember when you were in middle school and you and your best girlfriends would have a slumber party?  Junk food, ridiculous movies, face masks, pedicures, and gossip?  Well, what a great way to have an affordable, fun bachelorette party.  Have someone host it at their house, but beg, borrow, and steal air mattresses because you aren't 12 anymore, or spend a little more and splurge on a couple of adjoining hotel rooms.  Wherever you hold it, stock up on junk food, beauty products, your favorite drinks, and the bride's favorite movies.  Bonus points if you can get a hot guy friend to bring you all donuts in the morning!
Our final affordable favorite is the fortune teller.  Somewhere near you is a psychic that people swear is the real thing.  We don't know where you are, so we can't tell you who it is, but check out Yelp or similar reviews and figure out who that is.  Then hire him or her for an evening.  Sometimes they will come to your party, other times you have to travel to their place of business, but head out to have your fortunes told. 
No- Travel Options
Have a bigger budget, but still need a bachelorette party that doesn't last more than a day?  We have some great idea that cost a little bit more cash, but can usually be done either in your home town or within day-trip distance: Shoot 'em Up, Cowgirl for a Day, Paint and Drink, the Booze Cruise, the Spa Day, the Outdoor Warrior, the Pub Crawl, Piano Bar, Strip Club, Cooking Party, Wine Tasting, and the Tattoo Party.
What could be more iconically bachelorette than a spa day with your girlfriends?  Relaxing together as you get facials, massages, body wraps, manis, pedis, and more is a great way to bond.  This is the one idea that we encourage even if you can't have the bachelorette party till the day before the wedding (just make sure you avoid treatments that could leave your skin blotchy or broken-out the next day).  The best part about this option is that, as the one planning the party, it's your duty to find the best spa in town for your event.  Darn, guess you'll have to make a list of the top three and personally test them out!
If you don't mind defying the girly-image of bachelorette parties, consider a Shoot 'em Up party.  Shooting ranges have been popular with the guys for bachelor parties for a while, but why should guys have all the fun?  Taking the girls out to shoot up things can be a real blast (see what we did there).  Of course, if you want to add another level of thrills, skip the real guns and have a paint gun war.  (Just make sure that if you choose this option, you do it weeks before the wedding and any pictures, because paint gun pellets can bruise you!)  Looking for a bruise-free adrenaline rush?  Consider laser tag.   
In fact, if high-adrenaline is your thing, look at some of the extreme sports in your area.  Whether the bride is into zip-lining, white-water rafting, or some other high-energy sport, these high-demand sports are a great way to step away from the traditional bachelorette party ideas, get rid of some of the tension that comes with planning a wedding, and really get to know each other even better as a group of friends.  Our suggestion?  Look for a ropes course in your area, which doesn't just provide a great high-energy time, but can also really strengthen group bonds. 
Some people eat to live, others live to eat.  If the bride is a foodie, consider a group cooking class.  Many upscale grocery store chains offer cooking classes, as do restaurants, and even some other venues like wineries.  Scheduling a party, you should be able to help pick the night's menu, so you can make sure it is something the bride will enjoy and want to learn how to cook.
Speaking of classes, there are a ton of adult art studios that have opened up.  Our local favorite is Painting with a Twist, but there are variations of this theme all around the country.  You pick a basic theme for the painting and a professional artist leads you through the steps to take your canvas from a sketch to a completed masterpiece in a few short hours.  Most of these locations are BYOB and will work with you to schedule private parties, including bringing in food and drinks. 
Remember when you were a little girl and really wanted a pony?  Let's face it; most grown women still have a little bit of pony-loving princess in them.  If the bride is one of them, consider having a Cowgirl for a Day party.  Almost everywhere in the country you are within a couple of hours of a quality trail-riding stable.  You and the girls can head out for a couple of hours on horseback.  In some places, you may even be able to find a dude ranch where you can play cowgirl for more than an afternoon. 
Another bachelorette party classic is the booze cruise.  Are you within a couple of hours of a large body of navigable water?  Then, you are almost certainly within a couple of hours of a booze cruise.  Also known as a party boat, a booze cruise refers to a boat that you either charter for use for a party or that hosts multiple groups at a time, which heads out to cruise around the water while guests drink, dance, and mingle.  Live in a place where the weather and the water are mild?  Then turn the booze cruise theme on its head a little and plan a river float instead.  If you haven't spent the day floating down a lazy river in the sunshine, a cooler full of drinks in a float near you, your best friends in floats by you, then we highly recommend you try it as soon as possible.  Our favorite place to float is in the Comal River in the Texas Hill Country, but chances are good you have a floatable river pretty close to you. 
One party theme that we love, though we admit it is not for everyone, is the tattoo party.  Once considered relatively taboo, tattoos have become a popular way to express your individuality and show off your personality.  If the bride's group of friends are into tattoos, then find the highest-rated tattoo parlor in your area and book a tattoo party.  Whether you all get the same design or choose your own, it will be a lifelong reminder of the party.  However, keep in mind that no reputable tattoo party will work on someone who isn't sober, so plan the event during the day, before the partying starts. 
Want an upscale feel to your bachelorette party?  Consider a wine-tasting.  Once reserved for people within driving distance of the nation's wine-country, the growth of local wineries has made wine-tasting parties with trained sommeliers a reality around the country.  Already a wine expert?  There are tequila and cigar tasting parties available in some locations, as well.
Looking for something a little more adventurous?  You can't go wrong with a traditional pub crawl.  Does your city or a nearby city have a "party street"?  If so, head there for your pub crawl.  If not, do yourself a favor and hire a party bus for the night, so you know you have safe and reliable transportation between your designation.  Then look up your city's best bars and nightclubs on your favorite review site and make a list.  If you're heading out to popular clubs that have a wait, make sure and arrange your entrance ahead of time.
Does the bride's vision of her bachelorette party include scantily clad men?  Hey, male strippers are a bachelorette party classic for a reason.  Almost anywhere you live, you can hire male strippers to come to your party and enhance it.  However, if you live in a city with a strip club featuring male dancers, they are almost certainly bridal party experts.  Talk to them about planning the entire party at the club. 
Our final one-night bachelorette party idea is our favorite- the piano bar.  We just adore a good piano bar, and while our favorite of all the piano bars is Pete's Dueling Piano Bar in Austin, Texas, we'll be honest; we have never been to a piano bar and not had a fabulous time.  It's a huge old-school sing-along, with lots of drinking, dancing, and general merriment.  Call ahead and see if the bar offers bachelorette party packages- most of them do, and they make the bride and sometimes her party-goers part of the night's entertainment, which not only makes your planning a breeze, but also kicks the night up a notch. 
Camping or Glamping
We're going to start with talking about camping.  This is an option where it is absolutely critical that you know, not only the bride, but also all of the guests.  Do they like to camp?  If the answer is no, how much do they dislike it?  Some people love camping, while others are dismayed by the idea of being away from civilization.  Some are middle of the road.  Personally, we wouldn't sleep in a tent for any reason, but give us access to a shower and some climate-control ability and we are down with the nature idea.  That's one reason we're kinda in love with Out N' About Treesort in Taklima, Oregon.  Treehouses have you sleeping in beds, off the ground, above the bugs, and the site has full-amenities, as well as lots of on-site entertainment.  It's a great compromise if the bride really wants to camp, but some of her party-goers really don't.  So is renting an RV for the weekend. 
Destination Bachelorette Parties
Whether you are taking a two-hour car trip or a flight halfway around the world, there is something really magical about getting away from it all with your girlfriends, and some options are amazingly affordable.  You can make a destination bachelorette party happen just about anywhere, but there are some places that are known as great bachelorette party locals.  Our favorites include: Nashville, Las Vegas, New Orleans, Austin, anywhere in the Caribbean, cruises, and New York City.  Check out our location-specification pages for more details about these great bachelorette party destinations.
Conclusion
As you can see, planning the perfect bachelorette party is a combination of knowing the bride, knowing the guests, and working within the perimeters you've been given to find a great way to celebrate.  We hope you've found this article useful for helping you brainstorm bachelorette party ideas.