Plan an Amazing Las Vegas Bachelorette Party (2023 Guide)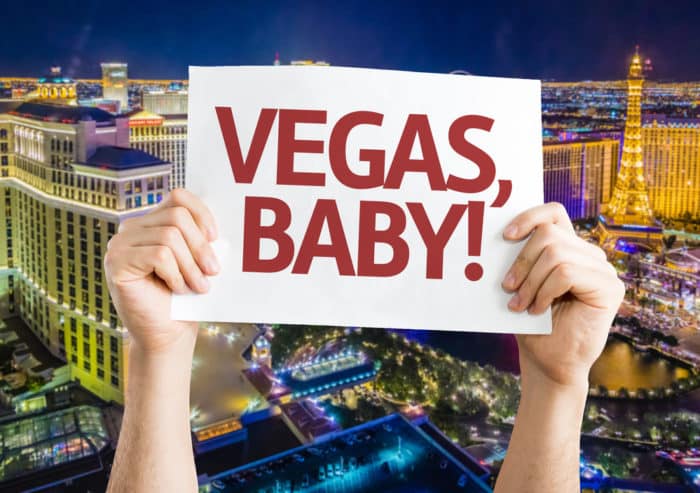 This post may contains references to products from one or more of our advertisers. We may receive compensation when you click on links to those products or services. Please also consider
donating to our website.
Las Vegas, Nevada has a reputation as one of the best party cities in the world.  This may explain why it is fast becoming one of the world's hottest bachelorette party destinations.  Why does everyone love Sin City?  Because, whatever your vice, you can explore it in Vegas. 
So, whether you are into gambling, drinking, fine food, parties, beautiful people, or a combination of all of them, Las Vegas covers it all.  Just keep in mind that all of the fun in Vegas comes with a price tag; this is not the place for a budget-friendly bachelorette bash. 
How to Get There
Las Vegas is a moderate road trip away from much of the southwest and west, but it also has a busy international airport with affordable round-trips to almost every city in the United States.  You might want to enlist the help of a travel agent if booking hotel and airline tickets; many places offer packages that are much more affordable than if you book them yourself, separately.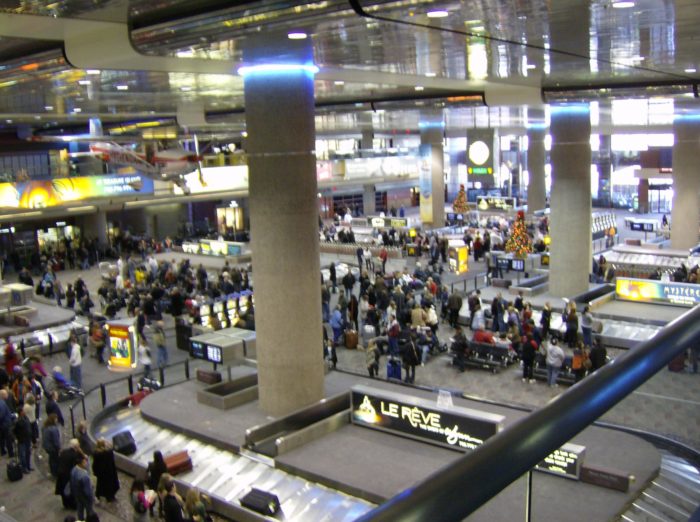 Airport
When booking flights for a weekend bash with your ladies, make sure you choose MacCarran International Airport (airport code: LAS) as your destination.  You will be about 3 miles away from the Las Vegas strip, where almost all of the good hotels are located.  For an UberXL (non-surge) expect to pay around $23.00 for the 9-minute ride.  If you have never used Uber before, sign up with our referral and get $20.00 off your first ride.
Things To Do
Daytime Activity Ideas
Yes, it can be really hot in the summer, but Vegas has sunshine and great weather year-round.  Here are some of our favorite daytime activities.  First things, first.  Did you party too hard the night before?  Have no fear, Hangover Heaven recovery bus is here.  Call them up and schedule a visit, where they'll rehydrate you and treat you, so you can enjoy your trip, instead of sitting in a dark hotel room, feeling sorry for yourself and questioning your life choices. 
Find a pool party.  Pool parties are probably the most iconic daytime activity in Las Vegas.  Think of them like spring break on steroids.  Almost any pool party is going to be a guaranteed good time, but we have our favorites.  Marquee Day/Night Club in the Cosmopolitan Resort, which we like because they have a library and we think that's unique enough to be cool.  They also have a dome, which means you can pool party there in the winter or even if Vegas is experiencing unusual bad weather. Foxtail Pool Club located at the newly rebuilt / remodeled SLS hotel has space for you and 1,999 of your closest friends.  Rent one of their cabanas, to help you beat the crowds, give you a respite from the sun, and give you better bar service.  Encore Beach Club has a three tiered level pool and daytime parties featuring some of the city's hottest DJs.   Daylight Beach Club located at the Mandalay Bay might be the city's biggest pool party; not only do they have top DJs, but they can also fit up to 5000 guests in their 55,000 square foot facility.   You've probably heard that Rehab Beach Club at the Hard Rock Café has declined, but they are the ones who started it all. Drais Beachclub is a seasonal party, but spring through early fall offers one of the best pool parties in town. 
Another great choice is gambling. Sure, some people come to Vegas and don't even step on a casino floor, but we happen to love the addictive thrill of gambling.  What do we like about day gambling?  The casinos are less crowded than at night, and, more importantly, table limits tend to be lower in daytime hours.  Per hand, a $5 or $10 table difference may not seem like much, but it can mean hundreds less by the end of an afternoon.  Lots of poker tournaments start during the day, as well, and if you and your friends are poker fans, a tournament can be a lot of fun.
Go just a little outside of Vegas and the bright lights and big city are replaced by some amazing natural sites.  Check out the Grand Canyon with a Vegas helicopter tour; head to Lake Mead for watersports of all kinds including: sport-fishing, motor boats, jet-skis, canoes, and kayaks.  Visit Red Rock Canyon for hiking, rock climbing, horseback riding, mountain biking, and swimming. 
Nightlife Activity Ideas
While there are plenty of things to do in the gorgeous desert sun, if you go to Las Vegas, you are going for the nightlife.   In fact, there is so much to do in Vegas at night that it can be a little overwhelming the first time you visit.  If making decisions is stressful for you, then you want to plan out your trip beforehand, because you will have so many different entertainment options.  However, if you and your friends like to just take things as they come, then Vegas is perfect for you because walking down the Strip you will encounter hundreds of bars, restaurants, nightclubs casinos, and entertainment venues.  If you want to plan your trip ahead of time, here are some of our personal favorite bachelorette-party venues. 
New York, New York Casino– There are so many casinos in Las Vegas that it can be difficult to pick a favorite.  However, New York, New York wins for us, hands down for several reasons.  First, it has a frickin' roller coaster, right in the middle of all the action. The roller coaster alone is a must do.  (Pro-tip: hit the roller coaster at the start of your night, not after a night of drinking!)  However, the real reason we love this casino is that it usually has low-limit table games open and the dealers are friendly and happy to explain the games.  It's a great place to get a feel for the city.
There is a reason that every single Vegas movie has a shot of the Bellagio fountains; they are pretty amazing.  That's why you have to visit Hyde Bellagio, where you get an up-close and personal view of the Bellagio fountains.  It might seem almost trite; you will run into lots of other bachelorette and bachelor parties when you visit.  However, sometimes things are popular because they are just awesome, and the Hyde Bellagio is one of those things. 
We aren't sure if Las Vegas invented the pool party, but we know they perfected it.  Get a taste of this iconic Vegas experience at the Sunday Night Swim at Club XS at the Encore.  Not there on a Sunday?  Club XS is worth a visit anyway, because it regularly features some of the world's hottest DJs, including Avicii, Zedd, Skrillex, and Deadmau5.  Sunday night swim is the best time to go. 
If Light at Mandalay Bay seems to you like what you'd get if a nightclub and Cirque de Soleil had a love-child, that's because they did.  Light has partnered with Cirque de Soleil to create an immersive entertainment experience that features everything from the city's hottest DJs to literal acrobats on the ceiling.  Light is an extremely popular club.  This means two things.  First, it is really difficult to get into Light, especially on the weekends.  Second, it is sometimes so crowded that we've found it difficult to enjoy.  Our tip is to hit Light mid-week, preferably on a Wednesday, when crowds are at their lowest.
Cirque de Soleil– What's Vegas without a show?  Not Vegas, and Cirque de Soleil has a reputation for some of the most amazing shows in the world.  They have a rotating variety of shows that are featured in Vegas, but we aren't going to recommend any single show.  You'll enjoy any of them.  
Speaking of shows, do you have a favorite performer that you always wanted to see, but missed when he or she was touring.  If so, check and see if they have a Vegas Show.  Over the last decade or so, it has become increasingly popular for successful musical acts to decide to opt-out of touring and, instead, partner with a casino or event venue to put on regular acts in Vegas.  Who is there may change, but some of the really big names who have had regular Vegas acts include Celine Dion, Cher, Garth Brooks, and George Strait, just to name a few. 
Peepshow– Do you love burlesque?  Vegas is known for its naughty adult-flavored Broadway style shows, and Peepshow is our personal favorite of those.  It's not going to replace the all-male reviews that you'll want to visit if the bride wants a stripper.  Instead, it's like stepping into an erotic dreamscape. Think of it like a live-action 'new adult' romance novel, and enjoy.
Jewel Nightclub – The Hakkasan Group is known for its over-the-top nightclubs and Jewel, a  14,000 square feet, two level nightclub at the Aria Resort and Casino, is no exception.  It is extremely popular, so reserve a table if you want to make sure you get in.  Where you sit depends on what kind of experience you want to have.  The second floor has themed VIP boxes that let you enjoy a more private party, while the main floor is where you go to see and be seen. 
Omnia Nightclub – Another Hakkasan nightclub, Omnia opened in Caesar's Palace where Las Vegas favorite PURE once stood.  This club opened in April 2015 and took over the spot once occupied by PURE nightclub.  The club is huge, but the big draw for most people is that Calvin Harris is their resident DJ.  Because of its popularity, this is another place where we recommend reservations, but be forewarned that bottle service is pricey here; expect to pay upwards of $400 a bottle.   
Do you love Questlove?  We do, which is why we recommend hitting the Ling Ling Lounge at the Hakkasan Las Vegas in the MGM Grand.  Want to make sure you get in?  Enjoy some delicious Cantonese food at Hakkasan restaurant, then head straight into the club, skipping the lines. 
You are going to hear people talking a lot about TAO restaurant and nightclub.  People will tell you that you must go there.  We don't think it has to make it onto your Vegas to-do list, but if you have the time, we can pretty much guarantee you a fun night if you do hit TAO.
Looking for more nightclub options?  Check out our article on all the best Las Vegas clubs.
Male Strip Clubs
Vegas is known for its adult entertainment industry, but you might think of female dancers when you think of the city.  Don't worry, ladies, there are plenty of hot male dancers in Sin City, too.
Hunk Mansion bills itself as the city's number one male strip club, with so much in your face action it should be considered a contact sport.  We think they live up to their billing.  This is not the place for a blushing bride who isn't sure if she wants exotic dancers.  This is the place for women who aren't ashamed to scream, hoot, and holler for some dancers. 
Looking for something a little less hands-on, but just as deliciously naughty?  Check out Thunder from Down Under, which blends some of the city's most chiseled male bodies and dirtiest dance moves with a cheeky boy-next-door charm. 
Where to Eat
Las Vegas is one of the top cities for dining in the entire world, with restaurants owned by some of the world's best-known chefs.  Even the iconic casino buffets are known for their high-quality food selections.  That makes it hard to know where to eat, but almost impossible to make a bad choice.
Restaurants
SushiSamba at the Palazzo is Japanese, Brazilian, Peruvian fusion.  Doesn't sound like it would work, but the food is amazing.   We say head there for brunch and try the lobster eggs Benedict.  It is every bit as delicious and decadent as it sounds!
Las Vegas is known for steaks, but sometimes the outrageous sizes and matching outrageous prices are just a little overwhelming.  STK located at the Cosmopolitan Hotel is known as a ladies steakhouse, and its atmosphere, which can include patrons dancing on the table, differs from the typical steakhouse as well.  Food you must try here: the same as in any other steakhouse, order the ribeye, don't let them cook it above a medium, and savor what steak should taste like.
In a city known for high-quality buffets, it is rarer for a buffet to stand out.  However, Wicked Spoon Buffet @ Cosmopolitan Hotel has earned a reputation as the city's best buffet with the widest, most-varied selection.  Their offerings are unique enough that you probably won't like everything on the menu, but high-quality enough that there will be some things you absolutely adore!  We don't have a must-try food here, because the buffet is rotating. Instead, we encourage you to spend the extra $15 for their bottomless drink special.
Where to Stay
Las Vegas is a tourist town with so many hotel rooms it is almost overwhelming.  Where to stay largely depends on what you want your bachelorette party vacation experience to be like.  Do you want a casino with a high-end spa, easy access to the hottest nightclubs, or both?  Figure out what you want; Vegas almost certainly has it.
Hotels / Resorts
Las Vegas might be growing in popularity as a family vacation destination, but there is no doubt that it remains an adult party-spot.  As a result, we feel confident when we tell you that every hotel on the Vegas strip is bachelorette-party friendly.  However, we have noticed a trend with Vegas hotels calling themselves all-inclusive.  If you have visited the Caribbean, all-inclusive means you pay a single fee and nothing else for all standard resort activities.  We haven't actually been to a Vegas hotel where that is the case.  So, if you book at a Vegas all-inclusive, be absolutely certain about what is included in that price! 
Cosmopolitan Las Vegas – You've seen us mention bars, restaurants, and clubs at the Cosmopolitan, so it should come as no surprise that it's one of our favorites.  What sets it apart from the city's other hotels?  Honestly, it's the balconies, which let you step out for a moment and just take in the city. 
We like Wynn Las Vegas.  It's extremely upscale with a European vibe.  It is a luxury hotel with luxury prices, but it is worth every penny. 
Palazzo Resort Hotel Casino is considered smaller and more feminine than some of its counterparts, which is fine with us.  It has an amazing spa, beautiful suites, and it home to some of the city's best clubs.  Sign us up!
Villas / Rental Houses
We often recommend renting a house for a bachelorette party because of increased flexibility and privacy. The best two websites for doing this are airbnb.com and homeaway.com.  We step back from this advice in Vegas because the action is on the Strip and booking a private home means you might have to worry about transportation.  That said, if you just have to have a villa, then choose one of our favorites, which are private homes located in Strip hotels, like a penthouse in the MGM Grand Casino Hotel Signature Tower that sleeps up to 12 and offers the amenities of the MGM Grand Complex and a private villa, or Frank Sinatra's preserved penthouse, located in the residential area of the Cosmopolitan Casino. 
If you are thinking that you love the idea of the space of a rental property, and the idea of creating a central party space for your group, but you do not want to give up proximity to the Strip or have to worry about transportation around town for your daily activities, then you should look at Sell My Timeshare Now.  Timeshare owners use this website to rent out timeshare properties that they cannot use.  Timeshare properties are resort properties where multiple owners have a common interest in the properties and get to use them for a set time period each year.  However, many people purchase timeshares and never get the time to use them.  They can rent them out to people and recoup some of their costs, but the prices to the renters are usually much lower than comparable hotel prices or even rental homes.  This is a great place to check if you are doing last minute booking, because the prices for last minute deals can be crazy-low!
When to Go
Best Time
Vegas is great year-round, but the heat can be overwhelming for people from cooler climates.  If daytime temps well into the 100s are too much for you, avoid the summer, but visit in late spring or early fall.
On a Budget
Late fall/ early winter offers the best deals, but it is after the summer pool season, so you might miss some of the best parties.  That said, hotel rooms start at around $40.00 in the off-season, which can make your expensive Vegas vacation a bit more affordable.   
What Else
Pack like you'd normally pack, but don't freak out about it.  Vegas is a major city and one of the world's top tourist destinations.  If you forget it, you can find it.  That said, there are some things you should bring. 
Items to Pack
You're going to hit a pool party, so bring your swimsuit, sun hat, sunglasses, sunscreen, and sunburn recovery gel. 
Sunscreen.  Choose a high-SPF and one that is both water and sweat-resistant:
https://www.amazon.com/Banana-Boat-Performance-Spectrum-Sunscreen/dp/B00B81XR1Y/ref=sr_1_6_s_it?s=beauty&ie=UTF8&qid=1489961520&sr=1-6&keywords=sunscreen
Aloe or other post-sun gel
https://www.amazon.com/SunBurnt-After-Sun-Instantly-hydrating-non-sticky/dp/B001FWXJ4G/ref=sr_1_1_a_it?ie=UTF8&qid=1489961462&sr=8-1&keywords=sun+recovery+gel
Going with the naughty bachelorette party theme?  Save yourself some money and buy your favors before you go:   
https://www.amazon.com/Simply-Sophisticated-Bachelorette-Bridal-Shower/dp/B01FOKUXC0/ref=sr_1_1?ie=UTF8&qid=1485965821&sr=8-1-spons&keywords=bridal+tiara&psc=1
https://www.amazon.com/Vibrators-12-Penis-Suckers-Bouquet/dp/B00XUXWWFU/ref=sr_1_1?ie=UTF8&qid=1485965983&sr=8-1&keywords=penis+lollipop
https://www.amazon.com/dp/B01JP3UDZY?psc=1
https://www.amazon.com/dp/B01MTAKGHQ?psc=1
Prices
Las Vegas is expensive.  We say Cancun is where you go if you want a champagne party on a beer budget, well Vegas is where you go if you want a champagne party and have a champagne budget.  That said, when you factor in how cheap flights are to Vegas and if you go in the off-season, you can have a great time on a budget.     
Big Events
There is always something going on in Las Vegas.  Check out the events and festivals and you're sure to find one that piques your curiosity.  Popular with bachelor parties is the AVN Adult Entertainment Expo in January.  However, bachelorette parties seem to be fonder of the Electric Daisy Carnival, a huge electronic dance music festival at the Las Vegas Motor Speedway, which features over 200 DJs and boasts over 350,000 attendees. 
Itinerary
We have warned you about how expensive Vegas is, and this itinerary could easily run upwards of $1000 a night, but it would be one hell of a party.  Arrive at the airport Friday night and take a limo to the Cosmopolitan, where you'll be staying for the weekend.    Meet up with your girlfriends, then head over to New York, New York.  Ride that roller coaster before you get your drink on, then head down to the casino floor and learn the rules for some table games.  Enjoy dinner and a show at Cirque de Soleil's naughty Zumanity show before you leave.   Hit the Marquee Nightclub when you get back to the hotel.  Saturday morning, give yourself time to rise and shine, then hit the Wicked Spoon's lunch buffet before heading out to a pool party.  We suggest heading over to Mandalay Bay's Daylight Beach Club.  Get a cabana and plan on spending the day.  You're going to have lunch there sometime, with your drinks, but head back to your hotel before the sun goes down.  For dinner, you're going to go to STK, then head over to the Thunder from Down Under show.  After the show, you're going back to Mandalay Bay and head to Light.  Sunday morning, call the Hangover Heaven party bus if necessary and order room service.  Then, head out for your helicopter tour of the Grand Canyon.  Some of your guests will need to fly home Sunday night, but for those that are staying, plan on checking out Hakkasan's world-class Cantonese cuisine, then heading to the Ling Ling Lounge. 
Hashtags
#LasVegasbacheloretteparty #Poolparty
Forum
While we've tried our best to give you an idea of what a bachelorette party in Las Vegas might be like, there's nothing like experience.  So, post any questions you have to our forum (anything goes).  If we don't have the answer, someone in our community should.  If you have attended a bachelorette party in Las Vegas, give some suggestions, reviews, and tips for other groups in our forum to help our community grow.
Why Go
Rating:
Conclusion
If you've got the money to spend, Las Vegas offers some of the best parties and most entertaining experiences in the entire world, which makes it perfect for a bachelorette party.