Best Bachelorette Party Gifts (2023 Guide)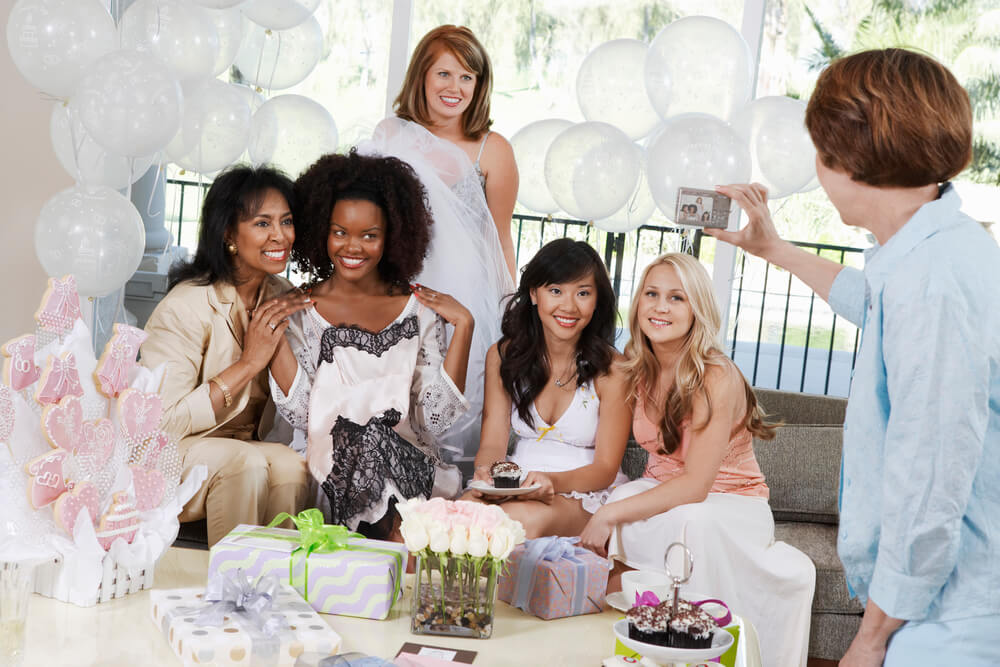 This post may contains references to products from one or more of our advertisers. We may receive compensation when you click on links to those products or services. Please also consider
donating to our website.
Bachelorette party, hen's night, stagette party, or the last-fling-before-the-ring; whatever you call it, the bachelorette party is the last night for the bride to go out as a single woman with her girlfriends. 
Not that long ago, stag parties were a guy-thing, with woman making do with bridal showers.  Then women saw how much fun bachelor parties were and decided there was no reason for the guys to have all the fun. 
Since then, the bachelorette party has exploded in popularity.  Whether you plan a wild night out at a local bar or a chic destination bachelorette party, one thing is for sure- you want this night to be memorable and fantastic, not just for the bride-to-be, but also for all of her friends!
A trendy way to give your guests lasting memories of your party is to provide them with bachelorette party gifts and favors. 
These favors can be raunchy novelty-type gifts, serious and thoughtful gifts aimed at sharing how much you mean, or somewhere in between.  Whether you are thinking trashy or classy, we have some great gift ideas that can provide you and your guests with memories long after the party ends. 
Who Gets the Gifts?
One of the top questions we get is who gets the gifts at a bachelorette party.  After all, a bachelorette party is not a shower, though it is not unusual for people to combine bachelorette parties and showers.  If this is the case, you need to make sure that information is on the invitation, so as to avoid any embarrassment for a guest that might otherwise show-up empty handed. 
If the party is not a combination bachelorette party and bridal shower, then gifts are not expected.  That does not mean that gifts won't be appreciated.  There are some presents you might want to give a girlfriend that would not be appropriate at a themed or mixed-group bridal shower and do not really fall into the "wedding present" category.  If so, you can always adapt some of our shower gift ideas.  However, the point of this article is really to give some fabulous ideas for presents from the bride or maid-of-honor to the bachelorette party attendees.
Who Buys the Gifts?
This is a tricky question.  Brides traditionally give gifts to the members of their wedding party, and the bachelorette party might be an ideal time to give those gifts.  However, if the gifts are more like favors, then it is probably the party hosts who will be buying them.  Sometimes, in the case of things like themed t-shirts, the guests may actually offer to pitch in and buy themselves the shirts, or the party coordinator might throw those costs into the per-person costs for the wedding.  The truth is that there is no hard-and-fast rule about who pays for gifts at a bachelorette party. We think a fair solution is that whoever decides to give the gifts and picks them out is the one who buys them.  In other words, if the bride decides to give gifts at the bachelorette party, it is clearly her responsibility to pay for those gifts; while, if the maid-of-honor decides some kind of gifts are necessary, she handles paying for those gifts. 
What Kind of Gifts?
The kind of gift depends a little bit on the type of party.  Something that is really popular with a lot of today's bachelorettes is swag.  You know, themed items that talk about being part of the bachelorette party.  Zazzle has some fantastic bachelorette-party themed items, including a huge range of customizable t-shirts, which are a great thing to give out before the party with instructions for people to wear them to the party.  You can also get some things to enhance the party, these things might range from silly novelty penis straws to drink cozies, sunglasses, beach towels, or other items that can be used at the party.
The second type of gift is more practical.  While these gifts may be given at the bachelorette party, they are not really intended for use at the bachelorette party.  What kind of things will the party attendees use and value as a reminder of a friendship?  These gifts can be traditional, but they can also be very personalized.  For example, if your girlfriends are all in the same book club, then signed copies of books by a favorite author may be a wonderful and meaningful present, while a group of bachelorettes who know each other from a motorcycle club might want something a little more hardcore.  The important part is to remember that finding something that will be meaningful to your friends, as individuals, is more important than trying to be traditional. 
Bachelorette Party Gifts
Novelty gifts
A novelty gift is a gift that does not have a specific purpose.  You may also hear them referred to as gag gifts, though true gag gifts actually function as both a prank/practical joke and a gift.  If the gift makes you laugh or smile because it is funny and a little bit useless, then it probably falls into the novelty gift range. 
What does that mean in terms of bachelorette parties?  Well, to the chagrin of maids-of-honor everywhere, it often means dicks.  Penis straws, penis lollipops, penis cakes, penis candies, games with penis game pieces- all of these are fair game for bachelorette party novelty gifts. 
If your bride crew are big starbucks fans, why not get them all these customized starbucks coffee mugs, which will keep the energy high during your party.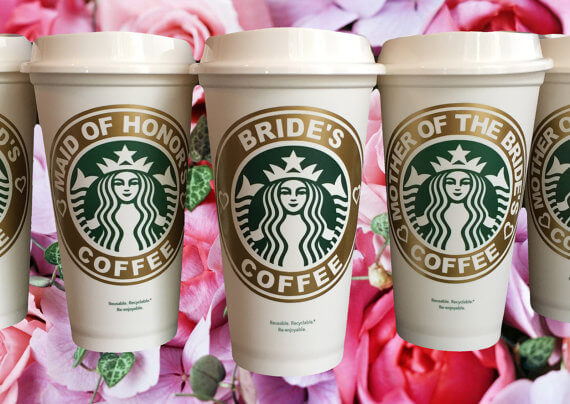 View these customized starbucks coffee cups on Etsy
Destination bachelorette party at a lake, beach, or other sunshine-y place?  We love the idea of sunglasses celebrating the party, and this turquoise pair at Etsy has the perfect beachy-vibe.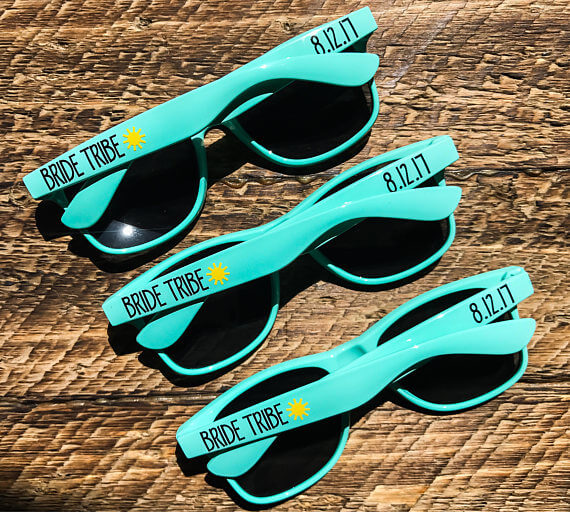 View these Custom Sunglasses on Etsy
Most people associate bachelorette parties with copious amounts of alcohol.  Keep your drinks chilly while you chill, with some of these bachelorette-themed coolies: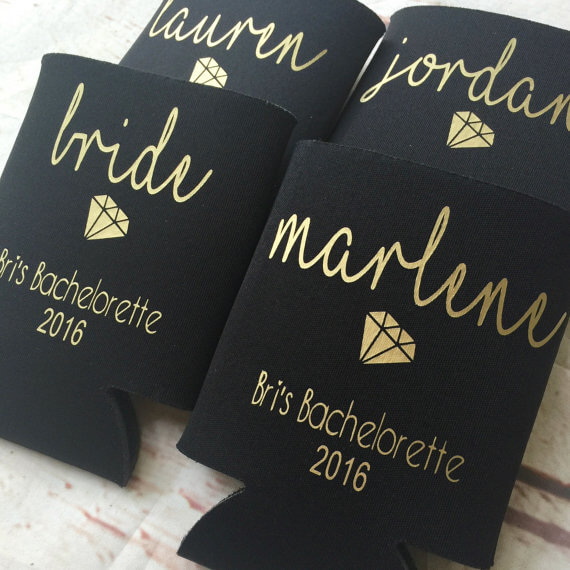 View these Coolies / Coozies on Etsy
All of that drinking means that there is a high-chance of hangovers.  That is why so many brides love the idea of a hangover kit as a bachelorette party favor.  You can buy them premade, or make your own following this cute tutorial from myweddingfavor.com: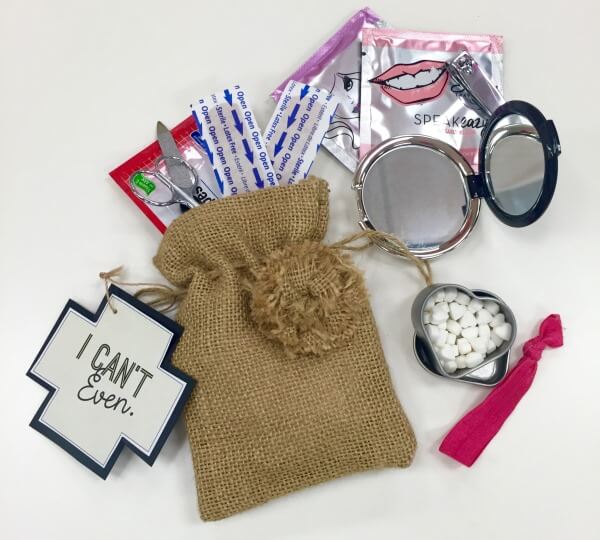 There are so many different themed bachelorette party t-shirts, that picking one really comes down to the individual style of the group.  That said, we like this tongue-in-cheek bachelorette party t-shirt from Zazzle:
Bachelorette party scavenger hunts are all the rage, because they are fun, they get even shy guests involved in the party, they get you interact with people, and everyone can do them.  Not up to creating your own scavenger hunt list?  No problem.  These adorable t-shirts mean everyone has a list on them:
View More Bachelorette Party Shirts on Amazon
Hey, the idea of a bachelorette party was stolen from the guys, so why not steal the traditional bachelorette party gift idea, too?  After all, flasks are iconic gifts.  We suggest filling them with a favorite booze before gifting: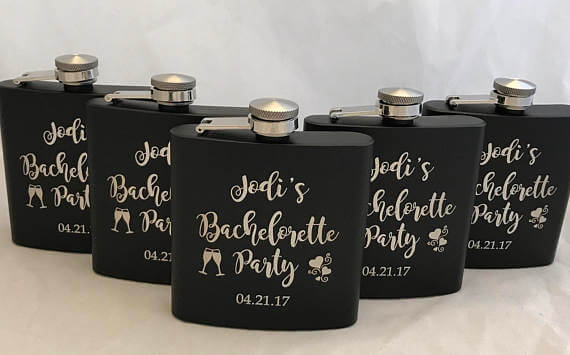 Gag Gifts
Thinks of these things as grown-up party favors.  They are not meant to last, they do not have any sentimental value, but they can help loosen up the group or bring together a group of seemingly diverse people. 
Will your bachelorette party be held at a Mardi Gras celebration or have a Mardi Gras theme?  Then you should start out the bead collection with something like this:
The bachelorette equivalent of a blow up sex doll, this ring-toss game brings a little kink to your bachelorette party festivities:
You have seen them at other bachelorette parties, and you might have even rolled your eyes at them because, they are super cheesy, but there is also something amusing about these penis drinking straws:
Along the same lines, pecker candies are a perennial bachelorette party favorite:
Have some party goers interested in women?  We like these shot glasses for some of the body shots that might happen at a bachelorette party:
If there is nothing in the world that can offend the future bride, this is a hysterical gift that will have the room laughing for hours.  Warning:  You may not want to give this gift if the future bride or groom's mother or family member are in attendance.  This clone-a-willy vibrator kit could be the gift that keeps on giving, if used correctly 🙂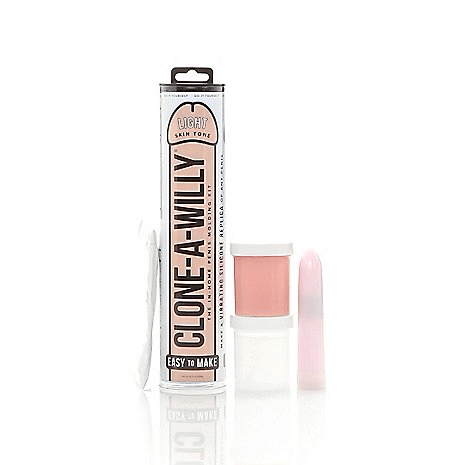 If you are picking out novelty items or gag gifts, it is important not to take yourself too seriously.  You can go with items that might be a little offensive, though we suggest avoiding anything that will hurt feelings or seriously offend the bride or any of the guests.  If you are on the fence, pick something else; there are so many options available out there that you should not feel like you are settling. 
Our next group of gifts is not frivolous.  This is when you need to spend some time and give your gifts some thoughts.  These gifts are meant to be meaningful keepsakes.  They do not have to be expensive, though, if you have the budget, no bridesmaid is going to object from a trinket in that classic blue box!  More important than what you spend is the idea that these gifts show that you care about the bridesmaids and put thought into picking something perfect for them!
Gifts for the Bridesmaids
We labeled this section gifts for the bridesmaids, but really these gifts could be appropriate for any person at the bachelorette party.  They are gifts that we have selected because they are affordable, thoughtful, reflect the theme of a wedding, but also honor friendship.  That is a lot to put in a name, so we decided to stick with "bridesmaids' gifts." 
A great gift for the special women in your life would be these custom stainless steel water bottles.  The perfect solution for staying hydrated during your bachelor party or if you don't care much about hydration you can fill them up with your favorite alcoholic drink.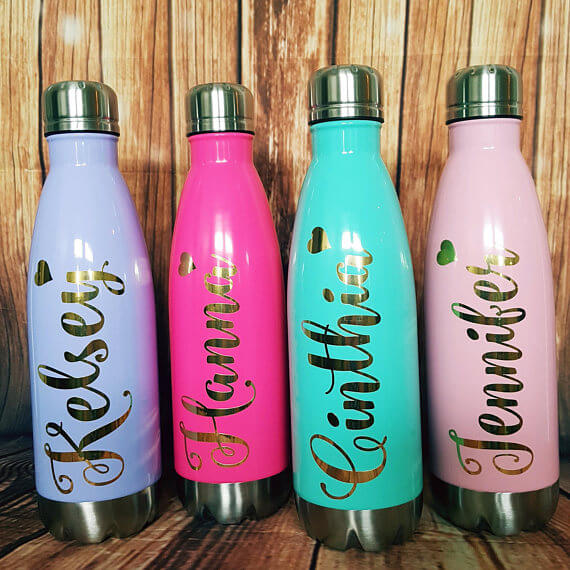 View these custom water bottles on Etsy
These personalized wine labels let you turn an already great gift- a bottle of her favorite wine- into something memorable:
View these custom wine labels on Etsy
While this sewing kit is wedding themed and has everything your bridesmaids might need to deal with a wedding-day fashion emergency, it is also something handy that they can keep in a glove box or throw in their luggage for more regular use: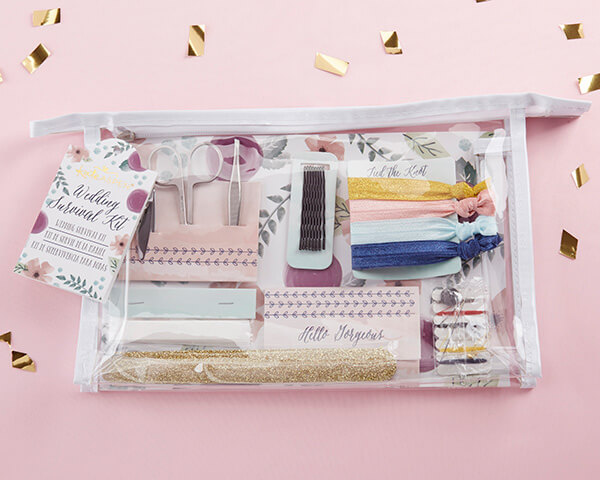 View this Floral Wedding Survival Kit on My Wedding Favors
Pearls are a classic wedding-day piece of jewelry and a timeless bridesmaid gift.  Update the traditional pearls with this pearl charm bracelet, personalized for each member of your party: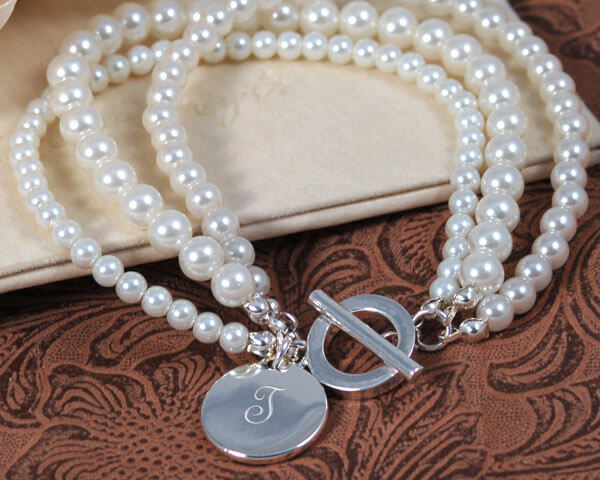 View this Pearl Charm Bracelet on My Wedding Favors
Timepieces are timeless gifts.  (See what we did there?)  Even if a pocket watch is not the most practical, picking one that she will love and having it engraved is a meaningful gift.  We love this girly rose-adorned pocket watch, which comes with a chain and can be worn as a necklace:
So, you probably cannot afford to give your whole bachelorette party a pair of classic diamond studs.  (If you can, we volunteer to be part of your wedding party- just hit us up in the comments section).  However, you can give them the beauty of diamonds with these fancy white-gold plated CZ studs:
You can find a ton of leather items out there, but with the growing popularity of vegetarian and vegan lifestyles, we wanted to make sure and include at least one gift that looked at more sustainable alternatives.  That's when we fell in love with this vegan wallet: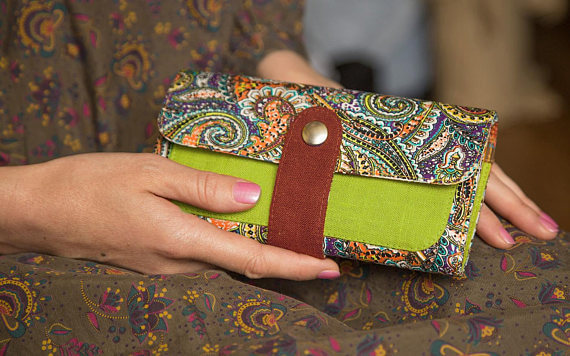 View this Fabric Wallet on Etsy
Our next two gifts are sometimes dismissed as being for the guys, but we actually think they are something everyone should have.  
The first one?  A pocketknife.  You can choose a multi-tool device like a Swiss Army Knife, or go with something simple and classic, like this engraved option:
The second one?  This handy multi-tool.  Slim enough to fit into a wallet or a pocket, this is something we think every adult should have on them, just in case:
Something In-Between
Imagine that you are a maid-of-honor who wants to get something cool for the party guests, but you do not know them very well and your pockets are not so very deep.  That is why we have this list we like to call "something in-between."  Not exactly novelty gifts, these gifts are fun, affordable, and useful. 
We all like to stay connected, and this handy charger is something any iPhone user will be sure to love:
Turn your phone into a large-screen viewing device.  We love this one for a pre-boarding gift if you are traveling to a destination for your party:
Avoid the hangry bachelorette party guests; fill these up with some go-to snacks and keep it going on: Destination party with a bunch of activities planned?  Get one of these for each guest, then fill it up with snacks that will keep your party going all day long:
Gifts for the Bride
We have already covered this, but we feel like it bears repeating: a bachelorette party is not a shower and you are not expected to come with a gift for the bride.  (Unless, of course, it is also a shower and then you totally are- but pick something from her registry!) 
However, who doesn't like gifts?  This is the perfect chance to buy her a little something that is not really a shower gift and would not make a good wedding present, but is something you think she will love.  We love these ideas, because they are perfect for enhancing a honeymoon (no, not like that!)
This perfect mug set is an amazing idea for the bride, especially if her and her future husband drink coffee or tea.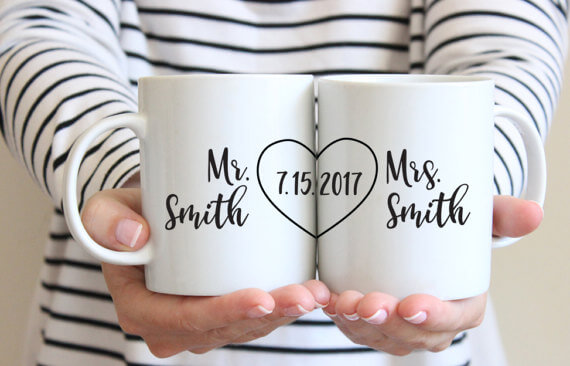 View this Mr. & Mrs Mug Set on Etsy
Want to give a present that is a little bit naughty, but also a little bit nice?  We highly recommend honey dust.  In fact, we suggest you order one for yourself: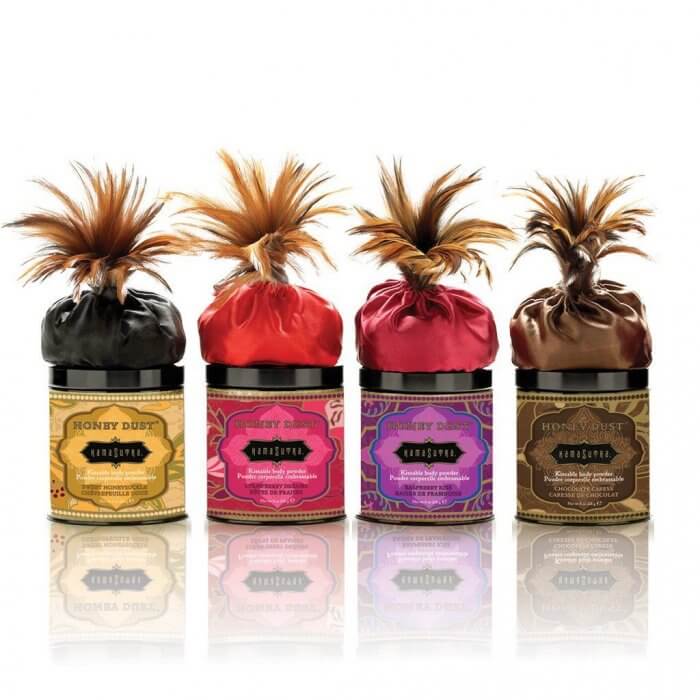 View this Honey Dust Baby Powder on Ebay
Give her something sexy to wrap up in: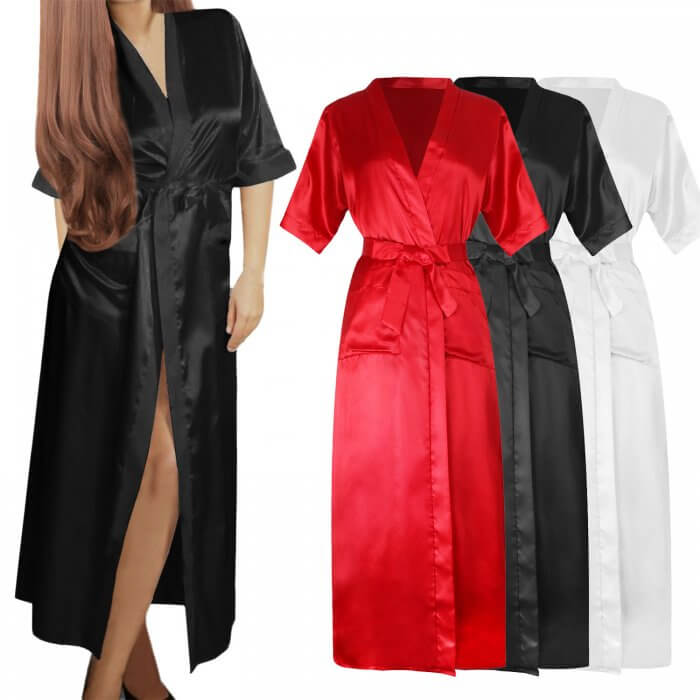 If the bride has a good sense of humor, a funny gift would be this Honeymoon Bondage Kit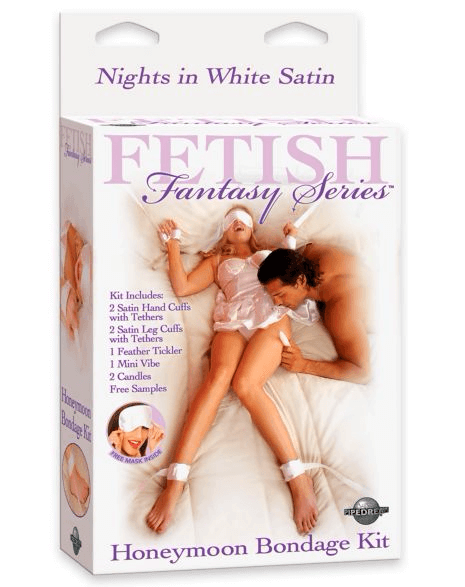 View more funny bachelorette party gifts at Spencers!
Conclusion
Hopefully you now have some great ideas for bachelorette party gifts.  While they are not essential and you should not buy them if they are out of your budget, they can really enhance a bachelorette party.  For more hints and tips about how to throw a wonderful bachelorette party, visit some of our other pages.  From destination parties to bachelorette party activities and basic how-to guides, we are your one-stop shop for bachelorette party information.
Have any other great ideas for bachelorette party gifts?  Leave them in the comments below or in our community forum