Bachelor Party in San Juan, Puerto Rico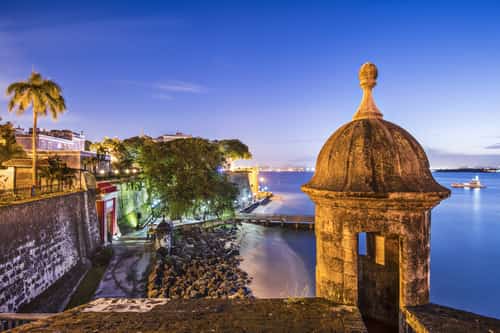 This post may contains references to products from one or more of our advertisers. We may receive compensation when you click on links to those products or services. Please also consider
donating to our website.
About Puerto Rico
For some reason, guys tend to overlook San Juan Puerto Rico when planning their bachelor parties.  Even if they look at Caribbean destinations, they choose more familiar haunts.  However, a San Juan bachelor party can be one of the most surprisingly luxurious stag parties you can imagine.  You get the perks of a Caribbean island with the stability of a U.S. territory. Plus, because Puerto Rico is in the United States, travel to and from San Juan is far less complicated than arranging travel to another county, making a bachelor party in San Juan, Puerto Rico a great twist on the destination bachelor party idea.
How To Get There
Airport
When booking a trip to San Juan, make sure you select Luis Muñoz Marín International Airport (airport code: SJU) as the destination.  You will be about 15-20 minutes away from the beach hotels and it will cost about $15-$20 for a taxi ride.
Things to Do
Daytime Bachelor Party Activities
One of the great things about San Juan is that Puerto Rico bachelor party activities are not limited to the nighttime.  The tropic island offers activities for the adventurous, but you can also just spend the day in the sunshine, enjoying some cold beer on the beach while you recover from the night before.
Hit the beach at Mosquito Bay in Vieques one late afternoon or evening to capture the feel of a typical gorgeous Caribbean beach, but plan on staying till after dark.  When the sun goes down, bioluminescent dinoflagellates emit a blue glow that lights up the water and the sky.  You can view it as a group or take a tour of the area.  Nightlife in Puerto Rico starts and stays open late, so this won't interfere with your nighttime plans.
El Yunque National Forest is the only tropical rainforest in the national forest system.  You can hike, sight-see, enjoy the cool river pools.
Puerto Rico is on some the most beautiful water in the United States.  Enjoy it by chartering a yacht for the day.  If a yacht is a little fancy for your tastes, consider a party cruise on La Rumba, San Juan's premiere party boat service.
Other ways to take advantage of San Juan's gorgeous water include: banana boat rides, kayaks, jet ski rental, boat rental, fishing charters, flyboarding, kiteboarding, paddleboarding, parasailing, scuba diving, snorkeling, surfing and waterskiing.
Nightlife Activity Ideas
Want a taste of typical Puerto Rico nightlife?  Then take a bite out of Club Brava, located at 6063 Isla Verde Avenue.  Club Brava combines everything you love about a nightclub with everything you love about a lounge, and leaves the things you don't love behind.  It's a favorite with the locals as well as tourists.  Admission is $20, but for your San Juan Puerto Rico bachelor party, go ahead and reserve a VIP booth or table service, to assure that you can see and be seen at this club. Plan on partying all night, as well, Brava is often open till the sun comes up.
A floating nightclub?  Isn't that cheesy?  Yes, it's cheesy as hell, but La Rumba is still one of the best times you can have at a Puerto Rico bachelor party.  The boat has a full service bar and a dedicated daiquiri bar and features club music and a dance floor.   The only downside is that, since it is a cruise, you're committed to two hours at a time.
Massage Parlors / Strip Clubs
The Doll House Gentlemen Club on Calle Andalucia is San Juan's only strip club that operates in daytime and nighttime hours.  Open from 3am till midnight, it is a constant party, and, if you meet any girls you like there, you know they don't work all night.
Lips Gentleman Club on Calle La Hija del Caribe has a reputation for having some of the friendliest dancers in Puerto Rico.  We aren't using that as a euphemism.  One of the drawbacks of the typical strip joint is that they can be really high-pressure environments, which can take some of the fun out of them.  At Lips, the dancers are happy to give you special attention, but you aren't going to be pressured to buy lap dances or anything else.  If you do, you're going to get a great show.  It's a great place to go with a group and have a good time.  They also offer great Puerto Rico bachelor party packages, so you may want to call ahead and schedule your group's visit.
D'Girls Gentlemen Club is an odd mix of strip club and sushi bar, but it works.  This place is open late and not only features some of the best looking dancers on the island, but is also one of San Juan's hottest after-party spots.
Where To Eat
Restaurants
Pinky's West is a breakfast and brunch spot that offers some of the tastiest bites in Puerto Rico. Food you must try here; Café con leche and a breakfast sandwich.
Café Manolin Old San Juan offers breakfast and lunch service.  We think they have some of the most delicious deserts in San Juan.  Food you must try here: vanilla flan and tres leches cake.
Kabanas is a little outdoor eatery that is reminiscent of a permanent food truck.  That is not an insult.  Wander down there and taste some of the most innovative cooking in San Juan.   It is fresh, local, organic street food.  Food you must try here: tostones and tacos.
1919 Restaurant, located in the Condado Vanderbilt hotel, is a true fine dining experience featuring a Michelin star rated executive chef.  You really can't go wrong with anything on the menu, and the prices are surprisingly affordable for the quality.  Food you must try here: foie gras duo, slow cooked cod, and banana bread pudding.
Where To Stay
Hotels / Resorts
El San Juan Hotel & Casino offers what they call "End of Man" packages, which makes El San Juan the ultimate pick for a bachelor party.  This package is$1000 per person per night, so it isn't cheap.  However, it might be the closest thing to a true all-inclusive bachelor party package in San Juan.  What's included in your price?  Well, first it includes luxury accommodations at the El San Juan.  It also includes a personal casino host and some high-testosterone activities, like kite boarding cigar rolling lessons, and Tequila tasting classes.

Hotels Available in San Juan
Hotel Casa Blanca may be the greatest little party hotel, ever and is our second-favorite of all the San Juan bachelor party hotels, and certainly more affordable than El San Juan.  The rooms are eclectic, its located near a bunch of nightlife and hotspots, and your rooms are clean and comfortable.
Sheraton Puerto Rico Hotel and Casino is a great Puerto Rico bachelor party hotel.  It's close to San Juan's marina, which not only means excellent views, but also easy access to some of the city's amazing water sports.  It also offers a golf package with access to the Bahia Beach Resort & Golf Club.  If a day of golf didn't make it onto your short list of Puerto Rico bachelor party ideas, that's because you don't know enough about this amazing course, considered by many to be among the best in the world.  Skip Sheraton's reservation line and call the front desk instead to see if they are offering any bachelor party packages in Puerto Rico.
Rental Houses
One of our favorite San Juan bachelor party ideas is to rent a party house or villa for your stay.  Search VRBO for available rental homes during your travel dates.

Rental Homes Availables in San Juan
When To Go
Best Time
Winter is the busy season in San Juan, and the tropical weather is a great escape from normal U.S. winter weather.
On a Budget
Mid-April to June is the best time to travel to San Juan; the weather is still fantastic but prices drop from their winter highs.  You have a risk of hurricanes in the summer, but the highs are still mild enough to really enjoy the outdoors, so don't hesitate to travel to San Juan in the summer, just get travel insurance.
Current Weather
What Else
Items to Pack
Your bachelor party in Puerto Rico may be in the United States, but you aren't going to find the same selection of items in stores as you would at a store on the mainland.  So, go ahead and pack some ibuprofen, acetaminophen, electrolytes and recovery formula in case you get a bad hangover.   If you plan on making new friends in San Juan, throw in your preferred condoms and lube, too.
Prices
Bottle service stars affordably, even at some of the most luxe places in San Juan start around $200 a bottle.  Admission is cheap, sometimes non-existent, and lots of places have drink specials.
The Women of San Juan
In the States, Puerto Rican women have a reputation for being a fiery combination of beauty and attitude, and that seems to be the case for women in Puerto Rico as well.  If you are looking for fun and exciting female companionship for your bachelor party in San Juan, you are likely to find it in this little island paradise.
Big Events
Carnival is the biggest party in the Caribbean and Puerto Rico's version is known as Ponce.  It generally occurs in mid-to-late February.  In May, Heineken JazzFest is a jazz festival that has different themes each year.  If you have any serious fishermen in your group, consider traveling in August and going to the Cuadragésimo Cuarto Torneo de Pesca Interclub del Caribe, a blue marlin fishing festival.
Crime
Although Puerto Rico is part of the United States, it has a higher crime rate than many other areas in the Caribbean.  Stick to the tourist areas and stay in groups and you will probably not even notice the crime, but if you get involved in questionably legal activities, you will be at risk.
Other Tips
Puerto Rico offers the convenience of easy flights, doesn't require a passport, and uses the dollar as its staple currency, making it a great place for a tropical vacation without leaving the comforts of home.
Puerto Rico Bachelor Party Forums
Still have questions about planning your big weekend to Puerto Rico? Ask any questions you have in our community forum and another member or staff will provide a detailed response shortly.  Already went to San Juan, Puerto Rico for your bachelor party and have tips, suggestions, or reviews?  Please leave them in our forum as well and help others bachelors plan their epic bash.
Rating
Conclusion
There's no doubt that Puerto Rico is a great vacation spot and that you will have a great time if you head to San Juan for your bachelor party.  However, it doesn't offer the same opportunities for decadence and debauchery as some of the world's other bachelor party destinations.  For that, we graded it a B+, but if your group of friends is a less interested in hookers and blow and more interested in golf and gambling, then you're going to have an A+ time.