Plan a Bachelor Party in New York City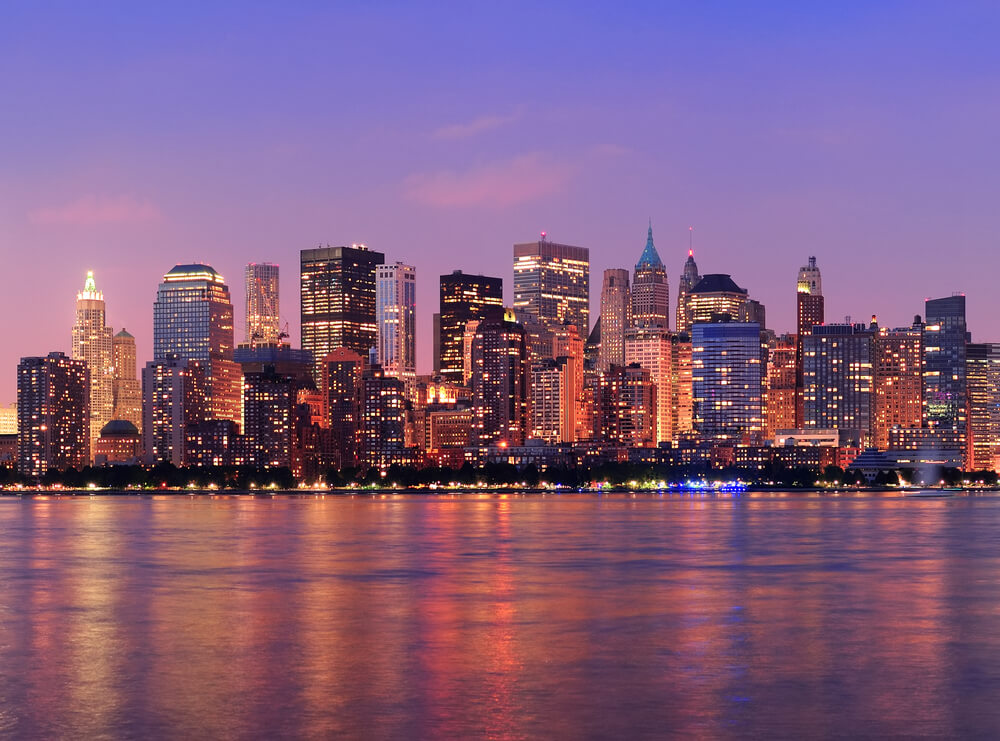 This post may contains references to products from one or more of our advertisers. We may receive compensation when you click on links to those products or services. Please also consider
donating to our website.
If you're considering New York City for your bachelor party destination, you are right on the money. Most people know that New York's nickname is "the Big Apple," but fewer know that its other nickname is "Bachelor Party Central" — and for good reason. One of the largest and most exciting cities in the world, New York City is a tourist magnet that attracts more than 54 million visitors each year and its vast selection of accommodations and entertainment venues makes it a perfect destination for your bachelor party. Today, New York City is home to more than 8.4 million people (!) living within the 305 square miles that comprise its five boroughs (Manhattan, Brooklyn, Queens, the Bronx, and Staten Island). Regardless of where you stay during your New York City bachelor party, however, you and your friends will always be near great places to eat, drink and recreate around the clock in "the city that never sleeps." With 248 major hotels and nearly 70,000 hotel rooms, New York City also has an enormous array of accommodations for all preferences and budgets, and some of our favorites are listed below.
How To Get There
Once you decided that New York City is the place you want to spend your final days of freedom, the first step should be shopping around for flights and booking them (if you decide on this method of transportation).  You can always book the restaurants, hotels, and nightclubs at a later time.  The good news is that you can easily get to the big apple either by car, train, boat, or plane.  Most will choose the option of flying, especially if your home destination is more than a 3-hour car ride.
Airports:
The good news about flying to NY is that there are 3 international airport that will get you close, and a 4th if you're traveling private (lucky bastard).  The  largest of these airports would be JFK International Airport (in terms of total passengers), named after President John F Kennedy (airport code: JFK).  This airport will have the most options and best rates for getting you to the big apple.  The second option should be Newark International Airport (airport code: EWR).  Although this airport is located in New Jersey, it's about a 20-30 minute uber or bus ride to NYC.  The third largest airport surrounding NYC would be LaGuardia Airport (airport code: LAG).  This is the smallest and ugliest of the airports, but you can sometimes find very good deals flying in there.  Finally, if you only fly private, you will want to choose Teterboro Airport (airport code: TEB) as your destination.
What To Do / Where To Go
Daytime Activity Ideas for a Bachelor Party in New York City
In reality, it would be virtually impossible to see and do everything New York City has to offer in one or even a dozen visits, but there are some iconic sights that are landmarks that are must-sees for everyone, including the Statue of Liberty, Central Park, the Empire State Building, Times Square, Rockefeller Center and the Brooklyn Bridge. There are also thousands of bars and eateries as well as dozens of major museums and cultural venues throughout all five boroughs so you're never far from something interesting and fun to do as well as somewhere to have a few drinks and great food from all over the world to boot. Some of the best venues for daytime bachelor party options are described below.
Chelsea Piers
62 Chelsea Piers, New York, NY 10011
5:30 a.m. – 11 p.m.
212-336-6666
If you're up for some physical activities, visit Chelsea Piers where you and your bachelor party guests can bowl, rock climb, play golf (including golfing simulators), go sailing on the Hudson River or enjoy their batting cages. Their world-class health club also features a swimming pool and numerous dedicated event spaces for different sports.
Big Apple Helicopter Tours
6 East River Piers # 212
New York City, NY 10004-3200
800-542-9933
This company offers several helicopter tours of New York City ranging from 15 minutes to 20 minutes as well as specials that also include sailing tours of Manhattan Harbor or multimedia double-decker guided bus tours of Downtown Manhattan. They also offer year-round discounts for groups of 12 or more, so they can accommodate all of your bachelor party friends for this once-in-a-lifetime experience. Take to the skies and then tour the city in style on one of their comfortable buses or modern sailboats.
With prices beginning at just $59 for a full day of sightseeing, this company also provides visitors with a free 200-plus page guidebook and free entry into many of the attractions it visits, including the 9/11 Memorial and Museum and the Empire State Building Observation Deck. Best of all, you receive line-skipping privileges that allow you to see more attractions along the way, and the hop-on/hop-off service allows you and your friends to take as much time as you want at each destination.
Ace Bar
531 East 5th Street
New York, NY 10009
212-979-8476
Monday – Friday: 3:00 p.m. – 4:00 a.m.
Saturday-Sunday: 1:00 pm – 4:00 a.m.
Widely regarded as one of the best bars in the East Village, the laid-back Ace Bar features happy hours with $3 draft beers and discounted drinks, pool tables, pinball, a "Big Buck Hunter" video game, skee-ball and darts. This bar also stretches over two enormous rooms that are ideal for bachelor party gatherings. In addition, Ace Bar also has a high-definition projection screen that you can use to show home movies of the groom's former carefree life and recent videos of your bachelor party events in New York City. You can count on a good time being had by all at Ace Bar.
Fat Cat
75 Christopher Street
New York, NY 10014
212-675-6056
Monday – Thursday 2 p.m. – 5 a.m.
Friday – Saturday: 12 p.m. – 5 a.m.
For a NewYork City bachelor party experience that is just downright fun, you can't beat Fat Cat. This is one of the hottest live music venues in town featuring world-class entertainers in several genres. The Fat Cat also boasts an award-winning pool and billiards hall as well as all your favorites, including ping pong, shuffleboard, foosball, chess and checkers, backgammon, and Scrabble, among others. Enjoy.
Nightlife Activity Ideas for a Bachelor Party in New York City
The only thing that beats New York City's daytime bachelor party options is the staggering variety of nightlife venues that cater to every taste and budget. Many of these venues specialize in bachelor parties but they can all accommodate large groups looking for a good time and some of our favorites are listed below.
Comedy Cellar
130 West 3rd Street (between 6th and MacDougal)
New York, NY 10012
212-254-3480
This is one of the most popular comedy clubs in New York City (there is a sister club located just around the corner) and a number of well-known comedians have performed here, including Louis CK, Ray Romano and Chris Rock. With reservations allowed for more than 8 people, a great bar and new shows starting at 7:30 p.m. Monday through Friday and at 7 p.m. on Saturdays, this Comedy Cellar location makes a great destination for you and your bachelor party buddies. Have a few drinks, relax and enjoy the best comedians around.
Uncle Sam's New York Nightlife Bar Crawl
501 5th Avenue
New York City, NY 10017-6107
929-376-8996
With priority admission and complimentary drinks for its customers, Uncle Sam's provides one of the best bar crawls in the city for just 85 bucks. In addition, Uncle Sam's offers a VIP option for $300 that includes unlimited drinks and private tables for you and your bachelor party guests. The bar crawls begin at 10:30 p.m. each Saturday from a starting location at 513 West 27 Street (between 10th and 11th Avenues at the Ovest Lounge). The destinations for each bar crawl change depending on the hottest entertainment and offerings available at the time so you and your buddies will always enjoy the best when you bar crawl with Uncle Sam.
Larry Flynt's Hustler Club
641 West 51st Street
New York, NY 10019
212-247-2460
Besides a well-stocked cigar lounge, exclusive VIP and champagne rooms, the Hustler Club also offers several features that make it a great venue for bachelor party revelries, including a fully stocked bar, a tasty menu and table service, the only heated roof deck in the country with private skyboxes (making it perfect for the deep winter months of January and February), gorgeous topless servers, lap dances and a world-class bar. Larry knows just what you like and you'll find it all here.
Baby's All Right
146 Broadway
Brooklyn, NY 11211
718-599-5800
Although it also offers a popular boozy brunch, Baby's All Right transforms into one of the best nightlife venues in New York City with live music performers and tickets for just $10. Besides a wide array of mixed drinks and 13 different beers, Baby's All Right also features a full menu with options ranging from Korean barbecue to numerous sides such as Shishito peppers and "Kichin" fried chicken. Surprise your bachelor party guests by showing them the replica of the maze from the movie "The Shining," etched on Baby's All Right's floor.
Resorts World Casino New York City
110-00 Rockaway Boulevard
Queens, NY 11420
888-888-8801
Located near JFK Airport, this world-class casino features 5,000 slot machines and electronic table game action as well as a buffet, food court and several bars, including Bar 360 that features a high-definition 28-foot video screen that make it an entertaining and potentially lucrative nightlife destination. In addition, Resorts World Casino also has a Wine Bar and the world-famous RW Prime Steakhouse for fine dining experiences that will make your bachelor party the special event you want.
Bachelor Party Stripper and Escort Services in New York City
Few other cities offer hundreds of stripper services with the most beautiful female entertainers in the world besides New York City. You and your bachelor friend buddies may even recognize some of the performers from a recent Penthouse or Playboy issue and the action ranges from topless lap dances to downright raunch. Reports from the field indicate that strip clubs are a poor choice for bachelor parties due to their high cost and onerous rules, but the stripper and escort services that come to your hotel are absolutely top-notch. Some of the more popular escort and stripper services that specialize in bachelor parties are listed below.
Escape Models VIP
50 Central Park South
New York, NY 10019
646-349-2255
"High-class" is the name of the game here. This "high-end" escort service specializes in providing their clientele with some of the most beautiful and intelligent women in the world who are carefully vetted to ensure they meet Escape Models' high standards. With a full-range of escort services for group events such as bachelor parties, including high-class international luxury elite VIP models, NYC escorts and courtesans as well as model dating, Escape Models is sure to please the most discriminating tastes. A 2-hour minimum booking is required but services are offered 24/7/365.
New York Party Strippers
New York, NY 10019
646- 979-1134
New York Party Strippers specializes in bachelor parties and they have the experience to make yours the best. Many of these strippers have been featured in Maxim, Penthouse and Playboy magazines and will attend your bachelor party event with their own music and equipment to provide you and your friends with exotic, professionally choreographed adult entertainment from their gorgeous School Girl, Nurse and Cop strippers.
New York City Strippers 2 U
140 Broadway
New York, NY 10005
646-358-4977
This stripper service also specializes in bachelor parties, and features two exotic dancers that will entertain you and your buddies with girl-on-girl action (with toys no less!), whip cream races (we're unclear on this but intrigued nevertheless), toy shows, lap dances and adult party games. They also rent party buses for bachelor parties that come complete with two exotic dancers, surround sound and psychedelic lighting systems. You'll get more than you expect with New York Strippers 2 U.
Where To Stay / Sleep
Best Hotels for a Bachelor Party in New York City
The Standard High Line NYC
848 Washington Street
New York, NY 10014
212-645-4646
Overlooking the High Line, eight blocks of retired elevated train track transformed into a public park in June 2009, the Standard Hotel is located in New York City's Meatpacking District. Don't let the name "Standard" mislead you though because there is absolutely nothing "standard" about this hotel. All of its 338 rooms have free wi-fi, oversized televisions, overstocked mini-bars, 24-hour room service, and floor-to-ceiling windows that afford breathtaking views of the Hudson River and/or Manhattan landscape. The hotel also features a German-themed outdoor beer garden, a winter ice rink, a rooftop discotheque, Le Bain, and an upscale restaurant with American cuisine, the Top of The Standard. In other words, you can have a blast at the Standard without ever leaving the premises. Moreover, if money's not an object, the Standard also offers a great venue for your bachelor party in its Penthouse located on the 21st floor that features sweeping views of New York City from a 1000-square foot terrace. The Penthouse comes complete with four private bathrooms and a state-of-the-art surround-sound audio system.
Gansevoort
18 9th Avenue
New York, NY 10014
212-206-6700
The 44-acre New York City Meatpacking District is located in Manhattan and runs the Hudson River east to Hudson Street and from West 14th Street south to Horatio Street. The Gansevoort was the first luxury resort built in this transformed historic district and it has all of the features and amenities to make your stay in New York City a memorable one. The Gansevoort has 186 hotel rooms, 22 luxury suites and a Duplex Penthouse Suite that is especially well-suited for swinging bachelor parties. All rooms feature large wall-to-ceiling windows for spectacular views of the city below and wall-hung LCD televisions. Situated near The Highline, the hotel also features the Chester bar and grill and a health spa. The hotel lobby even has a world-class bar and billiard table as well as a 45-foot heated outdoor pool with underwater lights and a Plunge Rooftop Bar and Lounge round out its many offerings.
Dream Downtown Hotel
355 West 16TH Street (near 9th Avenue)
New York City, NY 10011
212-229-2559
Also located in the Meatpacking District, The Dream Hotel is aptly named with a 45-foot heated glass-bottomed swimming pool that serves as the hotel lobby's ceiling. The hotel's 314 loft-style rooms and suites feature free wi-fi and Internet, 40-inch LED televisions with iPod and computer connectivity, as well as VEVO streaming channels, overstocked mini-bars and mini-refrigerators. The deluxe rooms also afford direct access Dream Hotel's full-service bar, beach club and 5,000-square foot pool deck. The hotel also offers a 2-story 2,500 square foot Guest House suite that is perfect for bachelor parties that comes complete with a Savant home automation system, a large garden terrace and even a glass-bottom Jacuzzi. In sum, your bachelor party dreams will all come true at The Dream Hotel.
Where To Eat
Dining Options for a Bachelor Party in New York City
Brunch:
Lavo NYC
39 East 58th Street
New York, NY 10022
212-750-5588
11:30 a.m. 12 a.m.AM
This multi-floor restaurant features a raised VIP area, a futuristic sound system and some of the best food and beverage selections in town that can help you and your buddies recover from a late night of partying and prepare yourselves for a fresh day of Big Apple excitement. Besides their normal brunch fare, Lavo NYC also offers a Champagne Party Brunch each Saturday between 2 p.m. and 6 p.m. that includes standard brunch offerings such as steak and eggs as well as more exotic dishes such as truffled grilled cheese with applewood bacon. This restaurant also specializes in hosting special events such as bachelor parties and provides a private events team to help you with planning.
Bagatelle
1 Little West 12th Street
New York, NY 10014
212-488-2110
This New York City institution is likewise located in the Meatpacking District and its architecture, modern design and superb foods such as whole truffled roasted chicken, baby potatoes chicken jus and homemade choux pastry gnocchi truffle sauce and Parmesanits as well as its beverage offerings, including its signature "Rich and Famous" cocktails, make it the perfect place for brunch for bachelor party groups. Be sure to check out Bagatelle's weekly "Bacchanal Tuesdays" and "Rock n Baga" each Thursday.
Dinner:
TAO Downtown NYC
92 9th Avenue
New York, NY 10011
212-888-2724
The TAO Downtown restaurant is a multi-level venue located in the middle of Chelsea that features a subterranean Chinese-themed restaurant that was designed to reproduce the feel of antiquity in an upscale setting. This surf-and-turf restaurant also specializes in hosting large groups such as bachelor parties, including a three-dimensional projection system that animates waterfalls and growing moss, 320-seat dining room, a sushi bar, the "Ink Bar," four private dining rooms, a large bar area and adjacent lounge that features its own private entrance.
Wolfgang's Steakhouse
4 Park Avenue
New York, NY 10016
212-889-3369
Sunday –Thursday: 12 p.m. – 10:30 p.m.
Friday-Saturday: 12 p.m. – 11:30 p.m.
This high-class restaurant serves seafood and dry-aged porterhouse steaks accompanied by an expanded menu that has something for everyone. This flagship facility is located in midtown Manhattan in the former Vanderbilt Hotel dining room which is a well-known historic landmark. Wolfgang's also features arched tiled blue and white ceilings that create an old world ambience that complements its traditional menu. Prepare to feel absolutely pampered at Wolfgang's Steakhouse.
When To Go
Best Time for a Bachelor Party in New York City (with and without budget restrictions)
In reality, with so many indoor entertainment venues and bachelor-friendly hotels available year-round, virtually any time is a great time for a bachelor party in New York City. For the budget-conscious, though, the deep winter months of January and February mean better off-season discounts at hotels, restaurants, bars and entertainment venues.
What Else
Crime in New York City
Despite a longstanding undeserved reputation for crime, the tens of millions of tourists who visit New York City each year enjoy a city with a crime rate that is actually lower than the national average. There is a moderate risk of pickpockets in high traffic areas of the city such as Times Square, though, so stick together and keep your wallet somewhere besides your back pocket.
Buying Drugs in New York City
Although medical marijuana was legalized in 2014 and you can visit one of the dozens dispensaries if you have a legitimate prescription issued in New York state and buy up to two-and-a-half ounces of high-quality herb at a time, recreational use remains illegal throughout the state; however, possession of less than 25 grams for first offenders is only a ticketed offense and more people get high in New York City than anywhere else in the country. Despite having one of the most sophisticated underground marijuana cultivation and distribution networks in the nation, buying marijuana still requires having a good contact so just follow the scent and ask around the Penn Station subway exit and you'll probably find what you want. Likewise, you can probably find pot and other stronger pharmaceuticals including MDMA and cocaine in the Lower Side of Manhattan, the Williamsburg section of Brooklyn, Washington Heights near 173rd and the Queensbridge housing project. Avoid the seedy-looking teenagers, exercise some discretion and caution, follow the unwritten rules for buying drugs and you'll be okay.
Conclusion
You can not go wrong with planning a new york city bachelor party.  There are tons of options to keep your group busy during both daytime and nighttime.  New York has some of the best strip clubs and dance clubs in the world.  Sprinkle in amazing restaurants and top-notch hotels, it should be no surprise why New York continues to be on the top of the list of destinations for bachelor to spend their last weekend of freedom.