Bachelorette Party in San Juan, Puerto Rico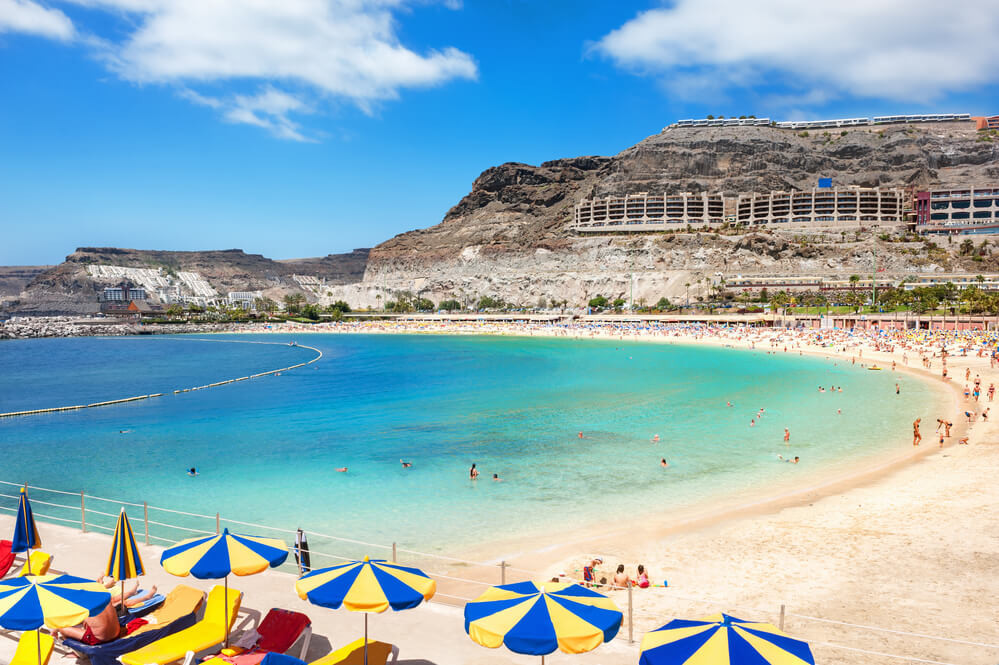 This post may contains references to products from one or more of our advertisers. We may receive compensation when you click on links to those products or services. Please also consider
donating to our website.
You know that a hurricane devastated Puerto Rico in 2017, so you might be wondering if Puerto Rico is still a great bachelorette party destination.  The answer is, surprisingly, yes.   While the images in the news are focused on storm-ravaged areas of the island and correctly report that many rural and residential areas are still struggling without electricity, many of the tourist areas were not heavily impacted by the storm.  Many of Puerto Rico's famed tourist attractions, hotels, and venues are back open for business.  Even though there is more competition for locations, prices remain low as tourists begin to rediscover the island.  More than that, because Puerto Rico is so dependent on tourist dollars, they need the business in order to continue in their efforts to rebuild. 
What many people love about Puerto Rico is that it is easy to travel to Puerto Rico.  It is part of the United States, which means that you do not have to have a passport for Puerto Rican travel.  It is close to Florida; making flights short and inexpensive from many mainland United States Destinations. Finally, it is a relatively inexpensive destination. 
Although the hurricane certainly impacted the island, Puerto Rico still means hot music, gorgeous beaches, beautiful weather.  Hotel and resort communities are prepared to offer you fantastic experiences; many of them have been operational since October.  Which all means you shouldn't have any doubts planning your bachelorette party in San Juan Puerto Rico.
How to Get There
Airport
Most people who come to Puerto Rico are going to fly.  It is, after all, an island.  The Luis Munoz Marin International Airport (Airport Code:  SJU) is fully operational and accepting domestic and international visitors.   When booking your flights to San Juan, make sure you check out priceline.com as they usually have the best prices and availability.
In addition, many cruises still travel into or out of Puerto Rico, and Puerto Rico's ports have reopened for cruise line business if you opt for a bachelorette party cruise instead.  Some of these cruises may either arrive in Puerto Rico and require a flight to return home or depart from Puerto Rico with a destination in the mainland United States.
Flights Search
Search hundreds of travel sites at once
Things to Do
Puerto Rico is known for its amazing nightlife, gorgeous history, and beautiful beaches.  While not every attraction is up and running, Old San Juan still has much of its historic beauty and is mostly functional.  The beaches are more gorgeous than ever, especially Isla Verde Beach.  For a while, visitors were cautioned to avoid beaches with rivers flowing directly into them because of concerns about what flooding washed into the rivers and the potential impact of heavy rains on river safety, but those concerns have passed.  
The islands of Vieques and Culebra, popular tourist destinations on their own, are still struggling with their recovery.  Due to their extra difficulties in getting supplies to rebuild, they are not quite ready for visitors, yet.  However, we will keep you updated and let you know when they are expected to have their popular tourist attractions open for visitors.
Daytime Activity Ideas
Puerto Rico may not be known as a dive or snorkel destination, but this gorgeous Caribbean island offers plenty of beautiful underwater sights.  You can always bring snorkel gear and head out on your own, but to find the most gorgeous snorkel sights and see the best variety of tropical fish, we strongly suggest a snorkel tour.  Castillo Tours offers a combination snorkel/picnic tour which picks you up near San Juan and takes you out to Icacos Island for a snorkeling adventure. Free-flowing Pina Coladas and rum punch make this a party snorkel experience, and transfers to and from your hotel make it a very easy daytime activity. 
Take a taste tour of San Juan.  Puerto Rican food is different from other Latin Caribbean food, and the unique taste turns most people into fans with the first bite.  You can schedule great meals at some of the city's best restaurants, but we love the idea of a San Juan food tour.  In these small-group tours, you will have the opportunity to visit some of the city's most unique restaurants and taste some of the most iconic flavors of San Juan.  You will also get to see some of the city's landmarks and hear the stories behind the island. 
Love ziplining?  Puerto Rico is actually home to the world's largest zipline.  Located in Toro Verde Nature Adventure Park, the Monster is the Guinness Book of World Record's record-holder for the world's longest zipline.  This 2.5km line is bigger than 28 football fields! They also have the Bull Maze, which is a challenging, team-building ropes course, and the Wild Bull, an aerial bridge through the beauty of Puerto Rico's forest. For the most adventurous among you, the Beast takes ziplining to a new level, allowing you to soar suspended in two harnesses like Superman over the forest. 
One of the most popular Puerto Rican activities is to take a sunset cruise.  You want to check with your cruise supplier, because some sunset cruises are geared towards couples, others towards families, and others towards the party cruise vibe. 
Take a stroll down Fortaleza Street.  This street is considered the shopping/strolling destination in Old San Juan.  While many shops have not reopened since Maria, the area is up-and-running, with plenty of shopping and sights to keep you entertained, and more stores opening every day. 
View all Activities in San Juan
Nightlife Activity Ideas
Usually when we talk about a destination, we try to highlight experiences that are unique to that area.  However, if you are having a bachelorette party in Puerto Rico, then you might not want to miss a visit to the iconic Senor Frogs.  Yes, you know Senor Frogs; they are a popular bar/restaurant chain that appears in many of the world's most popular beachside party cities.  If you have traveled in the Caribbean in the past, you have probably been in a Senor Frogs, maybe on spring break.  However, the consistently fun party atmosphere is exactly why we think they should be on your list.  Whether you are enjoying a chilled-out ladies' night or a more hyper foam party, we know it is a great place to party.
Looking for a more grown-up party experience?  Look no further than Club Brava/ Ultra Lounge.  This place is more NYC nightclub than tropical island hotspot, so come dressed to impress, prepared to pay a cover charge, and reservations beforehand are probably a great idea.  What do you get for your trouble?  The best DJs and most consistently cool party in Puerto Rico. 
We love a guided tour to start out a night of partying, and the Night Tales in Old San Juan combines elements of all of our favorite types of tours.  Food, rum, and great stories about the history of San Juan all come together in this tour.  If you want more stories and less food and drink, the same company offers a more generic nighttime walking tour that gets you inside of many buildings that are usually closed at nighttime.
Male Reviews
Puerto Rico's adult entertainment is definitely geared towards a male audience.  This is true whether the people stripping are guys or gals, so be forewarned if you decide to venture out to any strip clubs when you're in Puerto Rico.
SX is considered by many to be the city's best male stripper bar, though it is probably better described as a brothel than a bar.  We strongly suggest wearing closed-toe shoes if you visit, because the floor is, uh, funky.  That said, if you hit there in the early evening, you may get to see some really hot go-go boys shaking their things before they start hunting for customers.
Honestly, if you want the stripper experience in Puerto Rico, we strongly suggest hiring private dancers to come into your hotel or party villa.  This gives you control and takes you outside of the brothel-like atmosphere you are likely to encounter in most strip clubs.  There are lots of good services, but the dancers from Hot Party Stripper are, just like the name implies, hot strippers who know how to work a party. 
Where to Stay
Many of Puerto Rico's most iconic hotels are up and running; in fact, many of them survived Maria with only minimal damage.  Other beloved venues are still working hard to get ready for tourists. 
Hotel El Convento, in the heart of Old San Juan, offers you some of the mystery, beauty, and elegance that we associate with the city.  They have spa services, including a massage therapist, a valet to help you access the best of the city, and a beach club that gives you access to some of the island's most gorgeous beaches.  
The Condado Vanderbilt is one of Puerto Rico's outstanding spa hotels and event venues.   If you want to stay somewhere that you and your guests can be pampered. Experiencing a luxury health and wellness experience in a serene, modern setting, then this is the place for you!  Even if you do not decide to stay at the Vanderbilt, you may want to consider it for a spa day.  With a menu that includes facials, body treatments, massages, manicures, pedicures, and wellness/fitness classes, the spa is a great way to relax and unwind with your friends. 
It is hard to go wrong with a Marriott Property, and the Courtyard by Marriott Isla Verde Beach Resort is no exception.  This mid-priced hotel is a great way to step in the relaxed island life.  Rooms and suites offer beach views, the property has a gorgeous on-site pool, the resort offers free use of bikes to help you get around the island, and they offer free wi-fi. 
You can always choose to rent a party house or villa.  Normally, this is a favorite option for us because it provides an affordable way to house a whole party-worth of guests.  However, resources have really focused on restoring hotels and tourist attractions.  Therefore, your choices in party houses and villas may be reduced.  However, there are still great finds, like this nine bedroom apartment in San Juan. 
View all Rental Houses in San Juan
Where to Eat
Puerto Rican food is amazing.  Whether you are experiencing truly local cuisine or tasting a Puerto Rican twist on international cuisine, it is hard to go wrong when picking restaurants in Puerto Rico. 
Restaurants
What makes a restaurant bachelorette-party friendly?  Good food and good service are both givens, but lots of great restaurants offer those experiences and still are not good places for bachelorette parties.  You want a place that does not mind if you get a loud, has plenty of booze, and room to fit a group your size without trying to hurry you out the door.
Breakfast /  Lunch / Brunch
ChocoBar Cortes is a restaurant with a theme and that theme is chocolate!  Known for its breakfast and brunch offerings, the restaurant actually offers a surprising number of savory choices along with the sweet favorites that helped make it famous.  We love the chocolicious waffle, but the ChocoBar salad, with a chocolate-infused vinaigrette is one of the most unique salads you will find on the whole island. 
Pinky's West is known for its huge, super-affordable breakfast menu.  The place is tiny, and we are not exaggerating- it has four tables.  However, you can get your meal to go and have a great breakfast picnic at the beach.  Don't miss the café con leche.
You probably do not think of barbeque when you think of the Caribbean, but San Juan Smokehouse tells you why you should. Smoked pork is actually a Caribbean food staple, and the pulled pork and rib dishes at this establishment highlight the Caribbean influence on local barbeque.  It is also a great place to just grab some beer and listen to some live music.
Dinner
Casita Miramar offers Caribbean favorites with a Spanish flair.  If you are heading to San Juan in the winter months, we especially like their seasonal winter menu and traditional seasonal décor.
Barrachina may be the most famous restaurant in all of Old San Juan, because it is the home of the Pina Colado. Though it has been decades since they invented this iconic frozen concoction, Barrachina has not been content to rest on past accomplishments. Instead, they have continued to bring creative Caribbean and Latin cuisine to locals and tourists alike. While we have it listed as a dinner restaurant, it is important to know that they open up for brunch/lunch hours, and they are even open at 9:30 to serve their famous Pina Coladas.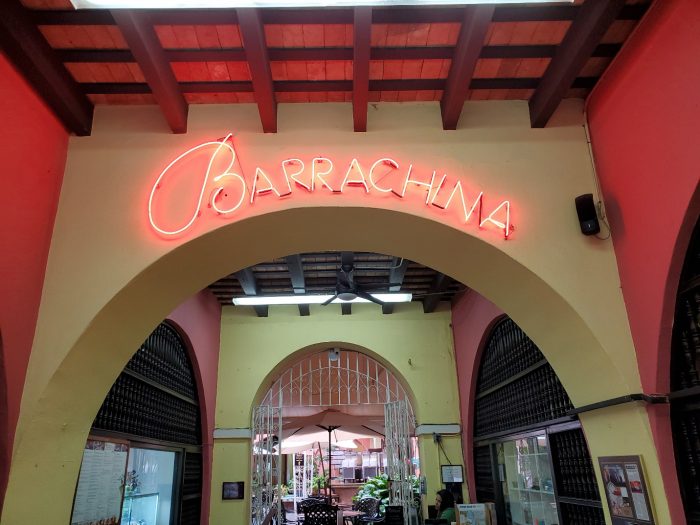 Enjoy their luxurious outdoor courtyard, where you can take in the sights of Old San Juan.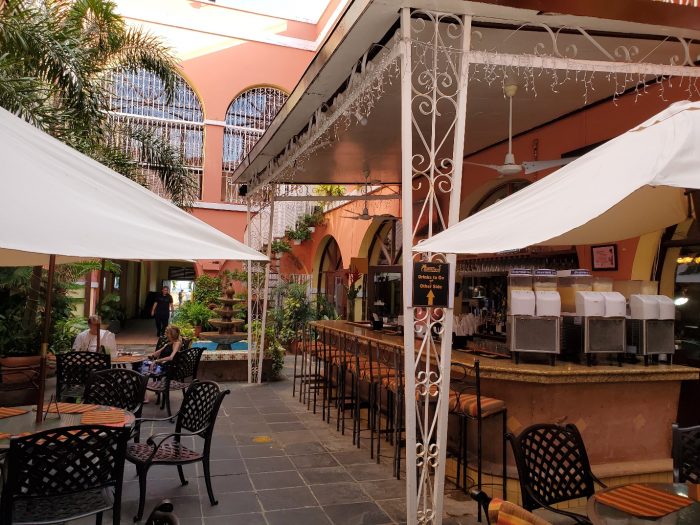 Make sure and get one of their famous Pina Coladas; we suggest getting a dark rum floater to spike up your drink.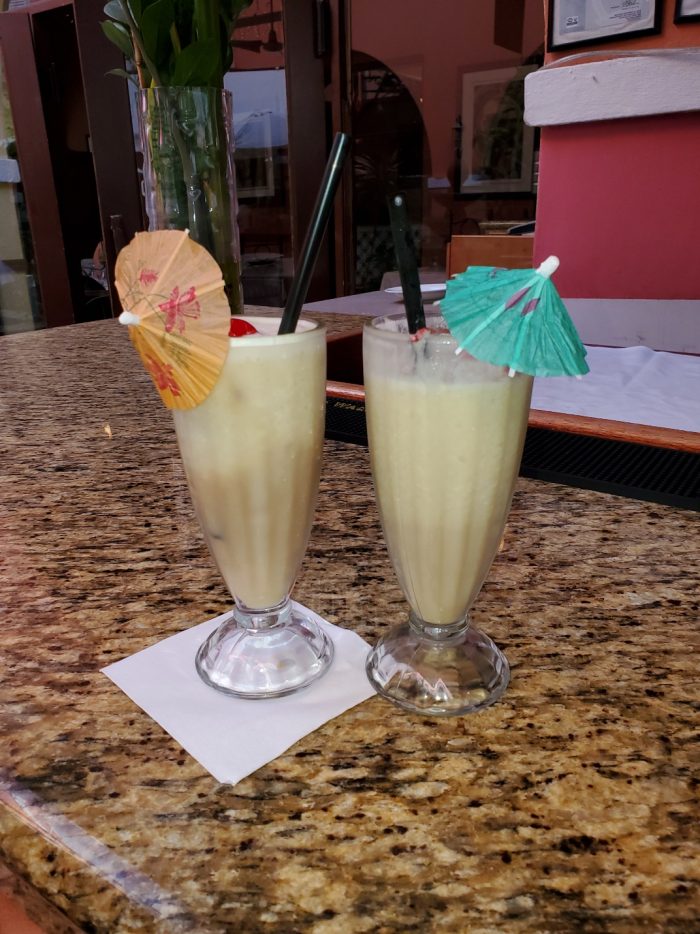 Not sure what to eat? We love going with their appetizers. We enjoyed a medley of croquetas, corn fritters, turnovers, and plantains with garlic sauce.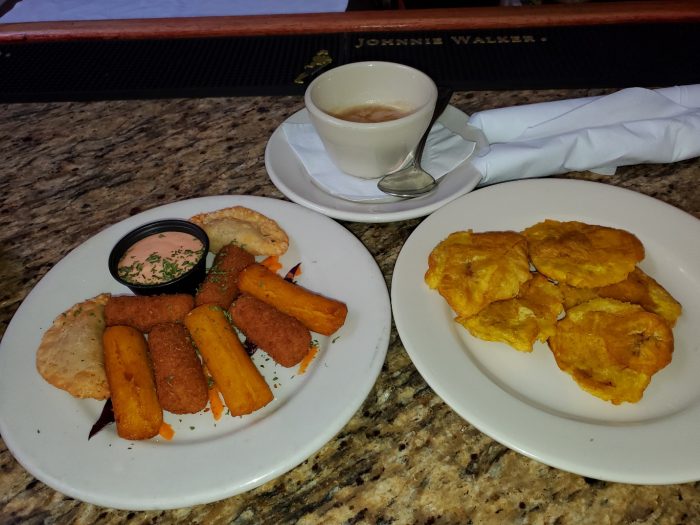 You have probably heard of the internationally-famous Marmalade restaurant on Fortaleza Street.  That's because this place is amazing.  Small enough to feel intimate, but large enough to host a good-sized bachelorette party meal, this restaurant offers one of the island's best fine dining foodie experiences.  We suggest members of the party order different three-course tasting menus and be willing to share, so you can get the ultimate taste experience.  If you do not want to share, let this be the night you indulge in beef because their beef options are amazing. 
Oceano is one of Puerto Rico's trendiest restaurants, which makes some new visitors skeptical that they can offer delicious food.  The venue itself is gorgeous and is worth a visit just to view it, but the food really does stand up to the hype.  Think locally-sourced spins on traditional island foods and that is exactly what you will get here.  Our favorite is the colossal shrimp mofungo.
When to Go
Best Time
Puerto Rico is known as a winter vacation destination, and for good reason.  It has amazing winter weather and the island is very festive, celebrating not only Christmas, but other winter holidays.  However, pricing in winter reflects demand; you can expect to pay more and need to book further in advance for winter travel. 
On a Budget
For the budget conscious, the best time to travel to Puerto Rico is from mid-April to June.  The rush of winter and spring break travelers is over, but the gorgeous spring weather usually stays in the upper 80s and the summertime rains have yet to move in. 
Worst Time
Puerto Rico is a Caribbean destination, which means that hurricanes are a risk.  The same hot and humid conditions that make it a hurricane risk also tend to mean bugs and weather than can get unpleasantly sticky if you travel there in the late summer/ early fall.
Current Weather
What Else
Puerto Rico is all about festivals; no matter when you are planning your trip, you can probably find a local festival or event to celebrate. 
Big Events
Casals Festival– Not exactly a party festival, the Casals Festival is the biggest cultural event in the entire Caribbean.  Founded by the cellist Casals, the goal of the festival is to celebrate the orchestral arts.
Saborea– an April celebration of food that attracts chefs from around the world, this is a can't-miss celebration if your bachelorette is a foodie!
San Juan Bautista Day is an island-wide celebration of Puerto Rico's Patron Saint.  San Juan has a number of events before and after the June 24th holiday to celebrate the holiday.
Items to Pack
San Juan is a major city in the United States, but it is not like a city in the U.S. mainland.  Especially after Maria, you may encounter some problems with finding what you want to bring with you for your trip.   To be on the safe side, we suggest you bring plenty of sunscreen, disposable underwater cameras, recovery formula, ibuprofen, condoms, and sunglasses.  If you are going to want traditional bachelorette party gear, like a "bride-to-be" sash, penis straws, novelty lollipops, etc., we strongly suggest just ordering them on Amazon and bringing them with you.
Itinerary
9am-10:30am Send the two earliest risers in your group to wait in line at Pinky's West and grab some breakfast sandwiches and café con leche to start your day. 
11am- 4pm  Head out for a day or snorkeling and sunshine on your snorkeling picnic catamaran cruise.  Bring plenty of sunscreen and be prepared for a day of chilling and gorgeous island sights.
6pm-8:30pm  Make this your fancy meal night and head to Marmalade.  Puerto Rican dinners tend to be a little later in the day, so you will beat some of the crowd by starting early, but plan on a long, relaxing dinner full of great food, great wine, and great conversation.
9:20- whenever  You're already dressed to the nines after your dinner at Marmalade, so head over to the swanky Club Brava/Ultra Lounge.  Reserve your VIP table in advance and enjoy the bottle service experience, while having a table reserved so you can all go out and dance and party, but have a place to come back together.
Crime
Crime in Puerto Rico is about average for the Caribbean.  Poverty is a problem in the area and tourism is the major industry, which seems to provide fertile breeding ground for lots of criminal activity.  On the other hand, a country that depends on tourists for much of its economy also tries to keep crime to a minimum.  As a result, most tourist-heavy areas are going to be relatively safe.  To make it safer, stay in groups, stay in tourist areas, be aware of your surroundings, and avoid flashing cash or expensive jewelry. 
Forum
Visit our forum to plan your upcoming Puerto Rican bachelorette party and to get tips from other users who have already been there.  We have a very open "anything goes" policy on the forum, so feel free to ask the questions we have not answered here!
Why Go
Puerto Rico is gorgeous, has amazing history, is beautiful, has fantastic architecture, and offers amazing dining experiences.  It is also really easy for travel, because it is less than three hours from many East Coast airports, you do not need a passport, and their currency is the dollar.  You can have an amazing bachelorette party trip to Puerto Rico without spending a ton of money. 
However, right now there is even more reason to go.  Like many other parts of the Caribbean, Puerto Rico was hit hard by hurricanes this year.  A tourism-dependent economy, they need visitors to continue to rebuild.  So, you can have an awesome vacation and feel like you are being humanitarian. 
Star Rating
Puerto Rico is beautiful, affordable, and easy to reach.  Usually a 5-star destination, we bumped it down a star because some of our favorite parts of Puerto Rico are not yet open for business.
Conclusion
The Caribbean is always fabulous for a destination bachelorette party, but many people overlook Puerto Rico.  As part of the United States, Puerto Rico is easy for travel, making it a great destination, especially for last-minute parties where the guests might not all have time to arrange passports.