Plan Your Chicago Bachelorette Party (2023 Guide)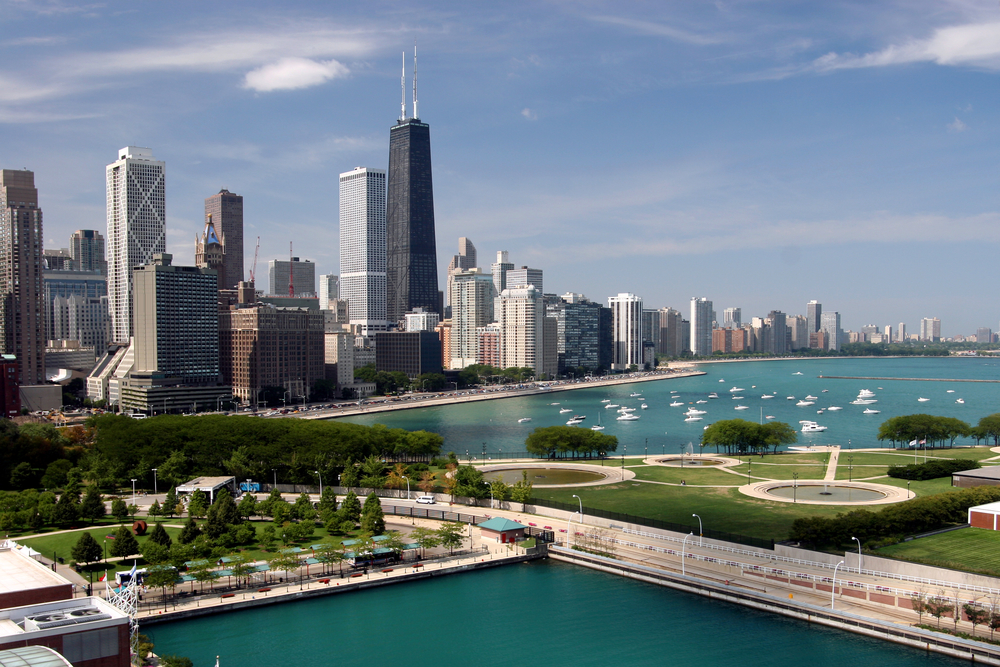 This post may contains references to products from one or more of our advertisers. We may receive compensation when you click on links to those products or services. Please also consider
donating to our website.
When you think of party cities, Chicago, Illinois might not top your list, but the third-largest city in America is full of awesome surprises.  As a winter destination, the city may be a bit on the very cold and windy side, but starting in early spring, Chicago starts embracing the raucous part-loving atmosphere for which it is known.  By the time summer hits, Chicago offers one of the country's best lakeside beaches, with all of Lake Michigan's amenities. 
It has wonderful dining opportunities, cool sight-seeing, and some amazing clubs and restaurants.  It is also a place where many plays and musicals make their pre-Broadway debuts, making it an awesome destination for a group that is into culture.  Finally, Chicago is one of the nation's largest travel hubs, making it affordable and easy-to-get-to from almost anywhere in the nation.  So, keep Chicago in mind when planning a bachelorette party. 
How to Get There
Car
Chicago is the country's most centrally-located large city.  You can get there from just about anywhere in the continental U.S. in about a day's drive or less, and if you tack on another day you can get there from literally anywhere in the continental U.S. by car.  From the east coast, you take I-80 West, from the west coast, you take I-80 East, from points south you can come up I-57. 
Don't want to put all the miles on your own car?  Rent one from rentalcars.com and plan your amazing road trip with the girls.
Airplane
Chicago's major airport is Chicago O'Hare International Airport (Airport Code: ORD).  O'Hare is one of the nation's busiest airports and is serviced by almost all domestic commercial airlines and many international commercial airlines including: Aer Lingus; AeroMexico: Air Canada; Air Canada Jazz; Air Choice One; Air France; Air India; Alaska Airlines; Alitalia CAI; All Nippon; American Airlines; Asiana Airlines; Austrian Airlines; Avianca Airlines; British Airways; Cape Air; Cathay Pacific Airways; Cayman Airlines; China Eastern Airlines; Copa Airlines; Delta; EVA Air; Emirates; Etihad Airways; ExpressJet; Finnair; Frontier Airlines; Hainan Airlines; Iberia Airlines; Icelandair; Interjet Airlines; Japan Airlines; Jet Blue; KLM Royal Dutch; Korean Air; LOT Polish Airlines; Lufthansa; Qatar Airways; Royal Jordanian; SWISS; Scandinavian Airlines; SkyWest Airlines; Spirit Airlines; Turkish Airlines; United Airlines; United Express; Virgin America; Virgin Atlantic Airways; VivaAerobus; Volaris Airlines; WOW Air; and Westjet Airlines.
Getting Around
Chicago has a very well-established and reliable public transportation system, which can make public transportation a great option for people traveling around the city.  Even if you choose to get a rental car from a service like Enterprise Car Rental, which provides rentals on location at O'Hare International Airport, you might still consider using public transportation, particularly buses, for sight-seeing and getting around town.  In addition, the relatively compact walking area of the Downtown Chicago area means that a combination of walking and Uber is one way to handle getting around.  Looking for a swankier option, then consider a party bus.  We love this option, because it ensures you have a designated driver, you know it will be big enough for your whole group, it lets you plan out transportation beforehand, and it means that no one has to arrange or worry about transportation while you are partying.  You can also use a party bus to get you to various daytime activities, making it a great sightseeing option.  Of course, Chicago is on one of the city's largest lakes, Lake Michigan, and is on a river.  While you would not use the river or the lake to get from place-to-place, if the weather is nice, renting a boat or jet skis is certainly an entertainment option. 
Things to Do
Chicago is a great city with plenty of daytime and nighttime activities.  Some bachelorette party locations are all about constant partying, but some of the most awesome things to do in Chicago are a little outside of the typical bachelorette party range.  However, in a city that offers some of the nation's most interesting museums and historic sites, do not be afraid to stray from the normal bachelorette routine. 
Daytime Activity Ideas
You might think you can shop anywhere, but Chicago's Magnificent Mile has stores you are unlikely to find in other parts of the country.    In fact, the Magnificent Mile rivals famous shopping areas like Rodeo Drive and Fifth Avenue in terms of selection and luxury offerings.  Burberry, Louis Vuitton, Rolex, Patek Phillipe, and Tumi are just some of the luxury brands you will find on display.  
One of our favorite daytime activities in Chicago is a boat tour by the Chicago Architecture Foundation.  These 1.5-hour river cruises offer a view of some of the city's amazing riverfront architecture, as well as a history lesson.  They are a great first-day activity, because they help you orient yourself to the city, and can be a fantastic way to soak up some sunshine.
Everyone loves a spa day, but Chicago's Polish and Pour offers a spa day with a twist.  This mani-pedi spa features a full-bar, so you can get your drink on while getting your nails done.  They also offer party spaces and open-bar options, and corkage fees for those who want to BYOB, which open up your hostessing possibilities. 
The Chicago Field Museum is one of the world's largest natural history/ natural science museums.  The Museum of Science and Industry, Chicago is the Western Hemisphere's largest science museum, and The Art Institute of Chicago is one of the country's premiere art museums.  Even if you do not think of museums as typical bachelorette-party fun, Chicago's amazing museums are well-worth a day or two of exploration. 
Mojo Spa offers a luxurious environment for bachelorette-party spa days.   While their spa menu is not as extensive as some other local day spas, they have such a wide variety of handmade, luxury spa products, cosmetics, and candles, that every party member is bound to leave happy. 
Do you consider yourselves outdoor enthusiasts?  If so, then a quick trip to Darien, Illinois, where you can hike around Waterfall Glen Forest Preserve might be your most awesome daytime activity.  Wintertime visitors love the cross-county skiing in the area, as well. 
No trip to Chicago would be complete without a visit to Navy Pier.  Featuring the iconic Centennial Wheel, Navy Pier hosts activities and events year-round, and offers some of the most stunning view of the city.
View all Activities in Chicago
Nightlife Activity Ideas
Of course your nighttime activities are going to include some bars, but what about when you just want to hang out and have some fun?  Chicago has you covered.
If you look at our other pages, you will see that we love a ghost tour.  There are lots of reasons for that.  They are a great way to get a tour of the city, learn some history, and sometimes even see a little something spooky.  In Chicago, our go-to nighttime ghost tours are offered by Chicago Hauntings, which is considered one of the country's top-ten ghost tours.
Chicago is not just a riverfront city; it is also on a huge lake.  That means you have to think about a party boat as a nighttime activity.  There are a ton of different options for party boats in the city.  You can rent one yourself.  We love the option of having a captain handle the boat, so you can concentrate on the party, which is offered by many companies including Chicago Tiki Boat.
We are suckers for a dueling piano bar.  So much so that, if you have never been to one, we suggest you find the nearest one and go visit it this weekend.  In Chicago, dueling pianos get a little bit of an edge at Sluggers World Class Sports Bar.  Yes, it is a sports bar, but on the weekends, it is also a dueling piano bar, where the pianists take requests.  Oh, and did we mention there is a dancer's pole between the pianos, in case you begin to feel a bit adventurous? 
We are not quite sure how to describe Vaudezilla.  Maybe, burlesque meets Vaudeville?  However you would describe it, you are sure to have a good time at this raunchy burlesque-fest.  You can even schedule a party where you and your bachelorette tribe learn how to put on your own burlesque-style show.
Bars
You may not think of Chicago as a city of bars, but its bar scene offers some amazing variety. One thing that makes Chicago's bar scene really stand out is that bar food is a big deal in Chicago.  In fact, almost all Chicago bars offer their version of bar food, some of which is so-so while other offerings are epic. 
Upstairs at the Gwen is an outdoor rooftop bar, which, surprisingly, offers some of the city's coolest winter activities, like an outdoor curling rink.  Located on top of the Gwen hotel, this bar attracts people with its fun activities, but they stay because it offers some of the city's most adventurous adult beverage concoctions.
Beatnik is a hipster bar, which means it might usually be a little too trendy for us.  However, it is everything we love about hipster and nothing we hate.  Think of a swanky 50s vibe, where you can get absinthe cocktails and some incredible eats.  Just do not forget to leave your ironic anything at the door. 
Are you a fan of a particular book series featuring a wizard named Harry and an iconic pub?  If so, then hustle to Moody's Pub.  While it is not identical to the fictional pub frequented by some of our urban fantasy favorites, you can certainly see why they may have inspired one another.  Enjoy a beer and have one of their famous cheeseburgers. Visiting in the wintertime?  Then we suggest you order a Cinnamon Toast, a delicious concoction of amaretto, hot cider, whipped cream, and cinnamon. 
We are not quite sure what to make of The Rabbit Hole.  Will you feel like you fell through the looking glass at this drinking establishment?  Not quite, but it does have a very quirky Alice in Wonderland theme.
Male Reviews
What can Chicago offer to the bachelorette party experience that you are not able to find in many other cities?  Not just one, but several high-quality male reviews. 
Hunk-O-Mania is a chain male review, but do not let that dissuade you.  They have the art of erotic entertainment down extremely well and can help you throw an epic bachelorette party.  Perfect for the bachelorette who wants to feel sexy, but not sleazy.
Sinzation combines theater-style entertainment with exotic dancing, giving you a complete entertainment experience, and you know they have bachelorette party packages, too.
Stallion Chicago is the place to go if you want to see the city's hardest bodies in a male review.  They have perfected the bachelorette party experience, and their entire lineup looks like men you would see gracing the covers of romance novels.
Where to Stay
Chicago is one of the transportation hubs of the United States, so it has plenty of places to stay.  However, because it is so popular, you can actually find it difficult to find a room, at least in the downtown area, at some times of the year.  You can use travelocity.com and priceline.com to help you find a place to stay. 
Hotels
The Sofitel Hotel on the Magnificent Mile.   This hotel is known for its excellent service, minimalist architecture-inspired décor, and fine on-site dining. 
The Hampton Inn Majestic Chicago Theatre District is a Hampton Inn located in the heart of the theater district.  This older hotel offers historic touches, but we love its modern amenities.  Free breakfast.  Completely clean bedding for every guest.  Walking distance from almost everything you would want to see in Chicago.
The Millennium Knickerbocker Chicago offers luxe details with surprisingly affordable prices, all in a great Magnificent Mile location. 
Rental Houses
While hotels are always a great way to go, we also love the idea of getting a party house.  In a home rental, you can put your whole party in a single space, you have dedicated private space to hang out, and you usually end up paying less than you would at a hotel.  We think services like Homeaway.com, and VRBO.com make finding a vacation rental very easy.  Here are some of our Chicago-area favorites. 
Marketed as perfect for girls' getaways, we could not agree more.  This four-bedroom, three-bathroom condo can sleep up to 15 and is walking distance to local attractions. Known for responsive hosts, this place combines the best of a hotel and a vacation rental.
This Lincoln Park duplex has exposed brick and other architectural details that remind you that you are in a city known for its architecture.  With 4 bedrooms and 2 bathrooms, this space can sleep a relatively large group, but you will really love it for its amazing skyline views.
If you are determined to take a car, then this affordable 3 bedroom, 2 bathroom with an enclosed garage might be the ideal space for your group. 
Looking for penthouse luxury with amazing views of the Magnificent Mile?  Look no further than this amazing 2 bed/ 2 bath unit with 20-foot floor-to-ceiling windows offering you one of the city's most amazing views.
This adorable duplex is cozy, yet big enough to sleep 11.  The hosts even stock breakfast for two days to make the house more user-friendly. 
View all Rental Houses in Chicago
Where to Eat
Breakfast/Lunch/Brunch    
Chicago Waffles offers, well, waffles.  Not just any waffles, but amazing Belgian waffle concoctions and build-your-own omelets.  What's even better?  They deliver, so if you are too tired to head out for brunch, let brunch come to you.
Southport & Irving SIP is a tavern, with traditional tavern fare.  However, they also offer drinks based on the stops made in Around the World in 80 Days and a bottomless mimosa brunch.
Wildberry Pancakes & Café offers simple breakfast and lunch fare made with farm-fresh ingredients. 
Dinner
Best restaurant in Chicago?  Check.  Best restaurant in America?  Also check.  Alinea is more than a restaurant; it is a dining experience.  A James Beard winner and one of only 12 U.S. restaurants to earn 3 stars from Michelin, it is a must-try.   We cannot tell you what to try when you eat there, because the ever-changing menu means that there are no go-to-classics at this place.  However, everything is amazing.  It is also vegetarian and vegan friendly, so your whole group can feel at home.
If you come from someplace outside of Chicago, especially in the South, you may think that there is no way Chicago barbecue can stand up to your local favorites. Smoque BBQ begs to differ.  Try the ribs; baby back or St. Louis style, you will love them.
Joe's Seafood, Prime Steak & Stone Crab is everything you want from seafood and steak house.  Try the colossal lump crab cakes.
Girl & the Goat.  The name is weird; the food is divine.  Small plates, with a world-cuisine flavor that is clearly influenced by Indian cuisine, but not quite Indian.  Try the confit goat belly. 
Want a home-style meal with a world-cuisine flare?  Then try Avec.  The food is served "shared dish" style and features some Mediterranean favorites.  Make sure and pair your meal with one of their imported beer selections.
Doc B's Fresh Kitchen is basically an upscale sandwich joint.  The food is fabulous and the prices a little steep for sandwiches, but if you hit it on $5 burger night, you will get the city's best food bargain.
When to Go
Best Time
There are two great times to visit Chicago.  Late spring, from April through May, and early fall, from September through October.  The weather is perfect and the city is full of festivals and activities during both of these times.
On a Budget
Summer is great in Chicago.  Yes, summer temperatures can get a little toasty, but between the river and the lake, you can find plenty of seasonal outdoor fun.
Worst Time
The winters in Chicago can be brutal for the uninitiated.  However, if you are coming from somewhere that has winter, as well, then Chicago might be a nice change of pace because life does not stop for snow in Chicago.
Current Weather
What Else
Big Events
Chicago loves its festivals.  They are a year-round occurrence and happen without regards to the weather.
In February, Frost Fest celebrates craft beers and cider.  It's been described as the world's largest block party, and that is exactly the vibe you get. 
March hosts Chicago's St. Patrick's Day Parade.  It is epic, and they even dye the river green for the festivities.  Check it out and remember everyone is a little Irish on St. Patrick's Day. 
June is when Chicago hosts its Blues Festival.  It is the world's largest free blues festival and the city's biggest music festival. 
Love beer and all things German?  Then come in September and see how Chicago does Oktoberfest.
Items to Pack
Chicago is a huge city.  Whatever you forget, you will be able to find.  That said, it never hurts to plan ahead.      
You're going to be partying.  Hard.  Prepare for the hangovers ahead of time and purchase a hangover kit.
You should make sure everyone knows it's the last fling before the ring by purchasing a bachelorette sash for the future bride.
Itinerary
Sleep in late, then start your day with brunch at Chicago Waffles, then head for a riverboat architecture tour.  From there, head over to Navy Pier, have a look around, and take a ride on the Centennial wheel.  Plan an early dinner at Avec, then head out for some total raunchy debauchery at Stallion Chicago.
Forum
Have some questions not covered in our guide before you book your bachelorette party in Chicago?  Post them to our forum so that other community members can provide you with the guidance you need.  Already been to Chicago for an epic ladies weekend?  Post some recommendations in our forum (dining, nightlife, hotels) for others so they too can plan an amazing getaway.
Other Tips
Chicago is an amazing destination, but it is not called the Windy City for Nothing.  It is totally possible for weather to delay your travel, so we strongly suggest buying travel insurance to protect any financial investment in the trip.%20http://www.dpbolvw.net/click-7577083-11485715
Shirts
Do you have to have matching t-shirts for a bachelorette party?  No.  But they are fun.
Check out this baseball-style t-shirt from Zazzle.  The longer sleeves are great for cooler months: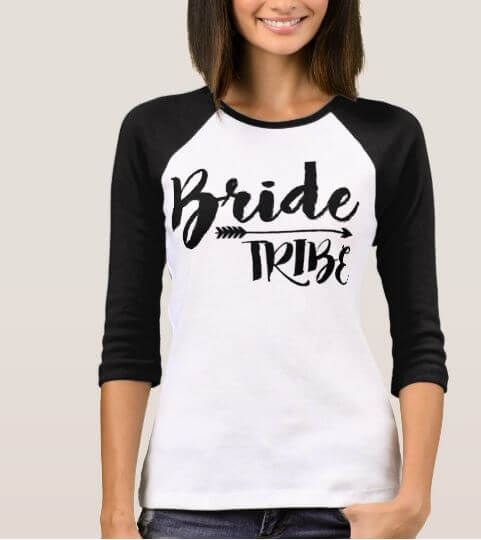 Are you and your girls wine lovers?  We love these wine-themed t-shirts: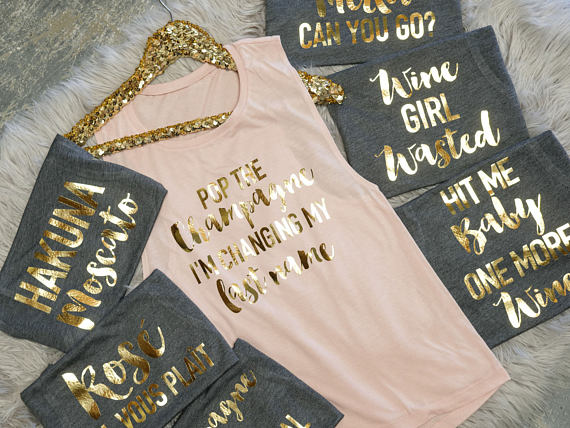 Even if your party does not have a country-theme, we like the double entendre in this t-shirt: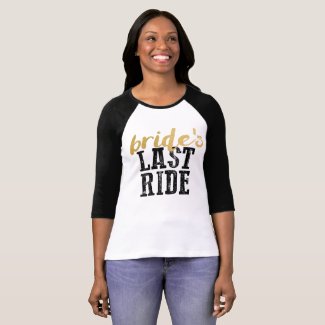 A shirt that gives directions to whoever finds you, if you get lost:
View all Bachelorette Party T-Shirts Available on Etsy
Packages
Intimidated by the party planning?  No problem.  VIP Bachelorette can plan your Chicago bachelorette party.  You tell them what you want and they will craft a party that is perfect for you and your girls. 
Hashtags
#WindyCityWeekend
#ChiTownFling 
#BacheloretteBash
#BluesBabes
Why Go
Chicago is an amazing city, with something to offer year round.  While it is more of an urban feel than many bachelorette destinations, its lakeside location and proximity to some gorgeous hiking spots make it a great place for nature lovers, as well as city dwellers.  It has some of the nation's hottest bars and finest dining, and, while its club scene might not be like Vegas, there is always something fun to do.  Added bonus, its central location makes it a great spot for affordable travel, no matter where your girlfriends live.   
Star Rating 
Conclusion
If you have never been to Chicago, then it is hard to convey exactly how much of a good time you can have in this city.  It is a great place to explore with any group of people, but a bachelorette party in the Windy City is certain to be a great time.   The best part of the city is its laid-back cool vibe, which is exactly perfect for a last fling weekend, where the emphasis should be as much on your friends as it is on the destination.