Plan the Perfect Mykonos Bachelorette Party (2023 Guide)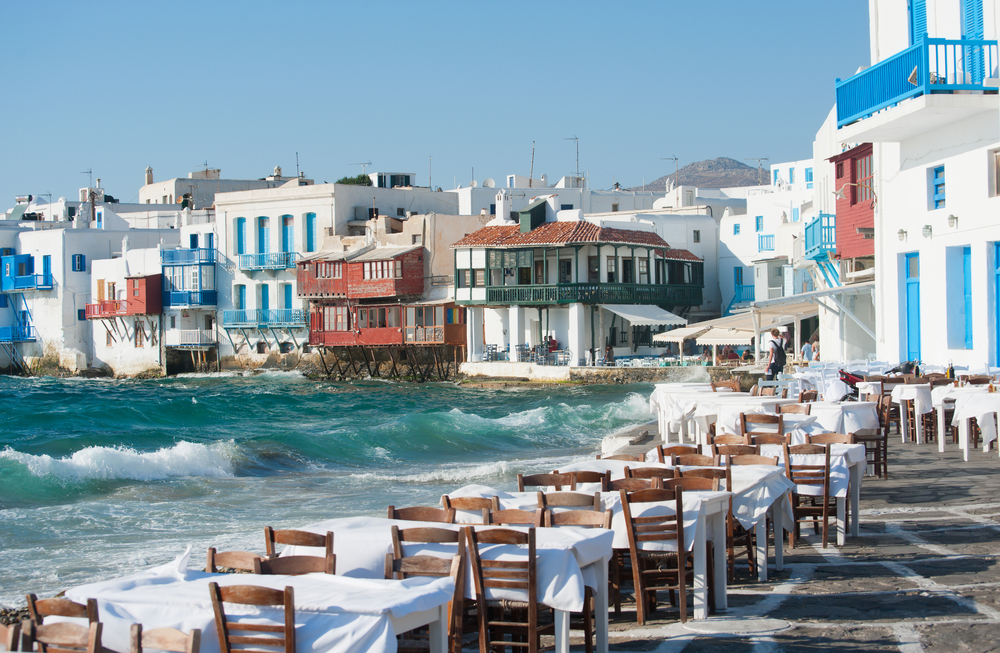 This post may contains references to products from one or more of our advertisers. We may receive compensation when you click on links to those products or services. Please also consider
donating to our website.
Looking the ultimate luxury bachelorette party destination?  Look no further than Mykonos, Greece.  Not only is it one of the most amazingly stunning of the Greek islands, it also has a reputation as a great place for those post-sundown parties.  Greece, always a popular travel destination, has been experiencing a bit of a pop-culture revival because its beauty was featured in Wonder Woman and both of the Mama Mia movies, it should come as no surprise that Greece is one of today's hottest bachelorette party destinations.  Mykonos is one of the hottest of the Greek islands.  It became famous for its stunning views, but it has developed into a summer party spot and a year-round foodie destination.    
While people travel to Greece because of its gorgeous natural scenery, there is no denying that bachelorettes tend to want to party.  Mykonos is the perfect island for party people.  It is known for having a party atmosphere, particularly in the summertime.  Both its Paradise and Super Paradise beach have a reputation as some of the best party beaches in the world.  They are also stunningly gorgeous for those who are as interested in natural beauty as they are in great parties. Moreover, Mykonos is known for its club scene, with all-night clubs that are open until after dawn.  While it may be a popular modern party place, it is still a historic Greek island.  When not hitting the clubs, consider visiting the 16th century windmills that dot the hillside or strolling through the scenic villages, which have the look of a classic fisherman's village.
How to Get There
Greece is an island nation.  If you are traveling there, then you are probably going to fly into Greece or a nearby country, and then take a smaller airplane or boat to one or more of the islands.  If you plan on staying in Mykonos, then you can fly into its airport.  If you are traveling between islands, visit the www.greekferries.gr to set up your ferries between islands ahead of time.  Our recommendation is that you fly into Athens.  From Athens, you can choose to fly or ferry to Mykonos. 
Airport
For booking flights from other countries, you probably want to choose to fly into Athens International Airport, airport code ATH.  From there, you can arrange transport by air to Mykonos or take a ferry. 
The Mykonos National Airport, airport code JMK, is the airport you will select if you want to fly directly into Mykonos.  It is a smaller airport, though it is the nation's 10th busiest airport.  It does not serve the major U.S. airways that most travels are accustomed to, so your best bet is to fly into Athens and then take a smaller commuter plane into Mykonos.
Lookup Flight Prices to Mykonos
Getting Around Mykonos
Unless you are comfortable driving in a foreign country, you may want to use public transportation, taxis, or limo service to get around Mykonos.  Looking for a rental car?  Enterprise has a location at the Mykonos Airport. 
Things to Do
While you may choose to stay on one island for your entire stay, the ready availability of ferries and the different flavor offered by each of the islands are only two of the reasons that it is a fantastic idea to try to visit multiple islands during your stay.  While we encourage island-hopping, in our to-do section, we have tried to highlight some of the best tourist activities in Mykonos, to help you with your planning. 
Daytime Activity Ideas
The Beach
If you go to Greece, plan on spending much of your time at the beach.  The relatively small size of the islands in this island-nation mean that almost everything is beach-front, and the views are absolutely stunning.  In addition, the snorkeling, scuba, sailing, and other water sports in the Aegean are unlike anything you will experience anywhere else in the world.  That is why so many of the activities we suggest start or end at the beach. 
Agrari Beach is one of the world's most fabulous beaches.  You can get chairs, table service, and there is even a nice bar located at the beach.  This is not one of Mykonos famous party beaches; instead, this is where you go to enjoy a beach day before hitting a party beach in the nighttime.  Just be forewarned that Greek beaches work a little differently than beaches in other locations; be prepared to pay a bit to hang out there.  Agrari is also a clothing optional beach.  This is no big deal in Greece, where nude sunbathing is not unusual, but it can be a shock for first-time visitors.
Scorpios is an interesting blend of daytime serenity and nighttime hotspot.  This beach is anchored by a stone building and offers a blend of beach chairs and private cabanas overlooking one of the island's only uninterrupted views of the sea.  Each evening, there are sunset rituals, which transform the peaceful tranquility of the day into the energy of a nighttime spot for socializing and fun.
Lohan Beach House Mykonos is Lindsey Lohan's, yes that Lindsey Lohan, beachside resort in Mykonos.  It is an unusual place, which blends the partying you would expect at a resort owned by Lindsey Lohan with a family-friendly atmosphere.  It does not sound like it would work, but work it does. The entire experience is surreal, but worth it. 
The SantAnna Beach Club in Mykonos might offer the ultimate beach club experience.  It offers shopping, spa experiences, and just the ultimate beach day.  At night, it transforms into one of Mykonos' better-known party beaches, and the drinks flow well into the night.
Adventures
The Mykonos Diving Center offers a variety of snorkeling adventures, perfect for both experienced and novice snorkelers.  You can choose from boat-based snorkeling adventures or snorkel tours that leave from the beach.  It is a great way to see the beautiful animals that live in the amazing Aegean Sea.
A Jeep Safari is the way to see those parts of Mykonos that are inaccessible by regular transportation.  This tour lets you explore the island, including ruins, plus hear some of the history.
Consider a yacht tour from Mykonos around the Aegean.  This seven-hour luxury tour includes the opportunity to swim and snorkel in the sea, in a small group setting that maintains privacy and offers a level of customer service that larger tours cannot match.
Consider a Mykonos wine-tasting tour.  More intimate than most wine tours, this tour actually begins at someone's home and gives you a less-touristy experience.
Nightlife Activity Ideas          
One of the things that makes a trip to Greece unique is how daytime activities seamlessly blend into nighttime activities.  Some of the most popular beaches during the day turn into party places at night. 
The Paradise Club Mykonos is the iconic late night beach party/club that has made Mykonos famous as a party spot. You can literally dance till dawn at this nightclub.
Madon is a bit of an anomaly in a nightclub.  Rather than a huge beach-party atmosphere, Madon has an intimate vibe that made it one of the hottest places to be in Mykonos for the summer of 2018.  You can book your party ahead of time; in fact, if you want to get in the club, you will make your reservations ahead of time.
Bars
The Galleraki Bar in Skarpa has become famous for its views.  A former gallery, this space has a lounge that can accommodate up to 200 people, making it the perfect place for party-planning!
The 180 Sunset Bar at the Mykonos Castle is as famous for its views as it is for its cocktails.  It is the perfect place to relax as the day ends and night falls. 
Male Reviews/ Strip Clubs
Finding male dancers in Greece can be a little tricky and you will not find any male reviews in Mykonos.  However, if strippers are a required part of your Greek bachelorette party experience,  Stripteasers in Athens has a male review that manages to be both sexy and lighthearted, perfect for a bachelorette party.
Where to Stay
Hotels
Anax Resort and Spa in Mykonos is a full-service spa that brings the outside beauty of the island into your spa services.  It has a full-service locally sourced restaurant, several gorgeous pools, and a pool bar.  It is so luxe, you could spend your whole vacation here without ever feeling like you had missed anything about Greece.  Of course, you would be wrong, because the islands have so much to offer, but you would still feel that way!
Mykonos Blu is a truly luxury resort that provides the ultimate villa feeling for those who are traveling to Greece.  It is decorated in the white and azure color scheme that is the hallmark of Greek style, mirroring the way that the white sand looks against the stark blue of the Aegean Sea.  The hotel has been intentionally designed to reflect the lines of the Cyclades.  You can choose to stay in a standard room or a private suite, which come with their own swimming pools.  Dining at Mykonos Blu is an experience, with the resort offering four restaurants offering different levels of luxury, but the same meticulous attention to detail.   
Rental Houses
AirBnB
Need something a little larger?  This 8 bedroom villa offers space for a large party, with both a main house and a guest house, a private pool, and a gorgeous outdoor area.  Located within 10 minutes of the Mykonos Airport, it lets you start your vacation right away.  Plus, the highly-rated superhosts have a reputation for helping make your holiday in Greece amazing.

Rental Homes Available in Mykonos Greece
VRBO
This private villa offers one of the most amazing sunset views you will find on Mykonos.  It is also known for having all-day sunshine.  One of the things visitors love about this villa is that it is fitted with air conditioning and it has its own Wi-Fi.

Rental Homes Availables in Mykonos Greece
Homeaway
The Villa Erato has an amazing sea view that will make you want to spend your days soaking in the sunshine by its stunning pool.  This property offers the best combination of rental home and hotel, because it offers full hotel services, but with the privacy of your own villa. Plus, it is only 7 minutes away from the famous Paradise Beach!
Rental Homes Available in Mykonos Greece
Where to Eat
Breakfast / Brunch / Lunch
The River Café Bar in Neraida offers one of the most stunning views of any restaurant in Greece.  It overlooks an amazing view of a bridge spanning a lake.  It serves traditional Greek breakfast and lunch food, and is considered one of the nation's best spots for a simple cup of coffee. 
Principote Panormos is an amazing beachside restaurant in Mykonos.  It occupies a lush beachside space, and in addition to amazing gastronomy and a world-class wine list, it also offers a shisha smoking experience that is unparalleled.  The place is about an experience, not just a meal, and guests are invited to relax in the gorgeous open spaces, visit with other guests, enjoy the sea, and partake in meals.   While you could have dinner, we suggest a long leisurely lunch in this gorgeous space. 
We love afternoon seaside dining.  For a late lunch, one of our favorite spots in Mykonos is Spilia Sea Side.  This restaurant is as much of an experience as it is a dining spot.  You go there for seafood, which is served fresh from the Aegean.  In fact, seafood is kept alive in a small natural sea pool until you place your order, then prepared in front of you.  The emphasis on fresh fish means a menu that changes from day-to-day; we suggest you ask for the chef's recommendations for your choice that day.
Roca Cookery offers food that transitions from day to night, but with its amazing views of the whole town of Mykonos, we think of it as a great daytime dining spot.  Some describe the food as rustic, but that word fails to convey the precise attention to detail that the Roca chefs use when preparing your meals.  Try any of the risottos when you eat there; you will not be disappointed.
Dinner
Nammos Restaurant by the Sea may be the most popular restaurant on Mykonos.  It is hard to get into this popular spot.  However, plan ahead of time and reserve a dinner table there; it is well worth it.  Known for upscale cuisine, with an emphasis on seafood, this restaurant is considered one of the world's premiere dining destinations. 
Kalita Restaurant is a what we would call an upscale casual restaurant that offers a fine, fresh Greek food experience that is completely unpretentious.  If you enjoy fish, we suggest the sea bass with vegetable tagliatelle.  Whatever you choose for your entrée, leave room for dessert.  The pavlova with marinated berries may be the best pavlova we have ever tasted!
Looking for an amazing late-night dinner spot?  Look no further than M-Eating.  Open till 1AM in season, this restaurant offers the perfect dinner for those who enjoy late-night dining, proving you do not have to sacrifice quality to shift your evening into the late hours on Mykonos.  The Myconian pie brings an update to a traditional Greek onion pouch pie.
When to Go
Best Time
There are two fantastic times to visit Greece; late spring (end of April and May) and early autumn (September, October).  Summer is high season (June, July, August) on the islands, but summertime temperatures can get incredibly hot and the islands can be packed with tourists.  Visit just before or just after summer and you are likely to find better temperatures, fewer crowds, and a better overall experience.  If you want the true Mykonos party experience, then you have to go during high summer, and just deal with the crowds.
On a Budget
Winter is when to visit Greece if you are on a budget.  However, you have to do some very careful planning because many of the islands, which depend on tourist dollars for their economy, virtually shut down from October to June. 
Worst Time to Visit
August.  Greece gets really hot and the summertime crowds in August are crazy. 
Current Weather
What Else
Items to Pack
Mykonos is a tourist-friendly island which means that packing should not be stressful.  If you forget something, you will likely to be able to find it, or a close substitute, in one of the tourist shops.  That said, if you are in Greece, you are going to be outside in the sunshine.  Here are some things we think you need to bring with you:
Neutrogena's 85 SPF Ultra-Sheer Water Resistant Sunscreen is one of our favorite high-powered sunscreens.  Slather it on every few hours and you should be able to enjoy days at the beach without fearing a sunburn
All of that sunshine can get hard on the peepers, so pack a few extra pairs of classic aviator glasses, in case you lose a pair or two:
Many Greek beaches are clothing-optional, but if you are not quite comfortable with that, pack this classic black bikini for an easy beach look:
Prices
Greece is considered an inexpensive country to visit, but you can expect to pay higher prices on Mykonos, especially during the summer months.  Still, you can spend a week at a luxury resort for around $2000 per person, with rates at less luxurious accommodations way down in the very affordable range.  Don't forget to factor in flights as well which can sometimes exceed $1500 per person for a coach seat.
Big Events in Greece
Greece has its own version of Carnival, known as Apokries, which generally happens around the same time as Mardi Gras and Carnival; most of February, though it varies depending on when Easter occurs.
Mykonos hosts one of the world's largest pride events, Xlsior.
Sample Itinerary Mykonos
Walk down to the spa from your room at the Anax Resort and Spa and enjoy a fantastic early-morning massage before starting your day.  Then, head out to enjoy the Aegean with a luxury yacht tour.  When you get back, plan on your late dinner at Nammos, then head over to Madon.  Make sure you have reservations for both, and plan early; both spots are incredibly popular!
Greek Bachelorette Party Forum
Are you planning a Mykonos bachelorette party or have you recently been to Mykonos?  If so, head over to our forums where you can interact with other party planners to get up-to-the-minute answers on your party planning questions.  One of the best things about Your Bach Party is how the community comes together to help you plan the ultimate party!
Why Go
Have you even seen pictures of Mykonos?  We would tell you to go for the natural beauty alone, but Mykonos is about more than natural beauty.  It is also probably the world's most happening after-sundown party spot. 
Star Rating
Conclusion
Although the airfare to Greece can get pretty expensive, traveling to Mykonos lets you get tremendous bang for your buck.  Greece is one of the cradles of modern civilization and it is hard not to be overwhelmed by its beauty when you visit. Mykonos adds an element of trendiness and luxury to the history and beauty of Greece.