Guide to Planning the Ultimate Bachelorette Party in Cancun Mexico!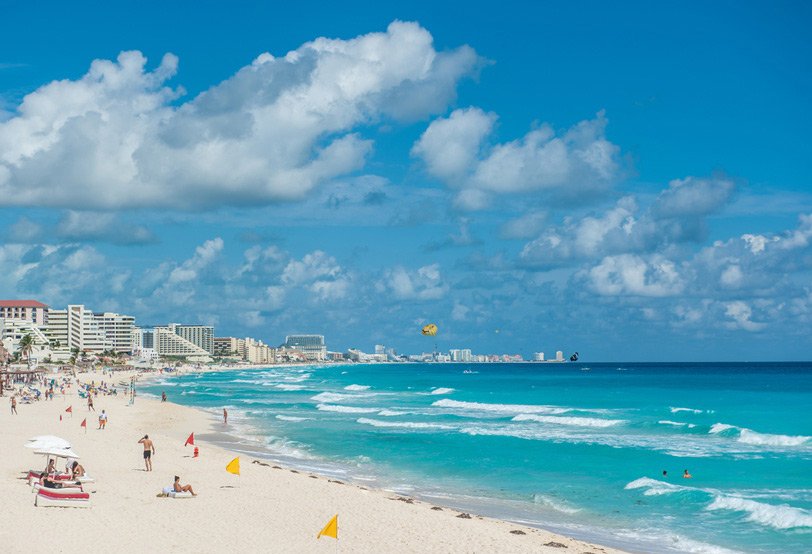 This post may contains references to products from one or more of our advertisers. We may receive compensation when you click on links to those products or services. Please also consider
donating to our website.
Sun, sand, and surf combined with beautiful and affordable resorts and cheap drinks and food?  Who doesn't want to go to Cancun?  When you factor in the numerous affordable flights from multiple U.S. starting points, Cancun becomes an obvious choice for an awesome, tropical destination bachelorette party. In fact, Cancun is such a popular bachelorette party destination that most of the top restaurants, hotels, and bars will offer you some type of party-planning assistance or bachelorette party packages, making it very simple to schedule a high-quality bachelorette party in Cancun with relatively little effort.  This can be a great bonus for a maid-of-honor who is already helping with other wedding-planning.
How To Get There
Unlike some other popular Mexican destinations, Cancun does have its own international airport.  It is also a popular cruise port, especially for Carnival cruises, where Carnival uses nearby Cozumel as its port city to take passengers to Cancun.  For travelers looking to stay in Cancun, the best option is to schedule a flight. 
Airports: When choosing a destination airport for your Mexican fiesta, make sure you choose Cancun International Airport (airport code: CUN).  The airport is about 30 minutes from the beach resorts and will cost $50.00 for a private ride.  You can definitely save money if you order a shuttle van in advance and split the total amongst the group of ladies.
What To Do / Where To Go
If you head to Cancun, the beach needs to be part of your party activities.  Seriously, if there are people in your group who do not enjoy sun, sand, and surf, then Cancun is not the place for you. The beach plays a major role, not only in the daytime activities in Cancun, but in some of the better nighttime activities, as well.  Don't worry if you want more than the sun, we have some awesome ideas for a bachelorette party in Cancun.
Daytime Activities for a Bachelorette Party in Cancun:
The number one daytime activity for a bachelorette party in Cancun is going to be the beach.  Cancun is part of the area known as the Mexican Riviera, and is known for its gorgeous white-sand beaches and sparkling, clear turquoise blue waters.  If salt water and the chance to encounter ocean wildlife are not for you, then you can find any number of gorgeous pools, many of them with swim up bars, in Cancun.  Our favorite beach is Playa Tortugas.  Lounging in or near gorgeous water, drinking a wide variety of frozen drinks, is our favorite daytime activity in Cancun, and we highly recommend it.  However, if you want a slightly more active bachelorette party experience, here are some of our other favorites:
Get your culture on by visiting the Mayan ruins in nearby Chichen Itza.  The downsides of a trip to Chichen Itza are the fact that it's a little over two hours by car or bus from Cancun, making it a relatively long daytrip and the fact that it is absolutely crawling with tourists.  However, the ruins themselves are amazing and well-worth the trip.  If you are in Cancun for more than a short-weekend trip, we highly recommend it as part of your bachelorette party itinerary.  If the trip to Chichen Itza is too long, you can also visit the closer El Rey Ruins. 
Are you into nature?  Then head to Isla Mujeres and visit the local turtle farm to learn more about sea turtles and see hundreds of them.  Even the trip to Isla Mujeres, which can only be reached by boat, is neat.  We find the the ferry ride over the gorgeous water to be incredibly relaxing. 
We know that swimming with dolphins in captivity is controversial, and before you schedule any type of dolphin interaction, you will want to make sure that every member of your group is comfortable with the experience.  If they are, then Delphinus Dreams, operating out of the Dreams Cancun Hotel, is one of the best dolphin interaction experiences in the entire Caribbean. 
Nightlife Activity Ideas for a Bachelorette Party in Cancun:
While Cancun is known for its beaches, it also has a vibrant nightlife scene that attracts party-goers from around the globe. 
If you're heading to Cancun, then someone has already told you to visit the Coco Bongo.  Coco Bongo is the ultimate Cancun experience, but it is not the nightclub that many travelers expect.  Instead of a DJ driven dance floor, the Coco Bongo features a variety of different acts entertaining people.  The high cover charge, which can be up to $75 per person, not only covers these stage acts, but also includes unlimited domestic drinks.  What kind of acts can you expect? Live bands, acrobats, conga lines, bubbles, confetti, videos, and balloons.   
Many people are fans of The City Nightclub, which is a DJ driven, dance-heavy nightclub experience.  The City boasts that it is the largest nightclub in Latin America.  While we are trying our best to get to every nightclub in Latin America to verify that claim, its three floors of partying sure make it seem true.  You can also buy an open bar option when you enter the club.
Cuncrawl is another of Cancun's popular nighttime activities.  Rather than a single club, it is a pub crawl.  However, it isn't just a pub crawl; instead, it's a pub crawl offering you VIP entrances, reserved tables, and 5 hours of open bars as you are escorted to three of the city's best bars and clubs.  You will receive unlimited bottles bottle service in at least two venues.  Furthermore, they specialize in bachelorette and bachelor party packages, making it one of the best Cancun bachelorette party ideas.  To add to the fun, they often run specials throwing in free bachelorette party supplies. 
Massage Parlors and Strip Clubs:
Cancun is not really known for its strip clubs, though they are there.  It doesn't have any permanent bars that compare to U.S. strip clubs featuring male exotic dancers and catering to a bachelorette-party type audience.  If you want that type of show, then you may want to hire a male dancer to come to your party.  You can find one using the Strippers for You or Exotic Cancun services.  You may also find clubs featuring a go-go boy show, which is what they call exotic dancers in Cancun. 
Where to Eat
There are two types of tourists who visit Mexico: those that love Mexican food and those that spend their trip looking for "American" food to eat while in Mexico.  Cancun is a huge tourist destination, so you won't have any problems finding American cuisine, though we strongly suggest you at least sample some of the local favorites.
Another thing we have to mention is that so many of the resorts are all-inclusive places that you don't want to ignore the idea of eating at the resort.  If you are doing your bachelorette party on a budget and have chosen to stay at an all-inclusive resort, then you may want to plan the majority of your meals in the resort. 
Bachelorette Party Restaurants in Cancun:
Cambalache has been a Cancun favorite for years.  Not really a local restaurant, but an upscale Mexican chain restaurant known for its excellent service and great food.  Reservations, while not required, are certainly recommended.  Food you must try here: veal carpaccio and the caramel crepe. 
Lorenzillo's is one of those restaurants you go to because the ambience is amazing.  The restaurant is decorated gorgeously and its open-water setting might make it the most beautiful restaurant in the world; it is certainly the most beautiful restaurant in Cancun.  However, the food is somewhat hit and miss.  Sure, you will get decent-tasting seafood there and the prices are not outrageous.  However, while some diners report eating some of the best meals of their lives an Lorenzillo's, others say it was just ho-hum. Food you must try here: buttery lobster.
If you want to include a smaller restaurant known for its mastery of delicate flavors in your bachelorette party dining options, then you must visit Peter's Restaurant.  It is not a huge, fancy place like some of the better-known Cancun options. The most common response from diners is "perfection" and we have to agree with that assessment.  Normally, we tell you food you must try at a restaurant, but we have a hard time doing that with Peter's because they focus on fresh, local foods.  What we suggest might not be available when you go visit, so ask for the server's recommendations for your entrees and take them.  You will not be disappointed.  And, if you're a chocolate lover, finish up your meal with the chocolate mousse. 
Where to Stay
Cancun boasts a number of incredibly affordable all-inclusive resorts, which are a great way to make your bachelorette party affordable for your guests.  These all-inclusive resorts mean that the hotel packages combine lodging, food, and drinks.  In other words, after paying a single amount, your guests can eat and drink to their hearts' content.  Almost every resort will offer a gorgeous pool area and beach access, as well as scheduled and non-scheduled free activities.  In addition, resorts will usually offer discounts with excursion-planning services, making it easy to coordinate your vacation through the resort.
Bachelorette Party Friendly Hotels and Resorts in Cancun:
Le Blanc Spa Resort is an adult-only all-inclusive resort offering a spa, a golf club, and suites in a modern-architectural setting.  This is not the place to go if you want a spring-break style Cancun bachelorette party experience, but is a great place if you want somewhere tranquil and upscale to relax between parties.
At the other end of the spectrum in luxury, the best all-inclusive resort for a bachelorette party in Cancun is the Hard Rock Hotel, Cancun.  The property boasts six bars a nightclubs and a gorgeous beach-front location.  Here you can find epic pool parties as well as Cancun's legendary wild nightlife.  The rooms are luxe and the hotel staff incredibly attentive.  We know that some bachelorettes are also mommies.  Hard Rock Hotel Cancun is known for its great kids programming, too, making it a great destination if you want a non-traditional bachelorette party that can include family activities during the day, while providing supervision for kids so that mom and her friends can head out to party.
Of course, you don't have to go expensive or all-inclusive when choosing your hotel in Cancun.  The LQ Hotel by La Quinta Inn in Cancun is a surprisingly affordable choice for bachelorette parties.  With rooms starting around $60 per night and free breakfasts, it is a great Cancun bachelorette party hotel for those on a budget. 
Bachelorette Party Friendly Villa and House Rentals:
While a luxury resort is always awesome, sometimes you just want to be able to hang you're your girls without worrying about other people.  AirBnB and Homeaway are both great resources for finding bachelorette party rental homes.  We love this beachside villa with its own private pool and George's Amazing Mexican Villa, with 8 separate beds and five bathrooms villa lives up to the hype.
When to Go
Best time for a Bachelorette Party to Travel to Cancun, Mexico (no budget restrictions): December to April is the best time to visit Cancun, with spring break being the busiest travel season.  The weather is gorgeous, it is outside of hurricane season, and it is probably the best time of year to get away from bad weather at your starting point. 
Best time for a Bachelorette Party to Travel to Cancun, Mexico (budget restrictions): There really isn't a bad time to travel to Cancun, since they have year-round gorgeous weather.  However, if you plan to travel during hurricane season, do yourself a favor and book travel insurance.  You can also find even better bargains in November and May, which are before and after busy season and outside of the popular summer months. 
What to Bring
Cancun is a major tourist destination, so you don't have to worry about being out-of-luck if you forget your sunscreen or even another beach essential, like a bathing suit.  You might pay resort prices, but the Peso/Dollar exchange rate is sufficiently favorable that even if you are paying resort-prices, you're still getting a deal. 
Items to Pack for the Big Weekend:
You need some beach must-haves, such as a few cute swimsuits, a sun hat, and sunglasses.  If you burn, do yourself a favor and bring a rash-guard type top to throw over your cute swim top, so you can enjoy the beach longer.  You will also need:
Sunscreen.  Choose a high-SPF and one that is both water and sweat-resistant:
https://www.amazon.com/Banana-Boat-Performance-Spectrum-Sunscreen/dp/B00B81XR1Y/ref=sr_1_6_s_it?s=beauty&ie=UTF8&qid=1489961520&sr=1-6&keywords=sunscreen
Aloe or other post-sun gel
https://www.amazon.com/SunBurnt-After-Sun-Instantly-hydrating-non-sticky/dp/B001FWXJ4G/ref=sr_1_1_a_it?ie=UTF8&qid=1489961462&sr=8-1&keywords=sun+recovery+gel
Then, you have to decide whether you are going to embarrass the bride by making her wear bachelorette party-themed items?  Personally, we think that if you have the opportunity to embarrass one of your very best friends by having her carry around a penis shaped lollipop, you would be remiss to skip that opportunity! Here are some of our favorite bachelorette party themed décor and favors: 
https://www.amazon.com/Simply-Sophisticated-Bachelorette-Bridal-Shower/dp/B01FOKUXC0/ref=sr_1_1?ie=UTF8&qid=1485965821&sr=8-1-spons&keywords=bridal+tiara&psc=1
https://www.amazon.com/Vibrators-12-Penis-Suckers-Bouquet/dp/B00XUXWWFU/ref=sr_1_1?ie=UTF8&qid=1485965983&sr=8-1&keywords=penis+lollipop
https://www.amazon.com/dp/B01JP3UDZY?psc=1
https://www.amazon.com/dp/B01MTAKGHQ?psc=1
What Else
Prices:
Cancun is the place to go if you want to throw a champagne party on a beer budget.  Flights are cheap, hotels are cheap, restaurants and booze are cheap.  You get a whole lot of luxury for a relatively small amount of cash.  With wise planning, you could probably get away with a great weekend for less than $500 per person.  If you double that, you can have an epic weekend without giving money much of a thought. 
Extracurricular Activities in Cancun:
If you are looking for your green fix, do not expect the quality you get from the U.S. or anywhere else in the world.  They call it Mexican shwag for a reason, so expect it to resemble garden weeds not like the crystallized buds with the green and orange hairs.  You will accomplish your goal but will not be happy doing it.  Expect to pay around $25 for an eighth.
As for the whiteout situation, it tends to be much better since most of the supply is coming from Colombia.  Expect to pay around $50 for a gram of decent quality farm grown caffeine.
Big Events in Cancun:
Cancun is one of the world's most popular spring break destinations.  Depending on your party personality, this either means that you want to try to overlap your bachelorette party with spring break or you want to avoid going to Cancun in March! 
End of February/ early March is time for Carnaval all around Latin America and Cancun is no exception. 
Cinco de Mayo is a party all over Mexico, and is a great time to visit Cancun and take advantage of the local party atmosphere while enjoying off-season pricing.  Another great time of year to visit is at the end of October/ early November, where you can celebrate Dia de los Muertos (Day of the Dead) festivities.
Sample Itinerary:
Many of our itineraries are high-end, but we have touted Cancun as a place for a bachelorette party bargain.  Therefore, we are highlighting a bargain itinerary for this popular destination. Arrive Friday and take a cab or shuttle to the LQ Hotel, where you'll get a double-occupancy room for about $30 per person and have a free breakfast in the morning.  After dropping off your things and meeting up with your girlfriends, head out for your one big dinner at Lorenzillo's, where the atmosphere will blow you away.   Then head over to The City Nightclub for a night of dancing and partying.  If you plan on doing a lot of drinking, ask them about their open-bar cover charge options. 
Saturday is a designate beach day, so have your free breakfast at LQ and then head to Playa Tortugas, where you can lounge near the water.  We are doing a budget party, so instead of buying pricey drinks on the beach, buy a disposable cooler and fill it with your favorite drinks and grab some snacks.  After all, whether you are sipping bottled Corona from your cooler or from a bar, the water will still be the same turquoise blue!  Just make sure and bring plenty of water, so you don't get dehydrated.  You'll find plenty of local food stands that will give you affordable lunch options.  Last night was your big dinner, so head over to El Fish Fritanga for a delicious, very inexpensive meal.  Then, prepare for an iconic Cancun experience and head over to the Coco Bongo.  Yes, the cover charge will seem overwhelming, but you're going to spend all night here and you'll get an open-bar with the cover charge. 
Sunday morning, it's more free breakfast, then a jaunt to the beach.  Arrange for a late check-out, so you can come back and shower before your return flight back to the states. 
Cancun Bachelorette Party Forum:
While we've tried our best to give you an idea of what a bachelorette party in Cancun would entail, we know you might have questions we didn't answer.  So, post any questions you have to our forum (anything goes).  If we don't have the answer, someone in our community should.  If you have attended a bachelorette party in Cancun, give some suggestions, reviews, and tips for other groups in our forum to help our community grow.
Why Go
Rating:
Conclusive Review:
We love Cancun for a number of reasons.  First, it is an absolutely stunning destination with a worldwide reputation as a great party location.  Second, it offers a great bargain for travelers who want to experience a destination bachelorette party, but who need to be budget conscious. Cancun proves why there is absolutely no reason that people from all economic groups can't experience a destination bachelorette party.  
Cancun Bachelorette Party Hashtags:  
#Cancunbacheloretteparty #CocoBongo #CunCrawl #PlayaTortugas #(bachelorette's first name + finalfiestacancun) #Jamiesfinalfiestacancun