Plan an Epic Bachelor Party in Miami (2023 Guide)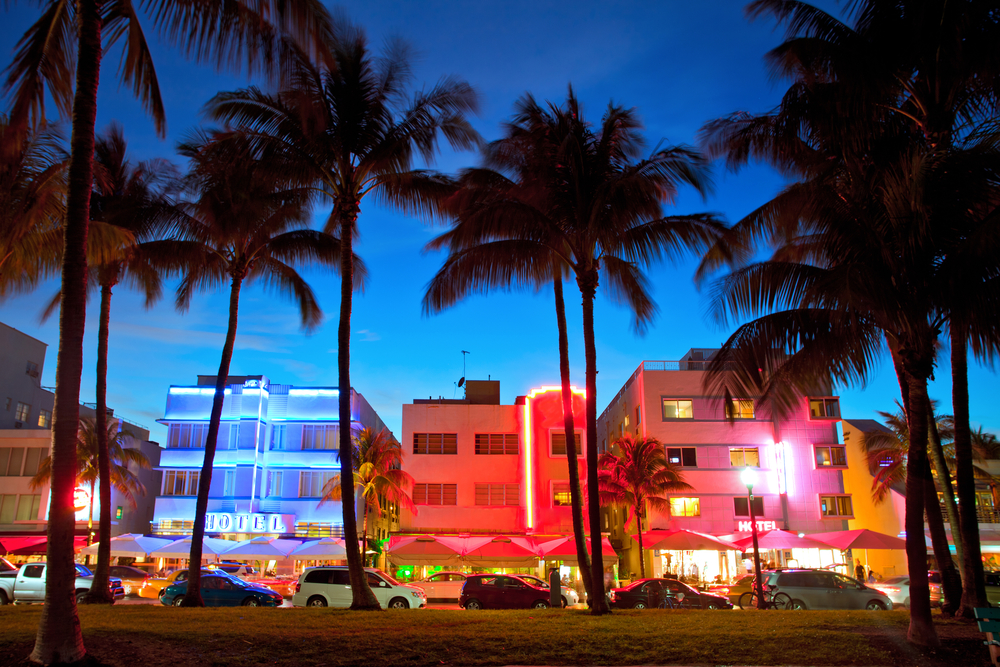 This post may contains references to products from one or more of our advertisers. We may receive compensation when you click on links to those products or services. Please also consider
donating to our website.
If you are looking for an amazing beach and nightlife for your bachelor party, Miami Beach should be at the top of your list.  This iconic beach town is known for it's amazing topless beaches and party all hours nightlife.  Miami Beach also known as South Beach is guaranteed to bring the heat.
How To Get There
Airports
When flying in for your final weekend of craziness with the guys, make sure you choose the correct airport so you spend less time traveling and more time partying.  The most convenient of airports would be Miami International Airport (airport code: MIA).  From this location you are about 25-30 minutes to South Beach.
If you are trying to save some money you should check flights to Fort Lauderdale-Hollywood International Airport (airport code: FLL).  Flights tend to be less when flying into that location but remember you are about 45+ minutes to Miami Beach.  This means you should take into account the cost of transportation (about $45 Lyft ride for 3-4 people).
Getting Around
There are several options for getting around to the various bars, lounges, restaurants, in Miami, some smarter than others.
You can use a ride sharing service like Uber or Lyft (most drivers speak very little English).
You can rent a car but remember parking is a pain and getting arrested for a DUI is no fun
You can rent scooters from Beach Scooter Rental for as little as $55 per day or even a Piaggio for $165 per day.
You can elevate your game and rent either a limo or party bus to take you around the beach.
You can rent a mini hummer or segway from Scooters South Beach.
You can rent a bike from Bike Miami for $24 per day
You can rent an exotic car (like a Ferrari) from Gotham Dream Cars
You can charter a yacht for the day at Yacht Charters Miami
or if your hotel is on Ocean Drive or Collins Ave, you can choose the smartest option and walk (although public intoxication is a crime)
Things to Do
Daytime Activity Ideas
Don't party too hard at night or you may miss out on all the fun activities that happen while the sun is out.
If you are into day drinking, pool parties, champagne, and hot chicks in bikinis, you should definitely check out the Saturday Pool Party at Hyde Beach which is located at the SLS (which includes spraying of champagne on guests in the pool), Nikki Beach or 1 Hotel and Homes rooftop, which is a great pool scene, but also not as intense as other parties.
If your group is more cultured and not in Miami to take years off your life, here are some good suggestions:
Segway Tour around Miami which runs about an hour and takes you to various landmarks around the beach.  Even if you do not know how to ride one of these contraptions, they will provide you with a quick tutorial before the tour begins.  This tour will run you about $40 per person and includes a helmet.  There is an authorization on your credit card for $200 for any accidents.
Another great option would be the South Beach Arts and Culinary tour which will take you to a museum, art galleries, an art center and a 3-course meal created by a celebrity chef.
If you feel like viewing this adult playground from the sky, we recommend you take a private airplane tour of Miami.  This tour lasts about 30 minutes and will take you over amazing spots like star island, American Airlines Arena, the cruise port, Ocean Drive, and Coconut Grove.  The price is $139.00 per person and the airport meeting spot is about a 30-minute drive from South Beach.  Make sure you charge your phone before this trip as the pictures are going to be insane.
Recommended Activities
View All Activities Available in Miami
Nightlife Activity Ideas
E11Even Miami –  The newest and most interesting of the nightlife options in Miami.  This venue features a rooftop restaurant, nightclub, sports bar, and adult cabaret (strippers) all in one spot.  The party usually gets started around 4-5am when all the other clubs are closing down, and goes till the sun rises.  It is located directly across from Club Space, and is in downtown Miami, not on the beach.  You can easily get there from the beach for a $20.00 cab ride or less via Uber.  The best part about this place is it's open 24hrs a day, 7 days a week, including holidays, which means it never closes!
LIV nightclub is located in the FontaineBleau Resort and is definitely the hottest night club on the beach. At 18,000 square feet and two levels, this needs to be added to your "to do" list even if the line to get in becomes frustrating. Beautiful women with tons of confetti and laser lights.  Read our review on LIV.
Story – The sister club to LIV Miami located south of 5th Ave. This 27,000 square feet on two levels is the newest launch from the MMG group. This is the old location of the once popular and famous Opium Gardens. They basically gutted the entire spot, added a roof and insane sound system, and opened.
Rockwell –  Another new edition to the Miami Beach nightlife.  Occupying the former location of Les Bains and Chaos, this intimate spot located on 7th and Washington is going more for the nightlife experience than the DJ lineup.  This venue holds about 450 people and is being operated by partners Chris Paciello, Keith Paciello, and Mio Danilovic.
Club Space – This club is considered the after hour party. The club just starts getting going around 3-4am and runs till noon the following day. The clubs= consists of a 3 room warehouse, 25000 square feet located in downtown Miami near American Airlines Arena.  Make sure you bring your sunglasses if you decide to venture up to the terrace deck.
Strip Clubs / Massage Parlors
Scarletts – Some classify this place as a strip club while others classify it as a club with naked women walking around.  Either way, you will have the best time at this place.  Although the rules are much stricter here than at Tootsies, you will find much hotter women at Scarletts.  This place structured itself in a way that you really feel like your at a club with the luxury of getting lap dances from smoking hot chicks.
Tootsies – this strip club used to be the site of a BJs warehouse (no pun intended) so you can imagine the size of it.  It consists of a sports bar in the back a gentleman's club in the front, and VIP area/rooms on the second level.  Expect to see about 30-50 girls there per night.
Jade Massage – if you are just looking for a great Asian massage make sure you check out this parlor located on 71st street.  The price of a standard massage runs about $60.00.  The reviews on this place are decent.
Where To Eat
Breakfast / Lunch / Brunch
Big Pink is the #1 spot to have brunch while in Miami Beach.  Their menu is extensive and the portions are huge, which is great for hangovers.  Expect to wait in a serious line if you get there between 10am and 2pm on the weekends.  If you end up here the favorites consist of breakfast burrito, crab cake benedict, buffalo chicken tenders, waffle burger, pink daddy mac, and fried chicken sliders.  Make sure you get a bucket of fries with your meal.
Prime Fish is another great option for brunch.  It is buffet style with a bunch of different breakfast, lunch, and dessert options.  The brunch will cost you about $49.00 per person but includes unlimited mimosas and food.  You can see some of the staples you will find on their brunch menu.  If you are planning to make this stop on your trip make sure you get a reservation first.
If you have $10,000 in a suitcase and don't know what to do with it, you must head over to Kiki on the River for Sunday brunch.  Make a reservation for a table outside for around 5pm as that is when things start popping off.  Your journey will include amazing greek food and the most smoking hot chicks in Miami (many with dudes that may have more money than you).  You will be required to purchase bottles ($350+ each) so make sure you bring that suitcase.
Dinner
Prime Italian, Prime112, Prime Fish – This group of fine dining establishments are operated by famed restaurateur Myles Chefetz. All three restaurants are based around a different type of food like Italian, Steak, or Fish. This is a celebrity hot spot so make sure you camera phone is charged and ready to go. Very pricey but also very good.
Check out our review on Prime Italian, Miami Beach Florida.
Food you must try here:
Garlic Bread and Kobe Beef or Turkey Meatball – Prime Italian
Steak and Lobster Mac/Cheese – Prime112
Swordfish Schnitzel w/ Fried Farm Egg, Broccolini & Crispy Capers – Prime Fish
Nobu – Located at the Eden Roc (Nobu Hotel), this restaurant created by Chef Nobu Matsuhisa is one for the taste buds. Even though the hotel seems to be a ghost town these days and in desperate need of a renovation, you will still find a solid crowd and experience at this spot.
Food you must try here:
Sashimi Tuna Tacos
Lobster Salad
Kobe Beef Potstickers – call ahead to reserve a few orders
Scarpetta – If you are looking for small plates priced like family style ones, this is the place you want to go. Located in the famed FontaineBleau hotel, this restaurant is a great stop along your culinary path.  The food is excellent but remember to order extra. This fits into the Miami diet perfectly which is small plates, and much better than the usual coke and salad diet.
Food you must try here:
Short Rib Agnolotti Dal Plin
Butternut Squash Mezzaluna
Filet of Beef
Roasted Mushrooms
Brussel Sprouts
Hakassan which is located at the FontaineBleau hotel is a great spot for Asian foodies. This is basically your local takeout Chinese restaurant on crack at mortgage prices. Always a good scene here and the food is always delicious.
Food you must try here:
Pan-fired Foie Gras Shanghai Dumplings
Jasmine Tea Smoked Beef Shortribs
Stir-fried Bahamian Lobster With X.0. Sauce
Crispy Chicken With Orange Sauce
Crispy Szechuan Beef
Spicy Seafood Fried Rice
Komodo Miami which is off the beach is also a solid option for dining.  Just know that you are looking at a 20-minute lyft ride to downtown each way.  If you have ever been to China Grille, it's the brains behind that concept and Miami Marketing Group which owns Liv and Story.
Food you must try here:
Wagyu Skirt Steak Tacos
Miso Chilean Seabass Skewers
Grutman Pastrami Egg Roll – named after the egotistical owner of the restaurant
Spicy Beef Dumplings
Chilean Seabass
Peking Duck
Where To Stay
Hotels & Resorts
FontaineBleau – This mega resort will not disappoint, especially after its 1 Billion + dollar renovation.  Whether you want a cabana at one of their three pools, or a good meal at their 5+ restaurants, you can basically do it all without leaving the hotel grounds.
Delano – You will not find a nicer pool or beach grounds in Miami Beach.  This is a favorited spot by celebrities and although a bit more pricier than other hotels, worth the extra bucks.
W Hotel South Beach – Like all the rest of Starwood Properties this resort is very nice, well kept, and not too old, so your getting the modern decor.  The pool scene is decent and the restaurants are good.
If your bachelor party group heading to Miami Beach does not have tons of cash to burn, there are more budget hotel and motel options available, so you can save your money from the alcohol, drugs, and women.  Some of these hotels are Hotel Astor, Hotel Chelsea, Clinton Hotel, and the Dorchester.
View all Hotels Available in Miami Beach
Vacation House Rentals
If your group is a bunch of ballers with no budget, this 8-bedroom mansion with pool, golf, and tennis, is the perfect base camp.  The mansion is about 5,000 sq feet and will run you roughly $1400 per night.  The house sleeps a total of 18-guests so you can even invite your annoying brother in law.
If you have a smaller group of about 4-8 dudes, you should look into this modern pool house which is only blocks from the beach.  It features 4 bedrooms, 3 full bathrooms, 1 half bathroom and 3800 sq feet of space.
View all Vacation Rentals in South Beach
When To Go
Regardless of when you decide to head to Florida with the boys, protect your investment and purchase travel insurance.
Best Time
November – April is considered in season, so prices will be higher and places will be more crowded.  If you are looking to get the bachelor involved with Spring Breakers, the first three weeks of March are ideal.  There are plenty of good events during the year which drive up tourism, such as Winter Music Conference, Ultra Music Festival, Art Basel, Food & Wine Festival, Spring Break and more.
On a Budget
June – October – Low season which means lower prices, less people, but much more heat and humidity (especially August).
Worst Time
During Hurricane season June – November you are always risking the chance of weather screwing up your weekend.  If you decide to pick a weekend during these months make sure you add some travel insurance to your cost so if a storm does roll in, you will get all your money back.
Current Weather
What Else
Items to Pack
The reason why it's called Miami Beach is because it's basically it's own island off the coast of Miami.  The essentials for this type of location are bathing suits, sunscreen, flip flops, sneakers, tank tops, for the day.  Once the sun goes down you want to switch to dress pants, button downs, and black shoes, a rolex (chicks dig money) especially if you want to get into the clubs.
Prices
Bottles at all the top Miami Beach nightclubs run from $375-$500. The big spots like Liv, Story, and Icon usually require one bottle per 1-2 guys in order to secure a good table at the club. Yes, that is definitely excessive and pricey, but what do you expect from Miami.  Your VIP host will make sure your table is not only stocked with the best alcohol but the most beautiful women as well.
Big Events
Ultra Music Festival – March 25-27, 2022.  One of the largest electronic dance festivals in the world which takes place at it's old him in Bayfront Park, located in downtown Miami .  Here you can listen to the hottest DJ's and party with thousands of tourists who flood the city this weekend.  Don't forget your neon colors, glow sticks, and molly water.
Columbus Day Regatta  (Oct 8 – Oct 11th 2021) @ Elliot Key is held each year on Columbus Weekend.  Largest congregation of boats all tied up together.  A lot of drinking, dancing, partying, funneling, and nakedness (male and female).  Checkout this video posted and see all the hot chicks and craziness.
View all Event Tickets in Miami
Tips
If you are planning on booking your bachelor party in Miami Beach, make sure you send us an email with all the details.  We work with the top nightlife venues, hotels, and promoters.  We will be able to get you hookups which would normally not be available.
Remember that Miami restaurants and clubs add an 18% service charge to all your bills.  This is normally not a problem if you are paying with credit card as the service charge would be itemized.  However, if you are paying cash, and do not ask for a receipt, you could end up double tipping as your drink price at the bar already includes this charge.
Forums
If after reading this article you still have questions about planning your amazing weekend with the boys in Miami Beach, post your questions to our forum, so other bachelors or staff can respond.  If you have already gone to Miami and have some amazing advise, reviews, an itinerary, or recommendations for others, post as well.
Widget not in any sidebars
Planning and Packages
If you and your friends are too lazy to plan your own bachelor party, there are several companies that can put together amazing Miami packages for you and your crew.  This means you get one price per person which includes flight, hotel, dinners, clubs, and any other activities you decide on.  They can give you a list of ideas to select from and can even provide you with an itinerary of your entire weekend, making this experience completely hands-off.  One company that has been around for a while and has positive feedback is VIP South Beach.
There is also a bachelor party package which will run $100 per guy and includes:  skipping the lines at the top nightclubs in South Beach, cover charge covered, tour of the venue, free drinks, and transportation to the club (either via limo or party bus).  At certain night spots it even includes 1 1/2 hr open bar.   This pickup point for this nightlife tour is 9th and Ocean or across the street from the Clevelander.
Why Go
Star Rating

Conclusion
If you are looking for hot chicks and to spend a lot of money, Miami Beach is the place for your bachelor party.  If you are not interested in meeting a bunch of trust fund babies who spend all their parents money rather than work, Miami Beach is not the place for you.  Everyone in this town has a story and/or a checkered past, usually an aspiring model who is working at TGI Fridays until they get their big break.