Montreal Bachelorette Party Planning Guide (2023 Edition)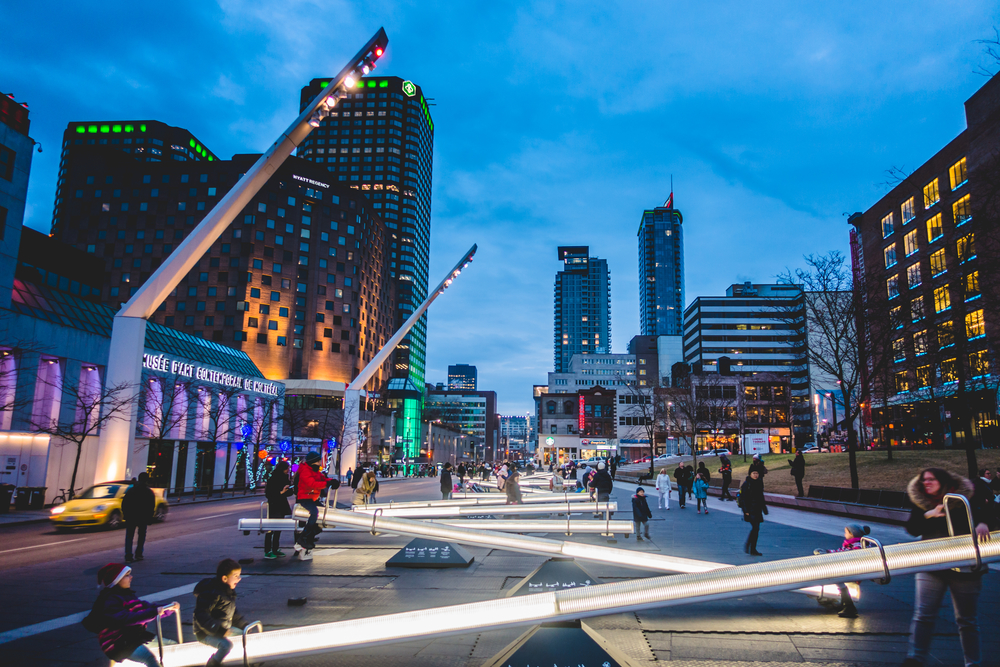 This post may contains references to products from one or more of our advertisers. We may receive compensation when you click on links to those products or services. Please also consider
donating to our website.
Looking for an unusual, exciting, cultured place for a bachelorette party?  Want the feel of a trip to Europe, but without the lengthy travel or the expense?  Then Montreal just might be the right place for your bachelorette party.  Located in Quebec, Montreal is a quick plane ride from just about anywhere in the United States, but worlds away in terms of culture and experience.  It feels like Paris, without leaving North America.
How to Get There
We are usually big fans of the road trip, but unless you live in Quebec, it really is not practical to try to road trip to Montreal.  Therefore, we strongly suggest flying in for your bachelorette party. 
Airport
Montréal–Pierre Elliott Trudeau International Airport ( airport code:  YUL) is a major international airport servicing Montreal.  The airport is about 20 km from downtown Montreal.  An Uber from the airport to downtown costs around $33 and $38 to get to the Plateau-Mont-Royal. 
Lookup Flight Prices to Montreal
Getting Around Montreal
Montreal is a relatively easy city to navigate and many of its attractions are located in walking distance.  However, whether you want to make that walk may depend on the time of year that you are visiting and the weather where you live.  Many people from warmer climates find even the crisp air in Montreal's early spring and late fall periods make it a little chilly for walking.  You can always rent a car at the airport, which means that you will always have a vehicle ready for your use.  Of course, you then have to worry about picking a designated driver.  If you choose a rental, you can pick up a rental car from Enterprise at the Montreal airport. 
Another popular transportation option is ridesharing.  Montreal has Uber but it does not yet have Lyft.  Montreal does have a well-developed public transportation system, the Societe de Transport de Montreal.  They have subways, trains, and buses.  The subway system is known for being clean, safe, fast, and easy to use, since it is composed of four lines that connect the downtown area to major tourist sites, bus stops, and train stations. 
Want to rent a party bus in Montreal to bar hop or explore the city?  Check out our updated guide for all available options.
Things to Do
As a major metropolitan area with a decidedly European feel, Montreal offers its visitors a wide variety of things to do.  The biggest challenge may be deciding what type of activity or theme you want to incorporate each day, as many of the activities naturally occur in clusters.  Whatever you choose to do, give yourself plenty of time to take in the beauty of the city and experience the hospitality of the locals.   
Daytime Activity Ideas
Montreal has one of the best club scenes in America, which is one of the reasons that has become such a popular tourist destination.  However, it offers just as many daytime delights for tourist, so you want to make sure and spend some daylight hours up and about, exploring Montreal. 
Shopping is an incredibly popular daytime activity for bachelorettes visiting Montreal, because the city has some amazing and unique shops.  Montreal is known as trend-setting city in terms of fashion, so make sure and visit some of the independent boutiques and shops where you are likely to find up-and-coming designers and trends before they have caught on in the U.S.  Where to shop depends a little on your personal style.  Both the Boulevard Saint Laurent and the rue Saint-Denis are known as famous shopping streets.  If you have a more bohemian style you want to visit Avenue Mont Royal, and Avenue Laurier West if you have a more rustic bent.
Looking for high end goods, then you want to visit Saint Catherine Street, which offers everything from high end department stores to naughty adult boutiques.  Not sure where to start?  Head over to the Eaton Centre.  This mall has stores you know (like The Gap), but it also offers plenty of local flavor and it even has its own museum. 
One local favorite store, Hudson's Bay, also known as The Bay, is known for its beauty counters.  In fact, the stores have a very old-school high-end department store feel.  Think Neiman Marcus, back when our grandmothers were young ladies.  Not that they are dated.  On the contrary, they are very fashion forward.  However, the services they offer have a very 1960's feel.  Personal shoppers, salon services, and even in-store restaurants for you to dine while taking a break from shopping. 
If you have chosen Montreal as your destination, then we are going to make some assumptions about you wanting a bachelorette party that is a little different from the average hen's night.  That is why we are going to suggest taking in some of the city's cultural offerings.  Montreal has some world class art museums and art spaces.  The Montreal Museum of Fine Arts is the city's largest art museum and one of Canada's premiere art museums.  Check out their calendar for activities and special showings, they are known for classes, concerts, guided tours, and special events.  If you are a fan of more modern art, you should also visit the MAC, which also offers special events and exhibitions.  If you are into spoken word, performance art, or independent films, then you may want to check out what is on the calendar at Phi Centre, an interactive space that highlights all different kinds of art.  However, we warn you against just dropping in; the range of things they offer is so eclectic that it might not fit your bachelorette party vibe. 
One of our absolute favorite daytime bachelorette activities is a group boudoir photography session.  There are plenty of amazing photographers to choose from in Montreal, and many of them offer bachelorette party specials.  However, we are particular fans of Breathless by Reina Procee, not just because her images are both visually stunning and modern, but also because she works with world-class makeup and hair artists to bring out the natural beauty in each of her subjects.  If you are feeling a little more adventurous, you might want to check out Marisa Parisella; her boudoir photography can take a deliciously naughty turn and her studio is fully stocked with lingerie, hair, and makeup, to turn you into just about anything sexy you can imagine.
Along the same sexy-feeling vein, consider planning a pole dancing class for your bachelorette group.  A great way for your guests to get in touch with their sexier side, pole dancing and exotic dancing classes can be tailored for dancers of any skill level and taught to a group for a bachelorette party experiences.  There are a few studios in Montreal that offer the bachelorette party experience, and Milan Pole Dance Studio is consistently among the highest rated of those studios. 
Looking for something that is a little more active?  Montreal is known for its ice skating, and you can find outdoor rinks in the winter.  However, you can enjoy the activity year round, in a warmer and more controlled environment at Atrium Le 1000, the city's indoor ice rink.  If you do not know how to ice skate, you can book a group or private lesson.
In most tourist destinations, zip-lining is a rural activity, and you speed over forests, lakes, and other wild terrain.  Montreal offers a very interesting twist on zip-lining; urban zip-lining.  Visit the Tyrolienne MTL Zipline at Old Port and zipline over parts of the city.  We highly recommend this, whether you are a zipline enthusiast or have never ziplined before; it is an amazing way to see the city.
Spa Scandinave offers a very interesting twist on the spa day, with a series of hot and cold baths that is unlike any spa experience we have ever had in the U.S.  They also have saunas and relaxation rooms.  While we cannot say it is our favorite spa experience ever, it is one of the most unique spa experiences you can have, and we left feeling both extremely rejuvenated and extremely relaxed.
Bota Bota is a very popular Montreal spa, and part of that is because it has a gimmick.  It is located on the water, on the deck of a converted boat in the Old Port area.  However, the gimmick only takes it so far; Bota Bota offers world-class spa services, including massages, facials, mani-pedis, and a Nordic water circuit that offers hot and cold bathing opportunities. 
Helmet is one of those Montreal places that people rave about.  A hair salon known for amazing blow-outs, we actually think of it more as a place you would book as a local bride, the day of the wedding, so that everyone in the wedding party looks great.  However, if you are planning a boudoir photography shoot or a fancy night out, then it is absolutely worth taking your group, here.  Just remember the cardinal rule of the bride-to-be: blow-outs are great, but do not let a new person cut or color your hair before your wedding! 
View Other Activities in Montreal
Nightlife Activity Ideas
Montreal offers some amazing nighttime variety, from high culture to a vibrant club scene.  How you enjoy the city really varies depending on your individual tastes.  We provide an overview of a variety of different ways to enjoy Montreal, but there is so much more than we could cover in this guide. 
One of our favorite Montreal nighttime activities is actually a family-friendly activity, which we normally avoid in our bachelorette party recommendations.  Le Petit Navire offers nighttime fireworks boat tours in the summer, which give you an amazing view of Montreal's nighttime fireworks displays.  Sure, you have seen fireworks displays before, but if you have never seen fireworks from the water, it really is an awe-inspiring experience. 
In another departure from our normally party-heavy activity ideas, we are actually going to recommend you check out the Montreal Symphony Orchestra.  The Montreal Symphony House at Place de Arts is visually stunning, the orchestra is world-class, and we do not mind telling you that the conductors are surprisingly hot. 
If you have looked at our other city pages, then you already know we love a ghost hunt.  Fantomes Montreal Ghosts adds a bit of theater to their ghost tours and ghost hunts, and we love it.  They tell some fascinating stories, lead you around some of Montreal's more beautiful areas, and give you a history lesson.  It is a great early-evening activity to enjoy before you head out to the clubs. 
Of course, if you have planned a bachelorette party in Montreal, then you must know about its amazing club scene.  With a large number of universities in the city, a booming tourist trade, and an 18 and up drinking age, the clubs in Montreal are usually packed and always entertaining.  Stereo has been one of the city's best clubs for decades.  It is not new.  It is not up and coming.  It is not trendy.  It is, however, one hell of a lot of fun.  You can dance all night there.  Literally; the floor is equipped with springs and shock absorbers, which make dancing all night easier.  Part nightclub, part bar, we love Bar Datcha because of its ever-changing rotation of local and international DJs.  Le Rouge Bar is another mainstay in the Montreal nightclub scene, offering a more laid-back version of the club scene.  Looking for a newer club?  Le Voute opened in 2017 and quickly became one of the city's most popular clubs.  It was built in the vault of the Old Royal Bank and has cultivated an upscale feel; it reminds us a little of a speakeasy/club combo.
Bars
Montreal has a great bar scene, and, honestly, you are unlikely to go wrong choosing any of them.  We are providing info about some of our personal favorites, but we suggest you do some exploration and find a few personal favorites of your own. 
Are you a wine aficionado?  Wine bars can sometimes have a sleep feel, but Rouge Gorge, which is known for its amazing wine selections and gourmet appetizers, is always bustling. 
Bar Darling is a relatively new bar and it has a feel many describe as Steampunk, though, honestly, that is a hit-or-miss appellation.  It is trendy, and it is known for its presence on Instagram.  We love it as a place to start out the night (especially if we have fresh makeup from the The Bay and blowouts from Helmet), and take those oh-so-cute batchie selfies!
Snowbird Tiki Room is a little bit kitschy and that is why we love it.  It is a tiki room, complete with palm fronds, bamboo, coloured lights, rum, and lots of tropical flavors.  It is the perfect spot to contrast with a cold Montreal night!
Idole is another themed bar, but instead of tiki torches, think of it like the great bar your goth friend would have set up if money was not an obstacle.  We love the dark vibe. 
Male Strip Clubs
Montreal is home to Club 281, which is Quebec's only full-frontal male review that caters to women.  It differs from your normal male review in a few important ways that you must know if planning a bachelorette party.  The biggest way?  They do not take reservations, so if you want to get into the club, you may need to wait in line unless you arrive early in the evening.  However, you can purchase their popular packages at the door when you arrive.  The club is known for its excellent treatment of the female patrons and for the fun and safe environment it promotes for its dancers and its guests, alike. 
Interested in booking Montreal bachelorette party strippers for a private party? Check out our updated directory for the local services and venues available.
Where to Eat
A favorite foodie destination, it is easy to find great eats in Montreal.  This is true whether you are a casual diner or a fan of more upscale fare. 
Breakfast / Lunch / Brunch
Restaurant L' Avenue is a favorite local spot for breakfast and brunch.  We love their banana caramel crepes.  Okay, we love all of their crepes. 
Les Affames is one of the city's more popular brunch spots, and offers full brunch service every day but Monday.  We love their take on eggs benedict, which features goat cheese, radishes, chanterelles, and honey. 
Regine offers an upscale approach to what you might otherwise think of as typical diner food.  Think French toast, but with chevre cream, macadamia nuts, and pear butter.  Our favorite is the chocolate waffle with marscapone cheese, pistachios, and candied oranges.
Les Entreteins Café has been a brunch go to for the Montreal area for decades.  They offer plenty of fancier brunch fare, but it is hard to go wrong with their BLT on house-made sourdough bread.
Le Vieux Velo is known for its many variations on delicious eggs benedict.  This surprisingly affordable diner provides high end food for a low end price point. 
You might not think of deli food when you think of Montreal, but Wilensky is a classic Jewish deli in the heart of the city.  If you are looking for a light lunch or looking for a lunch that you can take with you on a picnic or outdoor adventure, it is a great place to visit.  Their menu is tiny; seriously, there are only about five sandwich options.  Choose The Special and order one of their old fashioned soda fountain sodas. 
Dinner
Montreal is a foodie city, so it should come as no surprise that there are a ton of different delicious dinner options.  The top restaurants are constantly in flux, as they trend with seasons and with changing tastes. 
Le St. Urbain is known for offering a twist on classic cuisine.  We suggest their scallops prepared with leeks and fennel and finishing off with the beignets. 
Le Bateau Mouche offers a variety of different dinner cruises along the St. Lawrence River.  The combination of fine food and an amazing traveling venue is well-worth the expense, and we suggest reserving a window-side seat for the ultimate experience. The menu offers seasonal fare, so it is subject to change.  We suggest the filet mignon de beouf, a filet mignon with Montreal steak spices, blueberry meat glaze, maple-roasted seasonal vegetables, and fingerling potatoes. For dessert, do not miss the crème brulee trio. 
Le Quartier General is the best of a local trend, the neighborhood bring your own wine restaurant.  They offer a changing seasonal menu, but if they have escargot on the menu, we recommend you try it.  We also love the caramelized apple dessert.
La Chronique has built a reputation as a special occasion French restaurant over two decades of reliable, delicious service.  It is great location for that special dinner out for the bachelorette party.  If you are visiting for the first time, you might be surprised by a menu that is not exactly classical French food.  The roasted veal sweetbread with truffles is an experience you are unlikely to have anywhere else!
Where to Stay
Montreal offers a full range of accommodations for visitors in a variety of price points.  We are going to recommend splurging, if you can, because their upscale hotels and vacation rental properties are truly amazing.
Hotels / Resorts
Some people love staying in a hotel.  Want full service, your room cleaned, nearby dining, and the availability of a concierge?  Then a hotel might be the right choice for your Montreal bachelorette. 
Newly renovated in 2017, Fairmont the Queen Elizabeth is next to the train station, making it a great central location.  It has history (remember John and Yoko's bed-in?  It was at the Fairmont) and a younger, hipper vibe than many luxury hotels. 
People love the 28 room Le Petit Hotel in part because of its prime location on Rue Saint Paul, one of the city's premiere shopping destinations.  The rooms at this small boutique hotel are small, so keep that in mind when you are booking for a group.
Putting on the ritz is synonymous with getting fancy, and the Ritz Carlton Montreal is no exception to that rule.  It is the only five diamond hotel in the city, and you can expect total luxury if you book there.  It is actually pretty affordable for a luxury hotel, which makes it a great opportunity to really splurge.  They also offer a full-service spa, which can really heighten the bachelorette experience.  Just keep in mind that tasteful and refined are two defining parts of the Ritz Carlton experience; this is not the hotel to choose if you plan on throwing a loud all-nighter in your hotel room!

Hotels Available in Montreal
Rental Houses
Hotels are not for everyone, and if you have a group that wants to spend more time hanging out, and less time relaxing on their own, you might want to consider a vacation rental.  At a vacation rental, the party never has to stop.  They are also frequently a more affordable alternative, since you can make your own meals and the per-person price per accommodations is often lower than at a hotel.  Finding a rental house is easier than ever, using services like AirBnB, VRBO, and Homeaway.  If you have never used AirBnB before, you can even use our link to get $40.00 off your first reservation. 
Airbnb
This historic 18th century apartment offers all of the charm you expect from Montreal.  Relatively small, this two-bedroom, two-bathroom apartment has a fabulous location and flexible sleeping that allows several guests to stay there comfortably. 
This four bedroom penthouse in the heart of downtown is great for your Montreal bachelorette party.  The central location makes it great for visiting anywhere in the city and the brick and stone walls bring the historic feel of the city into the apartment. 

Rental Homes Available in Montreal
VRBO
This two-story getaway in the Old Port area is close to all of the action, but located on a quiet street so that you can actually get some rest. 
This five bedroom, six bathroom luxury ground floor getaway is located on Saint Denis.  It has a large courtyard for outdoor entertaining and spa-jet showers that elevate the space beyond your average vacation rental.

Rental Homes Availables in Montreal
Homeaway
If you have a larger group, this six bedroom beauty is a three-story Victorian home in the heart of the city.  It has its own backyard, which is a little unusual for a Montreal vacation rental, making it a great space if you are visiting from late spring through early fall.
We love this high-end penthouse, featuring a private hot tub and all of the amenities you could want in a vacation home.  However, its best for a smaller group; while it has sleeping for 10, there is only one full bathroom. 
Rental Homes Available in Montreal
When to Go
Best Time
Choosing the best time to visit a year-round amazing city is very subjective.  Montreal's high tourist season occurs in the summer, and there are plenty of festivals and other activities drawing in tourists during this time. 
On a Budget
People love Montreal in the shoulder seasons, from March to May and September to November.  The weather is gorgeous, especially later in the spring and earlier in the fall, there are plenty of hotel vacancies, and it is not as crowded as during the high summer season. 
Worst Time to Visit
Montreal winters are brutal.  If you do not mind the cold, the city still has a lot going on during the winter.  If you are looking to escape winter somewhere else or have never been as far north as Montreal, then you may not want to visit in the winter.  However, if you do visit in the winter, the Underground City is under most of downtown Montreal, making it relatively painless to travel around in the wintertime.
What Else
Big Events
Montreal kicks off spring with its St. Patrick's Parade, offering pretty much everything you expect in a great St. Patrick's Day experience. 
June and July are time for the Montreal International Jazz Festival.  Like many jazz festivals, this is really more of a celebration of music than of a particular musical genre, and is one of the best festivals of the summer season. 
Seemingly at odds with Montreal's high-brow feel, the Formula One Grand Prix in June is one of the city's most anticipated events.  There are a ton of associated events and lots of merriment that accompany the festival, but if you are not into fast cars, you might want to skip Montreal those weeks. 
What to Pack
Montreal is a major tourist destination.  If you forget something, you will be able to find it.  In fact, if you are visiting Montreal in the winter, you might not even be able to find the type of winter clothes you need for your trip in your hometown. 
If you plan on making the bride-to-be wear her crown, you will find it easiest to bring yourself.  Sure, there are plenty of party supply stores in Montreal, but do you want to spend your bachelorette party time at the party supply?  No, you do not.
Sample Itinerary
We like the idea of theme days for a Montreal bachelorette, but we tried to vary up the itinerary to showcase some of the neater ideas.  
Start the day with chocolate waffles at Regine. 
Head over to Old Port, and spend early morning at Tyrolienne MTL Zipline, then visit Bota Bota for their water treatments, a nice spa lunch, and afternoon massages. 
Now that you are feeling relaxes, head over to Helmet and let them make your insides match your outsides, before a pinup photo shoot with Marisa Parisella.  Finish off the night with a visit to Club 281, then a very late dinner at Le St. Urbain. 
Bachelorette Party T-Shirts
Bachelorette party t-shirts are not a must-have, but they are a cute and affordable party favor.    One problem, though, is that you will not find a lot of pre-made Montreal bachelorette party t-shirts like you will for many other cities. 
Choose your text for these customizable bachelorette t-shirts.  We like Montreal Mademoiselles: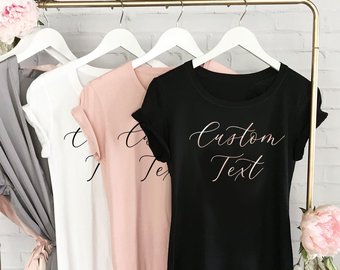 Of course, you can go with the "I said yes, they said Montreal" option:
You can also go with a girls' trip theme:
Travel Insurance
We get a lot of questions about travel insurance and whether we recommend it.  Absolutely?  Look, weather happens.  What if you cannot get out of your hometown or what if you cannot get into Montreal?  Also, and we are not trying to jinx it, weddings get called off.  If the wedding is canceled last minute and you no longer have a bride wanting to celebrate a bachelorette party, then you might not want to take that semi-expensive trip to Montreal.  So, get the travel insurance. 
Why Go
Montreal is like visiting Europe, but more affordable and with a shorter plane ride. 
Star Rating
5 Stars.  Star ratings are so subjective.  For example, right now we are rating Montreal 4 stars because we are heading into winter and the thought of going somewhere even colder than we are now makes the city lose some of its appeal.  However, it becomes five stars in the summer when you are looking for a cooler travel destination.  There is a reason Montreal has become a must-see travel destination. 
Conclusion
Montreal is a great choice if you are looking for an upper-end locale for a bachelorette party.  The city offers culture, wonderful outdoor experiences, awesome spas, fantastic restaurants, innovative bars, and some amazing clubs.  You should definitely consider it for your bachelorette.