Christian Bachelorette Party Ideas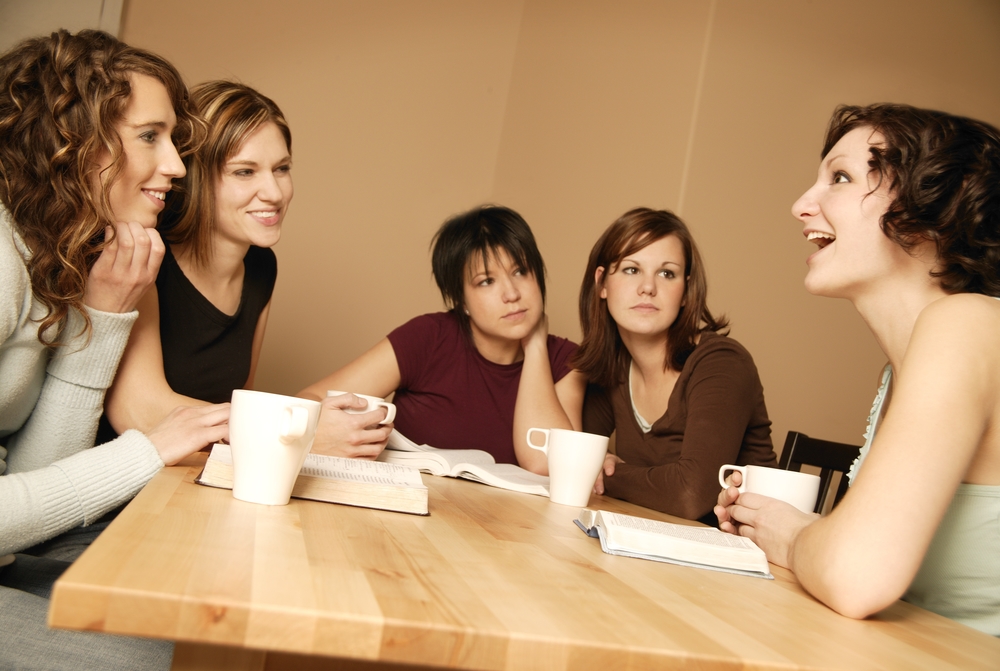 This post may contains references to products from one or more of our advertisers. We may receive compensation when you click on links to those products or services. Please also consider
donating to our website.
Are you throwing a bachelorette party for a friend who identifies as Christian? Not sure what you can include in the party to make it fun, while still respecting her religious beliefs? Have no fear; you can throw a fun, fierce, awesome bachelorette party that still falls into the moral guidelines of just about any religious group. While the first things that come to mind when you hear the term "bachelorette party" might be booze-fueled parties with male dancers and raunchy decorations, the reality is that bachelorette parties are completely customizable experiences and should celebrate the bride and her friendships. While there is no single "right way" to throw a Christian bachelorette party, we hope that our tips will help you throw an amazing bachelorette party for a Christian bride.
What Kind of Christian Is She?
The first step is figuring out what kind of Christian the bride is. In the United States, there are over 200 recognized Christian denominations, with each one having its own rules and regulations about what type of behavior is acceptable. In addition, many churches are non-denominational, which means that they do not adhere to the beliefs and norms of any specific denomination. As a result, the type of behavior that is considered appropriate by faithful Christians varies tremendously from denomination-to-denomination, and even among individuals of the same religious group. Every weekend, you will find women with deeply held Christian beliefs celebrating bachelorette parties with booze and strippers. However, if you have been asked to throw a Christian bachelorette party, the chances are that the bride is from a more conservative religious background and that a "typical" bachelorette party would make her uncomfortable. Our advice? If you do not know what the bride's beliefs entail, ask her. For the purposes of this article, we are going to assume a fairly conservative form of Christianity, and talk about activities that do not involve excessive amounts of alcohol or sexually-themed or sexually-explicit activities.
To Drink or Not to Drink
Many, though not all, Christian denominations in the U.S. do not prohibit alcohol consumption, though all of them preach against over-indulging in alcohol. While you probably want to avoid having jello shots or similar "drink for the sake of drinking" beverages at a Christian bachelorette party, it may be perfectly acceptable to have some adult beverages there. If you have any questions about whether they are acceptable, just ask the bride. If you choose to have a "dry" party, keep in mind that you can still have tasty, interesting beverages without the alcohol. A gorgeous bachelorette party punch idea that is easy to make is Pink Party Punch and Cherry Limeade is always a favorite
Pink Party Punch Recipe
2 cans of frozen strawberry or raspberry lemonade 6 cups of water
1 can pineapple juice
2 2-liter bottles of Sprite or 7-Up
Ice
Strawberries or raspberries, pineapple, and lemon slices for garnish
Cherry Limeade Recipe
2 cans frozen limeade
1 2-liter bottle of Sprite or 7-Up
1 10-ounce jar of maraschino cherries
Ice Lime slices and maraschino cherries for garnish
If drinking alcohol is permitted, make sure you check out our bachelorette party drink recipes.
Spa Day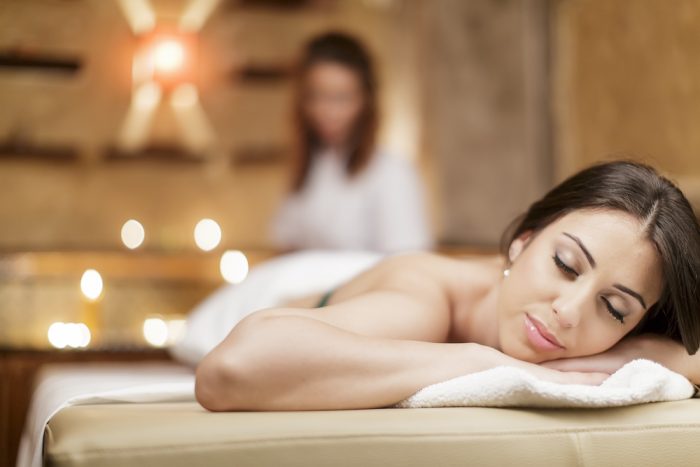 Everyone loves pampering, and even if the bride is a member of an extremely conservative religious group, she and her friends can probably still enjoy a spa day. (If the bride's religious beliefs prohibit touching by an unrelated man, just check with the spa beforehand to make sure that the party will be handled only by women. A spa day can range from very affordable to luxe; appointments at an expensive day spa are wonderful, but you can also put together a great DIY spa day.
Game Night (or Day)
We love a game night for a bachelorette party. Now, usually bachelorette party games can get a little raunchy, but you do not have to play naughty games to have a great time at game night. Some games that are great for groups and also "clean" are: Cranium, Settlers of Catan, most trivia games, Pictionary, Code Names, and Exploding Kittens. If a game night sounds great, but you are worried about the price of buying all new games, check out your local thrift stores. They are a great source for party games.
High Tea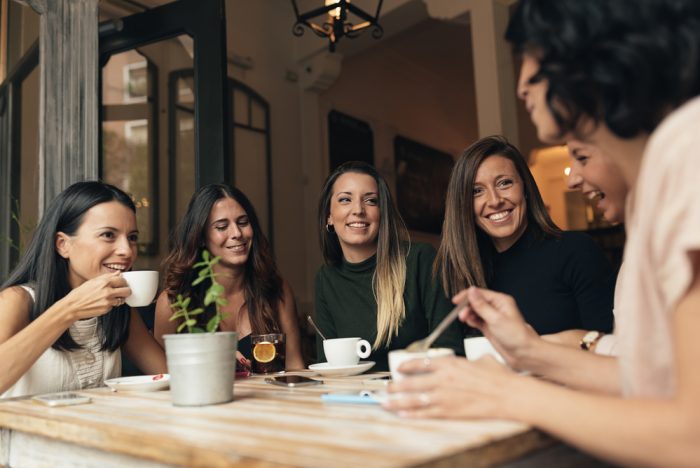 A very classy and clean way to celebrate a bachelorette party is with a traditional high tea. The best way to approach a high tea is to find a tea room in your area and make reservations for their high tea service. However, not all local areas have high tea service. Fortunately, tea is something you can do at home. If you do not have a tea set, talk to your mothers and grandmothers; many of them will have fancy silver tea services somewhere at their homes. Borrow them to put on an elegant tea. What do you serve? Tea, of course, with Earl Grey being a great default choice. You also want to serve a combination of sweet and savory snacks, including traditional favorites like scones, tea sandwiches, madelines, soups, quiches, and cheese and cracker offerings.
Paint Night
All around the country, you can find paint night groups under different names. Painting with a Twist, Paint Nite, and Pinot's Pallette are just a few of the chains that do paint nights, and you may find local art studios or artists that will come to a rented space in your area. If your bachelorette group is small, you might join a larger class, but for bigger groups you will generally get your own private painting room and get to pick the artwork that your group tackles for the party. These places are generally BYOB and let you have other refreshments, so you can bring in the food and beverages of your choice, ensuring that your guests are not hungry or thirsty, while still adhering to any dietary restrictions that your bride might have because of her religion.
Arcades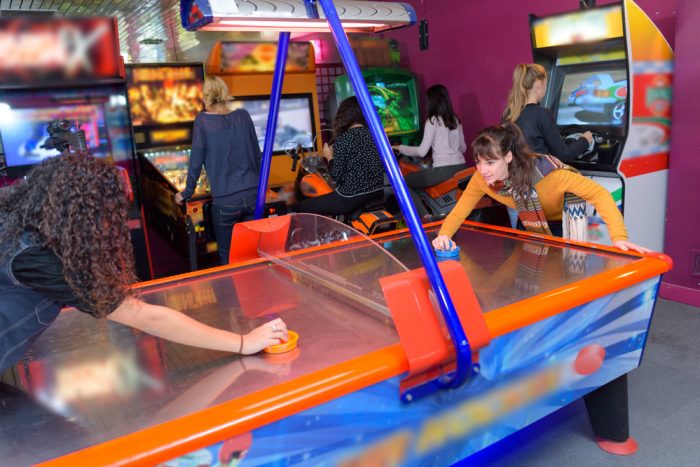 Are you old enough to remember when you were a kid and would go to the arcade with friends? Well, visiting arcades is still fun for adults. You may have a Dave and Busters or similar adult play place in your town. If not, look for go-cart or mini-golf places; many of them have attached arcades.
Something Blue
Everyone has heard that brides must wear "something old, something new, something borrowed, something blue" on their wedding day. The something blue bachelorette party takes this old rhyme and turns it into a fun, clean bachelorette party theme. All of the guests dress in blue and bring something blue that the bride could wear on her wedding. Some of the things should be something the bride might actually wear on the big day, but it is funny to bring ridiculous suggestions, too, like an outrageous pair of blue platform shoes, a blue feather boa, or a plastic blue princess tiara! Keep the theme going for the whole party, by serving a blue punch and blue party foods like blueberries, blue cotton candy, and blue jello,
Easy Blue Punch Recipe
1 bottle of blue Hawaiian Punch
1 2-Liter bottle of Sprite
1 can frozen lemonade
Ice
Brunch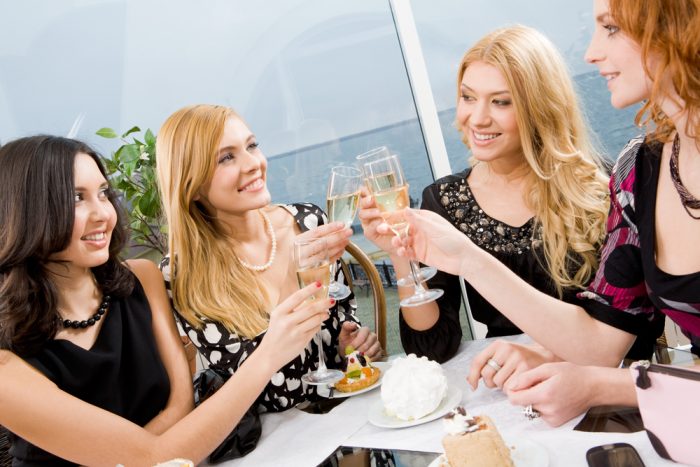 Everybody loves brunch, and just about every brunch place is appropriate for a Christian bachelorette party. No drinkers in your group? No problem. Just keep that in mind when you are looking for a brunch location; there is no reason to pay for bottomless mimosas or other drinks if no one in your group will be imbibing.
Scavenger Hunt
The bachelorette party scavenger hunt has quickly become a favorite bachelorette party theme. Now, some bachelorette party scavenger hunts are heavy on the naughty list and ask the guests to snap pictures in compromising positions, but there is no rule that says the list has to have naughty items on it. Make up your own scavenger hunt list, or, if you prefer, check to see if a service like City Hunt or Urban Hunt offers a scavenger hunt for your city.
Escape Room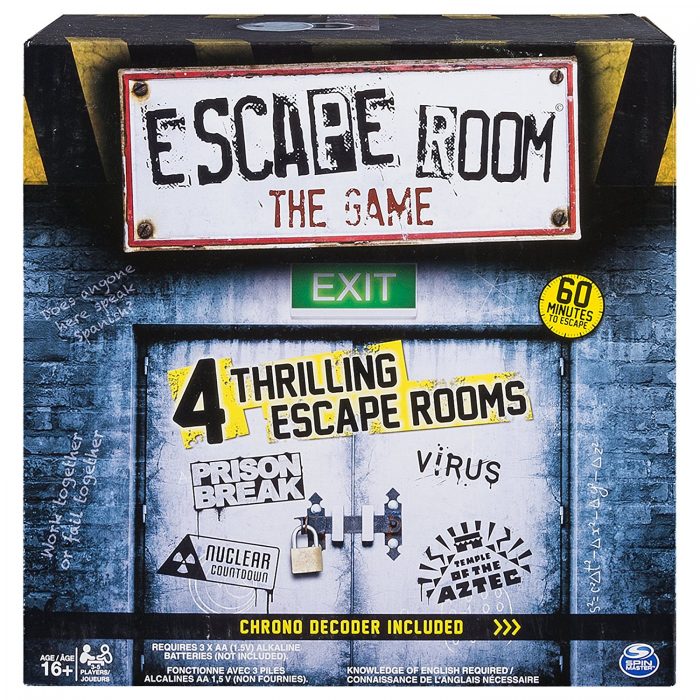 Have an adventurous group? Then check out an escape room game in your area. Escape rooms lock your group in a themed room for a set period of time (usually one hour) and you work together to decipher the clues in the room in order to escape. Check out the themes of the room beforehand or ask the employees at the escape room which one they would recommend for a Christian group. No escape room in your area? No problem. It is easier than you think to plan an escape room game at your home. You can even buy a boxed game- just check and make sure you can play it with the number of guests invited to the party:
Murder Mystery
Murder mystery games are a ton of fun. You can buy boxed sets on Amazon or at other major retailers. Have a bigger group or want a specific theme? Check out My Mystery Party, which offers murder mystery packages for groups of up to 200 people, which you can customize for your set of party goers.
Getting Hitched
The country-themed bachelorette party lends itself very well to a Christian approach. Rather than country and western bars and whiskey, a Christian approach to the country theme would involve similar clothing but might focus on more authentic cowgirl activities, like a day of horseback riding, a visit to a dude ranch, or even a trip to the rodeo.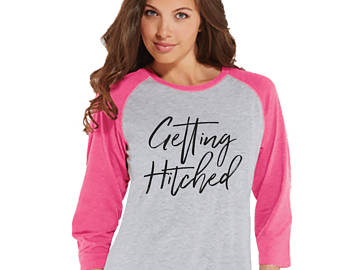 This baseball-jersey style getting hitched shirt is the perfect option for a conservative bachelorette party t-shirt. Cute, but covering, it tells the world the bride is getting married without showing too much skin!
Cooking Class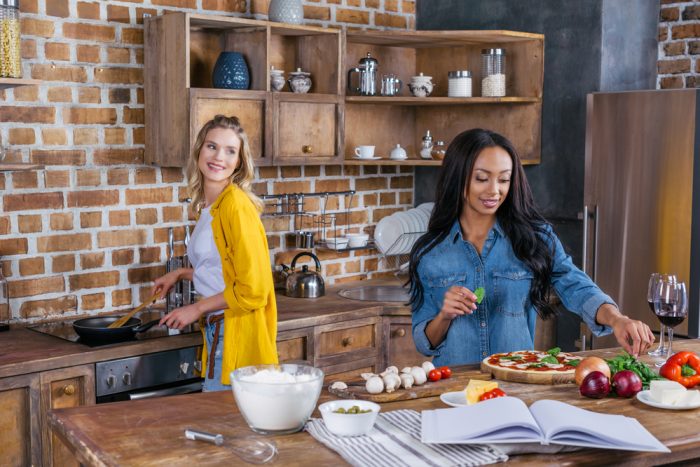 A cooking class can be a great way to have fun with your friends. They are offered at various locations: local restaurants and wineries often have cooking classes, as do high-end kitchen stores like Williams Sonoma. Just Google cooking class + the bachelorette party's location to find a cooking class in your area? No cooking classes nearby? No problem. You can throw a DIY cooking class party a few different ways. One way is to hire a local cook to offer a cooking class. Another option is to contact a Pampered Chef representative; their presentations often include simple cooking lessons, and you could combine the bachelorette party with a kitchen goods shower for the bride!
The Devotional Party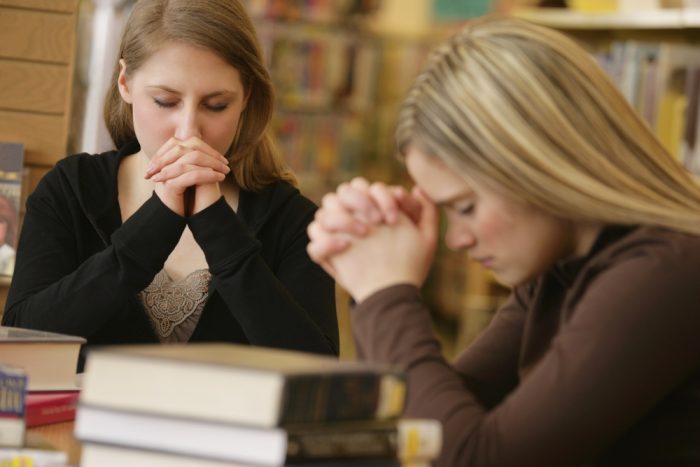 Of course, no article about Christian bachelorette parties would be complete without talking about devotionals. What is a devotional? A devotional is a reading that helps you reflect on faith; they provide the format, purpose and time for daily prayer and meditation. Devotionals may contain Scripture or references to Scripture, but they may also not specifically reference Scripture. So, what is a devotional party? Marriage can be very challenging, especially if the bride wants to have a Godly marriage in a world that is increasingly secular. Figuring out how to establish a Godly marriage is not the same as a traditional marriage, even though many churches and religious leaders treat them as if the terms are interchangeable. In a devotional party, the party goers bring readings to share with the bride and the party goers, discussing how to create long-lasting marriages where Faith is a daily component of the marriage. Married guests may want to talk about their own experiences, while single guests might write a devotional for the bride that is based on Godly marriages that she has witnessed, or even on cautionary tales of people who did not succeed in marriage because they abandoned the morals taught to them by their religion. Even if you do not read devotionals at the bachelorette party, they are great thing for guests to bring to place in a binder so that the bride has a collection of real-life stories of how to have a successful faith-based marriage.
Conclusion
Hopefully, now that you have read our ideas for a Christian bachelorette party, you are feeling up to the challenge of throwing a party that is fun while still respecting the bride's religious and moral boundaries. Looking for more ideas? Head over to our forums and talk to former, current, and future bachelorette party hosts about what worked for their parties. Also, check out our article on Clean Bachelorette Party ideas for more bachelorette party ideas and themes that are clean and classy!