Top 20 Bachelorette Party Themes (2023 Edition)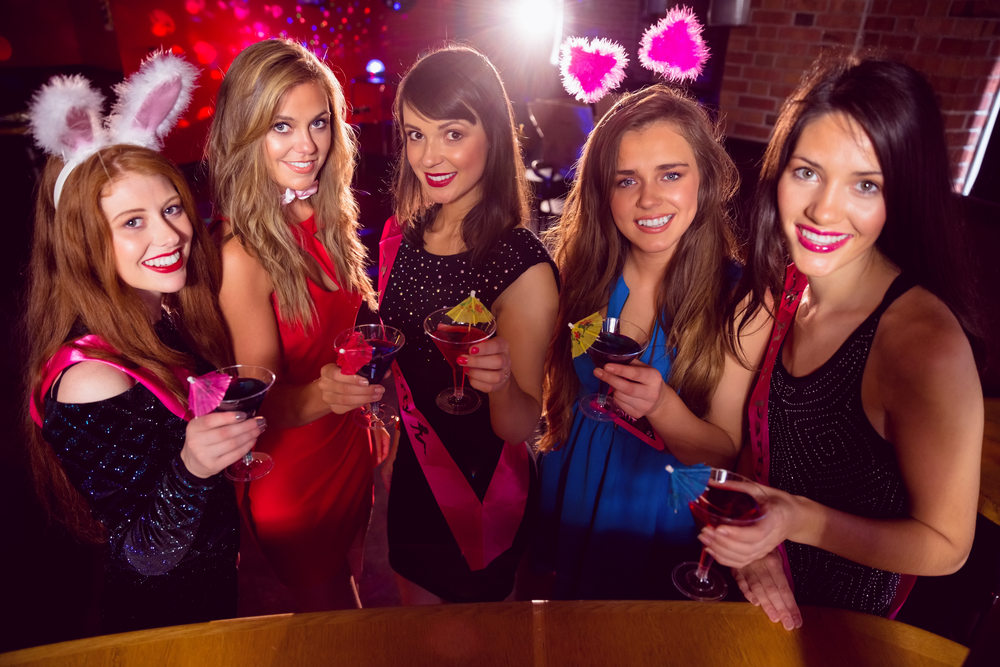 This post may contains references to products from one or more of our advertisers. We may receive compensation when you click on links to those products or services. Please also consider
donating to our website.
You may think the theme of your bachelorette party is "bachelorette party," and, for a low-key party that theme is just fine. However, you can also tweak your bachelorette party theme, tailoring it to match some of the bride's favorite things, reflect your destination for destination parties, bring in an element of fun and games, or highlight some of the fun things about your group of friends. A themed party might pull together diverse things like decorations, activities, t-shirts, locations, and even menu and cocktail choices, to provide a complete themed party for the bachelorette. Themed parties are a great way for bachelorettes to celebrate some of their favorite things with some of their favorite people.
Bachelorette Party Themes
Picking the perfect theme for a bachelorette party comes down to knowing the bride and knowing the group of friends she is having you invite. What are some of the bride's favorite things? Does the group have some favorite activities? Are there any inside jokes or favorite memories? You can use all of these things to customize a theme perfect for the bride. We have included some of the most popular bachelorette party themes. Current, classic, or crazy- we have a theme that is right for your party!
Wine Theme
Love wine? Who doesn't? Wine-themed bachelorette parties can be a blast, whether they feature a day-trip to visit local wineries, a weekend in Napa, or simply a nighttime wine tasting. To pull this theme off without a lot of stress, head to a reputable local wine dealer, pick several bottles for tasting, and ask for their recommendations about pairing. Food can be as simple as an elegant fruit and cheese tray.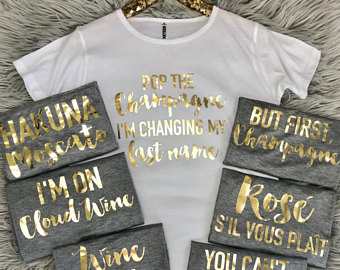 These wine-themed shirts are perfect for the party, because, while the bride's is bachelorette party specific, the party goers can actually wear theirs over and over again.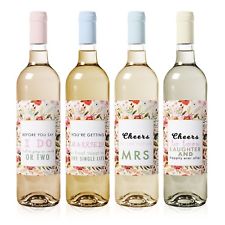 A wine party is not complete without themed-labels!
Nautical Theme
The nautical theme is very popular for bachelorettes for a number of reasons. Many destination parties are cruises, especially if you live near a major port, but even parties in inland areas may head to a lake, river, or ocean for a day-trip cruise or a party boat adventure. Nautical parties usually feature traditional nautical colors, which might be a red, white, and blue theme or a more modern turquoise and sand colored theme.
These last sail before the veil themed decorations are a great modern twist on the nautical theme!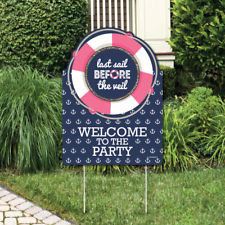 We love how this sign shakes up the traditional nautical theme and substitutes pink for red- perfectly for girly-girl brides!
Mexican Theme
Everyone loves a fiesta and Mexican fiesta themed bachelorette parties are a great way to bring the party. What are key elements for a great fiesta-themed party? Think about the food and the drinks. You can do great Mexican food, even on a budget, if you set out a build-your-own taco buffet, and it is hard to go wrong if you are serving margaritas. Think traditional fiesta decorations if you want to add flair- piñatas, bright colors, and paper flowers!
No budget to rent a frozen margarita machine? No worries. Grab one of these ready-made buckets, add the tequila, and get surprisingly tasty frozen margaritas in just a couple of hours.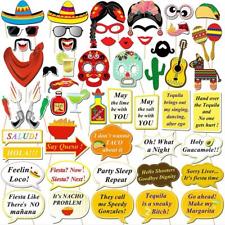 We love these photo booth props to take your fiesta to the next level!
Disney Theme
A Disney bachelorette party has become much more popular in recent years. Maybe we all do really want to be a Disney Princess. However, you want to make sure your Disney party has a grown-up edge.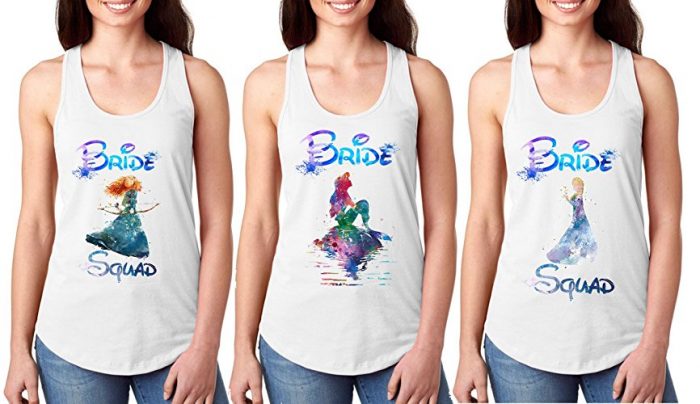 These customizable shirts are the perfect way to combine the whimsy of Disney with the fun of a bachelorette party!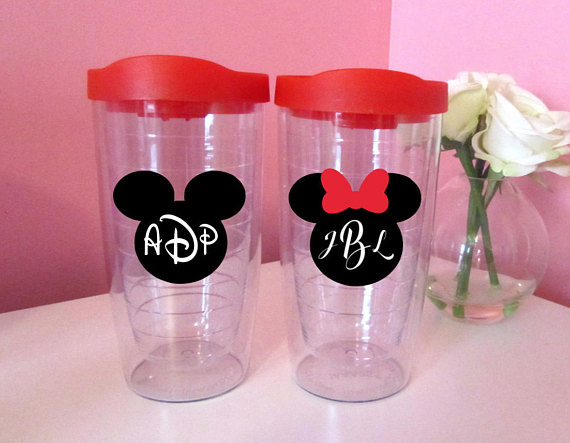 Make sure you order some customized Disney tumblers to drink with.
If your bride is more into Minnie than the princesses, consider these instead: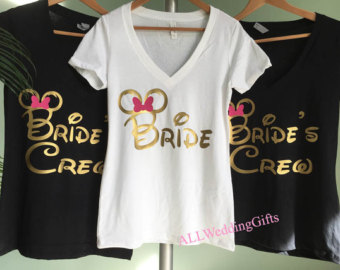 Going with a Minnie theme? Black, red, and white decorations and polka dots are your friends. Choosing the Princesses, then think deeply saturated pastels. Your Disney themed party can include a trip to one of the iconic theme parks or even just a movie marathon of some of the bride's favorite Disney flicks.
Then, pick your invitations and décor, accordingly.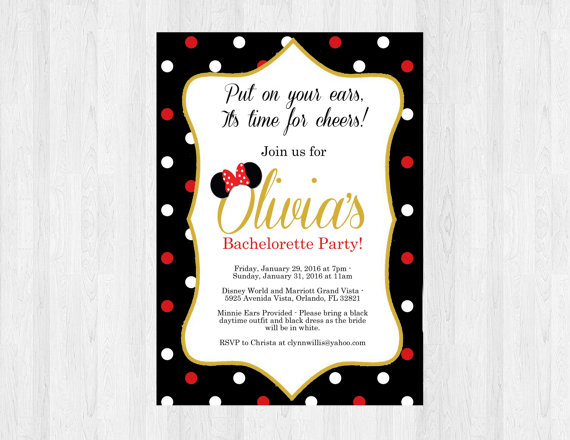 Country Theme
The country theme is a popular one, and is perfect for the girl who is all rhinestones and rodeos or for the city-slicker bride who wants a hint of rustic with her wedding parties! The country theme is a go-to for destination parties to Nashville and even Austin, but it is also great if you are heading out for a fun daytime activity like a trail ride.XXXXXXX
While not strictly necessary, nothing says country like a cute cowboy hat. We suggest these as favors, whether your party is heading out of town or just to the local country and western bar for a little two-stepping.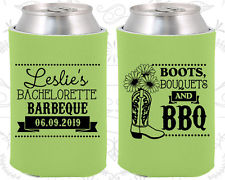 We don't just love these adorable coolies; we like the idea. What could be more country than an old-fashioned bbq?
80s Theme
For some of us here at Your Bach Party, an 80s theme party reminds us of our youth, while for Millennial brides, an 80s theme has a retro-feel. Whether you are doing the 80s again or for the first time, the great danceable music and outrageous fashion choices of the 80s make it a perfect theme for a bachelorette party.
The 80s were all about the music. Whether you pick a great Spotify channel or pick up a few 80s CDs, you want to make sure your party has the music to complete the theme!
Western Theme
The western theme, like the country theme, is popular with all kinds of brides. What makes western different from country? Well, while a country theme might make you think of barns and burlap, a western theme makes you think of boots, whiskey, and cowboys- not necessarily in that order. The western theme is perfect for a Nash Bash!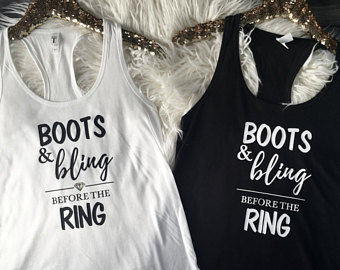 We love the boots and bling take on western-themed bachelorette parties!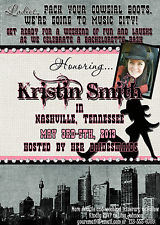 We also love the cowboy boots and hats look of these old-time invites. We even like the retro pinup silhouette design, because we all know cowgirls are not afraid to be sexy!
Beach Theme
The beach theme is one of our all-time favorite bachelorette party themes. Sun, sand, a little booze, your favorite ladies- it is really hard to go wrong at the beach. Of course, you can bring the beach to you if you cannot get away to the beach, by incorporating beachy elements and renting a pool facility or using someone's home or apartment pool for the party! What screams beach? Coolers full of cold beer, frozen beverages, bright colors, sunglasses, and easy beach-friendly food.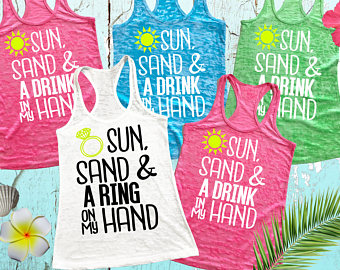 We love these themed shirts, but we have a sneaky suspicion that the bride will also have a drink in her hand!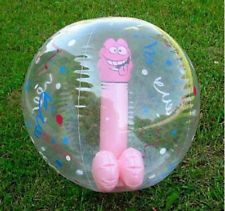 Not your average beach ball, make it clear that it is a bachelorette party with this naughty ball. We imagine you can come up with a hilarious game or two.
Mardi Gras Theme
We love everything about Mardi Gras. New Orleans, delicious food, Hurricanes, beads, debauchery. What we love most is the laissez les bon ton rouler idea of just letting the good times roll! What could be better suited for a bachelorette bash?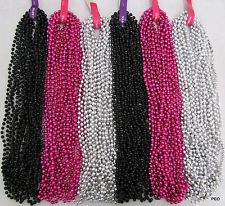 It's not Mardi Gras without the beads, but you can combine these with other bachelorette party trinkets to tweak your Mardi Gras theme for the bride!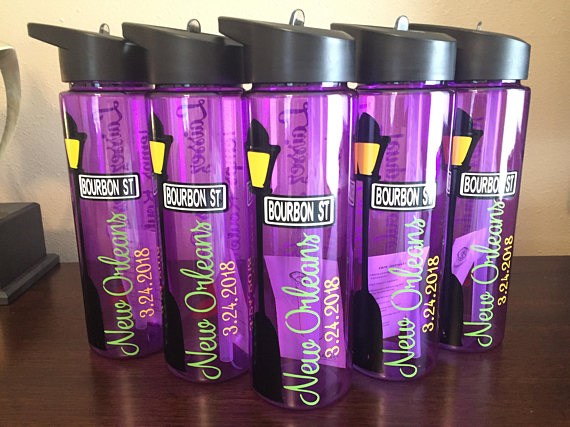 A customized water bottle so you can bring your drinks to go while walking around.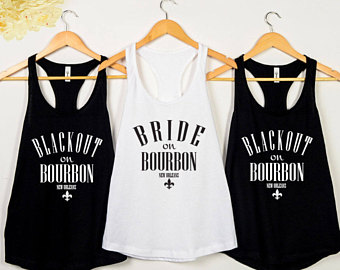 What Mardi Gras themed bachelorette party would be complete without a trip to the iconic Bourbon Street?
Princess Theme
The Princess Theme is one that many bachelorettes love, especially the storybook idea of finding a prince. If it seems just too sweet for you, that is okay- check out our other themes. However, if you love the idea of a princess theme, then the sweeter the better. Anything diva works well at a princess party, so think of girly-girl, frou-frou with just a hint of grown-up naughty.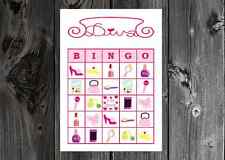 These diva bachelorette Bingo cards are the perfect addition to a Princess Party.
Even grown up princess parties are all about pink, shiny, glitter, and gold. Fortunately, those are also colors that work well with bachelorette themes. If you are having a problem finding Princess décor that does not seem juvenile, keep in mind that you do not have to have Princesses on your party items to throw a princess party.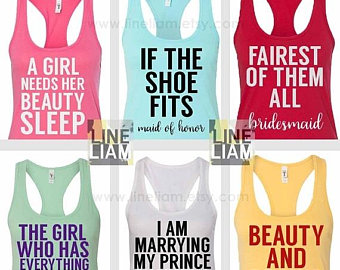 We love these shirts that provide tongue-in-cheek references to iconic fairy tale princesses, without looking juvenile.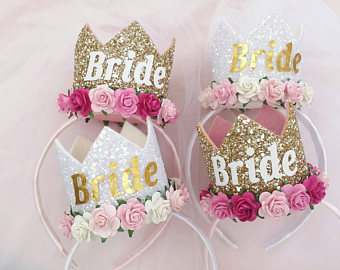 No Princess Party would be complete without the crown. You can pick up tiaras for bachelorette parties for a song, but we love these beautiful floral crowns if you know the bride wants to be a little extra. And, here is a hint- if she wants a princess party, she wants to be a little extra!
Barbie Theme
The days of playing with dolls may be over, but how many little girls grew up planning their weddings by playing with Barbie and Ken? The Barbie themed bachelorette party is a nod, not only to the most iconic of fashion dolls, but also to the role she plays in helping little girls use their imaginations and plan their futures! What are essential elements for a Barbie party? Take our advice and skip the juvenile Barbie decorations- it can turn a fun theme weird in a hurry. Instead, decorate with Barbie's iconic white and pink and keep the themed items fun.
How cute are these tank tops? Obviously, they make you think of that song that celebrates the iconic doll, with their "let's go party," invitation!
Everyone knows the famous Barbie script, and tube socks are a fun, cheeky way to add a little splash to a Barbie party.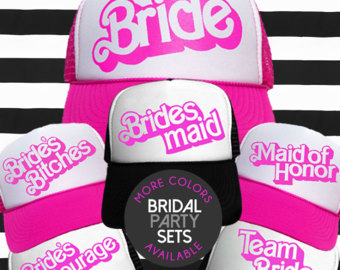 Like the tube socks, these trucker hats are a great way to put a slightly ironic twist on a Barbie party.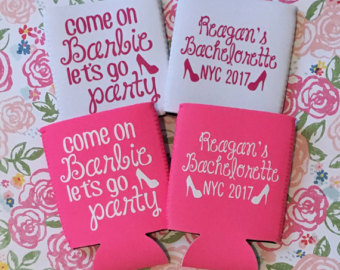 Barbie and coolies do not usually belong in the same sentence, but add in a bachelorette party and they go great together!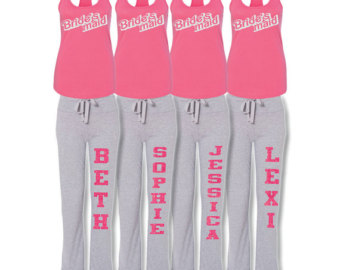 The slumber party is probably the very best way to have a Barbie bachelorette, and these personalized sleep sets are guaranteed to add to the fun.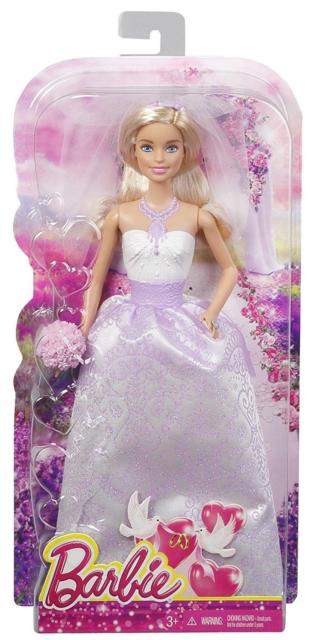 Is your bride a hard-core Barbie fan? Consider gifting her a classic Barbie bride doll. Pick one that is collectible, but affordable, so you can have the party guests sign the box for a one-of-a-kind memory!
Paris Theme
Paris is the city of light and, to many people, is the most romantic city in the world. It is also a great place to go with a group of girlfriends, and, if it is in the budget, would make for an awesome destination bachelorette party. Cannot afford to go to Paris, then bring Paris to you. You can find all types of Paris-themed décor, and pretty much anything pink with the Eiffel tower on it will scream "Paris" theme. However, you can also get creative. Is the bride an art lover? Then get prints of famous paintings and recreate the Louvre for your Paris themed party! The menu is also very important for a Paris party. Pastries, cheeses, wines, and fine cuisine are all a great way to bring Paris to you.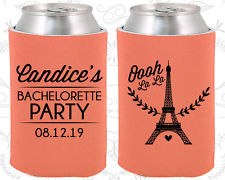 Whether your Paris party means heading overseas or is simply Parisian themed, keep your drinks cool with these adorable Paris coolies.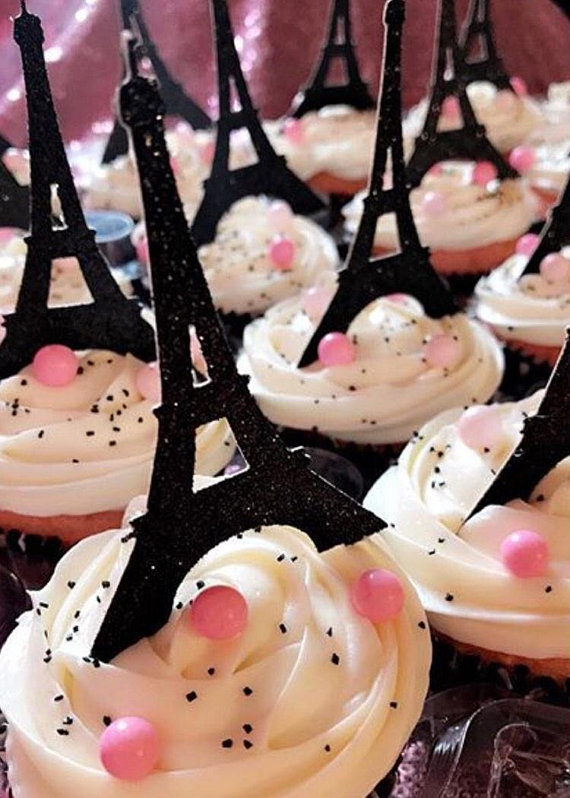 If you are baking cupcakes for the big occasion, include the Eiffel Tower Cupcake Toppers
The Mona Lisa is probably the most famous painting in the world, and certainly the most famous painting in Paris. Add some class and mystery to your party with a print of this famous woman's smile.
Glitter Theme
Lots of our brides talk about the glitter theme. At first, we were not sure you could really consider glitter actually a theme, since almost anything can be glittery. Then, we realized that it is precisely because almost anything can be glittery that glitter is a great theme!
Nothing is more glittery than an old-fashioned mirror ball, so grab one, put on a light show, and boogie with the bachelorette under the glittering lights of a disco ball!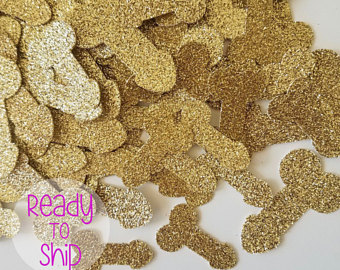 What could scream "bachelorette party" more than a bag of glittery golden penis confetti?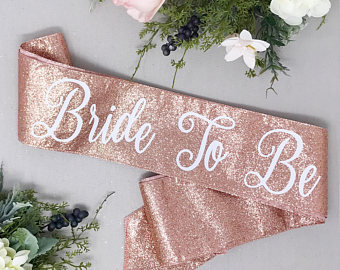 Going with a glitter-theme? Then, while it might be stereotyping, we think you probably love sashes, too. How adorbs is this rose-gold glittery bride-to-be sash?
Animal Print Theme
Some girls love animal print. You know if the bride does. If she is a cheetah/zebra/leopard-print loving girl, then embrace it with an animal print themed bachelorette party. These parties are easy to plan and often do not involve having to buy anything special- most ladies can pull at least one animal print item out of their closets, and you can probably come together with animal print décor to create a theme without breaking the bank!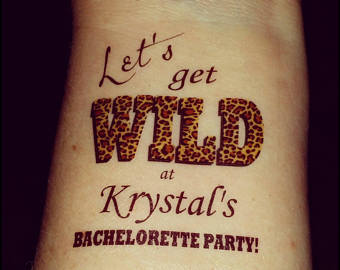 These animal print temporary tattoos are a great addition to the party.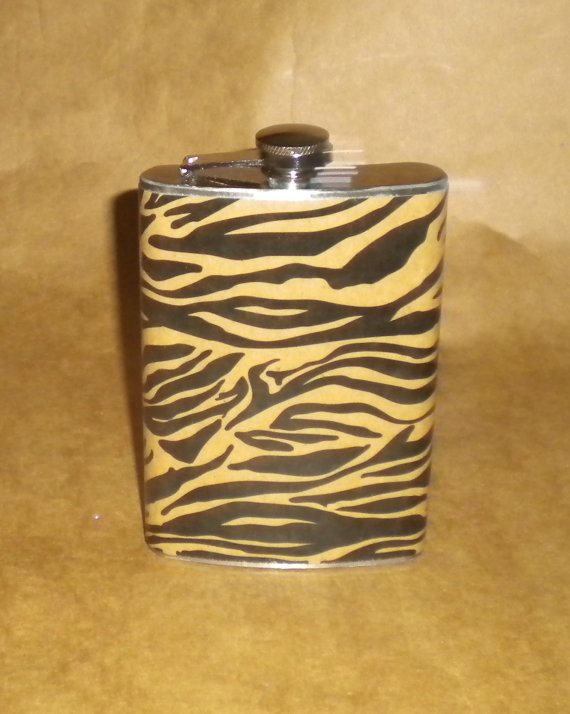 Don't forget about the animal print flasks for drinking alcohol along this journey.
What we love about an animal print theme is that it naturally lends itself to talking about being wild, which is exactly what a bachelorette party is supposed to be!
Black and White Theme
Sometimes the most elegant themes are simple ones. While a black and white themed bachelorette party may seem a little too simple, we think they are very classic. Plus, black and white colored favors, t-shirts, etc. are likely to actually be used again.
These tanks work because they are simple, with the black and white background making the gold stand out. They will also look great in group photos!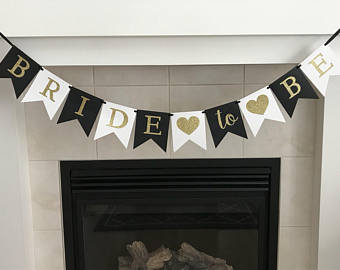 What is not to love about this cute little bride-to-be banner? Just because you pick a black and white theme, do not be afraid to add a metallic sparkle.
Travel Theme
Destination bachelorette parties are a big thing, and the best way to throw a travel themed party is by actually traveling. However, here at Your Bach Party, we know that a destination party is not in everyone's budget, but you still might want to celebrate the bride's love of adventure and travel. One way to do a great travel-themed party is to have a progressive dinner, eating each course at a different themed restaurant in your closest big city.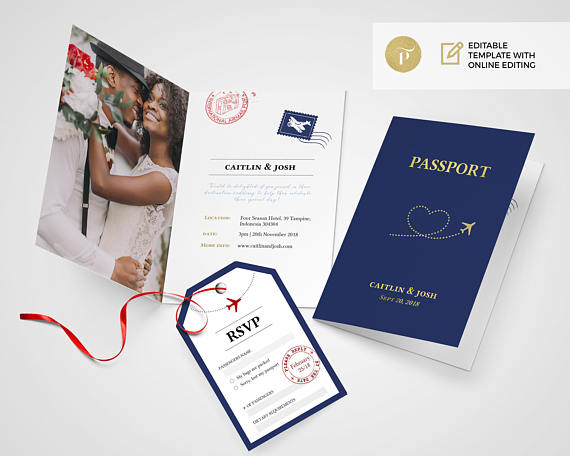 These amazing invitations to go along with your bachelorette party destination.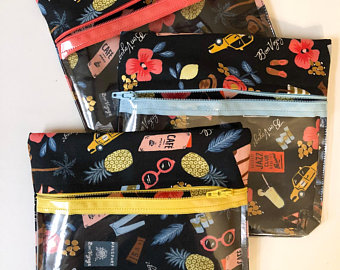 Going with a travel theme? Then, of course you are going to want to use travel bags for your party favors. These adorable travel bags not only hold your travel essentials, but also remind us of some of our favorite places to visit. Don't forget your passport!
Sports Theme
Who says that bachelorette parties have to be all pink and lace? Not us. Sports themed bachelorette parties can be a ton of fun. Whether it is taking in your favorite team or participating in a sport, you can personalize the sports theme to your group's tastes. We love the idea of a hitting a place like Top Golf, going rock climbing, or even a group softball game (a great idea if you are throwing a joint bachelor/bachelorette party). Just keep in mind that even tomboys like some girly stuff, so do not be afraid to add a little traditional bachelorette flair to your sports party!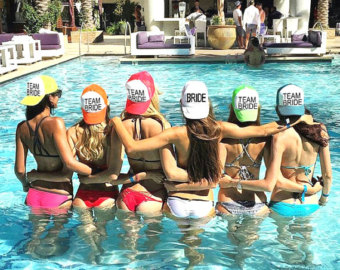 These hats let you stand out as "team bride," no matter what sport you are playing!
If you are playing sports, it is important to keep hydrated, and what better way to let people know it is a bachelorette party than with this naughty sports bottle?
Las Vegas Theme
Heading to Vegas? A Las Vegas bachelorette party is a great idea. The town is made for adult fun, and there are inexpensive flights to and from Vegas from almost every airport in the U.S. You can plan a party ahead of time, or simply find a party when you get there. Even if you cannot make it to Vegas, the Vegas theme is one that people tend to love for bachelorette parties. Any casino type décor adds to a Vegas theme. Throw in some Rat Pack vibe and maybe a little Rhinestone jumpsuit Elvis, and everyone knows exactly what to expect.
Can't get to Vegas, then bring Vegas to your party with these cute stick-on wine labels. They are also a great idea for party favors if you do get to travel to Sin City.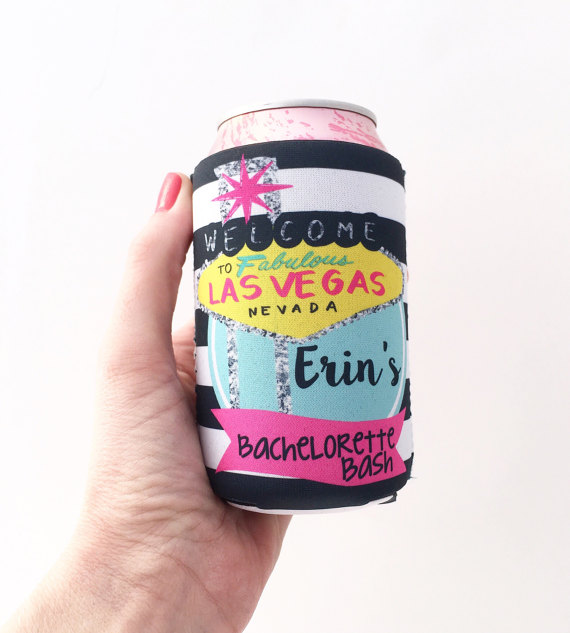 A personalized koozie or beverage insulator to keep those free beers cold (yes, Vegas serves free alcohol when you gamble).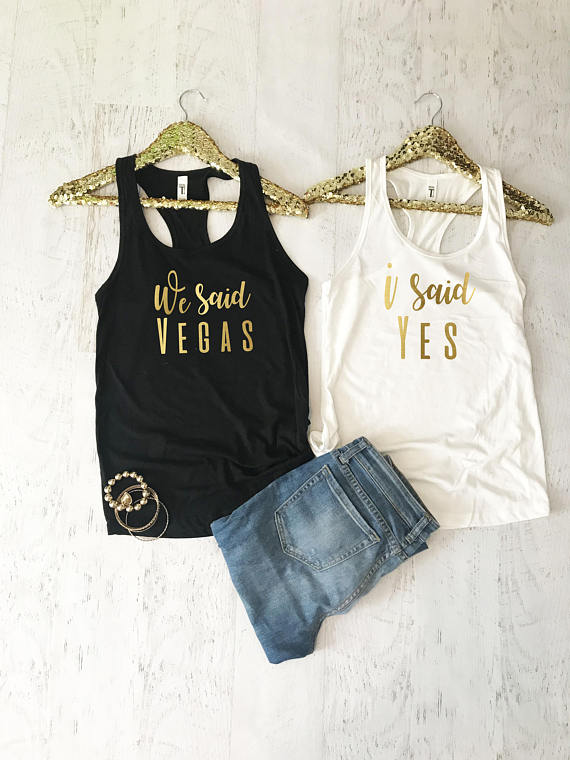 and don't forget the Vegas bachelorette party shirts to match the theme.
Masquerade Theme
Full disclosure- the most recent 50 Shades movie had us raising an eyebrow at the idea of a Masquerade themed bachelorette party, because if you are doing masquerade right, it is going to be sexy. However, the more we thought about it, the more we loved this idea for a theme. If you go with masquerade, we encourage you to embrace all things sexy. Consider pole dancing classes for your crew, followed up by professional dancers later in the evening. If you call ahead, we're pretty sure they can send you a dancer wearing a mask….
We love the whimsy of this mask, and the way it hints at feathers, wings, and movement!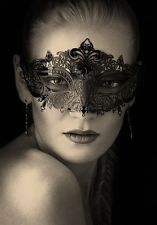 This simple mask is one that you and your girls could wear, even if you were heading out for a night on the town!
Mermaid Theme
We saved our current favorite bachelorette theme for last. We love all things mermaid. Mermaid hair, mermaid frappuccinos, mermaid movies, mermaid tails- we love mermaids. To us, this theme naturally lends itself to a swimming party, even better if you can get ahold of some of the neat realistic-looking swim tails available out there. No water? No problem. Everyone knows you can still be a mermaid, even if you are on dry land. Ariel and Madison showed us how!
Mermaid tails come in all price points, but this affordable tail is not only gorgeous, but also comes with a monofin included and in a range of adult sizes!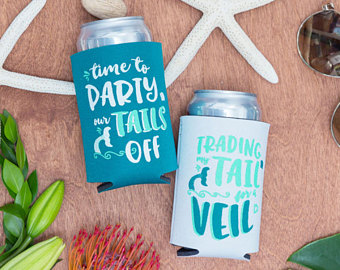 If you are going to be drinking like a fish, you probably want to keep your drinks cool…
Conclusion
Finding the right theme for a bachelorette party is a matter of knowing the bride and picking something you know she will love. We named some of our favorites to get you thinking about great ideas, but don't worry if you didn't see the perfect theme here. Instead, hop on over to our forums, where you can get ideas from other bachelorette party planners.