Orlando Bachelor Party (2023 Party Planning Guide)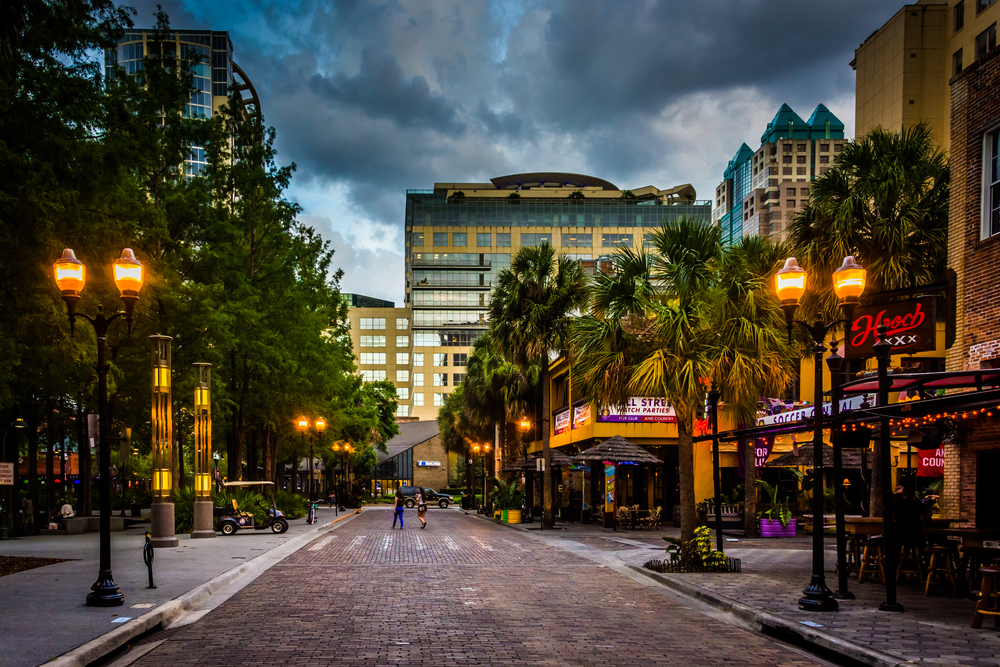 This post may contains references to products from one or more of our advertisers. We may receive compensation when you click on links to those products or services. Please also consider
donating to our website.
If you are considering southern Florida for your bachelor party destination, then you want to consider Orlando. While Orlando may not be known for the type of party atmosphere you find in Miami or the laid-back atmosphere in Key West, it is one of the world's primary vacation destinations for a reason. You might think of Orlando as a kiddie or family destination, but Orlando plays host to plenty of groups of adults and has tons to offer a bachelor group. In addition, because it is such a popular vacation destination, you are bound to find affordable lodging, great deals on eats, and maybe even a bargain or two on your activities, making Orlando a surprisingly affordable south Florida bachelor party destination!
How to Get There
Car
Orlando is a reasonable car trip, even from points well outside of Florida. Though it is located in southern Florida, the trip down I-75 or the Florida Turnpike is a relatively easy drive and you can get there traveling mainly on interstates from most places within a day's drive.
Airplane
While driving to Orlando is relatively easy; it is also relatively unnecessary. Because Orlando is such a popular tourist destination, almost all major airlines fly into the city, and you can find great bargain rates. Orlando International Airport (airport code: MCO) services the entire city, and many resorts offer complimentary shuttles from the airport.
When booking a flight to Orlando, make sure you check out priceline.com, as they usually have the best pricing and options available.
Getting Around
Orlando is definitely not a walking city. It is very spread out, and, unless you are staying at a resort and only plan on doing things at the resort property, you are going to need a car to get from place-to-place. However, if you are planning on staying primarily at one of the city's popular theme park resorts and going to their adult entertainment spots for your nighttime entertainment, you may be able to use shuttle services and buses, rather than a car.
Orlando has the world's biggest rental car market, and renting a car at the Orlando airport is an easy process. Many car rental companies, including Enterprise, offer rentals at the airport, so you do not have to worry about catching a shuttle to an off-site rental facility. This makes check-in a breeze, as you can check-in close to wear you drop off the rental at the end of your vacation.
Even if you want to travel by car, you might not want to drive. Fortunately, there are lots of ways to get around Orlando without getting behind the wheel. Want to be free of the hassle of driving? There are a few ways to let someone else take the wheel. Lyft is one great way to get around town without having to worry about designating a driver.
Of course, you might know ahead of time that you will need a ride. Hiring a limo or town car is a great way to travel to and from the airport; consider booking through AvisLimo. Heading out for a night on the town? Perhaps a party bus, such as the ones you can book through Ultimate Party Bus, is the right transportation solution for your crew.
Things to Do
In some places, the challenge is finding things to do. In Orlando, the challenge is narrowing down the list of possible activities to plan the best bachelor party possible.
Daytime Activity Ideas
We cannot talk about Orlando without talking about Walt Disney World Resort. Probably the world's most well-known theme park, Walt Disney World Resort is actually a collection of four theme parks and two water parks. Is a trip to Disney the typical bachelor party activity? No. But, there are plenty of adult thrills to be had in the Disney World Parks.
While Disney may live in people's hearts, there is little question that Universal Orlando's two theme parks and one water park offer more of the adventure-type rides that appeal to bachelor party groups. Universal has not been picked as the number one theme park in the world for no reason!
Have you heard of whirlyball? Don't feel bad if you have not; this crazy game, which is best described as a mix of basketball, hockey, jai-alai, all while riding in a bumper car. Played in five-on-five teams, this game is the ultimate in sports and a heck of a lot of fun. Interested? Call the Whirlydome for more information.
Sure, Orlando is known for its created attractions, but it also happens to be in one of the world's most interesting natural habitats. See it all with an airboat tour in the nearby Everglades.
Are you golfers or just interested in golf? Then, Orlando really is your place. It is home to some of the nation's very best golf courses, and the year-round gorgeous weather means that you will be able to hit the greens at almost any time. The Dubsdread Golf Course is one of the city's best, and is actually the city's oldest course.
Hard Knocks' Wedlock has been voted as the best bachelor party in Central Florida. What is Hard Knocks? Well, it is laser tag, with a twist; at Hard Knocks, it is not enough to defeat your opponents; you also have to accomplish your mission objective. In addition, you get to choose your weapons from combat-ready weapons used in military training, rather than the standard laser guns you find at other laser gun places.
View all Activities Available in Orlando
Nightlife Activity Ideas
Orlando Improv Comedy Club is a great way to start the night, offering adults-only entertainment for those that love a laugh.
So maybe Medieval Times is not the first thought that comes to mind when you think bachelor party, but it's a sporting event, you pick teams, being loud and rowdy is encouraged, you get to eat with your hands, and you can drink plenty of beer. It is actually a great early-evening activity before you head out to some of Orlando's awesome bars or gentleman's clubs.
Get one of Orlando's best musical experiences by heading to Midnight Mass on Saturday night at Backbooth. This club is kind of the dive-bar of the Orlando club-scene, but it manages to bring some great live music acts and offer DJ-driven dance parties.
Eve could just as easily be found in South Beach as it is in Orlando. It is a high-end club featuring well-known DJs and known for attracting some of the city's most beautiful. It is the place to go if you want to reserve your spot on the VIP list, get a table, get bottle service, and party.
Bars
While Orlando might be best known for its family-friendly entertainment, it actually has one of the hottest bar scenes in the county. Go to downtown Orlando and you will be able to walk in to a number of great bars. Here are some of our favorites:
Olde64 is one of the city's favorite bars because of its relaxed atmosphere, great beer, and awesome whisky selection. This is not where you go with the guys to cut loose, but more like the place you hang out the last day of your trip, having a few beers and talking about what a great time you had.
Rocco's Tacos and Tequila Bar is a nighttime favorite. Offering over 400 kinds of tequila, it's a place you go to party and drink, not necessarily in that order.
Want something unique when you visit a bar? Hanson's Shoe Repair, a speakeasy in a former cobbler's shop, fits the bill, and then some. The place is very small, it has retained much of the décor it had as a cobbler's shop, and you might need a password to get in; but, when you do, you can taste some of the city's very best cocktails.
Strip Clubs
Picking the best strip club in a city like Orlando is a challenge, because it has some really nice strip clubs with gorgeous women, great service, and atmospheres that range from the raunchy to the high-end, depending on your tastes. We have picked a few you might enjoy, but our list only scratches the surface of Orlando's adult entertainment offerings.
Rachel's Orlando is conveniently located near International Drive and features some of the city's friendliest female bartenders and hottest dancers.
Dancer's Royale is considered a local favorite. Often described as cozy, which is not a term usually used when discussing adult entertainment, the club does its best to take away the skeevy factor often associated with strip clubs, and it manages it quite nicely.
Where to Stay
Orlando probably offers a greater range of places to stay than any other destination in the United States. Whether you are on a budget or ready to spend, you can find clean, nice accommodations in one of the city's roughly 120,000 hotel rooms. That's a lot of hotels. However, most of them are going to be in very family-friendly resorts, which means you need to worry about volume and keep your behavior PG. We tried to exclude those, but if you stay at a hotel in Orlando, you should expect to encounter families:
Hotels / Resorts
Stay in Downtown Orlando, where you can easily get to everything the city has to offer at Aloft Orlando Downtown. It has everything you want in a hotel, a great location, and a fitness center that keeps guests coming back for more.
The Hyatt Regency Orlando has a bit of a reputation as a party hotel, which is exactly why we recommend it for bachelor party groups.
Caribe Royale All-Suite Hotel and Convention Center is a gorgeous property that offers a lot of on-site luxuries and a hotel pool that is considered great in a city known for wonderful hotel pools. Think lazy river and plenty of space.
View all Hotels Available in Orlando
Rental Houses
While it is hard to beat the convenience of a hotel, in a city like Orlando, where so much of the tourist trade is based in families, if you want a place to party without having to worry about the neighbors, you want to get a house rental. Not only do you get more freedom with a house rental, but you can often get more amenities for less money per person.
One way you save money with a house rental is by being able to eat and drink more cheaply. Of course, no one wants to be the putz put in charge of grocery shopping instead of partying. So, let Instacart handle your grocery order- they'll even bring you booze.
How do you find that perfect vacation rental? Sure, you can use a travel agency, but with reliable services like Airbnb.com, Homeaway.com, and VRBO.com, finding a vacation rental on your own is easier than ever.
Airbnb
This six-bedroom private home with its own pool gives you all the space you need to have a great guys' weekend. Fully stocked with everything you need for a great vacation, it is private enough that you can get a little rowdy without worrying about disturbing people, but centrally located so that you are still close to all of Orlando's attractions.
This highly-rated four-bedroom property is not only conveniently located, but past guests all have rave reviews for host Alex. The backyard has a hot tub, pool, and a fire pit, making it a great place for a "quiet" night in.
View all Rental Houses Available on Airbnb.com
Homeaway
This gated resort home has a huge pool, six bedrooms, and a game room in the garage. Everything you need for bachelor party fun in a luxe but affordable environment.
The modern lines of this vacation home give it an upscale feel. It has a pool and a pool table, so you have indoor or outdoor entertainment, and is conveniently located near some of Orlando's hottest attractions.
View all Rental Homes Available on Homeaway.com
VRBO
This Casa del Lago penthouse is located near the resort's amazing clubhouse, which is available as a larger party space.
We love this Moana house, even if three of the six bedrooms are decorated in children's themes. Affordable, with a pool you can use even if the weather is less-than-great, a game room in the garage, a media room, TVs in every room- it is a great space, and we love the Harry Potter room décor, even if you might have to draw straws to see who stays in the Frozen room.
View all Rental Homes Available on VRBO.com
Where to Eat
Breakfast / Lunch / Brunch
Hamburger Mary's Bar and Grill serves up some of the best burgers you will ever taste, but if you are there for Sunday brunch try their chicken fried chicken. No, the food is not fancy, but good food does not have to be fancy. Sunday brunch also comes with a show, and you might want to be prepared to sing along. Does it sound silly? It is; but it is also a lot of fun.
The Stubborn Mule is the kind of restaurant you go to when day drinking and good food are what you have on that day's to-do list. We think you can't go wrong if you start with the Sticky Pork Belly and follow it up with Kimchi Shrimp Tacos.
Santiago's Bodega is somewhat misleadingly named. If you head there expecting a small marketplace, you will be disappointed. If you come expecting amazing tapas in a party environment, then it will meet all of your expectations.
Dinner
Chef Art Smith's Homecomin' is not for the faint-of-heart, or for those with heart problems. Located in Lake Buena Vista, this restaurant has all of your southern favorites. It is hard to pick the best things from an amazing menu, but we think you should try the Church Lady Deviled Eggs. P.S. try the moonshine.
The Waterfront is one of those restaurants you head into the first time because of the views, but come back to because of the superb food and drinks. The garlic parsley fries are a must-try and we could eat dozens of their crab cake sliders.
Muddy Waters Orlando (which is now under the ownership of The Stubborn Mule) brings the very best of New Orleans food to sunny Orlando. If you head into this place expecting a dirty, gritty place that gives you the blues, you will be disappointed. Muddy Waters seems to refer more to the inspiration of Mississippi River Cajun and creole cuisine than the iconic blues legend. Start with their raw oysters and then pick shrimp and grits or crawfish etouffee. Your mouth will thank you.
When to Go / Not to Go
Best Time
Late March to early May is the best time for a bachelor party to travel to Orlando. The spring break rush is over, there are fewer families vacationing at this time, and the weather is still absolutely amazing!
On a Budget
Orlando is one of those rare places when the best time to travel is the same whether or not you are on a budget. For bachelor parties, late March to May is the very best time to hit Orlando, and it is also more affordable than the summer, spring break, Thanksgiving, or Christmas high-tourist season times.
Worst Time
This is a subjective question that depends on your definition of a bad time to visit. Go to Orlando in the late summer/early fall and you will experience high humidity and high temperatures that can cramp your style if you are from a cooler, drier climate. However, we think the worst time for a bachelor party to hit Orlando is going to be during the peak theme park times- spring break and the Christmas holidays. Driving at this time can be nightmarish and there will be kids everywhere! That said, the city is built to handle lots of tourists, and you will still be able to have a great vacation if you plan ahead.
Current Weather
What Else
Big Events
The Beer 'Merica festival in May is a favorite with locals and tourists, alike. Over 100 craft beers, live music, food trucks, and an adult play zone.
MegaCon Orlando is, as its name suggests, a mega con. If you are a comic con fan, the Orlando con, which is normally held in May, is probably already on your bucket list, as it consistently draws some of the hottest personalities, writers, artists, actors, voice actors, animators, and cosplay performers in the country.
Halloween fan and visiting in October? Then you have to plan on visiting Universal Orlando's Halloween Horror Nights. It is considered one of the best Halloween events in the world and is definitely a reminder that Universal was a movie studio before it began building theme parks!
Items to Pack
Orlando is a huge resort city; if you forget something, you will be able to find it. Of course, you might pay a hefty markup if you buy something in or near a resort. Here are somethings we think you will need for your Orlando trip:
You will get plenty of sunshine in Orlando, so bring plenty of sunscreen. We recommend a water and sweat resistant variety, because Orlando is hot and you are almost certainly going to spend some time in a pool. We like Neutrogena's Beach Defense:
You will almost certainly be drinking. Prepare ahead of time with supplements designed to help you avoid hangovers or enhance recovery, like Drinkwel, a multi-vitamin for people who drink:
I think we can safely assume that at least some guests at the party are going to be looking to get lucky. Make sure that they are lucky and safe by bringing this condom variety pack with you, so that everyone is, literally, covered:
Itinerary
Grab a quick breakfast at your rental house, then head out to the Whirlydome for a game that we think of as being like live-action Mario Cart. Get your burgers on at Hamburger Mary's, then head over to Hard Knocks for an afternoon of combat. You are going to be physically exhausted by the evening, but that is okay. You can relax over dinner at Muddy Waters, then head out to Rachel's for a night of sitting back, relaxing, and watching beautiful women take off their clothes for you.
Extracurricular Activities
Expect to pay up to $70 per G of the white, and about $50 for an 8th of green.  As for escorts expect to pay $300 per session or up to $1,000+ for porn star status.
Forum
Have some questions about Orlando that weren't answered in our guide?  Post them to our Orlando bachelor party forum and one of our community members will provide you a response.  Already been to Orlando for a bachelor party?  Post some tips and suggestions in our forum to help other groups plan an epic weekend.
Other Tips
In the summer, Orlando tends to have afternoon storms. Plan your indoor activities for these times, or seize the opportunity to head back to the hotel or rental house and catch a nap so that you are up for a night of partying.
Hashtags
#OrlandoBachelorSquad
#OrlandoOrBust
#SunshineAndStag
Bachelor Party T-Shirts
T-shirts are a pretty masculine party favor and a great way to show group solidarity for a big night out. Here are some of our favorite bachelor party tees:
You can personalize these Groom's Crew t-shirts with names or locations: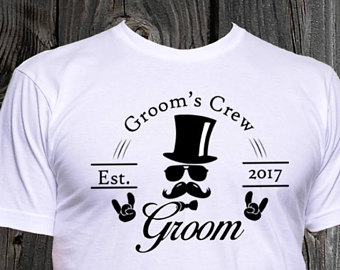 Not sure what activities to include at the bachelor party? This t-shirt has a handy to-do list:
Why Go
Orlando has amazing weather, a ton of things to do, affordable flights, and is set up for tourists making it a great vacation destination. While it may seem geared towards families, it is also a popular convention venue and has plenty of adult activities to keep a bachelor party entertained.
Star Rating
Conclusion
We love Orlando as a vacation destination and can see its appeal as a bachelor party destination. Full disclosure, though, if you are looking for a legendary Florida party and do not plan on hitting one of the area's big theme parks as part of the bachelor party festivities, we might suggest heading a few hours south to Miami for that experience. However, if you are looking for a twist on the club-heavy bachelor party experience, Orlando gives you so many entertainment options that you are bound to find something that everyone in your party will love.