Bachelor Party at LIV Nightclub in Miami Beach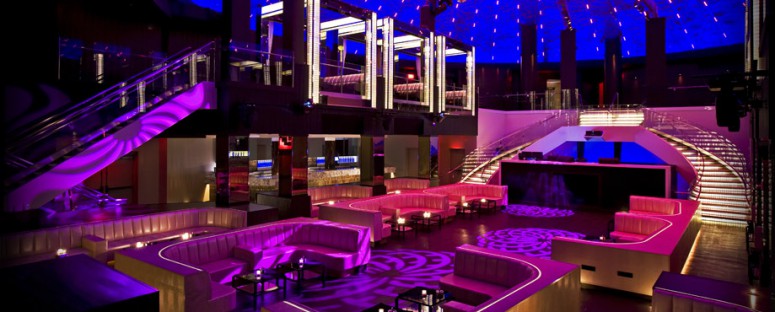 This post may contains references to products from one or more of our advertisers. We may receive compensation when you click on links to those products or services. Please also consider
donating to our website.
Being that LIV nightclub is one of the hottest places to party in Miami, it won't be easy getting your bachelor party inside this venue or even cutting the line. On any given night this place has not only the hottest disc jockeys in the game (Tiesto, Calvin Harris, Alesso, Steve Aoki), but also has the most beautiful women on earth, all wearing their tightest dress.
LIV nightclub normally does not let bachelor parties in on their slower nights. They pride their reputation on being the place where big spenders come to find hot chicks to have sex with, while their wives are home watching the children.  But, with the right amount of dough, and acting like you know people, your chances of getting in are pretty good.
The first thing you should know is that drinks run about $16-$19 a pop at the bar. So figure you are going to spend roughly $180 just to get yourself drunk (unless you pregame) in addition to the $100 you are going to spend on those cute chicks who are pretending to like you. So regardless, you are looking at $280 per person just in alcohol (add another $200 for a ball).
VIP table service starts around $3500.00 with bottles of grey goose running somewhere in the $425 – $450 range. Now depending on how many guys are in the group, we have seen LIV charge a bottle per guy. Meaning you would each need to purchase your own bottle to get a table in a non-prime location. Yes, this will raise your budget a little bit (with tip figure $600 a head), but you can't put a price tag on good times with the guys, right?
The way the club is setup is there are 2 1/2 levels. When you walk in you will take the stairs down to the lower level which is where all the fun is. The lower level features the DJ booth, dance floor, and two rows of VIP tables, to the left and right of the DJ booth. Prime location is a table on the main dance floor but expect to pay $5000+ for that. There is also another VIP section on the floor to the rear of the club, which surrounds the owners table (David Grutman is owner/operator, Jeffrey Sofer is part owner of LIV, sole owner of Fontaine Bleau). Right above the back VIP area is another split level that has additional couches and tables. Any of those areas are good for table service, but the closer you are to the dance floor, the hotter the chicks at your table. The upper level has another bar, sky boxes (which are usually $8,000+) and a side bar room with additional tables (see advise below).
To sum it all up, your bachelor party at LIV in Miami Beach will be absolutely amazing, but it will cost you a mortgage payment. Each table is assigned a big bouncer who you will tip to fetch you groups of hot chicks (yes they do that). The waitress will then pour you and your female companions drinks until the sun rises (or you get thrown out for throwing ice).
One word of advise, if you decide to get the table service, talk to their VIP services, and make sure they do not put you on the second level extension bar tucked in the corner. This was there way of maximizing profits, but is the worst location in the club for partying and people watching. If you try to get a table earlier in the morning like 3am, there maybe better options available and lower table minimums as other guests have left already. 
Yes you may hate yourself the next morning, especially when you pay in cash and realize you were double tipping all night (all drinks include gratuity in the price), but the experience you will have at LIV will be one you will that will keep replaying in your mind (especially when you have an outbreak).
To Book a table for your bachelor party at LIV:
LIV Miami Beach
@ Fontaine Bleau Hotel
4441 Collins Ave, Miami Beach, FL 33140
Open Wed, Thurs, Fri, Sat, Sun 11:00pm – 5:00am (est)
(305) 674-4680
Planning a bachelor party in Miami Beach?  Make sure you contact us for exclusive deals on flights, hotels, rental cars, restaurant reservations, and more.  You can shoot us an email at [email protected] or call (561) 450-9632.