Plan an Amazing Bachelor Party in Iceland (2023 Guide)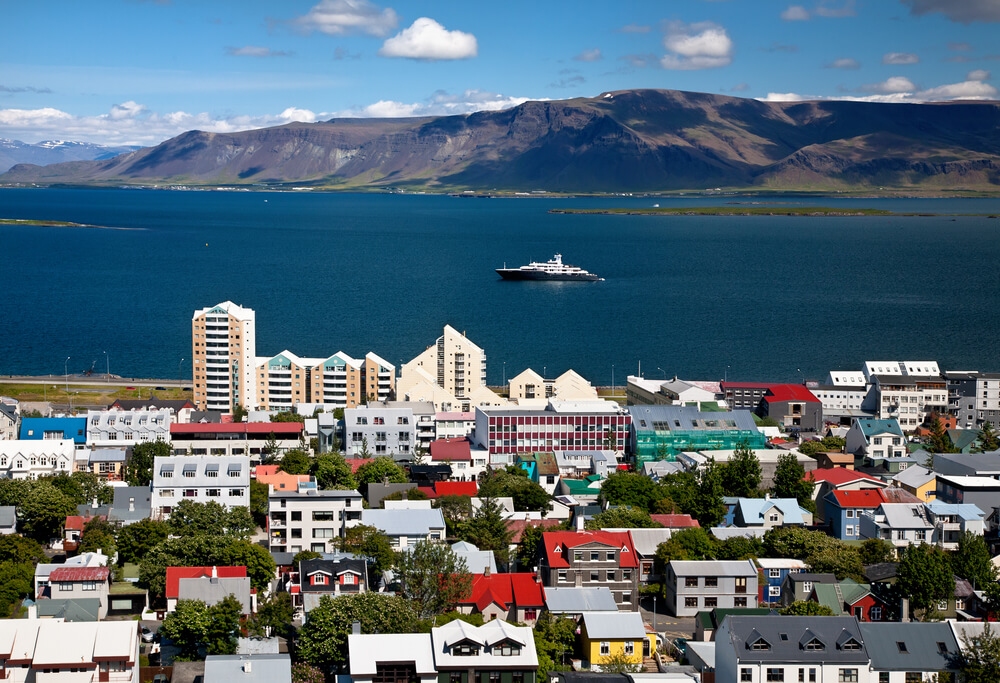 This post may contains references to products from one or more of our advertisers. We may receive compensation when you click on links to those products or services. Please also consider
donating to our website.
If you're thinking about an exotic bachelor party destination, consider a visit to Iceland. Voted the friendliest country to visit in the world by the World Economic Forum, Iceland and its capital, Reykjavik, is a world-famous party city noted especially for its thriving nightlife.
While small in size compared to other national capitals, Reykjavik still boasts an impressive number of bars, restaurants and other entertainment venues. In addition, English is widely spoken throughout the country and prices are still competitive despite a thriving economy.
As we explain below, the Icelandic people are not only friendly, the country's long history, rich culture and abundant natural resources including geothermal springs, geysers and even active volcanoes combine to make Iceland the perfect venue for an unusual and highly memorable bachelor party for you and your friends.
How to Get There
Airplane
It takes about five hours to fly the 2,600 miles from New York City to Reykjavik, but round-trip airfare begins at just over $250 per person ($550 round-trip from Dallas/Fort Worth), making Iceland a more affordable bachelor party destination than many people might believe.  Remember when booking any flights to Iceland, you want to choose the Keflavik Airport (airport code: KEF) as your destination.  When booking flights to Iceland, always check out priceline.com as they seem to have the best prices and availability.
Getting Around
Although Uber and Lyft are not yet available in Iceland, taxis and a local transportation service, FlyBus, offer transportation to and from Reykjavik's Keflavík International Airport and vehicle rentals are available from Sadcars as well as the major global companies such as Alamo and Avis. Public transportation is readily available, reliable and safe in Reykjavik but is unavailable to tourists outside the capital.
Visitors from the U.S. can use their valid American driver's licenses for up to 90 days or less, but renting a vehicle, especially in the winter months, can be especially treacherous. There are other driver restrictions that differ from the laws in the U.S., and driving impaired or drunk is an especially serious offense (Iceland's legal alcohol limit for drivers is half that of most U.S. jurisdictions).
Things to Do
Answering the question "what to do" in Iceland generally involves answering two other questions: (1) What do you enjoy doing? and, (2) How much money do you have?
As with any bachelor party destination, the answers to these questions will influence your choice of daytime and nightlife activities (including those listed below), but even budget-minded visitors to Iceland can find plenty of exciting things to see and do that will make the visit worthwhile and memorable.
Daytime Activity Ideas
The Blue Lagoon Spa: Situated in a lava field and one of the "25 wonders of the world," this destination requires reservations but prices begin at just around $60 per person and this price includes a number of amenities designed to relax and refresh guests.  The Blue Lagoon Spa features steam and sauna baths carved into the living lava rock. In addition, a popular manmade waterfall helps sooth aching muscles and a relaxation room offers unparalleled views of the surrounding lava fields. Contact the Blue Lagoon Spa at [email protected] or by calling +354 420 8800.
The "Golden Circle" tour: Conducted each Saturday, this tour features the Geysir, Gullfoss waterfall and Thingveller national park.  Prices per person begin around $285. Make reservations or get more information by calling +(354) 588 8660, faxing +(354) 588 8661 or writing to: [email protected].
Ice cave excursion from Reykjavik with live guide and touch-screen audio guide: With prices beginning around $285, this full-day trip to the Langjökull Glacier (the second-largest glacier in the world) and its numerous ice tunnels and caves begins early in the day, allowing you and your buddies to enjoy a guided tour in a specially modified "glacier vehicle" and still make it back to Reykjavik to enjoy the thriving nightlife.  Contact Reykjavik Sightseeing at +354 497 5000 or visit their Web site for more information.
Saga Museum: This specialty museum highlights the historical origins of Iceland beginning with its settlement by Viking explorers more than 1100 years ago, and is open every day from 10:00 a.m. to 18:00 p.m.  Visitors receive an audio tour in the language of their choice (which can also be purchased as a booklet for a souvenir) and the museum features a gift shop (of course) as well as a good restaurant. have the choice to be guided through the museum with an audio device and can choose between Icelandic, English, French, German, Russian, Spanish and Swedish.  The audio guide can also be bought in the form of a booklet at the front desk. Contact the Saga Museum at +354 511 1517 or by writing [email protected].
View all Activities in Iceland
Nightlife Activity Ideas
With about a third of the country's population, it is not surprising that the main nightlife activity in Iceland is centered in Reykjavík. Although the nightlife options in Reykjavik are limited compared to other bachelor party destinations in major cities such as Las Vegas or New York City, the capital does offer a wide range of safe, exciting and enjoyable nightlife venues.
More importantly, Icelanders are famous for their laid-back attitudes about partying, including essentially no dress code. Nightlife activities in Reykjavik are centered on and around the main shopping street, Laugavegur, and the majority of venues, including those listed below, are within easy walking distance of each other. Besides bar-hopping along the Laugavegur and adjacent streets and visiting the strip clubs and gentleman's clubs listed below, other nightlife activities in Reykjavik include the following:
Northern lights (Aurora Borealis) tour:
Phone toll-free: (888) 651-9785
English-speaking tour guides on climate-controlled coaches (free hotel pick-up and drop-off) give you and your bachelor party buddies a once-in-a-lifetime opportunity to see this granddaddy of all celestial displays. The tour stops at several locations during the 3- to 5-hour tour to allow guests to scan the skies (with the help of the experienced guide) to take pictures and learn more about the phenomenon. Although this tour service cannot guarantee Northern light sightings, they do offer a free rain-check for another day if no lights are visible during your tour. At just fifty bucks or so per person, this is a good deal, especially if you are going to be in-country for a few days.
Bars
Bar Ananas
Klapparstígur 38, 101, Reykjavík
Phone: +354 774 4404
Take a break from all the ice and cold by visiting the tropical-themed Bar Ananas. Besides a "cool and wacky" cocktail bar, patrons can order food from a downstairs restaurant, return to bar and then pick up their when they are ready. Food at Bar Ananas is inexplicably served in JARS but is reportedly good eating. Like most other bars in Reykjavik, Bar Ananas keeps late hours (especially on the weekends), features a happy hour and no cover charge.
Micro Bar
Vesturgata 2, 101, Reykjavík
Phone: +354 865 8389
Specializing in groups, this beer bar is great for bachelor party celebrations. With a 3-hour long "happy hour" (4:00 p.m. – 7:00 p.m. daily), the Micro Bar features a wide array of competitively priced local craft beers as well as table games for you and your friends.
Kaffibarinn
101 Reykjavík
Phone: +354 551 1588
A favorite with locals and tourists alike, the Kaffibarinn features excellent cocktails made with the local liqueurs (warning: novice drinkers proceed with caution), good music and friendly staff. In fact, reports from the field indicate that the staff will even charge up your cell phones during your stay.
Strip Clubs / Gentlemen's Clubs
The Reykjavík City Council outlawed private lap dances in 2001 and stripping or otherwise profiting from nudity was banned in 2010. Consequently, strip clubs per se are illegal in Iceland (many have been shut down in recent years); but there are some gentlemen's clubs venues that offer exotic adult entertainment, including most especially Goldfinger (reviewed below) where reports from the field indicate that "everything is possible."
It is important to note that selling sex is legal in Iceland but purchasing it is against the law, although enforcement of these laws varies. That said, you and your bachelor party friends can find exotic adult entertainment of all types at the following venues.
Goldfinger
Smidjuvegur 14
Kópavogur 200
Phone: +354 5718000
Email: [email protected]
Opening hours
Weekdays:
9:00 p.m. – 1:00 a.m.
Weekends:
9:00 p.m. – 5:30 a.m.
Located in a nearby suburb of Reykjavik, Goldfinger bills itself as a "nightclub with exotic dancers" that features a relaxing atmosphere, exclusive VIP rooms, good drinks at competitive prices and a wide range of women from Scandinavian and other European countries.
Shooters Coyote Club
Austurstæti 12
101 Reykjavík
Open 7 days a week from 9:00pm.
Phone: +1-567-248-2690
This gentleman's club bills itself as having the best exotic adult entertainment in Reykjavik (check out the picture gallery on their Web site) complete with a full bar and relaxing but luxurious atmosphere. Further, Shooters specializes in bachelor parties of all sizes and features several VIP packages and a VIP host to help with all of the arrangements for your special event.
Where to Stay
Hotels & Resorts
Reykjavik Residence Hotel
Hverfisgata 45, Reykjavik, 101
Phone: 800-491-6126
[email protected]
Hotels.com Rating: (top hotel in Reykjavik) – exceptional 9.6
Art deco apartment with kitchenette near Hallgrimskirkja
Breakfast and 24-hour room service available
Computer station and free wi-fi
Within walking distance of several landmarks and entertainment venues
Nordurey Hotel
Reykjavik Road, Hafnarfjordur 220
Phone: 800-491-6126
[email protected]
Hotels.com Rating: very good 8.2
You can't miss this bright-red hotel in the middle of Reykjavik. All rooms feature free parking, breakfast and wi-fi as well as satellite television and an airport shuttle service. In addition, the Nordurey Hotel provides on-site car rentals (see cautions concerning vehicle rentals above), a computer station and a good bar and lounge.
Room With A View – Apartment Hotel, Reykjavik
Laugavegur 18, Reykjavík 101
Phone: +354 552 7262
Fax: Fax: +354 552 1485
Hotels.com Rating: very good 8.2
Situated in the middle of the capital, all of the spacious, comfortable and modern rooms in this hotel are uniquely decorated. The hotel offers a Jacuzzi and sauna in their relaxation room, private guided tours on luxury minibuses and free high-speed wi-fi service.
Rental Houses
Choice listings go fast at Airbnb and Homeaway so review your options frequently until you find what you like and need. Prices depend on how many adults are visiting and how long you and your buddies are staying. Some representative examples of comfortable rental houses accommodations in Reykjavik include the following:
Airbnb 
(if you sign up with Airbnb using our link you will get $40 off your first booking)
Description

Daily Rate*

Accommodations

Amenities

Comfortable home located just 5 minutes from all services and only 10 minutes from A comfy Reykjavik. Renters receive special travel recommendations and discounts off tours.

$385

3 bedrooms (3 double beds); one bathroom

Free parking on premises;

Kitchen;

Wireless Internet

Entire villa Bright big design home located in the downtown suburbs of Reykjavík. Best location near Laugardalur Park and its main sports area with a large open-air geothermally heated swimming pool, soccer stadium, sports hall, botanical garden, family park and zoo. 5 minute drive, 30 minute walk downtown to all the shops and restaurants.

$486

Three bedrooms with queen size beds, two bathrooms. Two big living rooms, big open kitchen,

Spectacular wrap-around views from the modern floor-to-ceiling windows. Big open garden with pond. Private parking spaces.

Beautiful city and ocean view from the kitchen, living room and balcony. During the winter, guests can sometimes enjoy the beautiful Northern Lights straight from the hot tub.

$479

Four bedrooms and two bathrooms with shower

Free WiFi, private parking lot (3-4 cars), private garden and patio, outdoor grill and hot tub
*Based on six adults for 4 days
Homeaway
Description

Daily Rate*

Accommodations

Amenities

Luxury townhouse in center of Reykjavik

$650

Three bedrooms; 1-1/2 baths (Bathroom 1 – toilet, tub , shower, bidet. bathroom 2 – toilet, bidet)

Satellite/cable TV; two bedrooms have an office desk and one has a balcony; outdoor grill.

This spacious villa is close to Reykjavík with garden area and balcony/patio and hot tub

$1,425

Three bedrooms, one bathroom (Bedroom 1 – 1 king; bedroom 2 – 1 queen; bedroom 3 – 2 twin/ single).

Big private parking. Big private garden, Hot tub. and heated floors in the bathroom.

Ambassade Apartment, 2 Bedrooms

$395

1 Double Bed, 2 Twin Beds and 1 Double Sofa Bed

Bedrooms, living room, and dining area

Balcony/ patio with city views

Internet – free WiFi

Flat-screen TV with satellite channels
View all Rental Houses in Iceland
Where to Eat
These bachelor party restaurants are perfect for getting the food and energy you need to make it to the finish line (and will help absorb all the alcohol).
Breakfast / Brunch / Lunch
The Laundromat Café
Austurstræti 9
101 Miðborg Reykjavíkur
+354 587 7555
Operating Hours:
Monday–Thursday: 8:00 a.m. – Midnight
Friday: 8:00 a.m. – 1:00 a.m.
Saturday: 9:00 a.m. – 1:00 a.m.
Sunday: 9:00 a.m. – Midnight
With a full menu of tasty breakfast and lunch dishes, The Laundromat Café defies its whimsical name in favor of flavor. For breakfast (served until 11:30 a.m.), try their banana pancakes, "dirty eggs" (scrambled eggs, bacon, sausage, grilled tomato, fried potatoes, and fresh berries served with maple syrup and baguettes – yummm – just the thing after a late night of partying at the clubs…).
The Coocoo's Nest
Grandagarður 23, 101 Reykjavik
(Capital Region)
+354 552 5454
Operating hours:
Tuesday – Saturday: 11:00 a.m. to 11:00 p.m.
Sunday: 11:00 a.m. to 4:00 p.m.
Monday: Closed
This restaurant has received numerous rave reviews from locals and tourists about the high quality of their California and Italian fusion brunch and lunch menus. The Coocoo's Nest also offers a dazzling array of daily specialty dishes and features private party arrangements in a comfortable atmosphere.
Bergsson Mathús
Templarasund 3
101 Reykjavik
+354 571 1822
Operating Hours:
Monday–Friday: 7:00 a.m. – 7:00 p.m.
Saturday & Sunday: 7:00 a.m. – 5:00 p.m.
This upscale restaurant serves delicious breakfast, brunch and lunch menus so you can sleep in if needed. Reviewers recommend the cappuccino and fresh breads with brunch.
Dinner
Bryggjan Brugghus Bistro & Brewery
Grandagardur 8, Reykjavik 101, Iceland
+354 456 4040
Phone : +354 456 4040
Email: [email protected]
Operating Hours:
Sunday-Wednesday: 11:00 a.m. – 11:00 p.m
Thursday: 11:00 a.m. – Midnight
Friday & Saturday: 11:00 a.m. – 1:00 a.m.
The brewery is situated along Reykjavik's scenic harbor and features high quality local craft beers that are pumped directly from the brewery into your glass, making it the freshest beer available virtually anywhere. Bryggjan Brugghus Bistro & Brewery has plenty of room for even larger private parties and up to 100 people can be accommodated on the pier in good weather.
The dinner menu at Bryggjan Brugghus Bistro & Brewery includes numerous ultra-fresh seafood dishes as well as Danish-inspired cuisine (the menu also features something called "four uncertain dishes" so you might want to take a chance).
Burro Tapas & Steaks
Veltusund 1, Reykjavik 101
Phone: +354 552 7333
Email: [email protected]
In the mood for some great Mexican food? Try Burru Tapas & Steaks for a change from the ubiquitous seafood fare. Besides a full wine list, great beers and the Pablo Disco Bar, this restaurant offers a full range of steaks and Mexican fare including some exotic dishes you may not have experienced in the past.
Icelandic Street Food
Laekjargata 8, Reykjavik 101
Phone: +354 691 3350
Operating Hours:
Monday – Thursday: 11:30 a.m. – 9:00 p.m.
Friday: 11:30 a.m. – 10:00 p.m.
Saturday & Sunday: 12:00 p.m. – 10:00 p.m.
Consistently positive reviews from locals indicate that this is the best place for fast but delicious soups (free refill!), seafood and even vegetarian dishes all served by the friendliest staff in the city.
When to Go
Best Time
Even if price is no object, it depends. If you're interested in seeing the Northern lights, the best time for a bachelor party in Iceland is during the winter months; if you are more interested in the lunar-like landscapes, geysers and glaciers surrounding Reykjavik and beyond, the summer months between June and August are your best bet.
On a Budget
Because summer is so short in Iceland (around 3 months) and the days are so long, the winter months are the best time for visits for budget-minded travelers.
Worst Time
Despite the increased opportunities to see the Northern lights, mid-winter is the worst time to visit Iceland due to the inclement weather conditions that limit travel outside the capital.
Current Weather
What Else
There are some other facts about Iceland that are important to know in advance, including the fact that the country Iceland uses 220v standard European outlets/plugs but U.S. currency is widely accepted. It is also important to point out that despite the reputation and while all Icelanders are friendly to a fault, Icelandic women are not "loose" and should be treated with respect.
Big Events
Winter Lights Festival (February) This festival celebrates both the winter world and the growing light after a long period of darkness. The festival is a combination of art and industry, environment, history, sports and culture.
Reykjavík International Games (January-February) Athletes from all over the world participate in these international games in a variety of sporting events.
Icelandic Beer Festival (end of February) This 4-day festival features the best of Icelandic breweries as well as Danish and North American beers.
Items to Pack
You'll want to make sure to document your bachelor party adventures and escapades for a photo album memento of your trip to Iceland so be sure to pack at least one digital camera besides your cell phone.
In addition, although summer days are usually mild, be sure to take plenty of warm clothes (including a fleece-lined coat, gloves, a hat and thick socks!) and appropriate footwear in case you want to explore the glaciers. If your hotel has an indoor pool or a hot tub, you might want to pack some swimwear.
Itinerary
The days are longer during the summer months so your daily itinerary will depend in part on the time of your visit, but a representative itinerary for your first full day in Iceland might look something like this:
10:30 a.m. – 11:30 a.m.: Brunch at The Laundromat Café (try the "dirthy eggs")
11:30 a.m. – 3:30 p.m.: Relaxing visit to the Blue Lagoon Spa where you and your bachelor party friends can enjoy the steam and sauna baths and manmade waterfall (there may be a wait on busy days)
3:30 p.m. – 5:15 p.m.: Return to hotel for a brief siesta before hitting the town.
5:15 p.m. – 10:00 p.m.: Bar-hopping adventure along Laugavegur and adjoining streets.
10:00 p.m. – ?: Bachelor party blowout at Shooters Coyote Club.
Extracurricular Activities
Although reports from the field indicate that cannabis, cocaine and Ecstasy are available, illicit drug offenses, including even possession of small amounts of marijuana, are seriously punished in Iceland.
Forum
Have any reviews, feedback, recommendations for other bachelor parties that may be headed to Iceland?  Post them in our Iceland Bachelor Party forum or in the comments below.  We want to provide the most up-to-date information on this destination so that members of this community can plan the ultimate bash.
Trip Tips
Remember that Iceland has their own currency which is called the "Icelandic Krona".  Although there are some establishments that will accept U.S. dollars and other foreign currencies (especially in the Reykjavik area), you should still carry some money in the local currency.  It will be easy to exchange your money at the airport, local bank, or hotel.
It just makes good sense to protect your Icelandic bachelor party investments by purchasing travel insurance against potential losses, including unexpected cancellations, medical expenses abroad, lost luggage and exigencies that require cutting your visit short – in other words, all of the things that can spoil an otherwise perfectly planned bachelor party.
If you decide on Iceland, you will need a valid passport for your departure and arrival.  If you are running out of time, we recommend using the express passport service from fastport passport for both new passports and to renew an expired passport.  They can mail your new or renewed passport the next business day (1 day service) for $399.00.
Why Go
Although it has one of the world's smallest national populations of just 334,000 people, the tourism industry in Iceland in booming and the country's literacy and longevity rates are among the best in the world.
Further, Iceland is a geological hotspot that has accounted for fully 33% of all of the lava that has erupted on the earth over the past 5 centuries.
The people are friendly, American money is widely accepted and U.S. visitors don't need a tourist visa or vaccinations for stays of 90 days. Finally, Iceland has one of the lowest crime rates in the world and besides the occasional pickpocket, you and your bachelor party friends can freely roam the city and country in complete safety.
Star Rating
On a scale from one to five, Iceland receives an overall score 4.0 for a memorable bachelor party destination.
Conclusion
When you were thinking about possible destinations for a bachelor party, you probably didn't even think about Iceland. We hope that the information presented above has provided you with some fresh ideas about your venue, especially if you're looking for something besides the traditional "Hangover"-esque bachelor party.
In fact, if the groom is a geologist or volcanologist, you couldn't pick a better place for his bachelor party but anyone will likely enjoy the experience of visiting this small but culturally vibrant country of a third of a million friendly people.
While the prices in Iceland are not cheap, they are comparable to New York but even here, visitors tend to receive far better value for the money they spend in Iceland with no cover charges in the bars, spacious accommodations (many with extra amenities at no additional charge) and generous food portions everywhere.