Plan the Perfect Bachelorette Party in Dallas (2023 Guide)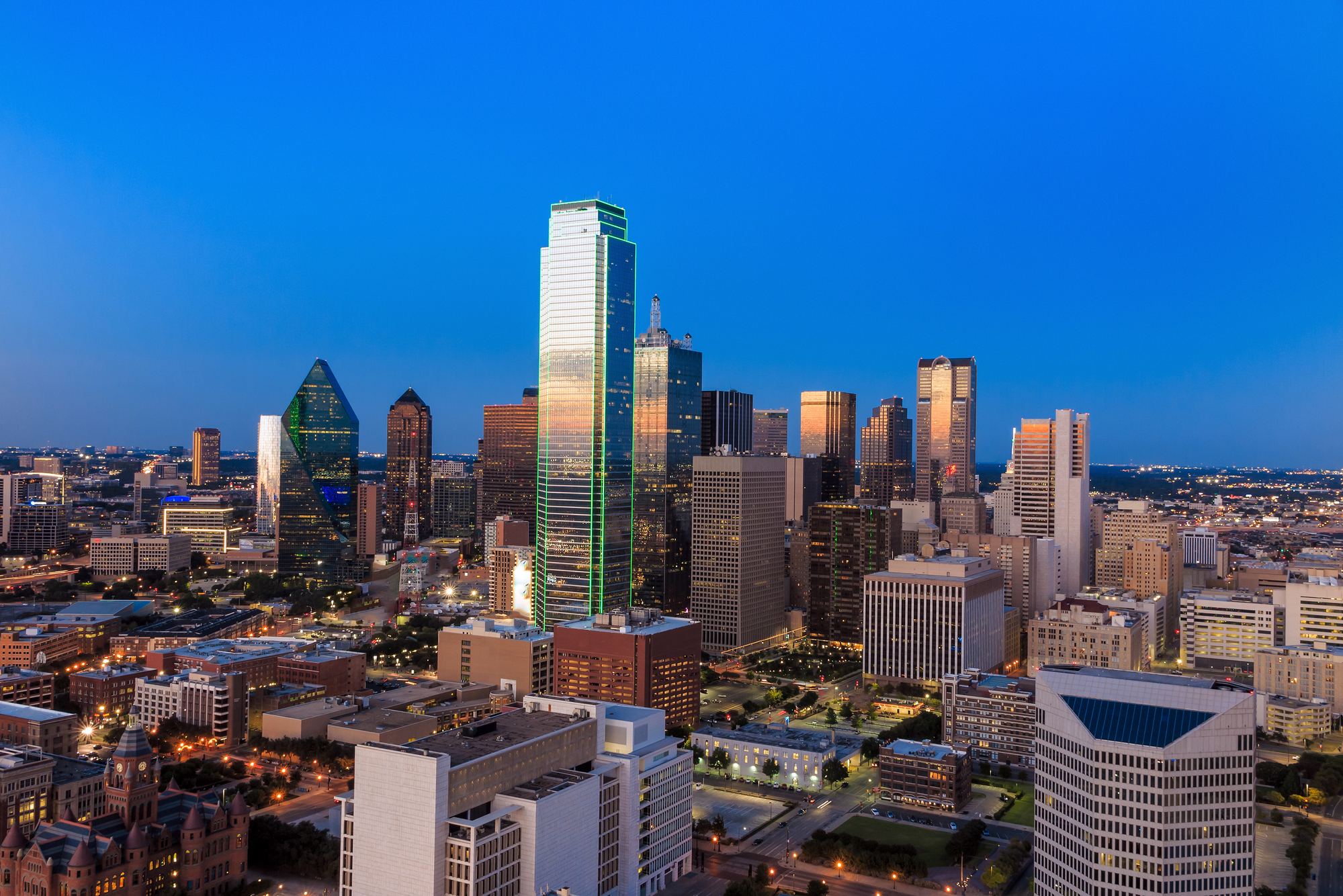 This post may contains references to products from one or more of our advertisers. We may receive compensation when you click on links to those products or services. Please also consider
donating to our website.
Everything is bigger in Texas and Dallas has a reputation for being the biggest, boldest city in a state that prides itself on being big and bold. That makes it a great spot for a bachelorette party, whether you are traveling from other parts of Texas or headed in from nearby spots in Oklahoma, Louisiana, or Arkansas. In fact, Dallas has so much to offer to visitors that you might even consider it as your destination wedding spot if you are not a local. With two large airports serving Dallas, Fort Worth, and the surrounding metroplex area, it is surprisingly easy to get to Dallas, making it a wonderful central bachelorette party location.
When you think of Dallas, you may think of cowboys, honky tonks, and sprawling ranches. While you can find plenty of those in Dallas and the surrounding areas, Dallas is actually a thriving metropolitan area. You can go to amazing museums, eat at some of the country's best restaurants, and enjoy some amazing shopping all in Dallas. You can also hit an amusement park, take in a game, and enjoy the great outdoors.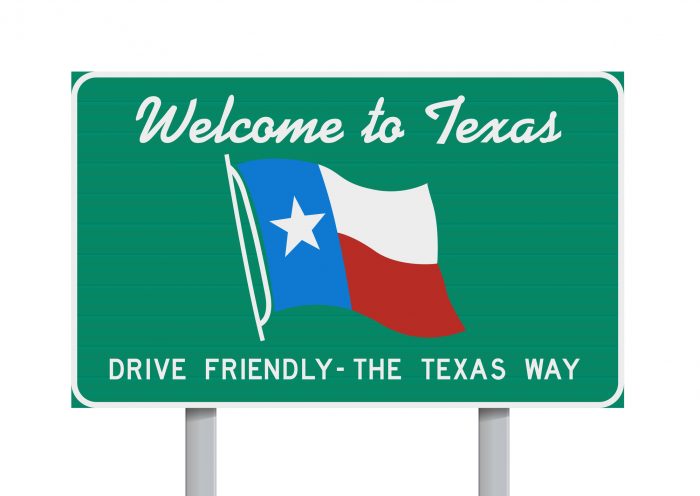 How to Get There
Located in the northeast of Texas, Dallas is actually centrally located for much of the United States, making it an interesting destination for a road trip. If you have a few days, the road trip might be well worth it, and Dallas is an easy ride from almost anywhere in Texas, most of Louisiana, Arkansas, Oklahoma, and even New Mexico. However, if you want to travel a little more quickly, you can find some other transportation options. Flying is probably the most frequently selected option, but if you live in another Texas city, you might want to look into bus service. For example, you can catch a ride on a pretty nice bus from Houston to Dallas for about $12 each way.
Airport
There are two major airports that service Dallas and the surrounding area: Dallas Fort Worth International Airport (airport code:  DFW) and Dallas Love Field (airport code:  DAL). Where you fly into depends on a number of factors, including where you are staying. The airports are located in different parts of the metroplex and not all airlines fly into both airports. If you are flying Southwest Airlines, you will be heading into Love Field, while other airlines may fly into either airport. Because the area is large, it is difficult to say how far the airports will be from your final destination, but, given city traffic, you might want to plan an hour to get from the airport to your final destination. How are you going to get there? Well, Dallas is a driving city, so you might want to rent a car. If you do not plan to rent a car, you can book a limo or luxury van to take you from the airport to your hotel or rental home. Addison Express offers luxury rides to and from the airport, as well as to other destinations in the metroplex. More of a fan of rideshare? No problem, Uber and Lyft both service Dallas. You can even use our referral code for a reduced price or free first ride.
Getting Around
If you have not been to a big city in Texas, then you may not realize what we mean when we say that Dallas is a commuter city. Unlike other large cities, there was plenty of space for sprawl when Dallas and Fort Worth were being built and developed, and sprawl they did. If you have very localized plans, you may get a limo to and from the airport to your hotel or rental home and just book transportation to any big events. However, if you plan on moving around the city, then you are probably going to want to rent a car. Enterprise offers airport and non-airport car rental agencies; you can also find almost every other national car rental chain somewhere in Dallas.
Things to Do
Dallas is a vibrant city full of many things to do. However, Dallas is probably not going to be your sole destination if you are planning a Dallas bachelorette party. You might want to include nearby Fort Worth or one of the many bedroom communities that you can find between Dallas and Fort Worth or in the surrounding area. Including all of those areas, there is so much to do that it is impossible to describe it all. If you are not from Texas, we suggest you spend at least some of your time playing cowgirl; Fort Worth earned its Cow Town nickname and has plenty to offer those who want to learn about both historical and modern cowboy life. However, if you are coming in from the farm or ranch, then you probably want to stick to the sophisticated cool that you will find in Dallas, itself. In this guide, we are going to provide you with an overview of some of our favorite things to do while in DFW, but we want you to keep in mind that the area is so large and so full of variety that it is impossible for us to cover everything. If you think you might want to try it, you can probably find it in Dallas.
Daytime Activity Ideas
Dallas is outdoor perfect for most of the year. Spring hits Texas early, and while the weather might hold a bit of a crisp chill in the early part of spring or the later part of fall, you can do outdoor activities anytime from late February through November. You might encounter some actual winter weather from December through February, which will be mild if you are coming from colder climates, but will shut down outdoor activities in a way that it would not in colder states. If you are not used to the Texas heat, then you might want to think twice about scheduling outdoor activities in the high heat of Texas summer, which occurs from late July through the whole month of August. It is not unusual to find daytime highs in the 100s, and, even though Dallas is not very humid, the heat can be overwhelming for people who are not used to it.
Love thrills and adventure? Then consider heading to Six Flags over Texas or its affiliated waterpark Hurricane Harbor. Both are located in Arlington, one of the many cities in the DFW metroplex. Six Flags may not be able to compare to the experience of a Disney or Universal park, but is a full-service theme park with all of the expected thrills and chills. It is also significantly less expensive than one of the big parks. The water park may be the biggest draw, offering a great way to spend a hot summer day, enjoying the outdoors while still beating the heat.
Looking for a more grown-up, but not necessarily more sophisticated way to beat the Texas heat? Consider renting a boat and heading over the Party Cove in Lake Lewisville. Located near Westlake Park, this location in Lake Lewisville is where people go to park their boats, play party music, swim, play, and day-drink. Every weekend during the season it is full of people just looking to have a good time. You can rent a boat and head over there or hire a party barge that stops off in the area. Be prepared to mix and mingle; people often go visiting at other boats and while you will meet plenty of strangers when you get there, you will leave with dozens of new friends!
Are you ready to cowboy up? Looking for a new extreme sport experience? Then consider bull riding school. At Bad Dog Rodeo, you can schedule a multi-day bull riding class with a bull riding expert. Not for the faint of heart, this is not like riding a mechanical bull in a park, but a real hands-on experience with the kind of bucking bulls you see in the big rodeos. If riding the bulls seems a little extreme, but you still want to experience a little of cowboy life, head over on Sundays at 3pm and watch their buckout contests, where cowboys come to show off their skills and get a chance at winning a little prize money.
Looking for a more relaxing way to spend the day? Consider hitting up a day spa. Dallas is the place where wealthy Texas socialites go to play and you can find almost any type of spa experience you want to find somewhere in the city. That can make it hard to narrow down the choices and pick the best day spa experience. We like Spa Nordstrom for a bachelorette party experience. This full-service luxury spa has pampering down to an art form and you can spend hours or even an entire day getting buffed, polished, and massaged.
Are you and your girlfriends shopaholics? Then you are in luck, because there are so many places to shop in Dallas. Northpark Center is one of the best malls in the Dallas area and offers the type of high-end shopping that you cannot find just anywhere. Anchored by four of the major department stores, Neiman Marcus, Macy's, Nordstrom's, and Dillard's, this mall also features luxury shops like Kate Spade, Versace, Gucci, Tiffany and Co., as well as mall staples like Victoria's Secret and Bath & Body Works.
Thinking about a drag brunch? Illusions operates in both Arlington and Fort Worth, giving you plenty of options if you want to enjoy top-quality celebrity impersonations in a sassy and irreverent drag atmosphere.
If your group of bachelorette guests does not know each other very well, then a team-building activity might be just the right way to start off your bachelorette party festivities. One of our favorites is an escape room. Like any big city, Dallas has its share of escape rooms, and the quality can vary tremendously, from top notch to so-so. The Escape Game is one of the most highly rated escape rooms in the city, offering a variety of different rooms, and a 60 minute challenge.
Learn a little about Texas and get a luxury ranch experience by heading out to Graham and visit the Wild Catter Ranch. This small town, located a couple of hours outside of Dallas, may not be a normal tourist destination, but take the ride and you find yourself transported to a place that might seem like a whole different world, especially if you are used to the hustle and bustle of city life. Plan a trail ride, clay shooting, archery lessons, or just hang out in the hot tub.
Lone Star Park, a high-end horse track located in the DFW metro area, can help you capture all of the magic of a Derby bachelorette party at a teensy fraction of what it would cost to go to the actual Derby.   They have two live racing seasons a year- thoroughbreds and quarter horses and feature simulcast racing when live races are not in session.
Their Penthouse Suite experiences are fabulous for bachelorette parties.  For $115 per person, you get unlimited wine, beer, soda, or call drinks, an unlimited buffet, appetizers on arrival, and a personal bartender.  All of this is in your penthouse suite, which is luxuriously appointed, has an in-suite self-service wagering machine, and its own private balcony to watch the races.
So, pick out your big hats, wear your nice dresses, and throw that bride the most memorable Dash Before the Big Bash she could ever want!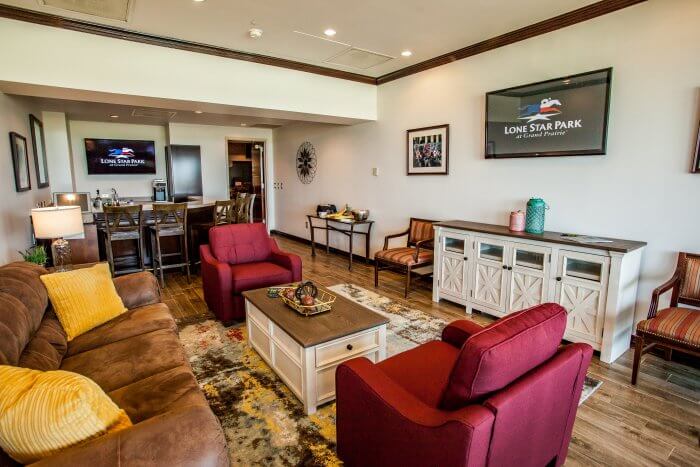 Nightlife Activity Ideas
The Dallas nightlife scene might best be described as eclectic. You can find a huge range of activities in the town, and what you do depends a lot on your personal tastes.
Looking for live music? Then consider hitting one of Gas Monkey's two locations. Both feature live acts, and offer you a taste of the Texas live music scene. While Dallas may not have the same reputation for live music as Austin, you can find a diverse selection of locally grown bands with surprising talent and a unique Texas flair.
Looking for an iconic Texas honky tonk? Then head over to Fort Worth and visit Billy Bob's Texas. They feature live music, dancing, a dose of history, and even live bull riding. Yes, the place is a little cheesy and over-the-top, but that is part of what makes it so much fun.
Want a little Latin flair in your nightclub? Then head over to Escapade 2001. This huge dance club is known for its consistently Latin dance favorites, including ranchera, cumbia, and tribal dance music.
Park Avenue Dallas is the place to go if you are looking for an upscale nightclub experience. Think hot DJs playing the latest music, hand-crafted cocktails, and even happy hour buffets of artisanal foods.
We like the feel of The Nines, with its rooftop bar, multiple dance floors, and DJ driven dance music. This is not the most upscale of clubs, though it does have a distinct nightclub vibe.
Not really a nightclub kind of group? One of our favorite bachelorette party activities is a ghost tour. Nightly Spirits offers a Dallas pub crawl ghost tour that offers you a historical tour of the city, some entertaining ghost stories, and entrée into some of the city's neatest little pubs. It is a great way to learn more about the city and get your drink on without the hyperintensive atmosphere of the typical dance club.
Hire the Dallas Party Bike and plan your own bar crawl. This tour lets you use your own pedal power to get to some of the city's best loved Deep Ellum bars and pubs. This is a great way to do a bar crawl, because you do not have to worry about transportation or a designated driver. Think it will be too much work? Have no fear; if you get tired, the multi-person bike has a motor that can boost your efforts or replace you entirely!
Bars
We love a rooftop cocktail lounge, and the swanky SODA Bar and the companion Gallery Rooftop Lounge, both located in the artsy, yet upscale, Canvas Hotel, are in our opinions, among the best in Dallas.
It is impossible to escape history in Dallas, so go someplace that at least nods at it. Lee Harvey's, may have a retro hipster vibe, but this 50-year old bar's classic watering hole feel is genuine, not manufactured. They also have a pretty varied bar menu, making it a decent place to grab dinner, and their bar food is surprisingly vegetarian-friendly. Yes, it is a dive bar, but sometimes a dive bar is exactly what your night needs!
Are you a serious drinker? We do not mean like a borderline alcoholic, but someone who really enjoys a well-crafted drink, created by a master bartender? Then, you must get to Midnight Rambler. This bar has long had a reputation for crafting the city's most intricate cocktails, so if high-quality craft cocktails are your thing, this is the bar for you.
Normally, we are not really hotel-bar kind of people, but the Mansion Bar is enough to change our minds. We love the 60s vibe of this bar; it makes it seem like Frank and Dino are about to hit the stage or like we are on the set of Mad Men. The drinks are great, too.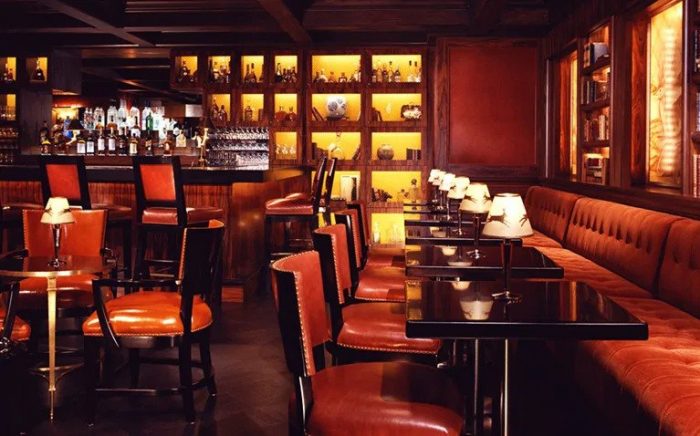 Male Reviews/ Male Strip Clubs
If you have been looking for destination bachelorette locations, you may have already noticed that it can be difficult to find a city with a dedicated male revue. Dallas has you covered. La Bare strip club has been offering a Las Vegas style male burlesque performance in Dallas for years. Their dancers do not just take it off; they put on a whole show and they specialize in special occasions like bachelorette parties.
Want to have your entertainment come to you instead? No problem. Dallas has a number of adult entertainment services that will send dancers to your party. We like Nationwide Strippers; they are so convinced that they have the hottest dancers around that if you do not like how your entertainer looks, they offer a full refund!
Where to Eat
You may not think of Dallas when you think of the country's best foodie cities, but Dallas has a diverse and delicious foodie scene that places a lot of emphasis on local sourcing and farm-to-table approaches. You can find great food at any price point in the Dallas area, and you will find an emphasis on Tex-Mex food that may seem confusing until you taste some and realize that this original fusion cuisine is some of the best food America has to offer.
Breakfast / Lunch/ Brunch
BuzzBrews Kitchen has a reputation for offering some of the best, simple coffee and breakfasts in the area. We suggest starting with the blazing juevos, a Tex Mex take on eggs sunnyside up, and then finishing up with their chocolate shake. No plain ice cream beverage, their take on the chocolate shake starts with a slice of Kahlua bundt cake, which is then blended with cream, chocolate sauce, and ice. It is crazy delicious.
Ironically, one of our favorite places for lunch in Dallas is a place called Houston's. This restaurant is actually part of a local Texas chain, and is known for its upscale interiors and dress code. It feels a little like visiting an old-school country club, and their menu reminds us that as well. We strongly, and we mean strongly, recommend the spinach and artichoke dip and the club salad with their signature buttermilk garlic salad dressing. This dressing is so good that you will want to have it on everything!
Do you go to the Iron Cactus for their food or for their margaritas? Thank goodness you do not have to choose; you can enjoy both in a laid-back, casual atmosphere. We love their Sunday brunches, which feature an all-you-can eat smorgasborg of your brunch favorites like waffles, bacon, salads, omelets, fruit, desserts, and even a carving station. Craving Tex-Mex? No problem, you will also find juevos rancheros, enchiladas, fajitas, and migas. Do not forget to try their margaritas. It is hard to say that any place has the best margaritas in the world, though we are doing our best to try them all so that we can compare, but Iron Cactus makes a damn good margarita. They have over 30 types of tequila, fresh herbs, fresh syrups, and fresh juices, that they use to create some amazing signature drinks.
If you are looking for a truly upscale brunch experience, then you are going to want to visit Boulevardier. This French-inspired restaurant is all about the full experience, so diners are expected to dress and behave accordingly. In other words, this is not your typical boozy bachelorette brunch spot. That said, they offer some of the most divine, intricate, well-crafted brunch selections you will find anywhere in the world. We could eat the house-cured lox Benedict every morning and never get tired of it!
If you are from outside of Texas and you are looking for some of that Tex-Mex food everyone keeps talking about, then you might want to hit a chain that is Texas famous but has not really made it too far out of the Friendship State. We are talking about Pappasitos. This chain is known for turning out consistent, high-quality Tex-Mex fare and has a well-trained wait staff that will happily meet all of your needs. The restaurants are notoriously loud and rowdy, so this is not the place for that quiet and sedate bachelorette meal. However, if you want to enjoy Tex Mex and margaritas, you would be hard to find a better location. All of their food is delicious, but we recommend you get some type of fajitas. We are partial to beef, but all of their fajitas are absolutely delicious. Not really a fajita person? Try their shrimp diablo or their agujas, a lightly seasoned Tex-Mex baby back rib.
Are we really sending you to a truck stop diner chain for lunch? Yes, yes we are. Mama's Daughter's flagship Dallas location has some of the best Southern home cooking you will find at any restaurant anywhere. Now, this is not healthy food and it is not going to offer any gourmet options, but if you are looking for a delicious chicken-fried steak, and some home-cooking type sides, this is the place. Follow it up with one of their fried pies; any flavor will delight you.
Dinner
Do you want a truly unique dining experience? Then you need to book a private table in the back room at the Revolver Taco Lounge. There, you will get an eight-course chef-created menu of Tex-Mex favorites with an artisanal twist. Son Regino Rojas, a James Beard Award semi-finalist, and his mother Juanita Rojas, the one who taught him how to cook, will prepare a dinner for up to 14 people that takes you on a tour of classic Mexican food and incorporates the new and the cutting edge in the culinary world. We highly recommend booking this dinner; it is an opportunity you will not find anywhere else.
With no water in site, you probably do not think of seafood when you think of dining in Dallas. However, if you visit Tei-An, you not only get exquisite Japanese food and house made soba noodles, but also fresh seafood flown in from Japan daily. This is not your typical Japanese steakhouse, so be prepared to try some dishes that may be a little unusual for you. With a constantly evolving daily menu, we cannot tell you what to order, but we can tell you that the soba noodles will probably be the best and the freshest you will find outside of Japan! Also, save room for the black sesame mousse; though the dessert may sound strange, it has an almost cult-like following.
Everyone loves Italian food, but it is actually not normally one of our favorites. That said, one of Dallas's most beloved restaurants is Lucia, a rustic Italian restaurant with an emphasis on high-quality, hand-crafted Italian food. Because of the emphasis on freshness, the menu changes seasonally and may even change daily, but you definitely want to try some of their handmade pasta. The difference in handmade pasta and what you get almost anywhere else is indescribable.
It is hard to describe Bullion. Know that the name refers to the bar of gold, not a classic broth; this gold theme is reflected in the over-the-top décor. It looks like something decorated by Trump, and most people have an opinion, good or bad, about that. Friday is lobster day in terms of their daily menus, and that is when we recommend hitting this sought-after eatery because their lobster is perfectly prepared, making it one of the most divine meals you will ever eat.
Where to Stay
We know we have said it a lot in this article, but the Dallas area is huge. Where you stay is going to depend a lot on what type of activities you have planned. You might choose a central location that makes it easy to travel to all of your activities or choose a location that is close to some of the things you want to do, cutting down on your travel time. You also have plenty of options in terms of where you stay. Dallas has hotels in all price ranges, as well as a variety of rental homes where you can book your stay.
Hotels and Resorts
Is a hotel or resort the right pick for your group? If pampering, a concierge, room service, and maid service are must-haves, then going the traditional hotel route may be the best bet for your bachelorette party group.
We love Hotel Zaza. It gives you everything you love about a boutique hotel without ever scrimping on luxury. Plus, it has a pool that throws some epic pool parties, just on a smaller, boutique scale. This combination makes it the ultimate place for bachelorette party stays.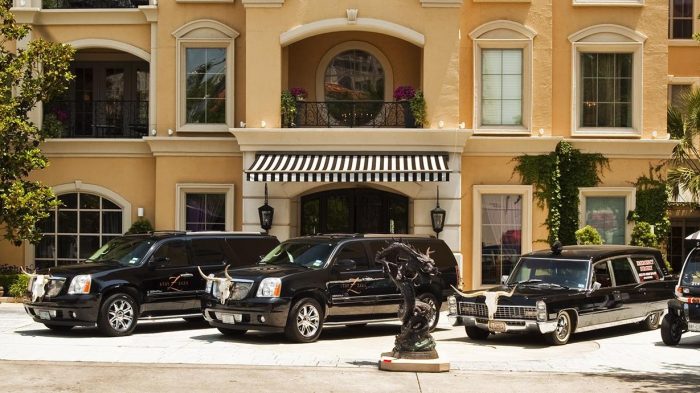 If you are looking for the full luxury experience, consider staying at the Dallas Ritz-Carlton. Sure, the rooms are more expensive than in almost any other hotel in the area, but everything about the hotel is top-notch, including their on-site spa facilities. You could literally have the entire bachelorette party at the hotel and still feel like you were getting a complete luxury experience!
While the Warwick Melrose may be less expensive than our other featured hotels, its historic buildings, ideal location, and commitment to customer service will make it seem like a far more expensive hotel than it actually is.

Hotels Available in Dallas
Rental Houses
Is a rental house the right route for your bachelorette party? While rental homes may not come with the same list of daily amenities that you will find at a hotel or a resort (most do not have daily made service), they do offer privacy and plenty of space for socializing, which can get awkward in a traditional hotel setting. They are also a great budget option; not only are rental homes generally much cheaper per person than hotel rooms, but they also open up the option of preparing some meals at the house. You can realistically cut your travel costs in half by choosing the rental home option. In addition, finding a great rental home is no longer the challenge it once was, since services like Airbnb and VRBO, let you check out houses online and read reviews from other renters. We even have a special link that will get you $40.00 off your first AirBnB reservation.
AirBnB
This Oaklawn Home is on a little gated lane, and it offers charm and a feeling of coziness for your bachelorette party group.
Looking for a farm experience? Consider this Hickory Creek Farm House. Large enough for parties of up to 10 guests, this farm house has a trail leading to a lake and over an acre of land for your party to enjoy the outside space and the gorgeous Texas skies.

Rental Homes Available in Dallas
VRBO
This Bishop Arts Manor offers you comfortable lodging in a great location, with plenty of room for even large parties. The pack porch, with its shady tree coverage, looks like the perfect place to unwind with a few glasses of wind and your best girlfriends!
Looking for a party home? Then this is the place for you. A private home with a pool and a game room, this house makes a great central party location, where you can spend time and enjoy each other's company but also have easy access to everything DFW has to offer.

Rental Homes Availables in Dallas
When to Go
Best Time
The best time to visit Dallas depends a lot on your personal preferences. We love Dallas in the late spring and in the fall, because the weather is great, there are no summer crowds, and there are some interesting seasonal festivals in the area.
On a Budget
Dallas in the summertime is also nice. If you are not used to the heat, it can be really challenging, but Texans do not let high temperatures stop them from having some fun.
Worst Time
Texas is not a winter-state, so you are going to find less to do if you visit during the winter. That said, the DFW area is huge and there is always a ton of stuff going on, so even visiting at the "worst" time to visit, you are still going to be surrounded by so many choices of activities.
Current Weather
What Else
Big Events
The State Fair of Texas is iconic. All around the state of Texas, you will find county fairs going on throughout the fall. The Texas State Fair, which is held September through October in Dallas, at the fairgrounds, is the culmination of all of these smaller county fairs. You will find award-winning animals, agricultural displays, amusement park rides, lots of shopping, and just about every fried food you can imagine.
Are you a bit of a hippie, but with a historical bent? If so, then Scarborough Faire, a Dallas-area Renaissance Festival, might be right up your alley. This festival, held weekends from early April through the end of May has all of your Renaissance Festival favorites, including jousting, comedy shows, combat shows, and plenty of food and drinks.
Dallas Blooms, an early spring flower festival, is one of the largest flower festivals in the United States. Although it is not your typical bachelorette-party destination, you would be hard pressed to find a more gorgeous and stunning display of natural beauty than at this yearly spring festival.
View all Event Tickets in Dallas
What to Pack
Like anywhere else, what you bring to Dallas is going to depend a lot on the time of year. Most of the year, we suggest you pack some cute shorts, a swimsuit or two, great sunglasses, plenty of anti-frizz products for your hair, and sunscreen. Because Dallas is a huge shopping mecca, if you forget something, you will undoubtedly be able to find it in Dallas.
Number one on our must-pack list is a pair of cute, versatile shoes that you can wear almost anywhere and with almost anything. These tan colored Avarca Pons are cute enough to wear with everything from shorts to sundresses, neutral so they match almost everything, and are like walking on clouds:
We love a sport sunscreen, because, even if you are not actually doing any sports, they stay on when you are sweating. That is great to keep in mind if you are going to be out in the late spring or summer heat!
Sample Itinerary
After a breakfast at Mama's Daughters, head over to Lake Lewisville and rent a party barge. Spend the day playing with like-minded folks at the Party Cove, then head back to your hotel to get ready for a night on the town. Tonight's theme is totally Texas, so put on your cowboy boots and your hat, and stop for the iconic Tex Mex dinner experience at one of the city's Pappasitos, then head into Fort Worth and enjoy the live music, dancing, and bull riding at Billy Bob's Texas. Want to round-out your late night with a different type of stud? Schedule a late-night La Bare bachelorette party experience. Just plan your transportation in advance; with a day that offers this many drinking opportunities, you are going to need a designated driver!
Bachelorette Party T-Shirts
Of course matching bachelorette party t-shirts are not required, and we know some groups really do not like them. However, we think that they are a cute, affordable keepsake that not only makes for some really adorbs bachelorette party pics, but can also help you stay together as a group if you are headed out for a wild night.
These Let's Crawl Y'all shirts are perfect for a Dallas bachelorette party bar crawl: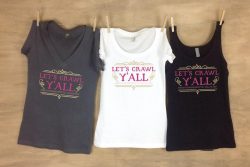 You might be whisky bent and hellbound, but the bride is veil bound: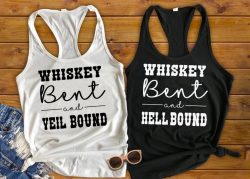 These boots are made for walking (down the aisle):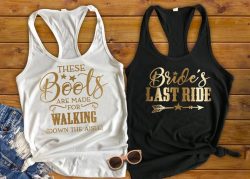 Hashtags
#DallasDilettantes
#BacheloretteBabesintheBigD
#DirtyDallasDivas
#It'sAPartyY'all
Travel Insurance
Do you need travel insurance? Well, do you like paying for something, having a bad thing occur, and losing all your money? If the answer to that question is yes, then, by all means, skip the travel insurance. If you are like the rest of us, careful about where you spend your pennies, and with a limited travel budget, then it makes sense to make a small investment in travel insurance to protect your larger investment in your trip. Of course, you may not actually need to purchase a separate policy. If you have a great travel credit card, anything you book on it may already be covered; just make sure to read the fine print so you understand what kind of coverage you have.
Why Go
We make no secret of the fact that we adore Texas and Dallas has everything there is to love about Texas and a little more. Because it is not considered a big party destination, you will always be able to find plenty of accommodations and get into restaurants, bars, and nightclubs. It has great weather most of the year, and the ability to deal with it (hello refrigerated air) when the temps get hotter-than-hell outside. Plus, Dallas is full of adorable cowboy butts, at least if you know where to look! The people are friendly, the food is great, and the location is affordable.
Star Rating
Dallas may not be on the top of anyone's radar for bachelorette party destinations, but it should be. It offers so many different things to do that there is literally something for everyone. Even more importantly, there is a little bit of everything for the bride who has no idea what kind of bachelorette party she wants. Where else can you spend a day learning how to ride bulls followed by an evening at a posh nightclub or eating a dinner prepared by a James Beard semi-finalist.
Conclusion
If you are from Texas, then you know that there is a hell of a rivalry between different Texas cities. We want to Keep Austin Weird, celebrate the diversity of Houston, enjoy the historic feel of San Antonio, and revel in the border flavors and sounds of El Paso. However, if you want a Texas city that offers you a little bit of everything the Lone Star State has to offer, then Dallas is the place to pick for your bachelorette party festivities!