Bachelorette Party Cruise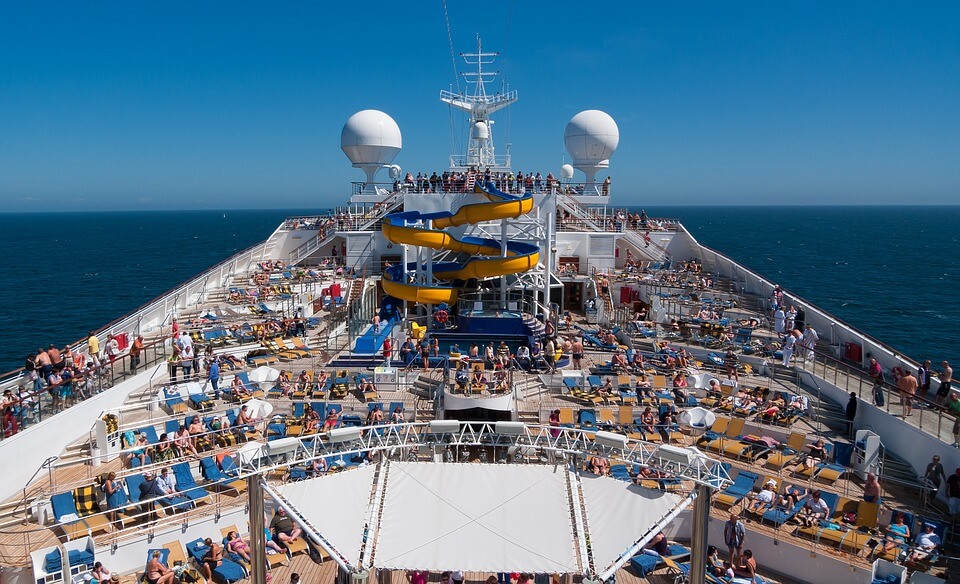 This post may contains references to products from one or more of our advertisers. We may receive compensation when you click on links to those products or services. Please also consider
donating to our website.
Looking for a great place for a destination bachelorette party?  Take our word for it and consider holding your bachelorette party on a cruise ship.  We are big fans of cruises as the ultimate vacation getaway and bachelorette party cruises take everything we love about cruising and magnify it by the number of guests we have!
Why Go?
Why do we love the idea of bachelorette party cruises?  Let us count the ways:
1.  They are affordable. If you are close to one of the numerous ports in the U.S. that are cruise departure points, then you can easily have a 3 to 5-day cruise somewhere in the $500 range, including open bar options. Even if you live far away from any ports, popular cruise departure points are located near major airports, making it pretty easy to find cheap flights.  It is difficult to find any other destination bachelorette party spot that is as affordable as a cruise.
2.  You pay in advance. While related to being affordable, this one is about two important things: money management and preserving friendships.  You pay for cruises on a set schedule, starting with your cruise deposit, and you can even pay for any excursions in advance.  This means that any financial tangles that come up from someone not paying her fair share happen in advance of the bachelorette party, eliminating a potential source of drama between the bachelorette party and the wedding.
3.  They help you exercise a little self-control. Yes, you are going to be able to eat and drink too much on a cruise.  However, you are slightly less likely to be doing body shots off of some bare-chested hunk on a cruise than you are in a popular bachelorette party destination.  You aren't going to wake up hungover with a new tattoo, because the ships don't have tattoo parlors.  So, if you tend to be a little too impulsive, a cruise is a good way to rein in some of your wild without having to settle for being mild.
4.  They don't have to be a lot of work. Sure, you can do some really neat things on cruise ships, like a bachelorette cruise scavenger hunt or book a spa day for all of the girls.  You can also plan nothing extra.  Call it a freestyle party and let the guests book their own excursions.  You just plan to hit the pool on days at sea, the beach at your destination, and have a frozen drink in your hand.  After all, whether you are the bride planning the party or the maid-of-honor, you are probably just about planned out.
5.  What's your thing? They probably have a cruise for it.  Are you and your girls big fans of HGTV?  They have cruises for that.  Are you a Tim McGraw fan?  You can see him in an intimate tiny concert on a cruise.  Love sci-fi and other nerdy stuff?  Multiple cruises for that.  Think that music festivals are the best things ever?  They have cruises for that, too.  So, if you and your friends have a significant common interest, check and see if there are cruises that let you explore them.
6.  You literally get away from it all. Most people don't have international calling plans on their phones.  This is a wonderful thing.  Take these few days to take a step back and get away from the world.  Your mother and your stepmother bought the same dress for the rehearsal dinner?  Not your problem; you're on a boat in the middle of the ocean and they will have to figure out that drama for themselves.
7.  You can't beat the destinations. While different cruises have different itineraries, these ports are chosen because they are consistently and reliably tourist-friendly, offering cruisers great vacation opportunities.  The most popular destination spots are in Mexico and the Caribbean, but you can find cruises heading to Alaska, Canada, Hawaii, and touring all over Europe.  If you are looking for the typical 3 to 5-day bachelorette party cruise, some of the most popular are:
Mexico bachelorette party cruises leaving from California, Texas, Louisiana, Alabama, and Florida ports. These bachelorette party Mexico cruises are a great inexpensive option if you are cruising out of Galveston.  You can have your bachelorette party on a Carnival Cruise if you leave from one of these destinations.
Bachelorette party cruises from Miami are almost always headed to exotic tropical destinations.  These destinations include the Eastern Caribbean, the Western Caribbean, Barbados, the Bahamas, and Bermuda.  Of course, the newest Miami cruise destination is Havana. Miami is the best point of departure if you and your girls like to party, because it has a higher concentration of party cruise lines than any other U.S. port.
Even if you live in the Northeast, bachelorette party cruises out of NYC can take you to the tropical waters of the Caribbean, though you may have to take a slightly longer cruise than southern departure points. A bachelorette NYC cruise offers the added advantage of a total change in environment; in just a few days of travel, you get to the top of the tropics.  This fun and sun adventure makes a cruise more than a bachelorette party boat in NYC.
Bachelorette party cruises from Seattle are not usually headed for warm, sandy beaches, but for some amazing sights and adventures in Alaska.  If you and your friends are travelers who want more than the typical beach vacation, these cruises might be for you.  Just expect to spend at least double what you'd spend on a Caribbean cruise of the same length.
8.  You have some flexibility with cruises. Look, we know not every bride is walking the aisle for the first time.  Maybe there are kids involved.  Maybe the bachelorette party for an older bride with some life behind her looks more like a family vacation.  This happens in real life.  Cruises, with their many options for childcare and entertainment, can give flexibility for the bride who can't travel solo or whose best girlfriends must travel with littles.  While we normally suggest avoiding Disney Cruises for bachelorette or bachelor parties, if you have to travel with kids, cough up the extra money for one of their cruises.
Departure Cities
Airport Codes
Unless you all live within driving distance of a port, you and your friends will probably need to arrange a flight to get to your departure city.  Here are the airport codes for the cities closest to some of the nation's ports with cruise departures.  Always make sure you use priceline.com for booking flights as they usually have the best prices and availability.
Mobile – MOB
Long Beach – LGB
Los Angeles – LAX
San Diego – SAN
San Francisco – SFO
Fort Lauderdale – FLL
Jacksonville – JAX
Miami – MIA
Port Canaveral – MLB, MCO, SFB
Tampa – TPA
Honolulu – HNL
New Orleans – MSY
Baltimore – BWI
Boston – BOS
Bayonne – EWR
New York City, New York – JFK, LGA, EWR
Portland – PDX
San Juan – SJU
Charleston – CHS
Galveston – IAH and HOU
St Thomas – STT
Norfolk – ORF
Seattle – SEA
Things to Do
Daytime Activity Ideas
At the risk of sounding boring, let us get it out of the way immediately; our favorite daytime activity on for a day at sea on a cruise is sitting by the pool, getting some sun, and drinking a delicious frozen drink while we talk.  The uninterrupted girlfriend time is just about irreplaceable.
However, if you're looking for some more exciting bachelorette party cruise ideas, then don't worry, we have them. Different ships have different amenities, but some of them have amazing onboard activities like flying bicycles, surfing, rock-climbing, zip-lining, indoor ice skating rinks, bowling, and skydiving.  Most cruises are going to have casinos.  Many offer movie theaters and spas, and lots of them have planned activities virtually all day long.  Pretty much the only way to get bored on a cruise is if you just lock yourself in your room and refuse to do anything.
Looking to plan a spa day?  Next to sitting in the sun and drinking, shared spa time is our favorite of all cruise bachelorette party ideas.  They are a great option for a day at sea, but you want to make your spa reservations ahead of time.
The real daytime fun on a cruise happens in the ports.  Every port is going to offer amazing excursion opportunities, but also the ability to just wander if you are a more adventurous traveler.  There's lots of shopping at every port, and you can do that just about anywhere without booking an excursion for it.  What types of excursions can you plan?  Animal encounters are popular, whether it is swimming with dolphins, whale watching encounters, or stingray experiences, these are a very popular option for many travelers.  You can enjoy almost any water sport while you're cruising, so whether you enjoy scuba, snorkeling, boating, jet skiing, or parasailing adventures, you can probably find an excursion to fit your fancy.  If you are into more extreme adventures, many locations will take you away from the coast to enjoy things like hiking and zip-lining.   While the tropical locations may have the sand and sun, the excursions on Alaska cruises are amazing.
Nightlife Activity Ideas
Nightlife on a cruise offers a greater amount of variety than you would expect.  You can check out the onboard entertainment options before you book your cruise, but they run the gamut from celebrity appearances to Broadway-style shows.  Have an interest?  See if a cruise matches it; there is something for everyone in theme cruises, even some popular bachelorette cruise themes. Carnival Live is well known for its celebrity guests, but other cruise lines are beginning to rival their celebrity guests.
Some people think women don't like to gamble.  We must know different women than they do.  We love to gamble and so do most of our friends.  Almost every cruise ship is going to have a casino on it.  Once your cruise ship hits international waters, you can gamble to your heart's content. We aren't just talking about slot machines; you can play blackjack, poker, and even games like bingo.
Pools aren't just for daytime fun on cruise ships; many cruise ships offer nighttime pool parties or even turn their pools into nightclubs.  These can be a lot of fun, and offer you the chance to party in an atmosphere wholly unlike anything you will find at home.  Want a quiet night?  That's when you slip over to the adult-only pool. Usually these sections aren't where people party-hardy, but where they retire for some quiet one-on-one.  You may have to fend off some amorous singles, but you'll get that lounge atmosphere in a luxe environment.
Of course, the real nightlife on a cruise is at the nightclubs.  The nightclub has become an important staple for cruises, so much so that even Disney cruises feature nightclubs.   These nightclubs are adult-only venues where you can get as wild as you want to get, without having to worry about a designated driver.   Some of our favorite cruise ship nightclubs include:
There are many reasons that Carnival bills itself as the fun ship, and their nightclubs are among the best of them.  Every Carnival ship has its own uniquely themed nightclub, ranging from the moon landing to Frankenstein's lab, which makes Carnival Cruise bachelorette party perfection.  Some of them feature our favorite of all cruise ship clubs,  Carnival's Havana Bar.  Mojitos and Latin dance music in an upscale atmosphere.  What's not to love?  Can't dance a salsa?  Never fear; chances are pretty good Carnival's jam-packed itinerary will include dance lessons.
What's better than South Beach?  South Beach on the ocean.  Royal Caribbean recreates the South Beach experience in its Club 20 venue.  Neon parties, go-go dancers, and some of the best DJ's in the biz make for the ultimate open-air party.  However, if Vegas is more your style than South Beach, we have to say that Bliss Lounges on Norwegian Cruise lines might be the way to go.
Are you a fan of Mad Men?  Want to step back in time and enjoy the swankiness of an old-fashioned supper club?  Then check out MSC Cruises's Galaxy Lounge Restaurant & Club.
Princess Cruise Lines does something interesting for its nightlife.  It operates a one-night club on its Regal Princess cruise, where it converts the top-deck pool into a dance party.  The one-night only atmosphere means that just about the whole ship turns out, but this neon party event is hard to beat.
 Male Reviews / Strippers
If you want to watch some hunks of beef take it all off, you are going to have to make those plans in your departure cities, because cruises don't feature male (or female) exotic dancers.  Some of our favorite clubs in some of the nation's most popular cruise departure cities are:
If your bachelorette party cruise leaves from Miami or Fort Lauderdale, then plan an extra night and go to Hunk-O-Mania.  The men are crazy-hot and they put on a great, entertaining show that is perfect for groups.  Ask them about South Beach bachelorette party packages to get the best deals.
Leaving from New Orleans?  The Big Easy has a history of adult entertainment and it is rightfully proud of that heritage.  Storyville played a role in the development of the art of burlesque, which lent itself to the development of male exotic dance.  The city is still well-represented.  Feeling a little timid?  Then start out safe with Hunk-O-Mania's Bourbon Street location.  In the mood for something a little wilder?  Of course, in New Orleans, even regular bars can turn into impromptu strip clubs; and it's no surprise that Magic Mike star Tatum Channing's joint Saints and Sinners, frequently features some of the best in the biz.
Where to Eat
Restaurants
What can we say about cruise food?  It is plentiful and it is delicious.  This is a good thing and a bad thing.  It is really easy to overeat on a cruise, with 24 hour buffets, casual dining restaurants everywhere, and some of the best fine-dining to be found in the world.  No matter how active you feel you are being, you probably aren't working off the calories.  On a short cruise, we say don't worry about it.  Enjoy your trip, but give yourself at least a couple of weeks between the bachelorette cruise and the wedding to take off the couple of extra pounds that probably came home with you!
One more tip; if you want to try one of the ship's high-end restaurants, check on their dining policies.  You may need to reserve it beforehand.  Some high-end restaurants are also not included in a ship's free dining plan.
Search all Available Cruises!
Recommended Cruises
The vast majority of cruises are bachelorette party friendly.  In fact, we would say all of them are, unless you and your friends intend to go absolutely buck-wild.  No cruise, even the biggest party cruises, are going to want you partying in your room, but you don't have to; they all have party spaces you can go to 24 hours.  However, while we think all cruises are great bachelorette party options, we do not think all cruises are created equal.  To us, the best bachelorette party cruises are:
For cruises out of New York City, we like Royal Caribbean's 5 day Bermuda cruise on the Anthem of the Seas.  What makes this cruise our pick for best cruise for a bachelorette party?
Honestly, it's the bumper cars.  We love them.  We also love that you actually get two days in King's Wharf, Bermuda.  If you haven't seen the pink sand beaches of Bermuda, then you need to go there.
The Norwegian Sky is considered by many to be the ultimate party ship, and we concede that it might be the best Miami bachelorette party cruise ship out there.  It travels out of Miami for three and four day cruises to the Bahamas and Cuba and the Bahamas. Why do people love it so much?  The open bar.  It is a party boat, but it's a nice party boat that goes to some awesome destinations.  Miami to Havana, anyone?
Speaking of party boats, Carnival is known for their fun ships.  We think the Carnival Vista is the ultimate Miami bachelorette party cruise.  It has flying bicycles.  Okay, so they are suspended from a track, but get on one and tell us you don't feel like you are flying.  Not in Texas, but want to give the ship a try?  Look for the Vista's Miami departure dates.
What if you are looking for a one-day experience?  Well, if you're in San Francisco, try Hornblower Cruises and Events and plan your ultra-luxe bachelorette party experience.  Are you a little wild, then take a hint from the guys and contact the San Francisco Sailing Company; as the ultimate bachelorette party boat in San Francisco, they will work with you to plan your ultimate party; as long as its legal, they don't care how raunchy you get.
Chicago doesn't have traditional ocean-going cruises, but massive Lake Michigan does offer plenty of bachelorette party cruise Chicago fun.  You can cruise Lake Michigan and the Chicago River on the party boat the Anita Dee or plan a bachelorette party dinner on and Odyssey Dinner Cruise.  While these are great options for a milder group, we actually think they could also work as bridal shower options.
New York is another city surrounded by water, making a NYC booze cruise bachelorette party a tempting option, if you can't get away for more than a day.
Cruising from Los Angeles?  You and your girlfriends can the best steal in the cruise business; Carnival's three-day Baja cruise, which starts out under $200 per person.  You can also choose a longer option; many of them include overnights in Cabo San Lucas.  We think it's the best bachelorette party cruise in California.
When to Go
Best Time
This really depends on your departure points, where you want to go, and your personal preferences.  In terms of location, the cruise ship companies are really good at optimizing destinations for their passengers, so if they are offering cruises to a destination at that time of year, you can probably assume the weather will be good.
The real question is how wild do you want to get?  Very wild?  Then, book a spring break cruise in the month of March.  Don't want to be surrounded by a bunch of drunk college kids?  Don't book a spring break cruise.
On a Budget
The cheapest times for cruises are going to be when kids are in school, so think of late spring, just before summer vacation starts, and early fall, just after kids go back to school.
Worst Time
Hurricane season would probably be the worst time to go but also will have the cheapest prices.  June 1 – Nov 30th is hurricane season which means you can expect more rain, choppy seas, rerouted destinations and more.  If you decide to book your bachelorette cruise during this time, you must make sure you also purchase travel insurance so you get your money back in the event weather restricts your travel plans.
What Else
Items to Pack
Stuff on the cruise will be overpriced, but you are almost certainly going to do some shopping onboard and in your destination cities.  Therefore, what to pack becomes a challenge.  Feminine hygiene products, birth control, pain killers, and hydration formulas are musts.  You should also pack seasickness meds; even if you don't get seasick, someone with you might.  You will also be told you can bring a certain amount of bottled water with you on your cruise; bring as much as they let you bring, because you want to stay hydrated and water is harder to find on a cruise than other drinks.
What else should you bring?  Are you going to make the bride run around in a sash and suck on penis-shaped lollipops?  If you want any props like that, you will want to bring them with you. Amazon is our go-to for bachelorette-themed party supplies.
What bride doesn't want a tiara?
 Big Events
You might think that cruises don't have big events, but as theme cruises get increasingly more popular, the big event offerings expand.  We are going to break these events into two broad groups: nerdvana and party girl.
Are you a happy little nerd with happy little nerd fans?  We know the cruise for you.  The JoCo Cruise is the most famous nerd cruise extravaganza and is the perfect cruise for people who know you can love to party and still be a nerd. Are you a cosplay nerd?    Fan2Sea cruises are like a combination of comic con and cruise.
If you want a straight-up party, then you need to check out a music festival cruise.   Holy Ship is the holy grail of music festival cruises, but the Groove Cruise, the Groove Cruise L.A., Inception at Sea, Shipsomnia, and It's the Ship are all fast- developing reputations as the ultimate music party destinations.  The downside?  These cruises are pricey and they book well in advance.
Other Tips
The biggest pitfall for first time cruisers is the possibility that you will get seasick.  Being unprepared to handle motion sickness can absolutely ruin your trip.  You can minimize your risk by booking a mid-ship room near the water line.  You also want to get plenty of fresh air and lots of sleep.  Use medications or anti-nausea devices to help manage any symptoms.  Don't hesitate to consult with the ship's doctor is you can't get motion sickness under control; it is manageable and there is no reason to spend your trip feeling miserable.
Prices
The best part about cruise entertainment is that you know what you're going to pay ahead of time.  In fact, you are usually going to have already paid for it, even with excursions; just make sure and bring cash for tips.  If you and your friends are moderate drinkers, buying an unlimited alcohol pass will easily pay for itself.  It also takes away some of the stress of having to consider expenses while you're on the cruise.
Bachelorette Party Cruise Forum
Still looking for information before you sail away with the ladies?  Post any questions you have to our forum and either another member or our staff will respond.
Why Go
Star Rating
Conclusion
In conclusion, we love cruises and we think they are perfectly tailored to bachelorette parties.  Fun in the sun with your girlfriends in an all-inclusive environment.  What could be better?  The bachelorette cruise deals you can find; cruises always run specials and you may be able to find packages for multiple guests that basically result in people paying half-price.  You also want to look into bachelorette cruise packages, such as open bar drink packages, which can result in tremendous savings.