Plan Your Bachelor Party in Chicago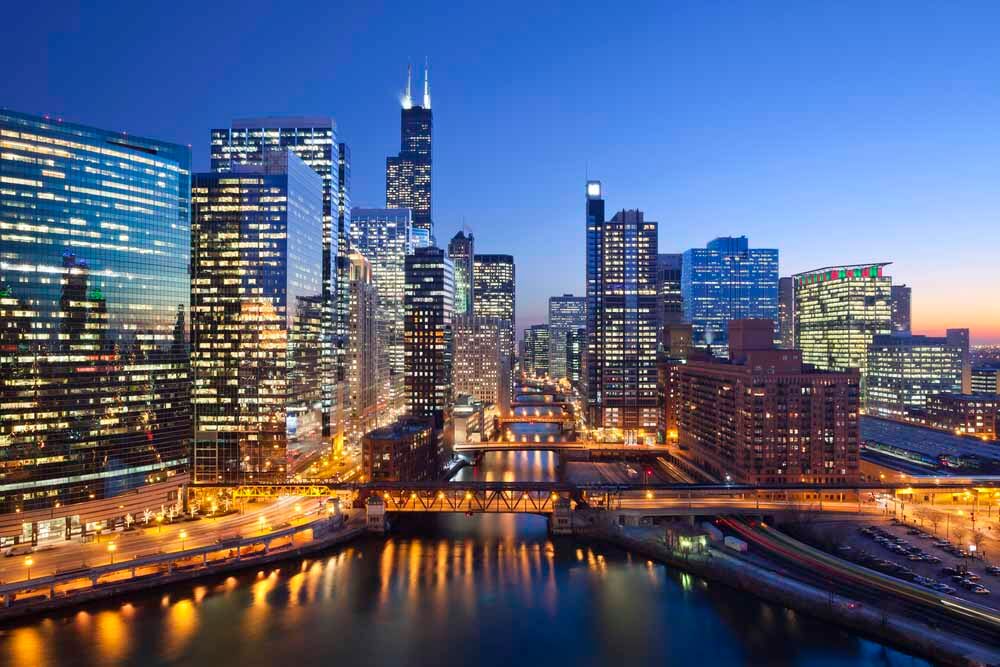 This post may contains references to products from one or more of our advertisers. We may receive compensation when you click on links to those products or services. Please also consider
donating to our website.
About Chicago
With more than 2.7 million residents, the "Windy City"* is the country's third-largest city in population, and "Chicagoland" (the Chicago metropolitan area) comprises almost 10 million people. Chicago's spectacular architecture, professional sports teams, and numerous travel and tourism destinations together with its long and colorful history make it a destination to consider for your bachelor party.
*Although it is frequently windy in Chicago, the name refers to the city's early, long winded politicians (some wags suggest the name is still applicable for this very reason).
Located on Lake Michigan, Chicago was incorporated in 1837 and boasts a wide array of historic landmarks, dining, entertainment, accommodations and recreational activities that will make a bachelor party the memorable occasion you want and deserve. With so much to choose from, though, selecting the optimal blend of daytime and nightlife activities is challenging, especially for those who are unfamiliar with the city or who haven't planned a bachelor party in the past.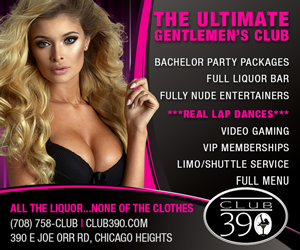 To help guide the process, this article provides a comprehensive description of the best places to stay, eat, drink and otherwise recreate for a bachelor party in Chicago, as well as some useful tips concerning the best times for a bachelor party depending on any budget restrictions. Finally, we offer some timely information concerning recent and current crime in Chicago and how you and your friends can remain safe during your bachelor party as well as the status of marijuana laws in Illinois and where you can buy it in Chicago.
How To Get There
Once you decided on Chicago as the spot for your bachelor party, the first step should be purchasing flights to the Windy City.  This is the only cost that tends to fluctuate the most.  When Choosing an airport to fly into, you would want to pick either Chicago O'Hare International (airport code: ORD) or Midway International Airport (airport code: MDW).  Prices tend to be cheaper at Midway as it's not as large of an airport as O'Hare.  If you are in surrounding states it may make more sense to take a road trip.  Chicago is about a 3-hour ride from Indianapolis, 4 1/2 hours from Michigan, 5 1/2 hours from Ohio.
Lookup Flight Prices to Chicago
Things to Do
Daytime Activity Ideas
Skydeck Chicago – Willis Tower
233 South Wacker Drive (entrance on Jackson Blvd)
Chicago, IL 60606-7147
312-875-9447
9 a.m. – 10 p.m. daily
For only $25, you can literally step outside the tallest building in the Western hemisphere and gaze down at the Windy City and four surrounding states below from 1,353 feet from "The Ledge," a glass-enclosed balcony that extends from the 103rd floor of the Willis Tower. The 99th floor is available for bachelor parties and other events. A food and beverage package is also available for groups making reservations in advance. Double-dare ya to go first …
Hop-On Hop-Off Trolley & Double-Decker Bus Tour
Sheraton Grand Chicago
301 East North Water Street
Chicago, IL 60606 (multiple pick-up points along the route)
Enjoy visiting more than a dozen famous landmarks of the Windy City by trolley and/or double-decker buses with five separate routes that allow you and your friends to customize your trip at your own pace. Photo ops abound with the double-decker buses during your visits to famous landmarks such as Millennium Park, Navy Pier and the spectacular architecture along the Magnificent Mile for only $37 per adult.
Two locations:
400 East Monroe
Chicago, IL 60601 and
Hut Riverside Dock
355 East Riverwalk South
Chicago, IL 60601
312-600-8454
With party boats that can accommodate up to 90 people, Island Party Boat is well equipped to provide you and your bachelor party guests with exciting daytime cruises along the Chicago River and the Lake Front where the cityscape is up-close and personal. Besides luxury power and catamarans, this firm also offers sailing experiences and fully equipped Polynesian-themed party boats. Each party boat comes complete with a waterslide and features bar service in the main cabin. Food and beverage packages can be added to your cruise for as little as $30. This is a relatively inexpensive, fun and relaxing way to spend a sunny late morning or early afternoon.     
301 Hastings Drive
Buffalo Grove, IL 60089
847-941-9400
Monday – Thursday: 12:00 pm to 10:00 pm
Friday: 11:00 am to 12:00 am
Saturday: 10:00 am to 12:00 am
Sunday: 10:00 am to 10:00 pm
Located in a nearby suburb, you and up to 10 of your bachelor party buddies can experience the thrills of realistic auto racing at speeds up to 40 mph while you jockey position and win a trophy for your efforts. If your group is large enough, you might want to consider renting the entire facility (around $1,500). Further, K1 Speed specializes in bachelor parties and has extensive experience in providing competitive fun downstairs and an upscale bar and grill upstairs where you can watch the action. Have your pictures taken while you race for a special action-packed memento. They also feature shuffleboard, video games, challenging miniature golf and pool tables so there's something for everyone at K1. Prices start at just $19.99 per adult and you can either make reservations or just show up.
The only better way to see the world-famous Chicago skyline than a double-decker bus is from a helicopter. The Chicago Helicopter Experience offers aerial, narrated tours of the historic parts of the city, including Chicago's skyline, Navy Pier and the Willis Tower as well as Wrigley and Soldier Fields and the Magnificent Mile. In addition, Chicago Helicopter Experience zooms along the Loop to provide passengers with unique perspectives of many of the city's modern landmarks. Prices start at just $99 per adult.
163 E Pearson Street
Chicago, IL 60611-2162
312-888-6224
With notorious names such as Al Capone and John Dillinger on their tour list of "criminals, mobsters and gangsters," the Chicago Crime Tours provides narrated tours of the crime scenes at the Holy Name Cathedral and Biograph Theatre as well as other Chicago landmarks that have a notorious but colorful history such as Chicago's River North, Gold Coast, Old Town, Lincoln Park, Loop and Magnificent Mile neighborhoods. This firm offers a 2-1/2-hour nighttime bus tour of crime scenes and landmarks for $45 as well as a 2-hour daytime "crime and pizza walk" tour with pizza provided by Pizzeria Uno and Giordano's for just $50.
View all Activities in Chicago
Nightlife Activity Ideas
Although prostitution is illegal in Illinois and violations can carry a "stiff" penalty, there is a flourishing sex trade in Chicago, including outcall escort services, world-famous strips clubs and even a private "orgy" club. In truth, you could have a couple of dozen bachelor parties in Chicago without coming close to exhausting the enormous variety of nightlife choices, but the following are some of the more popular venues for group events.
710 North Clark Street
Chicago, IL 60654
Open daily:  4 p.m. – 4 a.m.
312-266-7761
With awesome pizza, two cocktail bars and three stages for live entertainment including funk, rock, reggae and red-hot jazz nightly, the Underground Wonder Bar justly earns its name. You and your friends can party hearty until the wee hours of the morning and it's within walking distance of many downtown hotels. 
Chicago Beer Experience Beer Tours
658 West Webster Ave
Chicago, IL  60614
312-818-2172
Daily:  9:00 a.m. – 7:00 p.m.
Requiring about a half-mile's walk each, this firm features walking "Midwestern craft beer tours" of some of the most famous Chicago neighborhoods and communities and private group tours are available for bachelor parties. Besides a wide array of beers, Chicago Beer Experience Beer Tours also provide Chicago-style pizza and hot dogs as well as specialty food items for its various tours, including the popular Bacon & Brewing Beer Tour through Lakeview and Lincoln Park. Other tours include the Pioneers & Pints Beer Tour through Bucktown and Wicker Park as well as a Sin & Suds Beer Tour through the Loop and South Loop. Learn about Chicago's colorful gangster history while enjoying some of the best craft brews around.
26 West Hubbard Street
Chicago, IL 60654
312-863-7427
Sunday:  7:00 p.m. – 2:00 a.m.
Monday – Wednesday:  6:00 p.m. – 2:00 a.m.
Thursday: 5:00 p.m. – 2:00 a.m.
Friday: 5:00 p.m. – 2:00 a.m.
Saturday:  5:00 p.m. – 3:00 a.m.
Featuring a dueling piano show and daily specials such as $4 Bud Lights and a $25 bucket of 86-oz. Brass Monkeys as well as a full range of mixed drinks (including enormous margaritas), Howl at the Moon Chicago specializes in bachelor parties and they even offer an ongoing free party contest! With live music and nightly adult entertainment, this club will have you and your buddies howling along while you enjoy their buffet-style meals well into the night.
Strip Clubs
1897 East Lincoln Highway
Ford Heights, IL 60411
708-753-0363
Monday through Thursday:  3:00 p.m. – 4:00 a.m.
Friday: 3:00 p.m. – 6:00 a.m.
Saturday: 7:00 p.m. – 6:00 a.m.
Sunday:   7:00 p.m. – 4:00 a.m.
Specializing in bachelor parties, Atlantis features full nudity exotic strippers in an upscale gentlemen's club. In addition, they offer free cover for active duty military with identification and guests who present a ticket stub from any local sporting event receive free cover and a complimentary drink.
390 E Joe Orr Rd
Chicago Heights, IL 60411
(708) 758-2582
This club features over 100 entertainers each evening.  They also have special packages for bachelor parties which include bottles of alcohol, lap dances, limo transportation, and more.  The best part about this strip club is that it's completely nude.  Club 390 was also recently remodeled, which gives it a nice, newer, feel, while you are trying to get one of their lovely ladies to believe you are a millionaire and fall in love with you.
167th Street
Country Club Hills, Illinois, IL 60428
708-469-9977
This venue is a private on premises "lifestyle" club that features 15 private/group rooms and eight bathrooms (three with showers) as well as various social areas that include a fully mirrored dance area with stripper poles, bars, dart boards and pool tables as well as state-of-the-art lighting and sound systems. Although BYOB, Club Release specializes in bachelor parties and offers mixers, fountain drinks and a full dinner buffet until 11 p.m. and finger foods beginning at midnight. The doors are locked at 12:30 a.m. and no one is allowed to enter after that time but you and your buddies can stay all night if you prefer. Reservations are recommended.
750 South Clinton Street
Chicago, IL 60607
312-663-9100
Monday – Saturday:  7 p.m. – 4 p.m.
Sunday:  7 p.m. – 2 a.m.
This upscale BYOB strip club is located near Chicago's historic Printer's Row and the Magnificent Mile. The Pink Monkey features a complete menu, mixers and exotic dancers in equal measure, and offer daily specials such as half-off admission before 9 p.m. on Tuesdays with a two-drink minimum. Although they specialize in bachelor parties, the Pink Monkey requires at least ten people for a group package deal.
Where To Stay
Hotels
With more than 44,000 hotel rooms and more planned for the near future, Chicago is a buyer's market for bachelor parties. The hotels listed below have received positive reviews from the field for being bachelor party-friendly as well as for the quality of their offerings.
Silversmith Hotel Chicago Downtown
10 S Wabash Ave
Chicago, IL 60603
312-372-7696
Situated near the world-famous Magnificent Mile on Michigan Avenue ("The Loop"), this luxury hotel's centralized location and wide range of offerings for its guests make it a great choice for bachelor parties. Besides free wi-fi, the Silversmith also features a world-class restaurant and lounge, the Adamus, a 24/7 modern fully equipped fitness center, and like many other hotels, the Silversmith is entirely smoke free. This hotel also offers a number of special deal packages, including significant discounts for stays of 2 or more days.
The Godfrey Hotel Chicago
127 West Huron Street
Chicago, IL 60654
312-649-2000
Located in the heart of Chicago's River North neighborhood, the Godfrey Hotel is near many popular tourist destinations with all of the amenities that are needed for a world-class bachelor party. Within easy walking distance of shopping opportunities along the Magnificent Mile, the Godfrey is also near the Navy Pier and Soldier's Field where you and your buddies can catch a Chicago Bears' game if your timing is right. The Godfrey Hotel also offers free wi-fi service, a complete 24/7 fitness center, an upscale rooftop lounge, massage and spa facilities as well as a superb restaurant and lobby bar. In addition, the Godfrey also provides two full floors of self-parking as well as valet service.
View all Rental Houses in Chicago
Where To Eat
Dinner
Chicago is world-famous for its dining options and foods from all over the world can be found throughout the city. Although the following list is certainly not exhaustive (there are more than 7,300 restaurants in Chicago), these dining options are perfect for bachelor parties, especially when money isn't an object.
ZED 451
739 North Clark Street
Chicago, IL 60654
312-266-6691
Monday – Thursday: 4:30 p.m. – 12:00 a.m.
Friday:   4:30 p.m. – 2:00 a.m.
Saturday:  10:00 a.m. – 2:00 a.m.
Sunday: 10:00 a.m. – 10:00 p.m.
This upscale downtown eatery offers groups discounts and an all-you-can-eat menu the includes homemade soups, fresh salads and sides as well as a charcuterie bar featuring fire-grilled meats and carved rotisserie sliced at your tableside.
720 North State Street
Chicago, IL 60654
312-787-7599
Monday–Thursday: 5:00 p.m. – 10:00 p.m.
Friday:   5:00 p.m. – 11:00 p.m.
Saturday: 11:00 a.m. – 11 p.m.
Sunday: 11:00 a.m. – 9:00 p.m.
"Aloha Hour" Sunday-Friday: 4:30 p.m. – 7:00 p.m.
Ready for something different? This restaurant features world-famous Chef Roy Yamaguchi's five-star Hawaiian fusion cuisine prepared in an exhibition kitchen, a sushi counter, a fully stocked bar and outdoor patio for you and your friends.
159 West Erie
Chicago, IL 60654
312-787-9000
Mon: 11:30 am – 10:00 pm
Tue: 11:30 am – 10:00 pm
Wed: 11:30 am – 10:00 pm
Thu: 11:30 am – 10:00 pm
Fri: 11:30 am – 10:00 pm
Sat: 4:00 pm – 10:00 pm
Sun: 4:00 pm – 9:00 pm
Labor Day: 4:00 pm-9:00 pm
This friendly venue features jazz music and a 1940-ish décor that make it a cozy place for group gathering such as bachelor parties. The menu includes a mind-boggling selection of fine wines, steaks, wood-roasted meats (yum!), chops and seafood prepared in an open kitchen.
325 West Huron
Chicago, IL 60654 (inside Nacional 27)
312-488-4917
Monday – Thursday:  11 a.m. – 10 p.m.
Friday:  11 a.m. – midnight
Saturday brunch:  10 a.m. – 3 p.m.
Saturday:  3 p.m. – midnight (happy hour 5 p.m. – 7 p.m.)
With some of the best fried fish, smoked brisket tacos and tallboy beers in the city, Tallboy Tacos also features homemade tortilla chips, guacamole, corn fundido and even beer queso, making this a great place for your bachelor party buddies to chow down before heading out for your nightlife adventures.
51 West Huron Street
Chicago, IL 60654
Monday – Friday:  7 a.m. – 7:30 p.m.
Saturday:  8:30 a.m. – 5:30 p.m.
Closed Sundays
312-664-2729
If you and your bachelor party friends have never tried vegan food, Chicago Raw is the perfect place to give it a whirl, especially if you're in need of a nutritious pick-me-up after a hard night of partying. This restaurant features all natural raw foods, as well as smoothies, juices and dehydrated snacks that are packaged for dining in or convenient take out. 
530 North Dearborn Street
Chicago, IL 60654
312-521-5100
Sunday – Thursday:  5 p.m. – 11 p.m.
Friday – Saturday:  5 p.m. – midnight
Lounge:  4 p.m. to close daily
A staggering assortment of craft beers, mixed drinks and fine wines combines with red-hot live music and some of the best prime steaks, veggies and fresh seafood in town at Mastro's Steakhouse.  This is a "must-visit" restaurant for all visitors to Chicago, including bachelor party guests.
When To Go
Best Time
Few other venues offer as many world-class hotels, restaurants and recreational opportunities as Chicago during the summer and fall months. Although hotel occupancy levels and prices are higher, there are plenty of rooms to go around and you can find special discounts for multi-day packages and group rates for recreational activities from companies that specialize in bachelor parties. More importantly, August is prime Chicago Bears' season so you if plan ahead, you and your buddies can even take in a pro football game. Because it is hot, you can also stroll along the so-so beach and enjoy the scantily clad babes and countless bars that line Lake Michigan.
On a Budget
The winter months are frequently brutal in Chicago, so great deals on accommodations and recreation are readily available. While many of the seasonal entertainment options are not available during the winter months, other indoor venues abound and there's always something fun and exciting to do in the Windy City regardless of the weather. The nightlife options remain essentially the same, and the city is replete with museums and indoor recreational venues that will make any bachelor party a memorable experience. Let it snow!
What Else
Crime
The city's overall crime rate, especially the violent crime rate, is substantially higher than the US average. Nevertheless, the overwhelming majority of visitors to Chicago enjoy a safe and pleasurable experience without any problems, particularly if they keep to the main drags and avoid the seedier parts of the city and its environs. Exercise some common sense and you and your buddies will probably survive that world-famous bar crawl long enough for the groom to recover and finally get hitched.
Extracurricular Activities
Not surprisingly, drugs of every type are available in Chicago but some are more readily available than others and some are far safer to buy and use than others. For instance, the marijuana laws in Illinois continue to relax, and medical marijuana was legalized in 2014 and possession of less than 10 grams was decriminalized in 2016. Reports from the field indicate that visitors to Chicago can easily buy pot simply by inquiring at clubs and bars in the Lakeview neighborhood that cater to younger crowds. Likewise, pot is easily purchased on southside in Hyde Park or the northside in Lake View (but excursions there should be limited to daytime hours). Based on other reports from the field, we would recommend not attempting to find anything stronger during your bachelor party in Chicago.
Why Go
Conclusion
If you like decent looking chicks and food, there is no reason not to pick Chicago as the place for your bachelor party.  Chicago not only has the best deep dish pizza and hot dogs, but it is also home to some of the best Italian and Steakhouses in the country.  The chicks in Chicago are good enough to party with but you are definitely not going to leave your fiance for any of them (we hope not).  The weather is good during peak months, and you won't go broke while trying to creep.  It's also interesting to see Chicagoans treat their lake like an ocean.  Just don't go pickup your extracurricular activities in the wrong parts of town, as Chicago's crime rate has hit the roof the past few years.