Plan a Bachelorette Party in Charleston, South Carolina (2023 Edition)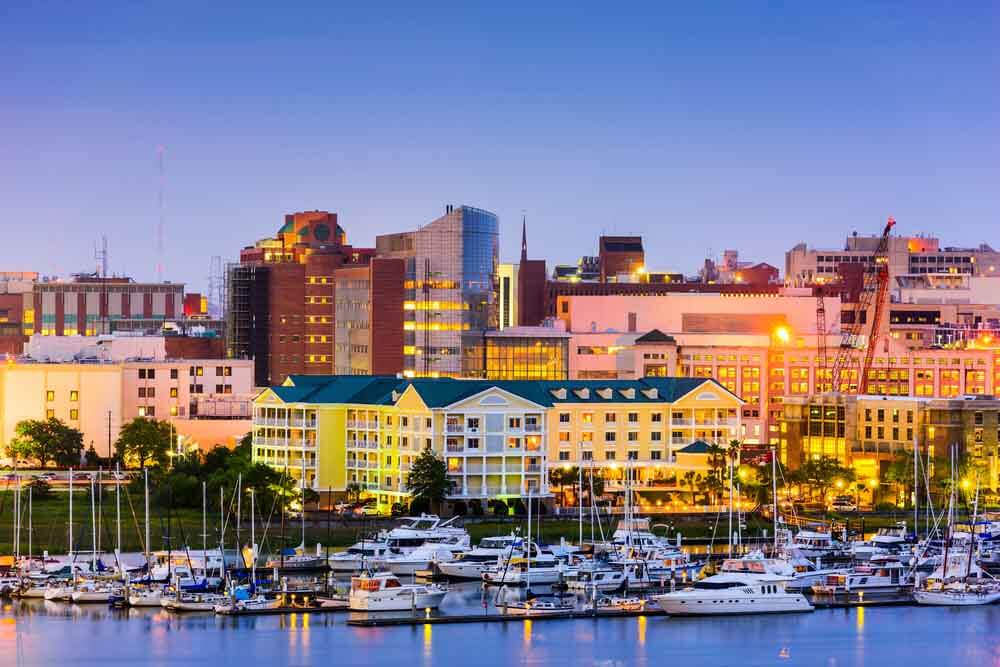 This post may contains references to products from one or more of our advertisers. We may receive compensation when you click on links to those products or services. Please also consider
donating to our website.
So the bride tribe is in the process of planning a bachelorette party in Charleston?  This is a great choice, especially if you want to mix in some history and culture with your drinking and eating.  Charleston not only has some of the best restaurants on the southeast seaboard, but it also has plenty of activities to keep you entertained, day and night.    
How To Get There
Traveling to Charleston either involves a road trip or a flight.  If you are located in any states from New Jersey to Florida, you could easily make a road trip out of this.  We do recommend you spend at least 3-days here as there is a lot to do, and you do not want to end up running out of time.
Airport
If you decide to fly to Charleston, make sure you choose Charleston International Airport (airport code: CHS).  There are many direct flights available to get there, but check with your local airlines as some only offer flights once per day, or only a few times per week.  Worst case scenario a layover may be required for you to reach this historic destination.  Once at the airport you will be about 20 minutes from downtown Charleston, which is about an $18.00 uber ride.
When booking flights, make sure you check out priceline.com as they usually have the best availability and prices.  They even offer group rates for larger parties.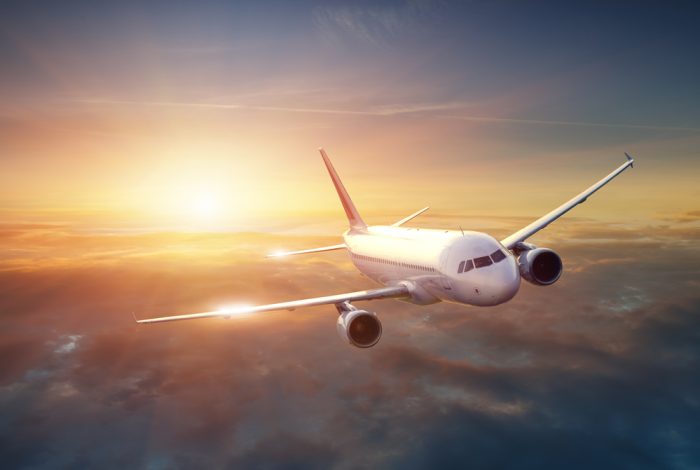 Car
Traveling to Charleston either involves a road trip or a flight.  If you are located in any states from New Jersey to Florida, you could easily make a road trip out of this.  We do recommend you spend at least 3-days here as there is a lot to do, and you do not want to end up running out of time.  If you opt for a road trip, a huge part of your journey will consist of being in Interstate 95 (I-95).  We recommend downloading Waze to your phone, so you don't end up getting lost.  Make sure you download some good music to your phone or setup an amazing playlist on Spotify, as this trip can be many hours, depending on where you are coming from.  If you don't want to put all the miles on your car, you can rent a car from rentalcars.com for as little as $20 per day.
Getting Around
Once you get to your hotel or rental home, you might not need to have a car to get around Charleston; it really depends on what you want to do.  The city's public transportation system, CARTA, offers a number of reliable transport options including a trolley, a bus line, and even free DASH buses. However, if want the freedom of your own transportation, consider renting a car at the airport from Enterprise.   Know you will need transportation one night and do not want to make anyone a designated driver?  Consider booking a party bus.  Of course, if you are not sure what your transportation needs will be, you can always rely on Uber.   
Things to Do
There is so much to do in Charleston that mapping out an activity plan can actually be a bit of a challenge.  What type of trip do you want to have?  Charleston lends itself to a variety of vacation types, from total relaxation to a history-lover's favorite vacation.  We have included a wide variety of some of our very favorite things to do when we are in Charleston!
Daytime Activity Ideas
Fort Sumter Tour (cost $21 per person) –  When the rebels fired on Fort Sumter, the Civil War officially began.  The rebels took the fort after a 34-hour siege, and the Union Army spent another four years taking it back.  This tour, which lasts about 2 hrs 15 minutes, including a 30-minute boat ride there, hour at fort, and 30-minute boat ride back, not only lets you experience Charleston's scenery, but also involves a non-romanticized historic depiction of the events leading up to and during the Civil War. 
Old Slave Mart ($8.00 per person) – If you are learning about the real history of the South, then you are going to learn about the horrors of slavery.  The Old Slave Mart, is an African American history museum that has been built on the grounds of an old slave market.  On a visit here, you learn about the history of slavery, and how slaves were sold and purchased at this exact location.  However, you also get to see examples of African American folk art and learn about the resilience of slave communities.  Although the museum is somber, it is an experience that can be surprisingly uplifting and reaffirming, especially for people who can trace their ancestry to those who were enslaved. 
Middleton Place Plantation ($28.00 per person)- This history reenactment museum can take you back to the time of an antebellum rice plantation.  You not only see how a plantation was run, including how slave labor built America's strong agricultural foundation, but also history throughout time.  The House Museum displays four generations of the Middleton Family and how they would have lived in their respective eras.  However, if you are more interested in beauty than history, we must suggest visiting their garden, which is America's oldest landscaped garden and is considered to be one of the most important gardens in America.  No matter when you visit, the careful planning and planting of the gardens ensures that you will always find something in bloom! 
Historic Charleston City Market – Love shopping?  Then the Charleston City Market is a must-visit for your party.  The City Market has a flea market type setup, with a bunch of vendors selling items, but the tone is considerably more upscale than your average flea market.  There are both day market and night market activities, and you can find tons of work by local artists and craftsmen. 
Rainbow Row – One of Charleston's most beloved tourist destinations, Rainbow Row is a stretch of fourteen houses where the houses are painted in vibrant pastels reminiscent of a rainbow. You can find these homes on west side of East Bay Street, between Tradd Street and Elliot Street. 
Looking for a sexier, less historic entertainment alternative?  Consider Charleston Pole Party, where the whole bachelorette party can get a pole dancing or lap dancing lesson.  It's a great way to liven up the party atmosphere and put all your ladies in touch with their inner sex goddess!
Looking for that tranquil spa experience before a night out?  Charleston has a number of highly-rated spas, but our favorite is probably The Woodhouse Day Spa.  From high-end manicures to luxe facial treatments, massages, and body treatments, The Woodhouse offers everything your group could want to experience.  To schedule for large groups, make sure and contact them well in advance. 
While Charleston may be known for its genteel charms, it is also a beach town.  If your visit is anytime from late spring through early fall, consider visiting Shaka Surf School for surf lessons.  You can also schedule wildlife watching tours.  Whether you are kayaking out to see dolphins or checking out sharks from the safety of a boat cruise, you can plan some amazing wildlife experiences in Charleston.
View All Activities in Charleston
Nightlife Activity Ideas
One of our favorite things to do in any city, especially one that is new to a lot of people at a gathering, is to head on a guided tour.  Bulldog Tours offers some of the most innovative tours of Charleston.  Whether you are interested in history, food, ghosts, or a mix of all three, their short walking tours can introduce you to the city in a fascinating way. 
Charleston is known for its gorgeous harbor and the very best way to see it is to take a sunset tour.  While we cannot guarantee it, our experience has been that sunset tours mean you get to see dolphins jumping in the water, beautiful sights, and a peaceful, smooth sail in gorgeous
Bars
The Palace Hotel might be Charleston's most beloved dive bar, and the city was really excited when it reopened in April 2017 after being shuttered because of a fire.  While we call it a dive bar, it is not your typical dive bar.  Picture a venue that is equal parts dive bar and one of the city's most popular brunch destinations, and you get the Palace Hotel.  What could be a better place to celebrate a bachelorette party than a place that combines the very best of brunch venues and the very best of a dive bar?  
The Commodore.  Want a taste of old-school jazz, which somehow manages to seamlessly combine the feel of a jazz-era Harlem nightclub with the mythos of the American South?  Then, the Commodore is the place for you.  -If you love the realty show Southern Charm, you probably want to check out the Commodore and the Palace Hotel (the possibility of running into Shep is worth the $6.00 Uber ride).  
Voodoo Tiki Bar and Lounge– The décor is kitschy tiki-room vibe, which patrons either love or hate.  However, the authentic Cuban music and lively dance floor quickly make you forget about the décor.  Weekends you can expect to find live music, which you might also find during the week.  
Nightclubs
Republic Garden and Lounge – As its name suggests, this popular nightclub is an indoor/outdoor venue.  One of the city's most popular watering holes and nightclubs, it tends to get crowded and stuffy on Friday and Saturdays.  However, the fantastic upper King Street location, dedication to helping make your special events amazing, and commitment to great food and drinks make it well-worth the visit.  
Male Strip Clubs / Male Reviews
Looking for some beefcake for your bachelorette party?  Charleston will not disappoint you, even though you will not find a dedicated male review venue.  Though Charleston does not have any dedicated male strip clubs, it does have a number of high-quality party entertainment groups that can send strippers to your location.  Strippers can come to hotels or party houses, and may even be able to perform in party rooms at your favorite venues, just make sure that management is okay with that arrangement.  While there are a number of quality sources for party entertainment, we like Hunks & Babes and Hot & Ripped Strippers.  Although hiring a few dancers for a party usually means less variety than you would get in a club environment, it also means that whether the bride-to-be has an eye for ripped redheads or beefy blondes, you can custom-order her entertainment!
Where to Stay
Hotels
Our recommended hotel to stay at in Charleston would be the Belmond Charleston Place.  Not only is the hotel lobby and rooms beautiful, it has an indoor/outdoor pool, spa, shops, and several restaurants on-site.  Expect to pay between $200 and $300 per night at this hotel, but squeezing in 4 people per room will definitely help lower the costs.  If money is not an option, we recommend booking the Belmond Hotel Club Level (floors 7 &8) which include a breakfast and dinner buffet, lunch snacks, and top-shelf open bar from 5:00pm – 10:00pm daily.  This is well worth the extra $100 per room you will spend by booking a Club Level room.
The Francis Marion Hotel is another historic hotel that is a favorite among Charleston travelers.  From the majestic foyer to the beautifully-appointed room, everything about this hotel screams luxury, and the concierge service can help you navigate Charleston beautifully.
Rental Houses
Not sure if a hotel has what you want in a vacation?  Consider renting a vacation home.  A great solution for larger groups, vacation homes offer plenty of sleeping space and common areas so that you can just hang out with each other.  You may also be able to use the vacation home for a party, but check to make sure that your hosts allow parties.  Finding a great vacation home is easy using  services like VRBO.com.  Here are some of our Charleston area favorites: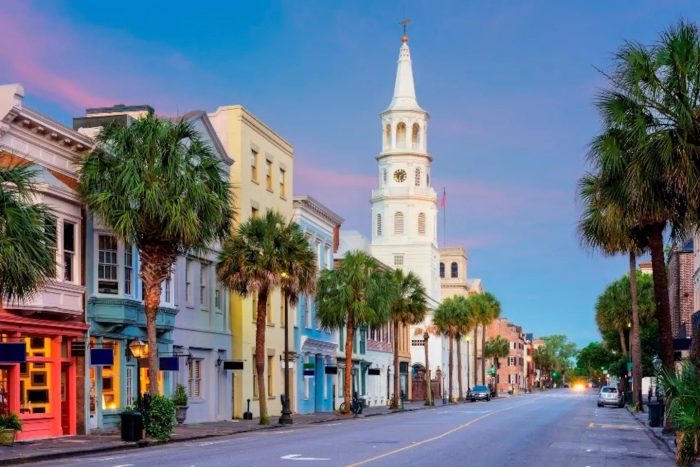 Vrbo.com
This three-bedroom, three-bathroom beachfront villa is fabulous for smaller bachelorette party groups.  Walking to nearby dining and shopping and a 15-minute drive to the city's center. 
This Folly Beach penthouse offers amazing views, space to spread out, and easy access to all of the fun in the sun on Folly Beach.  With plenty of room to spread out in the penthouse, you can have a mid-size party here. 
Hosting a huge party?  This eight-bedroom, eight-bathroom luxury property has suites for your guests, offering space and privacy, while still keeping you in a central location. This property is in easy walking distance from shopping and dining and popular attractions like King Street, MUSC, and The College of Charleston.
Looking for something a little bit off of the beaten path, but close to all of the Charleston attractions?  This house is close to the beach and downtown, but located in a quiet neighborhood, where you can get rest and relaxation, but also have a raucous good time without having to worry about shared walls with neighbors.
Want an amazing view?  Look no further than this marsh view house.  With its views of the lighthouses, amazing sunsets, and on-property boat launch, this property really helps you get into the low-country feel of a Charleston vacation.
View all House Rentals in Charleston
Where to Eat
Charleston is not only known for their american history but also for their amazing restaurants.
Breakfast / Lunch / Brunch
Toast – Known for their bottomless mimosas and biscuits, Toast actually has some of the city's best brunch and breakfast fare.  Come try their amazing omelets, homemade warm biscuit w/ gravy, and desserts to see why The New York Times considers it a must-eat place while in Charleston.  
Leon's Fine Poultry and Oyster Shop – As its name suggests, you are going to find the city's best oysters here (try the grilled ones).  However, Leon's is not limited to great oysters- it is also known for its fish dip, peal and eat Old Bay shrimp, and fried chicken.  
Minero – We have heard it said that you should not eat Mexican food outside of the American Southwest or Mexico, itself.  Minero is one of those fabulous true-Mexican food restaurants that is the exception to the rule.  Whether sampling their traditional Mexican fare, like street-style tacos, guacamole and chips, or tasting one of their innovated foods like smoked wings shaken in a bag with hot sauce, be prepared for an amazing culinary experience.  
167 Raw – What's the difference between a raw bar and a sushi place?  At 167 Raw, the question becomes a purely academic one, as the venue offers the best in raw food including amazing oysters from around the country, stone crab claws, tuna burger, tuna tartare w/ guacamole, lobster roll is amazing.  Expect to wait 1-2 hours for a table on Friday and Saturday, as this place is extremely popular and does not have many tables.  If you want to get in there but do not want to wait, go around 10:45am in the morning, as they open at 11am, and usually are not very busy when they open. 
Poogan's Porch – We would recommend this adorable restaurant, even if the food was mediocre.  It captures the feeling of a great Southern porch and provides an atmosphere that makes you just want to visit and appreciate your friends.  Fortunately, Poogan's Porch is not plagued by mediocre food.  Instead, their menu is full of hand-crafted, homemade food, using recipes handed down by generations of southern grandmas and perfected by some of today's best chefs.  It's a great place for brunch, so make your reservations early.  Once you are there, plan on sharing family style.  You need to get fried green tomatoes and PIMIENTO CHEESE FRITTERS, IKE'S DOWN HOME BREAKFAST, and CHICKEN & WAFFLES!  
High Cotton – Low country food in a fine dining atmosphere, visit High Cotton for a dressed up jazz brunch, amazing pastries, omelets, French toast, eggs Benedict, and an amazing steak and eggs that is no longer on menu but will be made upon request.  
Dinner
Hall's Chophouse – Not only is Hall's Chophouse considered the best steakhouse in Charleston, but it is also ranked in top 5 of the country.  We highly suggest a dinner here, but if you cannot make it for dinner, their Sunday Gospel brunch is a pretty amazing experience.  All of their food is fantastic, but they have developed their reputation on their dry aged porterhouse, filet mignon w/ Maine lobster tail, wedge salad, creamed corn, onion rings, and Brussel sprouts.  
The Ordinary – Another oyster bar?  Yes.  Charleston is a beach-side city and offers the finest fresh seafood from the Atlantic.  However, we do not usually order the oysters here, because we love some of the other menu offerings like Spicy Yellowfin Tuna + Sea Salt Potato Chips, grilled New Orleans shrimp, baked stuffed lobster (if you are there on Friday), chili garlic stone crabs – available in season and very hot, so drink lots of water and don't rub your eyes.  
Husk – What does it take for Bon Appetit and Southern Living to both name you the best new restaurant the year you opened?  Visit Husk and find out.  We will give you a clue- farm-to-table southern fare done perfectly right.   The menu changes daily, but some of the things we have loved there have included oysters, fried chicken skins, slow smoked pork ribs, cornmeal fried catfish, NC chicken, and Atlantic Snapper.  Make your reservations early; if you don't call at least a month in advance, you might not get in.  However, it deserves all the hype it has received.  Go hungry and leave happy. 
Obstinate Daughter – When people think of Charleston, they often think of the Civil War, but nearby Sullivan's Island actually played a critical role in the Revolutionary War, and Obstinate Daughter is an homage to that history.  Located on Sullivan Island, about 20 minutes from downtown Charleston or a $19.00 Uber ride, this Green Certified restaurant offers some of the most amazing eats in the Charleston area.  Try the Mepkin Abbey Mushrooms, Anson Mills Farro Piccolo, Ricotta Gnocchi – short rib ragu, horseradish gremolata, Pappardelle – mushroom, greens, parmesan, pangrattato, and the Miss Carolina and Old Danger flatbreads. 
When To Go
Best Time
Weather-wise the best time to go to Charleston would be April – May and September – October.  This is when the temperatures are perfect, you don't have to worry about rain as much (although remember there is always a possibility of hurricanes from June – November.  This is also when the prices of flights and hotels seem to be a bit higher, given that this is considered peak times for Charleston.
On a Budget
If you are trying to save some money on flights and hotels, you should plan your bachelorette party in Charleston from November – March or June – August.
If you choose November to March expect the temperatures to be cooler, not like the northeast, but it can definitely get cold at times (coldest day ever recorded in Charleston was 8 degrees in January).   Like any good Southern City, Charleston dresses up for the Christmas holidays and has an annual festival of lights.  If you visit in early December, you may want to visit the Wine Under the Oaks festival at Boone Plantation.  Visiting later in the winter?  Don't miss the Lowcountry Oyster Festival.
 If you decide to go June – August, expect the temperatures to be much warmer (warmest temperature ever recorded in Charleston was 111 degrees in June).  No problem, just plan on spending some of your daytime hours at one of the Charleston area's charming southern beaches.  
Current Weather
What Else
Big Events
Spoleto Festival USA is a 17-day late- spring (usually May and June) festival that celebrates music, dance, and the visual performing arts.
Are you and your friends fashionistas? Then plan your bachelorette party for March and hit Charleston's Fashion Week. While not as large as the better-known fashion weeks in New York or Paris, Charleston's Fashion Week is rapidly gaining popularity with designers and is the place to be if you want the first peek at new designers emerging on the scene.
Items to Pack
Charleston is a major U.S. city, so you do not have to worry about forgetting things like you would for some international destinations or even some smaller towns. However, since you want to spend your trip having fun, not hunting down items you forgot at home, here are some vacation must haves:
Sunscreen. Charleston has a beach, a harbor, and a river. The chances of you spending time in the sunshine and the water are very high, so make sure and bring skin protection. We like Coppertone Sport because it stays on even if you are sweating and if you head into the water.
Want to bring something for the party, but don't have a lot of room left to pack? Consider these cute bachelorette party temporary tattoos: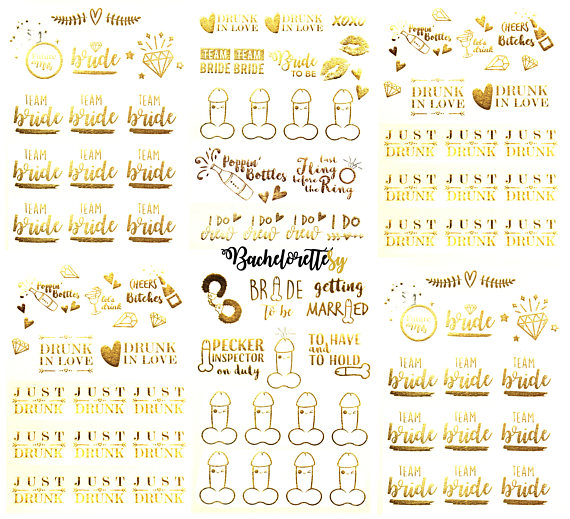 Itinerary
Get a leisurely start to your day with brunch at the Palace Hotel, then head out for some serious shopping at Charleston City Market. Hit The Ordinary for a late lunch/early dinner of oysters and other fresh-from-the-sea favorites, then take a Bulldog Tour and learn a little more about the city (we love all of their ghost tours). Finally, relax at The Gentry, tasting craft made whisky.
Other Tips
It is hard to ruin a trip to Charleston, but it is in a hurricane zone, so you want to watch the weather before your trip. We strongly suggest that you purchase travel insurance, just in case something happens and you need to alter your plans. Pro tip? Check out what types of perks your credit card offers you- many cards include great travel insurance benefits.
Bachelorette Party Shirts
Want some t-shirts to mark you as a group and serve as a souvenir for your trip? Of course you do…
We love the keep calm theme, and think that having bachelorette shirts that said "Keep Calm and Party On" would go great with the "Keep Calm and Marry ____" theme!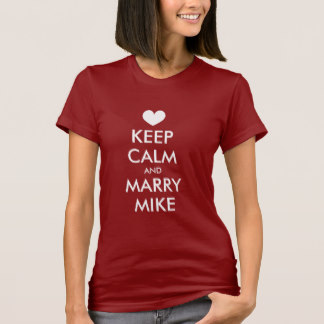 We love the "wife of the party" shirts: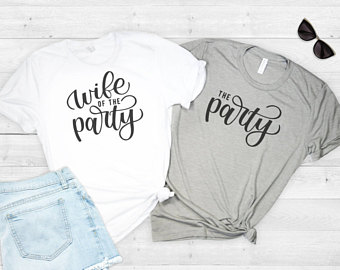 Packages
Looking for help putting together a Charleston bachelorette party package? Consider hiring a local travel agency like Abbott and Hill to put together the perfect travel plan for your group.
Hashtags
#CharlestonLastFling
#HolyCityHoeDown
#ChucktownChicks
#LowCountryBrideTribe
Why Go
Charleston is the perfect destination for a diverse group of bachelorette party guests. It has everything you could want from a historic southern city: beautiful buildings, amazing food, beaches, rivers, and even some ghosts. The weather is beautiful most of the year, and the location is easy to reach from almost anywhere in the United States. Plus, while Charleston is a popular tourist destination, it is not known as a bachelorette party destination, yet, which means that your party can be a little different from the other last flings you have attended!
Star Rating
Conclusion
You cannot go wrong planning your bachelorette party in Charleston.  It offers the best in hotel accommodations, dining, and daytime activities.  Yes, when most think of a bachelorette party they think of drinking and eating until you pass out.  In Charleston, you can actually learn about U.S. history such as the Civil War and Slavery, or how rice became the Golden crop for South Carolina.