Orlando Bachelorette Party (2023 Planner Guide)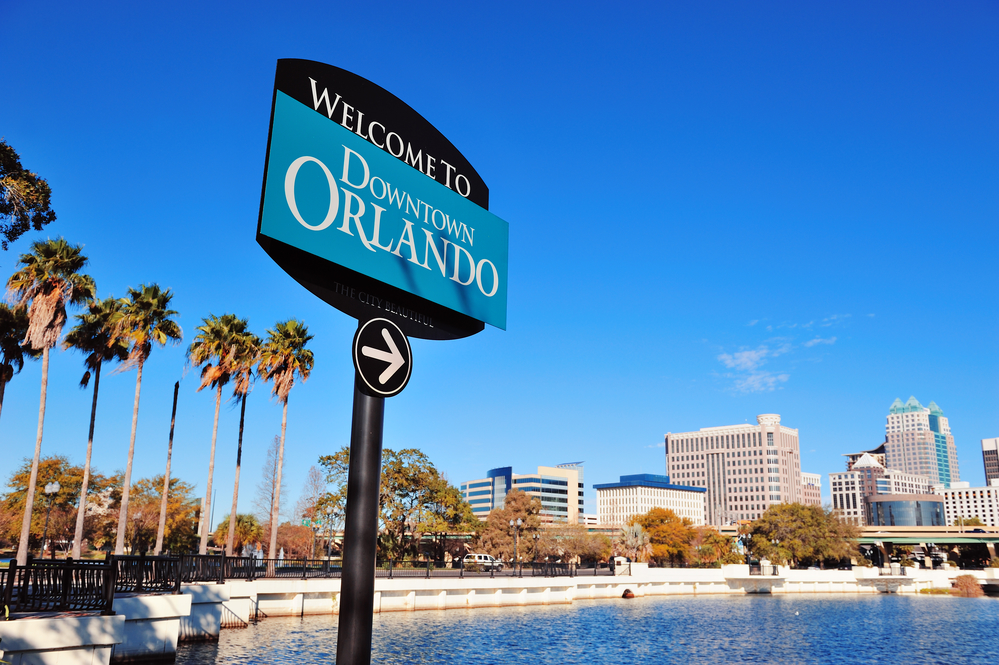 This post may contains references to products from one or more of our advertisers. We may receive compensation when you click on links to those products or services. Please also consider
donating to our website.
Thinking about having your bachelorette party in Orlando? Of course you are! Living up to its name which means "famous throughout the land," Orlando, Florida is a great destination for bachelorette parties of all sizes and types. In fact, Orlando is on many people's "bucket list" and it's the top tourist destination in the United States today, having hosted more than 66 million visitors in 2015 alone.
The city is "the Theme Park Capital of the World" and is home to more than a dozen major theme parks, including Walt Disney World with its Epcot Center, Magic Kingdom and water parks galore. Likewise, Universal Orlando features Universal Studios and Islands of Adventure together with the Wizarding World of Harry Potter. There's also plenty of other stuff to see and do in Orlando during your bachelorette party, including cultural festivals, world-class restaurants and bars, swanky resorts and water sports, and this guide will help plan your big event, beginning with (of course), how to get there.
How to Get There
Orlando is located in central Florida (see map below) and you can drive there using Interstate 4 South if you live within driving distance. 
Airports
If you and your friends plan on flying to Orlando for your bachelorette party, you'll most likely use the capacious Orlando International Airport (airport code: MCO)  that serves more than 45.5 million visitors each year (that's more than 124,000 each day!). Orlando International is serviced by all major local, regional, national and international carriers, features convenient car rentals and is located just 20 miles away from all of the major local attractions including Disney World.
When booking flights to Orlando, make sure you check out priceline.com, as they have plenty of options and competitive prices.
Getting around Orlando
Rental Cars
If you don't rent a vehicle at Orlando International Airport,  rentalcars.com (for as little as $6 per day) can help you find the perfect car, SUV or minivan for you and your bachelorette party guests.  
Limousine Companies
If you want to see the sights in high style, what better way than hiring a chauffeured, stretch luxury limousine with all the bells and whistles? In addition, Avis Limo offers chauffeured limousine service to any of the Disney World theme parks, downtown Disney and all of the local Disney hotels.
Another top-rated limousine company is Orlando Limos, which specializes in bachelorette parties. Your chauffeur will transport you and your guests to your bachelorette party destination safely and on time, and they feature a fleet of limos of various sizes and configurations so you'll be sure to find what you're looking for here. They also offers several amenities for all rentals, including on board wi-fi, bottled water, iPhone charger, DVD player, black leather interiors and even a laptop desk.
Party Bus Rentals
Party buses are large commercial vehicles that have typically been converted from conventional buses or coaches to carry 10 or more guests for a wide array of recreational and sightseeing purposes.
Not surprisingly, Orlando offers a number of party bus rental companies, including Party Bus VIP which specializes in bachelorette parties.
Boarding one of Party Bus VIP's party buses is like stepping into a luxury spaceship, but this was one blasts off for major fun instead of outer space. An example of one of Party Bus VIP's popular vehicles for bachelorette parties is their 14-passenger Mercedes Party Bus which has room for 13 large bags and eight medium bags (in case you want to be picked up and dropped off at the airport), an optional dancing pole, two complete bar areas, multi colored lighting, premium sound system and television that is able to mirror droid phones.
Their fleet also includes 22, 28- and even 40- to 55-passenger party buses. That's a lot of room for high-class partying!
View all Party Buses Available in Orlando
Boat Rentals
Set sail for Buena Vista Watersports for your party boat rentals in Orlando. Buena Vista features pontoon boats that will take you and your bachelorette party guests for a relaxing cruise around nearby 450-acre Lake Bryan, a pristine, spring-fed lake that is surrounded by tropical foliage and cypress trees.
Bird-spotting is a popular pastime on these cruises, or you can your friends can try your luck angling (catch and release!). It's hard to beat the combination of central Florida sunshine, blue water, blue skies and your best friends for an afternoon on the lake.
Things to Do
Daytime Activity Ideas
What better way to be a world traveler without all of the hassle than enjoying "Drinking around the World at Disney's Epcot" (think of it as an international bar crawl with benefits). While Epcot is famous for its children's attractions, it also features the World Showcase which is comprised of eleven pavilions that represent different nations, including the UK, Germany, Italy, Norway, Mexico, Morocco, France and Canada.
Every pavilion offers various themed attractions including most especially drinking, eating and shopping opportunities. Get started on your Drinking around the World adventure at 11:00 a.m. daily ("with rare exceptions" so check with the part ahead of time).
Since 1987, it's been traditional for the most valuable player in the Super Bowl to proclaim, "I'm going to Disney World!" – and for good reason. The Walt Disney World Resort (commonly called "Disney World") has more than 74,000 employees who are dedicated to providing all guests with the most exciting and enjoyable theme park experience possible.
With state-of-the-art space adventures, thrill rides, live shows and music, animal attractions, Disney characters, water parks and rides, parades and fireworks, countless eateries and more, Disney World is a once-in-a-lifetime treat that will make your bachelorette party a truly memorable event. Package deals are available for groups.
Another major theme park is Universal Orlando Resort (commonly called just "Universal Orlando") which features world-class "Sun, Sand, and Spa, Plus Plenty of Screams." There are tons of things to see and do and Universal Orlando that are based on major motion pictures and television series themes as well as shopping and fine dining.
Hang on to your hat (and your stomach) and try Doctor Doom's Fearfall or cool off with a ride on Dudley Do-Right's Ripsaw Falls or Kala & Tai Nui Serpentine Body Slides. Check out the Blue Man Group's nightly performances or enjoy live music from world-famous bands at the Hard Rock Hotel.
Visit SeaWorld Orlando, a theme park and marine zoological park to experience close-up encounters with interesting marine animals such as killer whales ("Dine with Shamu"), dolphins, penguins, manatees and more. Besides killer whales, SeaWorld Orlando also features some killer rides and attractions, including Infinity Falls, the Mako "hypercoaster," and Journey to Atlantis. Don't miss the Kraken Unleashed (but ride it before you have lunch).
If you and your friends are all theme parked-out, relax with a luxurious Spa Day. Named one of the best in Orlando, the Ritz-Carlton Spa Orlando, Grande Lakes features its own homegrown herbs raised in the resort's organic garden, honey produced by its own bees, and citrus fruits sourced from local orchards. Try their 80-minute long Grande Indulgence Massage or their signature service, a "zero gravity" massage received in a gently rocking hammock. Zzzzzz.
All recharged after your Spa Day? Great, because you're going to need all of your energy for bungee thrills at Fun Spot America which is home to the 300-foot high "tallest thrill ride in Florida," the adrenaline pumping Kissimmee Skycoaster or zoom from zero to 100 mph in nothing flat on the Kissimmee Slingshot.
If you and your friends have any energy left, visit the Harry P. Leu Gardens that features 50 acres of exotic flowers and flora, including a tropical stream garden, bamboo collection, breathtaking azaleas, and weird but wonderful bromeliads.
View all Activities in Orlando
Nightlife Activity Ideas
There's nothing "Mickey Mouse" about Disney Springs, an outdoor dining, shopping, and entertainment complex located in at Disney World. For instance, you and your friends will enjoy fresh seafood and savory steaks on the Paddlefish, a paddle boat anchored on scenic Lake Buena Vista.
Be sure to try their jambalaya or their lobster guacamole made right at your tableside.
Disney Springs also boasts the Rainforest Café nestled amid a lush tropical setting that includes life-sized and lifelike jungle animals. Experience the gorgeous Florida sunsets at Dockside Margaritas right on the waterfront or happy hour at the House of Blues.
If you're in the mood for shopping, you can find that new comfortable or stylish pair of shoes you've been wanting at Melissa Shoes or the numerous other shopping opportunities at Disney Springs. They'll even hold on to your purchases until you're ready to leave for the day so you can keep your hands free for eating. In fact, if you're hungry, Disney Springs features everything from a quick bite at Wolfgang Puck's Express to fine dining at The Landing.
Spend the evening cruising Downtown Orlando. The Orlando Sentinel rates EVE as one of the top venues for enjoying the nightlife in Downtown Orlando. Besides its dramatic décor, three separate settings (lounge, nightclub and balcony) and hard-driving DJ music, EVE also specializes in bachelorette parties and will help you celebrate this special event the right way.
Also rated highly, The Courtesy Bar offers Tuesday through Friday happy hours (5:00 p.m. to 8:00 p.m.) and no cover charges on Saturday when they hold best-dressed contests, provide complimentary food. The Courtesy Bar also offers a cocktail class every first and third Saturday of the month (starts at 5:15 p.m.) where they teach you how to make your favorite classic cocktails as well as the history behind them.
If you're in the mood for something really different, try an evening at the Stigma Tattoo Bar which not only specializes in bachelorette parties (with dancing poles, champagne and your favorite drinks!), they have onsite professional tattoo artists who can provide you with a lifetime souvenir of your big event.
Another pick as one of the top bars in Downtown Orlando by the Orlando Sentinel is the Tap & Grind — this laid-back cozy neighborhood bar features American craft beers and local art.
Finally, check out Universal Citywalk, the entertainment and retail districts that are located adjacent to the Universal Parks & Resorts theme parks. You and your friends can literally fly at iFly's indoor skydiving venue's vertical wind tunnel (no experience necessary) or ululate with the best of them at Howl at the Moon which features live music, "drinks as big as your head" and a high-energy dance floor. In addition, don't miss Jimmy Buffett's Margaritaville with its Coconut Shrimp, Volcano Nachos, Key West Quesadillas and world-famous Cheeseburger in Paradise as well as thirteen signature margaritas. You and your bachelorette party friends will find something that everyone will enjoy in Downtown Orlando.
Bars
If Downtown Orlando or the dozens of bars in the theme parks are not your "cup of whiskey," don't worry – Orlando has bars of every size and type including open-air and rooftop settings where you can enjoy the balmy year-round weather.
One name that keeps popping up over and over in every review of the top bars in Orlando is the oddly named but oh-so-good Hanson's Shoe Repair. Located on the rooftop of the Hanson Building (built in 1883), this bar is named for Orlando's first electric sign – but don't let the name fool you.
This upscale, daily password-entry (available from Twitter Account (@hansonsshoeshop) or by calling/texting 407-476-9446) speakeasy-style bar offers craft cocktails in cozy surroundings including a patio so you and your friends can enjoy the evening breezes. Hanson's also books special events such as bachelorette parties so you'll be sure to enjoy the venue and its offerings.
Finally, The Lucky Lure is another top-rated bar in Orlando. Besides their great fresh seasonal seafood and great drinks, The Lucky Lure also welcome groups and hosts their popular "Sundays on the Patio" with Orlando's best barbecue.
Strip Clubs / Male Reviews
With venues across the country, Hunk-O-Mania is the preeminent destination for an exciting night in Orlando. Besides the hottest male strippers with the most amazing costumes in the city, Hunk-O-Mania also specializes in bachelorette parties that rock the Kasbah. Their up close and personal two-hour male revue every Friday and Saturday nights will be even better when you and your friends enjoy the show from your own VIP group table. They also offer plenty of add-ons for your bachelorette party, including hot seat performances with the bridge-to-be, photo packages, pre-show dinner packages and more.
If the studliest of the studs is what you're looking for, look no further than Rock Hard Male Revue specializing in the "Magic Mike Experience." Besides being specialists in bachelorette parties, Rock Hard also features a female comedy host and a sexy all-male cast of professional performers. Rock Hard even has a friendly staff that is ready to help you plan all of the details for your bachelorette party to make it the special occasion you want and deserve.
Where to Eat
Given its status as the top tourist destination in America, it's little wonder that Orlando also has some of the best places to eat in the country in all price ranges. The list below is only a few suggestions of the thousands of eateries of all types that are available, and new venues are opening all the time.
Breakfast / Brunch / Lunch
The Orlando Weekly rates Slate as the number one spot in Orlando "worth getting out of bed for." For breakfast, they recommend the mushroom toast, with grilled potato-onion bread, wild mushrooms, soft scrambled eggs and herb ricotta – and so do we. Slate also offers a world-class brunch with $25 liter mimosas (about six drinks) with fried green tomatoes, buttermilk biscuits, deviled eggs to die for, crispy calamari, roasted eggplant and house specialty pizzas. Start your day off right and get fueled for your bachelorette party action at Slate!
Besides being the top rated bar in Orlando, Rocco's Tacos and Tequila Bar is also a great spot for brunch or lunch. Rocco's specializes in the best Mexican food and drinks in a fun and casual setting. Sample their table side-prepared guacamole or one or more of their 425 different varies of tequila (wow!) with a unique sour mix made onsite. Besides their great beers and booze (bottomless mimosas!), Rocco's also has scrumptious handmade corn tortillas and a great selection of authentic Mexican foods.
Enjoy a relaxing brunch or lunch at East End Market in the Audubon Park Garden District of Orlando. East End Market features an impressive array of artisanal bakers (fresh bread baked daily – you can probably smell it from the airport), artisanal cheeses, coffee brewers, sushi chefs and even a Basque restaurant. The two-story East End building contains a dozen merchants, a demonstration kitchen, retail shops, an award-winning world-class restaurant and more.
Dinner
While STK Orlando is renowned for its steaks, but they also feature a raw bar with oysters on the half shell, delicious salads and starters such as tuna tartare and grilled octopus – to mention just a few of their menu items. In addition, STK features a happy hours and social hour as well as DJ-spun tunes in their upscale two-story building that even includes a rooftop terrace.
Dinner at the top-rated, pet-friendly Yellow Dog Eats located in the historic Brockman House (built in 1910) is a casual but rewarding affair that includes delicious daily specials, sandwiches, salads, wraps, homemade multi-grain "Pioneer" bread and their signature barbecue. The wine list at Yellow Dog Eats is expansive and they welcome bachelorette parties.
Located in Disney World's Magic Kingdom Resort Area, Victoria & Albert's has been awarded AAA's highest rating and offers fixed-price (but expensive) New American cuisine in a plush Victorian-style setting. Experience their Queen Victoria's Room for group private dining or their main dining room for world-class service and international cuisine including beef from Japan, truffles from Italy, Russian Osetra caviar, North Carolinian poulet rouge and locally sourced shrimp.
Where to Stay
Today, with 114,125 rooms, Orlando has the second-highest number of hotel and resort rooms in the country (following only Las Vegas) so you can be sure of finding the perfect accommodations for you and your bachelorette party guests. The listings below range from the most expensive to moderately priced, but are only representative of the offerings available in Orlando.
Hotels & Resorts
Located in the Disney World Resort (all roads lead to Disney in Orlando), the high-end Four Seasons Resort is the only resort in central Florida to receive AAA's coveted Five Diamond Award and it continues to justify this distinction every day. Besides luxurious rooms with floor to ceiling windows for spectacular views and easy access to the theme parks, the Four Seasons Resort also offers discounted packages, an adults-only swimming pool (The Oasis), a world class spa and fitness center as well as the onsite Explorer Island water park and a top-notch golf course.
The moderately priced waterfront Gaylord Palms Resort may be less expensive than the Four Seasons, but it is not short on luxurious accommodations or their numerous amenities. Conveniently located near Disney World and Universal Orlando, Gaylord Palms has a breathtaking glass atrium that highlights the beauty of the surrounding Everglades. An onsite water park and adults-only swimming pool are complemented by a spa and fitness center as well as seasonal discount packages.
Finally, the moderately priced but still-fabulous Wyndham Orlando Resort has everything you and your friends need to make your Orlando bachelorette party a truly memorable occasion. Although it is located within walking distance of many of the major theme parks, shopping and fine eateries (free shuttle service too!), the Wyndham has offers its guests world-class restaurants, an upscale gift shop and swimming pools. Relax after a tough day partying in Orlando at Wyndham's fitness center that features a sauna and steam rooms.
Rental Houses
Besides tens of thousands of hotel and resort rooms, there is also an abundance of rental properties of all sizes and types available from home rental services such as Airbnb.com. In fact, if you sign-up with Airbnb for your Orlando visit, you'll receive $40 off your first book using this link. In addition, Homeaway and VRBO offer an ever-changing list of local rental properties that can accommodate bachelorette parties of virtually any size, including those provided below (prices quoted are based on a 4-day stay with six guests).
Homeaway
You'll want to make your reservations early for this four bedroom home located near Disney World and Universal Orlando. Besides four bedrooms (which can comfortably accommodate up to 10 guests), two bathrooms, and luxurious furnishings, this home also features a heated swimming pool, laundry and kitchen facilities, satellite television, Internet access, a foosball table and a DVD player.
This two-bedroom villa is a real value at just $142 per night. Located in Downtown Orlando, this villa features a screened-in balcony with water and tropical garden views. Three HD televisions, full laundry and kitchen facilities, and Shine for Sheraton™ bath amenities make this a perfect place to enjoy your Orlando bachelorette party.
This competitively priced, well-reviewed cozy Large Comfortable House near Downtown Orlando rents for just $105 per night and sleeps six guests in two bedrooms (one bathroom). Moreover, it's located in a quiet cul de sac near all the major local attractions. This house also comes complete with conventional kitchen and laundry facilities, satellite television, and an outdoor grill on a deck/patio.
View all Rental Houses Available in Orlando on Homeaway.com
VRBO
Recipient of the Readers' Choice Best Resort Award, this two-bedroom condo is located adjacent to the world-famous Wyndham Bonnet Creek Resort. Renting for $248 per night, daily housekeeping is also available for an extra fee.  You and your friends will get a lot for your money at this condo, though, since it features five outdoor swimming pools, two lazy rivers, a fitness center, golf courses, eight outdoor hot tubs and a game room with billiard tables. In addition, you and your friends can enjoy a game of volleyball on their beachfront court or a spirited round of mini-golf before hitting the three onsite bars. A convenience shop and coffee shop are also available onsite.
This comfortable, three-bedroom Vista Cay Condo with Lanai is located within walking distance of a grocery store and is adjacent to a 2-mile walking trail around Lake Cay. A recently installed 50" smart television in the living room, DVD player, high-speed Internet, complete kitchen and laundry facilities as well as a patio with a scenic view are just some of the other amenities in this condo that rents for just $115 per night
At just $135 per night, you'll be glad you stayed at this two-bedroom Grand Villa Resort Condo that offers plenty of resort amenities (there is an additional $12/per night resort fee). Located within spitting distance of Disney World and Universal Orlando, this condo has satellite television, a ping pong table and a pool table in the game room, as well as a DVD player and all conventional kitchen and laundry facilities.
View all Rental Houses Available in Orlando on VRBO.com
When to Go
Best Time
Although Orlando enjoys year-round gorgeous weather, the months of March through May are the best times to visit.
On a Budget
If you're budget-conscious, November is also great time to visit Orlando.
Worst Time
The summer months of June through August are the worst times to visit Orlando due to the higher temperatures and crowds of tourists that flock to the city for summer vacations.
Current Weather


What Else
Orlando has one of the highest crime rates in the country, so be safe and travel in groups. Recreational marijuana is still illegal in Florida, but the state has approved the use of medicinal marijuana so be sure to bring your prescription in your plan on driving to Orlando.
Big Events
Orlando hosts a number of big events for its millions of visitors each month, including the following:
February: Florida State Fair
Early February to late April: Orlando Mardi Gras
Mid-March to mid-May: Epcot International Flower & Garden Festival
October/November: Epcot International Food & Wine Festival
Early November: Conga Caliente
What to Pack
Besides the standard travel items such as luggage and accessories, you can't walk 5 minutes around Orlando without running into beaches, swimming pools and water parks, so be sure to pack some new swimwear: In addition, you'll enjoy soaking up some rays and sightseeing in Orlando even more with some stylish sunglasses:
If you're visiting during the months from October through February, the temperature gets chilly after dark so be sure to also pack a light jacket: Nothing can spoil a bachelorette party faster than foot blisters on the first day, so be sure to take some comfortable footwear as well. Finally, hearty partying can be taxing so be sure to keep your energy level up with some healthy vitamins and supplements.
Itinerary
If you staying at one of the upscale resorts in Orlando, it would be tempting to never leave the premises. With so much to see and do, though, you'll want to experience some of the best that's available in Orlando as reflected in the sample itinerary below for your first full day in the city.
9:30 a.m. – 10:30 a.m. Leisurely brunch at Slate
10:30 a.m. – 12:30 p.m. Indoor skydiving adventure at iFly.
12:30 p.m. – 1:30 p.m. Personal time at hotel or rental property (optional)
1:30 p.m. – 3:00 p.m. Late lunch at Rocco's Tacos and Tequila Bar
3:00 p.m. – 6:15 p.m. Walking tour of the Universal Citywalk
6:15 p.m. – 7:30 p.m. Dinner at STK Orlando (try their filet medallions or Cowgirl rib eye specials)
8:00 p.m. – 10:00 p.m. Male revue at Hunk-O-Mania
10:15 p.m. – ? Drinks (and a tattoo?) at Stigma Tattoo Bar
Bachelorette Party T-Shirts
One of the best souvenirs you can give your Orlando bachelorette party guests are customized bachelorette party shirts. You can provide your own pictures or use these services' stock graphics to create the perfect memento of your special event.
Travel Insurance
Even if you're not a gambler, you'll appreciate the protection that travel insurance purchased from a reputable insurance company provides, including the following standard benefits:
Up to 100% cash back for trip cancellations, delays, and interruptions;
Covers purchase of personal items when baggage is delayed for longer than 24 hours;
No deductibles for emergency medical and dental coverage;
24/7 travel assistance; and,
Airline change fee and frequent flyer mile redeposit fee coverage.
Hashtags
#disneyorbust #disneybabes #orlandochicks #bonvoyageinDisney #Minniedrunks #universaltoalter
Why Go
At one point, it would have been easy to dismiss Orlando as merely a family-friendly destination that only offered theme parks that catered to young children and their indulgent parents, but that is no longer the case. Today, Orlando has become an internationally recognized cultural center as well, and Wine Enthusiast magazine recently named it the best wine travel destination in the country. Likewise, The New York Times ranked Orlando one of the best places to visit and Wise Bread named Orlando the best destination for inexpensive foods and beverages.
Finally, Movoto has ranked Orlando the number two city in the nation for creative people. In other words, Orlando has something to offer for virtually any bachelorette party regardless of size, theme and preferences.
Rating
We don't give extra high ratings to destinations lightly, but as the number one tourist destination in the country and with so much to offer, we rank Orlando 5 out of 5 as a destination for bachelorette parties.
Conclusion
It's hard to believe that a city of just a quarter million people could pack so much excitement, fun and adventure in one destination but that's certainly the case with Orlando. While Las Vegas has a few more hotel rooms, Orlando offers water sports and beaches as well as everything else you'll need to make your bachelorette party a truly memorable occasion. Forty-four million people a year can't be wrong and you can be sure of having a great time in Orlando no matter when you visit.