Bachelor Party Los Angeles, California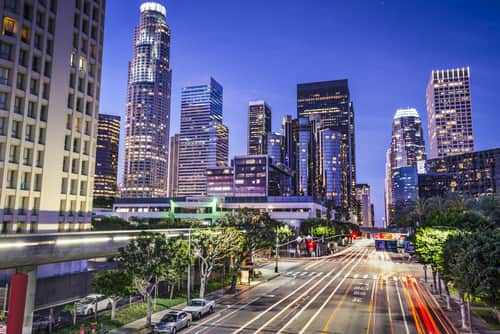 This post may contains references to products from one or more of our advertisers. We may receive compensation when you click on links to those products or services. Please also consider
donating to our website.
Are you wealthy?  Answer that question honestly, because it is an important one if you are considering Los Angeles for a bachelor party.  There are many places around the world where you can head out for a bachelor party weekend on reasonable budget or even a shoestring budget and have a fabulous experience.  LA is not one of those places.  It is where the rich and famous beautiful people go to play and you had better be prepared to pay to play if you want to party with them.  You are also going to want to up your style game.  There are some places where you can substitute sportswear for club wear and be fine for a night out; LA is not one of them.  Unless you are well-known enough to have your own sportswear line, leave that stuff for the gym.  Think collared shirts, nice jeans, and dress shoes.  Budget conscious bachelors, you are going to want to pick a different city.  However, if you and your buds have more than a little cash-on-hand, Los Angeles is, hands down, one of the world's best places for a bachelor party.
How To Get There
Airports:
The first step in planning your final weekend before "till death do you part" is booking flights.  Now if you are flying from outside the United States, your only option is to fly into Los Angeles International Airport (airport code: LAX).  This airport is going to be about 30-45 minutes from downtown Los Angeles and West Hollywood.
If you are flying from a destination in the United States, you should check out flying into Long Beach Airport (airport code: LGB).  This is a smaller airport and flight tend to be a bit cheaper if you use this option.  You should know that you are about an hour Lyft ride from West Hollywood.
Looking to rent a party bus in Los Angeles?  Check out our recommended services.
What To Do / Where To Go
Nightlife Activities for a Bachelor Party in Los Angeles:
Los Angeles is full of bars and nightclubs, as well as a relatively fickle club-going population, which means that today's hottest club might not be "the spot" six months from now.  However, there are some clubs that have become consistent favorites among LA's shiniest stars.
Bootsy Bellows, at 9229 West Sunset Blvd., is named for co-owner David Arquette's mother, a former burlesque dancer.  Although it is relatively new to the Sunset Strip, it has quickly become a fixture on the LA club scene.  The décor and attitude of the club are very 1960s, and the retro-feel throws back to the rat-pack.  Not just for dancing, Bootsy Bellows features all sorts of entertainment including DJ sets, live music, burlesque and puppet shows that are quickly developing a must-see reputation.  It is extremely busy, so you want to reserve a table, and while the music is great, expect it to be too crowded to dance.  Celebrities often spotted here include Justin Bieber, Chris Brown, and co-owner David Arquette.  However, plan your visits here carefully; it is only open on the weekends and Tuesday nights.
As its name suggests, The Conga Room is a great place to hear some Latin-flavored music.  Located at 800 West Olympic Blvd., it is in the middle of Los Angeles and has something to offer to everyone.  Best described as a combination dance venue and live music venue, the club offers an eclectic mix of Latin music and modern DJs.  The on-site restaurant BOCA, offers delicious South American inspired food if you get hungry.  Celebrities often spotted here include Drake, Justin Timberlake, Kendrick Lamar, and co-owners Jennifer Lopez, Jimmy Smits, Baron Davis, and Jennifer Lopez.
If you picture an LA nightclub in your head, chances are good that you are picturing Avenue Nightclub (by the Tao Group) at 1601 Cahuenga Blvd.  As close to a pure dance club as you are going to find among LA's hottest nightspots, Avenue focuses on combining the hottest music with an innovative take on the traditional party atmosphere of a great nightclub.  The music tends towards electronic dance music, the floor is frequently showered with confetti, and LEDs and lasers keep the floor frenzied in the best possible way.  You can book a VIP table with bottle service to ensure seating or take a break on the outdoor patio, but this place is all about dancing, not seeing or being seen.
If you can get into The Sayers Club, you will quickly discover why this joint, located at 1645 Wilcox Ave., is the place to be.  The space is devoted to both music and sports, so you are just as likely to encounter a viewing party for a sports event there as see live music performances.  The quality onstage is amazing and you may even see old-school greats like Sheila E. or Stevie Wonder performing there.  However, getting in the door is tough and expensive.  If you do manage to do it, you just might encounter some of Hollywood's quirkier power players like Joseph Gordon-Levitt or Jeremy Piven.
Academy Nightclub is one of the more interesting venues in Los Angeles.  The venue has been fully renovated and offers several distinct spaces and a high level of flexibility.  It has removable bars and staging and allows you to stage your own events or to join events that are already in progress.  The main floor has modular seating and risers that you can customize for your event.  The lobby opens off of Hollywood Boulevard and has its own bar and sound system.  The VIP lounge has baroque furnishings, a full bar, and a smoking porch, offering views of the dance floor.  If you are able to throw an over-the-top bachelor party and can plan the event of the season, then Academy Nightclub is for you. 
Sound Night Club offers one of the more interesting club experiences in Los Angeles.  The constantly evolving space is well-known for offering some amazing events.  You can reserve a table to see some amazing live acts.
You cannot beat the location of OHM Nightclub, which overlooks Hollywood Boulevard.  The main club offers what you would expect from a traditional nightclub, but done Hollywood style.  Think special effects and lighting on moving trusses combined with a 150,000 watt sound system with synched LED panels.  Too loud in the main room, head over the OHM Lab, a lower key lounge located next to the main room and featuring its own DJ.  However, we say you visit for the patio, which is the largest of its kind and offers views of Hollywood Boulevard and El Capitan.  Combined, you find an amazing indoor/outdoor club experience, letting you enjoy LA's year round amazing weather and its vibrant club scene.
Massage Parlors and Strip Clubs in Los Angeles, California:
In a city where beautiful and talented women flock for employment opportunities, you are going to find outstanding strip clubs.  That's just how it works.  LA has multiple varieties of strip clubs.  Some are bikini clubs, some are topless joints, and some are full-on strip clubs.  We have included at least one of each in our list, and we have done it for a reason.  Strip clubs are popular with women in LA, as well, and you are just as likely to find a woman on the prowl at one of these clubs as you are to find a bunch of cash-flashing guys.
Crazy Girls at 1433 N La Brea Ave is an iconic Hollywood bikini bar.  It's a bit of a dive and the women only strip down to tiny bikinis, but it's funky atmosphere is worth it.  The dancers are not the run-of-the-mill LA aspiring model/actress type; many sport tattoos and piercings on their perfect bods.  Be on the lookout for women in the crowd, as well, Crazy Girls has a reputation as a spot for hooking up.
You know that Motley Crue song, "Girls, Girls, Girls"?  Of course you do.  Well, Seventh Veil's flashing neon sign was their inspiration.  While you are unlikely to run into any celebrities there, this all nude joint located at 7180 Sunset Blvd. is iconic.  It features two stages, private rooms for lap dances, and doesn't discourage a little friendly touching.
If you put 4Play and Seventh Veil side-by-side, it's like comparing old-school and new-school strip joints.  4Play is an all-nude venue and it is expensive, but the view is worth it.  Its dancers are some of the best looking in the city and touching is permitted, but it will cost you.  The minimum price for a private dance here is $100, and it is easy for one person to spend well over a grand in a very short amount of time.  Like other LA strip clubs, you can expect to find female patrons in the audience as well, and they may be looking for a hookup, but expect your wallet to remain a priority.
Sam's Hofbrau, a topless joint at 1751 E. Olympic Blvd., might not feature the most flesh, but it is considered by many to be the most entertaining strip club in LA.  A DJ spins hip-hop, the women on the stage dance, the patrons dance, making it feel more like a dance club where people happen to lose their clothing than a traditional strip club atmosphere, even though there are dozens of girls on stage, dancing, at any single time.
Of course you have heard of Spearmint Rhino. Unless you are dead or incredibly chaste, you have heard about this strip club chain that has locations in most of the major tourist cities in the United States.  However, hearing about Spearmint Rhino and visiting Spearmint Rhino are two different things.  There is a reason that this strip club chain is considered one of the best places to throw a bachelor party.  No, strike that, there isn't "a" reason, there are multiples reasons.  First, their girls are crazy stunning.  If you have never been to LA before, one of the first things you are going to notice is that the women tend to be more attractive than anywhere else in the U.S.  It makes sense because the prettiest girl from just about every town in the U.S. ends up in Hollywood, trying to make her dreams come true.  Places like Spearmint Rhino get to pick from that pool when choosing their entertainers, and the women are stunning.  Second, it is a full nude establishment, which ups the lust factor a bit and makes the bachelor party just a bit naughtier. 
Do you like to watch girls dance together or girls using props and toys?  If so, then Skin Club LA might be the gentleman's club for your bachelor party event.  They have private rooms, VIP lounges, table dances, and private dances.  They are known for helping throw an amazing bachelor party, and they are popular because many of their featured dancers are also adult entertainment performers (yes, we mean porn stars).  They also have a reputation for great customer service from the staff, a good selection of music, and wonderful hospitality, making it an ideal party location.
Where To Eat
Bachelor Party Restaurants in Los Angeles, California:
Los Angeles's is a great city for foodies; it leads the country on some innovative food trends and many of its restaurants combine dining and entertaining experiences.  You can literally find great food on the street corners here, and their more highly renowned dining spots are among the best in the world.
Delilah at 7969 Santa Monica Blvd. is best described as a modern supper club and while it is not the only place in LA to combine dinner, drinks, and dancing, it does it better than its competition.  The décor is Art Deco and the menu is upscale Americana.  Food you must try here:  filet mignon, carrot soufflé, yucca fries.
Nerano at 9960 S. Santa Monica Blvd. is on everyone's buzz list.  The décor is a modernist take on the traditional Italian restaurant.  This restaurant, which is just across the street from the Beverly Hilton, offers pretty simple interpretations of Italian classics, with an emphasis on fresh, high-quality ingredients.  How high quality?  You can expect to pay more than $30 for a pizza, but the food is top-notch.  Food you must try here: Fettunta Mare e Monti, Nondino di Vitello
Georgie at 225 N. Canon Drive has a recognizable name attached to it; celebrity chef Geoffrey Zakarian.  Like Zakarian, the restaurant's décor is classically upscale as is its menu.  The garden-like feel may seem a little frou-frou for a bachelor party dinner, but the restaurant is open for breakfast and lunch and is a great way to start your day.  Food you must eat here: eggs benedict, warm lobster roll, and grilled short rib.
Looking for just plain good food?  One of our picks is Langer's Deli.  It offers what you think of as New York style deli food, including the best pastrami sandwich in LA.  The deli itself isn't a must-visit venue, but the food is absolutely delicious.   We highly recommend it for that morning when you are hung over, no one is quite ready to leave the hotel or the rent house, but lunch time is rolling around.  It is perfect comfort hangover food.
Nobu Los Angeles offers the best Peruvian-inspired Japanese food in Southern California.  If you did not even know that Peruvian Japanese fusion was a thing, you are not alone, but once you taste the food you will understand exactly why it is a thing.  Of course, this depends a lot on whether or not you like sushi.  If you do not, then Nobu may not be the place for you. The restaurant itself is gorgeous, with a lushly appointed bar and lounge area that makes waiting a pleasure and even tempts you to linger after your meal and socialize with other diners.  Everything on the menu is delicious, but we love their Nobu style tacos, particularly the crab and the lobster.   
Where To Stay
Bachelor Party Friendly Hotels in Los Angeles, CA:
Los Angeles is full of iconic hotels and very few of them are going to object to partying bachelors.  In addition, just about every hotel chain you can imagine has multiple LA locations, which means that clean and comfortable accommodations are available in almost every price-point.  We are not going to waste your time pointing out the relative merits of any of these mid-priced hotels, though they do exist.  Instead, we are going to tell you about some of the best, swankiest joints in LA.  Hey, we warned you at the beginning that partying in LA means dropping lots of cash.
The 182 room Dream Hotel Hollywood is the-place to stay in Hollywood.  Think old-Hollywood charm, modern convenience, and food and beverage services provided by the legendary TAO Group.  If you want to go very upscale, consider renting the Guesthouse.  It offers amazing views of the city and has an option to turn it into two bedrooms.  Dream is such a nice hotel that you might never leave it.  It has amazing restaurants and clubs, like The Highlight Room, which has a poolside lounge, poolside drinks, and poolside dining, all on the deck of the hotel.  Tao Asian Restaurant is a combination lounge and dining area and has two levels of seating, so you can feel like you are a VIP.  Beauty & Essex offers two story dining and a great private dining room for your party plans.  For more casual food, you can pick up a pizza at Luchini Pizzeria & Bar.
The Beverly Hills Hotel at 9641 Sunset Blvd. is the Hotel California from the Eagle's iconic song and it has more celebrity legends and tales associated with it than just about any other place in Los Angeles.  The Polo Lounge is still a popular celebrity hot-spot, the pool is iconic, and the customer service is top-notch.
The Sunset Marquis at 1200 Alta Loma is just off the Sunset Strip in West Hollywood.  Known for catering to musicians, the hotel and its Bar 1200 are great places to hang out, with or without the celebrities that might appear there from time to time.
Bachelor-Party Friendly Housing Options:
Los Angeles has a ton of great hotels, but you might want to consider renting a home or villa instead, to keep your whole party together.  The villa rental tends to drive down prices, give you greater party options, and keep you away from prying eyes.  There are a ton of options to explore on a bunch of different direct-leasing sites like Airbnb.  One of our favorites is this artist loft space located in the middle of downtown LA and big enough to sleep 16.
When To Go
Best time for a Bachelor Party to Travel to Los Angeles, California (no budget restrictions):
California's mild climate makes year-round travel a possibility, but there are two best times to travel to Los Angeles: March to May and September to November.  July is the busiest time because of summer travelers, but conditions are not optimal during July, so, while it is the peak of tourist season that is because of school calendars, not because of natural attractions.
Best time for a Bachelor Party to Travel to Los Angeles, California (budget restrictions):
Spring, especially around Easter and Spring Break, can be pretty busy in Los Angeles, but September through November offers the same weather but without the crowds, which makes it one of the more affordable times to visit.
Current Weather in Los Angeles:
What To Bring
Items to Pack for the Big Weekend:
Los Angeles is the second largest city in the United States and you are probably going to stay somewhere with some excellent concierge service, so if you forget to pack something, you will probably be able to put your hands on a replacement pretty easily.  However, for bachelor parties we want to stress planning ahead to play it safe, so pack a stash of your favorite condoms, lube, recovery formulas, etc.  You never know what kind of shenanigans will occur, so bring more cash than you think you will need, just in case trouble arises.
What Else
Prices:
Hey, we told you at the beginning that LA is expensive.  Bottle service is pretty much a necessity if you want to be sure you are getting in, and you can expect to pay about $500 a bottle, though some places are less expensive and others are far more expensive.  Many clubs do not have a cover charge or only have a minimal cover charge, but do not let that lull you into complacency; if you are a group of guys standing in line, waiting to pay at the door, then you should plan on spending most of your night in that line.
Extracurricular Activities in Los Angeles (prostitution and drugs):
We told you this was going to be an expensive weekend.  If you are looking for some white to sober you up a bit, prepare to pay around $60 for .08 of a G.  We have been told the quality is decent as it's coming up from Mexico, courtesy of Colombia and El Chapo.
If you are looking for green the options are endless.  For about $100 you can secure yourself a medical card for the weekend which you can then use to make purchases at any of the hundreds of dispensaries.  Whether you want oils, lollipops or just a bag of bud, your hemp dreams will come true.  Don't expect prices to be that much less though, as even though it's regulated it's still pricey.  An ounce of good bud will run you about $350.00
Big Events in Los Angeles:
There is always something going on in Los Angeles or one of the surrounding towns that make up the greater Los Angeles area.  The Discover Los Angeles website provides a daily calendar of big and little activities to do in the area.  Some well-known big events include: the Rose Parade and the Rose Bowl, the Academy Awards and all of the associated parties and events, the Golden Dragon Parade/ Chinese New Year celebration, Toyota Grand Prix of Long Beach, the Playboy Jazz Festival, the LA Film Festival, US Open Surfing, Oktoberfest, and the Festival Navideno de la Calle Ocho.  One of the biggest modern music festivals, Coachella, is located a couple of hours away from LA and could be part of longer bachelor party celebration, but the vibe at Coachella is much grungier than the hip LA scene.
Planning on booking a bachelor party trip to Los Angeles?  Send us an email with all your details.  We work directly with the city's best nightlife venues, hotels, and promoters to help you arrange the best possible weekend, helping you get those hookups that other people tell you are impossible to get.
Los Angeles Bachelor Party Forum:
So you read most of this article and you still have questions about planning your big weekend in Los Angeles?  Post any questions you have to our forum (anything goes) and someone from our community or staff will provide you with a detailed response.  If you have already gone to Los Angeles for your bachelor party please post some suggestion, reviews, and tips for other groups in our forum, and help our community grow.
Why Go
Rating:
Conclusive Review:
In conclusion, there is no doubt that Los Angeles offers a great experience for single party goers looking to have a great time, as long as the money does not run out.  For a city that offers such great opportunities for those with some cash to spend, it can be not only boring, but even depressing, if your budget is restricted.  So, if you have an A+ budget, then LA is going to give you an A+ time.  Expect it to decline as your budget declines.  That said, walk around LA and it will seem like half of all of the beautiful women in the country are walking there with you; the weather is great; and there's always something to do.