The Best Outdoor Bachelor Party Ideas (2023 Guide)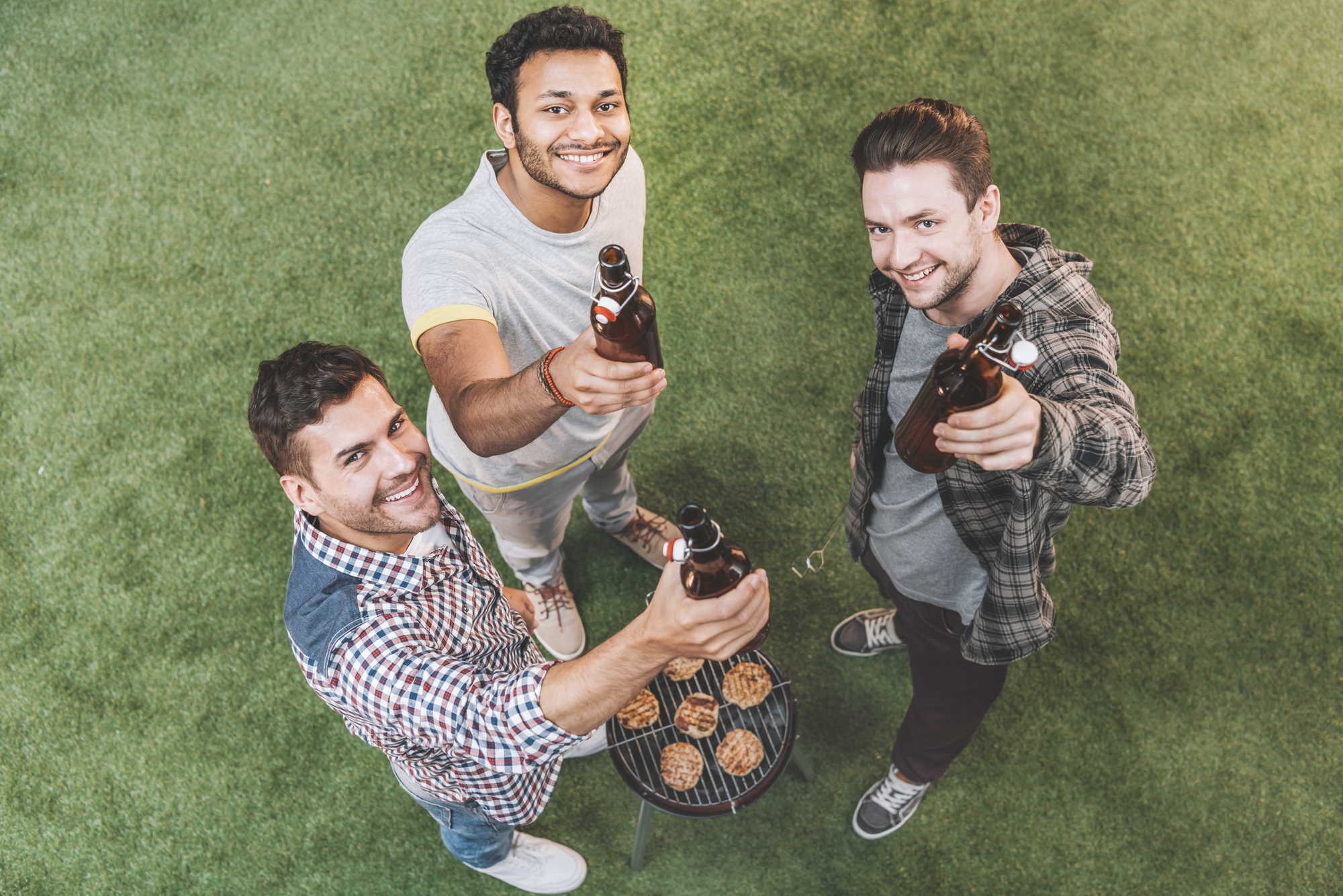 This post may contains references to products from one or more of our advertisers. We may receive compensation when you click on links to those products or services. Please also consider
donating to our website.
A growing body of scholarship confirms that not only do guys REALLY like outdoor sports, these activities improve their mental and physical wellbeing (including boosting their testosterone levels) far more than indoor activities.  More importantly, for best men and groomsmen in search of a low cost bachelor party idea, outdoor activities typically cost far less than indoor activities, especially those provided by commercial vendors. In other words, you can still have a great time at a bachelor party without breaking the bank by scheduling some outdoor activities. Moreover, unless it's 30 degrees below zero, most of the activities listed below can be enjoyed year-round. The following outdoor bachelor party ideas range in price from absolutely free to just a few dollars and these examples should help get you started.
Outdoor Activities for Bachelor Parties
Frisbee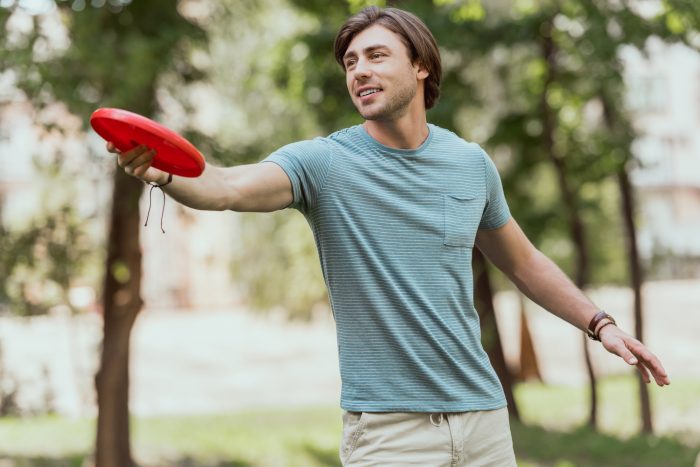 If you don't know how to play Frisbee, you're probably from Mars. EVERYONE knows how to play Frisbee because the rules are so simple and the equipment is so cheap. You throw it and someone else catches it (in a perfect world). There are some different games you can play with Frisbees, though, that make this a perfect event for bachelor parties. For example, you can hang some hula-hoops from a tree and whichever guests succeeds in throwing the most Frisbees through them wins. Likewise, you can build an easy target out of stacked cans (preferably on some type of table) and players alternate trying to knock over as many as possible. Similarly, you can use large water bottles as pins for Frisbee bowling or hang numbered baskets around the backyard and play Frisbee golf. Whatever variation you choose, be sure to award prizes for the best and worst performances. Frisbees are also cheap and you can purchase enough for your bachelor party crew for just a few dollars. If you want something really special, have your Frisbees personalized with the groom's name and the date of the bachelor party. These will make great souvenirs.  
Archery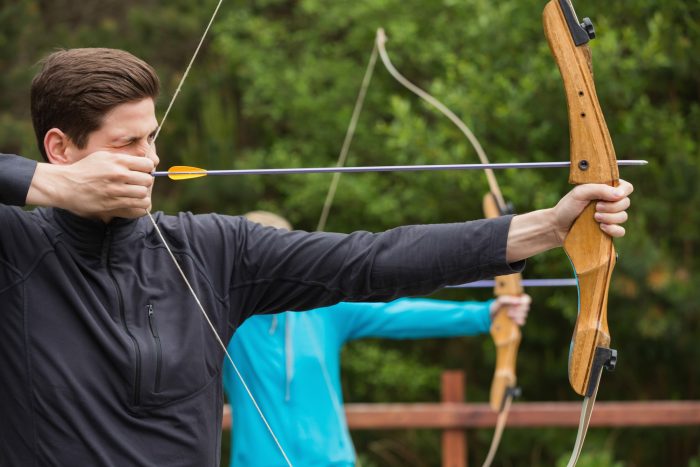 Now here's a real man's sport. Test your skill and mettle against your buddies with a backyard or public park archery contest. Although you can spend thousands of dollars for the highest quality archery gear, complete archery sets (including bow, arrows, wrist/finger guards and more) are available for under $40. We recommend buying enough arrows so that all party goers will have at least five to shoot before having to retrieve them. Whether booze is involved or not, be sure to set some basic safety rules such as all archers behind the safety line and bows down when arrows are being retrieved from targets. You can even liven things up by making your targets something guys really want to shoot at such as 3D deer targets or an effigy of a political leader (several come to mind). Award prizes for the best (and worst) archers.
Cookouts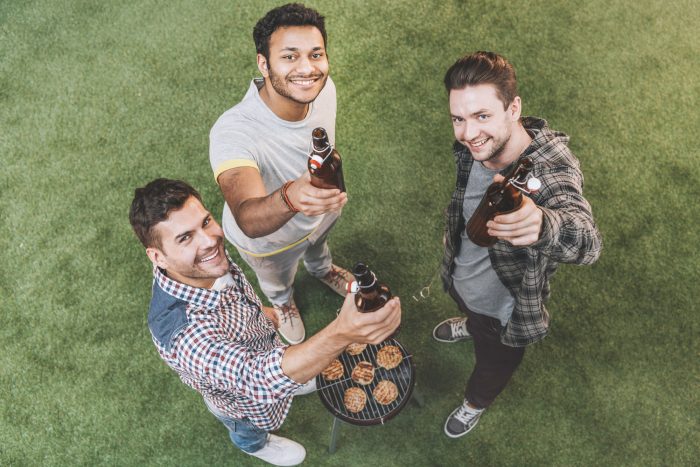 You can combine a cookout with any of the other outdoor activities we provide here, but a cookout also makes a great outdoor activity on its own. Unless you have the time and expertise, don't call your cookout a "barbecue" in your invitations because this is a specialized term that refers alternatively to the type of cooking method, the meat itself or the equipment on which it is prepared – and your friends will be quick to point out your culinary faux pas. Even your basic, run-of-the-mill cookout, though, can be a highly enjoyable experience since everyone gets to eat their favorite foods cooked just the way they like them. Stock up on high quality hot dogs (Angus beef hot dogs are the best), hamburgers, some steaks and corn on the cob and you're all set. You may even want to try some exotic meats such as bison, antelope, kangaroo or ostrich to make it a very special occasion indeed. Also, because all guys are compelled to offer their advice on grilling, be sure to assign someone who knows their way around a grill.
Mountaineering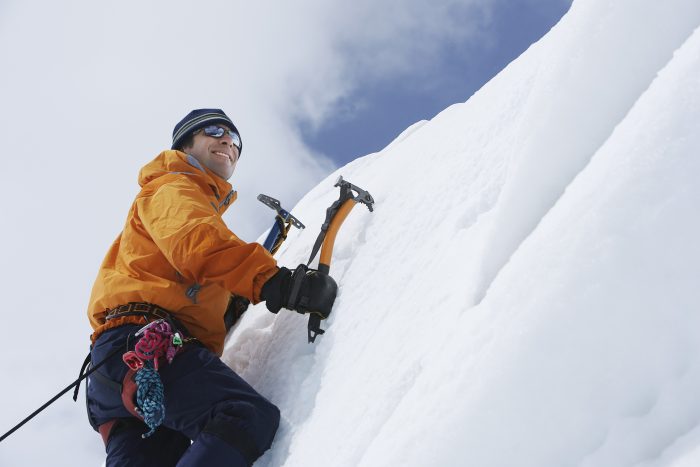 If you're lucky enough to live near mountains, climbing one can be a lot of fun, especially if there are interpretative, easy-to-climb hiking trails to the top available. Many mountains across the country have trails to the top thanks to the work by the Civilian Conservation Corps nearly a century ago, so you won't need specialized mountaineering gear, just a good pair of tennis shoes or boots and a walking stick you can find along the way (these make great souvenirs). Pick a mountain that's not too high (about 5,000 feet is perfect). Besides the great exercise this activity provides, you'll enjoy a real sense of accomplishment and camaraderie with your buddies when you reach the top and the photo opps are the best. Be sure to pack some trail snacks and beverages (assign the groom the task of carrying the heaviest stuff!).
Extreme Croquet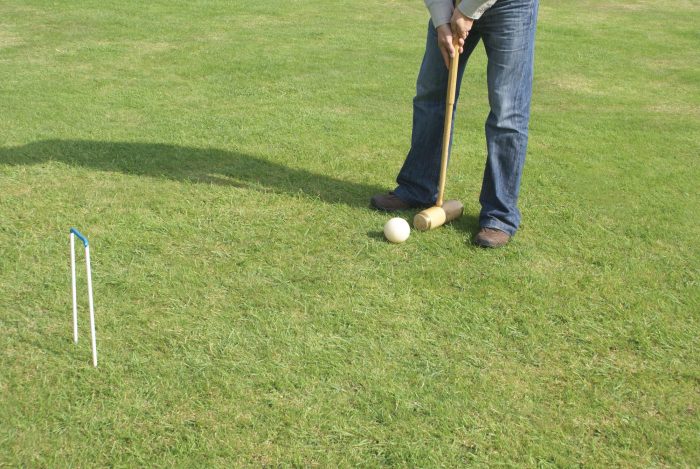 Remember how much fun it was to place your croquet ball against an opponent's and knock it into the woods? Well, extreme croquet is a lot like that but only more fun. Best played in a public park or other outdoor setting with interesting terrain features such as hills, tree roots and water, extreme croquet involves navigating these obstacles to score in the same fashion as traditional croquet. This means that it is important to scout a few locations to find the best one for these purposes. There are also some entertaining alternative rules to extreme croquet that make it even more enjoyable, including:
When one ball strikes another, the striker may choose to continue play as the strikee's ball.
A player may strike the ball with any part of the mallet, including a billiards-reminiscent style.
The first player through the second wicket determines the direction of play.
As each player reaches the starting post after clearing all wickets, he is "poison" and must declare his status to all players.
A non-poison player can eliminate a poison player by sending the latter through a wicket.
Passing through a wicket out of order is punished by sending the ball back to the previous post.
Small children, dogs, and ponies are legal obstacles, and if they interfere with the ball's placement, the player must still "play it where it lies."
Best of all, you can use traditional croquet equipment for this game, but it will likely experience more wear and tear in one game of extreme croquet than a lifetime of conventional usage. Therefore, try to find a used set of croquet equipment at your local thrift stores or ask your bachelor party buddies if they already own a set that they'd be willing to donate for the good of the cause.
Paintball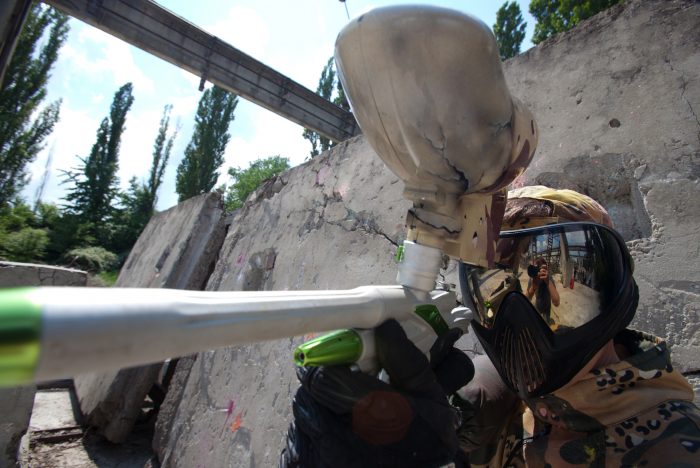 Although it's not free, paintball contests are an inexpensive and fun way to celebrate the groom's upcoming nuptials. You and your buddies can form teams or compete individually, depending on how many guests you have in attendance. Most importantly of all (at least from a guy perspective), getting hit with paintballs hurts and the evidence of your prowess (or lack thereof) is there for all to see when you succeed in hitting others. Get your blood flowing and have a paintball contest for your next bachelor party!
Softball /Baseball game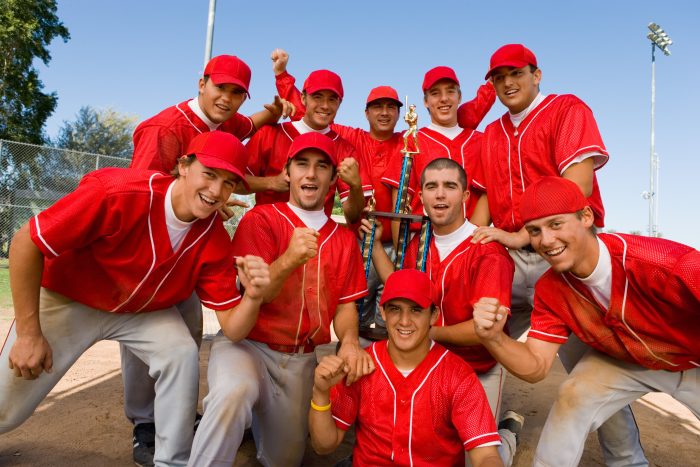 Dust off those gloves, baseball bats and balls from the cardboard box in the attic and play some ball. This is a great idea, especially if you have access to a large backyard where you can drink what you want, but most local public parks have free baseball/softball fields where you can whoop it up with your buddies.  Be sure to double-check the law about alcohol consumption in public places. Make some special rules such as players must chug a beer if they don't get a hit (or if they get one) or drop a ball (or catch one). A popular alternative to softball/baseball games is sloshball where the rules are essentially the same but with a far greater emphasis on chugging beers (i.e., second base is a keg of beer). There are also some other interesting rule variations in sloshball such as players must finish chugging their beer at second base before another runner can advance (otherwise the player is out) or, in another variation, players can finish their beers at second base while other players join them – in other words, there can be more than one player at second base at any given time. In any event, be prepared to get a little dirty …
Bonfire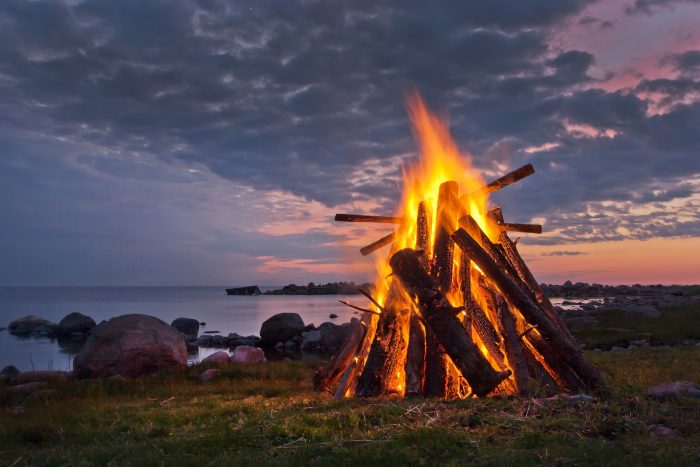 A bonfire is a large outdoor fire that is composed of any type of flammable materials, but typically scrap wood or even bales of hay. The etymology of the word "bonfire" is thought to derive from "bone fire" because the Celts staged midsummer festivals where they burned animal bones in an effort to ward off evil spirits. While we can't attest to the efficacy of bonfires in warding off evil spirits, we can confirm that they do make any gathering much more festive. If someone in your group has a large backyard away from overhanging trees, you're all set. If not, try to find a beach or public park where bonfires are allowed (you may need to buy a permit). Discarded shipping pallets or scrap wood make a good base for a bonfire, but you can also ask your bachelor party friends to bring a wooden piece of furniture they no longer want to add to the fire. Add some drums and loincloths, and you have the makings of a bachelor party no one will ever forget.
Fishing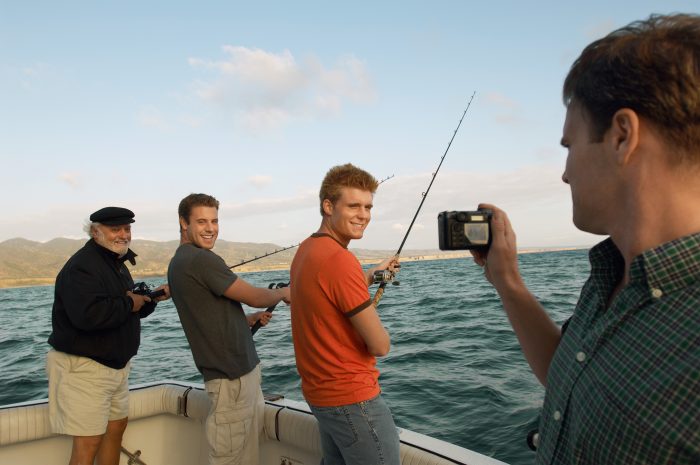 Most of your friends will probably already own some fishing tackle, but even if they don't, it doesn't cost much to go fishing. In fact, you can require your bachelor party guests to make their own fishing poles Tom Sawyer style to even the playing field. Be sure to spring for some good bait such as frozen shrimp so you'll be certain to catch something. Prizes can be awarded for the largest fish caught, the smallest fish caught, the most fish caught or for no fish caught at all. If one of your guests owns a fishing boat, so much the better but you can rent boats or just fish from the bank. Build a fire, roast some hot dogs and keep the beer cold while you fish. This is a guaranteed good time.
Geocaching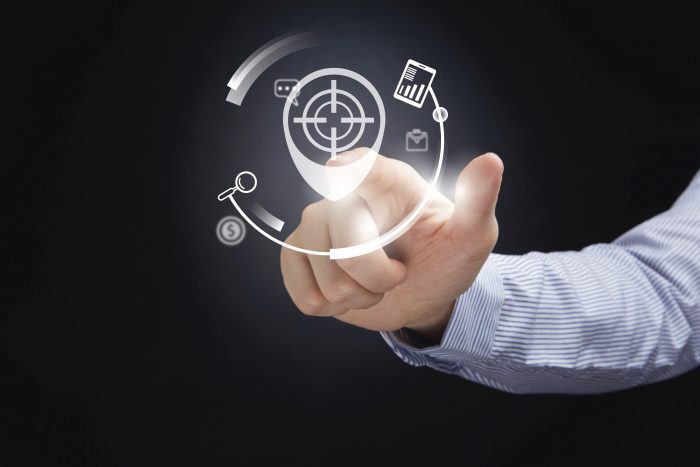 People all over the world hide things in strange places and then post the coordinates of the locations online to tempt others to try to find them. Using a device with GPS, geocachers then search and find these items to win bragging rights (ordinarily, geocachers replace the item in its hidden location or replace it with something else). Although you can rely on items already hidden by others (try geocaching.com), it may be more fun to hide your own items for the bachelor party and provide these coordinates to your friends only. This outdoor activity can also be even more fun if you have some designated drivers.       
Camping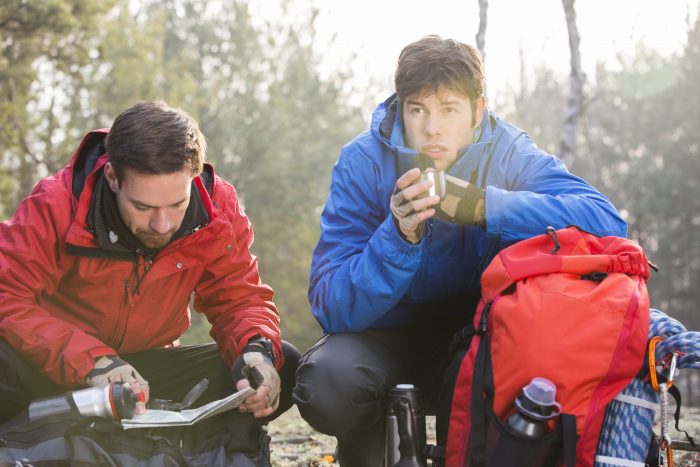 We can hear the groans from here, but believe us when we say that a camping trip makes a great outdoor activity for bachelor parties of any size. Modern camping is a far cry from the bivouacs you were forced to go on during your military service and luxury is the watchword today. Indeed, most state parks offer upscale cabins with all of the comforts of home and there are camping sites available across the country that highlight the natural beauty of the locales. Try to make reservations for state park cabins as soon as possible since they book quickly. Drinking a few brewskies, cooking over an open campfire, and singing some oldies with your buddies under the stars is a great way to celebrate the groom's big event and best of all – it's cheap. If someone in your group has a small electric generator, that will make things even better by providing some lights at night (use holiday lights) and some tunes.
Conclusion
You don't need to spend a fortune to have an epic bachelor party. In fact, properly planned, virtually any of the outdoor bachelor party ideas we discussed above will make your bachelor party a memorable event, and it's entirely possible that you and your friends will have far more fun engaging in these activities than you would hanging out in a noisy nightclub or strip bar getting hammered (although there's something to be said for that as well). Indeed, one of the all-time best bachelor parties we've ever attended involved 20 guys, a keg of cold beer and a baseball field at a local park. Just be sure to survey your guests to see what they'd like to do (and what they're able to do) before finalizing your plans.