Plan a Lake Tahoe Bachelorette Party (2023 Guide)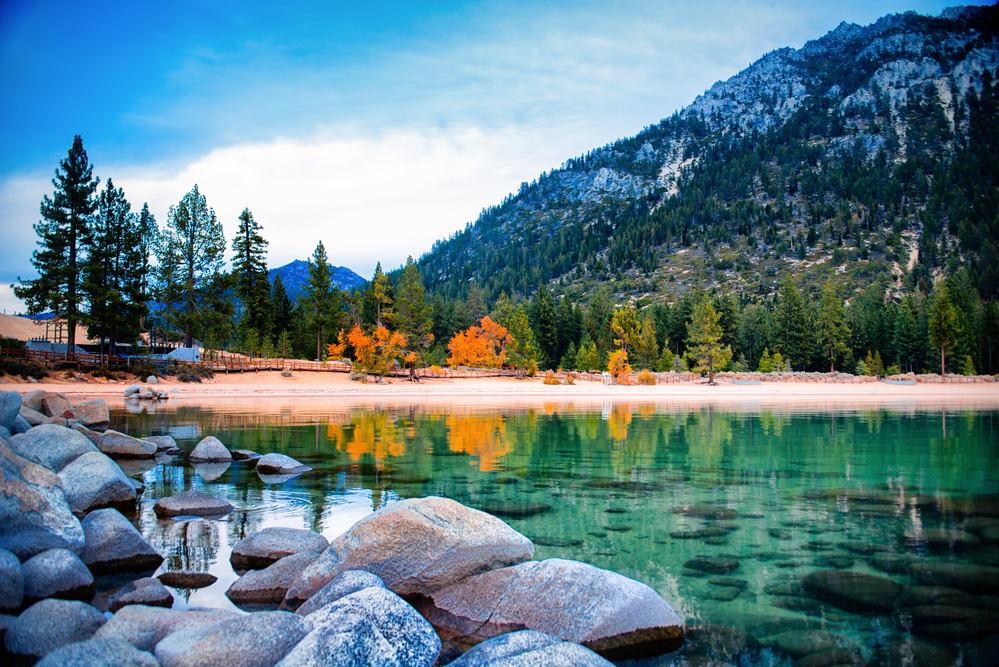 This post may contains references to products from one or more of our advertisers. We may receive compensation when you click on links to those products or services. Please also consider
donating to our website.
Looking for a unique bachelorette party experience?  While nights full of drinking and partying may be the go-to bachelorette party experience, the reality is that a great bachelorette party is one that caters to the bride.  If you are planning a bachelorette party for an outdoorsy bride who loves being active, the Lake Tahoe might be the perfect place for your party.  Lake Tahoe has a number of resorts.  In the winter, it has skiing and other winter activities, while in the summer it is hiking, boating, and plenty of shopping.  Lake Tahoe is a vast lake and resort area.  South Lake Tahoe has vibrant nightlife, while North Lake Tahoe is more sedate.  Wherever you are around the lake, you will find amazing outdoor opportunities, plenty of clean air, and high-end dining and shopping opportunities that combine for the ultimate girls' weekend.
How to Get There
Lake Tahoe is a mountain resort area with no direct airport service.  You will need to do some type of road travel to the resort area.  This can mean a road trip from nearby Reno or Sacramento, a rental car, or a shuttle from the Reno Lake Tahoe airport.
Airport
The Reno-Tahoe International Airport (airport code: RNO)  is the airport that serves the Lake Tahoe area.  The Nevada side of Lake Tahoe is down US-395 from the airport.  There are plenty of shuttles available from the airport to both Tahoe South and North Lake Tahoe.  You can also get taxis, or use a rideshare service like Uber or Lyft.  The cost of a rideshare service varies depending on your destination in Lake Tahoe, but they start around $47. 
Getting Around
Lake Tahoe is divided into two distinct areas: Tahoe South and North Lake Tahoe.  Transportation options depend on where you are staying around the lake.  You can get Uber, Lyft, and taxi service no matter where you are staying around the lake.  In North Lake Tahoe, there are also a number of local shuttle and bus services, you can find more information at Lake Tahoe Transit, Tahoe Area Regional Transit (TART), Truckee Transit, and a variety of ski resort shuttles and schedules.  For Tahoe South, the public transportation is handled by the Tahoe Transportation District.  BlueGo operates a 24/7 public transportation system for Tahoe South.
Things to Do
Lake Tahoe is the largest Alpine Lake in the United States and you have a choice of amazing activities to make your bachelorette party fabulous.  There are activities for daytime and nighttime.  During the daytime, you will want to be outside, enjoying the fabulous weather and the amazing array of activities.  This is true during all four seasons.  In warmer weather, you can enjoy mountain and lake activities like hiking and boating.  In the snowy season, you can enjoy skiing, snowboarding, and other snow-activities. 
Daytime Activity Ideas
Lake Tahoe is a popular destination for mountain bikers, who enjoy coming to the area to ride through some of the area's most beautiful mountain trails.  Whether you are a daredevil or a novice, you can enjoy the area's historic trails.  The Saxon Creek Trail, also known as Mr. Toad's Wild Ride, is known for providing some of the most adventurous biking trails in the U.S.  The Flume Trail is not only beautiful, but it also known for having trails at a variety of technical levels.  Bring your own bike or rely on one the area's bike shops for a rental that is perfectly suited for whichever tails you want to travel.  In the right weather, plan on taking a plunge in Lake Tahoe's cold waters to cool off at the end of your ride!
Lake Tahoe is a popular fishing destination, as well.  You can fish from the shore, rent a boat, or board a fishing charter to enjoy some amazing fishing.  Gilligan's Guide Service takes you beyond the lake itself, and provides year-round charter fishing tour service on the Truckee River. Looking for a different type of fishing experience?  Check out the M.S. Dixie II Paddlewheeler, a traditional paddle wheel boat. 
Lake Tahoe is also known for some amazing golf courses.  If you are a golf fan, you might want to plan to hit the links.  Depending on the time of year, you may even be able to get tickets to one of the nation's most star-packed celebrity golf tournament.  The golf courses in Lake Tahoe include: Bijou Municipal Golf Course, Edgewood Tahoe Golf, Lake Tahoe Golf Course, Tahoe Paradise Golf Course, Carson Valley Golf Course, and the Genoa Lake Golf Club & Resort. 
Many people come to Lake Tahoe for the hiking, which is great year-round, as long as you are properly equipped.  If you are not an experienced hiker, then you want to stick to hiking in the warmer weather and avoid winter hiking or hiking on any trails that are not opened for the season.  If you are confident in your hiking skills, the snow does not have to stop you; in the winter, you can strap on snowshoes to go hiking on some of the trails.  On your hikes, you can explore amazing slopes, find tons of waterfalls, and see some amazing fields of wild flowers. 
Of course, as a huge lake, Lake Tahoe offers a wide variety of different water sports.  The lake is stunningly gorgeous, providing a pristine surface for a wide variety of water activities.  Kayaking, paddle-boarding, boating, jet-skiing, water skiing, wakeboarding, sailboating, white-water rafting, snorkeling or scuba, swimming, or just enjoying the beach.  Check out Ski Run Marina, North Tahoe Marina, or any of the lake's other awesome marinas. 
Of course, if you are in Tahoe in the winter time, your plans probably include skiing and snowboarding.  You can find most of the ski areas in Lake Tahoe on the North Shore.  They run the gamut from high-end to homey, and picking the right ski resort may depend on each day's ski conditions.  Ski resorts include: Boreal, Homewood Mountain Resort, Tahoe Donner Downhill Ski Resort, Diamond Peak Ski Resort, Mt. Rose-Ski Tahoe Ski Resort, Sugar Bowl Resort, Donner Ski Ranch, Squaw Valley Alpine Meadows Ski Resort, Northstar California Skiing and Snowboarding, Auburn Ski Club Training Center, Granlibakken Resort Ski Area, Heavenly Mountain Resort, Kirkwood Mountain Resort, and Sierra-at-Tahoe Resort. 
Not a fan of downhill snow-skiing or snowboarding?  You can still enjoy an amazing array of winter sports.  Some great winter sports activities include: cross-country skiing, ice skating, sledding, snow tubing, snow shoeing, and snowmobiling.  Of course, you can also just go out and enjoy the snow, whether it means throwing snowballs or making snow men. 
While Tahoe is known for its amazing outdoor activities, sometimes you want a serene break from the outdoors.  That is when you need to go enjoy some of the Lake Tahoe's other amenities.  For example, Tahoe is known for having world-class spas.  Surrounded by opulent resorts and luxe communities, Tahoe has a number of different spas available for your pampering pleasure, which makes narrowing down the list to the top few difficult.  The Ritz Carlton is synonymous with luxury and their cinnamon maple syrup body treatment is a world-class experience.  The Mountain Aloha Massage and Body Work lets you get a lakeside massage, so you do not have to take a break from the mountain's beauty to enjoy getting spoiled.
Hit the beach!  You may know that Lake Tahoe offers some awesome water sport activities, but you may not realize that its beaches are so beautiful and accessible.  The lake has literally dozens of beaches to enjoy and each of the beaches is known for something, whether it is sunbathing on the rocks, having plenty of amenities, or being clothing optional.  So, spend some time researching Tahoe's various beaches so you can plan your sun and sand time to meet your group's mood!
View all Activities in Lake Tahoe
Nightlife Activity Ideas
Where you stay in Lake Tahoe can help influence your access to nightlife.  Tahoe South is known for having a much more active nightlife than North Lake Tahoe.  On the other hand, North Lake Tahoe is known for having a more upscale scene.  Where you stay can be important, especially depending on the season, because if it is crowded traveling between the two areas is not something you will want to plan regularly to get to your activities.  That said, the two areas are not that far apart; you can easily plan at least one night's activities in the other area.  Just think ahead and get a party bus, limo, or other designated driver to take you from location-to-location! 
Tahoe South is where you will find the Lake Tahoe region's legendary casinos.  They offer Vegas-level gambling, with a full range of casino games, from slots to high-stakes poker rooms, and the same type of shows and quality of performers you would find in a high-end Vegas casino.  However, they have a very different vibe, offering a down-to-earth feel to your casino relaxation.  Choose from Hard Rock Hotel & Casino Lake Tahoe, Harrah's Lake Tahoe, Harvey's Lake Tahoe, Lakeside Inn & Casino, and MontBleu Resort Casino & Spa.  
Looking for a laugh?  The Improv Comedy Club is a great place to go, just remember to take some thick skin with you because, like most traditional comedy clubs, the featured comics are not afraid to make the audience part of the show.  While unlikely to feature any huge named comics, you will recognize their featured performers if you follow comedy at all.  Even if you do not, you will find them entertaining and an interesting alternative to some more traditional bachelorette party nightlife. 
While Lake Tahoe may be considered a playground and resort area, it actually has a pretty vibrant and storied past.  That is why we recommend the Carson City Ghost Walk if you happen to be visiting at the right time of year.  Learn about the history of South Tahoe and the surrounding area, and hear some spooky stories. 
We love the idea of starting out the night on the water, and one great way to do that is to enjoy a sunset dinner cruise.  These cruises offer upscale dining options, fine cocktails, an amazing wine selection, and feature some of the area's best local musicians.  Of course, the real attraction is the amazing sights that you will see while you cruise over crystal-clear waters under a magnificent sky. 
Opal Ultra Lounge at the MontBleu might be the most traditional nightclub in all of the Lake Tahoe area.  Think DJs, some of whom you will recognize, playing great dance music in a heavy-throbbing, people-packed club environment.  Probably not on your to-do list if your idea of a perfect bachelorette party focuses on just being laid-back, but a great place to add if you want some of the big-city party feel to break up the serenity of the rest of your mountain retreat.  Plus, on Friday and Saturday nights ladies get in free up till midnight, so you can always check it out to see if it matches your mood! 
Bars
There is a surprisingly vibrant bar scene around Lake Tahoe, though you may have to travel to various little lakeside towns to experience all of it.  In fact, bars rather than nightclubs or other nighttime activities really make up the bulk of the area's nightlife scene.  That means that, unless you are hitting one of the clubs in the casinos, your nightlife experience will be a little different in Tahoe than it would in most bachelorette party destinations.  In no particular order, here are some of the best bars around Lake Tahoe:
Whiskey Dick's Saloon in Tahoe South is probably the most well-known of all of the Lake Tahoe area bars.  Yes, that does mean it can be a bit of a tourist trap.  You are unlikely to find lots of locals or that vibe bar feel.  However, it is well-known for a reason, because it consistently offers great live music or well-known DJs, a fun atmosphere, and plenty to do including video games, pool, ping pong, shuffleboard, cornhole, and even beer pong.
Want to visit the oldest bar in Nevada?  Of course you do.  That is why Genoa Bar and Saloon should be on your must-visit list.    It has the look and feel of the kind of Old West Saloon you would see on a movie set, which means that the whole experience is a little campy, but in a way that just adds to the fun. 
Fat Cat Bar and Grill is one of our favorite places in the area when we just want to have a great-tasting bite to eat, enjoy a couple of drinks, and hear some good live music.  This is not going to be your favorite bar experience, ever, because the Fat Cat is a little low-key to leave you with that kind of impression.  However, it is a place that you will put on your list for future visits to Tahoe, because its mellow vibe becomes more appealing the longer you are there!
The Red Dog Saloon might not be the oldest place in the Lake Tahoe region, but we think it has some of the best history in the area.  The legendary Janis Joplin played her first show at the Red Dog, which served as a hippie haven in the 1960s.  Today's Red Dog has less of a niche feel, but still retains a focus on live music.  It has open mic on Wednesdays with scheduled performances over the weekend. 
Of course, it cannot be ignored that California has legalized marijuana for recreational use.  However, there is currently only one dispensary that sells pot for recreational use at the lake, NuLeaf Lake Tahoe.  Their staff of bud tenders focuses on helping pick the right cannabis for your recreational use, so that, whether you are a novice or an aficionado, you can feel confident you will pick the right leaf to enhance your party experience. 
Male Reviews
Many people are surprised when they find out that a relatively small area like Lake Tahoe actually has a dedicated male review, but they do.  You can find The Male Room on Saturdays at the Opal Lounge at the MontBleu.  This is the perfect bachelorette party-experience, offering the type of full-entertainment show Magic Mike has conditioned bachelorettes and their girlfriends to expect when they go to a male review.  In other words, expect comedy, fun costuming, some audience participation, and a bunch of glistening hard-bodied men getting less dressed for your entertainment.
Where to Eat
Lake Tahoe has long been known for offering some innovative takes on food and was in on the beginning of the farm-to-table movement.  That means that you are going to find some surprisingly good eating in Lake Tahoe, which, in our opinion, is elevated above traditional resort-area fare.  You really can feel pretty confident just picking restaurants at random for your meals. However, if you want to plan ahead, we have included some of our favorites. 
Breakfast / Lunch / Brunch
Bert's Café in South Lake Tahoe has long been regarded as one of the best breakfast spots on the whole lake.  They also happen to serve some pretty awesome burgers if you are in their area around lunchtime.  If you are a nut-lover, then you should try their walnut pancakes, which are a favorite with locals and tourists, alike.  Looking for a more regional flavor?  Try the chilaquiles, which are best described as breakfast nachos. 
Heidi's Pancake House looks a little like IHOP meets Disneyland, which might make you veer away from it if you are in search of the authentic Tahoe experience.  That would be a very bad choice, indeed, as Heidi's has a reliably delicious breakfast experience.  It is a little decadent, but we like the idea of starting the day with a heavenly waffle, which is a Belgian waffle topped with ice cream. 
If you are looking for a quaint and cozy feel, we recommend you hit the Fire Sign Café.  This spot is known for its wide variety of house-made items, and you can taste the difference fresh makes in everything from its fresh-squeezed juices to the house-prepared sausages.  This is a great place to go if you have vegans in the group, because they offer a wide variety of vegan and vegetarian options.  Our favorite breakfast there is the Veggie Benedict, which somehow manages to feel virtuous and decadent at the same time. 
Looking for an amazing brunch spot?  We love The Boathouse on the Pier.  Full disclosure, part of the reason that we love this place is that it offers amazing views in its outdoor dining.  To us, that means it is a seasonal restaurant and its shortened winter hours reflect that, as well.  So, you want to check their hours before planning a trip to them.  However, if they are offering a brunch, you can get the full champagne brunch experience.
Not every experience is supposed to be fine dining.  If you are looking for a comfortable and casual place for one of your lunches, we recommend the Driftwood Café.  This local favorite offers a variety of tasty breakfast and lunch foods, but we recommend the signature Driftwood sandwich, a hardcore version of the traditional tuna melt.
Dinner
Evan's American Gourmet Café is one of Lake Tahoe's best upscale dinner establishments.  It is a fine dining establishment, reservations are required, and even in the casual Lake Tahoe atmosphere you will be expected to be dressed appropriately.  That said, it is well worth the effort.  Start with the Savory Chile Cheesecake, enjoy a spinach salad, pick the pan seared day boat scallops for your meal and finish it off with a dark chocolate raspberry crème brulee tart.  Everything about their food will delight you.
Another upscale favorite, the Six Peaks Grille, located in the Squaw Creek Resort, offers a local take on New American cuisine.  Their pan seared Hudson Valley Foie Gras is a unique twist on a classic favorite, but they are really known for their beef offerings.  For something really unique, choose their bison ribeye for your main course.
Have sushi lovers in your group?  Then check out The Naked Fish.  This mid-range sushi place offers the light, crisp, bright flavors of sushi in a modern environment.  We love the classic California roll, but if sushi is not your thing, you will still enjoy the edamame, pork belly, and fried calamari.
Looking forward to a quiet night in or just want a restaurant where you know everyone can find something that they like?  Consider Base Camp Pizza Co.  This pizza and Italian restaurant is consistently ranked among the top pizza joints in the entire Lake Tahoe area and is known for turning out delicious, affordable food as well as having exemplary customer service.  They manage to turn simple staples, such as their pear and walnut salad or their garlic bread into really extraordinary dining experiences!
Where to Stay
Lake Tahoe is a major resort area, which means that you have your pick of hotels and vacation rentals.  Think about what type of vacation experience you want to have and you will be able to find accommodations for it in the area.  Just keep in mind that demand is high for the best Lake Tahoe rental properties and resorts; you want to book as early as possible to get the best selection.
Hotels / Resorts
There are pros and cons of renting a room in a hotel or a resort.  There is not as much space as in a rental home and you have to respect your neighbors, which might but a damper on your party style.  On the other hand, regular housekeeping and proximity to tons of amenities sure can make a hotel have some appeal. 
Hard Rock Hotel & Casino Lake Tahoe is one of the resort area's best properties.  They are great at booking groups and have a concierge that will help ensure top-level service for your group.  This is the perfect place to stay if the bride is a music lover- you can even order legendary guitars to play, in your room, during your stay.
MontBleu Resort Casino & Spa is probably the place to stay if you want to make sure you are in the thick of the Lake Tahoe region's best nightlife.  It is also a natural place to stay if you are wanting to merge the uniqueness of the Tahoe location with some more traditional bachelorette party activities, since it is home to the area's male review and one of its best nightclubs.  A very typical upscale casino and resort, the MontBleu has every amenity you could desire and lushly appointed rooms that will keep you in comfort during your stay.
The Landing Tahoe Resort and Spa offers a completely different feel than the area's casino resorts.  More mountain lodge than big hotel, this boutique resort offers some high-end amenities that can really take your vacation over-the-top including in-room fireplaces and an on-site restaurant that excels at service and quality. 
The Lodge at Edgewood is right at the California/Nevada border, within walking distance of three casinos, and very close to one of the area's favorite ski lifts.  If offers onsite golf, morning wellness classes, and a spa experience.  Very high-end, this resort is not particularly budget-friendly, but you will get your money's worth if you splurge on it.

Hotels Available in Lake Tahoe
Rental Houses
While Lake Tahoe has a number of great hotels, it is known for having some of the country's most unique vacation rental homes, as well.  Because it is such a popular resort area, there are rental homes for groups of every size and you can really customize your experience for your group.  You can use a local realtor to help you find what you need for your group, or you can hunt online using services such as Airbnb and VRBO. 
Airbnb
What better way to enjoy the Alpine experience than in a true log cabin?  This rental has 9 beds, so you have plenty of room for everyone, while still staying in a cozy A-frame cabin with a real wood-burning fireplace. 
You want something near the beach, with six beds, a hot tub, great outdoor space, and a rich rustic feel?  This Old Tahoe vacation home has it all.  We especially like the amazing outdoor space with its included outdoor fireplace; great for relaxing in the summertime and s'mores when it is snowy!
Sign Up on Airbnb with our referral link and get $40 OFF your first reservation!
VRBO
In this all-suite retreat, no one gets the "bad room."  Instead, your whole party can bask in luxury and take in some breathtaking views.  Nestled in the mountains, you can literally hike right outside the back door.  It even has its own sauna, perfect for loosening up the muscles after a strenuous day on the slopes or a day full of mountain-biking. 
Are you traveling with best friends who cannot leave their best friends at home?  Consider this dog-friendly property so that everyone can be happy.  One of the things we love about this place is that it also comes with a free activity rental each day, which can help you keep your bachelorette party on a budget, even while staying in luxury. 

Rental Homes Availables in Lake Tahoe
When to Go
Best Time
This is an impossible time to answer, because the best time to visit Tahoe really depends on why you are going.  If you are heading there for winter sports activities, then you want to plan your visit from December to early March.  If you want to enjoy summertime lake activities, you want to plan your visit from June through August.
On a Budget
March to May and September through November are sweet spots for visiting Tahoe.  You get all of the outdoor beauty of the area and can enjoy all of the amenities, but you tend to miss the heavy summer crowds. 
Worst Time
While there really is no bad time to visit Lake Tahoe, if you are not a fan of big crowds, you probably want to stay away over the Fourth of July, Memorial Day, and Labor Day.  Those three holidays are busy at any resort lake area, and Tahoe is no exception. 
Current Weather
What Else
Big Events
North Lake Tahoe is known for the City Solstice Event in June, around the time of the summer solstice.  This festival marks the official start of summer in the North Lake Tahoe area and plays hosts to artists, musicians, and lots of food and drinks.
June is also time for Alpenglow Mountain Festival, another North Lake Tahoe event.  Not really a single event, this festival is scattered around the area and celebrates all of the outdoor sports that you can enjoy in the Lake Tahoe region, such as trail running, hiking, yoga, and rock climbing.
Are you a fan of The Bard?  Then do not miss Lake Tahoe Shakespeare Festival, one of the country's best Shakespeare festivals.  This season will feature Love's Labour Lost and The Hound of the Baskervilles.
The Autumn Food and Wine Festival pays homage to the more luxurious side of Lake Tahoe with an exploration of some of the area's best food and wine offerings.  Three full days of demonstrations, seminars, and tasting events mark the area's best gourmet celebration.
The American Century Celebrity Golf Championship is probably the Tahoe area's most anticipated golf event each year, with people flocking to see some of their favorite celebrities hit the links, all for a good cause.
The Snowglobe Music Festival is one of the world's only winter-based music festivals.  It combines some of the best snow conditions with some of the hottest musicians. 
The Freakers Ball at MontBleu is an experience in and of itself.  This over-the-top Halloween party is not for the timid, but is a great reason for the outgoing to visit Lake Tahoe in the fall!
View all Event Tickets in Lake Tahoe
What to Pack
Heading to an Alpine location means that you need to prepare for some pretty significant temperature swings almost any time of year.  That means layering. 
We love a packable lightweight down jacket, such as this one from Amazon:
The mountain location also means that sunscreen is a year round necessity.  Do your group a solid and pack enough for the whole bunch:
If you are getting a rental home, you could worry about having to get your groceries when you get there.  Or, you could do the smart thing and use a service like Shipt to order and get it delivered to you.
Sample Itinerary
Start out your morning with some Belgian waffles at Heidi's pancake house, then head to a bike shop to pick up your rentals.  Enjoy the flume trail during the late hours of the morning.  Make sure and bring plenty of water for your trip!  After you finish there, head to Base Camp Pizza for a late lunch/early dinner, before you get ready for the wild girl's night you have planned.  Enjoy The Male Room's early show, then plan to stay at the MontBleu for a little gambling before you hit The Opal at the end of the night.
Forum
Have you visited Lake Tahoe and have recommendations, tips, or advise for other bachelorette parties? Are you planning a visit to Scottsdale and have some questions? If you answered yes to either of these questions, check out our Lake Tahoe bachelorette party forum, and help other members of the community plan the perfect trip.
Widget not in any sidebars
Bachelorette Party Shirts
Lake Tahoe does not have any catchy phrases like some vacation destinations, but you can still find some cute Tahoe-inspired bachelorette t-shirts. 
Lake Tahoe Por Favor: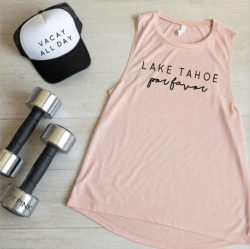 We love the idea of resting beach face:
You can also find amazing custom bachelorette party shirts for your trip to Lake Tahoe on Etsy.
 Hashtags
#Tahoewithoutthebeaux
#GirlsinTahoe
#Flannelandfizzfling
Travel Insurance
Do you need travel insurance?  Well, do you want to protect your investment?  Things happen and sometimes you cannot go on a trip or the trip gets canceled.  Paying for travel insurance can mean a little unnecessary money out of your pocket, but a huge savings in the event that something bad does happen.  We like to protect ourselves, so we always suggest travel insurance. 
Why Go
Lake Tahoe is a bucket list vacation destination for so many people for a reason.  It is stunningly beautiful and offers a rare alpine lake experience in the United States.  Because it is a popular resort destination, it also offers amenities you are unlikely to find in comparably beautiful areas. 
Star Rating
5 Stars.  Lake Tahoe is an incomparable destination.  If your bride is into natural beauty, outdoor living, and plenty of activity, this destination is hard to beat. 
Conclusion
Want something unique for an upcoming destination bachelorette party?  We urge you to consider Lake Tahoe.  Whether you are visiting for the winter snows or enjoying the lake in the summer, it will capture your imagination.  There is a reason that fans of Lake Tahoe come back year after year. 
Looking for more ideas?  Follow Yourbachparty on Pinterest