Simple Bachelorette Party Ideas (2023 Guide)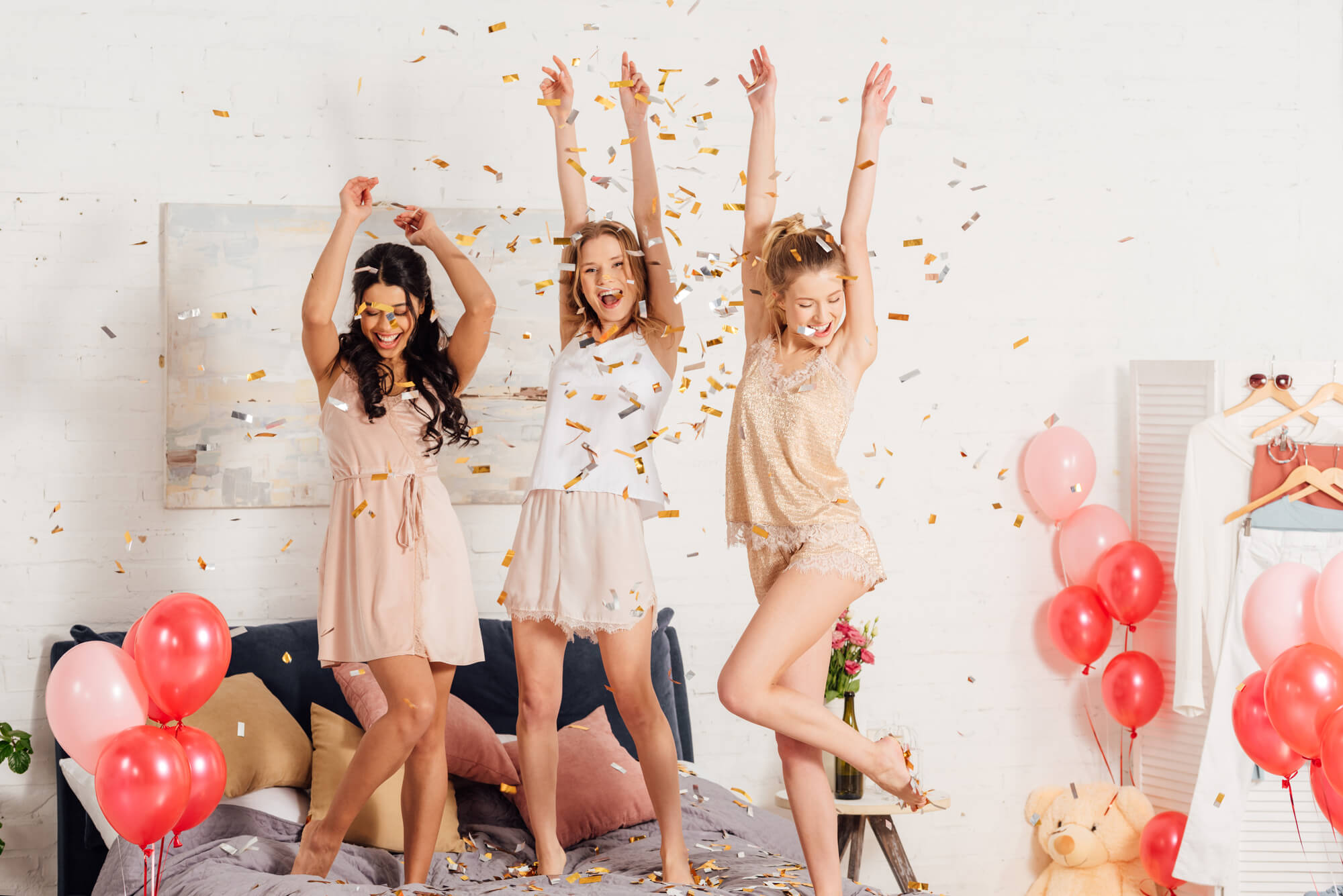 This post may contains references to products from one or more of our advertisers. We may receive compensation when you click on links to those products or services. Please also consider
donating to our website.
Introduction
You have probably noticed a trend in bachelorette parties.  Over-the-top.  Outlandish.  Expensive.  Time Consuming.  We are not knocking those parties; in fact, you can find some great ideas for outrageous bachelorette parties on our site.  But what about the simple bride?  What kind of bachelorette party do you throw for the bride who does not want something complex or expensive or crazy, but just a good time with her good friends?  No worries.  You can plan a bachelorette party that is simple and is still tons of fun.  From beach days to slumber parties, read on for some of our favorite simple bachelorette party ideas.
Top 11 Simple Bachelorette Party Ideas
#1 Brunch
A tried and true classic, brunch is a great go-to for bachelorette parties and is a good, simple standard if the guest list includes family members of the bride, people who do not know each other well, or guests that are too old or too young for some racier bachelorette party activities.  You can handle brunch a number of different ways- reserve a party room in your favorite brunch spot, get table somewhere, or arrange a brunch potluck in the bride's favorite place.  One of the things that we love about a brunch is that it is instantly adaptable to COVID-19 safety restrictions; many brunch places already have lots of outdoor dining options!

#2 Slumber Party
Getting together with the girls does not have to be complicated.  Throw a grown-up slumber party and watch the fun begin.  If one of your friends has a large house enough space for everyone, ask them to provide the location.  If not, book a room or two or more at a local hotel.  Lay in the drinks and snack food, order pizza, and plan a list of the bride's favorite throw-back movies.  We like classic 80s movies for a slumber party feel, but any quotable classic where you can chat and have a great time and pay only some attention to the movie is great as well.  Think of classic slumber party games like truth or dare, charades, and Twister to have on hand if that's the bride's style.  In the morning, get a delivery from your favorite donut place and enjoy some mimosas with your sugary breakfast!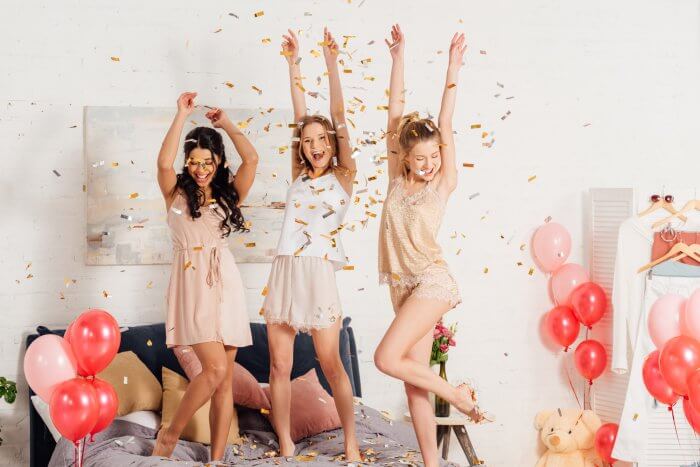 #3 Set Sail for A Day
If you live someplace near the water, then a great bachelorette party idea is to rent a boat for the day and take a cruise.  Load up a cooler with beverages (be sure to include plenty of water), bring plenty of sunscreen, and head out to your local marina.  We suggest hiring a boat with a captain to make the day easy-peasy for all of the guests, but you can always have a friend play captain for you.  If you are the adventurous type, get some towing toys or skis to play on the water.  If not, just enjoy the sights.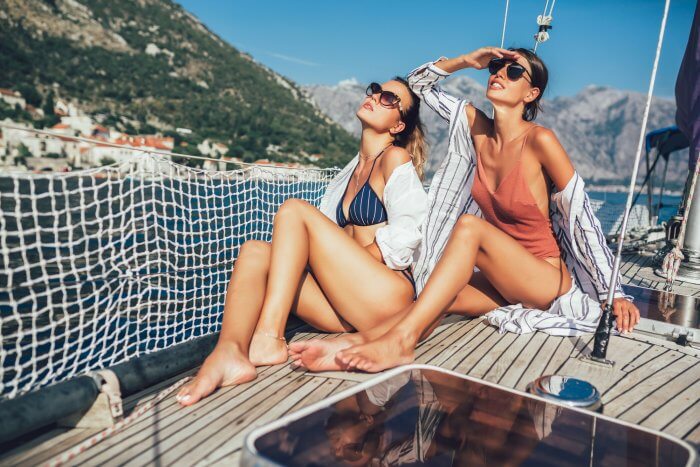 #4 Amusement Park
If it's been a while since you were at an amusement park or if the last time you went to one you were accompanied by children, you may not realize what a blast a day at an amusement park with your adult besties can be.  Riding the rides you want, eating junk food, taking in silly shows, and buying tacky souvenirs can be tons of fun.  While many people think of the big Disney Parks or Universal Studios when they think of amusement parks, this idea works equally well for people who want to stay local.  Almost everyone is within a reasonable driving distance of some type of amusement park, so whether you are heading to your local water park or a world-renowned entertainment facility, you are sure to have some fun.  If you do happen to be in a more rural area where amusement parks are not located near you, you may be able to plan this type of bachelorette party around the same time as your county fair and substitute a carnival, instead.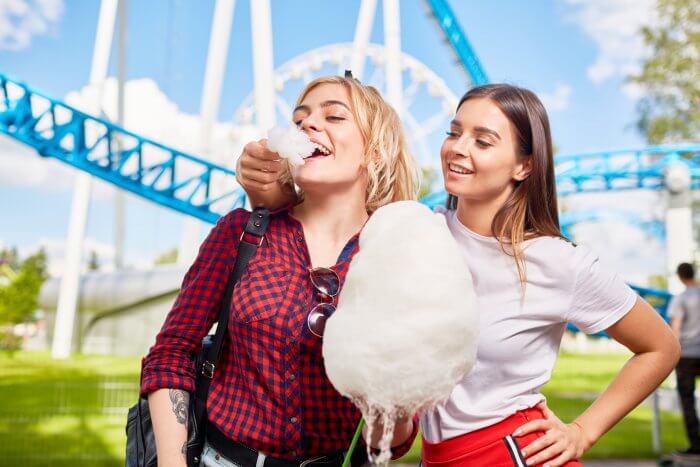 #5 Fortune Teller
As the bride is about to step into her new life with her groom, it is natural for her to have some questions about what that life has in store for her.  It is also a time for reflection for many of the guests.  A fun fortune teller is a way to help celebrate that excitement and also do something that can feel a little illicit and thrilling, depending on the background.  If you go with this option, look for a fortune teller who has experience with parties.  Whether or not you are a true believer in psychic predictions, you do not want someone foretelling gloom and doom.
#6 Camping
If you have a group of friends that loves the great outdoors, then camping can be a surprisingly simple way to have a bachelorette party.  Now, we know what you are thinking. If you have ever been the person in charge of planning and packing for a camping trip, it probably seemed anything but simple.  Unless you camp regularly, it can be a crazy amount of work getting things together for a camping trip.  Fortunately, in most locations you can find state parks, national parks, or private campsites that offer an array of introductory camping packages, where they set up the camp and you just come and enjoy it. If you happen to live in the Lone Star State, the Texas State Parks have a great program like this- all you need to bring is your personal supplies and food and drinks for the duration, and they will even provide you with a list of great camping-friendly foods.  This is also something that is easily adaptable to the bride's tastes and preferences, as you can go with camping, glamping, or even renting a luxury RV for your destination. 
#7 Spa Day
There is a reason that the spa day is a bachelorette party staple.  It is awesome. It is hard to beat a day spent relaxing with your girlfriends and most spas have bachelorette party packages designed to make the day as easy as making a reservation.  If you happen to live somewhere without a luxury spa, you can create a similar experience by booking a nail salon for the day so that everyone can have mani-pedis, for a mini-spa experience.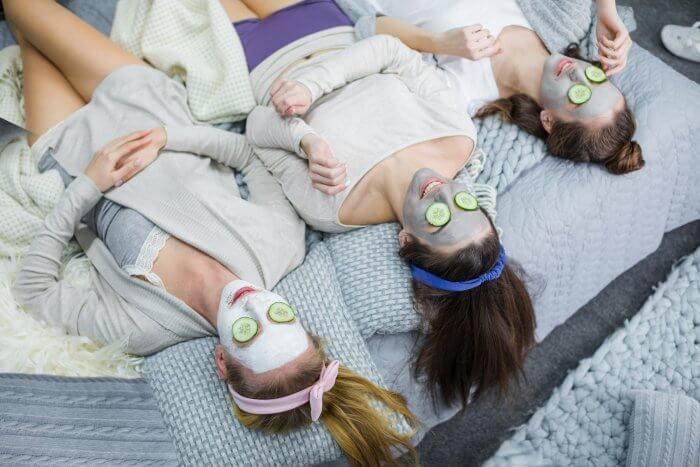 #8 Take a Class!
If you have never headed out to one of those paint-and-drink places, then you might not know how much fun it can be to take a class while you raise a glass with your girlfriends.  There is a reason that these places have exploded in popularity and expanded to include places where skilled artists and crafters lead people through basic lessons in everything from wreath making to creating bath bombs.  Most of them are happy to cater to private parties and some will even bring the party to your location.  Bring in a few snack trays and your preferred drinks and you have a mess-free, fuss-free party, and a built-in souvenir for the guests.  What could be easier?
#9 Game Night
If the bachelorette is a fan of board games, a game night might be the best simple bachelorette party out there.  As the person planning the party, though, you can't just look at the bride's favorite games, especially if she is a hardcore gamer, unless all of her friends are also hardcore gamers.  That is because some of the games that are most loved by gamers are not great for party environments.  Instead, you want to pick games that are easy to learn, easy to master, and great for a range of skill and talent levels.  Some of our favorite party game picks include Twister, Cranium, Cards Against Humanity, Heads Up, Hot Seat, Smart Ass, Code Names, Bad People, and Catch Phrase.  You can also find some bachelorette-party themed games, including some versions of The Newlywed Game that require you to ask the groom some questions beforehand, but don't go off on that tangent- you came here looking for simple bachelorette party ideas so keep it simple!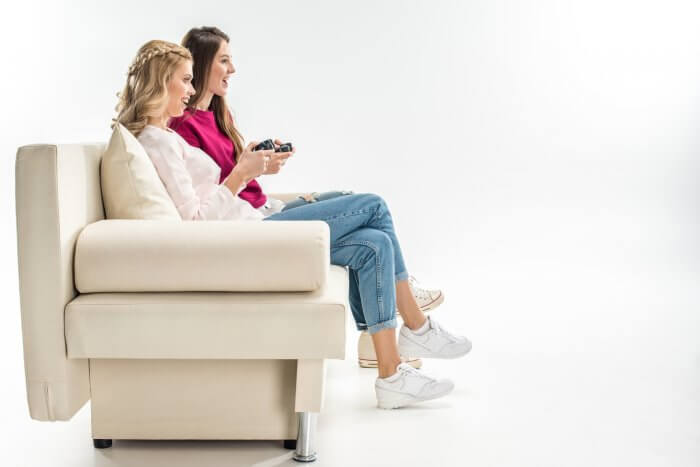 #10 Gambling
You don't have to make that iconic trip to Vegas to have a great gambling bachelorette party.  Whether you are playing a game of pure chance, like the slot machines, or a game where you are matching wits with other player, like poker, gambling can give you a great rush that is hard to duplicate.  Throwing a gambling bachelorette party can be as easy as arranging a bus or car trip to a nearby casino, or, if you do not live near a casino, planning a poker night at someone's house.  Either way, you can have all of the arrangements for a great gambling party taken care of in a couple of hours. 
#11 Bachelorette beefcake
There is a reason that strippers have become synonymous with bachelor and bachelorette parties, and, depending on the bride, she might be expecting some beefcake at her bachelorette.  If so, planning the bachelorette party just got super easy for you.  If you have a local male strip club, we promise you that they have a bachelorette party package that will take you almost zero effort to book.  Let them know how many guests you will have, what level of package you want, and the date of the bachelorette and they will put it together for you.  However, finding male revues is not the same as finding female strip joints, so you might not have that option.  No problem- bring the dancers to you.  You can hire an exotic dancer (or a few) to come to your location and put on a show for the bachelorette.  Look for highly rated companies that specialize in parties, and you should get an entertainer who incorporates some fun and silly party games into the show, letting you sit back and enjoy the sights!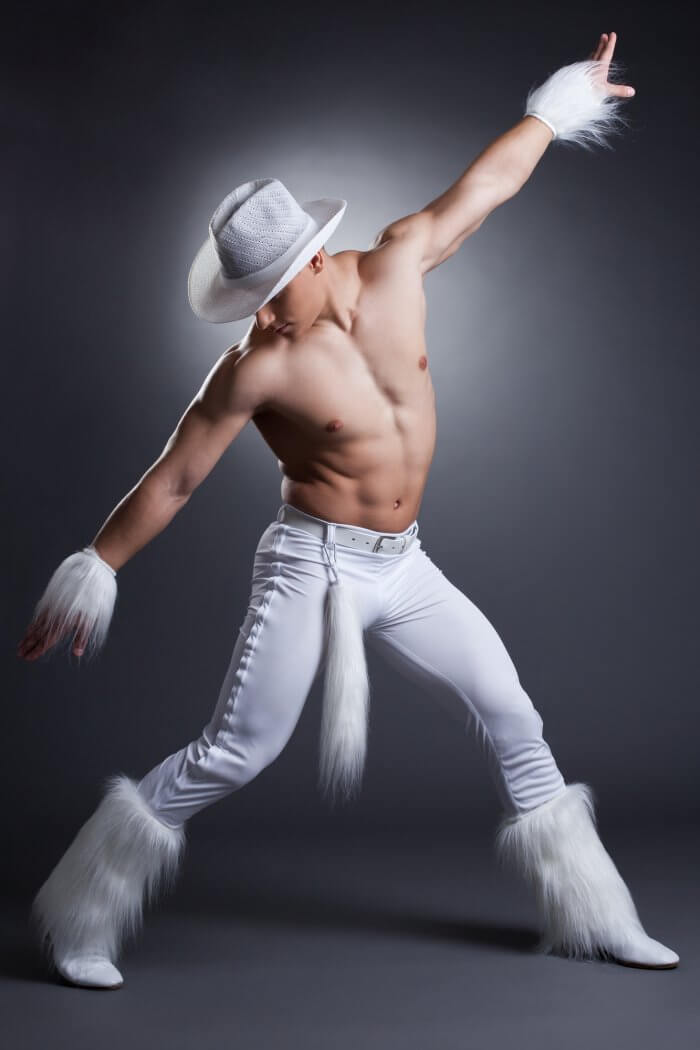 Conclusion
As bachelorette parties have become more common, there has been an increasing amount of pressure on bridesmaids to plan elaborate parties for the bride.  Those are great; we love an elaborate party.  But they are not the only way to celebrate a bride.  You can throw an epically fun bachelorette party without trying to reinvent the wheel.  We hope our tried-and-true simple bachelorette party ideas help you with your own simple bachelorette party plans.