The Perfect Bachelor Party Favors (2023 Guide)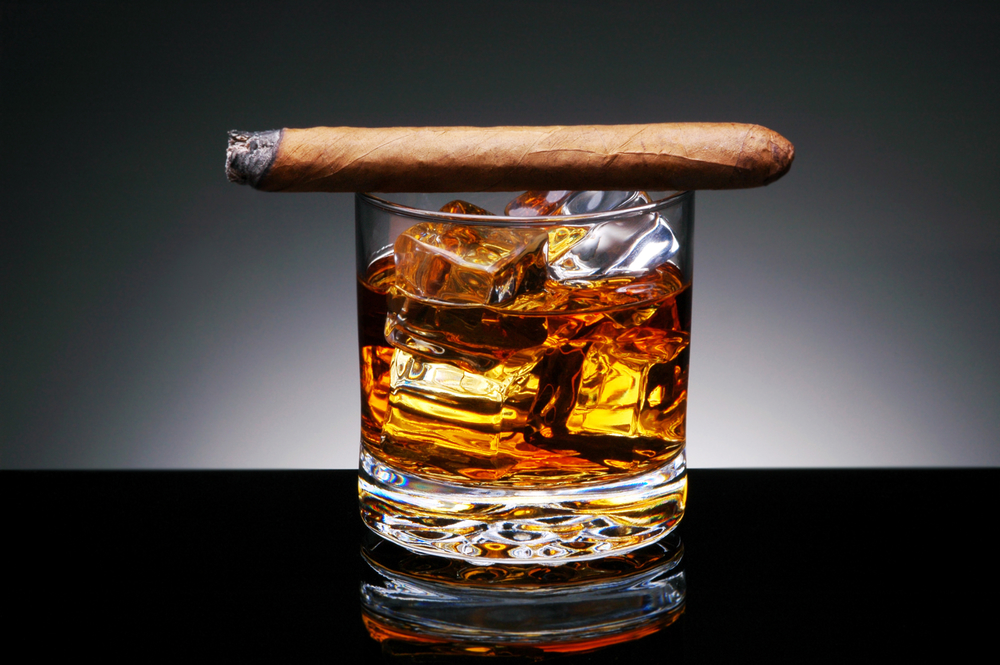 This post may contains references to products from one or more of our advertisers. We may receive compensation when you click on links to those products or services. Please also consider
donating to our website.
Although their origins are unclear, people have been giving their guests party favors for at least a couple of hundred years and probably even more. Depending on how many guests you intend to invite, their ages, personal interests and vocations, bachelor party favors can range from the costly, ultra-classy to whimsical to the zany to downright raunchy and outrageous. We reviewed literally thousands of products to find the absolute best and most appropriate of those available to bring you this comprehensive and up-to-date 2018 guide to bachelor party favors. This guide will help give you some ideas about what types of bachelor party favors you should provide, where to find them as well as some good reasons for using them to make your bachelor party a truly memorable event.
What Are Bachelor Party Favors Anyway?
While the term "party favors" has also come to mean illicit drugs (usually cocaine) in some settings, the type of party favors we're talking about are usually small, inexpensive gifts that are given to guests at special social events. Party favors have an interesting but uncertain origin, with some authorities believing that the custom originated with 19th century European nobility, while others place their origins as early as the 16th century in England when wedding guests were given "bonbonnieres" (a term still used by some brides and wedding planners today, but one we'll avoid because we're scared to pronounce it in front of women). Whatever their origins, there are several reasons for giving bachelor party favors to your special guests as we discuss below.
Why You Should Use Bachelor Party Favors
Today, a party favor is simply some type of small (usually inexpensive) gift that is given to guests at a party for several reasons, including providing them with mementos of the party, to show the hosts' gratitude for their attending the party or just as a way to add to the festive atmosphere of the occasion.
There are some other, even more compelling reasons to give your buddies bachelor party gifts as well, including those listed below:
The tradition of giving party favors has been adopted worldwide and your bachelor party guests may expect them and will likely be disappointed if you fail to deliver the goods.
Bachelor party favors are a good way to give your guests something tangible to help them remember your special event.
Bachelor party favors are a good way to show your guests that you appreciate their friendship and camaraderie, especially during this special event.
You don't want a reputation as a cheapskate with your buddies, do you?
Having established that party favors have a long tradition and there are multiple reasons for giving them today, the next step is finding something to put everything in and then something to give as we describe below.
Bachelor Party Favor Ideas
Unless you're giving your bachelor party guests $34,000 Yacht Master Rolexes as party favors in individual gift boxes, you'll want to make sure you have something appropriate to put your party favors in. Fortunately, the bachelor party favor industry has recognized this need and there is a dazzling array of gift boxes and bags available for this purpose, including some that are specifically designed for masculine guests such as the camouflage gift bags depicted below.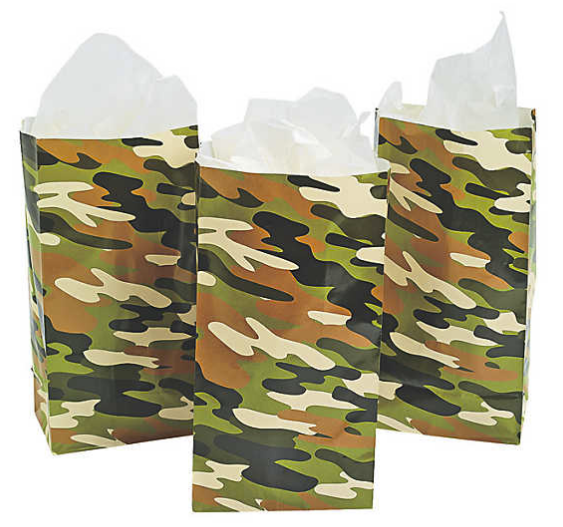 At just $4.79 per dozen, these 5″ x 3-1/4″ x 10″ camouflage party favor bags are big enough for a collection of small party favors and their military theme will make your buddies smile.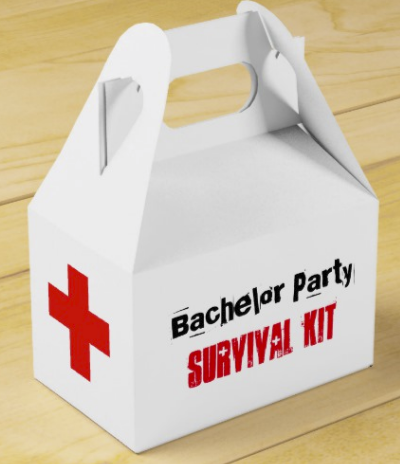 An even better container for your bachelor party favors is this sturdy, customizable card stock box. At 4″w x 2.5″l x 5″h with full-color printing on multiple areas customization for $2.70 per box, this alternative is not the cheapest, but these boxes are VERY cool, huh? Familiar to anyone who has ever bought a family-sized chili from Wendy's (which is to say almost everyone), you can even include the names of the groom and bride, the best man and groomsmen and the date of the big event on their individual boxes to make these bachelor party favors a real keeper.
The party favor industry, of course, has other, more generic offerings available and they have not forgotten the ladies. There is a wide range of party favor selections available including those depicted below.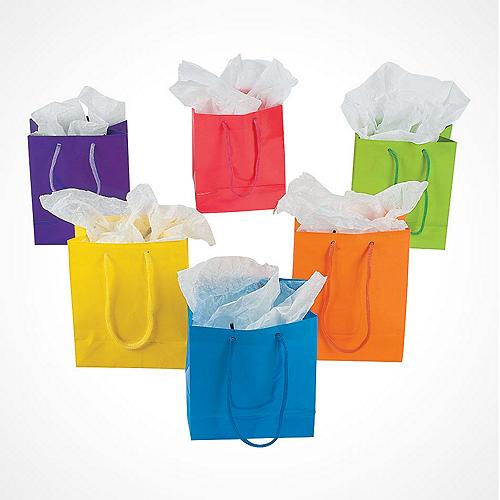 Generic party favor bags from Oriental Trading
Once you have something to put stuff in, the next step is to find the perfect bachelor party favors and we provide some good examples below.
Cheap Bachelor Party Favors
In reality, and again depending on the special interests of your party buddies, just about any small and inexpensive item can be used as a bachelor party favor. The key to giving great bachelor party favors is the thoughtfulness of the item and their appropriateness for your guests. Do you friends hunt or fish? Play some type of sports? What are their occupations? Are they married? When you've answered these and similar questions, finding the perfect theme for your bachelor party gift is easier but regardless of their personal interests, most guys will appreciate the cheap bachelor party favors shown below.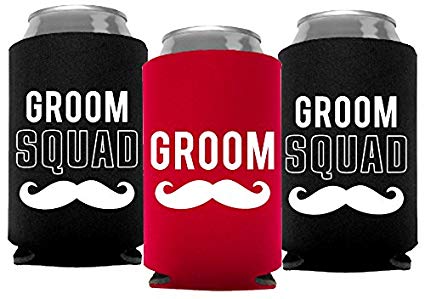 At just $16.99 per dozen, these reusable beer can "coozies" not only help keep your guests' beer (or whatever) cold, they are eco-friendly and appropriately labeled for the star of the party and his buddies. Other styles are also readily available, so make this one of your "must-have" bachelor party favors.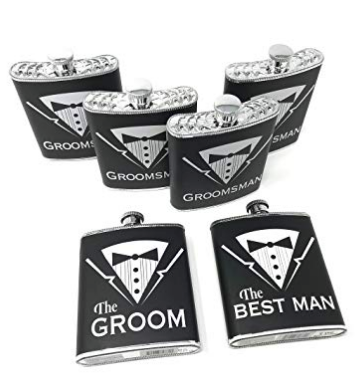 Get your bachelor party started right! Pre-fill these with your favorite booze and your bachelor party guests will appreciate your thoughtfulness even more when they receive their plastic tuxedo flasks as a bachelor party favor. Preprinted with appropriate titles (i.e., "The Groom," "The Best Man," and "Groomsman," these flasks cost under $28 for a set of six.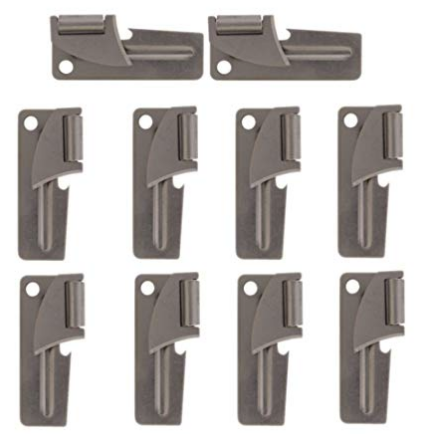 Although not a traditional party favor, the veterans among your bachelor party guests will undoubtedly remember and appreciate these military-style can opener/universal cutting tools in their gift bags or boxes. Called "P-38s," these handy gadgets can be hooked on a key chain for campouts or other occasions when something needs opening or cut. At just $20.97 for ten units, these make great bachelor party favors!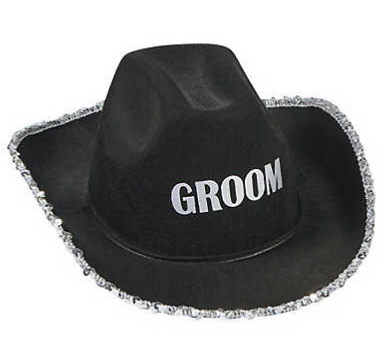 Howdy, Partner! Don't forget to include some party hats and noisemakers as bachelor party favors! You can opt for the traditional "pointy" party hats like you used at kid's parties, but these cowboy hats make great bachelor party favors. The cowboy hats are available with stock printing such as the "Groom" one-size-fits-all cowboy hat depicted above (just $2.27 and generic cowboy hats for just $3.97 each from Oriental Trading. Of course, traditional "pointy" party hats are always appropriate – even for adult parties – since they help get guests in a festive mood.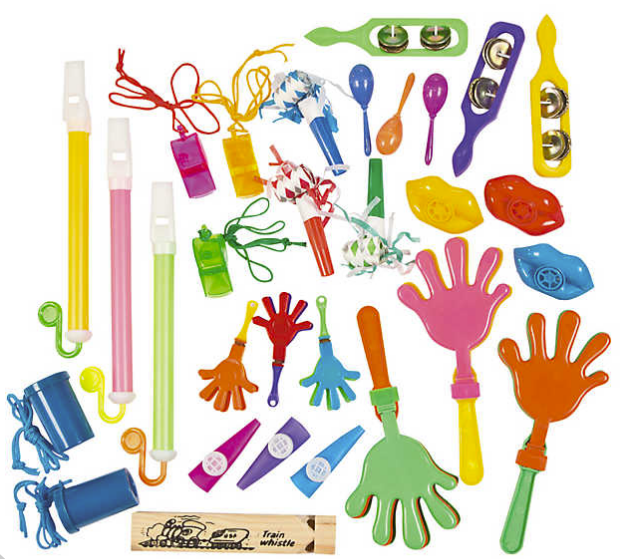 Don't forget the noisemakers! You can liven up even the dullest party by throwing in some colorful and inexpensive noisemakers. For only $19.99, you can buy this 100-piece collection of colorful and fun party noisemakers from Oriental Trading that will keep the energy level up and your guests happy at your bachelor party!
If you're in an especially lighthearted mood, you might want to consider including some funny (and/or raunchy) bachelor party favors as well such as those described below.
Funny / Dirty Bachelor Party Favors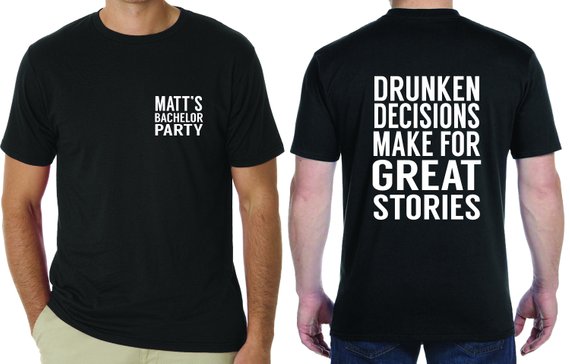 Customizable tee-shirts make great bachelor party favors! Choose between a crew neck, V neck, tank or performance shirt (100% polyester). Other themes include "Gentlemen: Let's get hammered," "Time to get ship faced" (for the nautical minded) and "Last Stand Bachelor Party," all fully customizable with alternative messages and your bachelor party guests' names and date. Your bachelor party guests will not only appreciate these high quality tee-shirts, they will help your group stand out in a crowd so everyone will know that you are on a quest for fun.
.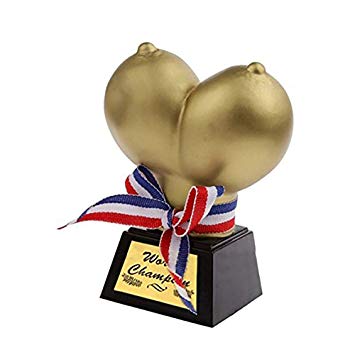 Even if you and your buddies aren't actors, they will get a kick out of these individually wrapped Oscar-themed "booby" prizes (6.5*6.5*13 cm), but at $9.99 each, these are pricey but are appropriate for smaller bachelor parties with fewer guests and as a prize for a bachelor party game.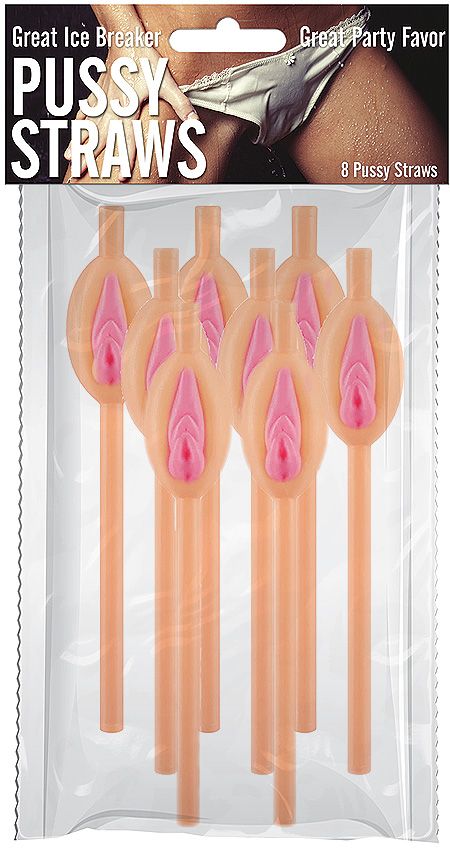 It was just a matter of time before some savvy marketers recognized the demand for vagina straws, and there are among the best available. At just over 8 inches long (remember: this is not a competition!), the shock value of these straws as bachelor party favors is worth the price, but they are also fully functional as sipping straws. Sold in packs of eight, include one of these in your bachelor party favor bags and you'll be sure to draw some big laughs and liven up your bachelor party.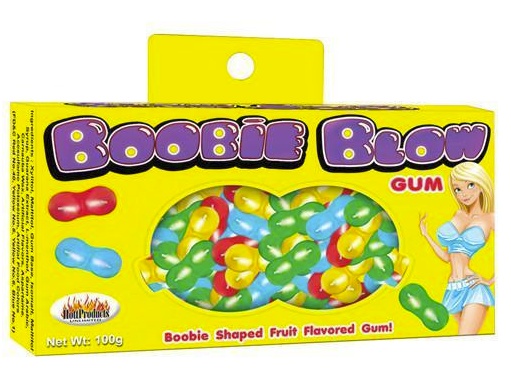 This 100-gram pack of "Boobie Blow Gum" comes in assorted fruit flavors and costs just $3.50 per pack. You and your bachelor party guests can have your cake and eat it too with this lip-smackin' novelty bubblegum.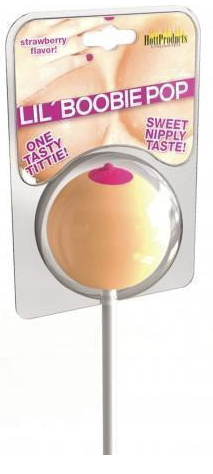 If you detect a theme here, you're right. Women's breasts are BIG in the bachelor party favor industry so don't let the "Lil' Boobie Pop" label fool you. This is a "Big Boobie Pop" strawberry flavored pop that only costs $1.99 but carries a big impact when your guests pull them out of their party favor bags or boxes.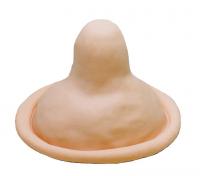 This bachelor party "dickhead" condom hat is just so stupid that we laughed out loud. The packaging makes it clear that "One size fits most dickheads" and measures about 5 inches tall and 9-1/2 inches in length from edge to edge, making them a perfect addition to your bachelor party favor boxes or bags.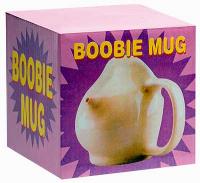 Your bachelor party guests can drink their coffee (or whatever) through one of the nipples on this realistic, high quality ceramic boobie mug or normally, and they'll be sure to keep this gift as a special memento of your special day. At just $6.99 each, these mugs compare favorably with non-novelty coffee mugs and will make drinking any beverage more fun.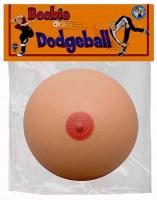 At $10.95 each, these "Boobie Dodgeballs" make fun bachelor party favors that will make your guests want to get started "dodgin' right away so make sure you're outside or in a hotel room with no deposit before you give these out! Harmless but fun – just like the real things!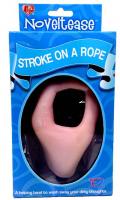 These "Strokes on a Rope" bachelor party favors are especially appropriate for the groom and your guests who have been married for a while. At just $6.99 each, these realistic, life-size human hands made from soap will bring a smile to your guests' faces while helping to keep them clean.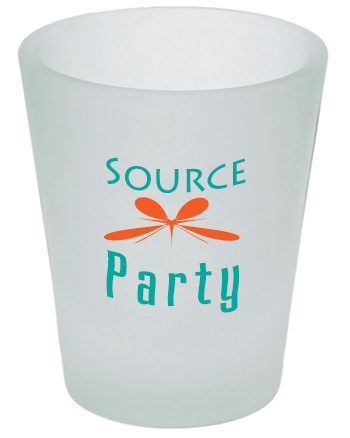 At just under $79 for a set of 12, these personalized 1.5-ounce frosted glass shot glasses make perfect bachelor party favors that can be used immediately to toast the groom and keep the fun flowing!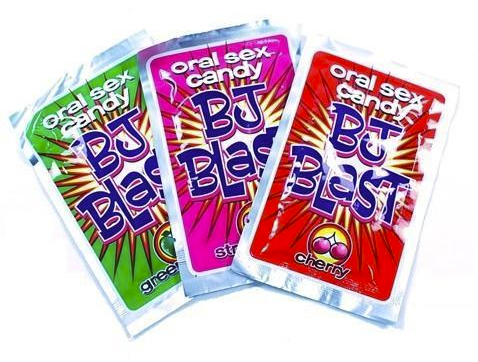 We know what you're thinking: "If it was just that easy!" Well, at $1.99 each, these fizzing candies can transform a normal oral sex encounter into a life-changing experience and they make a great addition to your selection of bachelor party favors. Free shipping for orders above $69 (how appropriate).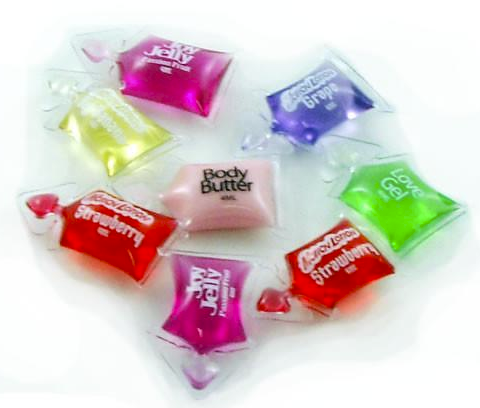 These eight-packs of assorted novelty lubes and warming gels cost $5.95 for the pack, these party favors are the gift that just keeps on giving. You can put just one in each party favor bag or box or splurge and give your guests the whole package, but regardless of how they are presented, your guests will get a kick out of these gels.
Vegas Bachelor Party Favors
What happens in Vegas may stay in Vegas, but if your planning a bachelor party in Las Vegas your guests will absolutely want to bring these bachelor party favors home with them!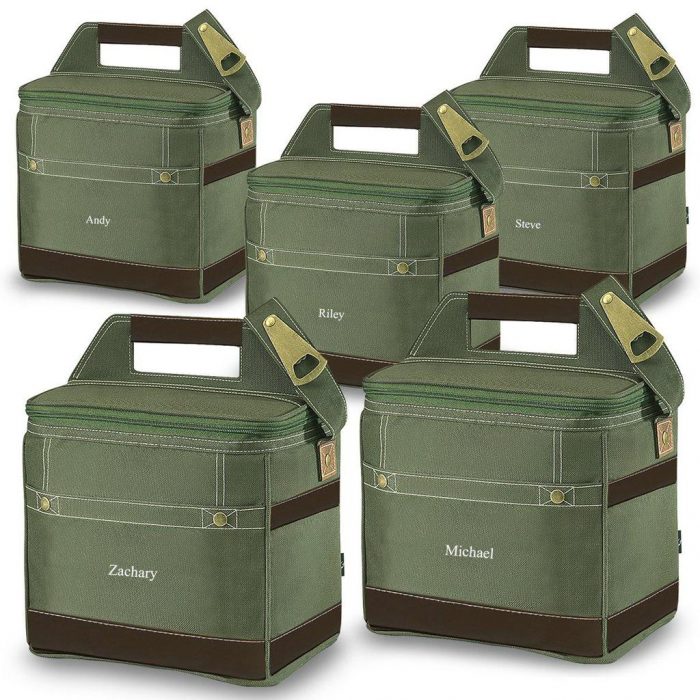 This set of fully lined, five personalized high quality coolers costs $126 (about $25 each), but they hold 12 bottles or 18 cans of your favorite beverages in a sturdy, reusable cooler. With the temperatures in Vegas routinely reaching above 110 degrees, your bachelor party guests will really appreciate these highly portable and attractive party favors and you can be sure they will take them home, especially if you order them with your guests' names (up to seven characters for each cooler). The coolers are available in black, khaki green or blue as well as 20 different thread colors and come complete with a durable leather top handle and adjustable strap for each transport. In other words, you should consider including these coolers as "must-haves" for any Las Vegas bachelor party occasion.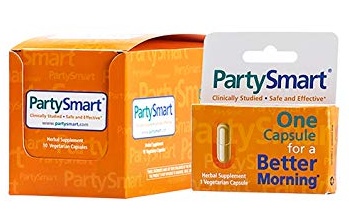 The adage that "prior planning prevents poor party performance" is certainly true for bachelor parties, and your guests will REALLY appreciate this favor the next day (or night) in Vegas! At $17.09 each or $47.95 for a pack of three, these hangover kits aren't cheap but they can help salvage some additional precious partying time in Sin City that you might lose otherwise. This PartySmart hangover prevention kit is clinically proven to facilitate alcohol metabolism and speed recovery from a booze-filled night on the town in a single pill form. Each hangover prevention pill contains extracts of chicory, andrographis, grape and date palm (yumm!) to help get you and your buddies back in action as soon as possible.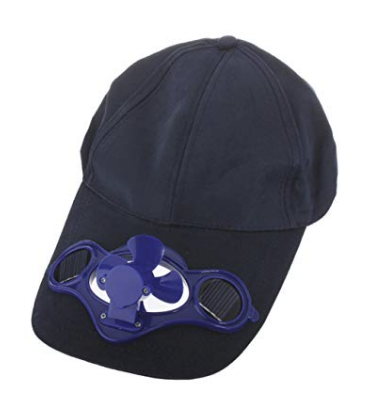 You can be certain that your bachelor party guests will want to use these solar-powered air fan cooled baseball caps during their Las Vegas stay right away. Available in black or blue, these baseball caps will help keep your guests cool and refreshed while you hop the bars or make the dreaded walk between casinos on those hot-ass walkways. Your investment of just $8.79 per cap will be returned many times over in terms of sheer gratitude and appreciation for your thoughtfulness in helping keep your buddies cool in the Nevada desert.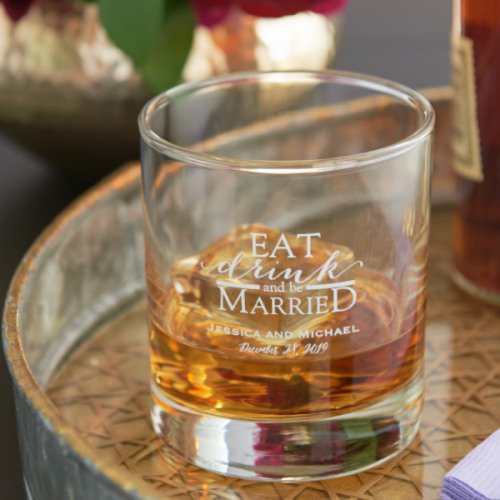 These high quality, personalized upscale 5.75-ounce rocks glasses cost $3.25 each and their heft and style make them something your bachelor party guests will want to take home and keep forever. In addition, there are several stock images available to complement your custom text so that these rocks glasses can make a perfect bachelor party favor. Be sure to bring a bottle of fine sippin' whiskey and your guests will put these rocks glasses to work right away (please note that there is also a $35 setup fee for personalization).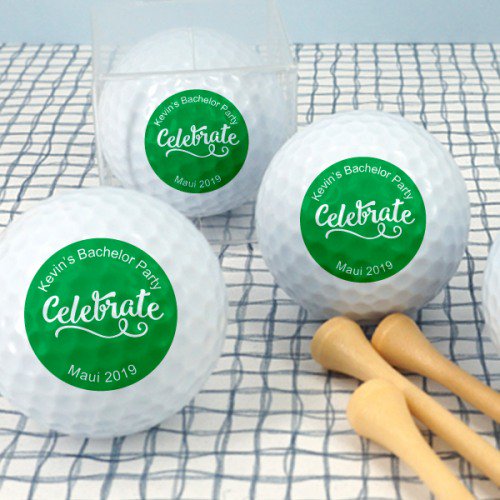 With more than 20 world-class golf courses in Las Vegas, the duffers and pros alike among your bachelor party guests will truly appreciate these personalized golf balls. Between $2.45 and #2.75 each (depending on quantity ordered – 24 count minimum), these golf balls are standard sized and the vendor has dozens of stock graphic images available to complement your personalized messages. Be sure to include some golf tees in your party favor bags or boxes for a complete bachelor party favor.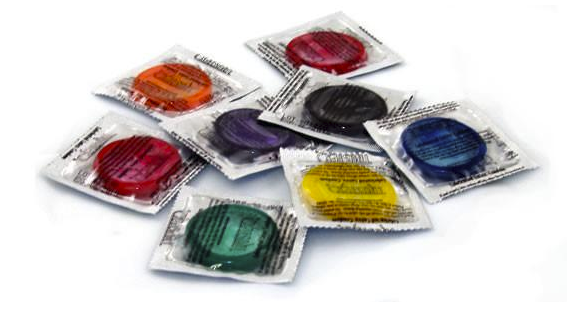 "Wrap that sucker!" This eight-pack of flavored colored condoms costs $4.95 and typically comes in chocolate, grape, vanilla, cola, strawberry, banana, and mint (flavors may vary) Although prostitution is illegal in Las Vegas, there are numerous legal brothels with world-class women located in nearby suburban communities so your bachelor party guests can put these party favors to good use right away. Give your bachelor party guests one condom each if you're on a budget (and want to make a point) or the complete set of eight if money's no object and your plans for the evening are ambitious.
Conclusion
Today, people give party favors for many of the same reasons they did a couple of centuries ago. Party favors help create a fun atmosphere and lived up the dullest parties, but they can also serve as a way to show your bachelor party buddies just how much you appreciate their friendship and support. Just remember that just about any small, inexpensive item can serve as a great bachelor party favor if it is relevant to your guests' lives and interests. In fact, the key to selecting perfect bachelor party favors is thoughtfulness rather than cost, so take the time to complete a mental audit of your friends' interests and vocations to find the most appropriate party favors for your bachelor party. We trust that the several samplings shown above will help give you some ideas about what is available and what types of party favors will be most appropriate for your own bachelor party.