Plan an Epic Louisville Bachelor Party (2023 Guide)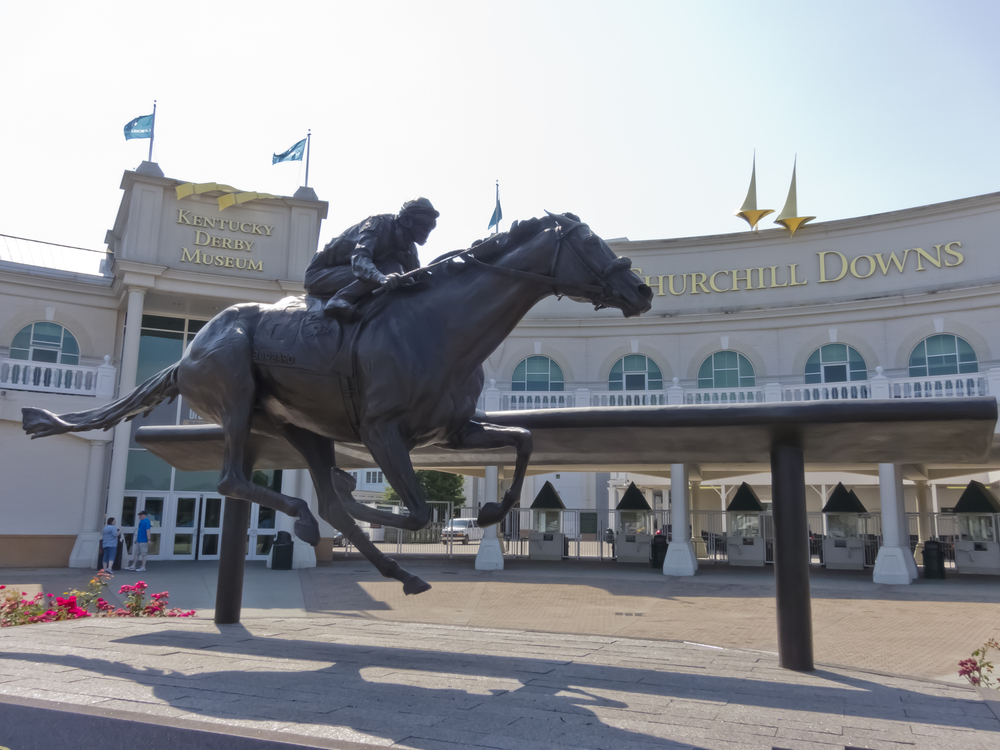 This post may contains references to products from one or more of our advertisers. We may receive compensation when you click on links to those products or services. Please also consider
donating to our website.
About Louisville
Although many people may not realize it, Louisville, Kentucky makes a great destination for an epic bachelor party. For example, today, Louisville is home of the world-famous Kentucky Derby, it offers numerous entertainment and recreational venues and it is the largest city in Commonwealth situated at the beautiful "Falls of the Ohio" along the scenic Ohio River
In addition, the Louisville Metro area has a population of nearly 1.3 million people, two-thirds of whom are young and therefore know how to party. In fact, it seems that everyone in Louisville has made it their responsibility to help visitors have a great time and direct them to the best spots in town. To help you get started, this guide provides you with everything you need to know about Louisville to plan an epic bachelor party, including the best ways to get there, how to get around the city, what to do, see and eat while you're there as well as current recommendations on the best accommodations for bachelor parties.
How to Get There
As can be seen in the map above, Louisville is conveniently located near several states (i.e., West Virginia, Illinois, Indiana and Ohio; Georgia is also close by) and driving there is a simple matter of following the right interstates. For instance, it is only about 320 miles from Atlanta to Louisville (driving time about 6.5 hours), and people driving from Charleston, West Virginia can drive the 250 miles or so in about 4 hours.
Likewise, Columbus, Ohio is right down the highway 180 miles (about 3 hours and 20 minutes driving time) and Indianapolis, Indiana is practically a suburb located just 114 miles (approximate driving time 1 hour and 45 minutes). Other municipalities in relative close proximity to Louisville include Nashville, Tennessee (173 miles, 2 hours 50 minutes driving time), Pittsburgh, Pennsylvania (388 miles, about 6 hours and 20 minutes driving time) and St. Louis, Missouri (260 miles or about 4 hours driving times).
In other words, with just over half of the American population living within 500 miles, chances are good that you live within easy driving distance of Louisville, especially if you live in the Southern or Midwestern United States.
Airports
If you prefer flying, you'll probably be using the Louisville International Airport (airport code:  SDF) which is serviced by all major airlines. Naturally, rental cars, buses and limousines are also available at the airport as well as various points in the city as noted below.
Flights Search
Search hundreds of travel sites at once
Getting Around
Rental cars
All of the major national vehicle rental companies are represented in Louisville, and many have locations throughout the city. Although some of these companies also offer limousines, the firms below specialize in limousine services for bachelor parties.
Limousines
If you're looking for a class act that specializes in bachelor parties, contact R & R Limousine Service. All of the chauffeurs at this company have passed a series of driving and written tests, background checks as well as drug and alcohol screening and all of them are fully licensed, and adhere to a strict dress and appearance code (black suits are required for all chauffeurs). In addition, R & R also uses GPS tracking to ensure on time pickups and deliveries back to your destination, and they provide their guests with fax and email confirmations of their reservations.
Another top-rated limousine service in Louisville is the veteran owned and operated 2 Vets And A Limo. Featured in the Inside Louisville Business Directory, this company has the highest rating from the local Better Business Bureau. In addition, besides a fleet of stretch limousines, 2 Vets And A Limo also offer party bus rentals (their party bus is a well-known fixture around town), but there are some other party bus rental firms in Louisville that you might want to consider, including those listed below.
Party Bus Rentals
With customizable packages and a fleet of gigantic party buses, Party Bus Louisville is sure to have what you need for your epic bachelor party. Ranging in size from fully equipped 18-passenger party buses to a 22-passenger model to the gargantuan 40- and 50-passenger party buses that can accommodate even the largest bachelor party gathering, and their professional staff will ensure that everyone has a blast. Another highly rated party bus service in Louisville is Xtreme Transportation also specializes in bachelor parties and features vehicles with stripper poles, fiber optic accent lighting, laser light shows, LED dance floors and multiple large flat screen televisions. You'll never want this trip to end!
Boat Rentals
With its prime location on the Ohio River, it is little wonder that Louisville has a number of top-notch party boat rental companies available. One of the best-known party boat rental firms in the city is Louisville Boat Rental LLC which features pontoon and outboard motor boats that will give you and your bachelor party buddies a comfortable and unparalleled view of the city and all that it has to offer. Another top-rated boat rental company is The Belle of Louisville & Spirit of Jefferson which has an authentic paddleboat for excursions as well as a smaller vessel, the Mary M..Miller (named for the first woman to attain her steamboat captain's license in 1884) that is perfect for bachelor parties. Be sure to check out the Big Four Bridge, at night if possible since this is when the light show begins.
Things to Do
While Louisville is best known for the annual Kentucky Derby festival and running, the city has much to offer year round to help make your bachelor party a memorable event, including the suggestions for daytime and nightlife activities described below.
Daytime Activity Ideas
Some of the top-rated daytime activities in Louisville (besides the obvious Kentucky Derby) include the Louisville Slugger Museum & Factory ("Fun Right Off the Bat!"). Tour the museum and factory and learn about the story of Louisville Slugger baseball bats in baseball and their role in American history and receive a free souvenir mini-bat – what a great way to remember your Louisville bachelor party. You can't miss the iconic "Big Bat" at the entrance either, and this is a great photo-op for you and your buddies (have a friendly tourist take your pictures).
This museum and factory is also located in Louisville's world-famous "Museum Row" which also features the Kentucky Derby Museum, the Muhammad Ali Center ("Be Great – Do Great Things!), the Kentucky Science Center and the Frazier History Museum among others.
Besides Museum Row, Louisville also features the aptly named "Whiskey Row" which is the block-long home of numerous distilleries that have tours and generous tastings.
If you and your friends are in the mood for fun-filled spelunking, Louisville has just what you want at the Mega Cavern. The Mega Cavern has an exciting bike park with plenty of jump-filled action, zip lines and a "Mega Tram" that will show you all of the subterranean wonders of this nearby attraction. Well worth a visit …
Finally, Louisville features a world-class amusement and water park at Kentucky Kingdom and Hurricane Bay. Depending on the season, you and your buddies can spend an entire day at this destination without riding the same attraction twice, and Louisville seems to have more than its fair share of bikini-clad beauties.
Nightlife Activity Ideas
Although many of the daytime activities listed above are also available well into the evening hours, Louisville has a lot to offer visitors after dark, including most especially the bars and gentlemen's clubs listed below.
Bars
After the Whiskey Row tour, if you and your bachelor party buddies are still in the mood for some libations, Louisville has some of the best bars around including …
The highly popular Garage Bar which is located in a former 1918 garage that has been converted into a popular eatery that specializes in brick-oven pies and Southern grub with an enormous patio so you can enjoy people-watching and Jonathan Schipper's "Slow Inevitable Death of American Muscle" sculpture that collides two full-sized automobiles a slow motion head-on wreck while you and your buddies have a few drinks. It doesn't get any better than this unless you visit …
If you haven't been to Whiskey Row yet, head down to the Troll Pub Under the Bridge. You can't miss this bar – just look for "Louis the Troll" on the corner of 2nd and Washington Streets. If your stomach is grumbling, Troll Pub has some of the best pub grub in town – be sure to check out their house chili.
Finally, you and your buddies may want more than one when you visit the Down One Bourbon Bar ("Distill My Beating Heart"), located in a former underground parking garage smack-dab in the middle of Whiskey Row with plenty of conventional and exotic bourbon creations. Popular with both tourists and locals alike, Down One has consistently been named one of the top Bourbon Bars in the United States by Bourbon Review and has been featured in National Geographic Travelers Magazine and Travel + Leisure as well as being nominated for "The People's Best New Bars of 2014" by Food & Wine magazine.
Strip Clubs
Yee-haw! Take your buckaroos to PT's Showclub Louisville. Specializing in group gathering such as bachelor parties, PT's has been voted "The Best Strip Club in Louisville" by readers of Leo Weekly for the past 16 consecutive years. PT's also offers free admission for same-day sporting event tickets.
Some of the best adult entertainment in Louisville is also available at Deja Vu Showgirls voted Club Chain of the Year for 10 years. VIP packages are available for bachelor parties – the groom will be certain to remember this event. Be sure to ask a manager about their "Make It Rain [Money] Gun"!
Finally, for a deal you can refuse, visit The Godfather featuring the exotic adult entertainer "Miss Nude Kentucky" among other star performers. In addition, The Godfather can also accommodate special events such as bachelor parties.
Where to Eat
We were surprised at the number of great places to eat in Louisville, and the listings below only represent a tip of this iceberg. Ask some of the locals where they like to eat – people in Louisville live for this kind of thing.
Breakfast / Brunch / Lunch
For an eye-opening breakfast or brunch, head down to the North End Café. Located in a historic converted brick house, the North End Café serves up all-day breakfasts and is a popular spot with locals, especially since they added a bar and lounge. Don't miss their Steak & Eggs breakfast featuring Black Angus beef sirloin, a couple of eggs (any style), home fries and toast for just $13.99.
One place that keeps popping up in every listing of great places to eat brunch and lunch in Louisville is the Mayan Café in the famous "NuLu" East Market District where Bruce Ucán, a Mayan Indian from Mexico's Yucatan Peninsula, has been dishing up tasty meals for more than 20 years.
If you and your bachelor parties want one of the best lunches in town, check out Havana Rumba's menu that includes Cuban-inspired dishes prepared fresh daily. Some of their house favorites for lunch include several yummy specialty sandwiches as well as empanadas, chicken (prepared every way imaginable) and pork dishes that will make you plan your next visit before you're finished eating.
Dinner
If you like the hoity AND the toity, the top rated venue for dinner in Louisville is Buck's Restaurant specializing in continental dining accompanied by live piano music. A member of the Urban Bourbon Trail (a collection of legendary bars and distilleries throughout Kentucky), Buck's makes a great place for an elegant bachelor party gathering in a relaxed atmosphere with awesome cuisine.
You won't need any evidence to confirm that Proof On Main Is a great place for dinner in Louisville. Featuring contemporary artwork and locally sourced Southern foods, this restaurant is located in the 21c Museum Hotel (more on this below) and is popular with the locals so you know the food is good. One of the house specialties is the "Proof Bison Burger" with arugula, Tillamook cheddar cheese and smoked bacon with some fine bourbon on the side. Better get two . . .
Finally, if you're on a budget or in a hurry, check out the top rated Safier Mediterranean Deli for an early dinner (or great lunch). Lebanese-inspired dishes include falafel sandwiches and a shawarma plate as well as several vegetarian options.
Where to Stay
Hotels & Resorts
The absolutely, positively best place to stay in Louisville (at least according to U.S. News & World Report) is the 21c Museum Hotel. Besides luxurious accommodations, each room comes complete with poster art that you and your buddies can take home as a souvenir. Quick room service and its ideal location make this a great place for your bachelor party staging area in Louisville.
The Brown Hotel also has a rooftop garden, top rated accommodations (as well as complimentary airport shuttle service) and you may even spot some celebrities staying there during Derby season. Relax from a busy day on Whiskey Row or at Kentucky Kingdom with Brown's luxurious mattresses, marble bathrooms, flat-screen televisions and free wi-fi service.
A top rated resort in Louisville is the Hyatt Regency located in the heart of downtown making it a perfect place to begin and end your day's activities. With two great on-site restaurants, a 24-hour gym, an indoor heated pool and tennis court as well as all of the other standard amenities, you may not want to leave.

Hotels Available in Louisville
Rental Houses
The rates below are based on six guests staying 4 days during non-Derby season (i.e., early May).
VRBO
This two bedroom, one bath historic urban/bourbon loft was built in the 1870s but was recently renovated with all of the amenities you and your bachelor party buddies will need. Its downtown location makes walking to any of the numerous nearby entertainment, drinking and eating venues a snap. It is also less than 2 miles from the pedestrian bridge that connects Louisville with Jefferson City, Indiana. There is also a balcony off the kitchen that provides views of teeming 4th Street just a block away.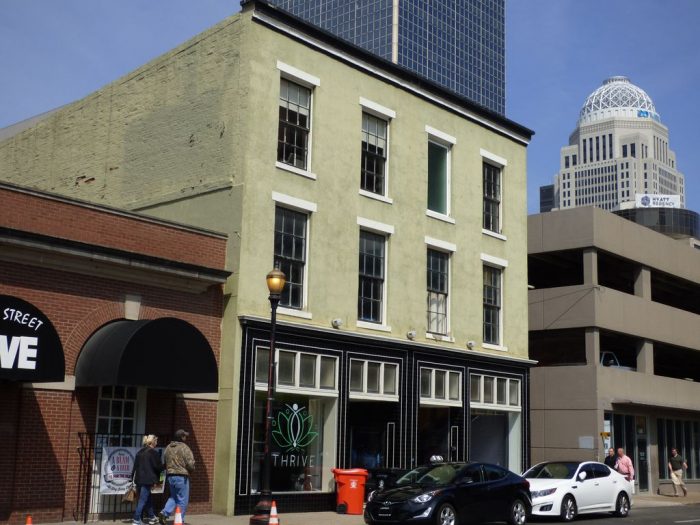 You can't go wrong by staying at this downtown historic 3,000 square foot four bedroom, two and one half bathroom home located just a block away from Whiskey Row and close to Churchill Downs. It's a little pricey at $395 per night, but you'll get a lot for your money including a 1,500 square foot patio (shown below) with all the amenities. A fireplace, state of the art sound system and satellite/cable television round out some of the other offerings.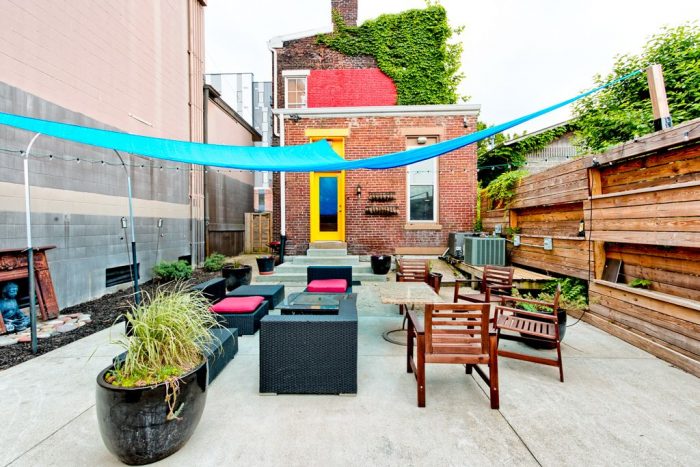 This four bedroom, three bathroom home is located near downtown Louisville has Smart Roku Flat Screens in living rooms and almost every bedroom as well as all of the amenities you need to get your bachelor party started off right. At just $145 per night, this is a great and relaxing place to stay.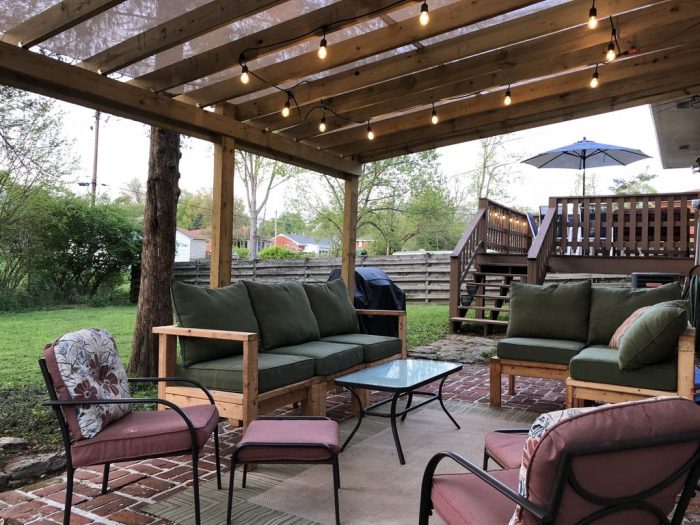 Rental Homes Available in Louisville
When To Go
Best Time
Unless you're planning on including a visit to Churchill Downs for the Big Race during early May, the best times to visit Louisville are the months of March through late April and October to November when things cool off and you can enjoy all of the outdoor attractions the city has to offer.

On a Budget
December through February are the off season months in Louisville, and budget conscious bachelor partiers can find some good deals on meals and accommodations then.
Worst Time
The summer months are sometimes brutally hot and humid, and the city has the highest number of hot days per year in Kentucky.
Current Weather
What Else
The violent crime rate in Louisville is higher than the national average, but we've never experienced any problems during our visits there – just be sure to travel in groups after dark, especially if you've been imbibing. In addition, although cannabis is one of the Bluegrass State's biggest cash crops, sales and possession of marijuana is still illegal throughout Kentucky.
Big Events
There's always something going on in Louisville, and the events listed below are just some of the offerings available each month.
March: St. Patrick's Day Parade featuring live music and plenty of beer!
April: Tattoo Fest, the world's largest such festival. Get a souvenir tattoo!
May: The 2-week Kentucky Derby Festival features pari-mutuel gambling and world-famous mint juleps.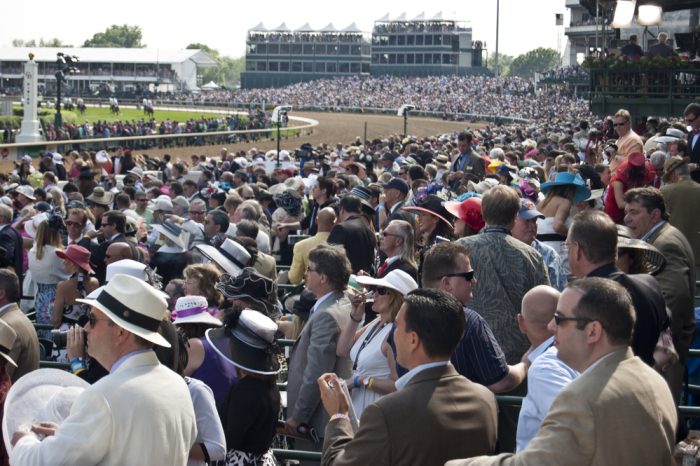 October: Garvin Gates Blues Festival featuring the best of local and national performers.
View all Event Tickets in Louisville
What to Pack
Swimwear: If you're planning on enjoying some water sports on the Ohio River or have a swimming pool at your hotel/resort or rental property during your Louisville visit, be sure to pack some new swimwear that fits you.
Sunglasses: With so many walking destinations along Museum and Whiskey Rows, you'll want to protect your eyes with some high quality sunglasses.
A light jacket: Even the spring and fall months can get brisk in Louisville, so be sure to pack a stylish light jacket.
Comfortable footwear. Bourbon and blisters make a poor combination, so also be sure to pack some comfortable footwear.
Luggage and accessories: If you decide to fly to Louisville, plan ahead and buy some new luggage that can accommodate all of your needs for several days to avoid extra airline baggage fees.
Vitamins and supplements: Bourbon is great but it will sap the vitamins right out of you so A also be sure to pack some vitamins and health supplements to keep your energy level up.
Itinerary
The sample itinerary below is for your first full day in Louisville.
9:30 a.m. – 10:45 a.m. Brunch at the Mayan Café (try the braised lamb with green mole – yumm!).
10:45 a.m. – 12:30 p.m. Walking tour of Museum Row, including a visit to the Louisville Slugger Museum & Factory (don't forget your souvenir mini-bat!)
12:30 p.m. – 1:15 p.m. Late lunch at Havana Rumba's (try their Vaca Frita, crispy grilled shredded beef with bell peppers, onions, garlic and lime juice served with rice, black beans and sweet plantains.
1:15 – 2:30 p.m. Personal time at hotel/resort or rental property.
2:30 p.m. – 5:30 p.m. Tour the city with Party Bus Louisville.
5:30 p.m. – 7:00 p.m. Dinner at Proof On Main's rooftop bar (you may want to experiment with the charred octopus or their cast iron skillet corn bread and fire-roasted broccoli).
7:00 p.m. – 10:30 p.m. Treat the groom to a VIP package at PT's Showclub Louisville.
10:30 p.m. – ? Relaxing with a few drinks by the pool or fireplace.
Bachelor Party T-Shirts
Your bachelor party guests will appreciate a souvenir of their adventure, and a customized bachelor party t-shirt is just the ticket. Customized bachelor party shirts are an inexpensive way to give your guests a personalized souvenir that everyone can wear during group outings in Louisville.
Travel Insurance
It just makes good sense to protect your investment in traveling to and from Louisville as well as the money you spend on deposits and other arrangements. Travel insurance purchased from a reputable insurance company provides a number of benefits, including the following:
Up to 100% cash back for trip cancellations, delays, and interruptions;
Covers purchase of personal items when baggage is delayed for longer than 24 hours;
No deductibles for emergency medical and dental coverage;
24/7 travel assistance; and,
Airline change fee and frequent flyer mile redeposit fee coverage.
Why Go
A common sentiment heard in Louisville is that, "We may not have been born here, but we got here as fast as we could." As the "northernmost southern city" in the United States, Louisville boasts a blend of all that is best, and you and your bachelor party friends will enjoy your visit any time of the year.
Star Rating
On a scale of one to five, we give Louisville 4 1/2 stars just because of all of the cool guy stuff they offer.
Conclusion
In truth, we were pleasantly surprised by Louisville, its friendly people and all that it has to offer visitors of every age. In fact, mile for mile, Louisville has more to offer visitors than most cities its size, and its central location means it is easily accessible to more than 150 million Americans. A popular saying among transplants to the city is, "I may not have been born in Louisville, but I got here as fast as I could," and you'll probably feel the same way after your epic bachelor party in Louisville, Kentucky.