Bachelor Party Planning Guide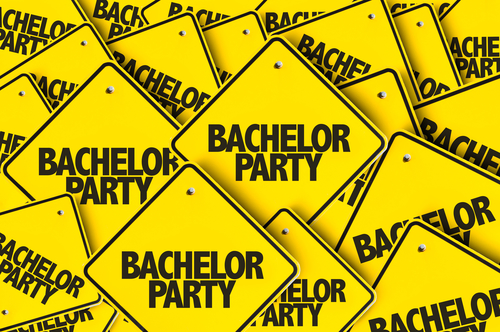 This post may contains references to products from one or more of our advertisers. We may receive compensation when you click on links to those products or services. Please also consider
donating to our website.
Somehow you're planning the bachelor party. Maybe you're the best man, or maybe you're the groom's real best friend, who knows if the best man is going to drop the ball. However you got the awesome responsibility of planning the bachelor party, you have now made it your mission in life to throw the groom the best damn bachelor party any of your friends have ever thrown. Now you just have to figure out how to do that. Fortunately, our Bachelor Party Planning Guide is here to help.
What is a bachelor party?
Oh, come on, you know what a bachelor party is. The definition of a bachelor party is a party throw by a man's friends shortly before his wedding, celebrating his "last night of freedom." Bachelor parties have different names around the world; you may also hear the terms stag party, stag night, buck's party, bull's party, and smoker.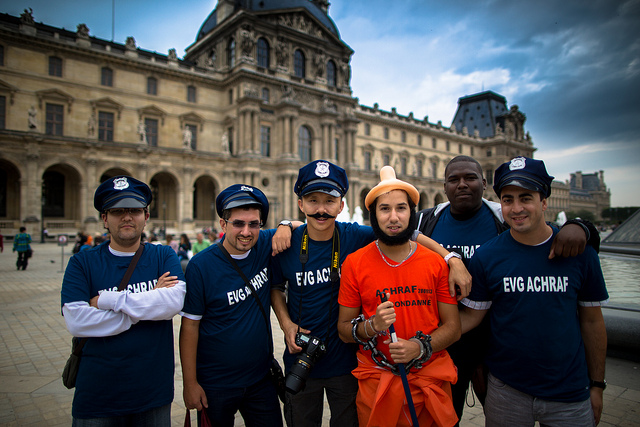 While the definition of a bachelor party is pretty clear, the meaning of a bachelor party depends on your group of friends and the groom's expectations. A bachelor party can be as wild or as mild as your group of friends, but don't think you have to have hookers and blow to come up with a great bachelor party.
What is a stag party?
A term they use for a bachelor's party in the United Kingdom, Ireland, and Commonwealth countries.
What is a buck's night?
The term they use for bachelor's party in Australia.
What is a bull's night?
The term they use for bachelor parties in South Africa.
Who plans a bachelor party?
Generally, the best man plans the bachelor party with the help of the groomsmen. Sometimes the best man is more like the worst and the other groomsmen have to step up.
When is the bachelor party?
Some people will tell you that the bachelor party should be the night before the wedding. We call b.s. on that. The very last thing the bride wants is her husband looking and feeling like crap on their wedding day. Odds are good that the groom or his family are out a lot of money for the wedding; even if he noped out of wedding planning at the third cake-tasting, he will catch hell for the rest of his life if he is hungover and wretched looking at the wedding. He'll also feel like a jackass if he looks hungover in his $8,000 wedding pictures. More importantly, you know who else will catch hell for it? You will. It's not worth it. So, we say plan for the stag party to go down somewhere between a month to a week before the wedding. Then, you can do whatever you want without worrying that the groom will be a hungover mess at the wedding.
What's the best man supposed to do for the bachelor party?
The specifics are going to vary depending on the type of party you throw, but the best man's general responsibilities are:
create the guest list and get it approved by the groom;
figure out a time that works for everyone;
figure out a budget that works for everyone, or get people to chip in for your poor friends;
book any travel arrangements like hotel room, flights, rental cars;
give the guys instructions on how to book and pay for their hotel room, flights, rental cars and a deadline to do so (a travel agent or bachelor party planner can be your best friend for this);
figure out the best destinations (bars, strip clubs, nightclubs, restaurants, daytime activities) if it's a destination bachelor party and reserve them if reservations are necessary;
book the strippers if you'll have them;
arrange transportation for your night(s) out (spring for cabs or something similar – don't make one of your friends be the designated driver unless you have a committed non-drinker in your group);
handle any party favors;
buy stuff to stock the hotel room or villa; and
have bail money ready in case someone gets out of hand. We aren't kidding about this. It is not exactly unheard of for things to get really wild at a bachelor party, and even something as harmless as public intoxication can result in someone being hauled to jail. Do you really want to explain to the bride, to the groom's parents, or to whoever is waiting for you at home that you need bail money? No, you do not. Make arrangements, or at least have a plan for it, beforehand.
Wait, back up, I'm supposed to buy party favors?
Okay, so here's the deal, you can, but you don't have to. It really depends on two things: (1) do your friends like party favors and (2) can you afford party favors? If the answer to either of those questions is "no," then don't do it. However, if you can afford it and your friends will enjoy them, party favors can help set a party mood.
Renting a house? Get enough floating beer pong games for everyone:
Are you a t-shirt for every occasion group? (Yes, former frat boys, we're talking to you). Check out this Groom Squad tee:
What are the groomsmen and guests supposed to do for the bachelor party?
help the best man;
book and pay for any travel in a timely manner- forcing the best man to turn into a nag or a bill collector is a crap move;
help cover the groom's expenses, whether it's offering to pay for his hotel room or paying for a few lap dances, do something;
don't talk about kids, wives, girlfriends, and especially don't talk about what a lonely sad sack you are if you don't have a wife/girlfriend or kids; and
don't let the groom cheat. Seriously, unless you know he's going to cheat anyway because that's just who he is, if he cheats on his fiancé and has an attack of conscience about it later, then you're going to be the terrible friends who didn't stop him. Of course, if the groom is the one saying you have to go to Jaco or Panama City for the girls, you can chuck this advice.
What is the groom supposed to do for the bachelor party?
-Get your bachelor party gifts. It is customary to get your best man and groomsmen a token of appreciation for all of the hard work they're doing for you wedding. What makes a great gift? They're your friends, not ours, so we don't know what they'll like, but we're pretty sure you can find it at groovygroomsmengifts.com. They have everything from the traditional personalized flask to axes.
-Don't talk about your bride-to-be. Your friends know how great you think she is. They're sick of hearing about it.
Who is invited to a bachelor party?
The groomsmen and, if the wedding party is small, the rest of the groom's good friends. This is where things can get very interesting, because it is entirely possible that the bride's baby brother will be a groomsman. We think he should be left out. Diplomatically. Maybe you even throw a tame "bachelor party" the night before the wedding and keep the real party on the down-low. Whatever it takes, but unless the groom's relationships with anyone in the bride's family predates the romantic relationship or you know, for sure, that they really are some of the groom's best friends, we don't think they should be at the stag party. A bunch of the groom's closest friends are going to be together and most of them will be drunk. Embarrassing stories will be told. Shenanigans will ensue. Her family doesn't need to be any part of this.
What is the budget for a bachelor party?
If you're loaded and can pay for the whole thing, then the budget is whatever you want it to be. Otherwise, before you start planning, talk to the guys and see what they are thinking about budget. You can have a great low-budget bachelor party by grabbing some steaks and grilling them while you drink beers, but we aren't going to pretend like money doesn't make a difference. Those steaks and beers might not taste better if they were brought to you by a naked chic in Vegas, but you'd probably enjoy them more.
Bachelor Party Tips
-Plan well. What separates a great bachelor party from a good one? Planning. So, get the whole guest list involved. Easiest way is to create two email chains; one for things everyone can see and one for things you don't want the groom to see. Do you suck at planning, especially bachelor party planning? No problem; there is a whole industry of bachelor party planners; enlist their services to help you plan. Maybe you don't actually need a dedicated bachelor party planner, but still need help with some parts of the party. Use professionals when they are available. For example, travel agents are not only great for helping you get everyone's logistics planned, but can often get you a better deal than if you're trying to plan the whole thing on your own. Do not, no matter how many times she offers, let the bride help you plan. Do, however, clear scheduling with her. And, if the bachelorette party will be on the same night or the same weekend, check with the maid of honor to make sure you aren't going to accidentally be in the same place.
-Be real about how much it's going to cost. Expensive is a relative term, but assume that the bachelor's party is going to be relatively expensive, whether that means a hundred bucks a piece or ten thousand bucks a piece to your group of friends. As soon as you're asked to be the best man start saving, talk budget early with the other guests, and encourage them to start saving, too. Pay off as much of it as you can before you go, and leave yourself plenty of cash. If you have a self-control problem and you're going someplace like Vegas, take only as much cash as you can lose, and a low-limit emergency credit card. Leave the rest at home.
-Respect boundaries. If some of you are already married, then you've probably learned to do this. If the groom is the first one from your crew to tie the knot, then you might think he's a wimp for putting certain things off the table. Look, if you want a Tijuana donkey show at your bachelor party, then make sure your best man knows it and plans accordingly, but this party is about the groom, so don't plan things that will make him miserable or uncomfortable.
-Think outside the box. Unless you're monks, some drinks and a few lap dances at the local strip joint doesn't scream "epic bachelor party." Look through our bachelor party ideas to get some ideas that go beyond the everyday.
Bachelor Party Ideas
Copious amounts of alcohol
Scantily clad women. Even if the groom (or his bride-to-be) has vetoed strippers, you can still hit nightclubs, beaches, etc. and people watch.
Outdoor adventure. Try something new. Zip lining, ATVs, parasailing, jet-skiing, sky-diving, skiing, horseback riding, dune buggies, and white water rafting are just a few ideas. We don't know where you're at, so we don't know what's available but Google "extreme sports" and your closest city name and pick something. In Virginia? Earn your man-card at this bull-riding school.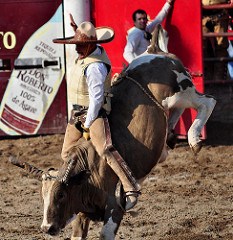 Favorite outdoor activity. Do y'all golf? Plan a day at the course. Fishing more your thing? Charter a fishing boat.
Gambling. Whether you head to a casino or have a poker game at someone's house, gambling is a classic male bonding activity. Want to make sure you see the groom after he pulls the trigger? Turn your bachelor party poker game into a regular monthly poker night.
Guns. Hunting, shooting ranges, skeet shooting. Shooting things is fun. Worried about the safety of a bunch of drunk guys and deadly weapons? Paintball.
Perfect a vice. Love cigars, whiskey, craft beer, tequila? Find a sommelier and schedule a tasting. No sommelier available? Head for your nearest specialty bar. Live out in BFE? Order one of these aroma kits on Amazon along with a selection of your chosen vice.
Roadtrip. A destination bachelor party doesn't have to go far-away or be expensive to be fun.
Go camping. There is no better way to get away from it all.
Nerd out. Are you video game freaks? Is Dungeons and Dragons your thing? Look, a bachelor party is about the groom celebrating with his friends, not pretending to be someone he's not. So, if your idea of an epic good time is a gaming weekend, then embrace it and make it the best f-ing gaming weekend anyone's ever had.
Rent a house. Even if you plan to stay local, look at Airbnb.com or Homeaway.com and see what's available. You may be able to get a house with amenities that none of you have and end up spending less than you would for a weekend at a hotel.
Party bus or party boat.
Limo
Bachelor Party Games
Whether you're having a bachelor party at your house or at a destination, some games are tried and true bachelor party favorites:
Kings Cup– a drinking game using a deck of cards
Beer Pong– we refuse to believe you don't know how to play beer pong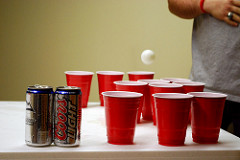 Texas Hold 'Em- an extremely popular poker variation. So popular that, if you don't know how to play it, you might be embarrassed to admit it. Learn it here. Then practice it, for free, at the same place before you play, especially if you're headed to a casino. Practicing it won't make you a winner, but it might keep you from losing your shirt.
Flip Cup– because what could be better than combining relay races and copious amounts of alcohol?
Funneling Beers– beer bongs, anyone?
Shotgunning Beers- poke a hole somewhere in the bottom of a beer can, pop the top, guzzle through the bottom hole, burp, repeat.
Read about more bachelor party games and specific rules.
Bachelor Party Locations
You have some choices in bachelor party location, and what works for your group depends on a combination of budget and personal preference.
Someone's house. If you're dealing with budget constraints, having it at a house is perfectly acceptable. Ground rules- any other occupants of the house must be gone the whole time and everyone pitches in for a maid to come clean up after the party.
Hotel. Easier to hide out than at someone's home.
Restaurant. If you go with this option, go somewhere the groom wouldn't normally splurge on. See if they have a party room. See if you can hire adult entertainers for the party room. See where we're going with this?
Strip club. Obvious reasons.
Nightclub or bar.
Destination bachelor party. The sky is truly the limit in considering where you can go for a bachelor party. Check out our best Bachelor Party Destinations to get some ideas.
Yes to Strippers or No to Strippers?
Going to a strip club or hiring a girl or two to strip at a party is a staple for good reason- men tend to like naked women. Therefore, we generally say yes to bachelor party strippers, and whether of the upscale burlesque variety or a little nastier is all a matter of personal preference. However, if you have any uncertainty about whether the groom wants a stripper or to go to a strip club, ask. A groom who is awkwardly trying to avoid looking at or touching a stripper is, well, frankly a waste of money.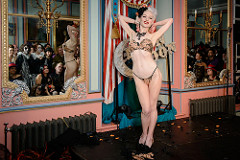 Steps to Planning the Ultimate Destination Bachelor Party
Still confused on how to throw together a party your friends will be talking about until they are in the nursing home?  If you follow these steps you are on your way to a week/weekend of pure amazingness.
Step 1: Compiling the Guest List.  This seems easy enough but is more complicated than you think, especially for a destination bachelor party.  I would recommend keeping the guest list to a max of 10-12 people as anything more than that is a circus.
Step 2:  Figure out a budget.  After you have your list of attendees down, the next most important part is figuring out a budget for your bachelor party.  I recommend sending out a mass email to all attendees and include 3-4 options including the date, rough estimates for flights, accommodations, and activities.  Have everyone on the email list their choice of option and the option with the most votes wins.  Remember, if you choose a bachelor party destination outside the United States, the flights will be more expensive, and you will be required to have a passport.
Step 3: Book your flights.  Once you have a date and location secured I recommend booking the flights immediately.  The costs for the accommodations and activities are normally always fixed, and flights fluctuate all the time depending on volume, gas prices, etc.  It is best to knock out the flights right away, so you have a price locked in and one of your largest expenses related to the trip covered.
Step 4:  Put a Deposit on Villa/House/Hotel.  Once the flights are taken care of the next step is putting a deposit down on the place you are going to stay.  With a vacation rental, you are required usually to put somewhere between 25-50% of the total amount as a down payment.  The benefits of hotels over rentals is that they have more flexible cancellation methods, but you can also invest in some travel insurance as well.
Step 5:  Create a List of Items to Pack.  A few weeks before the big week/weekend, I recommend sending one final email out to all attendees with a list of things they should bring along with them as well as any additional information you need to finalize the trip.  Some of the following items should be included:
–  Passport (if traveling outside U.S.)
–  Flight Information (for coordinating airport pickup/drop off)
– Cash (a rough estimate)
– Beach Towels
– Sunscreen
Step 6:  Pack Your Stuff and Get Sleep.  Since sleeping will be non-existent during this trip I recommend taking a few days off before your voyage to get in as much sleep as possible.  Make sure you have all the important things packed, head to the airport, and post information about your amazing weekend on our forums when you get back (omit your name in the process).
Side Note:  If you need a passport and quickly, I recommend using US Passport Now as they offer an expedited service which can get you your passport in 24-hours.
Is anything off limits at a bachelor party?
As groomsmen, you play a tricky role at the bachelor party. On the one hand, you're helping the groom celebrate a last night of freedom before he gets married. It's your job to encourage him to get loose and have a good time, maybe even try some things outside of his comfort zone. On the other hand, you are almost like chaperones. If he screws up his future at his bachelor party, you are going to take the blame. So, know his limits and what he expects you to do to enforce them. Just remember that the best part of being the one planning the bachelor party is that no one chaperones the chaperones!