Bachelorette Party Shirts Guides (2023 Edition)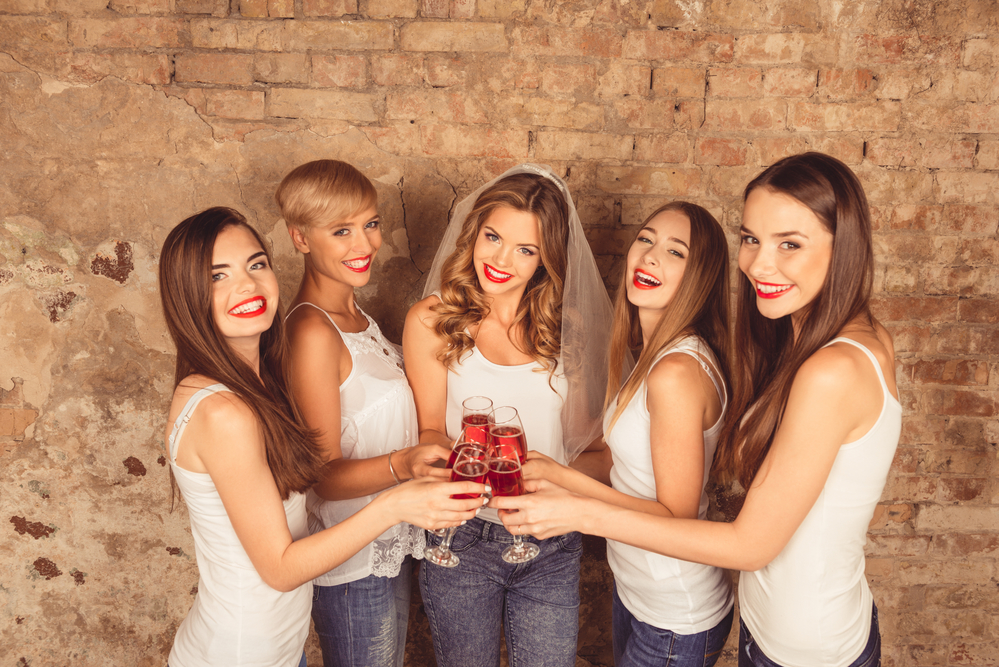 Bachelorette party shirts are any type of shirt specifically purchased for a bride and her party attendees for a bachelorette party. They may be custom-designed for the party or they might be ready-made purchases. Many of them are a mix of the two; the design might be customizable with the bride's name or other details about the wedding, like wedding hashtags. They are a fun addition to a bachelorette party, and they can actually serve multiple purposes for the hostesses. Plus, they are an inexpensive add-on to a party that helps establish the whole "bride tribe" feel that makes a bachelorette party so much fun!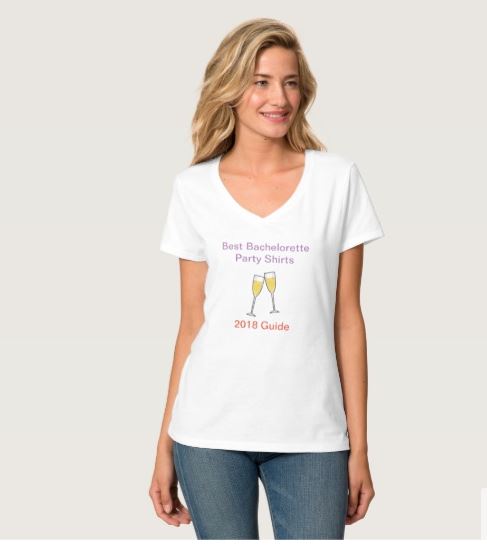 Why a Bachelorette Party Shirt?
Why are these T-shirts So Popular?
As you have undoubtedly noticed, bachelorette party t-shirts have become increasingly popular party favors over the last few years. If you a t-shirt fan, you are just happy about this news. If you are not a bit t-shirt fan, you may be wondering why. After all, we attend a bunch of parties throughout our lifetimes. We are not expected to all dress alike for most of them. How did the bachelorette party t-shirt become a thing?
We are sure the bachelorette party t-shirt idea probably started back in the day before good-looking, inexpensive personalization from on-line stores made the process cute and easy. You just know that someone back in the day was armed with a man's cut t-shirt from a craft store and some puffy paint and was going to town with bachelorette themes! Thank goodness those days are over, but how did we go from hand-made tacky t-shirts to some of the adorable designs we see these days?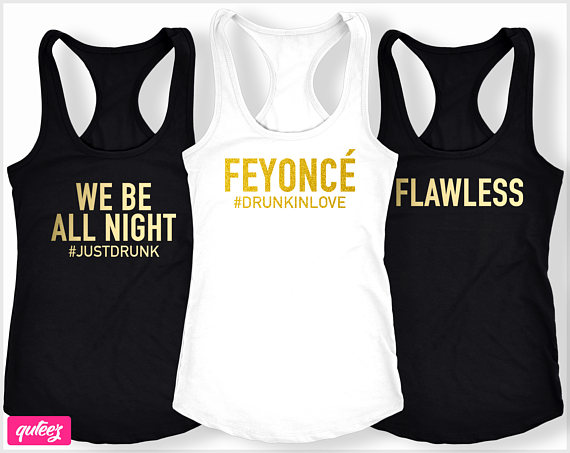 [ Feyonce, We Be All Night #JUSTDRUNK, Flawless, shirts ]
Well, while we have not done any type of scientific study on it or anything, we think there are a number of reasons these shirts have become so popular:
#1 They are inexpensive. It is can be challenging to come up with unique, fun favors for bachelorette parties that do not break the bank. Even favors you think will be affordable can be surprisingly spendy once you personalize them or include other options. T-shirts, however, are reliably cheap! In fact, you can find adorable t-shirts and tanks for around $15 to $25, making them an affordable favor alternative. These adorable t-shirts are under $16 on Etsy: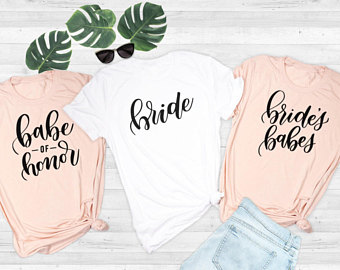 [ Bride, Babe of Honor, Bride's Babes shirts ]
#2 They help identify party members. Wait, a minute…the bride knows everyone at the party; she does not need help identifying them. Yes, she knows everyone, silly, but think about the other party members. The bride's childhood best friend might now know the groom's big sister. Matchy-matchy t-shirts help you stand out in a crowd and immediately identify you all as part of the group. This can help people who are getting to know each other, but also, given the high risk of intoxication in a bachelorette party group, it can also help people help find your group for you if you get lost. (Don't smirk- it happens, and it could happen to you).
[ Wife of the Party, The Party shirts ]
#3 It helps with bonding. Because dressing alike identifies you all as part of the same group, it can help with bonding, much like some of the ice-breaker type games we describe in our bachelorette party games article. If you plan on there being some drinking at the party, and we know that you probably do, we love these shirts: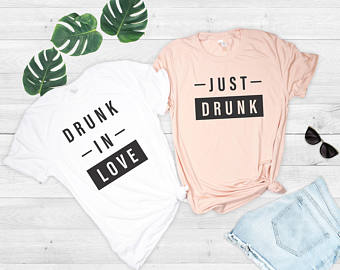 [ Just Drunk, Drunk in Love shirts ]
Bachelorette Party Shirt Ideas
There are a ton of different ways to go with bachelorette party t-shirts. Destination bachelorette parties often mention the destination on the shirt. If the bride loves something in particular, then you might include that as a theme on the shirt. Some groups identify with a movie or TV show, and t-shirts might identify party goers as particular members of a group.
Our Top Picks
One of the shirt ideas that we love is the idea of the squad. What is a bride's squad? That group of friends that will be there for her through thick and through thin. Yeah, the girls who helped you handle every bad date, and then listened to you as you were falling in love- that's your squad. Celebrate them with a squad shirt: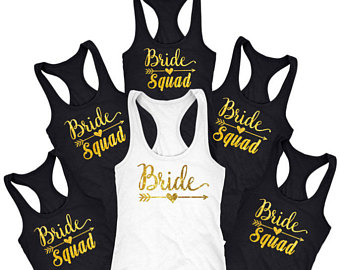 While "squad" and "tribe" may be the new unofficial ways to name your bachelorette party bunch, we are personally loving this take on the same theme. The "I do Crew" is adorbs: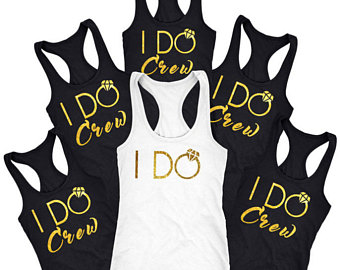 Drinking is one of the main activities at many bachelorette parties. Therefore, it should come as no surprise that drinking themed shirts are popular. Here are some of our favorites: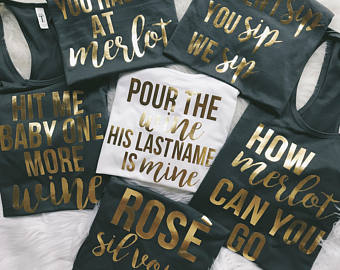 [ Pour the Wine His Last Name is Mine shirts ]
The missus theme is a popular one for bachelorette parties, and you can find customizable shirts to go with that theme: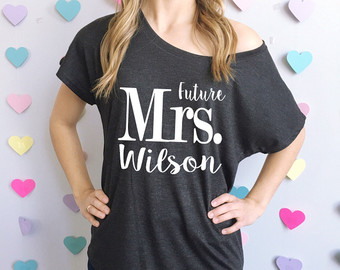 Of course we do not want you to actually be charged with any crimes at your bachelorette, but we still love these tongue-in-cheek wanted-poster type t-shirts: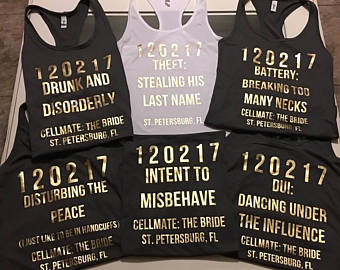 Poppin' bottles is a pretty big theme for all things bachelorette, and the juxtaposition of the idea that he popped the question, so your girls are poppin' bottles is one that brides and their tribes seem to love: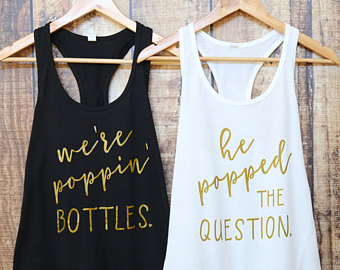 [ He Popped the Question, We're Poppin Bottles shirt ]
Another take on the same theme is I got the hubby, we got the bubbly……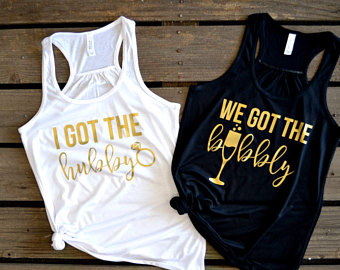 [ I Got Hubby, We Got Bubbly shirts ]
Is your bachelorette party taking place near Cinco de Mayo? These sassy shirts will remind you of that theme every time you put them on: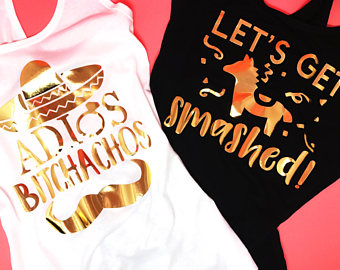 [ Adios Bitchachos, Let's Get Smashed shirts ]
A more personalized take on the same general theme can be found with these t-shirts that call out each member of the party for the things you love (or quite possibly fear) about them: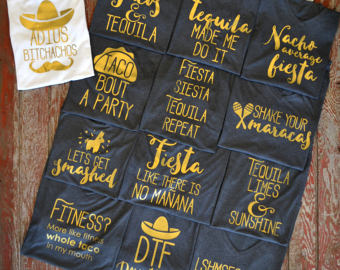 [ Mexican Fiesta themed shirts ]
The idea of a last ride is a great one for cowgirl brides or girls that like to ride bikes. We like that these baseball-style t-shirts offer a little more coverage than the average t-shirt:
Having a country-themed wedding or just consider yourself a bunch of cowgirls? This t-shirt throws it all the way back to one of country music's most iconic performers and one of country's top party theme songs: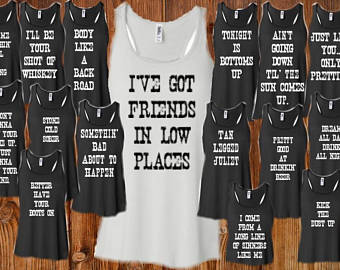 [ I've Got Friends in Low Places shirts ]
Another country theme we all love- boots and bling…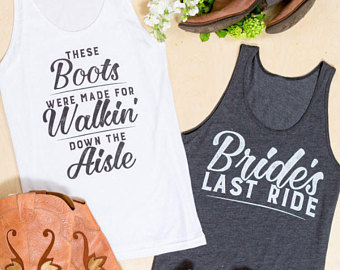 [ Boots Were Made for Walking shirt ]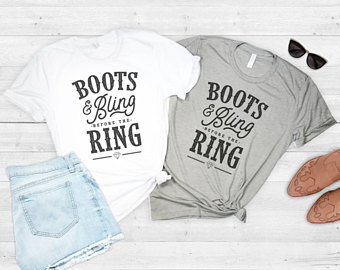 [ Boots and Bling before the Ring shirt ]
Do each of your friends play a certain role in your life? Celebrate that with these t-shirts that call them out for the strengths: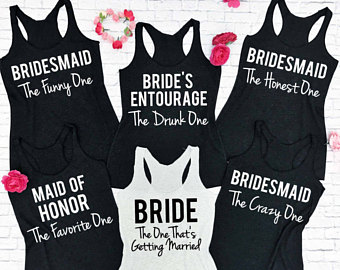 [ Bride, Bride's Entourage, Bridesmaid shirts ]
Are you a frugal type? If so, then the plain style of these t-shirts might appeal to you, because they could easily be worn the day-of the wedding, as well, while you in the getting ready stages for the big event:
Want to poke a little fun at the bride and how the upcoming wedding is making her a little extra "middle class?" These t-shirts are a funny reminder that she is getting into that wedding planning, while you are getting into that wedding drinking: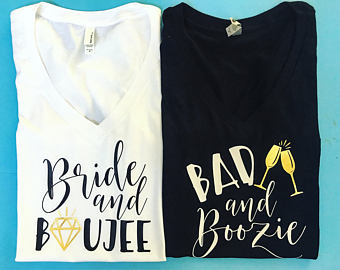 [ Bride and Boujee / Boozie shirts ]
Heading to Mexico or other points south for a destination bachelorette party? Celebrate fiestas, tequila, and siestas with this humorous shirt:
Having guys at your bachelorette? It is not unusual anymore, because many brides have a best guy friend. He can still join in the t-shirt fun with a shirt like this that lets everyone know that he is with the party:
We are not quite sure when the mermaid thing became a thing, but women have been embracing mermaids as a sign of strong feminine freedom for a few years. We love these t-shirts, especially if you are heading to a tropical destination for a bachelorette party: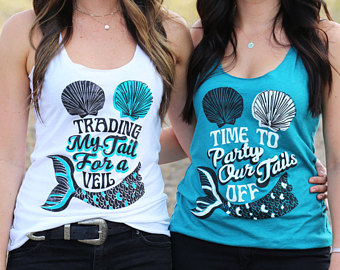 [ Trading my Tail for a Veil shirts ]
Commemorate the date with these t-shirts. One of the ideas that we absolutely adore is ordering t-shirts like this and giving them out in lieu of invitations to the bachelorette party! It is a great way to do something nice for your girls up front, and it makes sure that you have matching t-shirts for the party!
Funny Shirts
One of the questions we get is whether you have to pick funny shirts as your bachelorette party shirts. Of course not. You do not have to do anything. You do not even have to have shirts. We like funny shirts for a few reasons. First, they are funny. Anything that brings a smile to your face or makes someone laugh is always a welcome addition at any party. Second, they remind you not to take things too seriously. How many times are we so worried about whether we look perfect that we forget it is about having a good time?
These cheesy kale t-shirts are the perfect tongue-in-cheek approach to the idea of a bachelorette party t-shirt:
Can the bride take a joke? Was she hunting for a husband for a while before she met that special guy? If so, then this t-shirt should bring a smile to her face and a laugh to the people that see your party coming:
Want a funny reminder to keep things light? Hey, we all have those friends who cannot seem to put politics aside for even a single night. That is fine, but not if you have two of them and they come from opposite ends of the ideological spectrum. These funny t-shirts remind people that they are at this party to have some fun:
However, you can always go with a different take on the bachelorette party t-shirt. These tanks from Etsy have a cutout neckline that takes them a step-above the regular tank. Combined with their simple gold foil design, they are shirts that are more classy than funny: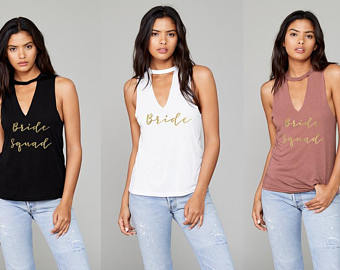 Destination Bachelorette Party Shirts
Destination bachelorette party t-shirts usually reflect your destination. They may be generic, like suggesting that you are going on a cruise, or very specific, reflecting a specific town. What we love about them is that they serve double-duty- not only are they perfect for while you are on the trip, but they also serve as that t-shirt from the trip, keeping your girls from having to buy t-shirts as souvenirs!
Going on a bachelorette party cruise? Do not forget to get ship-faced! If you do, these funny t-shirts will remind you: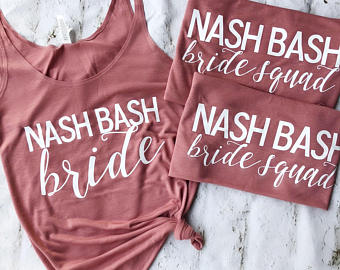 [ Nash Bash Bride & Bride Squad shirts ]
Heading to the beach, well Aloha!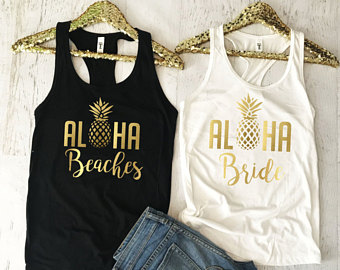 [ Aloha Bride, Aloha Beaches shirts ]
We also like beachy colored t-shirts for tropical destination bachelorettes: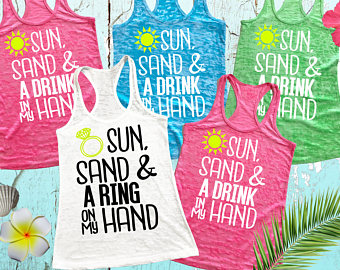 [ Sun, Sand, and Ring/Drink in My Hand shirt ]
These personalizable options let you say where the party will be, and can even be personalized with the bride's name: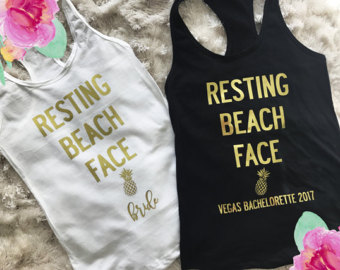 What happens in Vegas might stay in Vegas, but you can let people know you were there with this Vegas Bachelorette Party shirt:
We also love these t-shirts for the more, a-hem, adventurous group of gals: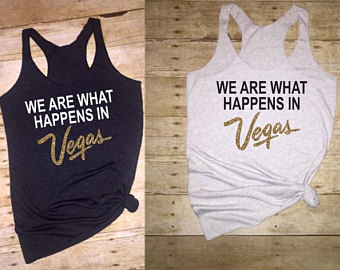 [ We Are What Happens in Vegas shirts ]
Bachelorette parties and theme parks go together better than you would imagine they would. Heading to Universal Studios? Then, check out this Harry Potter themed bachelorette party t-shirt pair: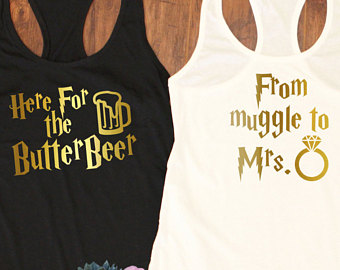 [ Here For the Butterbeer, From Muggle to Mrs. shirt ]
Every girlfriend knows that a friend saying yes is a perfect opportunity to suggest a bachelorette party in New Orleans (Big Easy).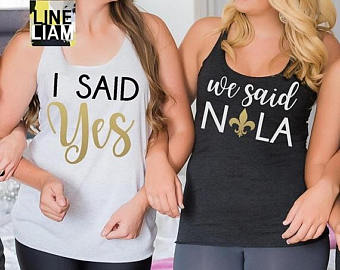 [ I Said Yes, We Said NOLA shirts ]
A friend getting married is as good of a reason as any to plan a Miami Beach bachelorette party.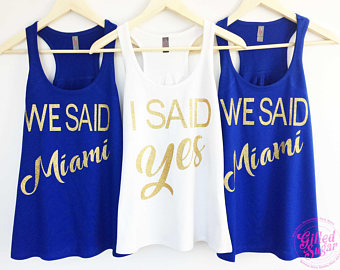 [ I Said Yes, We Said Miami shirts ]
Holiday-themed Shirts
Are you having your bachelorette party at the same time as a holiday? Instead of trying to distinguish the two, embrace the overlap with a t-shirt that recognizes both.
Bubbly plays a big role in bachelorette parties and at New Year's. If you are combining the two, celebrate with simple shirts that appreciate the finer things in life: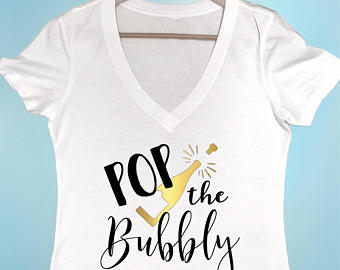 St. Patrick's Day is already one of the world's most fun and silliest holiday celebrations. Add to that with these funny rock/shamrocked tees: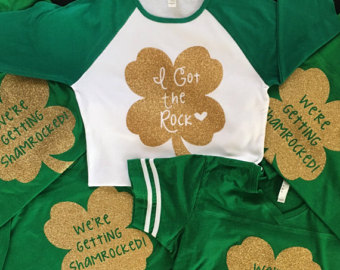 [ I Got the Rock, We're Getting Shamrocked shirts ]
Heading to Mardi Gras? These t-shirts are perfect to laissez les bon temps rouler or anytime you party in the Quarter: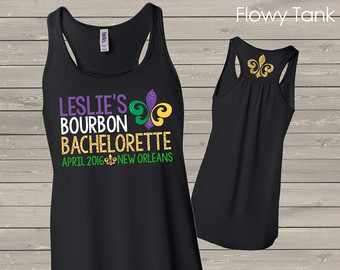 [ Bourbon Bachelorette shirts ]
Where to Buy Shirts
Now that you know some of the reasons that we are so wild about the bachelorette party t-shirt idea, you are probably thinking- shut up and take my money and give me some shirts. We do not sell shirts, but we can tell you who does and what we love about them.
Amazon
It should come as no surprise that the largest online retailer sells bachelorette party t-shirts. You could probably outfit an entire wedding strictly using Amazon, though we are not recommending that. What do we love about Amazon? Well, we love free shipping if you are an Amazon Prime member. We love that you can get your orders quickly, especially if you are a last-minute shopper. We also love that you can pick cheap shirts from Amazon that you will still wear in public. Long live bargain deals!
View all Bachelorette Party shirts on Amazon
Cafepress
Looking for funny and unique shirts, tanks, or even other bachelorette party favors? Then Cafepress might be your best bet. Cafepress has a huge variety of t-shirts for your bachelorette party and their unique and funny sayings can even be personalized for specific parties. Cafepress uses high-quality fabrics and for using transfers that can stand up to multiple washings. Cafepress uses imprints on other items, too, so you can coordinate favors to a single theme or buy distinct themes for different types of favors.
View all Bachelorette Party shirts on Cafepress
Etsy
Etsy is known for its custom or hand-made products and it is, quite simply, one of our favorite places for bachelorette party t-shirts. It offers a huge variety of bachelorette party t-shirts, and, because contributors can change frequently, you find fresh new designs all the time. One of the things we love about Etsy is that you can interact directly with the people making your t-shirts. This opens up a lot of customization possibilities. In addition to t-shirts, you can find all kind of bachelorette party swag on Etsy. The only downside of Etsy is that it can take a while to get your orders, so you want to plan in advance!
View all Bachelorette Party shirts on Etsy
Zazzle
Zazzle is another fantastic source for bachelorette party t-shirts. One of the things we love about them is that they have surprisingly good quality at very affordable prices. They also offer a whole range of products; you can get everything from customized invitations to favors for bachelorette parties. We love that you can find coordinating products at Zazzle, which makes it perfect for those of you who love to find a great theme and stick with it! They are also super-affordable, which we all love.
View all Bachelorette Party shirts on Zazzle
Spencers
Spencers has been known for its funny t-shirts for years, so, it's not surprise that they have funny bachelorette party t-shirts, as well! Actually, one of the reasons that we like Spencers is that it opens up some possibilities. Maybe you and your friends are not the bride/bride tribe type. No problem. You can still get themed shirts that identify you as part of the group, without that matchy-matchy look of the traditional bachelorette party t-shirt. They also have a pretty good selection of specifically bridesmaid and bachelorette-themed shirts, if you want to go with the traditional theme.
View all Bachelorette Party shirts on Spencers
Ebay
You might not think of Ebay as your go-to source for custom or customizable clothing, but the retailer which was once known primarily as a marketplace for used goods actually has a very large custom t-shirt market. In fact, many users have set up their own Ebay stores, where they can highlight different types of bachelorette party merchandise! EBay tends to have very competitive pricing. Furthermore, while it can be a little intimidating to do business with individuals who do not have their own digital storefronts, working with EBay comes with enough consumer protections to satisfy even the most cautious soul!
View all Bachelorette Party shirts on Ebay
Conclusion

Are bachelorette party t-shirts a must-have? No, of course not. If the idea of trying to find them and coordinate purchasing them is stressful to you, then do not add it to your party to-do list. However, if you are looking for a fun, inexpensive way to add a little something to the party, and give your guests a favor that will remind them of the good times- bachelorette party t-shirts are a way to accomplish all the things in one soft and cozy cottony-garment. We are not saying that is perfection, but, well, it might be perfection.