Bachelorette Party Bride Gifts (2023 Guide)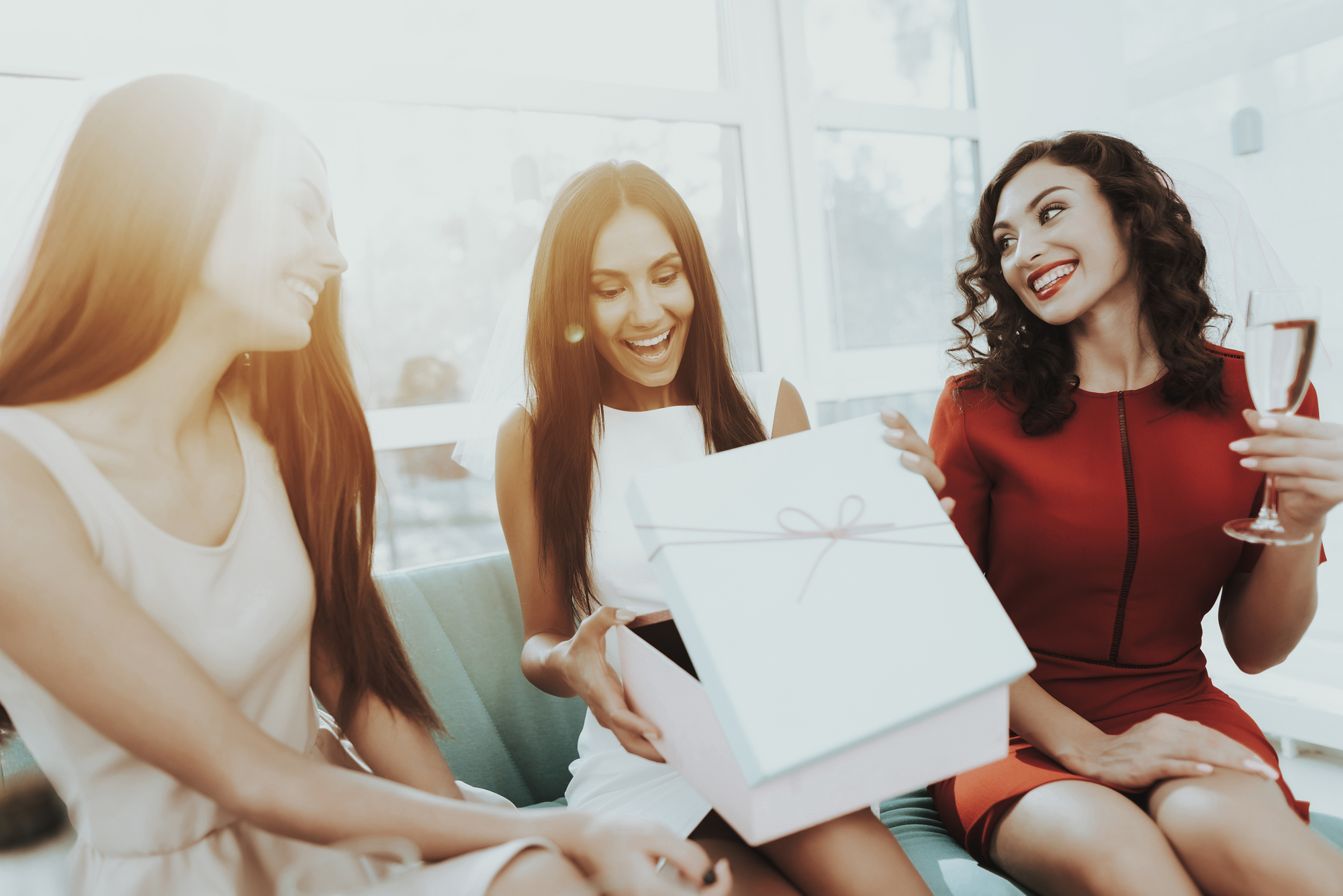 This post may contains references to products from one or more of our advertisers. We may receive compensation when you click on links to those products or services. Please also consider
donating to our website.
Invited to a bachelorette party and wondering what you should bring the bride?  You are not alone.   While showers usually have themes that tell you what kind of gift to bring, bachelorette parties are not usually so structured.  In fact, there is a pretty substantial debate about whether or not you should bring a bride gift to the bachelorette party at all.  This can leave people casting about for great, unique, affordable gift ideas.  Whether you go with one of our ideas of use them as inspiration to come up with some ideas of your own, we think this list is a great starting point to get you thinking about fabulous gifts for the bride.      
To Gift or Not to Gift; That is the Question
One of the questions we get asked all the time is whether or not guests should bring a gift to a bachelorette party.  It is a great question and one that can be difficult to answer because the tradition of the bachelorette party has evolved more quickly than the gift-giving guidelines surrounding weddings have been able to evolve.  What do we mean?  Well, if you are a woman on your first marriage in the U.S., then you are probably around 28 years old.  That is because the current average age for first marriage is 28.2.  That means your parents are probably somewhere in their late 40s to early 70s, and got married around three decades ago.  Odds are high that, at that time, your mom did not have a bachelorette party.  Oh, she may have had tons of bridal showers and engagement parties, but, not that long ago, last flings before the ring were more of a guy thing.  Dad may have had a traditional stag party, but mom's friends probably just threw her another shower.  And we all know that, for showers, gifts are required.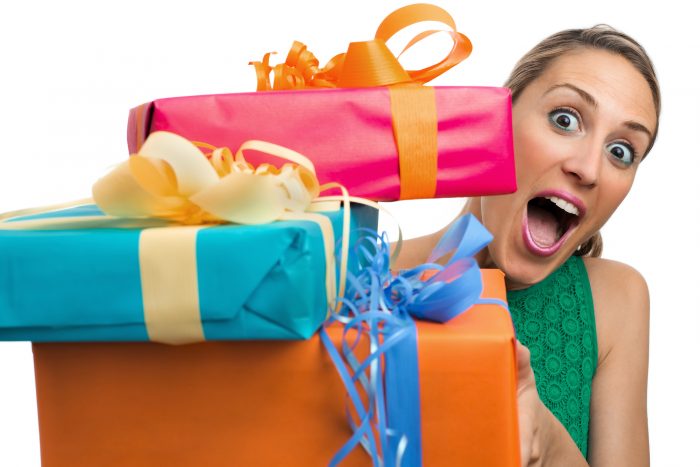 However, it was around that same time that the idea of bachelorette parties for women really started catching on.  At first, they were pretty basic and borrowed a lot from traditional stag parties.   You might be out in a bar and see a group of friends out drinking, one of them dressed up in a condom-decorated veil, but it took a few years for bachelorette parties to really hit their full stride.  Now, a bachelorette party that is tons of fun for the guests and really appeal to the individual bride is pretty much a done-deal for most weddings.  Yet, in that time period, no one has really resolved whether or not you need to bring a gift.  Show up with a gift and no one else brings one, and, especially if you are hitting the bars or traveling from place-to-place, you have now given the bride something she has to keep up with all night long.  Show up without a gift and everyone else has them and you feel like a jerk.
So, here is our answer.  A gift is definitely not required for the bachelorette party.  It is not a shower (unless it is a shower, because some people do thrown combination bachelorette parties/ bridal showers, but that should be clear from the invitation), and there should not be an expectation that you arrive bearing gifts.  That said, there is no rule that says you cannot bring gifts to a bachelorette party. You just want to pick different kinds of gifts than you would bring to a bridal shower, engagement lunch, or any other type of pre-wedding party.  You also do not need to stress yourself by thinking you need to spend-wedding gift level bucks for this gift.  If you do opt for a bachelorette party present, you want to think of things that are affordable, fun, frivolous, and maybe a bit naughty. 
Bachelorette Party Bride Gifts
One of the most popular categories of bachelorette party gifts are those that are aimed at helping your friends shout to the world that she is the bride.  These gifts come in a wide range of different styles and themes; if you can personalize something to say Mrs._______________ or "bride" on it, it can become a bride-themed gift.  This makes it so easy to find a gift that is perfectly suited to the bride you are celebrating!
Personalized Gifts
Bachelorette Bottles
Is your girl a fan of the vino?  If so, consider gifting her a bottle of her favorite wine with one of these custom bachelorette party wine labels on it.  Whether she cracks it open at the bachelorette party to share with friends, or saves it for herself for a drink the night before she says "I do," these labels will ensure she thinks of you when she does: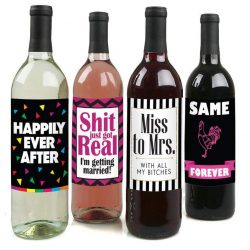 Souvenir Swimwear
We love this "wife of the party" swimsuit, which she can wear not just at her bachelorette party, but for at least a year after she gets married, and can definitely use if her honeymoon plans include a tropical vacation.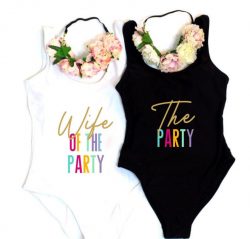 For some reason, most bride-themed swimwear tends to be one-piece, but if your friend loves the convenience and ease of a two-piece suit, you can find bride-themed bikinis, like this one: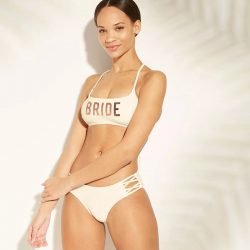 Sock it to Her
People love novelty socks, and these great bride socks certainly fit the bill.  We love this as a gift idea, because, when hidden under clothes, they can a subtle reminder that she is about to be a Mrs., while still shouting the same to the world if they are put on display: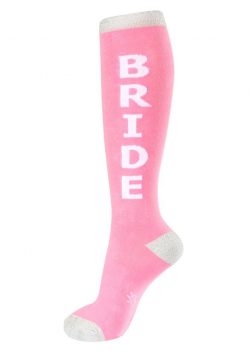 Flashy Flasks
Flasks have been a go-to gift for bachelor parties for ages, but why should the guys have all the fun?  While it is unlikely that your bachelorette is going to be able to slip a flask into her coat pocket, like the groom would, she can easily tuck a flask into her purse or bag.  You can customize them with your own savings or go with the tried and true, like "Mrs." or "Bride:"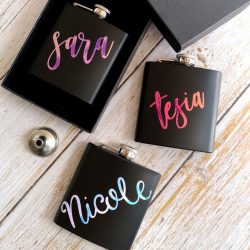 A popular twist on the flask idea is the flask bangle.  We love this idea, in no small part because we love the look of these chunky bangle bracelets: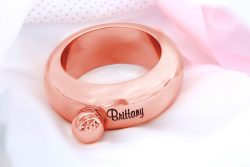 Custom Koozie
Help the bride keep her cool with this custom koozie.  The best thing about this gift?  She can literally use it from the moment you give to her and for years to come after that!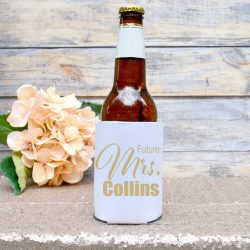 Make a Wish
We love, love, love this adorable, affordable, super-cute idea: the wedding wish bracelet. You can find them in all kinds of styles, from simple little hearts to more ornate and bridal looking pearls.  The concept is simple; she ties on the bracelet and wears it till it falls off; when it does, her wedding wishes are supposed to come true.  It is a super-sweet gift that shows her that you really do want all of her hopes and dreams to come true!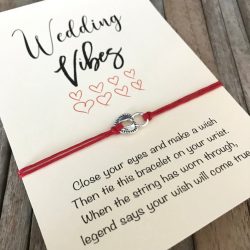 Lingerie
Another enduringly popular present for the bachelorette party is lingerie.  There are a couple of reasons why lingerie is such a great bachelorette party gift.  First, bachelorette parties tend to be adult-themed and are usually all women, making it a perfect, non-embarrassing time to give even the raunchiest of lingerie.  Second, and perhaps equally important, lingerie tends to be very lightweight and easily portable, which means it will not be cumbersome for a bride to carry around at her bachelorette party.
Oh Baby, Babydolls!
The babydoll nightgown manages to do what many types of sexy lingerie cannot do: be comfortable and alluring at the same time.  You can find babydolls in all kinds of price points and made out of all types of materials.  What they have in common is that they are usually very short, just grazing the tops of the thighs, and the tops are usually strappy.  We love this apricot blush one from Target; it looks very bridal to us: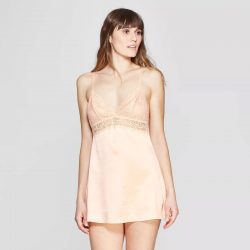 Merry Widows Make for Even Merrier Brides
Looking for something a little more overtly sexy for the bride?  Consider a Merry Widow.  While corsets and bustiers may need a more exacting fit, Merry Widows offer the same degree of sexiness without you needing to know the bride's exact measurements.  They also tend to be a bit more affordable, so if they get destroyed in the heat of passion, oh well!
Edible Undies
Part lingerie, part adult toy, these edible underwear let the bride send a not-so-subtle message to the groom about what they evening's activities should include: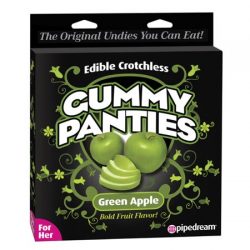 Lace it Up
We love the look of a corset, but, let's be honest; those suckers are not comfortable.  That is why we think this top is a winner.  It gives you the out-and-out sexiness of a corset, but without the discomfort.  We think the bride would love it for some bedroom cosplay, but also find it equally suitable to wear out with jeans for a sexy dinner with her new groom:
Wrap it Up
This adorable satin robe literally spells it out that she is the bride.  She can wear this while getting her hair and makeup done for the big day and take it along as a convenient cover-up on the honeymoon and beyond: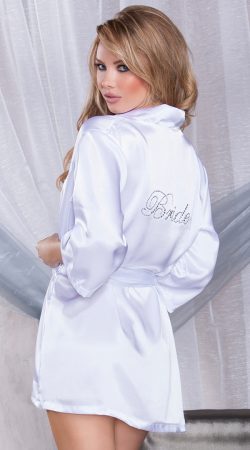 Sex Toys
Sex toys are another bachelorette party favorite.  You may already have your go-to favorites for getting off, and the bachelorette party is a great time to give the gift that keeps on giving to your favorite bride.  We love the idea of sex toys as bachelorette party gifts because, while they can be fun and really useful gifts, they can be awkward to give at other times.  Do you want the bride unwrapping a giant vibrator at her bachelorette party with her granny present?  Probably not.  So, skip the sex toys at the showers and the engagement parties, and bring them along to her bachelorette party, instead!  Just keep in mind that she is getting married, so you want to think about toys that enhance couple time, not just ones that make for a great solo outing, if you know what we mean.
Kama Sutra Weekender
If you are not familiar with this timeless erotic toy brand, then do yourself a favor and order a weekender pack for yourself as well as one for the bride.  These sample-sized packages are small enough to be easily portable for a honeymoon and include some of this high-end brand's best-selling sex aids, like lube, stimulating oils, honey dust, and a feather applicator.  This is a great gift to give the bride who has expressed some curiosity about kicking up her love life a few notches, but who might not be ready for any type of hard-core toys:
Light Bondage
BDSM can be a great sexual enhancer for those who are fans, but is not for everyone.  You might want to give your friend a starter-dungeon kit, but, trust us when we tell you that could get a little awkward, even if your friends are super-open minded.  So, instead, why don't you go with this very beginner eye mask and fur-lined handcuff set? 
A Toy They Both Can Use
There are so many vibrating sex toys out there, but a surprising number of grooms get a little intimidated when a woman breaks out the toys.  That is why we suggest getting her a toy that can put the groom in the driver's seat.  These remote-controlled vibrating panties can be a flirty little secret between the two of them and help them keep the spark alive for years to come:
Your Most Sensitive Sexual Organ
Have you ever heard that the brain is the most sensitive sexual organ?  While it may not seem titillating, it really is true that the secret to a great sex life starts by building a great relationship, and a great relationship starts with awesome communication.  That is why we love this Uncommon Questions game, which gives the bride 200 fresh questions for starting conversations with their partner:
The Write Stuff
Not sure what direction you want to take, but you would feel naked showing up at a bachelorette party without some type of thoughtful present?  You cannot go wrong with stationary.  Seriously, we know it sounds a bit like a snooze-fest, but if your friend is like 99% of brides, she is going a little ga-ga about becoming a Mrs.  Get her some personalized stationary so that she can share that status with the world.  It is customized, thoughtful, and super affordable.  We like these notepads that let her share that she is the future Mrs. _______: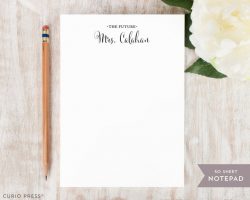 We also love these note from the bride cards.  She is going to (or at least should be) writing soooo many thank you notes as the wedding approaches and after the big day.  She will certainly be able to use these adorable note cards.  Want to take the gift to the next level?  Get the guests lists for her bachelorette party and her showers and address the envelopes for her.  Not only have you given her a gift of a great set of notecards, but you have also given her a gift of something every bride needs more of: time!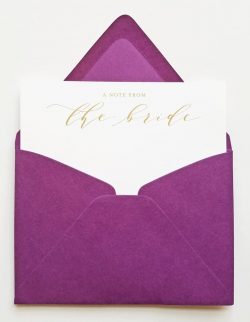 Raunchy Reader
Not sure you can quite bring yourself to give the bride a sex toy, but you want to carry on the adult theme?  Then, get the girl a sex book.  You can find all types of books full of tips on sex, from the best positions to other helpful tidbits.  We like this take on the classic Kama Sutra:
Conclusion
As you can see, there are a ton of ideas for affordable, fun bachelorette party gifts that let the bride know you are thinking about her without breaking the bank.  If you go back through the list, you will realize that every gift we linked to comes in at under $50, with many of them in the under $25 range.  You do not have to spend a lot to find a great gift.  So, if you are on the fence about whether or not to bring a gift to a bachelorette party, keep in mind that thoughtful does not have to equal expensive!