Plan Your Bachelor Party in Panama City, Florida (2023 Guide)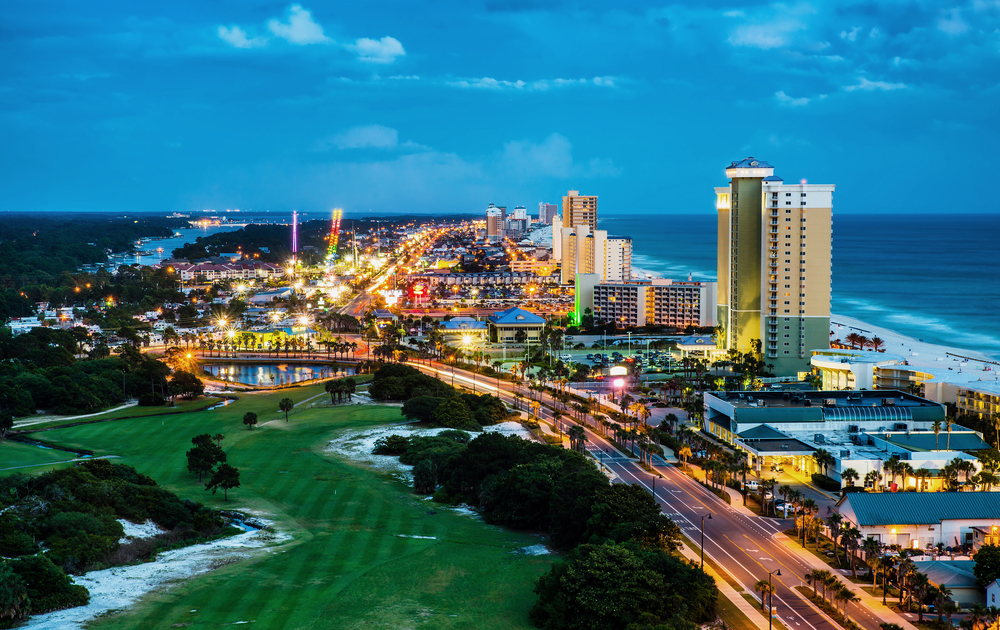 This post may contains references to products from one or more of our advertisers. We may receive compensation when you click on links to those products or services. Please also consider
donating to our website.
Panama City is a culturally diverse city in St. Andrews Bay. Across the bay is Panama City Beach, a resort city on the Gulf of Mexico famous for its long white-sandy beach and amusement parks.  With dolphins and sea turtles swimming in the waters offshore and the all-night party atmosphere, your fondest memories will be the Panama City bachelor party.
Nothing beats that once in a lifetime experience of a bachelor party. If you are planning for one, then Panama City is the perfect destination. The City is one of the world's leading culinary destinations and a paradise for water sports lovers. The city's fine shops, exhibits, restaurants and of course entertainment is plentiful and inexpensive.
This guide will provide you with the best of everything Panama City has to offer for a bachelor party; restaurants, hotels, rental houses, activities, gentlemen's clubs, and everything in-between.
How To Get There
Airport  
Northwest Florida Beaches international Airport (airport code: ECP) is the main and ideal airport to choose when visiting Panama City. The airport is a 30 minute ride away from downtown.  To avoid delays, avoid using the airport during rush hour. Make sure you book a flight that has the best rates and availability.
Getting Around
To get to the city from the airport, you have numerous options to choose from
Rideshare
As a safe and simple way to get a cab, using Uber and other similar apps is possible. You will however need to have data connection or the airport's Wi-Fi connection. The price range is approximately $15 – $30 depending on the proximity of your place of residence to the airport.
Taxi
Using a taxi is the traditional way to get from the airport to Panama City. Depending on the number in your party, it could be slightly more expensive than using an Uber. The price range is approximately $25-$35. If you are one for a bargain, walking to the main road from the airport and hailing a taxi provides considerable savings.
Limousines / Party Buses
Being it's your bachelor party, travel in comfort and style by hiring yourself a limousine or party bus service that offers plenty of add-ons. When selecting this option, request quotes from multiple providers to find the best deals. 
Things to Do
Daytime Activity Ideas
Panama City, Panama is an ecotourism location offering a range of outdoor activities in various scenic locations.  Considered a paradise for water sports enthusiasts, sailing, kayaking, paddle boarding, snorkeling and swimming are just some of the fun activities available along the world class beaches.
Guided day trips for dolphin-watching, shelling and shark-watching are available. Excursions are also popular with numerous charters offering inshore and offshore fishing. Some of the noteworthy sites include:
This is one of the most frequented state parks in Florida. It borders the Gulf of Mexico to the south, the grand lagoon to the north and the St. Andrews Pass to the east. St Andrews State Park provides a variety of wildlife from alligators to deer to migratory birds. Besides wildlife, the park provides piers which anglers use for fishing. Cycling, canoeing, kayaking, scuba diving, snorkeling are all popular activities in the park.A cautious word to swimmers however, the park doesn't provide life guards and extra caution is therefore advised.
You can take your bachelor party daytime activities to the next level with an air tour. Panhandle Helicopter provides air tours of the beautiful beaches from Panama City Beach, Florida. The tour costs vary from $40-$125 per person depending on the time spent in the air. The tour allows you to enjoy all that Panama City has to offer from marine life to the beaches and city skyline.
Ranked number 3 waterpark in America by Trip Advisor, Shipwreck Island is a tropical themed waterpark located at 12201 Hutchison Boulevard, Panama City Beach. The twenty acre park is filled with attractions, and food and drink outlets. The park is fairly priced at $38 for anyone above 50 inches and has rides such as the raging rapids and tree top drop that are ideal for the daredevils in your group.
Apart from the beach and wildlife related activities, Panama City offers you and your mates an alternative fun daytime activity in playing escape room games at Escape Zone 60. This live, interactive puzzle solving game requires no special skills just team effort of up to 6 to10 players. Choose one of two games to play with each game taking 60 minutes to complete. With an average completion rate of 30%, test out your mates puzzle solving skills as you have fun.
If you are a wine enthusiast, visit Panama City Beach Winery and get to enjoy wines made with 100% fruit. Reserve an after-hours wine tasting party at the winery from 5:30pm-6:30pm with cheese, crackers and fruit tray as accompaniments.
If craft beer and micro-brewing tickles your fancy, the nivol brewery is a state of the art micro-brewery in Panama City Beach which offers educational tours and tastings experiences. Located along 927 Mulberry Ave panama City, FL 32401, the Nivol also provides menus to order food from nearby restaurants if you cannot bring your own.
View all Activities in Panama City
Nightlife Activity Ideas
It is easy to get carried away by the sunshine, palm trees, beaches and ocean waves as you enjoy your Panama City bachelor party. The nightlife in Panama City is appealing and easy to find something that is to your taste.
The city offers numerous party spots that are revered by locals and visitors alike. A testament to the City's party atmosphere, Panama City has a vibrant nightlife that provides plenty of fun places to go to and enjoy your bachelor party. 
If you are not a party animal, Panama City still has plenty of fun activities to indulge in during the night.
This is an epic bowling alley that includes a sports bar, a larger than life 12 foot TV, a mega arcade, roller-skating rink and several pool tables. Rock'it Lanes also has a grille that serves everything from burgers to grilled chicken breast at affordable prices. Partner up and have a good time as you try out a little of everything while music plays in the background.
Another alternative to the party scene is Pirate Island Adventure golf where you can enjoy mini-golf until 10:00pm. The unique course is full of waterfalls, rivers, bridges, pirate skeletons and other pirate décor. Pirate Island also has a special group rate making this an ideal stop over day or night.
Clubs
After a day of excursions and other activities, Panama City Beach provides some of the best nightlife possible.
Club La Vela is considered as the best dance club in Panama City beach. Arguably the largest nightclub in the US, Club La Vela has a capacity of close to 6,000 people. The club has 10 theme rooms, a multi-level rock arena and beachside poolall featuring award-winning signature designs that create a unique and unforgettable vibe and ambiance. There are also over 48 bar stations that extend the club to ensure you never go thirsty.The club also boasts of cutting edge lighting that offer a unique sensory experience, live DJs, bands and other entertainment covering multiple music genres. Cover charges are lower the earlier you show up. Your night activities are not complete without a visit to this iconic club.
Bars
If you would rather nurse a drink and a bite instead, there is a wide variety of lively and colorful spots right off the beach.
Sharky's Beachfront Restaurant is a 15,000 sq. foot deck and dining restaurant with the largest tiki hut. The steak and seafood is delicious to say the least. Besides delicious food, sharky's is one of the most exciting bars on the beach. Make sure to try out the signature "Watermelon Crawl" with your party.
Pineapple Willy's simply has the best ribs on the beach. Their signature drinks are also excellent. Pineapple Willy's has great cocktails and music making this one of the must visit spots in Panama City Beach.
Hammerhead Fred's boasts of over 50 cold beers on tap right on the beach. This gem also offers great shrimp and seafood. The 2,500 sq. foot deck features a bar as you enjoy live music.
Uncle Ernie's Bayfront Grill in the historic St. Andrews area is the best for a happy hour cocktail.  It offers live entertainment and one can get to enjoy the sunset at this old-world restaurant. You can also get to enjoy their signature craft beer and award winning cuisine in their relaxed atmosphere.
Live Music
Camouflaged as a casual American grill by day, Spinnaker beachside grill is a thumping club by night with live music events, bands and DJs playing the best mix of music. The club features live music every night of the week. A beach bar complete with a beach volleyball court, spinnakers has all the entertainment that your party would need. A popular spot with many who frequent the beach, spinnakers boasts delicious burgers and seafood. If music is your thing, visit this location and get to enjoy your bachelor party.
Tootsie's Orchid Lounge Panama City is located at Pier Park and is also known as "the #1 honky tonk in the world". Considered theplace to be for the best country music, Tootsie's has been part of Panama City beach and country music long history.
Karaoke
If Karaoke is what will get your bachelor party started, Spinnaker's has one of the best karaoke nights in Panama City Beach. Confirm karaoke nights as they are not available every night.
Karaoke is a staple of nightlife and Ms. Newby's or either of Newby's Too or the New Newby's Brew and Booze house host events that include live entertainment and karaoke. Drink and show off your vocal skills as you dance and sing the night away.
Panama City nightlife offers an irresistible beat provided by the atmosphere and the chill crowds that frequent the numerous spots in the city.
Gentlemen's Clubs
No bachelor party is complete without a visit to a gentlemen's club or two. A Panama City bachelor party is no different.  The city provides plenty of adult entertainment spots and some in-call strippers if you fancy a private show exclusive to your party.
Gold Nugget Gentlemen's club has beautiful dancers offering everything from exotic to lap dances. The club is Panama City's premier gentleman's club 10 minutes away from the beach. The club has a happy hour and daily drinks specials. It also lays claim of playing host to Bay County's most beautiful entertainers.With the party running seven days a week, the fun atmosphere will obviously get your bachelor party started.
Show-N-Tail the legend LLC is another gentleman's club in Panama City. Situated along 8776 Thomas Dr, Panama City Beach, this is a 24 hour adult entertainment club.
The Toy Box is also one of the go to gentlemen's clubs. The club has friendly and sexy girls. Boasting 24 hour strip shows, the toy box is fairly priced and although they have a cover charge, it is totally worth the visit.
Besides the gentleman's clubs, you could get to enjoy the company of strippers for your bachelor party at the comfort of your hotel room. Floridahardbodies.com provide the hottest strippers in Panama City. Their strippers are professional and very flexible and offer the perfect wild and naughty bachelor party show.
Hotpartystripper.com is another private stripper for hire website. They have a wide selection of beautiful exotic dancers that suite your personality or personal taste. Surprise the groom to be with a wild bachelor party at the comfort of your hotel or rental house.
If you choose the private party option, make sure there is a lot of alcohol to ease up on the awkwardness.
Where to Eat
Breakfast / Brunch / Lunch
Just as important as the girls and the drinks are to your bachelor party so is food. Panama City is full of awesome seafood restaurants. Some of the best the city has to offer include:
Captain Jack's Family Buffet is one of the best seafood restaurants in town. A little on the pricey side, this restaurant however offers one of the best buffets. Captain Jack's Family Buffet is hosted by local restaurateur Jack Bishop, and serves large breakfast, lunch and dinner portions every day of the week.
St Andrews Marina plays host to a unique restaurant, Just the cook. Considered as one of the top 16 cooks in America by the Food network, Just the Cook is on a pontoon boat with the dining area on the marina dock. This is an ideal dinner location serving some of the best seafood in the Panama City area.
Dee's Hangout on Richard Jackson Blvd is a seafood restaurant that specializes in coastal, Cajun style and southern food. The menu is mostly seafood but there is a selection of steak. They also have some of the best desserts Panama City has to offer.
The list of where to eat would not be complete without mentioning Pineapple Willy's, Sharky's and Hammerhead Fred. This popular bars also offer mouthwatering steaks, ribs and seafood for lunch and dinner.
Dinner
Enjoy casual fine-dining at Firefly. The restaurant specializes in locally caught seafood, mouthwatering steaks and even boasts a sushi bar. This is an excellent date spot as the tables are set under a romantically lit-up oak tree.
Just the Cook boasts one of the Top 16 Cooks in America. The food is spectacular and the menu is full of mouth-watering treats. Make sure to make it in time to enjoy the sunset from the Marina dock dining area.
Where to Stay
Panama City offers plenty of accommodation options ranging from hotel and resorts to furnished apartments and Airbnb.
Hotels / Resorts
With over 16,000 options of bed space to choose from, you will be lost for choice when choosing your ideal bachelor party accommodation.
Carillon Beach Resort Inn by Wyndham vacation rentals provide a comfortable condo with kitchenette. The resort is very close to the beach and the food is delicious. Considered as one of the most booked resorts on hotels.com. The hotel features a restaurant, bar/lounge and coffee shop. It has an outdoor pool, fitness facilities, full-service spa and two outdoor tennis court. Their lowest priced apartment is $139 per night.
Tidewater Beach Resort is a beachfront resort with a kitchen near Pier Park. It is strategically located at the beach making this an ideal getaway. The resort has a poolside bar, restaurant, two outdoor pools an indoor pool, children's pool, two tennis courts among other facilities. A night at Tidewater will set you back around $450 per night but it is totally worth it.
View all Hotels Available in Panama City
Rental Houses
TripAdvisor
There are numerous options for condos across from the beach offering a place to cook and a little yard
From $304 per night, Aqua-holic two bedroom beachfront house overlooks the white sugar sand beaches with views of the ocean from the kitchen, living room and both bedrooms. The property provides private parking, two bedrooms and two bathrooms and can comfortably accommodate eight guests. A perfect getaway and ideal for the bachelor party while in Panama City
Ranch house, which is a three bedroom and three bathrooms house is a $194 per night rental that is 4 minutes' walk away from the beach. The house is large enough to accommodate 10. Ideal for the wild nights that your bachelor party promises to be, this two living room and two kitchen house is close to popular restaurants. The Yard is completely fenced ensuring that you can have a private bachelor party.
Trip Advisor offers the above and numerous other rental houses that you can choose from to make your Panama City bachelor party a memorable one.
Airbnb
Airbnb offers a wide variety of vacation rentals to choose from. The price varies from as low as $50 per night making it worth visiting before making any accommodation plans.
"Bungalow" at the Hideaway is a one bedroom private bungalow that has three beds and one bath making it ideal for a party of four. Five if need be thanks to a blow up bed that is available on request. The Beautiful sunset can be seen from the living room of this beautiful residence. At $120 per night, the facility comes with add-ons such as a kayak, paddleboat, bicycles and paddle boards at no additional cost.
The Bohemian Mermaid is an entire serviced apartment that can comfortably accommodate six guests. It has three beds and one bath. Fashionable decorated with a vintage and modern eclectic theme. The entire apartment is good as new and at $110 per night, this is a steal for six party goers.
Sign up with our Airbnb link and get $40 OFF your first booking!
VRBO
You can also source rental homes on vrbo.com if you require more options or bargains.
Oceanfront condo this beautiful one bedroom one bath condo is conveniently located close to the beach and provides ample view of the ocean. The condo accommodates four adults comfortably, access to private stretch of beach as well as three Gulf-front pools, one of which is seasonally heatedall for $75.
Brookenz Beach Rental this two and a half bedroom two bathroom beach rental comes highly rated. This rental offers a comfortable and secluded retreat two blocks from the beach. The house comes fully loaded, with a private fenced backyard with charcoal grill ready to get your party started for only $99.

Rental Homes Availables in Panama City Beach
When to Visit
Best Time
Panama City boasts an average of 300 days of sunshine per year. However, the best time to visit Panama City is from the last week of February to the second week of May. Another alternative time to visit Panama City is between the first weeks of October to the end of December.
On a Budget
The best time to visit Panama City Florida on a budget is from the end of spring break. This is ideally mid-April. This is during the low season a period which lasts until June when the summer crowd arrives. Another ideal season to be in Panama City is during the fall when the weather is warm and the traffic is light.
Worst Time to Visit
Some restaurants close during the winter break while most tend to keep unpredictable hours. September is also one of the worst times to visit Panama City. This is because it is the peak of the hurricane season and your bachelor party plans may be disrupted by the weather.
Spring break season may also not be the best time to travel especially if you are on a tight budget. Prices go up and most of the popular places have long queues and slow service.
Current Weather
What Else?
What to Pack
Depending on the time of year, your suitcase will carry what is essential for your survival during the Panama City bachelor party weekend. Sunscreen and sunglasses are a must have on the trip to the beach.
The beach and to some extent the hotel pool will be enticing during your stay and having a bathing suit as part of your luggage is a smart move. Your wardrobe choice for the trip should be dictated by the season and the temperatures along this tropical paradise.
Be safe and always have condoms. You may not need to carry them from home but having them with you is a responsible move. Whatever is forgotten at home can easily be replaced as Panama City is also home to malls not just bachelor party destinations
Bachelor Party T-Shirts
You may not really be aware of it but a successful bachelor party needs to be immortalized and nothing achieves this better than custom-made shirts for the occasion.  With etsy.com, you can select from dozens of pre-made t-shirt designs or you can just design one on your own.  
Big Events
There are numerous events that take place in Panama City Florida apart from the annual spring break. The events include:
Unwined this is a two day southern garden party in Aaron Bessant Park that takes place on March 22nd and 23rd. This event features superb craft beer, spirits, wine and culinary creations by the best chefs in Northwest Florida.
Seabreeze Jazz Festival enjoy a weekend full of fun and sun as you enjoy the nation's top smooth jazz artists. The event runs from April 24th to 28th and is one of the South's premier spring events. With over 20,000 fans in attendance, you are bound to enjoy this festival.
Pepsi Gulf Coast Jam is the Labor Day weekend country concert by the beach. Enjoy tunes from the freshest country and southern rock artists from the ideal festival location of Emerald Coast.
View all Event Tickets Available in Panama City, Florida
Itinerary
Before embarking on your bachelor party, it is only prudent that you plan your journey and party in advance. It will save you money while creating anticipation for the venues you intend to visit. Below is a sample itinerary for a bachelor party running from Friday – Sunday.
Friday –it would be ideal to check into your hotel or rental house early before heading out to the egg & I restaurant for some of their seasonal specials. After that you can head over to the beach or can take the time to explore what Panama City has to offer. You can also use the time after brunch to explore some of the interesting venues such as Pirate Island mini golf course.
Remember to get back to your hotel or rental home in time to grab a nap and freshen up in time for your bachelor party later on Friday night. Depending on your area of residence, take a walk or taxi to Pineapple Willy's for their delicious ribs or visit Hammerhead Jack's for great seafood as you enjoy beer on tap. Don't forget to check out club La Vela after dinner for some of the best entertainment Panama City has to offer.
Saturday – rise and shine.  Go over to Uncle Ernie's bayfront grill for a seafood based breakfast as you nurse your hangover with their in house brewed beer.  After brunch get a tour of the local Panama City Winery or Nivol brewery and get to learn a thing or two about brewing craft beer or of fruit wine respectively. Don't be afraid to try out the craft beer or wines during the tour of wither facility. Once back to your house or hotel and play some bachelor party games while getting ready for the evening. Enjoy delicious meals as you sample out "Watermelon Crawl" at Sharky's with your boys.
Sunday – depending on when your flight time, you should have enough time for one final brunch with the boys at Captain Jacks Family buffet.  If time permits you can then head to panhandle for helicopter tour, which will provide amazing photos for your memoires orFacebookand instagram account.  Then back to the house or hotel to pack all your things and off to the airport.
Travel Insurance
You never know when weather, or illness can happen.  Your vacation investment needs to be protected especially since you are required to book flights and put a deposit down for a house or hotel well in advance.  It's advisable to get a full travel insurance policy which covers everything from your personal belongings to your flight, hotel, and even cover your medical expenses. 
Why Go
Star Rating
Conclusion
You will not be disappointed if you travel to Panama City for your bachelor party.  It offers a ton of activities both day and night to keep your group moving along and the weather is great most times of the year.  The reason why Panama City was only given 4 out of 5 stars is because compared to other bachelor party destinations, the gentleman club element seems to be lagging behind other party destinations of equal cost. Apart from that, Panama City is definitely worth visiting