Break In Case Bachelor Party Shirts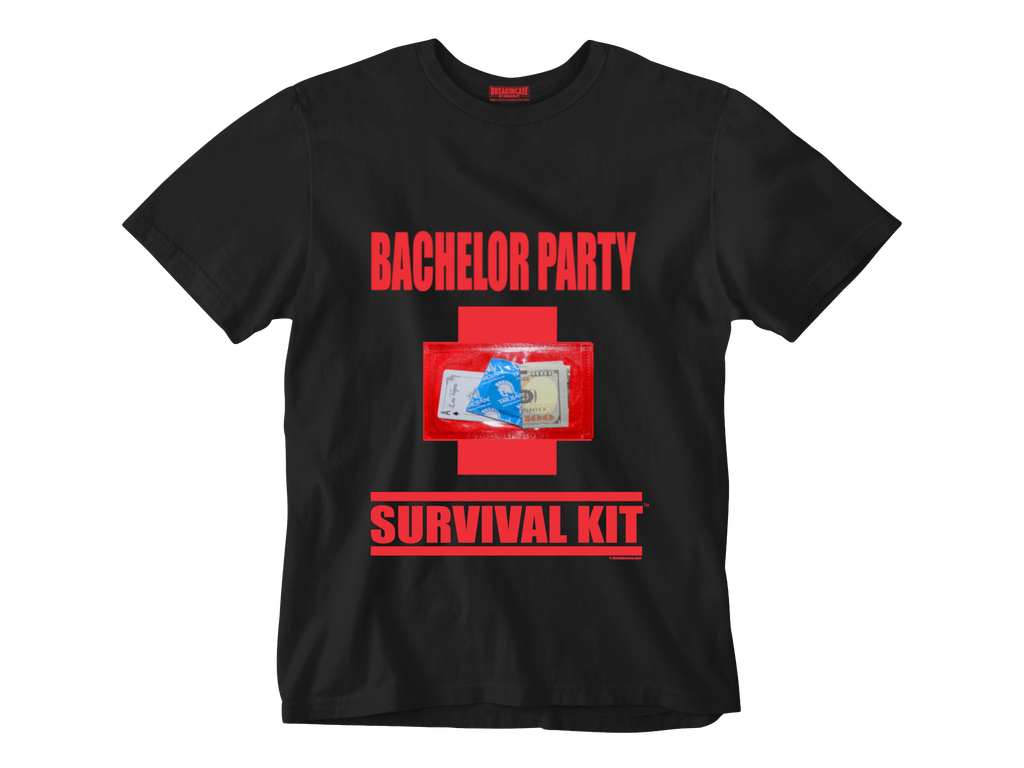 This post may contains references to products from one or more of our advertisers. We may receive compensation when you click on links to those products or services. Please also consider
donating to our website.
While not mandatory, bachelor and bachelorette party t-shirts have become an expected part of last fling before the ring festivities. T-shirts are party favorites because they are affordable, they help your group stand out from the crowd, and they can be worn again after the party, making them a great take-home party favor. That said, even with the standard customizable t-shirts available, you might feel like the bachelor or bachelorette party tee is getting a little boring. We have the cure for that: Break in Case of Emergency t-shirts.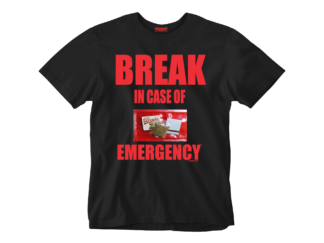 What is a Break in Case of Emergency t-shirt? You may have seen these funny t-shirts at some of the more popular tourist destinations, where they have been customized to meet a local emergency. However, why should cities have all the fun? The design team at Break in Case has taken their humorous approach to t-shirts and survival kits to the masses, by creating customizable shirts that can say what you want. So far that probably seems pretty standard. What sets them apart is that they have pouches on the front of them. These pouches contain items, and the gag of the shirt is that you break the pouch in case of emergency. What kind of emergency? Well, it depends on what kind of emergency you might be anticipating. There are some standard items you can add for the typical bachelor or bachelorette party, but also items you can add that are specific to your group of friends.
The first step is to customize your t-shirt. The t-shirts themselves are plain black unisex t-shirts in a range of adult sizes that go from small to 2x. The default background for the design-your own t-shirt is an emergency red cross, though you can get other colors if you choose to customize the bachelor or bachelorette party shirts. The front half of the cross is actually the breakable pouch.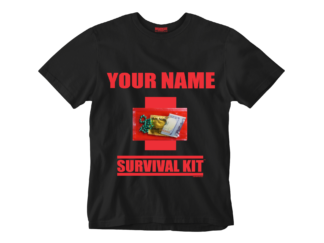 The standard bachelor party shirt uses the same color as the general Break in Case shirt, which is a black and red theme. You can further customize it by including whose bachelor party it is, as well as picking the items that you include in the survival pouch: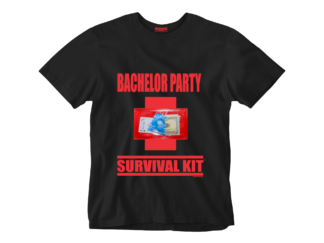 The standard bachelorette shirt actually looks a little bit different. Instead of the red and black design, it is pink and black. Of course, like all of their t-shirts, you can customize your pouch with things that are specific to your bachelorette party.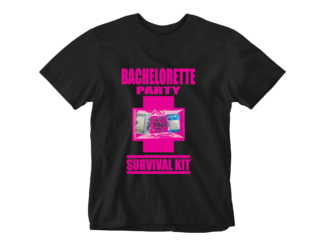 However, the real customization comes in choosing what type of items to put into your pouch. You can add up to three items per pouch. You get to choose from the following items: a regular condom, an extra large condom, folded or rolled money (it is prop money), a bag of oregano (yes, it is meant to look like weed, but we can't just ship shirts with weed around the country), a baggie of flour, an Ace playing card, a packet of Tylenol, a packet of Alka Seltzer, Mardi Gras Beads, a 9mm bullet (do not worry- it is inert), a bambu rolling paper pack, and a book of matches.
We love the folded money roll as a comedic item in your t-shirt. It is a must-add item if you are headed to the strip club. In fact, we really appreciate the subtle humor in a strip club survival shirt that just has money in the pouch! Planning on doing some gambling while you are at the party? Then, you almost have to have a t-shirt that includes one of the Aces in your survival pouch.
Our favorite bachelor party combination is a folded bill, a bag of flour, and an Ace playing card, just because we feel like that combination would lead to the very best bachelor party story. For a bachelorette party, our favorite combo is some Mardi Gras beads (especially if you are not headed to Mardi Gras), a 9mm bullet, and a condom- extra large, of course.
Some of the humor comes, not just in what you put in the pouch, but what you might not put in some of the guests' pouches. Do you have that one buddy who is always bragging about the size of his package? Then put XL condoms in everyone else's pouch, but a regular size condom in his? Have a friend who is normally on the straight and narrow? Then the bullet has to go in his pouch! You probably have a friend who is high all the time- the oregano, rolling papers, and matchbooks make a perfect, personalized pouch for him or her!
Throwing a destination bachelor or bachelorette party? If you are heading to a popular bachelor or bachelorette party destination like Las Vegas, New York, or Miami, the Break in Case folks already have the perfect destination t-shirts for you: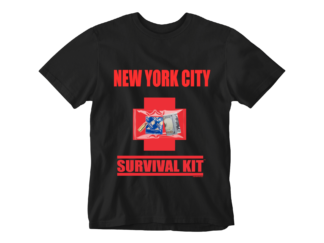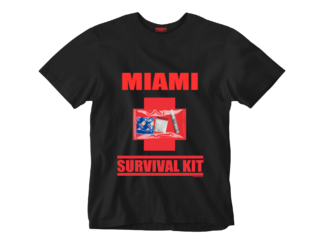 Not all destinations are cities. Think about where so many bachelor and bachelorette parties start and end. That is right- the strip club. There is even a strip club emergency shirt: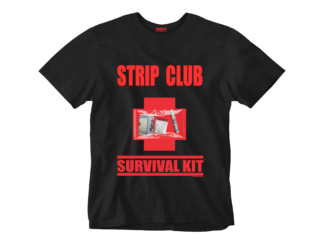 As you have probably noticed from some of the items you can put in the pouch, these t-shirts are meant to be worn, to get a laugh, and to be worn again. They are intended as souvenirs, not as actual survival kits. So, if you think you might need protection for some stranger smashing or if you are planning a night of epic drinking that is going to leave you hungover, stuff your pockets, not just your pouch!
Visit Breakincase.com to build your custom T-shirt today.