Bachelor Party Gifts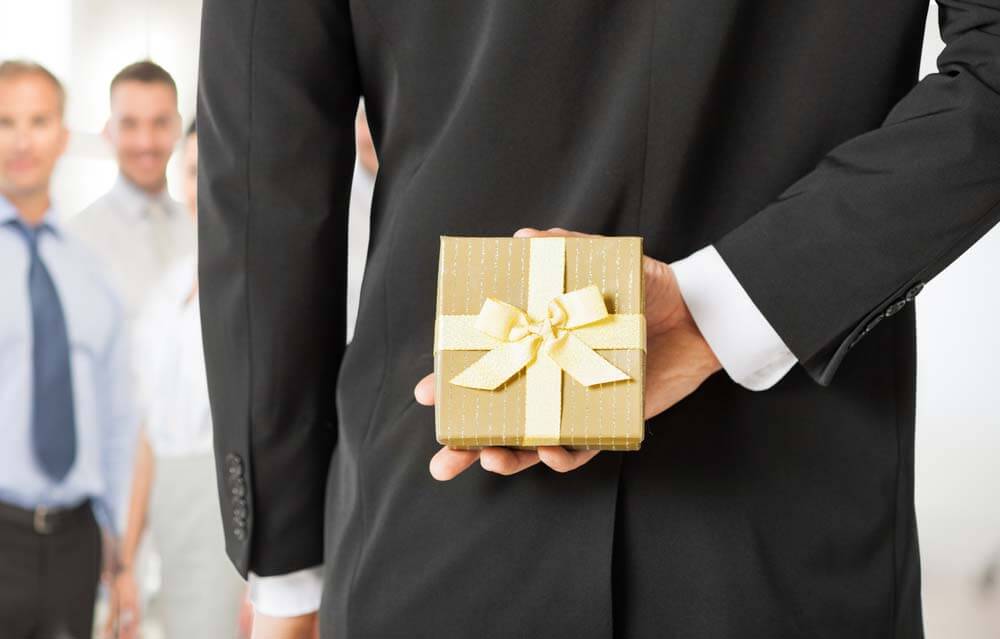 This post may contains references to products from one or more of our advertisers. We may receive compensation when you click on links to those products or services. Please also consider
donating to our website.
Whether you all it a bachelor party, stag's night, stag party, or buck's night, you know a bachelor party is the groom's big-send off as a bachelor.  Bachelor parties used to be relatively simple single-night affairs, but destination bachelor parties or exciting adventure-themed bachelor parties have become increasingly popular.  However you choose to celebrate, you want your bachelor party to be, not just a great night for the groom, but a night that all of the party goers can look back on as one of the best nights of their lives. 
A great way for your guests to preserve memories of the big night is to give bachelor party gifts or favors.  Favors or novelty gifts are those silly gifts that can add a little extra oomph to a party.  From the raunchy to the gifts that pay homage to an inside joke, these are little things that help your group bond.  Of course, while your bachelor party may be all fun and games, it is sometimes nice to give a nod to what a great group of friends you have.  One way to do this is with some classy groomsmen gifts that let you tell them how special they are without, you know, requiring you to actually tell them how special you are.  Bachelor party gifts may not seem like a must-have for your group of friends, and they are not necessary, but they do help kick your party up a notch.
Who Gets the Gifts?
A bachelor party is not a bridal shower.  We repeat, a bachelor party is not a bridal shower. This is really important because it means that guests do not traditionally bring gifts to the groom at a bachelor party.  Does that mean you can't bring a gift to the groom?  Of course, not.  In fact, a bachelor party can be a great time to give the groom presents that are not appropriate for a shower or as a wedding present. Some of the ideas we are including might even make great gifts for the grooms, but our goal is really to offer fantastic gift ideas for the groom or the best man to give to the partygoers or the groomsmen. 
Who Buys the Gifts?
If the gifts are of the favor variety, then whoever is hosting the party is responsible for buying them.  However, if we are talking about groomsmen gifts of even gifts that the groom wants to give everyone to thank them for coming to the bachelor party, then the groom needs to buy them.  Does it seem funny for the groom to be buying presents to give people at his own big party?  Well, considering that destination bachelor parties and traveling to weddings can easily cost guests into the thousands of dollars, it might be perfectly appropriate for the groom to spend a little extra.
Bachelor Party Gift Ideas
Bachelor party gifts can be divided into two categories.  The first type is more along the lines of gear or swag.  You know, the type of stuff that is made for the party and used to enhance the party.  The second type is actual gifts.  These are things that the groom thinks that the guests at the bachelor party, especially his groomsmen, are going to value and use.  Both type of gift has their place at a bachelor party, but, while the best man (or whoever organizes the bachelor party) might supply the novelty/gag type gifts, the groom would be the one to buy the more sentimental gifts.
Novelty Gifts
Tuxedo shirts, themed printed t-shirts or hats, drinking accessories, and bachelor party survival kits all fall under the rubric of the novelty gift.  These gifts may seem cheesy, but are a way to distinguish the party goers from a crowd if your party happens to be in a public place or just a way to serve as a reminder of a night that everyone hopes is completely epic.  You may think they're cheesy, but just be glad you aren't a maid-of-honor; she's got to buy a bunch of stuff with dicks on it. 
Destination bachelor party at a lake, beach, or other sunshine-y place?  Get your geeky groove on with some themed shades for the whole party.
To be sure, The Hangover helped encourage the current destination bachelor party craze.  Give a nod to the wolfpack and let the groom be the alpha for one night with these beer coolies.
A hangover kit is a great bachelor party favor.  You can buy them pre-made, or save a lot of money by making your own.  Just grab some of these pouches and fill with painkillers, antacids, and your favorite recovery formula.
Too stylish for tuxedo t-shirts?  Show your solidarity with these Groom/ Team Groom buttons.
Not sure what to do at the bachelor party?  These t-shirts can give you some ideas.  In fact, if you want to jump on the scavenger-hunt them, we suggest getting everyone one of these shirts in a color other than black, providing them with a sharpie, and letting the best man win.
A flask might be the most iconic of all presents for groomsmen.  Here's an affordable and fun way to share that with your whole bachelor party.  Bonus points- fill them up with a guy's favorite booze beforehand.
Practice your formal wear in these tuxedo shirts.
Let your guests reveal their inner superhero with these shirts.  Bonus points if you match each guest to his favorite of the three:
Gag Gifts
These gifts are not meant as souvenirs, but really just to give everyone a laugh and increases the odds you will have a good time.  They work both as presents to the whole group and as gifts for the groom.
A blow up sex doll?  Even the bride-to-be can't object to this woman being at the party.  As the night goes on, expect to find the party attendees doing more and more ridiculous things with this inflatable guest.
Is it infantile to give your party goers fake boob beer toppers and expect them to use them?  Of course it is.  But just because it is infantile does not mean it is not also hilarious.
Do your guests have a sweet tooth and a sense of humor?  Then consider adding these pussy patch candies to a bachelor party swag bag.
Keep it classy with these stripper straws for your favorite beverages (we know that they are tacky, but the strippers move up and down the straws- that's funny).
Throwing a co-ed party?  Here's a new way type of shot glass for body shots.
Another juvenile gift, but one that is perfect if your bachelor party involves any type of fishing or if your friends are a group of fisherman.  Give this gag fishing gift and let the puns start flying.
As you can see, novelty gifts are meant to be fun, affordable, and give the guests a little memory of the bachelor party.  If you have to think about it too hard, then that isn't the novelty gift for your particular group of bachelors; move to the next item in the list.  Gifts for the groomsmen, however, are the kind of things you want to consider, because they are supposed to have some meaning.
Gifts for the Groomsmen
While we are calling these items gifts for the groomsmen, the groom might actually want to give them to every guy at the bachelor party.  After all, the number of groomsmen is often dictated more by how many bridesmaids the bride wants than by how many guys the groom considers among his best friends.  For simplicity's sake, we are calling them groomsmen gifts. 
What better gift could you give your groomsmen than a bottle of their favorite, high-dollar hooch (with these alcohol bottle label stickers)?  How about one you have customized for the occasion.  You can order custom-made labels, or buy these pre-made ones.
Every grown man needs a classic shaving kit.  Here is a monogrammed option that is surprisingly affordable.
A pocketwatch lets you choose between going with a simple monogram or putting more detail into it, like the date of the wedding.  Understated, these items never go out of style.
Watches make classic gifts.  Sure, we'd all like to be able to buy our groomsmen Rolexes, and if that is in your budget, then go for it!  For the rest of us, instead of trying to impress with a high-dollar timepiece, we suggest looking for something unique and stylish, like this wooden watch.
Most men do not get to wear cufflinks all that often, but a pair of classic cufflinks is still a must-have in any stylish man's wardrobe.  Sterling silver or 14k yellow gold are great options, but if your budget is more beer than champagne, this gold-plated pair looks stunning without breaking your bank.
Destination bachelor party or wedding?  These slimline credit card wallets are not bulky, and block RFIDs, making them a great choice for travel.  You might consider giving them out a little early.
Who doesn't need a great pocketknife?  A simple, engraved pocketknife makes a memorable party favor without getting overly sentimental.
If you don't have a credit-card sized survival tool in your wallet, do yourself a favor and buy an extra for yourself when buying grooms presents.  While they may silly, these little tools pack an amazing amount of utility into a single little tool.
A flask is probably the most iconic groomsman gift out there, and you can choose from a huge array of price points and styles.  Most of them are going to offer an engraving option, and you can always go classic monogram, though we tend to lean more heavily in favor of a very classy looking flask monogrammed with someone's very embarrassing nickname.  We also love this flask set, because, cool as a flask may be, it's not like your groomsmen are going to carry one every day:
Themed wedding?  If steampunk is your thing, these fun cufflinks make a great groomsman gift, because they are an unobtrusive reminder of your party, your wedding, and your personal style.
Lots of today's adventure bachelor parties include some time at the shooting range.  To commemorate that party, how about these bullet cufflinks.
 Something In-Between
Looking for a gift that is not a novelty gift, but is a little more generic, and a lot more affordable than the traditional groomsmen gift?  We call these kinds of gif a little something in-between. 
For some reason, people love the idea of goofy socks as an in-between gift.  We understand buying everyone in the wedding party a pair of nice, decorated dress socks to add a little pizazz to the penguin suits, and we wholly support that effort.  But, if you aren't buying the socks to wear to your wedding, but because you think that socks actually make a good present, please look at the list below and visit gift-giving 101. 
All your techie friends like to watch things on their phones.  Make it a little easier with this geek-tastic screen magnifier.
Destination party with a bunch of activities planned?  Get one of these blenderbottle water bottles for each guest, then fill it up with snacks that will keep your party going all day long.
Traveling to a foreign land?  Think about this handy worldwide travel adapter gift that keeps you all connected as you go.
Another gift that provides a little extra charge, this iphone keychain lighting charger gift that everyone can use, but no one is going to think of as sentimental.
Gifts for the Groom
You do not have to buy a gift for the groom for a bachelor party.  We repeat, you do not have to buy a gift for the groom for a bachelor party.  That said, unless the groom is taking part in some couple showers, there really is not a guy equivalent of a bridal shower.  So, if you want to grab him a present, we suggest getting something that will make the honeymoon better.  Sure, you could go with Viagra and some handcuffs, or you could give him one of these presents that won't end up with the bride-to-be thinking you're a dirty perv.
Do the groom fancy himself an amateur photographer?  Help him up his game with these high-quality phone lenses that help turn any smartphone into a serious camera:
Are they headed somewhere on their honeymoon or do the almost newlyweds love to travel?  These aren't your average travel pillows.  Bonus points from the bride if you give him two so he can share:
What do you get your friend who always travels with tons of gadgets?  A way to keep them organized and neat with this travel organizer.
Conclusion
So, to wrap up, do you have to get gifts for your bachelor party?  Nope and you shouldn't stress out about finding either the perfect favor or the perfect groomsmen gift, especially if neither are in your budget.  That said, novelty gifts are a good way to start the party vibe and a more serious groomsman gift is a neat way to commemorate the party and thank people for showing up.  Hopefully, we have given you some great ideas.  For more hints and tips about how to throw an epic bachelor party, visit some of our other pages.  From destination parties to basic how-to guides, we are your one-stop shop for bachelor party information.