Plan the Perfect Scottsdale Bachelorette Party (2023 Guide)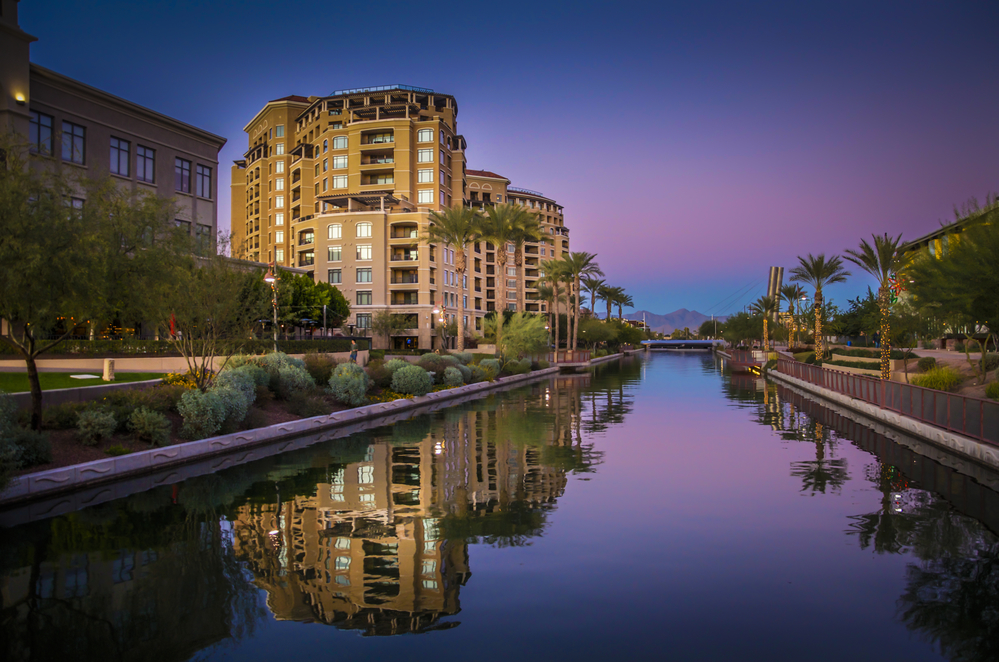 This post may contains references to products from one or more of our advertisers. We may receive compensation when you click on links to those products or services. Please also consider
donating to our website.
You probably think you know all of the bachelorette party hotspots. However, if you have not planned or been to a destination bachelorette party in a while, you may not realize that Scottsdale, Arizona is fast becoming one of the country's most desired spots for a destination bachelorette party. Why do people love coming to Scottsdale? The beauty of the high Sonoran Desert has held an appeal for travelers for decades, as people have come to Scottsdale to enjoy the surprisingly delicate and yet still rugged beauty of the desert. The year-round beautiful climate has also led to Scottsdale developing as a prime destination for golfers, and it has become somewhat of a go-to destination for Major League Baseball's spring training. Like another popular desert destination, Las Vegas, Scottsdale is a resort community.
There are hundreds of luxury resorts to choose from, and their gorgeous pools and fun-filled itineraries can make these resorts their own stand-alone party destination in Scottsdale, or you can use them as a jumping off point for other destinations. Whether you are day-tripping to see Sedona's red rocks or enjoying Scottsdale's amazing nightlife, this desert town offers a little something for everyone.
How to Get There
If you have the time, getting to Scottsdale can be an amazing road trip. The nearby destinations of Sedona, Tombstone, Bisbee, Kartchner Caverns, the San Xavier del Bac Mission, and Montezum's Castle are all worth seeing in their own right, and, depending on where you are coming from, you may be able to include iconic must-see destinations on your trip. That said, Scottsdale is in the middle of the desert; getting there from any place that is not local can take a while, which makes Scottsdale's major international airport extremely convenient.
Airport
Scottsdale Airport is located 9 miles north of downtown Scottsdale, in Maricopa County. Scottsdale's airport code is SCF, though you may hear it referred to as SDL by the FFA. Currently, flying into the Scottsdale airport can be a little difficult, but with remodeling and the scheduled opening of a huge revamped section of the airport, it is easy to see that the airport is dedicated to continuous improvement in an effort to improve travel experiences for its customers.
You can also travel into Phoenix Sky Harbor International Airport (Airport Code:  PHX). Located in nearby Phoenix, and less than an hour from most Scottsdale locations, this airport features many more airlines than the Scottsdale Airport. It is also considered the number two airport for dining in the country, which means that you can enjoy a nice meal there while waiting for your flight!
Getting Around
Scottsdale is a relatively large city and daytripping might be part of your Scottsdale experience. In that case, you probably want to rent a car, rather than relying on other transportation options. Like most airports, Scottsdale's airport offers a number of car rental locations, including Enterprise Rental Car.
Rideshare services are a great way to get around Scottsdale and interact with some of the natives. Scottsdale has Uber and Lyft, and both are great ways to get around the town. If you are staying in or touring Old Town, you can hop on and off the Old Town Trolley. Scottsdale also offers a couple of bike share services and e-bike rentals that can make touring a little more fun. One of the things that always surprises first-time visitors to Scottsdale is the street-legal golf cart taxis that you will find around Old Town. Even if you have other transport, we highly recommend hopping aboard one of these taxis; the drivers are not just drivers, but guides that can give you a great rundown of the city.
Things to Do
Scottsdale offers a little something for everyone, and what to do depends a lot on what kind of group you are. You can find everything from total relaxation to high-octane adventure in Scottsdale, so here is what you need to know to plan a trip that is custom-made for you.
Daytime Activity Ideas
Scottsdale is known for its gorgeous desert vibe, and to us, that means it is essential for you to get outdoors and enjoy some of the natural beauty.
Camelback Mountain is a great place for hiking and its relatively low elevation (2,704 feet) means it is a great elevation even without having time to get acclimated to altitude. Located in the Phoenix Valley, it is close to Scottsdale, Phoenix, and Paradise Valley. On a hike you can see Saguaro Cactus, Ocotillo, Palo Verde, Cholla, Barrel Cactus, and Creosote. There are two hiking trails. However, both of its trails are considered challenging. If you plan on hiking Camelback Mountain, make sure your group members are prepared, properly equipped, and that you have plenty of water.
Looking for a more low-key outdoor activity? Salt River Tubing on the Salt River near Scottsdale is a great low-key activity. Pack a picnic in a water waiter and float with your friends. You can pick a float that lasts anywhere from 1.5 to 4 hours, so you can make it a whole-day activity or pack it in with other things, depending on what you want to do.
Saguaro Lake Guest Ranch offers kayak tours on the Verde River, as well as a bunch of other outdoor activities. They also offer horseback riding and trail rides. You may even see some of Arizona's famous wild horses while you tour.
A UTV or ATV is a great way to see the desert, and Arizona Outdoor Fun offers a variety of different tours and adventures. Your knowledgeable guide can tell you all about the desert, and protective gear is included to ensure your adventure is safe and fun!
Scottsdale is famous for its part in the Old West, and you can learn more about that at Western Spirit, a museum dedicated to Scottsdale and the Old West.
If you have any architecture buffs in your group, then visiting Taliesin West is a must-do activity. This Frank Lloyd Wright structure is a perfect example of his architecture, blending his unique approach to design with the Sonoran Desert landscape.
Arizona Party Bike offers a unique way to see Scottsdale. This bar bike will let you tour Old Town while getting your drink on! You can join up with bigger groups or book the whole bike for your bachelorette party experience.
Like both Las Vegas and Miami Beach, Scottsdale is known for some crazy-fun all day pool parties. If you are staying at a resort, they might host epic pool parties, but you want to check because each Scottsdale resort offers a distinct pool vibe; some are made for relaxing, while others are all about the party. If you are looking for a party, then you want to check out Maya Day & Nightclub, which is fast becoming world-famous for its amazing pool parties!
Of course, all of the resorts in Scottsdale also mean that you have your pick of some amazing spa experiences. What kind of pampering do you want? Whatever it is you are looking for, whether it is massages, facials, and relaxation or a more active spa day with yoga, you can find it at a Scottsdale Spa. Make sure and call ahead to book a bachelorette party package and find out what perks the spa will do for a group. Our favorites in Scottsdale are Sanctuary Spa and Joya Spa; they both have an exotic flair that makes the day feel like an experience.
Finally, if you have any golfers in your group, you must hit a golf course. Scottsdale golf courses are considered among the finest in the country. Our personal favorite is the Grayhawk Golf Club, which you may know as Phil Mickelson's home course.
Nightlife Activity Ideas
Most larger cities have an area that is known for its parties, and, in Scottsdale, that area is Old Town. Full of shops, restaurants, and bars this tourist-friendly area is one of the reasons people come to Scottsdale.
We love a ghost tour as a bachelorette party activity if you are visiting a town with some history. Old West towns like Scottsdale not only have history, but they have the kind of drama that lends itself perfectly to spooky stories and haunted sites. Learn more about them with a tour with Haunted Scottsdale Ghost Tours.
Handlebar J Restaurant and Saloon has been a Scottsdale must see for over 30 years. It is pure cowboy kitsch, but that is no reason to avoid it; it is the draw of this local watering hole. Come for the ribs and steak and stay for live music and C&W dancing. Whiskey Row and the Rusty Spur are other C&W favorites.
Just because you are in Scottsdale does not mean that you are limited to C&W saloons, clubs, or bars. The Mint may be the city's most elegant nightclub experience and offers the same type of nightclub experience you would expect to find in South Beach or Las Vegas.
Bars
Some may call it a nightclub, but we think of the Wasted Grain as the ultimate bar experience. Whether you are playing backyard games, enjoying one of the acts on one of their three stages, or simply having a drink with friends, there is something for everyone at the popular Scottsdale bar.
Citizen Public House is the place to go if you love the idea of a gastropub. Think craft beers and a very well done bar food menu. They also turn out some of the city's best specialty cocktails.
Were you a fan of the well-loved Counter Intuitive? If so, you have probably already heard that they closed. However, with its dark, lush décor and intimate vibe, Second Story captures the same type of speakeasy feel.
Male Strip Clubs
If you are looking for a male review in Scottsdale, you are going to be disappointed. Scottsdale does not have a male review, though it may occasionally host touring shows. However, there is a male cabaret in nearby Phoenix. Dick's Cabaret is about 30 minutes from Old Town and offers an amazing bachelorette package. However, what your group needs to know is that, unlike some male reviews, this is not a show that caters strictly to ladies. In fact, Dick's is probably Phoenix's most popular gay strip club.
Still need help with male entertainment?  Check out our bachelorette party strippers guide for more information!
Where to Eat
Scottsdale is an interesting food destination, offering everything from classic meat-and-potatoes Western fare to modern takes on a wide variety of cuisines. It has become a foodie destination favorite, and we suggest you try a little bit of everything when you visit!
Breakfast / Lunch / Brunch
The Breakfast Club offers build-your-own-brunches in a casual, friendly atmosphere. We love the Green Goddess Frittata. We also love that you can check in on Yelp!, minimizing your wait when you arrive!
The Breakfast Joynt is a local favorite. It is a classic diner experience, offering all day breakfast, plus tons of other food offerings. If you have a sweet tooth, you do not want to miss their banana cream pie pancakes.
Culinary Dropout is one of our favorite lunch joints in Scottsdale. If you are from Arizona, you may have been to one of their other locations, but this trendy gastropub, with multiple locations, has mastered bar food. We love the soft pretzels with provolone fondue.
Grassroots Kitchen and Tap is one of our favorites, and while we normally stress local food, this is the place you should go for lunch if you are craving fish, because their Rainbow Trout is on point.
Dinner
Weft & Warp Art Bar & Kitchen, located at the Andaz Scottsdale Resort and Spa manages to be both playful and very serious about good food. We love Chef Adam Sheff's take on risotto, which combines local flavors and earthy grains to create something new, but with the delicious creaminess you expect from risotto.
Looking for a traditionally upscale location for a bachelorette party dinner? We suggest making reservations at Sel and enjoying their prix fixe menu. Be adventurous and choose the beef tenderloin tartare; it is one of the best takes on tartare we have ever experienced.
Where to Stay
Scottsdale is full of amazing resort hotels, but it also has a number of really great seasonal homes that people rent out when they are not in residence. Whether you are looking for a quiet getaway or a happening hotspot, Scottsdale has something for everyone.
Hotels and Resorts
Some people are fans of party houses, while others like hotels. It depends on your individual tastes. We a resort experience. There is something about getting away from it all and having someone else handle all the work that makes any trip worth it. Of course, this luxury comes at a cost; hotels and resorts tend to be more expensive than other lodging options.
The Hyatt Regency Resort & Spa at Gainey Ranch is everything you expect from a luxury resort and more. Amazing views, great in-resort dining, a wonderful spa, and a spectacular golf course all make this resort a vacation all by itself.
The Fairmont Scottsdale Princess is another gorgeous resort property. We love its six amazing pools, including one white sand beach pool that gives you the feel of a Caribbean resort in the middle of the desert!
Looking for an affordable hotel? The Three Palms Hotel in Scottsdale gets rave reviews from travelers. It has a great pool, a responsive staff, and clean, comfortable rooms. It is also conveniently located just a short distance from Old Town.

Hotels Available in Scottsdale
Rental Houses
While we love the pampering you can get in a hotel, hotel rooms are not exactly conducive to hanging out with big groups of friends, and it can feel weird taking over a lobby or bar in a hotel. A home rental is a great way to go if you want to be sure you can hang out with your friends, and can also be a way to get some more affordable luxury for your trip. You can use services like AirBnB, VRBO, and Homeaway. You can even use our link to get $40.00 off your first AirBnB reservation.
AirBnB
We love the designer décor in this charming Scottsdale home. Of course, the heated pool, lovely patio, and ping pong table add to its appeal.
This five bedroom home is the perfect adult party house. The hot tub, fire pit, outdoor bar, and grill make it a great location to gather with your friends, while its location makes it easy to get to Scottsdale's many attractions.

Rental Homes Available in Scottsdale
Homeaway
If golf is in the plans for your Scottsdale bachelorette party, then this great house with a putting green is where you have to stay! Bonus- it is just minutes away from Old Town.
Traveling with a smaller group? This upscale house may not be huge, but it is luxurious and we love the resort-style back yard.
Rental Homes Available in Scottsdale
VRBO
This industrial farmhouse is rated five stars by everyone reviewing it. We love the open floor plan and if you are a fan of Fixer Upper or anything Chip and Joanna, then you will love its style.
We love the wraparound terrace in this stylish home. Centrally located, it is a great jumping-off spot for a number of Scottsdale activities and we think it is a great house for bachelorette parties that want a nice place to rest and relax when not partying!

Rental Homes Availables in Scottsdale
When to Go / Not to Go
Best Time
Scottsdale is located in an area known as the Valley of the Sun, and it averages 330 days of sunshine a year. If you are looking for a bright, sunny vacation spot, Scottsdale is good year round. However, if temperatures make a difference to you, and, trust us, they do, then there are some times when visiting Scottsdale is better than others. Spring is the best time to visit; temperatures are warm, but not hot, and there is no threat of the last summer monsoons and humidity.
On a Budget
Scottsdale is slightly less expensive in late fall and throughout the winter, though the influx of snowbirds from other places can sometimes alter pricing. You will not enjoy the same range of outdoor activities in the fall, but the ubiquitous presence of heated pools means you will still get many ways to enjoy the outdoors. Plus, hiking the Camelback Mountain can be far more enjoyable in the cool weather.
Worst Time to Visit
Unless you are acclimated to the heat, avoid Scottsdale in the late summer. Summer highs are well above 100 degrees, and late summer monsoon season even sees an increase in humidity. It can be miserable, unless you come from someplace equally hot and are used to it.
Current Weather
What Else
Big Events
The Scottsdale Art Festival is a festival in March. While the spotlight is on art, it also has live music, and tons to eat and drink.
The Arizona MusicFest is not exactly a festival, but it is also not exactly not a festival. It is kinda like a concert venue, but it only operates in festival season (fall through spring) and the concerts have the festival orchestra with them. It is hard to explain but awesome to experience.
What to Pack
You are heading to the desert, so you want to bring layers. If you are going in the winter, you want warmer layers, but no matter when you visit, you want to be prepared for temperatures swings of 20 degrees or more between day and nighttime.
Protect your skin from the sun with Hint, a oxybenzone and paraben-free sunscreen that even smells good:
A vest is a great way to add warmth without overheating:
You are heading to the West; do not forget your cowboy hat:
Nothing beats a gorgeous pair of cowboy boots, but make sure to wear them in before you head out to the party; new boots are notoriously uncomfortable:
Since so many of the pools are heated, you want to bring your swimsuit, even if you are visiting in the dead of winter:
Sample Itinerary
Eat an early breakfast at your hotel, then head out to the Saguaro Lake Guest Ranch for a morning horseback ride, followed by an afternoon of Kayaking. Swing back into town and enjoy a complete night out at Handlebar J Restaurant and Saloon, where you can enjoy live music and dancing after you eat.
Bachelorette Party T-Shirts
Do you have to have matching t-shirts for a bachelorette party? No. However, they make really great, affordable favors.
Scottsdale before the veil is a popular t-shirt theme:
Of course, the cactus motif works well with a desert trip: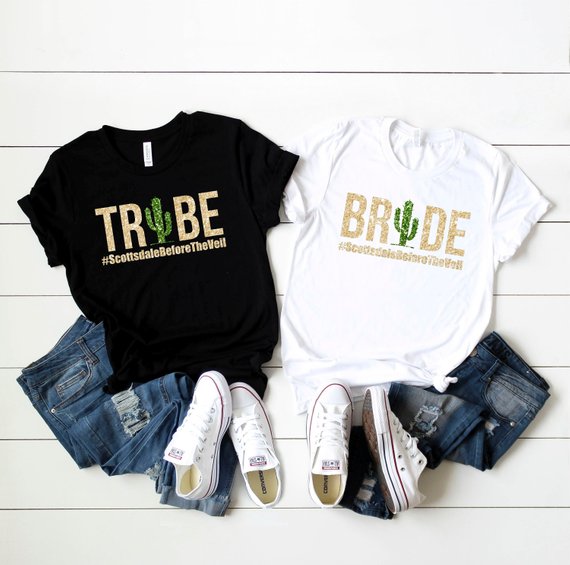 Travel Insurance
Like any kind of insurance, travel insurance seems like an unnecessary expense, right up until you need it. Life happens. Unless you can lose deposits and forfeit money if life happens to you at the same time as the bachelorette party, spend those few extra bucks and get the travel insurance.
Forums
Have you visited Scottdale and have recommendations, tips, or advise for other bachelorette parties? Are you planning a visit to Scottsdale and have some questions? If you answered yes to either of these questions, check out our Scottsdale bachelorette party forum, and help other members of the community plan the perfect trip.
Widget not in any sidebars
Why Go
While it may not be a bucket list destination, Scottsdale is a surprisingly affordable, fun, luxurious desert resort town. Far more affordable than Palm Beach, and much classier than Vegas, it offers a great oasis for you and your girlfriends.
Star Rating
Scottsdale has or is within a short traveling distance of just about every type of activity you could want to try at a bachelorette party. Plus, it is just new enough that there is a good chance that many people in your bachelorette party have never visited the city, much less gone to a bachelorette party there!
Conclusion
Before reviewing Scottsdale, we thought we would probably rank it lower. After all, it is not as popular as other destinations that we considered similar. However, we found that we loved its vibe, which captured elements of some of the very best bachelorette party cities. We decided it is a little like Nashville meets South Beach, in the desert.