8 Best Florida Bachelorette Party Destinations (2023 Guide)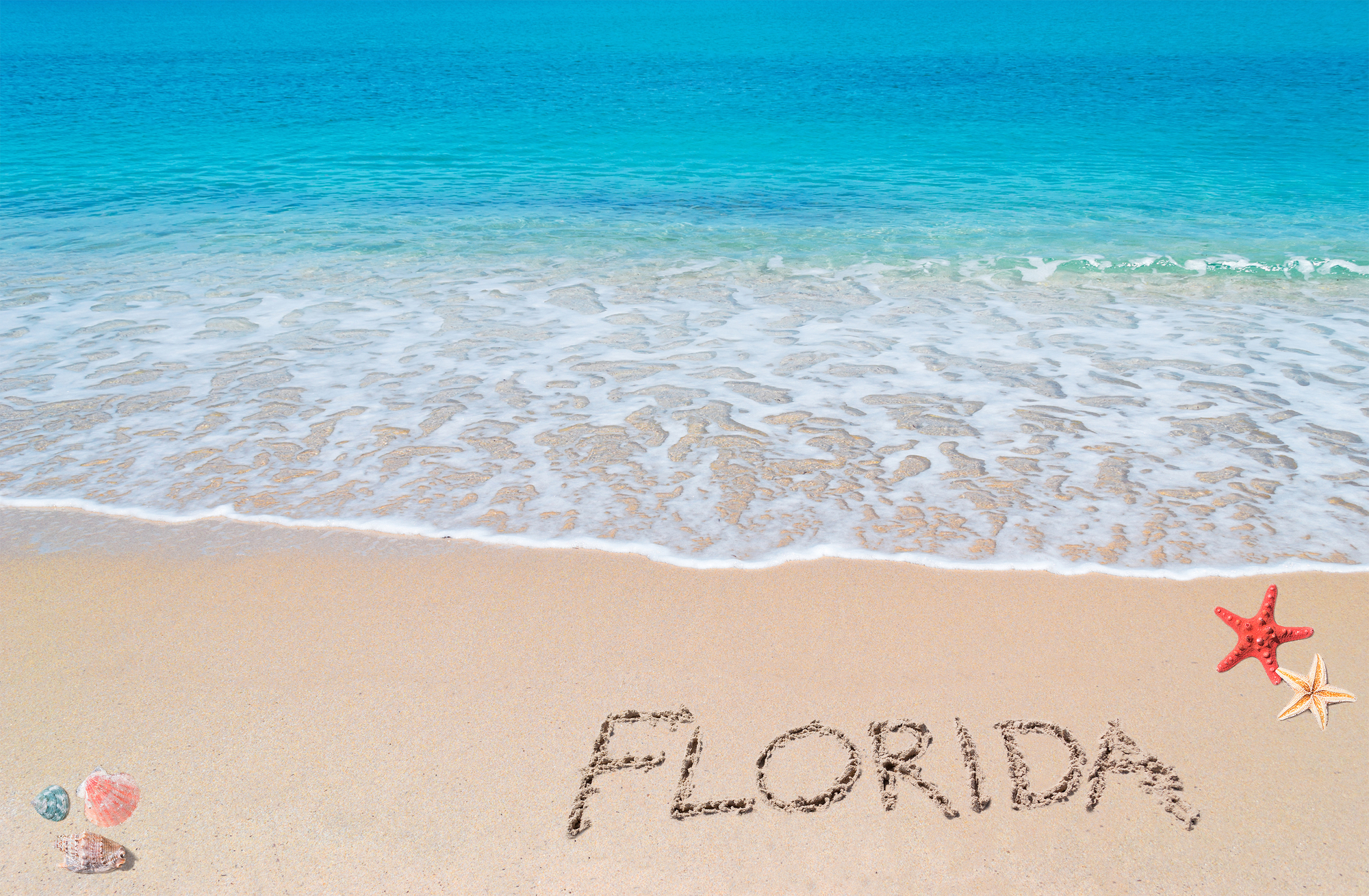 This post may contains references to products from one or more of our advertisers. We may receive compensation when you click on links to those products or services. Please also consider
donating to our website.
Looking for a great, affordable, place for a destination bachelorette party?  Consider Florida.  Whether you are a fan of beautiful beaches, legendary hotspots, or the thrills and chills of amusement parks, Florida has a little something for everyone.  It also makes for relatively easy travel.  Because Florida is such a top vacation destination, there are usually plenty of flights, hotels, and rental cars available.  In addition, because you do not have to leave the country to get to Florida, you do not have to worry about passports for your travel.  That means that, even if you are planning a last-minute bachelorette party, Florida is a great destination.  However, with so many great places to visit in The Sunshine State, you may wonder where you should go for a Florida bachelorette party.  It would be impossible for us to list all of the wonderful little beach communities along Florida's 1,350 miles of coastline or even to tell you about all of the attractions in its vacation-friendly interior cities like Orlando or Tampa.  So, we have picked our eight favorite bachelorette party cities in Florida: Delray Beach, Orlando, Daytona, Fort Lauderdale, Miami, Key West, Tampa, and Panama City.  In this guide, we will tell you why those cities make our list for the best Florida bachelorette party destinations.  
Delray Beach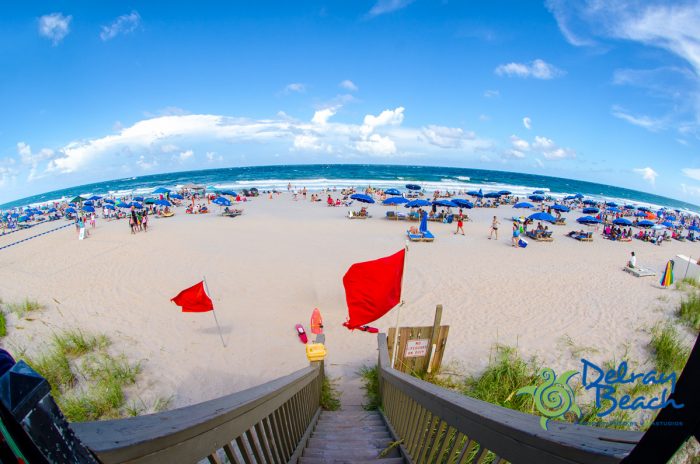 This hidden gem is the one city in our top eight list that has yet to be discovered by most party-focused travelers, and that is one of the reasons that it has a spot in our top-8 list.  Located north of Fort Lauderdale, Hollywood, and Miami, but south of West Palm Beach, Delray Beach is a sleepier community that lacks some of the frantic hustle of the more frequently traveled party hot-spots, but still manages to offer everything you could want from a bachelorette party destination.  It is also a great central location if you want to be able to get to attractions in the nearby beach towns.  
What you need to know about a Delray Beach bachelorette party is that, while it is a popular destination for retirees, particularly winter snowbirds that come down for the season each year, it is a surprisingly funky little city.   From its unique arts district to its amazing beaches and its nature preserves, Delray Beach offers some great daytime activities. 
Number one our Delray Beach must-visit list is the Pineapple Grove Arts District.  This arts district is truly a surprise in a city as small as Delray Beach and has the type of public art displays, galleries, and museums you would expect in a much larger city.  If you are into the arts, you could easily spend the entire weekend touring the arts district and still not see everything this charming little city has to offer.
Of course, why would you spend the whole weekend in the arts district when Delray Municipal Beach is one of the most stunning beaches you will find in the Continental United States?   This beach features clean white sand, lifeguards to keep you safe, easy access to bathrooms, stunning crystal blue waters, and chair and umbrella rentals.  An easy walk across the street takes you to a variety of restaurants, where beach-casual wear is perfectly acceptable, so that you can easily plan for your day of fun-in-the-sun. 
Looking for a different kind of nature?  Then you want to visit the Wakodahatchee Wetlands.  This nature park features a raised boardwalk, which lets you walk over a swamp/marsh setting, seeing all types of Florida wildlife.  This place is great for bird watchers; the last time we visited, our group saw over 30 different types of birds, though, not being experts we could not name most of them!  We also saw plenty of turtles and alligators, and it was great to see the alligators in their natural habitat, but from the safety of the raised boardwalk.  Our biggest tip would be to visit this park early in the day, as it can be a little warm in the afternoons.
Like your nature in a more controlled setting?  Then head over to The Girls.  This Delray Beach staple is a little difficult to describe, but it is worth the stop for and after-lunch dessert.  It is located a short walk from some highly rated pizza parlors, and we suggest you stop at one of them for a slice of pie and then head over to The Girls afterward.  Inside, it has an amazing candy selection, gift shop, and ice cream counter.  However, the real surprise is behind the store.  They offer a pick-your-own experience, where you can pick fresh hydroponically grown strawberries, and a petting zoo and walk-through bird sanctuary that lets you get up close with some gorgeous exotic and non-exotic animals.  It is a unique experience that sums up this Florida vacation town in a nutshell. 
---
Orlando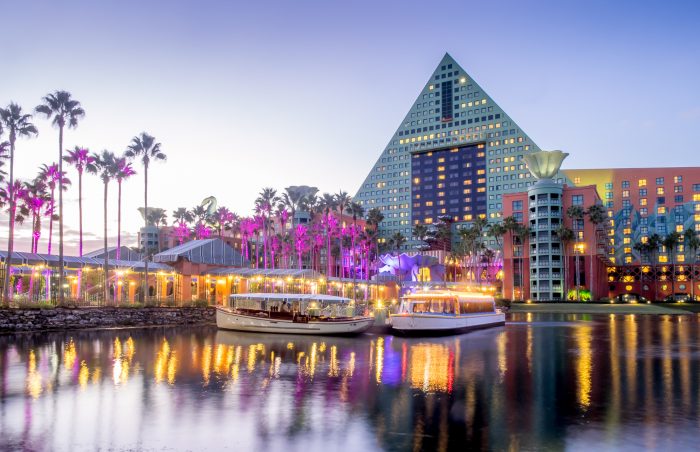 Of all the places on our list, Orlando may be the one that has you wondering if we have lost our minds.  Chances are good that if you have not visited Orlando on vacation, at least some of the people on the guest list have visited.  It is one of the most popular tourist destinations in the entire world.  However, when you think of Orlando, you probably think of it as such a child-friendly destination that you do not think of it as a place for grown-ups.  While it is true the Orlando offers an unparalleled number of great vacation opportunities for kids, this tourist-friendly town also has tons of stuff for the grown-ups. 
If we are talking about Orlando, we have to talk about the theme parks.  You have the two big theme park complexes: Walt Disney World and Universal Studios.  Each of those complexes has a number of different parks included, and some of them offer some surprisingly adult activities.  Walt Disney World tends to offer rides that are suited to a younger crowd, so that if you want spine-tingling thrills and adventures, then Universal Studios might be the way to go.  On the other hand, the level of service and hospitality you find at the Disney parks is hard to beat.  If you are a Harry Potter fan, then Universal is where you will find all things Hogwarts.  If you are a Star Wars or traditional Disney fan, then Disney World is the way to go.  However, while those might be the most famous theme parks in Orlando, they are not the only noteworthy theme parks in the Orlando area.  Orlando also has a huge SeaWorld, which an attached Aquatica water park that has some of the most unique water rides you will find in the United States.  Want to race dolphins as you water slide?  Aquatica is the place for you.  Discovery Cove offers a bunch of safe animal interactions, including swims with dolphins, otters, and marmosets, as well as a contained snorkeling area.  Gatorland has shows featuring alligators and crocodiles, as well as a ride we consider the most thrilling one in all of Orlando; a zip-line ride over a gator-filled swamp!  Legoland caters more to the littles than any of the other big Orlando-area theme parks, but if you are a fan of those building blocks, then it is worth heading over to Legoland just to see the amazing Lego creations that dot the landscape of the park.  Also, try their apple fries; they are crazy-good. 
While all theme parks are wonderful, for a bachelorette party, we have to talk about Epcot.  What makes Epcot so wonderful? Well, accessing alcohol can be difficult in many of the theme parks, but Epcot is known, not only for its upscale worldwide dining experiences, but also for its variety of drink offerings.  In fact, each year Epcot has a food and wine festival that is definitely tailored to its adult guests.  One of the best things about Epcot for adults is that, whether you are a beer drinker, a wine drinker, or like the hard stuff, you can drink around the world without ever leaving the park!  
What if you are not a theme-park fan?  Have no fear, there is still plenty to do in Orlando without ever setting foot in a theme park.  You can rent a party boat on Lake Bryan, get an amazing zero-gravity massage at the Ritz Carlton Spa Orlando, or walk through some stunning gardens at the Harry P. Leu Gardens.  We think no visit to Orlando is complete without a visit to the Whirlydome, where you can play Whirlyball, which combines bumper cars and basketball into a crazy, competitive game that is an absolute blast to play!
Wondering about Orlando's nightlife?  This city takes a cue from nearby Miami and offers some amazing club experiences.  EVE is a huge nightclub that features some amazing DJs has a world-class quality experience for party goers.  Looking for something a little more low-key?  Then, you are going to want to check out Hanson's Shoe Repair, a password-only speakeasy style bar that is heavy on style!  Orlando also features a couple of different male revues, like Hunk-O-Mania and Rock Hard Male Revue, both of which offer bachelorette party packages that you can customize for your crowd. 
---
Daytona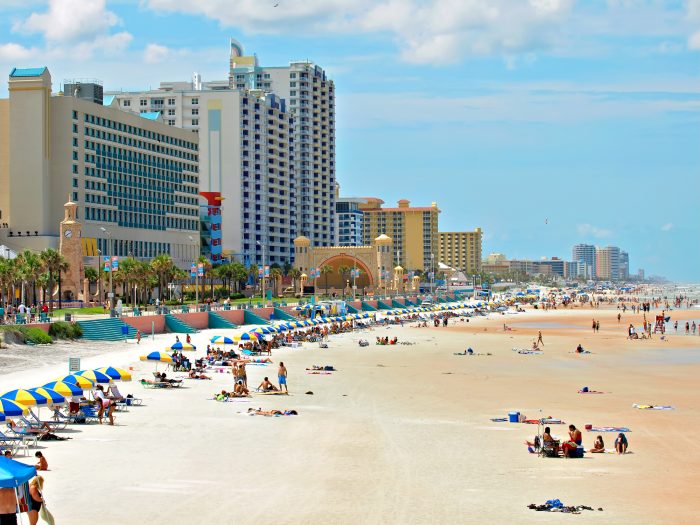 When you think of Daytona, you probably think of two things: the Daytona 500 and spring break.  The same things that make this little city a great attraction for Nascar's biggest event and for some of the biggest and best spring break parties also make it a great bachelorette party destination.  So, buckle up and prepare for your wild Daytona experience.
Daytona is a city that is built for speed, and if you are visiting with a bachelorette party, and probably a bit bigger of a budget than you had if you visited during spring break as a college student, then we have to encourage you to experience some of that speed for yourself.  Sure, you can go see some races at the Daytona International Speedway; it is a great way to vicariously enjoy the thrill of racing cars.  Or, you can show a bit more adventure and go ride those race-cars.  That's right; in Daytona, you can take part in the Richard Petty Race Car Ride-Along Program, which lets you take a three-lap ride along in a NASCAR racecar or the Race Car Experience, which puts you behind the wheel of one of those speed machines! 
Are racecars a little too ho-hum for you?  Get ready for an out-of-this-world experience at the Kennedy Space Center Visitor's Complex.  There, you can learn about the history of the American space program and even see the Space Shuttle Atlantis, before getting ready for the simulation of your life in the Shuttle Launch Experience. 
For nightlife, Daytona is hard to beat.  It literally has hundreds of bars, clubs, and restaurants from which to choose.  Cannot pick just one?  No problem.  Take a pub crawl on the Hop Cycle, and hear a little history while visiting some of Daytona's most inviting pubs and bars! 
---
Fort Lauderdale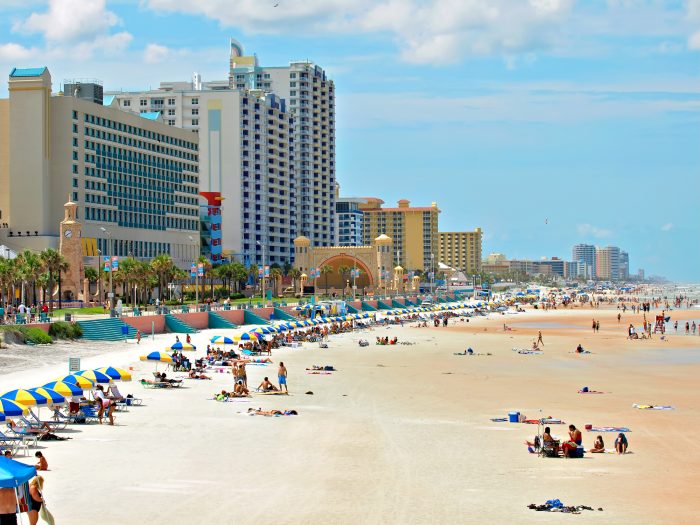 Unless you have been living under a rock, you probably already know that Fort Lauderdale, one of the nation's most popular and enduring spring break party destinations, is a city designed for fun-in-the-sun and nighttime debauchery.  The list of activities in Fort Lauderdale is pretty vast, which means that the one drawback is that you cannot possibly do it all in a single vacation.  Think of a great beach, diving, snorkeling, kite surfing, water skiing, jet skiing, boat rentals, deep sea and dock fishing, airboat rides, boating, golfing, kayaking, hiking, nature preserves, wilderness areas, luxurious resorts, fine dining, and some of the area's very best nightlife.  It is not difficult to find things to do in Fort Lauderdale, but sometimes it is difficult to narrow down all of the options to a top few that you can tackle in a weekend. That makes it the perfect destination for a bachelorette party, because you can be sure no one will be bored!
Las Olas Beach is another stunning beach on Miami's Atlantic Coast.  If you are in Fort Lauderdale, you should plan an afternoon there for a beach party.  This is an affordable option, because you can bring all of your own stuff; you can even bring a picnic if you want.  There is no alcohol allowed on the beach, though you certainly would not be the first party to sneak some in if you chose to do so.  However, you do not have to take that risk; across from the beach, you can find some of the most happening bars in the area.  You can easily mix your beach time with some refreshing beachside bar time if you plan a beach day in Fort Lauderdale.
Feel a little worried about swimming in the ocean?  Even with the crystal clear blue waters you find in Fort Lauderdale, some people prefer pools.  In Fort Lauderdale, pools mean pool parties.  While it might not have the same intense pool party scene as other places like South Beach, Fort Lauderdale is known for some awesome pool parties, particularly the Rubber Ducky Pool Party at B Ocean. 
If you are in to nightlife activities, then Fort Lauderdale is the place for you.  First, it has some of the area's most reliable male revues.  La Bare, offers a world-class male revue and tailors a lot of its shows to bachelorette parties and other party groups.  Their bachelorette packages are very affordable, and get the bachelorette the type of cheesy souvenirs that will make the experience live on long after the night is over. 
The Blue Martini is not just one of our favorite bars in Fort Lauderdale, but is actually ranked among the top bars in the United States.  It is a bit more upscale than many of the bars in the Fort Lauderdale area and is probably our pick for that "special night" out where you and your girls get super glam and want to feel ultra-luxe.  Instead of body shots and bar crawls, think 40 different varieties of martinis, live entertainment, a piano bar, DJ music, fine wines, and finger foods.  You can even rent their VIP lounge just for your party, making it a great, dedicated party spot. 
---
Miami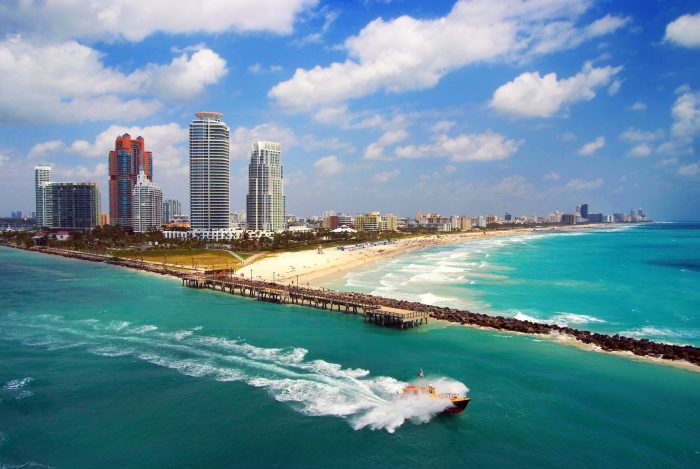 People are always surprised when they ask us and find out that Miami is not actually the favorite Florida city for a bachelorette party for any of us here at Your Bach Party.  Some of us love the theme parks of Orlando, others the laid-back vibe of Key West, and still others the funky artist vibe you find in Delray Beach.  That said, if you have a group of women coming to the bachelorette party who are going to want to experience a little bit of everything, then Miami is not just the best destination in Florida for your trip, but it might be the best destination in the entire U.S.  
What makes Miami so special?  While people may think of New York City when they think of cosmopolitan areas in the U.S., Miami actually as a surprisingly international vibe that makes it one of the most excitingly diverse areas in the world.  Sure, it has a huge Cuban population, which has helped influence Miami's culture, but you will find European, Asian, and African influences along with the expected Caribbean vibe. 
Miami's beaches, which you may find in Miami Beach or South Beach, are among some of the very best in the world. They have powder-white sand, crystal clear waters, and are usually tranquil enough to let you just relax on the water.  Looking for something a little more high-energy?  Then enjoy some of the watersports that are easy to find in Miami, including jet skis, speedboats, charter party boats, deep sea fishing, yachts, parasailing, and even kayaking. 
Miami is also known for its pool parties.  We are not talking about some floats in a friend's backyard pool, but huge events at some of the city's hottest party spots.  Surfcomber and Hyde Beach Lounge consistently draw some of the city's best crowds, but they are far from the only pool party spots to visit. 
Miami is known worldwide for its nightclubs, so we suggest you visit at least one while you are there.  These nightclubs probably offer a very different club experience than whatever you are used to unless you happen to party regularly in a town like LA or New York.  You want to book ahead, if you can, and plan on paying for VIP or bottle service, because that might be the only way for you to get into the club.  But, if you hit LIV on a Sunday night, you are likely to spot some of the hottest celebrities there with you.  Just be cool if you do; they are there to have a good time, too.  Our favorite Miami nightclub is Mango's Tropical Café, a place that is difficult to describe, but impossible to forget!
The whole international vibe means that you can find some great things to eat in Miami.  It is almost impossible to pick the best places to eat there, but think you might want to check out the Nemo's Brunch at Prime Fish or have a stake at Prime 112. 
---
Key West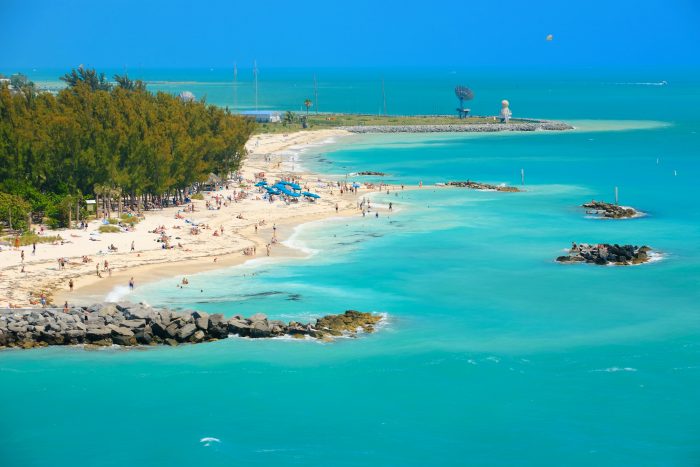 You know what the problem is with visiting Key West?  Leaving.  This is one of those resort towns that you never want to leave, and, even if you are just in town for a bachelorette party, do not be surprised to find yourself thinking about local real estate and trying to figure out if you and your girlfriends could pool your resources to buy one of the adorable little cottages you will see dotting the landscape in this town. 
What makes Key West so special?  Well, at the end of the Florida Keys, it is a Caribbean Island.  For those who do not know it, a key is just another word for an island, and the Florida Keys are actually a series of little islands that trail off of the coast of Florida, ending about 90 miles away from Cuba.  So, you get all of the splendor of visiting a real Caribbean Island without ever leaving the United States.  In fact, you can even drive there; the keys are connected by bridges and you can drive from Miami all the way down to Key West.  If you choose to do that, we suggest you beg, borrow, or steal a convertible for one of the very best road trips you can imagine.  (Just kidding about the stealing; no need to steal a convertible, you can rent them from lots of locations in the Miami area). 
Key West is known for day-drinking in laid-back establishments, tourist-friendly locations, and easy access to tons of watersports, and we suggest you do all three of those things while you visit.  The Key West Butterfly and Nature Conservatory may not seem like a thing you do on bachelorette parties, but, in terms of sheer, concentrated natural beauty, it is hard to find any place on earth to compare with what you will find in this unassuming looking white wooden structure.  Take the time to walk through the tropical gardens and experience hundreds of butterfly kisses from real-life butterflies of almost every variety.  It is well worth your time and effort.  If nature is your thing, and you can skip some amenities, then take a day trip from Key West to the Drive Tortugas.  This former military fort is one of the most pristine and least spoiled locations accessible in the United States, offering world-class snorkeling and diving opportunities as well as some of the best beaches and clear water anywhere in the world.  Book a tour on a dolphin watch boat and see dolphins in the wild; you can usually pair that with snorkeling or diving in some of the crystal clear waters surrounding the Keys.  At sunset, consider taking a sunset cruise.  The sunsets are a very big deal in the Keys, with plenty of bars offering sunset parties, but a sunset cruise, where you are out on the open water when the amazing colors of sunset turn the sky into a paint box, are incomparable.  Looking for some culture?  Visit the Hemingway House or one of the town's many pirate attractions. 
Key West is known for its bars, but in a very different way than upscale Miami or Orlando.  Key West is known for its dive bars, and you need to visit Green Parrot and Sloppy Joe's, if only to say that you have been there.
---
Tampa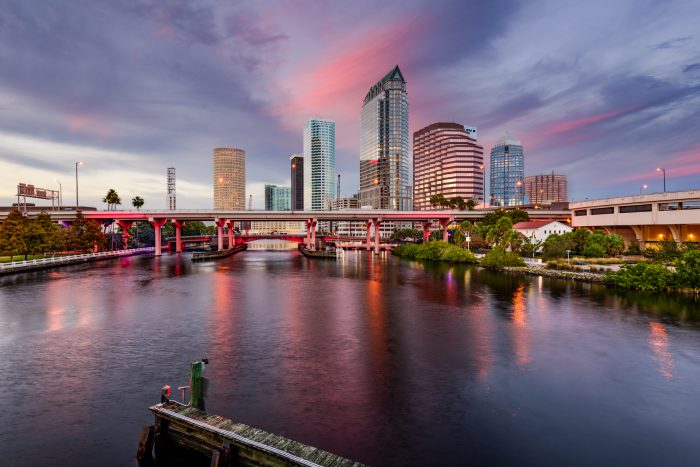 When you think of Florida destinations, sometimes Tampa gets lost in the shuffle.  It does not have the glitz and glimmer of Miami, nor the sheer number of theme parks that you will find in Orlando.  However, Tampa holds its own as a great vacation destination, and is the perfect spot for a destination bachelorette party.
Before we talk about anything else, we need to talk about the Tampa area beaches.  The beaches between the Miami area up through Daytona are gorgeous white-sand beaches, with beautiful waters, on the tranquil Atlantic Ocean, and they are amazing.  However, Clearwater Beach, located just outside of Tampa, is considered one of the best beaches in the world, and was in Dr. Beach's famous top-10 list for 2018.  Why is this beach so amazing?  It is a pristine barrier island, with miles of white sand beaches, emerald green waters, and even kayakable mangroves.  All around Tampa, you will also find some amazing watersports, both freshwater and saltwater, and even nearby swamps.  So, even though you may not have heard of Tampa's amazing beaches, they are a must-visit part of your trip.
Likewise, you may not think of Tampa when you think of Florida theme parks, but Tampa actually has one of the state's best adult-friendly theme parks.  Busch Gardens in Tampa has some amazing thrill rides, nestled in a wildlife-friendly African setting that marries conservation and entertainment.  Plus, as an Anheuser Busch property, which actually began as a beer garden, you know you will find great beer there.
One of Tampa's main draws is the fact that it is home to a number of sports teams.  The Tampa area is home to the NFL's Tampa Bay Buccaneers, the NHL's Tampa Bay Lightning, The MLB's Tampa Bay Rays, spring-training facilities for six minor-league MLB teams, a minor-league soccer team, and four Class-A minor league baseball teams. 
In terms of bachelorette-specific spectator sports, you can also check out one of the city's two male revues: Hunk-O-Mania Tampa or Florida Thunder.  Both of these clubs offer Magic Mike style male revues and are very bachelorette party friendly, for those who want some beefcake in their bachelorette party. 
---
Panama City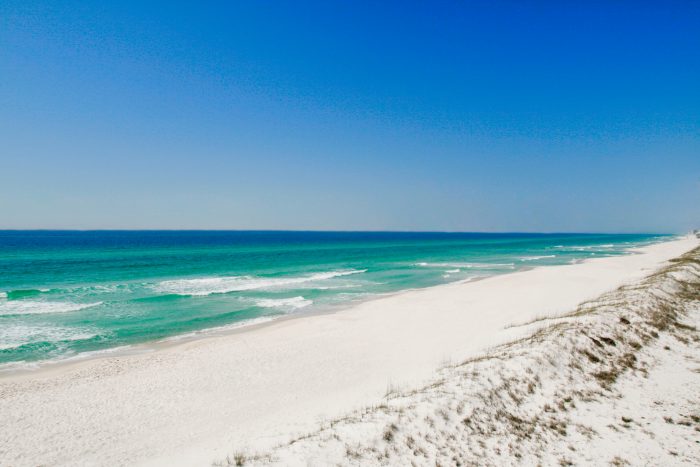 While many of our destinations have been on Florida's Atlantic Coast or south Florida, we have not forgotten about Florida's popular Gulf Coast and its emerald colored waters.  Panama City is located in the area frequently referred to as Floribama because it is along the coastline of Florida and Alabama.  Other nearby popular vacation destinations include Destin, Miramar, Fort Walton Beach, and Pensacola.  Because it up at the top of Florida, Panama City is a great road-trip destination for people in many nearby states, making it an affordable trip for bachelorette party groups that might find the cost of plan tickets to be a little prohibitive. 
You will want to hit the beaches in Panama City, because they are stunning.  On Florida's Atlantic Coast, you find tranquil turquoise waters.  On the Gulf Coast, the waters are a little more turbulent, making them great for water activities, and are more of an emerald-hue, but you can still find crystal-clear waters that make for great snorkeling, scuba, dolphin watching, and even shark watching! 
Panama City is home to one of the nation's very best waterparks:  Shipwreck Island Waterpark.  This local park is surprisingly affordable, especially when compared to the price of admission at other popular Florida theme parks. 
You will see Panama City's roots as a spring break party spot really show at night, when the nightclubs get busy.  Club La Vela is a crazy-huge nightclub.  It has 10 theme rooms, 48 bars, a huge beachside pool, and a list of hot DJ's.  We cannot really think of any place in the U.S. that really compares to this venue, but it does remind us of some of the hot nighttime beach clubs you will find in Greece. 
Conclusion
As you can see, it is hard to go wrong when planning a destination bachelorette party in Florida.  The state is full of tourist-friendly cities, which each offer their own unique attractions.  Statewide, you will find plenty of sunshine, lots of places to dine and drink, nightlife, and a wide array of water activities.  Visit our city-specific pages for even more information, or head over to our forum to discuss party planning with other groups of bachelorettes.