Bachelorette Party in Miami Beach, Florida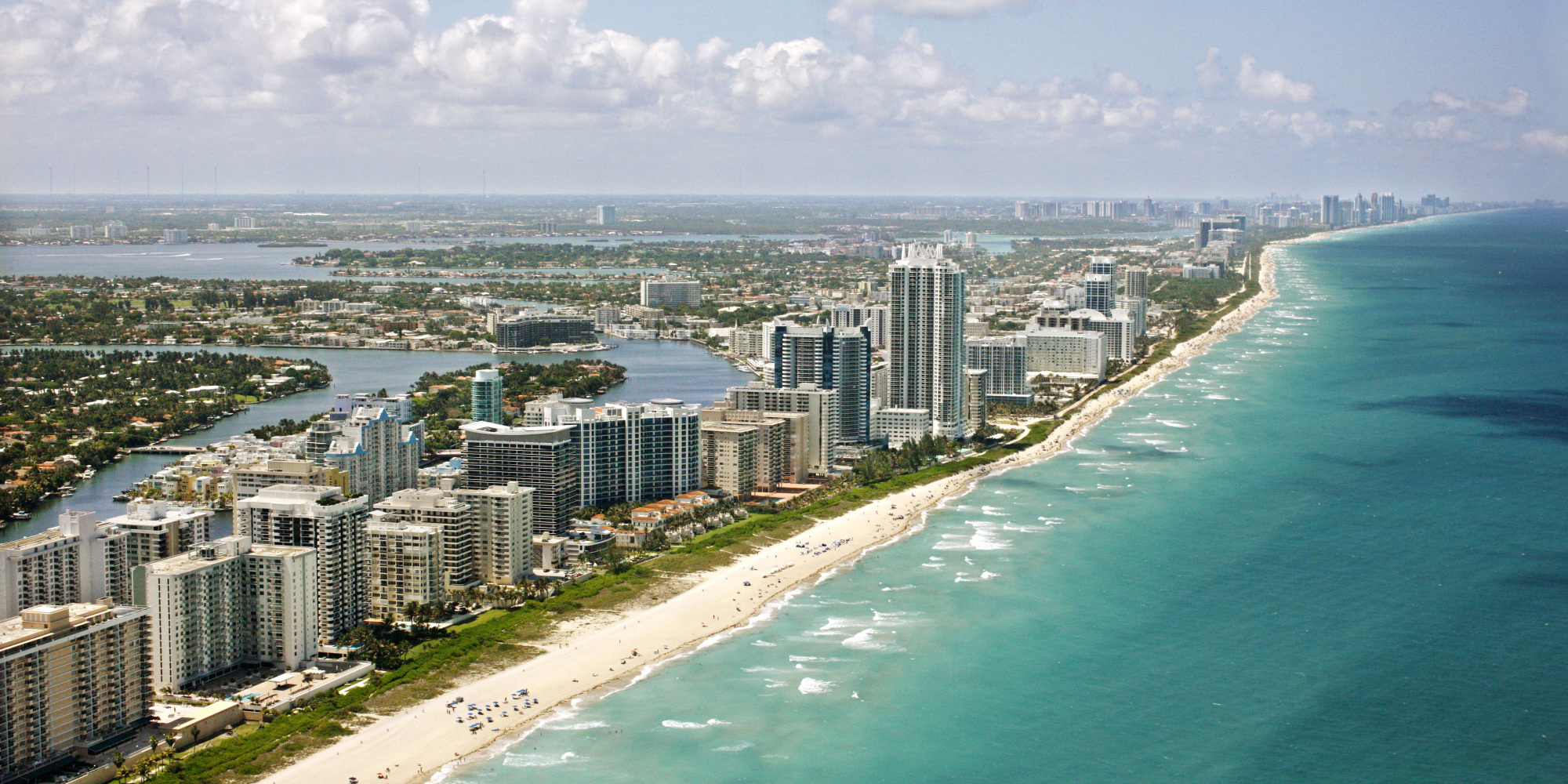 So, you and your girlfriends want one final fling before the ring and are looking for the best location for that destination bachelorette party.  The best location depends, quite a bit, on your personality, and what you and your friend like to do.  Do you love gorgeous beaches?  Are you a fan of high-end cuisine?  Do you like to hang out at exclusive nightclubs, surrounded by gorgeous people?  Do you want an international feeling without leaving the United States?  Do you need a location that is accessible from anywhere in the world?  Do you have money to spend to ensure that you have a good time?  If you answered yes to all of those questions, then Miami Beach, Florida is the perfect bachelorette party destination for you, and we have the best bachelorette party ideas for Miami Beach.
How To Get There
Airport:
Miami International Airport (airport code: MIA), which is about 20 minutes from South Beach.  Another option would be Hollywood International Airport (airport code:  FLL) but that would add about 20-30 more minutes to your trip to the beach.
Where To Go / What To Do
Ideas for Daytime Activities for Miami Beach, Bachelor Party:
First things, first.  Do you think you'll be hungover?  Then plan for a visit from The Hangover Club, which will provide IV hydration and hangover medicine.
Miami Beach is a beach city, but if you live somewhere else in the U.S. and haven't been to southern Florida before, you may not realize how gorgeous the beaches there are.  They are stunning.  In our opinion, they are the most beautiful beaches you are going to find in the continental U.S. and they rival the beaches you will find throughout the Caribbean.  So, plan on spending time there.  Whether your preferred beach activity is sitting near the waves enjoying a frozen drink or getting out in the water, you can find what you're looking for in South Beach.  Parasailing?  Speedboats?  Charter party boats?  Charter yachts?   Those are just some of our bachelorette party ideas for South Beach, Miami.
Looking for a wild pool party?  Head over to the Surfcomber, which plays host to some of the city's best events and festivals and is known for its over-the-top good times.
Want a more traditional pool party?  Head over to the SLS Hotel and its Hyde Beach lounge.  It isn't loud and rowdy, but more high-end, but it will give that luxury feeling you are craving.
Looking for a spa day?  If budget isn't an issue, the Lapis Spa is the place to go.  Martha Stewart once called it the most beautiful spa in America and their services live up to their décor.
Want to see a bit of the Florida Keys?  There is a daytrip on boat from Miami to Key West, and they'll even pick you up and drop you off at your hotel.  It's a long day, but it gives you about five hours to wander around Key West's artsy, touristy community.  We are fans of Key West and boat tours, so we recommend this one is you want to do more than just drink and soak in the sun, but we won't judge you if you don't.
Don't miss the hottest beach club in Miami Beach: Nikki Beach Club.  They handle private events and special occasions extremely well, so you may even want to consider a Nikki Beach Miami bachelorette party.
Ideas for Nighttime Activities for Bachelorette Party in Miami Beach, FL:
Miami Beach is known for its over-the-top nightclubs and outrageous parties, but they are only part of the city's vibrant nightlife scene.  Miami Beach also has some amazing bars, which are less flashy than the big clubs, but can offer you and your girlfriends a fantastic night out.  You might start out at one of the bars, head over to a massive club, and then finish out your night on a rooftop bar, overlooking the city.  The possibilities are endless for your bachelorette party in Miami Beach.
You've heard of LIV.  Everyone's heard of LIV.  It's kinda a big deal.  Pay for bottle service, and don't even flinch at the cost, and plan on being there on a Sunday night, because that's when you're likely to catch an impromptu show by one of the hottest acts in the country.  We can't tell you who, because we don't know who will be hot when you visit, but if you want to see the area at its craziest excess, then LIV is the place for your bachelorette party in Miami's South Beach.
If LIV grew up and got a little less swag and wanted to give a hand-up to some artists you might not have heard about and focus on the dance a little more, then you'd have Story at 136 Collins Ave..  It's no surprise the two clubs have a similar vibe; they are run by the same company and both known for their trademark SoBe style.
Ball & Chain at 1513 SW 8th Street in Little Havana is actually located in the Calle Ocho neighborhood of Miami, not on South Beach, so it's outside of the typical South Beach party area.  However, we are recommending it anyway.  First, the history is awesome.  Did you ever wish you could have seen early ground-breaking musical superstars like Billie Holiday, Count Basie, or Chet Baker?  Well, the Ball & Chain occupies the same spot as a historical jazz venue that featured all of those stars in their 1930s heyday, and it captures the cool and effortless cutting edge chic that those early stars managed.  However, it does so with a distinctly Cuban flavor that makes it right at home in Little Havana.  From the Cuban inspired cocktails and food to Saturday night's La Pachanga, a Cuban festival featuring salsa dancers and some of the world's best Latin music.  If you are going to venture out of South Beach to visit any bar or nightspot, we highly recommend it be the Ball & Chain.
If you close your eyes and picture a South Beach bar, chances are good that you are picturing The Clevelander at 1020 Ocean Drive.  The iconic pool bar feels like spring break, no matter what time of year it is.  This is not a classy place.  Instead, think shot girls serving drunk frat guys cheating on wet tee-shirt contests while listening to cover bands.  However, what the place lacks in class it makes up for in sheer fun.  The atmosphere at The Clevelander is a constant party and your trip to South Beach wouldn't be complete without stopping in there to at least check it out.  You may find yourself having a much better time than you expected and whiling away hours The Clevelander.
You come to Miami Beach for Latin music, outrageous pageantry, and some good mojitos, which is why you can't miss a stop into Mango's Tropical Café at 900 Ocean Drive.  How to describe Mango's to someone who has never been there?  Okay, imagine Carnival in Rio got made into a nightclub.  That description helps convey a little of Mango's feel, though Carnival's scantily clad Latin dancers usually samba, while Mango's dancers salsa.  The club is an indoor and outdoor venue that features live entertainment, consisting of people dressed in outrageous costumes that would be equally at home in a Carnival parades or on a Las Vegas stage.  They aren't the only dancers, though.  The combination of music and mojitos gets a lot of people up on their feet, dancing.  Be careful with those mojitos, though- the sweet drinks are surprisingly potent.
Do Not Sit on the Furniture at 423 16th St. is not necessarily our favorite nightclub, bar or art gallery, but it definitely our favorite nightclub, bar, and art gallery.  Lights down low, it's got the feel of the best underground party.  Lights up high, the arty décor, alone, is worth the trip.
Even flashy South Beach has a few bars that are best-described as dives, and Mac's Club Deuce is the best of the dirtiest.  Located at 222 14th Street, Mac's Club Deuce is Miami's oldest bar.  Maybe the secret to its success is that it is open almost 24/7.  The place opens up at 8am and doesn't close till 5am the next morning.  They stay closed just long enough to get the place reasonably cleaned up, then open their doors at 8am to start happy hour.  Yes, happy hour at 8am.  Plus, it is almost certainly the longest happy hour in South Beach, because it runs from 8am to 7pm.
Purdy Lounge at 1811 Purdy Avenue is a great place to start or end your long bachelorette weekend in South Beach.  Thursday nights are ladies' nights and you and your girlfriends will drink free from 11pm to 1am.  Sundays are Chocolate Sundays, featuring old-school hip-hop.
Wet Willies at 760 Ocean Drive might be the world's best daiquiri bar.  We realize that's a bold statement, but, then again, they serve some bold frozen drinks.  From a traditional strawberry daiquiri to the epically strong call the cab, these frozen drinks are served in a two-level bar that also serves some of South Beach's tastiest wings.
How to describe Treehouse to someone who hasn't been there?  Think of it as your childhood clubhouse but with alcohol and maybe some drugs and sex, and high-quality musical acts rotating through it.  While other clubs use fancy light shows, Treehouse is known for its dark atmosphere and it likes it that way.  Find the hideaway at 323 23rd St.
What does an upscale frat house party feel like?  Well, we think it feels like Icon at 1235 Washington Avenue.  The high-energy EDM music with some of the best-known DJs in the genre and the fist-pumping dancing may feel frat-party familiar, but the joint's flashiness and the cost to get in are going to remind you more of a Vegas-style club.
Every tourist likes to feel she has discovered a city's secret hotspot, and in South Beach that hot spot is a hidden gem behind a taco truck, Bodega Taqueria y Tequila.  What makes this little bar at 1220 16th Street so special?  Well, let's just get the crazy-awesome food out of the way.  Miami Beach is going to offer you some ridiculously amazing food choices and a lot of it is going to veer towards the haute cuisine edge of the gastronomic spectrum.  Then, you're going to discover the magic of a taco truck or a taco shop.  Some foods are at their most delicious and amazing when prepared in a simple, traditional manner, and tacos are one of those foods. So, grab some food while you're there.  Then, step inside this former warehouse space and into one of the hottest adults-only parties in South Beach.  There is dance music, a pool table, and a bevy of locals out for a night on the town, away from the typical South Beach scene.  The vibe is more relaxed and less showy than other places you'll find in South Beach, which translates into a night that seems more naturally authentic and fun that comes effortlessly.
FDR at 1685 Collins Ave.  Is it a lounge?  A nightclub?  Take your pick. It's a venue that features some of the areas hottest DJs in a decidedly retro feel that can go from feeling very relaxed to almost frenetically energetic, depending on the night of the week and what the DJ is spinning.
Rockwell at 743 Washington Avenue is as much about the look as it is about the music.  In fact, if you want to see the rich and famous or, at least, infamous, then Rockwell is the place for you.   The look is luxe and extremely expensive.
Strip Clubs in Miami Beach, FL:
If you want to see some male exotic dancers while you're in town, then Hunk-O-Mania is probably your best option.  The men are crazy-hot and they put on a great, entertaining show that is perfect for groups.  Ask them about bachelorette party packages in South Beach, Miami.
Where To Eat
Best Bachelorette Party Restaurants to Eat at in Miami Beach, Florida:
Miami is truly an international city, which means that there are great restaurants all over the place, in every price point, and from every different cultural or cooking tradition.
Red, the Steakhouse is a place you really have to eat if you're in South Beach. Their steaks make all sorts of top 10 lists for the world's best steak, their Italian food is absolutely delicious, they have excellent service without pretension, and the restaurant is gorgeous.  Make a reservation, then head down to 119 Washington Avenue for what, we're willing to guess, will be your best dining experience the entire time you're in Miami.  Food you must try here: your favorite cut of steak.
Another great choice for steak?  Smith and Wollensky at 1 Washington Ave.  Yes, it's a chain.  No, it isn't the best steak in the city (see our entry for Red), but the view at the restaurant is amazing.  It's the kind of restaurant where you and your girlfriends can relax, then take a jillion selfies against a gorgeous skyline.  It is made for hosting groups of friends for a relaxing night with good food, good drinks, and good stories.  Food you must try here: we always tell people, if you're at a steakhouse, eat the steak, but people also rave about the shellfish tower appetizer.
The Social Club at Surfcomber, 1717 Collins Ave., is one of those unpretentious joints that blows you away with well done, classic American food.  We suggest heading over there for brunch and combining their delicious food with some of the area's most legendary cocktails.  Food you must try here: cinnamon roll waffles.
You'll find sushi all over Miami Beach.  Some of it will be questionable and some of it will be great, but we think the city's best sushi is at Toni's Sushi Bar.  Unexpected bonus: Toni's is amazingly affordable.  Food you must try here: it's all great, so order your personal favorite, or have one of their tekka rolls, which always get raves.
Are you a fan of Southern food?  Then you have to try Yardbird Southern Table and Bar at 1600 Lenox Ave. Some say it has the best fried chicken in the country.  Obviously, those folks have never had our mothers' fried chicken, but we will say that they have the best restaurant fried chicken we have ever tasted.  People will tell you that a Southern chef's fried chicken is the yardstick for the quality of the rest of their cooking, and we are here to tell you that everything at Yardbird measures up.  A pleasant surprise is that their menu is also vegetarian-friendly, which is a rarity in Southern eating establishments.  Food you must try here: did you read the part about the best fried chicken in the country?
Where To Stay
Bachelorette Party Friendly Resorts in Miami Beach, FL:
We literally couldn't think of any hotel in South Beach that wouldn't be bachelorette-party friendly.  The whole place is a party, with hotels in different price points and a crazy amount of judgment-free luxury available if your pockets are deep enough.  So, you have a huge variety of Miami Beach bachelorette party hotels from which to choose. Many of them may even offer special Miami Beach bachelorette party packages, depending on the time of year.  Here are the places that we consider the best of the best:
The Faena Miami Beach is a five-star hotel and if there were six-star hotels, it would be six stars.  Every room is unique and the building itself is a work of art.  It is priced accordingly, but if you can afford it, a stay here is worth it.
If spa services are going to play a major role in your bachelorette party, go ahead and stay at the Carillon Miami.  It has 70,000 feet of spa space and uses all of them exceedingly well.
The Betsy doesn't have the traditional South Beach party vibe, but it is an adorable hotel that makes a nice retreat from the partying.  It's just too cute not to put on our list.  Plus, its beach access is perfection.  We could spend a week in South Beach and never leave their beach.
The Delano South Beach is the hotel that made hotels entertainment destinations in South Beach and it continues to set a standard for local hotels.
Bachelorette-Party Friendly Housing Options in South Beach, FL:
Want that slumber-party feel for your bachelorette party?  Then instead of looking at Miami Beach hotels for your bachelorette party, consider renting a house or villa.  Airbnb and Homeaway are our favorite home rental websites and they offer great deals and honest reviews of the properties you are contemplating.  We love this beach front penthouse that sleeps up to 12.
When To Go
Best time for a Bachelorette Party to Travel to Miami Beach, FL (no budget):
November to April is considered tourist season and makes the most of Miami's tropical climate
Best time for a Bachelor Party to Travel to Miami Beach, FL (budget restrictions):
The summer is the low season.  If you aren't used to heat, you probably want to avoid August.  If you're coming from someplace hot and humid, August won't be a problem for you.
Current Weather in Miami Beach:
What To Bring
Items to Pack for the Big Weekend:
Are you going to embarrass the bride by making her wear bachelorette party-themed items?  Of course you are.
What Else
Prices:
We are not going to lie to you: Miami Beach is expensive.  It's a little less expensive for a group of hot women than it would be if you were a group of guys planning a bachelor party there, but it's still expensive.  There are less expensive ways to go to Miami Beach, but, seriously, you don't want your bachelorette party to read like a bad re-do of spring break.  If you don't have the cash to spend, you might want to look at other destinations.
Big Events in Miami Beach, FL:
Miami is an international destination with all sorts of events, and, because of that, it is really difficult to name a single event that defines the area.  What do you like?  Miami probably has an event for it.  Our personal favorite?  Art Basel in December, one of the country's funkiest art shows.
Crime:
Crime isn't a major issue in the touristy parts of Miami Beach, but there are some parts of the greater Miami area that can get a little sketchy.
Miami Bachelorette Party Forum:
So you read the article and still have some questions about Miami before finalizing the trip?  Ask any questions you have in our community forum and either another member of our community or a staff member will provide you with a detailed response.  Already went to Miami Beach for your bachelorette party?  Please leave reviews, recommendations, or tips in our forum so that other bachelorettes can plan correctly.
[widgets_on_pages id=forums]
Why Go
Rating: 
Final Review:  We actually grade Miami Beach higher for bachelorette parties than for bachelor parties, because the high-end frou frou that turns off some bachelors seems to work really well for bachelorettes.  The spa services are amazing, the food is great, there is always a party, the beach is stunning; we love South Beach.  However, if you aren't comfortable with the idea of spending a lot of money on your bachelorette party, it isn't the place for you.