Plan a Bachelorette Party in Delray Beach, Florida (2023 Guide)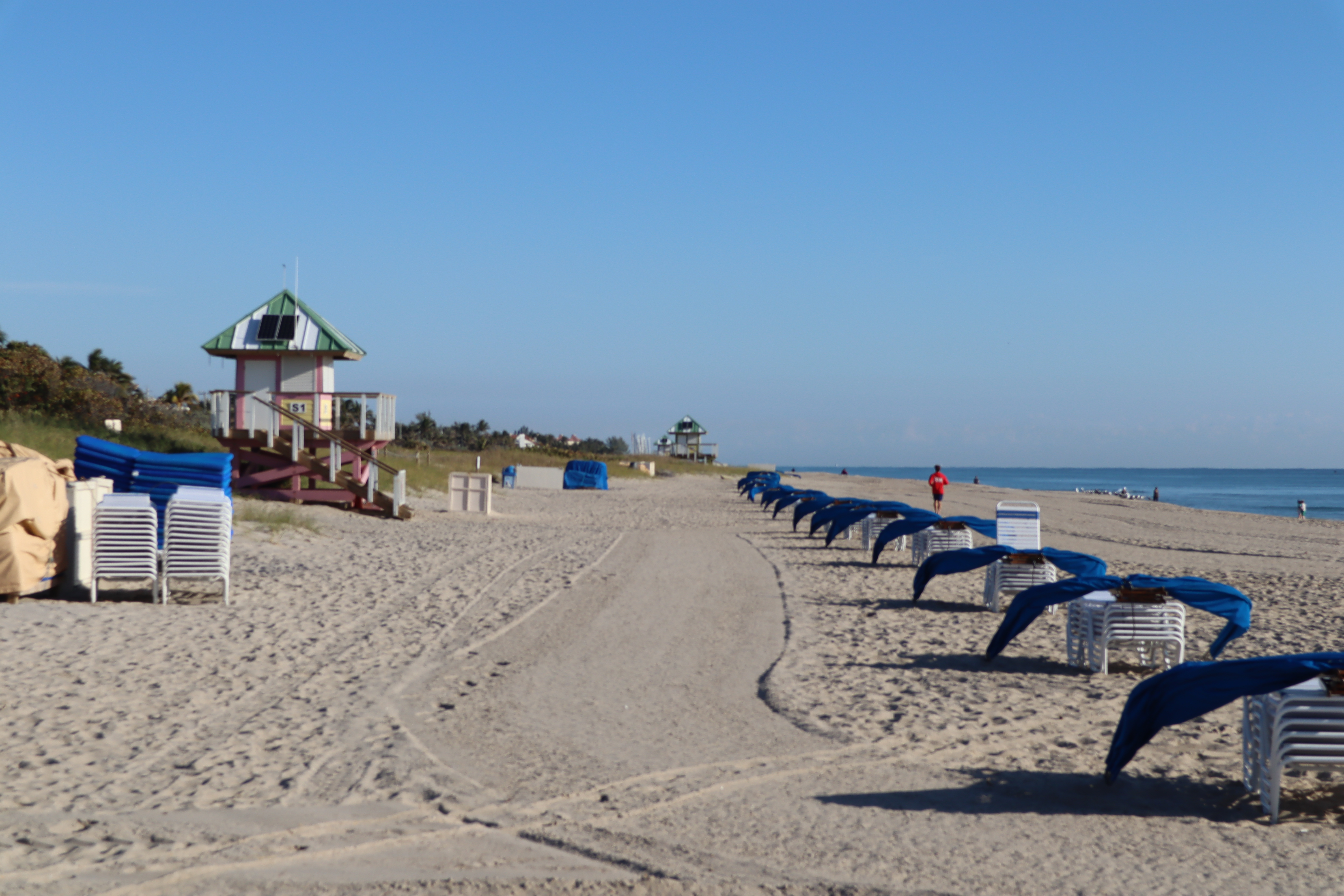 This post may contains references to products from one or more of our advertisers. We may receive compensation when you click on links to those products or services. Please also consider
donating to our website.
You may not have heard of the town of Delray Beach, Florida.  It is not as well-known as other nearby Florida destinations like Miami, Fort Lauderdale, or even Tampa.  However, there is a reason travelers flock to this town; it has one of the most pristinely gorgeous beaches you will find in the continental U.S.  Many people who visit decide to live there and this diversity helps set Delray Beach, and the whole Florida Gold Coast area, apart from the traditional sleepy southern beach town or spring break destination.  The area has amazing food, great live entertainment, a trendy and walkable downtown district, an emerging art scene, plenty of museums and other cultural hotspots, and a surprisingly vibrant nightlife scene.  Together, these combine to make Delray Beach an innovative and exciting bachelorette party destination. 
How to Get There
Florida is home to some of the most popular tourist destinations in the world, so getting there is surprisingly painless. While it is a long drive to Delray Beach if you are coming from anywhere outside of Florida, the turnpike system with its convenient travel rest stops makes that road trop about as painless as one can get.  You will also find cool tourist attractions if you choose to detour off of the main path, making for a great adventure.  Depending on where you are starting, you can hit plenty of tourist hotspots on the way, as well.  However, all of that takes time.  If you only have a couple of days for the bachelorette party, you are going to want to fly not drive to Delray Beach!
Airport
Flying into Delray Beach you have three main options.  Miami International Airport (airport code:  MIA) is about an hour south of Delray Beach and is a major international airport with flights on just about every airline from all over the globe.  Wherever you are, you can book a flight into Miami.  However, there are two airports that are much closer to Delray Beach.  The first is Fort Lauderdale Hollywood International Airport (airport code:  FLL).  This airport is about 30 minutes away from Delray Beach and is a busy airport that often has some of the lowest ticket prices in the Gold Coast region.  It is also our least favorite airport in the area because the congestion there can be crazy, especially during popular vacation times.  If you can find a flight to it, we highly recommend flying into Palm Beach International Airport (airport code:  PBI).  Though the tickets there may be a little more expensive and the flights are less frequent, this airport offers all of the conveniences of a smaller local airport and a major international airport, in one. 
Regardless of where you decide to land, getting around the Gold Coast is easy.  There are tons of car services available, which means you can plan ahead for your transportation to and from the airport.  The area is easy to navigate, making renting a car from a place like Enterprise a good option.  Of course, you can always choose the rideshare option, as both Uber and Lyft service the area.
Getting Around
Depending on where you are staying and what you are doing, you may not need a lot of transportation while you are in Delray Beach. The city is very easy to navigate, so renting a car is an okay option. They also have plenty of cars for hire. However, one of the most economical and environmentally friendly ways to get around the city is to hop on the Delray Beach Freebee.  The Freebee is not a bus service; it is a ride-providing service that you order by using its app.  They pick you up in an electric vehicle and take you to your destination, for Free.  They manage this by partnering with advertisers, which actually works out well for most travelers because advertisers are known to offer great discounts and offers through the Freebee app. 
Things to Do
In Southern Florida, the main thing to do may be to soak up some of the sunshine.  Fortunately, the city has several public parks that let you do just that.  However, while fun in the sun may be on the itinerary, you will be surprised to learn that you could have a great time in Delray Beach without ever seeing the beach.  From interesting museums to awesome shopping and innovative dining, there is a lot to uncover in this seemingly-sleepy town. 
Daytime Activity Ideas
Hit the beach.  Delray Public Beach does not seem like it is will offer much when you first pull into its paid parking lot.  However, once you head down the boardwalk to the white sugary sands, you find one of the most tranquil beaches anywhere.  The water is normally a gorgeous blue that ranges from aqua to turquoise, and lets you see clear to the bottom.  Normally the waves are gentle and rolling, when they are there at all.  The beach is not a party beach; in fact, even in high tourist times this beach is rarely crowded.  But if you are looking for beautiful scenery, a Zen-like experience on the water, and friendly locals, this beach may be one of the area's best hidden little gems.
If you are a fan of snorkeling, we are going to suggest leaving Delray and traveling less than 15 minutes to Riviera Beach and Phil Foster Park.  This park, located under a bridge, and full of an eclectic group of people that seems to be composed of plenty of day-drinking jobless folks, may seem a little sketchy at first.  However, it is home to an amazing snorkeling trail, with an artificial reef.  You will see lots of other snorkelers there and probably encounter a dive group or two getting in some training. 
Looking for that iconic beach bar experience?  Head over to the SandBar.  An oceanfront tiki bar, the Sand Bar offers everything you could want, and more, from a beach bar.  They offer classic backyard games like corn hole, plenty of outdoor seating, food and drink specials, and a rotating list of DJs spinning some of the hottest music.  While it may be tempting to think that a DJ in a sleepy Florida town is not going to be great, you have to keep in mind that Delray Beach is only an hour away from Miami and its iconic South Beach nightclub and beach party scene.  You may be surprised at the guest DJs that pop up at the Sand Bar.
The Office is another Delray favorite for day drinking and people watching.  It is hard to put a label on the place, but if we had to, we would call it a cowboy chic gastropub.  One visit and you will understand where we are coming from; their upscale décor has a decided but subtle cowboy flair and, while their food borrows heavily from a traditional bar fare menu, the fine dining approach to the menu elevates it well beyond typical pub grub.  The people watching at The Office is amazing, though you might want to prepare to get your snark on.  It is not just a stereotype that lots of women on the Gold Coast are surgically enhanced and once you have a craft cocktail or two it can be almost impossible not to speculate about whether that is a May-December romance you have seen or just someone who had some fabulous work done.
One of our favorite activities in Delray Beach is way outside of the normal bachelorette party activity zone. The Girls is an ice cream parlor/ u-pick strawberry place, which also happens to have its own little zoo out back and a crazy selection of vintage candies and souvenirs inside.  Sound strange?  It is.  But somehow it works.  In fact, it is the one place we find ourselves recommending to anyone traveling to Delray Beach, whether they are heading there for a bachelorette party, a girls' weekend, or a family vacation. 
Another great way to enjoy the Florida sunshine is to head out for some mini-golf at PuttNAround.  Has it been a while since you have played some mini-golf?  Has it been a while since you just played, in general?  If so, remind yourself how fun and frivolous life is supposed to be. While real golf can be super-stressful, mini-golf is the opposite, and it is hard not feel like a kid again while playing the game.  
Seeking serenity?  The beach and yoga are two well-known ways to defeat stress and find your Zen.  Combine the two with Sunset Beach Yoga, a community-wide class offered several times a week. 
A new classic bachelorette party idea is an adult painting class.  Whether you want to rent out the whole studio for a private event or join an already-schedule class, Pinot's Palette in nearby Boca Raton as become a favorite for locals and tourists celebrating bachelorette parties. 
Have a spa day.  The Florida Gold Coast is the land of the day spa.  Whether you are looking for an upscale experience or affordable pampering, you will be able to find a spa that fits your needs.  We are loving the brand new nSpa at the Opal Grand Hotel. 
Nightlife Activity Ideas
Tin Roof bills itself as a live music joint and it lives up to its billing offering music from tribute bands and original acts.  They also offer plenty of bar favorite activities, such as trivia nights.  They also specialize in events and can help put together a special night for your bachelorette. 
Looking for a mix of lounge and nightclub?  Then Honey might be the place for you.  They offer DJs and dancing in an experience we think is fair to describe as similar to what you would find in a popular South Beach nightclub.  There is good and bad in this.  The good is that if you are looking for a good time, you are going to find it at Honey.  The bad is that guys looking for a good time might think they have found it when they spot you at Honey.  Yes, this place is awesome, but it does have a meat market vibe at times that
The Office becomes Club Office after the sun sets, transforming the restaurant and bar into a lounge with DJ-driven dance music and a much younger crowd than you see during the day.
Bars
Looking for an upscale bar experience?  Then check out Park Tavern.  This bar offers an extensive wine list, a great selection of beers, and some of the best cocktails in the area.  They also have great menus, whether you are staying for dinner or visiting for brunch.  We love their Japanese Style Pierogi. 
Male Reviews/ Male Strip Clubs
If you are looking for a male review, you are not going to find one in Delray Beach, itself.  At least not on the regular; there are some traveling male reviews that come to Delray Beach and you can check out www.lyonsentertainmentusa.com to see if they will have a Magic Mike type review scheduled to coincide with your visit or even to see about booking a private event.  If that does not work for you, Delray Beach is a short limo ride away from Miami where you can find Hunk-o-Mania or LaBare and even closer to Fort Lauderdale and their Hunk-o-Mania review.
Where to Eat
One of the best things about the Florida Gold Coast is that it is an eclectic area where people from around the globe have decided to live.  You can find evidence of this in the amazing array of food choices available.  While any city this close to Miami is going to have a great Cuban restaurant or two, the fact is that you can find just about any type of cuisine you want to try in or around Delray Beach.  Our emphasis is usually on fresh seafood when we visit, but
Breakfast / Lunch / Brunch
Salt 7 says that it offers the best brunch in Delray Beach.  We might agree.  They have an interesting menu, some great drink choices, and a style that makes it the perfect venue for the big bachelorette party meal.  They also offer a brunch in the dark experience, with the bottomless mimosas or bloody Marys that have become almost standard at brunches, as well as glow sticks, dancing, and club music.  It is a place where people go for the food and stay for the party.
Obviously, we are fans of this bar/restaurant/club, and it should come a no surprise that we like how The Office handles brunch, as well.  They offer a wider variety of bottomless drinks than most brunches, and you could go with the standard Bloody Mary or mimosa, but we think that if you choose the mango Bellini you will not be disappointed!  It is hard to go wrong with their menu, but the lemon ricotta pancakes are crazy-good. 
Another brunch favorite is City Oyster and Sushi Bar, which offers some of the city's best sushi and fresh fish, regardless of meal time.  We think their Bloody Caesar is a more interesting choice than the mimosas or bloody Mary options and compliments the menu really well.  Though known for its sushi, our brunch favorite is actually the fried chicken and cheese topped biscuit sandwich. 
Park Tavern offers one of the more affordable brunch experiences in Delray Beach.  In addition to the bottomless drink offerings that have become a brunch time staple, they also offer $5 brunch cocktails and have some pretty high-end drinks on the menu.  We love the banh mi hash. 
Dinner
If you are looking for a New York inspired Italian restaurant, then Tramonti's may be the place for you.  This restaurant offers a clubby interior, with deep woods and marble finishes, that provides a great atmosphere for the big night out, but also offers outside dining if you want a more casual approach.  The menu is extensive, with a wide variety of pastas and other Italian favorites.  We have loved everything we have tried here, but the linguine Nere is a must-try, whether you are a fan of squid-ink or just curious about it.
Elisabetta's offers family style Italian dining, but it also offers some of the best late-night bites you will find in the whole Delray Beach area.  We love their prosciutto tasting and their rigatoni, but save room for dessert.
Some people think that steakhouses are not the right place for bachelorette party dinners, because they think women do not want to eat steak. We tell those people to shush and tell everyone else to head to Cut 432 when they are in Delray Beach.  This modern steakhouse has a menu to tempt anyone, even people who do not eat steak.  In fact, the chef is happy to whip up a custom meal for vegetarians.  The baked seafood tower appetizer is great for sharing, the bone-in rib-eye is bursting with flavor in every bite, and the giant onion rings are a thing of beauty.
Looking for some Mexican food?  Normally, we tell people visiting South Florida to skip Mexican food and branch out and try some other south-of-the-border flavors like Cuban.  However, we have to say that El Camino is the stuff.  With everything made in house, you could make a feast just from the appetizers.  We're talking house made chicharrones, Mexican street corn, braised tamales, and some smoked octopus to remind you that the place is more than street food.  If you leave room for a meal, try the pork belly tacos or the veggie tacos- we would not normally combine sweet potatoes and mushrooms, but the umami of the mushrooms brings a heartiness to this vegetarian option that would happily have us skipping meat. 
Where to Stay
There are hotels to fit almost any budget in the Delray Beach area, though you will want to book ahead if you are heading down for the winter.  They also have a wide variety of vacation rental options.  It just depends on your personal preferences.
Hotels and Resorts
The Opal Grand Oceanfront Resort is an upscale beachside retreat.  We love their luxury villas, which give you some of the perks of a vacation rental, while still ensuring you the opulence of the stay in a luxury resort.  Their guest rooms are also extremely well-appointed and plush.  With on-site dining and a top-notch spa, this is the place to stay if you only have a short time in Delray Beach and want to be able to experience a very luxurious beach vacation in a short amount of time. 
The Seagate Hotel and Spa is another fantastic choice if you are looking for upscale resort-style accommodations.  With four different dining experiences, as well as in-room dining, an on-site spa, and fronting some of the most beautiful beach in the area, this luxury hotel is worth every penny. 
Courtyard by Marriott offers a mid-priced hotel that provides the same reliability and quality that people expect from a Marriott property in a surprisingly fashion-forward modern art deco style hotel.  A great option to consider for travelers who may be able to use Marriott points for their stay. 
Another mid-range hotel is Aloft Delray Beach, which has captured the boutique hotel experience and tweaked it to make it affordable and accessible. 
View all Hotels / Resorts Available in Delray Beach
Rental Houses
Lake Geneva has always offered adorable vacation homes, but finding the perfect vacation rental is even easier when you use a service like Airbnb and VRBO.  Use our link to get $40.00 off your first AirBnB reservation.  The vibe is very young and hip, and we love the party-friendly amenities like the community billiard table, open lounge area, and on-site cocktail bar.
AirBnB
The Markland Mansion offers fantastic accommodations for up to 8 guests, including a hot tub that is styled after the Fontainebleau Miami's famous hot tub.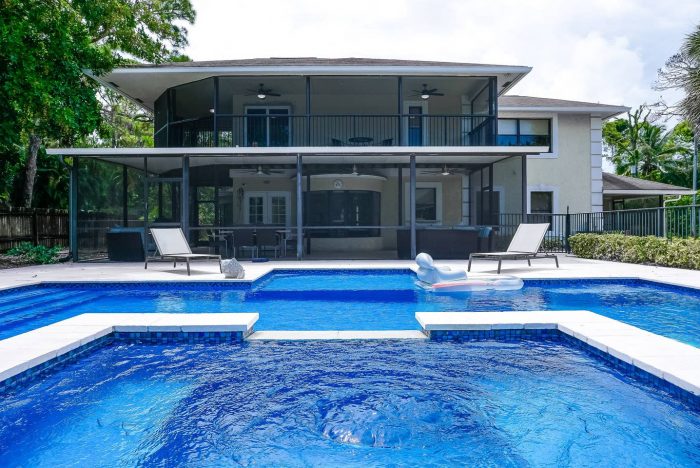 We love the artwork in this sparkling clean Ocean Manor.  Sleeping up to 12, this is the perfect getaway for bachelorette party privacy. 
VRBO
Another fantastic home that is perfect if you want to rent a boat or bring a boat with you, this large home offers an amazing kitchen. 
This fun home offers a tiki hut by the pool in the backyard, sleeps up to 10 people, and has three bathrooms so that everyone can get ready!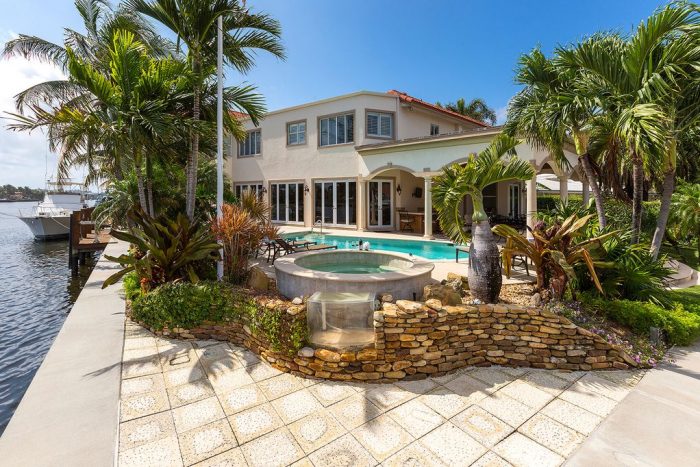 When to Go

                 
Best Time
This is one popular tourist destination where the best time to visit does not happen to coincide with the high tourist season.  The weather in the late spring, before summer starts, cannot be beat.  The water is warm enough for swimming by that time, the regular summer afternoon thunderstorms have not yet arrived, and the prices for accommodations are as low as they are going to be all year. 
On a Budget
Summer is surprisingly affordable in the Delray Beach area and the town is open for business.  The biggest drawback to visiting at this time is that the heat and humidity can be formidable.  If you are from anywhere in the south, it probably will not be worse than whatever summer holds for you at home.  However, if you are visiting from cooler, more arid climates, it can interfere with activities during the heat of the day.  Fortunately, summer afternoon thunderstorms are a thing, and they not only push people indoors, but also bring a little late afternoon/ early evening temperature drop. 
Worst Time to Visit
While there is no really bad time to visit, Delray Beach is very tempting for people trying to escape winter.  That means that things get busy in town from October/November through March/April.  The wait at restaurants takes longer, traffic is more congested, and prices are higher.  However, worst time is subjective- even in the height of the busiest tourist season, Delray still has plenty to offer and shorter wait times than you will find at hotspots in most cities.
Current Weather
What Else
Big Events
The Delray Affair is a weekend-long arts and crafts festival that takes place in early April. With a world-class quilting museum and several art museums along the Gold Coast, it should come as no surprise that Delray takes arts and crafts very seriously, resulting in what may be the best street art and craft festival in the country.
If tennis is your game, then plan your bachelorette to coincide with the Delray Beach Open, a major tennis tournament in the area every February.
The Wine and Seafood Festival held in early March is a can't miss even for foodies. 
What to Pack
There is plenty of shopping in Delray Beach, so you should not stress if you forget s few things.  That said, there are some things we would throw in our bags for a bachelorette bash.
Every woman should have a bikini that they can rock.  This beach babe triangle bikini from Swimsuits for All is one of our favorites and looks good on women with a variety of different body types:
Keep your drinks chilly with these beach bachelorette themed drink koozies:
Sample Itinerary
After some mid-morning snorkeling at Phil Foster Park, head on over to the Sand Bar for some lunch, some drinks, and some more time in the sunshine.  Wander over to the beach to enjoy the sand and sun, then head back to the Sand Bar to refresh, as needed.  As the afternoon comes to a close, head back to your hotel or vacation rental to get ready for the evening.  This is the big night out, and you are headed to Cut 432 before catching some live music at Tin Roof.  
Bachelorette Party T-Shirts
Themed t-shirts have become almost a must-have for the bride tribe.  You can find just about any design you want, and, if you cannot find it, you can get them custom-made.  Here are some of our beachy favorites.
We love the I Do Crew theme: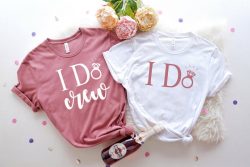 The mugshot theme is a cute twist on the bachelorette t-shirt: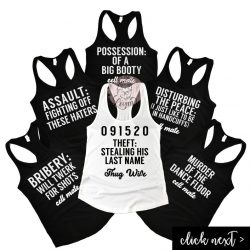 Hashtags
#DelrayDivas
#BeachBach
#DelrayDilletantes
Travel Insurance
Hurricanes.  They are a reality in Florida.  Protect your travel investment by spending a few extra bucks up front and buying travel insurance.  Hopefully, you will not need it, but, if you do, it could save you thousands of dollars.
Why Go
Miami and nearby destinations have long-been popular for the bachelorette weekend getaway.  Put a new twist on this popular idea by picking a hidden gem like Delray Beach for your trip. 
Star Rating
Seriously, this town offers one of the most gorgeous beaches we have ever seen, anywhere.  The restaurants are top-notch.  Flights there are affordable.  The area is dripping in money, but also surprisingly affordable.  Unless you want constant intoxication or crazy-partying, it is pretty much impossible to go wrong in Delray Beach.
Conclusion
Easy to get to, plenty of hotels, full of art and cuisine, as well as every beach activity and watersport you could imagine, Delray Beach makes an awesome vacation location.  Its focus on classy adult-oriented activities make it perfect for the sophisticated bachelorette, while its proximity to nearby South Beach ensures that it never gets stodgy.