Plan an Epic Bachelorette Party in Santorini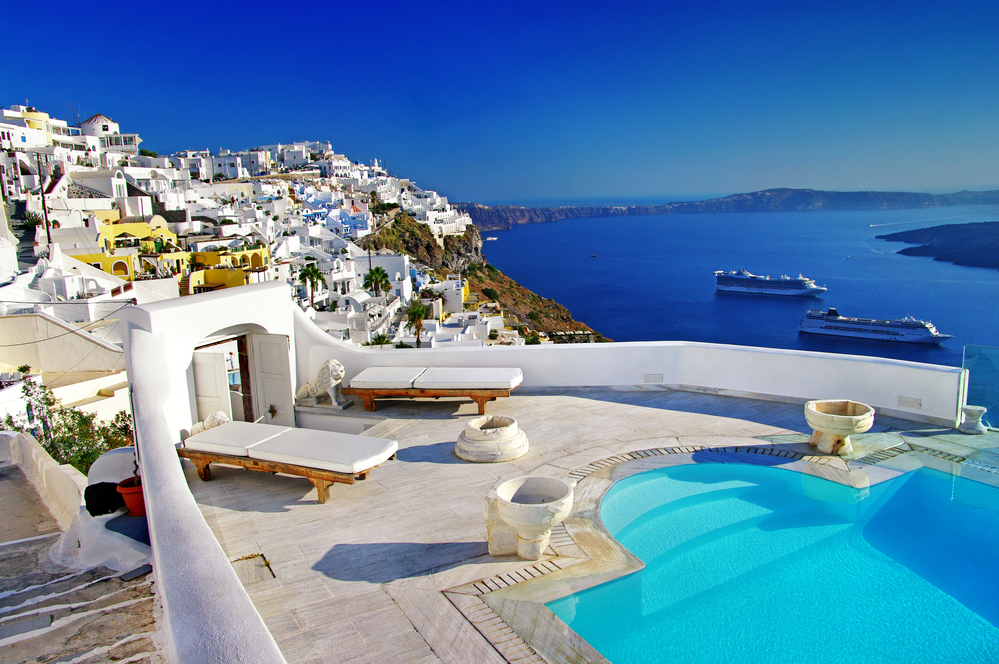 This post may contains references to products from one or more of our advertisers. We may receive compensation when you click on links to those products or services. Please also consider
donating to our website.
Close your eyes and picture the beauty of Greece.  The chances are you picture the blue domes and white buildings of Santorini.  You might also picture the stunning cliff dwellings, and the luxury resorts with pools seeming to float in the air above the ocean.  It is no surprise that Santorini is one of the most popular of the thousands of Greek islands.  It is also a great place to host a bachelorette party.  With a different vibe than the extremely party-friendly Mykonos, Santorini is our pic for bachelorettes who want the full Greece experience. 
How to Get There
Santorini is an island; you will need to take an airplane or a boat to get there.  If Santorini is your primary destination, then you can fly into the airport.  If you are traveling to other islands in Greece, you may find yourself taking a boat between the islands.  All of the large islands are served by ferries, and you can find transport on major ferry lines like Blue Star, Aegean Speed Lines, and Minoan.  The website www.greekferries.gr lets you compare multiple ferry lines to choose the one that works best.  Ferries do not fill up as quickly as boats, so you may be able to get last minute ferry trips, but if you know your itinerary ahead of time, you can book them in advance, so that you know your travel plans are set. 
Airport
For booking flights from other countries, you probably want to choose to fly into Athens International Airport, airport code ATH.  From there, you can arrange transport by air to Santorini or take a ferry. 
The Santorini (Thira) National Airport, airport code JTR, is the airport you will select if you want to fly into Santorini from Athens.  Just remember, it does not serve the major U.S. airways that most travels are accustomed to, so you will probably need to change flights at another airport before flying in to Santorini.
Getting Around
Unless you are comfortable driving in a foreign country, you may want to use public transportation, taxis, or limo service to get around Santorini. However, if you like the independence of having your own car, Enterprise Car Rental has a Santorini Airport location.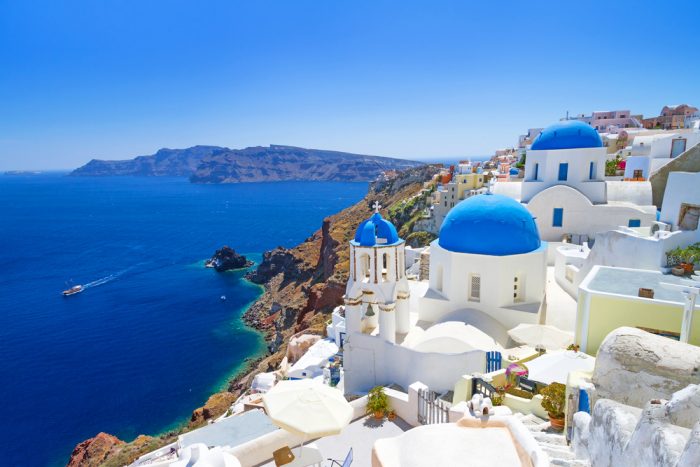 Things to Do
While we are focusing on things to do in or around Santorini, we want to emphasize that Greek is a nation made up of literally thousands of islands, with ferries that can transport you to other islands in an easy trip.  If you are in Santorini for a lengthy stay, we highly recommend expanding your daytime activities beyond the island, so you can have a full Greek experience.
Daytime Activity Ideas
The Beach
If you go to Greece, plan on spending much of your time at the beach.  Most of the fabulous activities in Greece are focused around the beach, whether fine-dining, a beach club, or a nighttime beach party.  Every beach has its own flavor and we have yet to hear of a bad one.  However, here are some of our very favorites:
Perissa, a village in Santorini with an amazing black sand beach offers one of the most breathtaking beach experiences in the entire Aegean.  While the dark volcanic sand is not the typical white-sand beach experience you will find in other Greek islands, the lack of dust makes for some of the most beautiful and clear swimming that you will find shore-side in any island.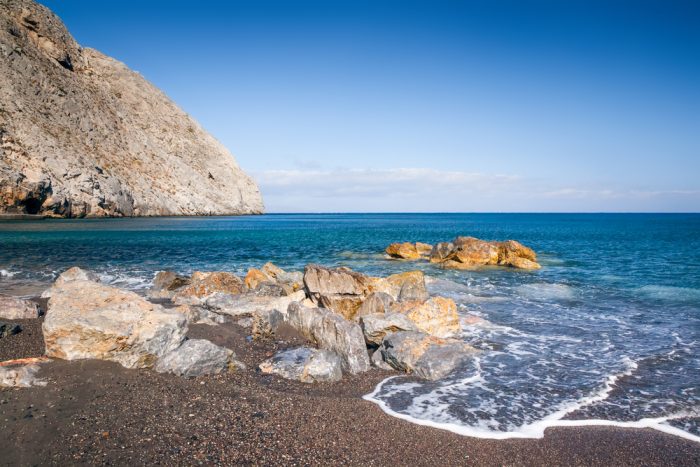 The Villages
On Santorini, you want to take the time to visit the village of Oia.  Picture whitewashed houses carved into clifftops.  This little village is known for its Naval Maritime Museum, which gives you a view into the history of fishing, which continues to play an important role in the island's culture and economy.  Another must-see location is the Oia Castle; though the castle itself is only a ruin, it offers an amazing view of the sunset.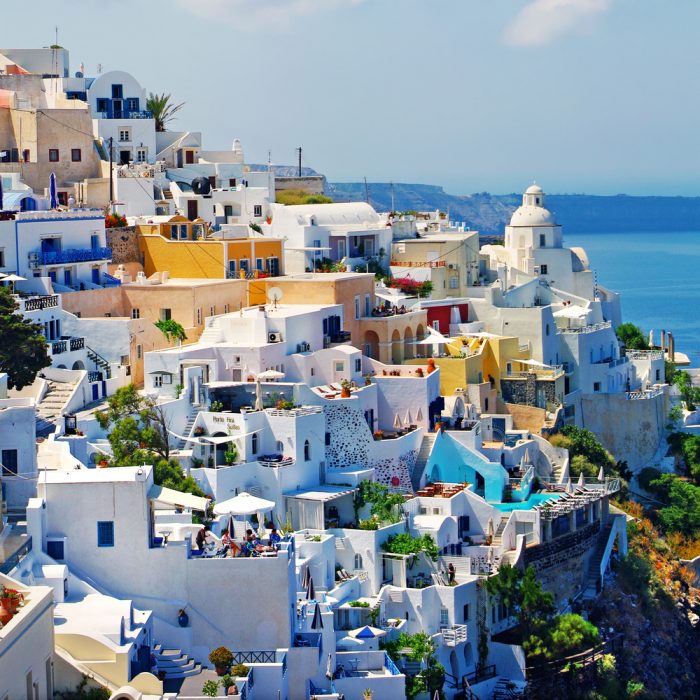 Adventures
In Santorini, hiking from Fira to Oia may not be the most leisurely way to spend the day, but the amazing views make it well worth the effort.  
If you love to fish, then you have to have an authentic Greek fishing experience.  From Santorini, you can go out on a fishing boat and then enjoy a lunch of fresh fish afterwards.  Not for the squeamish, this tour, while tourist-friendly, will give you a genuine fishing experience!  However, it is not all work; the tour includes opportunities to swim and snorkel.
Nightlife Activity Ideas          
One of the things that makes a trip to Greece unique is how daytime activities seamlessly blend into nighttime activities.  Many of the favorite beachclubs become nightclubs when the sun goes down!   
Night Clubs
The Enigma Nightclub in Fira is probably Santorini's most popular club-like nightspot.  Lots of music, drinking, and dancing until the wee hours in the morning, this all-night spot is a reminder that you do not have to go to Mykonos to party all night!
The Casablanca Soul Bar/Club is the place to see some of the world's hottest DJ's while in Santorini.
Bars
PK Cocktail Bar is a cash-only beachside establishment.  Not quite a dive, it also is not the place where you would expect to find some of Santorini's best cocktails, but there it is.  Cocktails not your thing?  No problem; they also offer an amazing selection of coffees and cigars.
Everyone loves Tango Bar Santorini, an upscale bar known for its impressive champagne selection and its inventive cocktails.
Male Reviews / Strip Clubs
Finding male dancers in Greece can be a little tricky.  In fact, there are none on the entire island of Santorini; however, Stripteasers in Athens offers a classic bachelorette party stripping experience, that manages to be both sexy and lighthearted, perfect for a bachelorette party.
View all Houses in Lake Tahoe Available on Homeaway.com
Where to Stay
Hotels
Are you looking for luxury?  Look no further than the Anteliz Santorini.  This hotel, perched high up in Santorini's legendary cliffs, offers a classic Greek experience.  It has a stunning pool and cliffside dining that let you take in much of the island's legendary beauty from the comfort of a stunning hotel.  They even have a three-bedroom villa that can accommodate up to six guests!
Think you cannot find a great hotel at bargain prices in Santorini?  Well, Scorpio's Beach Hotel is happy to prove you wrong.  This smaller, boutique hotel is located at the beach area of Monolithos.  It has 11 suites and 12 apartments, making it a great place for large groups and extended stays.  It does have a family vibe, so you may want to skip it during high travel seasons.
Looking for a classic five-star experience?  Then the Canaves Oia may be your destination.  This resort offers villas, hotel rooms, and suites, accommodating all travelers.  It is also known for fine-dining and for concierge service that can help arrange some of the best Santorini experiences on the island, making your trip easy.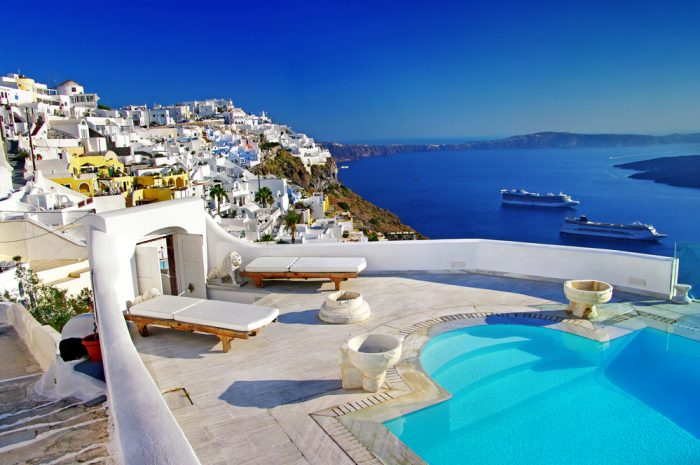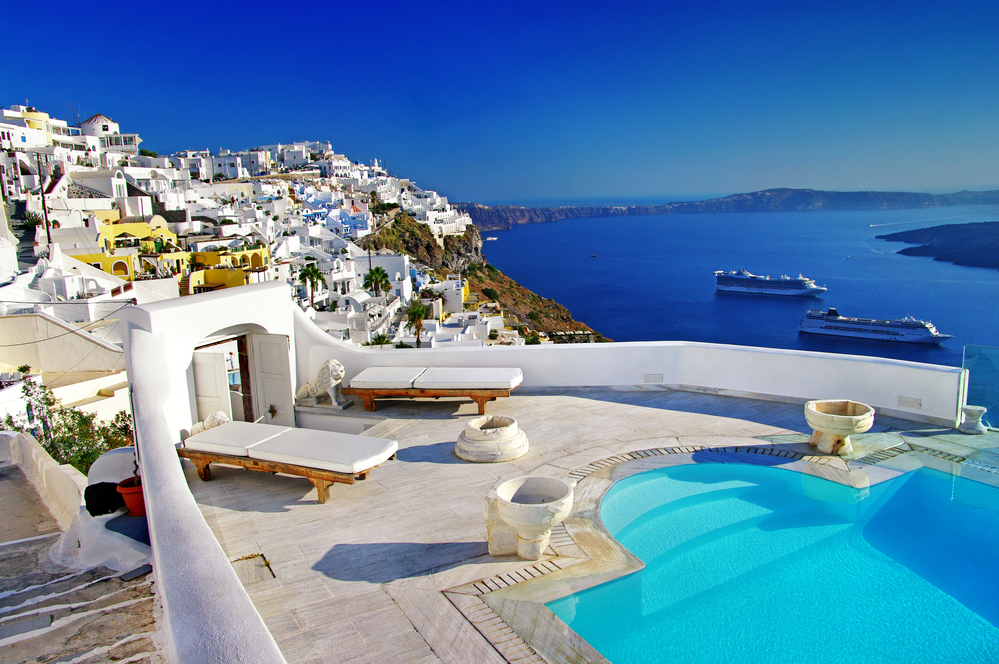 The Chromata Santorini is best described as casual luxury.  The hotel rooms are amazing, the on-site dining is sublime, but the spa may offer the best relaxation experience on the entire island. 

Hotels Available in Santorini Greece
Rental Houses
Although hotels are great, rental houses offer more flexibility for bachelorette parties.  You can have a number of guests in the same location and have plenty of common spaces for hanging out.  Choose an upscale home and it will often have private amenities, such as pools, hot tubs, and game rooms.  Booking a rental used to be difficult, but the popularity of home rental websites like airbnb,  vrbo, and homeaway has made it easy to find and rent high-quality vacation homes!
AirBnB
The Hector Cave House was originally a wine cellar built into the historic cliffs in Santorini.  A smaller location that is only suitable for small parties, its unique location offers a gorgeous pool built into an iconic whitewashed cliff dwelling. 

Rental Homes Available in Santorini Greece
VRBO
This classic vacation villa sleeps up to 12 people and is decorated in the whitewash and blue combination that has made Santorini recognizable to people around the world. It has a fabulous outdoor pool space, as well as classic interior styling that seamlessly blends traditional Greek décor with a Venetian flair.

Rental Homes Availables in Santorini Greece
Homeaway
The Bliss Estate, located near the black beaches on Santorini, is an amazing vacation villa, which can sleep up to 14 people.  The crisp white interior looks upscale without looking fussy, and the amazing views of the sea will have you sitting outside all day.
Rental Homes Available in Santorini Greece
Where to Eat
Breakfast / Brunch / Lunch
Armeni Santorini is the place to dine if you want classic Santoronian cuisine.  Start with the pita bread and dip, try the white tarama salad for an appetizer, and then enjoy the grilled, stuffed calamari.
Fino Cocktail Bar and Restaurant is in the middle of the village of Oia.  It is a little different from the other dining experiences you have.  First, it is not seaside.  Second, it has a little bit more of a local flavor.  It is the place to go if you are craving a burger, but you really go for the drinks.  They have some amazingly creative and delicious cocktails.  We like the Refreshing Grape as an accompaniment to a light lunch.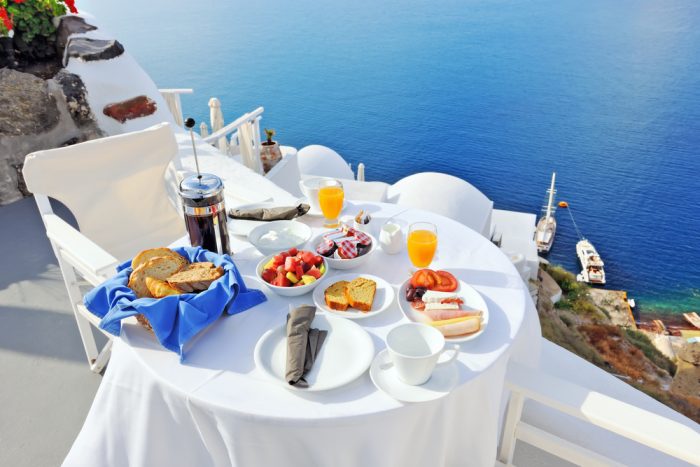 Dinner
Sphinx Wine Restaurant in Oia, Santorini is an intimate restaurant that offers scenic clifftop dining and a fantastic wine selection.  Ask for pairing recommendations and then take them; there is a reason this place is known for its wine list.  We like the lamb loin if you are craving some red meat. 
In Santorini, check out FlyAway Creative Restaurant, which is known for its inventive menu and its super-attentive staff.  Some people also say it has the best sunset dining in Greece, but we will let you decide whether or not that is true. What we can tell you is that scallops are some of the very best we have ever had, and the deconstructed baklava may be our favorite take on the traditional dessert.
When to Go
Best Time
Santorini is best in the late spring and early autumn.  We simply do not like the summer crowds, and, unlike Mykonos, Santorini has a longer season.   Enjoy either end of summer if you want more pleasant temperatures, lower prices, and fewer crowds.  Visit just before or just after summer and you are likely to find better temperatures, fewer crowds, and a better overall experience. 
On a Budget
Greece is a late spring to early fall travel destination, so the least expensive time to visit is winter.  Santorini does not close down for the winter, making it a good bargain winter destination, but you may not be able to visit any other islands.
Worst Time
August.  The heat, humidity, and crowds make Santorini a little miserable in August.    
What Else
Items to Pack
Santorini is a popular tourist-friendly island, so do not worry if you forget something; you are likely to be able to buy it on the island.  However, we strongly suggest you back some of these island essentials:
We love a classic sun hat, especially if you plan to do some boating:
We are big proponents of the idea that if you do not lose at least one pair of sunglasses while you are on vacation, you probably were not vacationing as hard as you should have been.  These affordable aviators mean you can bring some back-up pairs with you:
Prices
Santorini, while still affordable, is a popular tourist-friendly island, so do not expect the same type of bargains that you would find if you went off of the beaten path. 
Big Events in Greece
Greece has its own version of Carnival, known as Apokries, which generally happens around the same time as Mardi Gras and Carnival; most of February, though it varies depending on when Easter occurs.
The Santorini Jazz Festival happens every July and is one of the world's most beloved Jazz Festivals.
Sample Itinerary
After a morning of lounging with your girlfriends at the Bliss Estate, take a ferry to Neraida and enjoy the view and lunch at River Café Bar.  Plan your trip back before sunset, because you want to be back in Santorini in time for sunset dining at FlyAway Creative Restaurant.  Linger over your dinner, because Enigma opens late, but plan on staying till the sun comes up!  
Hashtags
#SantoriniSoiree  #bachelorettesbabesbikinibottoms #GreekWeek #SophisticatedSantorini
Forum
Planning a bachelorette party in Santorini.  Then, come on over to the forums where you can get and give advice.  Our community can give you up-to-the-minute tips about the best things to do in Santorini. 
Why Go
The blue domes of Santorini are an iconic must-do for tourists everywhere and the volcanoes and black sand beaches of Santorini are a must-see.  We also love the food and the creative drinks and wines. 
Star Rating
Conclusion
There are a ton of really fun bachelorette party destinations, but if you are looking for a place where you can host a really sophisticated bachelorette party, then Santorini should be your choice.  This gorgeous island features amazing food, stunning sights, and quaint villages that can combine for the ultimate bachelorette party experience.