Plan Your Bachelor Party in Asheville, North Carolina (2023 Guide)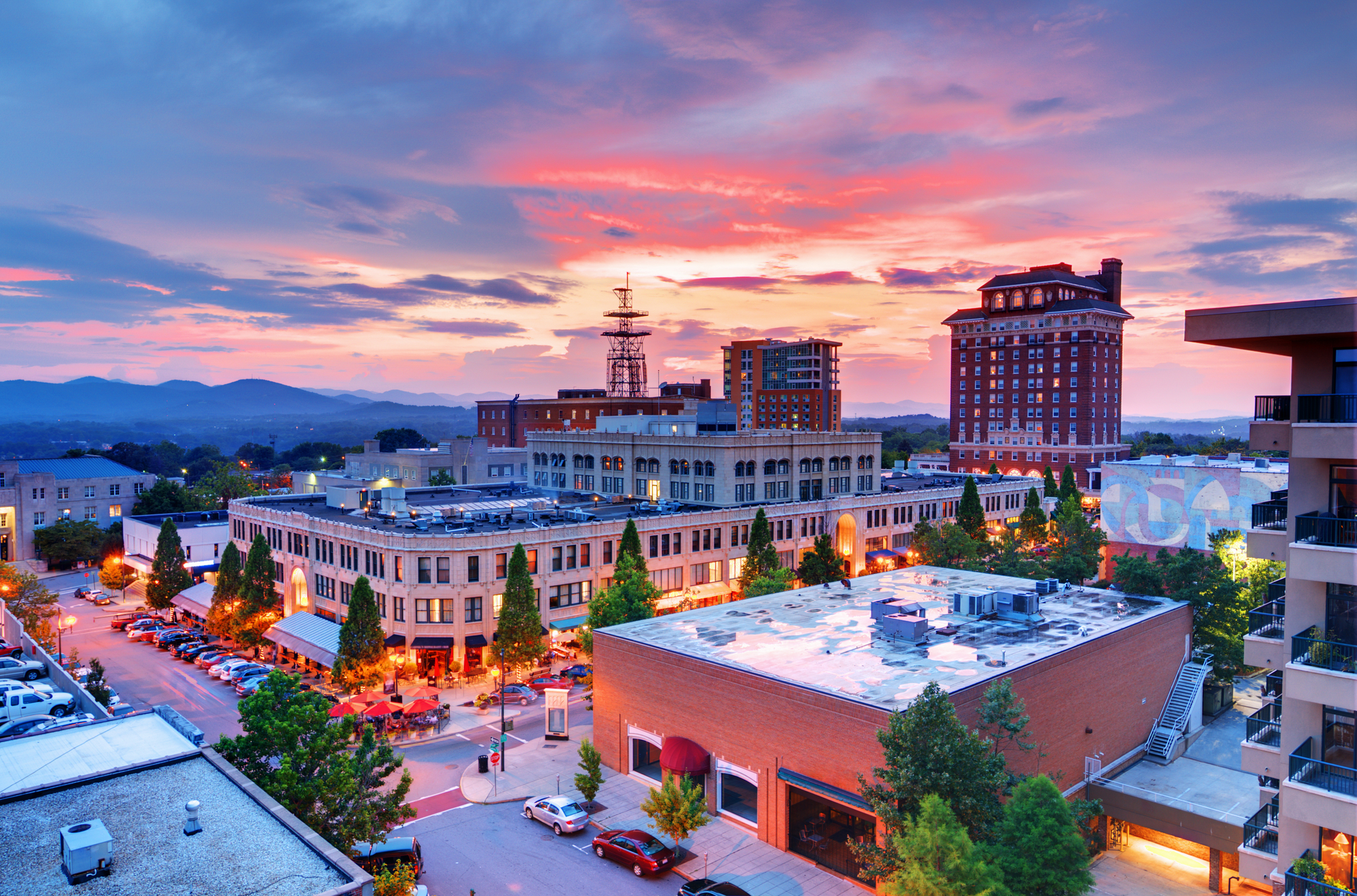 This post may contains references to products from one or more of our advertisers. We may receive compensation when you click on links to those products or services. Please also consider
donating to our website.
If you are planning a bachelor party and live within a few hundred miles of Asheville, North Carolina, you should seriously consider this laid-back, Bohemian-minded city as your destination of choice. The 91 thousand-plus residents of Asheville enjoy an urban environment that is replete with locally owned art galleries (there are more than 30 in the downtown area alone!) and shops, and dozens of distinctive eateries.
With the scenic Blue Ridge Mountains as a backdrop, you and your buddies will be certain to have an epic bachelor party in Asheville. In fact, more than 11 million tourists visited Asheville in 2017 alone, generating more than $3 billion in revenues. This guide tells you how to get there, what do see and do while you're there, and some tips on what to pack and when to go.
How to Get There
If you're driving, Asheville is easily accessible since it is the hub of a series of interstate highways as shown in the map below. In fact, nearly 47 million Americans live within 300 miles of Asheville, so driving there through the beautiful mountain scenery makes a great road trip.
Airports
If you're flying to Asheville, you may be pleasantly surprising at the services offered by the Asheville Regional Airport (airport code:  AVL). Despite Asheville's modest size, the city still boasts a state-of-the-art airport which is classified as a Class C airport. The Asheville Regional Airport is located near Interstate 26 close to Fletcher, which is situated 9 miles south of downtown Asheville.  The closest larger International airport would be Greenville-Spartanburg International Airport (airport code:  GSP).
Class C airports provide regular commercial passenger jet service with a maximum of 100 passengers per flight, but there are plenty of national and regional air carriers, including Allegiant, American Airlines, Delta, Elite Airways, Spirit and United offer flights to Asheville every day. No matter how you arrive, getting around Asheville is easy with ready access to rental cars, limousines, party buses and even boat rentals as described below.
Getting Around
Rental cars
Most of the major national rental car companies, including Avis, Budget, Enterprise, Hertz, National, Alamo, and Thrifty are represented in Asheville, many with offices at Asheville Regional Airport, but some, such as Enterprise, also have offices around the city.
Limousine Companies
Although there are limousine rental companies available in nearby cities, your best bet for seeing the sights up close and personal in Asheville is Tukit Tour Co. This company offers fully loaded limo-style six-passenger electric vehicles (with heated seats no less!) that feature Bluetooth speakers, open-air viewing (but with rain guards just in case) and all LED lighting.
Party Bus Rentals
We were as surprised as anyone when we came across the Young Transportation Party Bus, the only party bus rental enterprise in town, but one of the best we've seen. Not only does Young's have all of the same types of party buses you would expect to find in much larger cities, their fleet of party buses is more modern and pimped out than most. The popularity of this enterprise is proof positive that many people enjoy touring around this friendly city in style, allowing them to enjoy the best of both worlds (no designated driver in your crowd!).
Boat Rentals
The best place in Asheville for boat rentals is French Broad Outfitters on Hominy Creek which has kayaks, canoes and other watercraft as well as the best Frisbee golf course in the city. Best of all, French Broad also specializes in bachelor parties and can arrange for an epic camping excursion or water sports activities to go along with your boat rental. There are also numerous kayaking and canoeing vendors located in the surrounding communities.
Things to Do
While Asheville may not have as many entertainment venues as many larger cities, it does have plenty of interesting and fun things to see and do while you're there, including the best ideas we share below.
Daytime Activity Ideas
Get that blood pressure up and your heart pounding with a zip lining adventure from Navitat which has four different packages available. The tree-to-tree, sky bridges and rappel to the forest floor package on a one-of-a-kind eco-journey through scenic Moody Cove. A second package features side-by-side zip lining at breakneck speeds and eye-opening heights while a third package provides ATV guided excursion that track the zip lining routes for those who don't especially like heights. Finally, an all-in-one all-day package includes everything Navitat has to offer.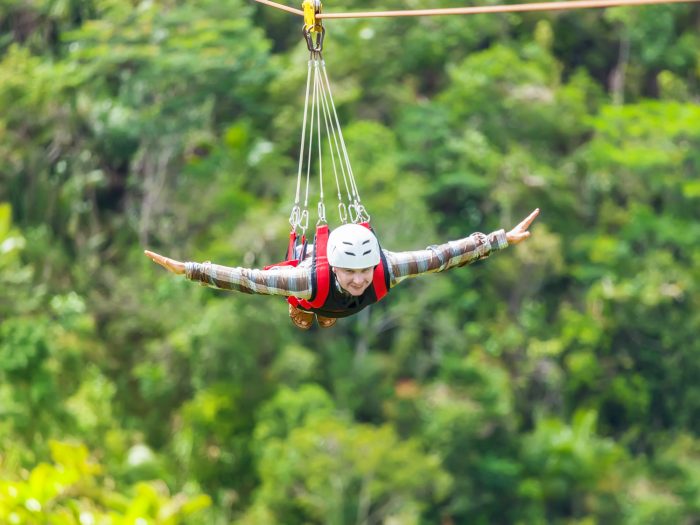 You can miss the big purple LaZOOM bus that provides guests with a unique (and funny) comedy tour perspective on the rich history of Asheville. This hop-on hop-off tour is hosted by knowledgeable local guides who are also talented storytellers who will make the tour even more interesting between stops at some of the local eateries, craft breweries and pubs in downtown Asheville.
If you're visiting Asheville during the summer months, don't miss Sliding Rock – A Natural Water Slide located in the Pisgah National Forest. Open daily, Sliding Rock features a 60 foot natural water slide that has been smoothed by tens of thousands of people over the years that ends in an 8 foot deep pool of water. This venue features restrooms and two observations platforms that are staffed during the season from Memorial Day through mid-August.
View More Daytime Activities in Asheville
Nightlife Activity Ideas
Whether you're a trained drummer, a percussionist at heart or just like to watch, you and your bachelor party buddies will be sure to enjoy the free Asheville's Drum Circle every Friday night (beginning around 5:00 p.m. or so) in the rounded outdoor amphitheater of downtown's Pritchard Park. The laid-back citizenry of Asheville and visitors come together to create pulsating rhythms that are never the same twice, and, although the event is free, the fun and camaraderie that result are priceless.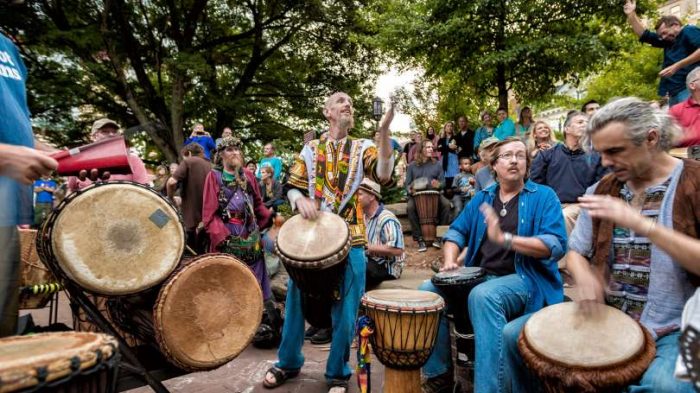 As a nightlife activity, the bars listed below are not exactly "price-less," but they all feature daily or weekly specials so check out their Web sites in advance and plan your visit accordingly.
Bars
Voted "Best Drink with a View," check out the SkyBAR A monument to the natural beauty of Western North Carolina. As part of World Coffee Cafe, SkyBar may be accessed through the historic downtown Asheville's Flatiron Building main entrance at 20 Battery Park in downtown Asheville. Their antique elevator and friendly doorman will whisk you away to the eighth floor of this landmark building for views on four terraces with formal seating and views of the Western horizon and Smokey Blue Mountains.
It's certainly not "Deliverance," but the Off the Wagon Dueling Piano Bar is one of the top-rated bars in Asheville that has a casual ambience and specialty cocktails set in a 1920s inspired space with a friendly vibe that makes even first-time visitors feel right at home.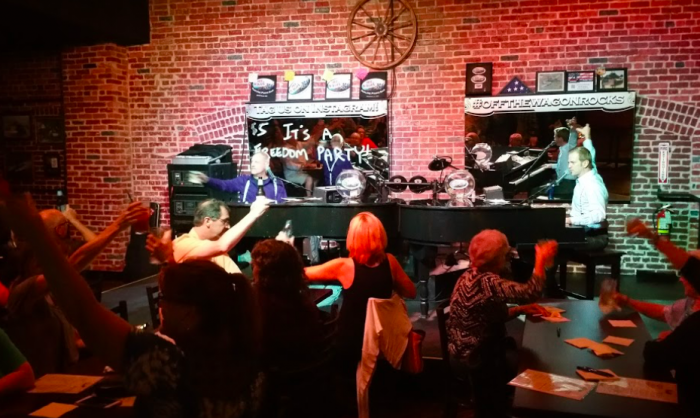 The Irish-pub themed Jack of the Wood is another top-rated bar located in downtown Asheville with free music provided by a talented group of Irish (at least at heart) fiddlers, handcrafted ales, and the best locally sourced pub-grub in the city. Their draft beer selections rotate daily, so you'll always find something new at Jack of the Wood.
Gentlemen's Clubs / Strip Clubs
The moderately priced Treasure Club is the best (and practically only) strip club in Asheville. Open daily until 2:00 a.m., Treasure Club features a welcoming atmosphere, friendly staff and more than 40 beautiful, exotic entertainers. Now a chain of four strip clubs across North and South Carolina, the Asheville Treasure Club is the original, established in 2008, and has been voted the "Best in the South" by FD Publications. Be sure to check out their daily drink specials.
Where to Eat
One thing that people in North Carolina really know how to do well is cook great food and the listings below only represent a small sampling of what is available in Asheville.
Breakfast / Brunch / Lunch
Enjoy a leisurely breakfast or brunch at the top rated Sunny Point Café which features a covered patio and friendly staff. Specializing in American comfort food, Sunny Point Café is family owned, and open daily at 8:00 a.m. so you can get a early start on the rest of your day having bachelor party fun in Asheville. This eatery also features a covered patio and friendly staff.
Brunch at Tupelo Honey is a memorable event because they feature an all-day menu that is replete with homemade Southern style comfort foods that may inspire you to linger on to the lunch hour. This is a Very Good Idea since Tupelo Honey also has some of the best drinks in Asheville as well as a Social Club where you and your bachelor party friends can become convivial indeed.
Another top rated place for brunch and lunch is Asheville is the Chestnut which is located in a restored 1920s venue serving up homemade soups and seasonal dishes that will appeal to any palate (check out their shrimp and grits – yummm). In addition, the Chestnut also features a full bar serving up specialty cocktails and craft brews as well as daily lunch specials.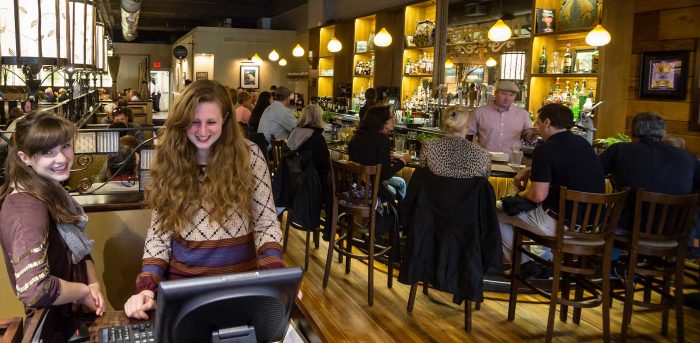 Dinner
According to TripAdvisor's ratings for the restaurant scene in Asheville, one of the best places for dinner is Luella's Bar-B-Que where the owners claimed you can "taste the love." Here we paraphrase Forrest Gump by responding, "We don't know what love tastes like, but this is some damn fine barbecue!" Drawing on the owner and pit boss's grandmother's time-tested recipes, Luella's churns out the best barbecue in town day after day. With restaurants in North and South Asheville, there is a location near your accommodations.
If you're in the mood for the perfect steak, the top rated steak house in Asheville is Ruth's Chris Steak House which, despite its name and fame, also serves some delicious seafood and vegan dishes as well. Try their cowboy ribeye, filet mignon or New York strip and we think you'll agree that it was one of the best steaks you've ever had.
Finally, the Posana Restaurant located smack-dab in the middle of downtown Asheville specializes in contemporary American cuisine using locally sourced ingredients served in an upscale space complete with a patio. Moreover, besides mouth-watering food and drinks, the Posana Restaurant also specializes in group events such as bachelor parties so you and your friends will be sure to have a great time while you enjoy some world-class cuisine.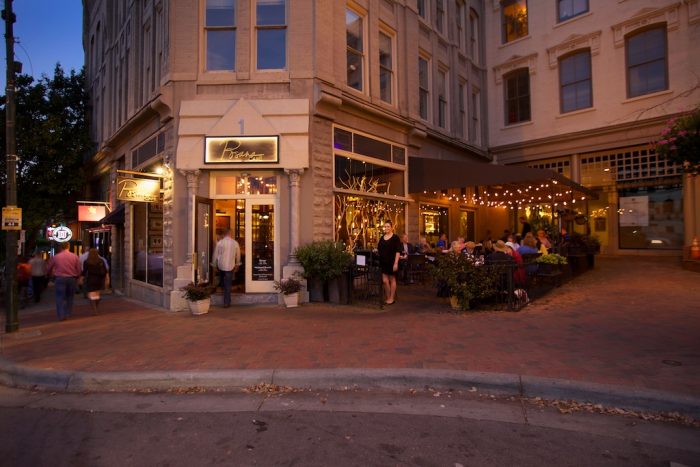 Where to Stay
Hotels & Resorts
The Country Inn & Suites by Radisson is a highly rated hotel in Asheville that is located within walking distance of the downtown district (but they also offer a free shuttle service with drop offs and pick ups at various points around downtown) and offers all of the amenities you'd expect, including an indoor swimming pool. This hotel received the 2018 President's Award for top scores in guest satisfaction for quality and outstanding service.
Likewise, the Crowne Plaza Resort is also a top rated resort located in downtown Asheville. The Crowne Plaza has an on-site health and fitness center and a business center as well as a knowledgeable concierge who can help you and your friends navigate around Asheville and give you inside information about local happenings as well as the oneFIFTYone Bar & Kitchen which is their own farm-to-table eatery.
The Sweet Biscuit Inn also received five stars from TripAdvisor for its numerous amenities and comfortable accommodations. Living up to its name, the Sweet Biscuit Inn also provides a complementary gourmet breakfast in this restored and modernized 1915 Colonial Revival home located just one and a half miles from downtown Asheville.

Hotels Available in Asheville
House Rentals
All of the rental rates quoted below are based on a four-day stay during the week for six adult guests; prices may vary depending on the season. All of the rentals listed below come complete with fully stocked kitchens and laundry facilities unless otherwise noted.
VRBO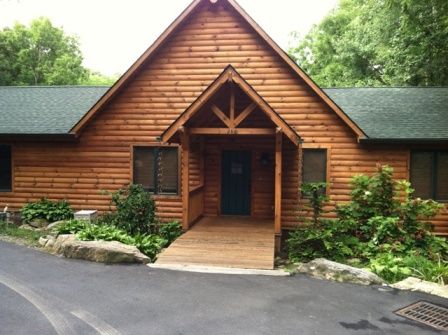 Exterior view of Contemporary Cabin Off the Blue Ridge Parkway
This modern cabin, situated in a idyllic scenic setting close to the Blue Ridge Parkway, rents for just $215 per night and we were impressed by what you get for this price. The cabin is also near a number of local hiking trails and bike paths as well as kayaking opportunities. Best of all, this property is located close enough to downtown Asheville that it will probably take you longer to park than drive there. A private deck overlooks a small creek just 10 feet away, so you can enjoy the sounds of a real-life bubbling brook while you burn some steaks and have a few brewskies with your buddies.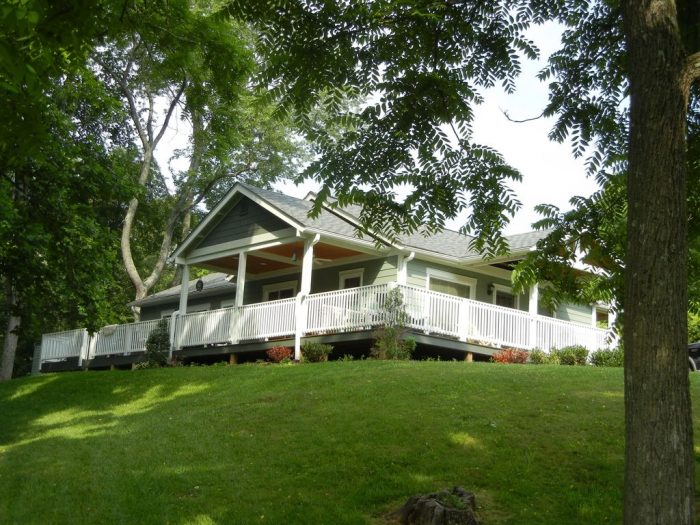 Exterior view of Asheville's "Cozy Bear Cottage"
At only $195 per night, you won't believe the amenities you get with this "Cozy Bear Cottage" located in East Asheville just 10 minutes from downtown as well as nearby zip lining, waterfalls and water sports. Besides a wrap around deck that provides unparalleled views, the cottage also features a large outdoor premium hot tub and a 37-inch high definition television. You and your friends will be glad you made this cottage your home away from home during your Asheville bachelor party.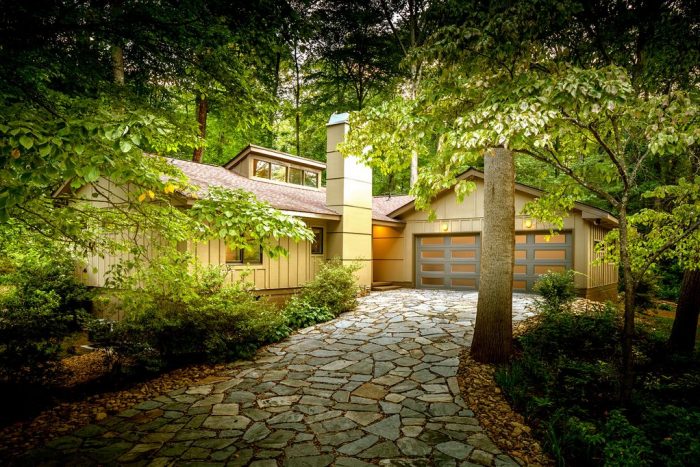 Exterior view of "Contemporary Jewel with Waterfall, Extensive Decks and Game Room"
This ultra-cool vacation home rents for $288 per night and we think you'll agree that it's a bargain at this price. Located on the end of road to ensure your privacy, this newly remodeled home is just 12 minutes from downtown Asheville. Besides a large gourmet kitchen complete with an island, this property features an indoor/outdoor game room that boasts a large flat screen television and a pool tables inside and several decks, a fire pit and even a waterfall outside!

Rental Homes Availables in Asheville
Sign up with our Airbnb link and get $40 OFF your first booking!
When To Go
Best Time
Like most other bachelor party destinations, the best time for a bachelor party in Asheville depends on the groom's wedding date as well as your group's preferences for entertainment and pricing. In general, though, the months from March to May and September to early November are the best times to visit Asheville when the weather is perfect for enjoying everything the city and its surrounding scenic environs has to offer.
On a Budget
The off-season month winter are considered the best time to visit Asheville for those on a budget since colder temperatures tend to keep regional vacationers away. Although Asheville does not receive a great deal of snowfall during these months, the potential for treacherous driving conditions is always there.
Worst Time
The dog days of summer (i.e., June to August) tend to be hot and humid, but Asheville's elevation at 2,216 feet means that the weather is not as brutal as other regions in the southeast United States (see weather graphic below).
Current Weather

What Else
Asheville is located adjacent to eight national and state parks that have more than 200 waterfalls between them, and near four scenic rivers (i.e., French Broad, Green, Swannanoa and Catawba), so sightseeing and hiking opportunities abound. We should point out, though, that at present, both recreational and medical marijuana are still illegal in North Carolina, although the state legislature is under increasing pressure to enact some type of measure along these lines.
Big Events
Most of the big events in Asheville are held during the spring and summer months and feature the local arts and crafts industry, and some of the best of these events are listed below:
May: Toe River Studio Tour (if you have a car during your visit to Asheville, this fun event involves a self-guided scenic tour of mountain roads to locate 100 fine artists and crafts people in their respective media in the Penland, Spruce Pine and Burnsville areas).
June: Xpand Fest (this free outdoor festival is held in the South Slope near downtown Asheville and highlights the city's local creative arts culture and artisans).
June through August: Saturday Night Lights (this free event features horse jumping with some of the best riders in the nation held at the Tryon International Equestrian Center; the event includes food stands and rides).
What to Pack
Swimwear: If you're like a lot of guys, the swimming trunks in your bottom drawer are faded and probably don't fit all that well anymore. The Asheville region has numerous water ports and boating activities available, and most rentals and virtually all hotels and resorts have swimming pools so be sure to pack some stylish swimwear that fits.
Sunglasses: It may just be our imagination, but the glare from the sun up in the mountains seems a lot harsher than in the city so be sure to pack some high quality sunglasses that provide good UV protection for your daytime excursions around downtown Asheville and beyond.
A light jacket: The weather in Asheville can turn cold in a hurry, especially at night during the spring and fall months so be sure to pack a light jacket.
Comfortable footwear. How are you going to keep up with your bachelor party friends if you don't have the right footwear? Make sure you pack some comfortable and appropriate shoes for your sightseeing excursions in and around Asheville.
Luggage and accessories: Although tens of millions of Americans live close enough to Asheville to make the drive, if you're flying there be careful to take the right kind of luggage so you can pack as much as possible in order to avoid additional airline baggage fees.
Vitamins and supplements: You'll want to keep your energy level up during your Asheville bachelor party (you can rest when you get back home) so take a good supply of quality vitamins and health supplements.
Itinerary
9:30 to 10:30 a.m. Begin your day right with brunch at the Sunny Point Café. Don't miss their mouth-watering four-egg omelettes, stuffed French bread (stuffed with sausage, cream cheese and cheddar grilled between house bread, fresh fruit, and maple syrup – wow!), or their "build your own breakfast sandwich" specials.
10:45 a.m. – 1:45 p.m. Tour downtown Asheville and local sites of cultural and historic interest with Young Transportation Party Bus.
2:00 p.m. – 3:-15 p.m. Have a leisurely lunch and a couple of drinks at Tupelo Honey.
3:30 p.m. – 5:30 p.m. Personal time/relaxation at hotel, resort or rental.
5:30 p.m. to 7:00 p.m. Enjoy a big ol' steak of your choice at Ruth's Chris Steak House.
7:00 p.m. – 11:00 p.m. Bachelor party celebration at Treasure Club with private VIP seating.
11:00 p.m. – ? Chill by the swimming pool and watch the stars.
One thing that people like a lot is a remembrance of their trips and adventures, and an inexpensive, customized bachelor party t-shirt makes the perfect souvenir of your epic Asheville bachelor party.
Travel Insurance
It usually costs a lot to take time off from work, travel to and from a destination and pay for your fun and accommodations while you're there, so don't risk losing your investment in an Asheville bachelor party by purchasing travel insurance from a reputable insurance company which generally provides the following benefits:
Covers purchase of personal items when baggage is delayed for longer than 24 hours;
Up to 100% cash back for trip cancellations, delays, and interruptions;
No deductibles for emergency medical and dental coverage;
24/7 travel assistance; and,
Airline change fee and frequent flyer mile redeposit fee coverage.
Why Go
On the one hand, if you're looking for a "Hangover-esque" type of bachelor party complete with drunken orgies and memory loss, Asheville, North Carolina may not be your particular cup of tea. On the other hand, though, Asheville's rich architectural legacy that combines art deco, beaux arts and neoclassical styles, thriving local arts and crafts scene together with the natural scenic beauty that surrounds the city may be just what you're looking for in a bachelor party destination.
Rating
On a scale of 1 to 10 stars, we give Asheville 8.25 stars as a bachelor party destination.
Conclusion
If you and your friends enjoy the outdoors, Asheville makes a great place for an epic bachelor party. Although it is much smaller than many other such destinations, the city's Bohemian culture, friendly people and warm ambience make it a welcoming place for people from all over the world. Taken together, Asheville has a lot to offer and you and your buddies will be sure to have fun exploring the city and the nearby natural attractions.