Bachelor Party in Panama City, Panama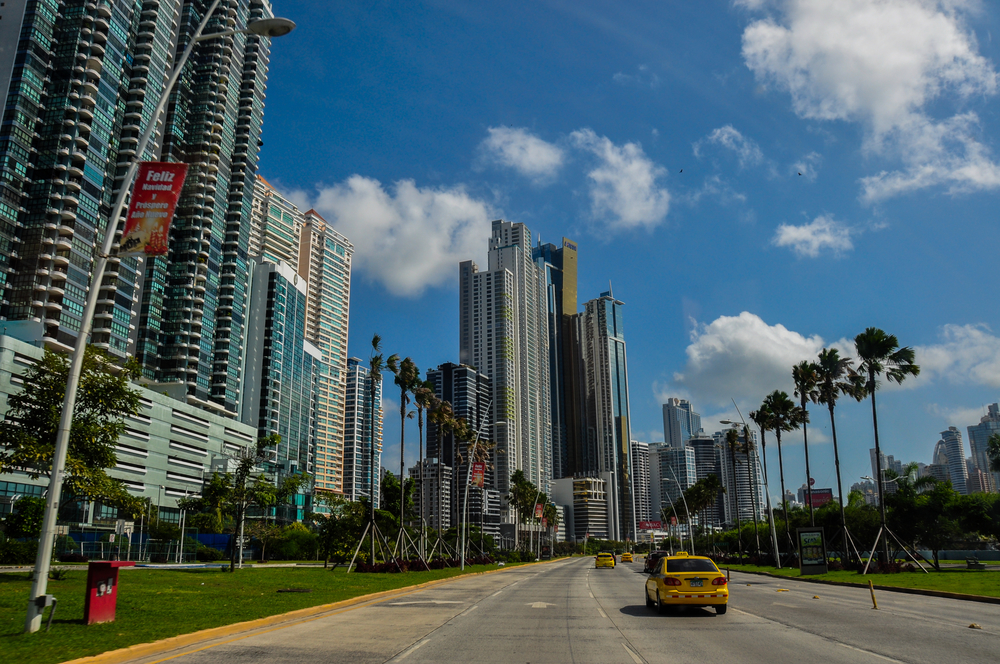 This post may contains references to products from one or more of our advertisers. We may receive compensation when you click on links to those products or services. Please also consider
donating to our website.
Panama is a great destination for a bachelor party and if you are planning a Panama bachelor party, then Panama City is the destination for you!  The city is known for its all-night party atmosphere, with bars and nightclubs staying open till 4am on Thursday, Friday, and Saturday nights.  The hottest part of the city is Casco Viejo, which is where you will find most of the city's must-see nightclubs and bars.  The Panama nightlife scene is varied.  They have nightclubs to rival some of the best clubs you would find in a major metropolis, plus quieter dive bars, and even underground after-hours party spots.  Panama is also an up-and-coming spot for ecotourism, offering a wide variety of activities in outdoor locations.  The three major areas are canal, rainforest, and beach, and each area has its own associated activities.  All three are accessible from Panama City.  Of course, if you're coming for a bachelor party, you've probably heard that adult entertainment is plentiful, inexpensive, and easy-to-find in Panama City.
How To Get There
Airport
If you decided that Panama City in Panama is the perfect location for you and the guys to black out one last time before you get married, make sure you choose the right airport for your arrival and departure.  Tocumen International Airport (airport code PTY) is the one you want to select.  From airport to downtown it's a 30 minute cab ride ($25-$30).  Make sure you do not fly in during rush hour (morning or evening) as that can add up to an additional 1 – 1/2 hours to the trip.
Things to Do
Daytime Bachelor Party Activities
Can't come up with ideas for things to do during the day?  There are a ton of outdoor activities to do in and around Panama City, and the rare natural beauty you find there is worth exploring.  One side of Panama City is on the Pacific, so don't forget the Panama City Beach bachelor party ideas, like surf, sand, and snorkeling.
The Lake Bayano Cave Exploration Tour is a guided cave exploration tour on private lands that includes transportation to and from your hotel to the tour site.
The Waterfall Hike by Xplora Panama Day Tours is a full-day waterfall hike through the jungle, where you get to see native flora and fauna.  It includes transportation to and from your hotel.
There are a number of companies offering tours of the Panama Canal.  Even if you aren't an engineer, it is difficult not to be impressed by the engineering marvel that is the canal.  Some of these tours will even include visits to islands that have been isolated from mainland Panama since the canal was constructed.
Adventure Panama offers a variety of watersport activities including whitewater rafting, kayaking, sea kayaking, and snorkeling.  You could also go completely baller and rent a Panama bachelor party yacht, where you can invite your party guests and your new closest friends to spend the day partying with you on the water.
Another popular daytime activity is to hit the casinos.  While Panama City, Panama may not offer the variety of casinos of a city like Vegas, it does have a number of high-quality casinos.
Ocean Sun Casino offers the highest table limits and slot denominations in Panama, which should give you an idea that this is a casino geared towards high-rollers, or people who feel like high-rollers.  It offers table games, pokers, slots, and sports-betting.
The Casino at Hilton Panama has everything you expect from a casino with legendary Hilton customer service.
Bingo 90 Casino is a little more casual than some of the other casinos and has a younger crowd.
Sortis Casino is the Marriott's version of a hotel-casino in Panama City.  It has lots of table games, slots, and poker tables.
Nightlife Ideas
Panama City has a more vibrant nightclub scene than many other popular bachelor party destinations.  In the area known as the Casco Viejo, or just the Casco, tourists and locals gather every night of the week to party hard until the early morning hours. The nightlife scene is always changing, because more and more clubs are opening and finding success as Panama City's reputation for partying grows.  One thing tourists need to keep in mind is that the people in Panama City dress for a night out.  You might be able to throw on shorts and t-shirt to get in clubs in other tropical cities, but you will not only stand out as a tourist, but you might also be left outside of the club if you dress that way in Panama.
Casa Jaguar, at Ave. Septima Central, is a gastropub that is a great place to start one of your evenings.  It's also suitable for a mid-night refueling.  Think international gastro pub fare, including innovative food and drinks.  This is an upscale place for a bar; you may want to call ahead for reservations.  If you are there on a Thursday night, start out the evening with their all-you-can eat Paella.
After you grab something to eat, get your pre-game on at Chupitos 507.  Located at Calle 7 and Avenida B, Chupitos 507 is a shot bar.  They have an extensive shot menu with over 70 choices.  Shots are about $5, but you can also pay $25 for open shots, so it's pretty cheap to get your buzz going there.  Thursday is ladies' night, with women drinking for free from 9:30pm to 11:30pm, which makes it great place for bachelor parties to be on Thursdays, as well.
Relic, located at Calle 9na, in the bottom of Luna's Castle Hostel is popular with all three groups of people you are likely to encounter in Panama City: tourists, locals, and backpackers.  Relic prides itself on providing guests with all of the elements needed for a perfect evening.  There is no cover and, though it may seem like a quiet bar earlier in the week, the place is packed on weekends.
La Buat, at Calle O and San Felipe , is probably Panama City's biggest frat party.  With live DJs playing all kinds of dance music, with a focus on reggaeton, and specials on bottles and drinks, the atmosphere is drunken dancing.
Danilo's Jazz Club, located in the Ace Hotel in the Plaza Herrera, is not your typical bachelor party place.  It isn't a wild, party atmosphere.  You aren't going to find spring break tourists flocking to its doors or fist-pumping drunken party boys, either.  So, it might not be the thing for you and your crew.  However, if any of you are jazz fans, then Danilo's is the one spot in Panama City that you can't miss.  The club is a small 50-seat venue that is, quite simply, one of the world's best jazz bars.  It features artists that are at the top of their genre, and serves as a home base for Panama's Jazz Festival.
Teatro Amador, located on Central Avenue between 11 and 13 Old Town, is in the space that was formerly the Amador Theater.  Today, it is an entertainment space with two bars and a live music venue.  The vibe in the club changes each night.  Thursdays it focuses on underground electronic music with a rotating group of local and international DJs.  On Fridays, the space turns into a Latin/Salsa dance club.  Saturday nights they place crossover music.
Want to feel like you're at the world's best house party?  Then head on over to the big yellow house on Avenida Federico Boyd and stop into El Sotano (the basement) or El Apartamento (the apartment).  Literally, a converted house, these two location make up a bar and event venue with live rock on the first floor and more indie-flavored stuff upstairs.
Tantalo, at Calle 8 Este Con Avenida B, is in the heart of the Casco Viejo, and you will see it pop up in our restaurant and hotel sections, as well.  For nightlife, their rooftop bar is the place to be.  Think of it as your friend's casual rooftop party taken to the next level, with a DJ spinning the best music, an incredible view of Panama City's skyline, and a mix of locals and tourists.  Thursday is ladies' night, Friday-Sunday it's more like a dance club, Wednesday is Latin night, and on Tuesdays they have live performers.
Vying with Tantalo for the spot of favorite rooftop bar in Panama City is Gatto Blanco, at Avenida B and Calle 8.  The relaxed, intimate rooftop spot features some awesome live music and can be either a great place to wind down after an amazing evening, or a cool spot to while away the last evening hours and usher in the twilight.
Villa Agustina, at Avenida A and Calle 9a , is an open-air nightclub.  It features lots of live music, mostly dance styles, and is one of the few casual nightclubs you will find in Panama.  This probably isn't the best-choice if your goal is to pick up women, but if you just want a night of drinking, dancing and maybe some flirtation, then the club's vibe, which is similar to that of a music festival, will be great for you.
The Veneto Hotel and Casino, which hosted E's Wild On series is familiar to many people who associate Panama City with wild parties and beautiful girls.  While it isn't quite as popular as it once was, you can still find a party at the Veneto.
Massage Parlors and Strip Clubs in Panama City, Panama:
Even with legalized prostitution in the city, strip clubs are very popular in Panama City, Panama, and they tend be a lot more upscale than the strip clubs you will find in many popular tropical destination cities.
Le Palace offers more than just naked girls on a stage.  They combine burlesque performances with traditional strip tease and modern strip club dancing.
If you picture pole dancing pretty girls when you think of strip clubs, then Elite is what you have in mind.
The Crazy Horse Showclub is the closest-thing to an American-style strip club as you are going to find in Panama City.  Interacting with the dancers, both on-stage and off-stage, is encouraged.
Where To Eat
Bachelor Party Restaurants
With its collection of world-class hotels, casinos, and a thriving tourist trade, Panama City is quickly making its name as one of the best foodie cities in the world.  It is impossible to name all of the restaurants you should try while you're in Panama City for your bachelor party.  By the time you are reading this, there may be three or four more fabulous new places to try.  However, there are some restaurants we think of as can't-miss.
La Vespa is considered one of Panama City, Panama's premiere restaurants.  Chef Mauro Clementi creates food that is described as Italian-Mediterranean fusion.  While it may not be the traditional Central American fare you expect at a Panamanian restaurant, this menu works well with the fresh fishes and shellfish available in the city.  Food you must try here: ravioli con porcini, risotto alla pescatora, and filetto al gorgonzola.
Donde Jose is another restaurant that is considered one of the best in Panama City.  It is a fine-dining establishment, so think small, inventive meals and expensive prices.  This is not going to be your every-day bachelor party dining establishment, but its great wine list makes it a good choice if you want to try an upscale version of traditional Panamanian food. Food you must try here: the 10 course tasting menu is the way to go.
Segundo Muelle serves the best Peruvian food you are likely to find outside of Peru.  Its focus is on seafood done especially well.  Everything there is delicious, but you must try: the ceviche.
La Rana Dorada Cerveceria is just a pub with good traditional pub foods and beer brewed at its own adjacent brewery.  Food you must try here: it's all good bar food, but try the in-house brewed beer!
Café Coca Cola is not just the oldest restaurant in Panama City, but also reputedly one of the places that Che Guevera liked to eat.  It's a traditional Panamanian café serving simple meals with ample portions. Patrons are likely to be placing chess and talking about soccer.  You can't go wrong with anything from its historic and authentic lunch-counter menu.
We debated whether or not to include Diablicos on our list.  It offers traditional Panamanian food and showcases traditional folk dancing, which is not the usual bachelor party entertainment choice.  However, the food is great and the show is surprisingly good, so we suggest you check it out.
On Sunday, head over to Mi Ranchito for the city's best buffet.  The food is traditional Panamanian seafood and it is prepared perfectly.  The view, which overlooks Panama Bay, is also pretty spectacular.
In our opinion, we saved the best for last. The Mercado de Mariscos is the city's fish market.  You have your choice of over 70 stalls, selling fresh fish, which you can take the restaurant located above the market and have prepared to your specifications.  It is a unique dining experience that you shouldn't miss while in Panama.  We can't tell you what food to try here; the choices change daily, actually hourly, but let the vendors guide you.
Where To Stay
Hotels / Resorts
Panama City, Panama is a major tourist destination with your choice of awesome hotels.  It has a number of casinos, so that your hotel choices might include amenities like on-site restaurants, bars, lounges, casinos, or golf courses.  Almost all of the familiar hotel chains have properties in Panama City, so you are likely to find a room if you have a preferred chain or even a loyalty/rewards membership.  If you are looking for luxury, here are some of our favorites:
The Bristol Panama Hotel and Spa is a luxury hotel where the emphasis is on pampering you.  Sure, your bachelor party is about getting wild and crazy, but there is nothing wrong with booking a massage to help you with your next-day recovery.
The American Trade Hotel, is in the heart of Casco, near the city's most exciting bars and restaurants.  It is one of the trendiest hotels in the city and whether you call it bachelor-party friendly depends on how wild you intend your party to be.  In a city where the clubs don't close till the wee hours of the morning and underground after hours clubs are open even later than that, heading back to a comfortable, luxurious hotel is something you might want to consider.
The Westin Playa Bonita Panama is a beachfront resort with oceanfront pools.  The property is stunning.  While it may not have the pool parties you find at other resorts, recuperating while sipping on a frozen drink is a great way to spend the latter part of your morning.
Some great affordable options include: Luna's Castle Hostel, which starts at about $13 a night and has a funky, laid-back vibe. Mid-priced hotels include the Radisson Hotel Panama Canal; one of the only local hotels to overlook the canal in Panama City. Because lodging is relatively cheap, it's easy to splurge here and get a great hotel for an inexpensive cost.
Rental Houses
In general, we recommend renting a house for a bachelor party. The best two websites for doing this are airbnb.com and homeaway.com.  This luxury party mansion sleeps up to 16 and has a bevy of amenities, including an indoor pool, hot tub, and hammock swings.  This Panama Party House sleeps up to 12 and the hosts are happy to hook you up with a private chef, transportation, and even a DJ for your pool parties.
When To Go
Best Time
Mid-December to mid-April are the best times to travel to Panama, but you can expect to pay some premium prices during these times.
On a Budget
Summer is still a great time to travel to Panama, and you avoid some of the crowds you would get at spring break or over the winter holidays.
Current Weather
What Else
Items to Pack
Panama City is a big city and you'll be able to grab things if you forget them, but they may not e your favorite plans.  Even if you don't intend to participate in the city's naughty legal activities, we recommend packing condoms and your favorite lube- better safe than sorry.  You might also want to bring some ibuprofen, acetaminophen, electrolytes and recovery formula in case you get a bad hangover.
Prices
Panama City bars and clubs are inexpensive.  Most of them have no cover, and cover charges, when they do exist, are minimal.  Drinks are inexpensive as well; in fact, drink prices are sometimes surprisingly low given the upscale vibe of many of the city's watering holes and nightclubs.
Extra-Curricular Activities
Prostitution is 100% legal in Panama City.  This means for a small fee you can creep freely on any beautiful ladies you encounter.  If you are looking to spend a night of companionship with your girlfriend-for-the-weekend, expect to pay about $100.00.
White is illegal but very accessible.  Expect to pay around $20 for a solid G of quality product.  Since this product is in close proximity to the production source, remember that a little can go a long way.
Green is illegal, accessible, but not very desirable.  Now there are some diamonds in the rough that do get some better quality buds, but expect to pay a little more for them.  The more readily available stash is less quality than what you are used to.  Expect to pay $20 for an eighth of the garden fresh or upwards of $35 for quality indoor.
Women of Panama City
If Panama City has made it to your bachelor party short-list, then you probably already know that prostitution is legal in Panama City.  Prostitutes are supposed to be registered, but many of them are not.  Women come up from nearby Columbia to work in Panama City, and, for some reason Colombian women tend to be able to demand higher rates, though women from both countries are stunningly gorgeous.  A Panama City, Panama bachelor party wouldn't be complete without some of Central America's most gorgeous women, but, don't worry, even if you don't intend to hire a working girl, you'll see plenty of them while you enjoy the city's vibrant nightlife.
Big Events in Panama City
There are some awesome festivals and big events in Panama City, including the Panama City Ink Fest, the Day After Festival, and, of course, Carnival.
Crime
Panama is considered a high-crime rate country, but Panama City is relatively safe.  There have been reports of some violent crimes directed towards tourists, so traveling in small to medium sized groups is a good idea.
Other Tips
You can also email us with your details.  We work directly with the city's best nightlife venues, hotels, and promoters to help you arrange the best possible weekend, so that you get to spend your time partying, not trying to arrange activities.
Bachelor Party Panama City, Panama Forum
So you read most of this article but you still have a few questions before you head to Panama.  Ask any questions you have in our community forums (anything goes) and either another member of our community or someone from our staff will provide you with a detailed response shortly.  If you already went to Panama City, Panama for your bachelor party and have some reviews, suggestions, or tips, please post them to our forum as well, so other guys can read about it, while helping our community grow.
Why Go
Rating
Conclusion
In conclusion, Panama City is one of our favorite places to travel, period, and, like Vegas, it is ideal for bachelor parties.  The location is easily accessible to travelers from the United States, the city is modern and offers modern conveniences, there are casinos, nightclubs, bars, and restaurants around every corner, daytime activities are great for active travelers, and their adult entertainment is not only top-notch, but also legal.  Best of all, it is very affordable.  You could have a time comparable to a trip to Vegas, but for probably less than half of what you would spend in Vegas.