Plan a Spring Break Bachelor Party (2023 Guide)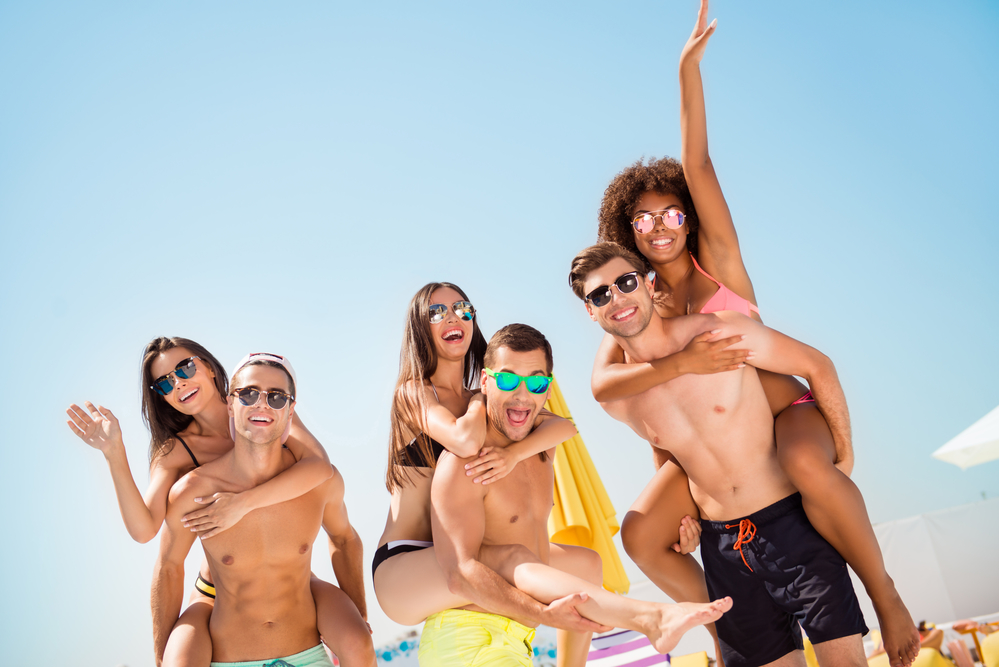 This post may contains references to products from one or more of our advertisers. We may receive compensation when you click on links to those products or services. Please also consider
donating to our website.
Tennyson pointed out that, "In the Spring, a young man's fancy lightly turns to thoughts of love," and we tend to agree. It is not surprising, then, that spring break also makes a great time for a bachelor party. While many modern historians suggest that the origins of the spring break tradition date to the ancient Romans who celebrated this time of year with bacchanalia of all sorts, we like to think that the first spring break took place immediately after the invention of beer more than seven thousand years ago.
Regardless of its specific origins, if the groom's wedding will take place from late February to mid-April, spring break is a great opportunity to have an epic bachelor party that everyone will remember. This guide explains some of the advantages and disadvantages of a spring break bachelor party, as well as some of the top spring break bachelor party destinations, including some insider tips on where to stay and fun things to do besides getting blasted on Jello shots and chasing the strange poon.
If you've never been to a spring break celebration before, that's certainly sufficient reason enough to plan a bachelor party around one (just to get it off your bucket list), but there some important pros and cons involved in making this decision that you should take into account, most especially the following:
Pros
Smoking hot college girls galore. More girls than you've ever seen assembled in one place in your life. Girls, girls, girls.
Smoking hot college girls who want to drink and party, nature's ancient formula for ensuring solid male entertainment.
Smoking hot college girls take their tops off upon request (this should be reason enough for anyone).
Everyone, including the local constabulary, expects you to party hearty and will put up with more nonsense than usual.
The clubs and bars feature their best entertainment during spring break.
Cheap all inclusive deals which include hotel, flight, drink package – fit for a college students budget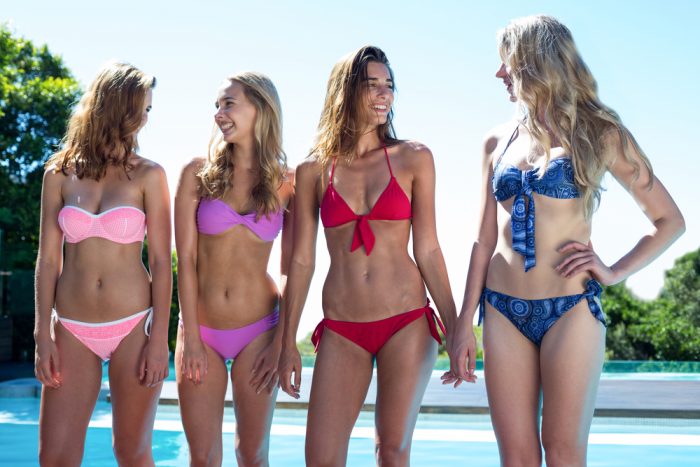 Cons
Alas, one of the harsh realities of most spring break venues is the fact that – and we say this with all due respect and recognize the generalization involved – geeks, dorks and nerds don't typically make attending a spring break celebration a priority. Consequently, unless you look like a swarthy dancer from Hunk-O-Rama, you'll probably be competing with the crème de la studs from every nearby college for any available women.
If you're older (e.g., 30 years or more), the situation is even worse because you will look like the old dudes that never want to grow up.
Besides this unneeded and possibly unwarranted humiliation, there are other cons involved in a spring break bachelor party. For example, unless you spend scads of money at the clubs, the young girls won't want anything to do with you no matter how much booze is involved.
In addition, it's difficult to focus on the groom and making his day special when there are 25,000 screaming teenagers surrounding you, squirting beer and God know what else. Clearly, making a bachelor party special for the groom under these circumstances demands more than casual efforts and may be beyond the abilities of most guys after a few drinks.
Finally, the potential for petty crimes such as pickpocketing may be significantly higher during spring break, especially in certain American cities and foreign destinations.
Assuming this cost-benefit analysis produces favorable results, there are some top spring break / bachelor party destinations that you should consider, including the following:
Top Spring Break Bachelor Party Destinations
While many American cities host spring break celebrations willingly or otherwise, some destinations stand out as being the best available based on their hospitality (e.g., tolerance for drunken rowdiness), their day- and nighttime activities as well as the quality of their hotels, bars and clubs. We describe some of the best spring break destinations in the world below.
Bahamas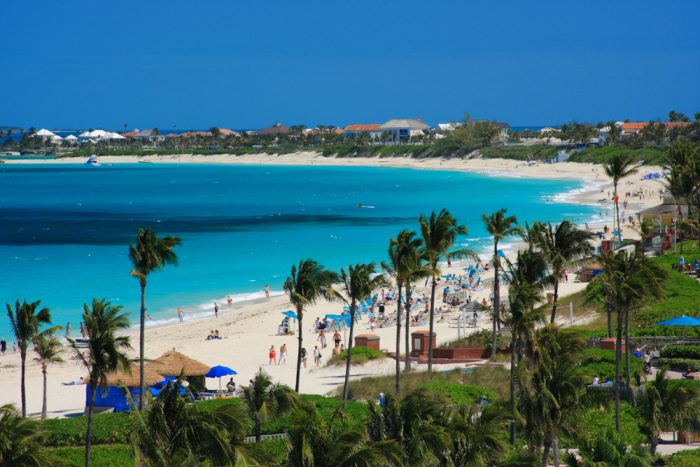 The Bahamas are comprised of dozens of islands, but only a few are inhabited and even fewer are tourist destinations. The largest island is Andros, and the second largest of the Bahamas islands is Abaco which is popular with sailing enthusiasts. Other major island destinations in the Bahamas include Bimini (which is the westernmost island and only 53 miles east of Miami, Florida, which makes it closest destination to the United States mainland) as well as Paradise Island, Berry Island, Eleuthera and the Cat Island as shown in the map below.
Two of the most popular destinations in the Bahamas for spring breakers are Paradise Island and Cable Beach – Baja Mar which are described below, followed by a short recap of the some of the best activities throughout the islands.
Paradise Island
Hotels & Resorts
The top-rated hotels and resorts in the Bahamas for spring breakers include the Comfort Suites Paradise Island. Guests at this resort enjoy free access to the world-famous Atlantis Resort (including Aquaventure, Tidal River Rapids, Beaches, Pools, Theater and The Dig). In addition to a swim-up pool bar and a bar the lobby, this resort features an onsite Crusoe's Restaurant which offers scrumptious lunches and dinners. Although the Atlantis Resort is also the top-rated hot spot in the Bahamas, but there are some others as well including the all-inclusive Paradise Island Harbour Resort and the highly rated Sunrise Beach Clubs and Villas.
Hot Spots
There's plenty of action throughout the day and night on Paradise Island, with most of them centered around the Atlantis Resort such as a visit to the world's largest marine park in the Marine Habitat at Atlantis or the Aquaventure Water Park at Atlantis. Water sports of all kinds and charter tours are also available, but here again, most of these are coordinated through the major Atlantis Resort.
Daytime Activities
Surrounded by scads of spotless beaches (many of them free) and crystal clear waters, it is little wonder that many of the most popular daytime activities in the Bahamas involve water, but there are plenty of other activities available for spring breakers/bachelor parties besides swimming and babe-watching including boat tours; diving and snorkeling and day visits to Atlantis.
Nightlife Activities
While swinging nightlife activities are available on all of the major islands, the following listing is representative of what you'll find during your spring break bachelor party in the Bahamas. If you're feeling lucky (and who doesn't on spring break?), try your luck at the Atlantis Casino on Paradise Island. This world-class casino features state-of-the-art slot machines and all of your favorite table games as well as a sports book where you can place your bets on pari-mutuel horse races.
Bars and Clubs
The top rated bar in Paradise Island is the Dune Bar which does not have a Web site because it doesn't need one but it does have a loyal following of locals and seasoned visitors who are attracted by its beachfront location, laid-back atmosphere and friendly staff. In addition, the Atlantis Resort features numerous upscale clubs and bars, including the Aura Night Club.
Cable Beach – Baha Mar
Hotels & Resorts
Situated on the white beach sands of Nassau's Cable Beach, Baha Mar has a lot to offer spring breakers / bachelor parties. For instance, the SLS Baha Mar is a top rated resort where you and your bachelor party buddies can have a great time without ever leaving the premises. Besides great accommodations and amenities as well as the legendary Carna Steakhouse, this resort features sushi, Italian and Mediterranean style restaurants. Another great resort in Baha Mar is Rosewood – located right on the pristine beach of course. Besides some of the best restaurants in the country, Rosewood also features full service swimming pools and all the amenities you'd expect from a world-class resort.
Hot Spots
There is always action at the Baha Mar Casino, the largest casino in the Bahamas that features a spectacular ocean view as well as more than one thousand of the newest slot machines around and more than a hundred of your favorite table games. The casino also features more than 40 restaurants, clubs, bars and lounges that cater to every taste and budget. In addition, the aforementioned SLS Baha Mar features the Bond Nightclub, the Monkey Bar and a Skybar which is the only rooftop bar in the area.
Daytime Activities
Daytime and nightlife activities in Baha Mar are focused in the three hotels and resorts, together with their dozens of restaurants, swimming pools, casino action and hot tubs.
View Other Activities in Nassau, Bahamas
Bars and Clubs
With dozens of bars and clubs to choose from, you can't go wrong on Baha Mar but some of the more popular venues include the Bond at Baha Mar which is located in the Baha Mar Hotel & Casino and features handcrafted cocktails, LED lighting, a state-of-the-art sound system and world renowned DJs who rock this capacious venue every night.
Other Popular Destinations in the Bahamas
The top-rated hotel and resort for spring breakers in the Bahamas is the Hilton At Resorts World Bimini. Besides a great swimming pool, this resort has its own spectacular beach, a world-class marina and water sports such as jet skiing and snorkeling in the pristine waters surrounding the resort, as well as bicycle rentals, a video arcade and tennis court.
Other top rated hot spots in the Bahamas include Nassau's aforementioned Cable Beach, Exuma Cays Land and Sea Park, Harbour Island, Grand Bahama, Andros Island, Treasure Cay ("cay" means a low bank or reef), Elbow Cay (with its well known candy-striped lighthouse), Green Turtle Cay and Bimini.
Finally, we thought it important to mention the Cape Eleuthera Resort & Marina which is located between Rock Sound and Exuma Sound in Eleuthera Bahamas offers everything you need to have a great time onsite or as a base to venture out into the Caribbean Sea and Atlantic Ocean in style. Featuring private villas and roomy cottages, this resort also has an onsite gift shop, bar and restaurant, as well as a nearby marketplace which provides in-room deliveries of fresh produced, snacks and sundry items you may have forgotten to pack.
Check out more information on Nassau spring break destination from studentcity.com
---
Las Vegas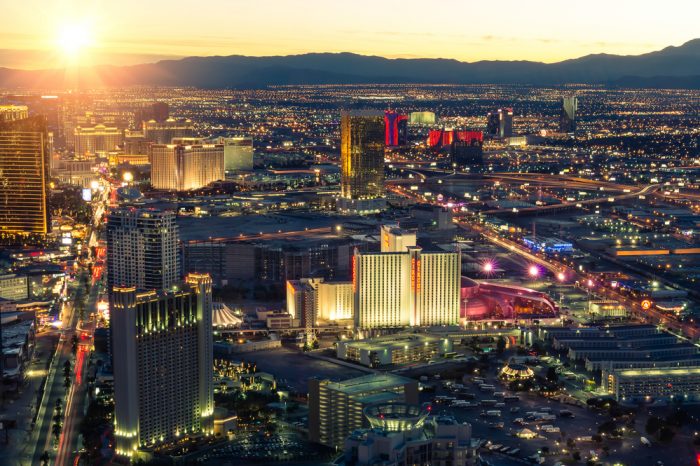 Hotels & Resorts
Many people may not know it, but "Las Vegas" is not only Spanish for "the Meadows," but it also means "spring breakers and bachelor partiers always welcome," and it is the number one tourist destination in the world. With about 150,000 hotel rooms, "Sin City" certainly lives up to this claim and there are accommodations available for every budget. Some of the top rated hotels and resorts for spring breakers in Vegas include the Cosmopolitan of Las Vegas (right on the Strip), Hooters Casino Hotel (with $1 blackjack tables!), the Luxor Hotel & Casino (the "Pyramid" featuring live comedy shows by world-class entertainers such as Carrot Top) and the Encore at Wynn Las Vegas (with panoramic views of the city).
Hot Spots
Besides being literally hot (the last time we visited it was 117 degrees Fahrenheit when we deplaned), there are hundreds of highly rated hot spots in Las Vegas that will make your spring break bachelor party the memorable event you want. For example, the vista views from the world-s highest observation wheel, the High Roller Observation Wheel, are worth the trip, especially when you book an open bar cabin which comes complete with a bartender and an open bar for the 30=minute rotation. Moreover, the High Roller specializes in bachelor parties so you and your buddies will be right at home while you enjoy the ride.
You can also cool off at another hot spot, the all-inclusive Vegas Rockstar Pool Party Tour which comes complete with a limousine party bus tour of the Vegas Strip and drink specials.
Daytime Activities
Some of the most popular daytime activities in Vegas besides the casinos include Vegas Indoor Skydiving, the ultra-cool Neon Museum (showcasing the history of Vegas through neon), and, for those in the mood for some real action, the Slotzilla Zip Line (fly like a superhero for five blocks!).
Nightlife Activities
Although New York may be the "city that never sleeps" Las Vegas is a 24-hour a day operation that virtually anything that is open during the day will be open at night as well. There are some nighttime activities available in Vegas, however, that are specially suited to spring breakers / bachelor partiers including the top rated Treasures Gentlemen's Club and Steakhouse which specializes in bachelor parties and offers free limo pick-ups for you and your friends, dozens of gorgeous exotic female entertainers, an "all you can drink" special and a buffet overflowing with all your favorite foods.
You may have thought you have already visited here, but the Deja Vu Showgirls also specializes in bachelor parties and features free limo pick-ups, periodic free admission and drinks, and some of the most beautiful women in the country.
View Other Activities in Vegas
Bars and Clubs
In reality, you can't turn around in Las Vegas without finding a bar or club, so your choices are virtually unlimited for a visit of a few days. To help get you started, some of the top rated bars and clubs in Vegas include the South Seas-themed Frankie's Tiki Room (be sure to sample their exotic rum drinks!), the aptly named Atomic Liquors which features vintage Space Age décor and craft beers. Atomic Liquors even has a patio for the cooler evenings or mid-winter when the temperature drops to a bone-chilling 90 degrees. In addition, the Center Bar located in Hard Rock Hotel & Casino offers delicious cocktails and cold draft beer in an upscale, rock-driven setting. Be sure to try their "Painted Woman" cocktail (Stolichnaya Razberi, X-rated fusion prickly pear juice, fresh lime juice and orange blossom water).
Need more information?  Check out our article on planning a bachelor party in Las Vegas.
---
Dominican Republic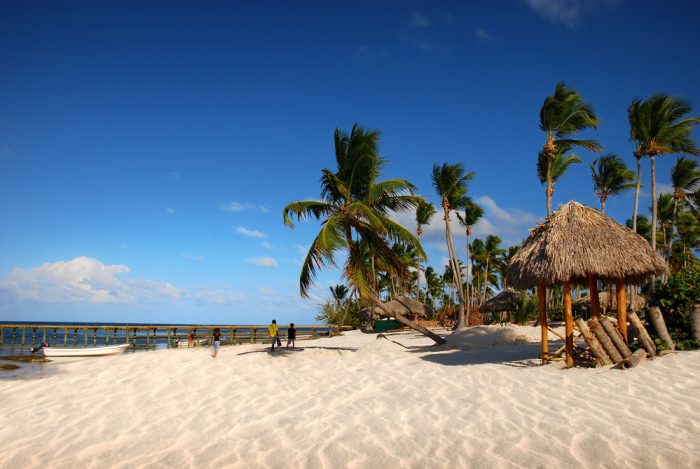 Located just about 950 miles from the mainland United States, the Dominican Republic occupies the eastern half of Hispaniola (the eastern half is Haiti – see map below).
The friendly Spanish-speaking people of the Dominican Republic absolutely love Americans since the majority of their revenues are generated through tourism and trade with the United States. Therefore, and not surprisingly, there are also numerous spring break opportunities available in the Dominican Republic, including the all-inclusive StudentCity spring break experience on Punta Cana. If you want to avoid the teeming masses of college kids, though, we recommend the hotels and resorts listed below.
Hotels & Resorts
One of the best resorts in the Dominican Republic for spring break season is the all inclusive Dreams Punta Cana Resort & Spa located on the east coast in a lush tropical paradise. Besides a huge swim-up bar and in the largest swimming pools in the country, Drams Puna Cana also features numerous on site dining and drinking venues so you'll never have leave (we bet you won't want to, either).
Another great resort for the spring break season in the Dominican Republic is the all inclusive Hard Rock Hotel & Casino Punta Cana. This resort has thirteen swimming pools, nine restaurants, a golf course designed by none other than Jack Nicklaus and spa tabs in their luxurious suites to help revitalize you for the late night casino action. Surrounded by pristine beaches, the Hard Rock Hotel & Casino is a great choice for your spring break bachelor party.
Hot Spots
Many of the favored hot spots in the Dominican Republic involve the beaches and water sports, but there are some other popular venues available for visitors including enjoying the best whiskeys in the world and people-watching at Harry's Bar and Restaurant located right on the plaza overlooking the Alcázar de Colón (also known as Columbus Palace). If you're in the mood for some more adventurous, try the 4.5 hour off-road 4×4 Dominican Adventure from Punta Cana with Chocolate and Coffee Tasting tour of the lush and exotic jungles in Puna Cana
Daytime Activities
If you can pull yourselves away from your luxurious resort, you and your buddies can explore a river cave and multiple islands on a 4 X 4 ATV or a catamaran with a full-day package from Tour Package in the Dominican Republic. If you want to explore some of the less known parts of the island, check out the Outback Safari Adventure Tour from Punta Cana Full-day Package: ATV 4×4, River Cave, Catamaran and Snorkeling from Punta Cana. The tour includes a brunch buffet and boogie boarding on one of the island's beautiful beaches. There's even an open bar during the happy hour that concludes the tour.
Nightlife Activities
The action really heats up at night at the Coco Bongo Punta Cana (recipient of the 2017 Certificate of Excellence from TripAdvisor) where you and your friends can enjoy world-famous entertainments including exotic dancers and choreographed stage shows. Moreover, the Coco Bongo specializes in group events such as bachelor parties so you'll be sure to have a great time.
Other popular nightlife activities in the Dominican Republic include crawling through the numerous beach bars that dot the landscape, and you can even arrange for taxi service to and from so you can party freely with your buddies.
View Other Activities in Punta Cana
Bars and Clubs
The El Mosquito Art Bar has a unique atmosphere that encourages partying, and is a popular venue with tourists and locals alike. Besides their great drink selections, El Mosquito also features live entertainment that keeps the place lively from open to close. Likewise, you can't go wrong paying a visit to the Imagine Nightclub located in an underground cave with hopping music and great drinks that make the experience lively, interesting and entertaining.
Check out more information on Punta Cana spring break destination from studentcity.com
---
Miami Beach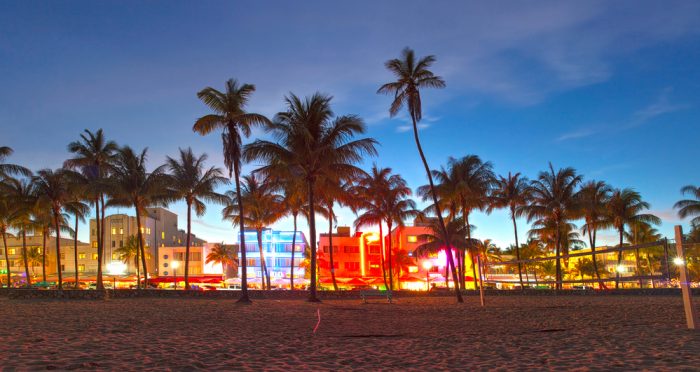 With tons of fun things to see and do combined with dozens of world-class resorts, it is little wonder that Miami Beach has become a popular destination for spring breakers in recent years and we encourage you to consider this destination for your bachelor party.
Hotels & Resorts
The top rated resort in Miami Beach is the beachfront Eden Roc Miami Beach Resort where they feature early check in and late check out, cabana rentals, a pool and bench menu, an on-site café and all of the luxurious amenities you would expect from a world-class hotel.
Another highly rated resort in Miami Beach is the beachfront South Seas Hotel where you can laze about in a hammock under breezy palm trees while you order yet another umbrella drink and a tasty burger from the resort's Pilikia by the Pool. In addition, the South Seas also offers a complimentary wine and cheese hour in the evenings as well as free beach chairs and umbrellas.
Likewise, The Setai has luxury amenities, Asian-inspired guest suites and an onsite spa to reinvigorate yourselves for the day's festivities.
View all Hotels in South Beach
Hot Spots
The whole Miami Beach island is rocking during spring break season and special events are scheduled throughout, but some of the more popular hot spots with spring breakers include The Clevelander Hotel's outdoor bar on Ocean Drive, the 17th Street Beach in South Beach, and the Ocean Drive Café.
Daytime Activities
Here again, many of the favorite daytime activities in Miami Beach involve the water, but there are some truly stellar offerings available that set this destination apart from some other resort cities. For example, do you want to have fun? We mean REALLY have fun! Then check out the Speedboat Sightseeing Tour of Miami provided by Thriller Miami Speedboat Adventures. You and your bachelor party buddies can tour the Miami coastline featuring Fisher Island and Star Island's numerous multi-millionaire and celebrity homes in this 45-minute speedboat cruise. There are also great photo opps of the of the Art Deco mansions that line Miami Beach's South Beach.
Another exciting –and inexpensive — daytime adventure available in Miami Beach is the Everglades Airboat Safari through the Everglades National Park that comes complete with an alligator show (watch your hands!), photo opps with a baby alligator (watch your fingers) and free pick-up and drop-off at your hotel or resort.
If you're in the mood for some lazy sightseeing, be sure to check out the Big Bus Miami Hop-On Hop-Off Tour with a professional tour guide. The Big Bus lets you and your friends hop off and on at more than 40 top attractions in the city, including Little Havana.
Nightlife Activities
With more than 100 beautiful exotic dancers each night, you and your friends will be certain to enjoy the show at G5ive Miami. Like most other gentlemen's clubs, G5ive specializes in bachelor parties so you can be confident that the groom and his friends will have a great time they will always remember.
You may not strike it rich at the Gold Rush Cabaret, but you will be entertained by the great food and $5 drink happy hours at this legendary gentlemen's club. With three levels of entertainment, multiple stages and state of the art lighting and sound systems, the action never stop at the Gold Rush!
View other Activities in Miami Beach
Bars and Clubs
One of the most popular spots in Miami Beach for spring breakers and local as well is the Bleau Bar where you are bathed in soothing blue lights while you chill with your friends.
Another top rated bar in Miami Beach is the Broken Shaker voted Best American Hotel Bar by Tales of Cocktails. Their specialty cocktails and special event sized dishes (serves up to 15 people) combine to make the Broken Shaker the perfect place to start your evening in Miami Beach.
Finally, the STORY Nightclub features world-famous DJs and concert style light shows that combine to make your visit a dazzling and exciting adventure in music and booze-fueled fun.
Need more information?  Check out our article on planning a bachelor party in Miami Beach.
---
Puerto Vallarta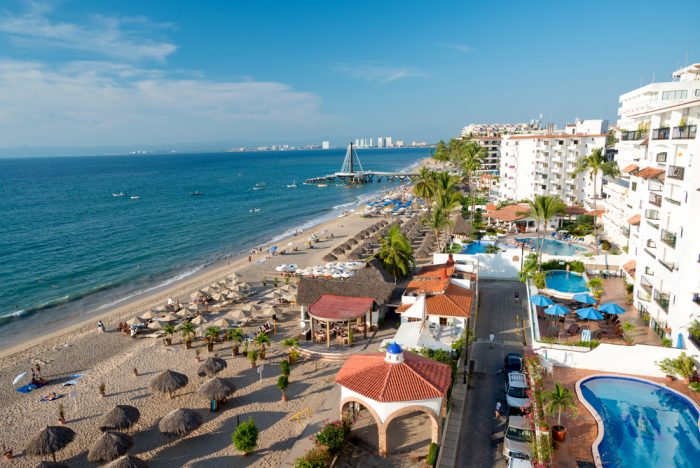 Situated on the Pacific coast of Mexico, the former sleepy resort town of Puerto Vallarta became world famous after Elizabeth Taylor and Richard Burton filmed "Night of the Iguana" there in 1964, and the city has since become widely known for its beautiful beaches, swinging nightlife opportunities and water sports activities.
Hotels & Resorts
Puerto Vallarta has long attracted the budget-minded college crowd and there are a number of hostels and cheap hotels available throughout the city. There are some great deals on hotels and resorts, though, that will accommodate almost any budget including many that are highly rated for spring break such as the all inclusive Sunset Plaza Beach Resort & Spa. With several onsite bars and restaurants, luxury amenities at a bargain price and an adults-only in infinity heated swimming pool, you and your bachelor party friends can party the night away.
Likewise, the highly rated, all inclusive Sun Escape Puerto Vallarta Resort which features furnished private balconies with spectacular views of the ocean as well as all of the amenities expected from a world class luxury resort. In addition, the highly rated Velas Vallarta Suite Resort is also all inclusive and offers rates that are substantially less than many of its competitors.
View all Hotels / Resorts in Puerto Vallarta
Hot Spots
The Twisted Palms Rooftop Lounge is popular with tourists who cite the talents of its mixologists as well as a relaxing ambiance that will make your trip to Puerto Vallarta the special occasion you want for an epic bachelor party. Another highly rated hot spot in the city is the aptly named The Hot Spot which specializes in hosting group events and features periodic nonstop pool parties, a hit atmosphere and delicious drinks.
Daytime Activities
If you and your friends are staying at a luxury resort, you may just want to spend you days around the pool, body surfing in the ocean, enjoying a few drinks and the local specialty cuisines. Many people enjoy the mile-long boardwalk known as the Malecon which hosts dozens of restaurants, shops, and bars.
You can also take advantage of the warm climate in Puerto Vallarta by taking a Yelapa & Majahuitas Catamaran Tour, one of the top ten best activities as rated by Expedia. Featuring snorkeling and coral reef viewing in the morning followed by a catered picnic lunch served by a friendly and knowledge staff together with an open bar and tour of the traditional Mexican fishing town of Majahuitas, you and your buddies will be sure to have a blast on this luxury catamaran.
The highly rated Las Marietas Eco Discovery tour also offers snorkeling in the crystal clear waters off of Puerto Vallarta as well as guided kayaking tours to explore the beautiful Marietas Islands, a favorite destination of Jacques Cousteau.
Nightlife Activities
You'll see that Puerto Vallarta is no longer a sleepy little village when nighttime rolls around and the city really starts hopping. Besides its well maintained and safe zona rose together numerous coffeehouses, bars and clubs, nighttime activities in Puerto Vallarta also include a Very Cool Pirates of the Bay tour featuring a free bar, a "drunken" violinist, pirates with real swords, acrobatic displays and a simulated shelling of the city and concludes with a fireworks shows.
View Other Activities in Puerto Vallarta
Bars and Clubs
One of the best rated bars in the city is the beachfront Bar Morelos Mezcaleria which attracts hot babes and offers dinners and cold drinks. Another highly rated bar is the Bar La Playa which is considered a hidden treasure by many first time visitors because of its handcrafted cocktails served in an upscale setting.
Check out more information on Puerto Vallarta spring break destination from studentcity.com
---
Daytona Beach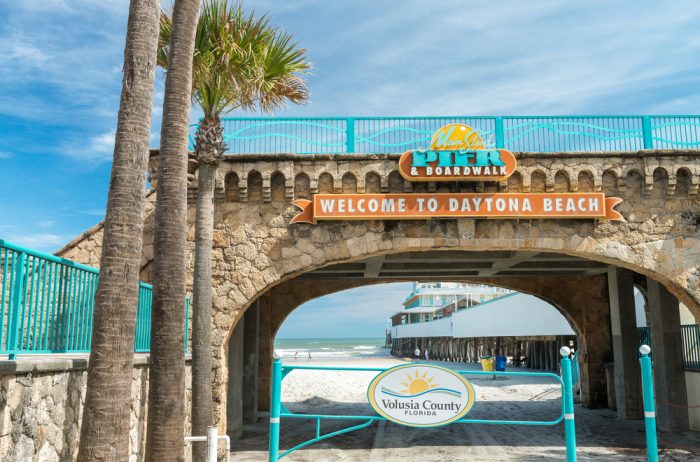 Best known for its International Speedway that hosts the annual Daytona 500 NASCAR race, Daytona Beach makes a great destination for a spring break bachelor party and tens of thousands of young people flock to the beaches here each year for some hearty partying.
Hotels & Resorts
Since it is located on and near some of the best beaches in the country, it is not surprising that Daytona Beach also has a number of luxury hotels and resorts available. One of the best is the multisyllabic beachfront Tropical Oceanfront Winds Resort Hotel. With sun, sand and surf, a poolside café, private balconies and an indoor heated pool, you and your friends can enjoy a stay at this resort virtually any time of year. This resort also specializes in group events.
Another highly rated resort in Daytona Beach that makes a great place for your spring break bachelor party is the Ocean Breeze Club Hotel pictured below.
The Ocean Breeze Club Hotel has all of the luxury amenities and is located directly on the beach. The Ocean Breeze Club Hotel is also located near many of the best local attractions, including the Daytona International Speedway and the Ocean Walk (described below). The Atlantic Jack's restaurant is also located on site, together with a large swimming pool and private balconies.
View all Hotels in Daytona Beach
Hot Spots
Many of the best hot spots in Daytona Beach can be found on Main and Beach Streets, the A1A from Ormond-by-the-Sea to Ponce Inlet; and Seabreeze Boulevard. In addition, International Speedway Boulevard in Daytona Beach; and Granada Boulevard in Ormond Beach also feature numerous popular hot spots.
In addition, the beachfront Ocean Walk is a popular hot spot with local residents and visitors alike due to its numerous shopping opportunities (don't forget some kitschy souvenirs for the bride-to-be and her maids of honor!), a Cinematique theater with reclining leather seats, a wide array of restaurants and bars and perfect people-watching opportunities all day and night long.
Daytime Activities
You can spend an entire day having fun at the Daytona Lagoon water park which has a gigantic arcade, go-karts, water slides and swimming pools (of course), laser tag and a climbing wall.
If you and your friends are interested in outer space, the Kennedy Space Center Visitors Complex where you'll get to see the Space Shuttle Atlantis up close and personal in the morning and veteran astronauts in the afternoon. You can also strap yourself in for an unforgettable ride on the Complex's Shuttle Launch Experience.
If you've never gone 145 miles per hour before, you don't want to miss the Richard Petty Race Car Ride-Along Program at Daytona International Speedway provides you with a real world three lap experience riding in a real NASCAR racecar.
Nightlife Activities
Most of the nighttime activities in Daytona Beach are found in the hundreds of bars, clubs and restaurants in the city, but you and your buddies can also enjoy a fun evening at the Joke Factory. Besides a full liquor bar with signature martinis and regular drink specials, the Joke Factory also features side-splitting comedians that you may have seen before and will likely see again on television in the future.
View Other Activities in Daytona Beach
Bars and Clubs
With immersive lighting, state of the art sound systems and nightly free drink specials, Razzle's has long been a popular nightclub. Razzle's also features a Spring Break Night throughout March each year.
If you're a karaoke fan or just want to try it for the first time, Yaya's Beachside Bar has just what you want. Play some darts, shoot some pool, watch some sports on their numerous TVs, and you can even order food from local restaurants directly from their own menu.
Check out more information on Daytona Beach spring break destination from studentcity.com
---
South Padre Island
Located on the barrier reef that shares its name, South Padre Island is a resort city located on the southern coast of Texas well known for its beaches and calm waters as shown in the map below.
Like many of the other destinations described in this article, South Padre Island is also a highly popular spring break destination and the city offers much to see and do as well as some great places to stay as noted below.
Hotels & Resorts
In addition to all of the amenities typically offered by luxury resorts, the beachfront Schlitterbahn Beach Resort also has an onsite bar and three specialty restaurant, beach umbrellas as well as a pool bar and swim up bar in its two outdoor swimming pools.
Despite being moderately priced, the beachfront La Copa Inn Beach Hotel also has all of the usual luxury amenities as well as free breakfasts, a café, a grocery and convenience store, a fitness center and even an electric car charging station.
The Isla Grand Beach Resort has two outdoor swimming pools, a poolside bar, two onsite bars, poolside sun loungers and all of the amenities you and your bachelor party friends will need during your visit to South Padre Island.
View all Hotels in South Padre
Hot Spots
Specializing in bachelor parties, Louie's Backyard is also popular with spring breakers who enjoy its casual surf 'n' turf food and decks that overlook Laguna Madre Bay. In addition, Louie's Backyard also features numerous bars, live DJ music and dancing.
Although the Jaguars Club does not have a single big cat, it does have great food and service as well as some of the prettiest women in South Padre Island.
Daytime Activities
The Schlitterbahn Beach Waterpark is world famous for its unique combination of interesting and fun water park activities, including the ability to move from ride to ride without ever having to leave the water, man made wave surfing, water coasters and a lazy river where you can relax.
A great way to see South Padre Island is from a water bike from Water Bike Rental. The modest charge for the water bikes includes a brief lessons on how to use the crafts safely, exotic bird watching, and a private boat ramp for launching and recovery.
Nightlife Activities
If you're in the mood for something besides bar hopping, be sure to check out Gravity Park. Open nightly from 7:00 p.m. to midnight, Gravity Park has roller coaster go-karts, a Skycoaster, reverse bungee, an 18 hole miniature golf course, a trampoline ride, climbing wall and arcade.
Described by Playboy magazine as "the place you want to be in South Padre Island" for nightlife, the Wanna Wanna Beach Bar & Grill is located right on the beach and live music provided by bands such as Pelican West, the Bongo Dogs, and EJ Colbath.
View all Activities in South Padre
Bars and Clubs
Headquarters for the island's Green Bay Packers fans, the Coral Reef Lounge and sports bar has flash screen TVS, a retro vibe, live music, and karaoke that have made it a long time popular (since 1982!) gathering spot for tourists and locals.
The bayside Tequila Sunset nightclub specializes in group events and features live music and entertainment, daily happy hour, and some of the best drinks in the city. Enjoy the unbelievable sun sets this venue offers as well as evening fireworks displays.
Check out more information on South Padre spring break destination from studentcity.com
Need more information?  Check out our article on planning a bachelor party in South Padre Island, Texas.
---
Panama City Beach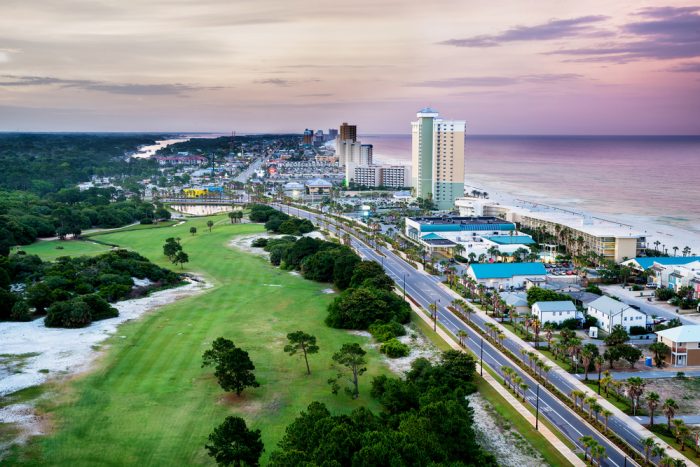 Situated in northwest Florida as shown in the map below, Panama City Beach is a popular destination for vacationers year round and attracts its fair share of spring breakers too who take advantage of its miles of white sand beaches and the Gulf of Mexico's clear waters.
Hotels & Resorts
The three-star Holiday Inn Resort Panama City Beach offers a breach front deck complete with a tiki bar as well as private balconies that provide unparalleled view of the Gulf of Mexico as well as all of the other amenities typically found in luxury resorts, including daily live entertainment and numerous on site lounge and dining facilities.
Also rated three-stars, the waterfront Laketown Wharf Resort features five outdoor swimming pools, a lakefront boardwalk, casual dining on site, and condo style suites that can accommodate several guests.
View all Hotels in Panama City, Florida
Hot Spots
Pier Park is a popular gathering place all day long in Panama City Beach due to its 124 stores (see the souvenir reminder above), the Grand IMAX Theater, and plenty of bar hopping opportunities including Dave and Buster's and live music at Tootsies.
The highly rated Coyote Ugly saloon it also a popular hot spot and features friendly female bartenders, bartop dancing and body shots with beautiful female dancers.
Daytime Activities
Get a bird's-eye view of the city and its environs with the Panama City Beach Helicopter Tours that offers six different tours ranging from 5 to 36 miles.
Watch the dolphins frolic while you and your buddies do the same aboard the Adventures Catamaran. Besides dolphin sightseeing, Adventures Catamaran also offers snorkeling tours, adventure tours and even a 2-hour sunset cruise where you can relax after a tough day having fun.
Nightlife Activities
You don't want to miss out on visiting the largest nightclub in the United States at the Club La Veta. With ten theme rooms, 48 bar stations, and 50,000 watts of sound, the Club La Veta fills out this capacious venue also features great entertainment and all of your favorite spirits and beers as well as some you may not have encountered.
The best gentlemen's club in Panama City Beach located right on the beach is the Show-N-Tail the Legend LLC has a full bar, drop-dead gorgeous and friendly exotic female dancers and great DJs who keep the place rockin'.
View other Activities in Panama City, Florida
Bars and Clubs
Featuring a high energy biker bar vibe, the beach front Salty Goat Saloon has shuffleboard, pool tables and patio seating as well as a great selection of pub grub offerings and live music.
The ocean front Sandpiper Tiki Bar is highly rated by TripAdvisor and a beach bar located in the Sandpiper Beacon Beach Resort that features mouth-watering specialty drinks, beachside games and contests, as well as live entertainment and shows.
Check out more information on Panama City spring break destination from studentcity.com
Need more information?  Check out our article on planning a bachelor party in Panama City Beach, Florida
---
Jamaica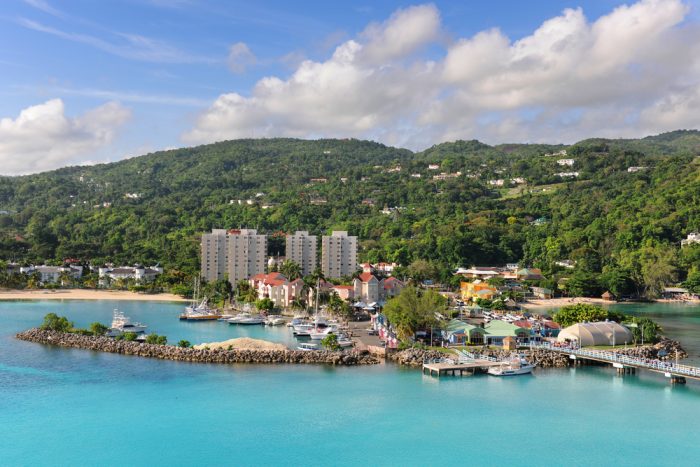 As shown in the map below, Jamaica is a Caribbean island nation that is a popular with tourists for its numerous all-inclusive resorts, water sports activities and reggae music tradition. The main tourist destinations in Jamaica are Montego Bay, Ocho Rios, Negril, and Port Antonio.
Hotels & Resorts
The highly rated Sandals Carlyle is located in Montego Bay and surrounded by lush tropical gardens. In addition, Sandals Carlyle has three on site restaurants, unlimited complimentary booze, stocked bars in every room and day and night tennis. This resort also offers complimentary 24-hour room service, and the all-inclusive costs include "dine and play" privileges at two other nearby Sandals resorts with free shuttle service.
The Beaches Negril resort is located on a beautiful 7-mile stretch of pristine beaches and features luxury amenities, an on site water park, wind surfing as we as numerous restaurants, bars and swimming pools.
View all Hotels / Resorts in Jamaica
Hot Spots
Located in Montego Bay with beach access, the Hip Strip is the island's major hot spot for all types of food, drinks and shopping all day and night long. Be sure to bargain with the vendors for some of the unique souvenirs that are available in the dozens of shops and travel in groups after dark.
Daytime Activities
Dunn's River Falls & Park in Ocho Rios (Jamaica's major port of call for cruise ships) features 590 feet (180 meters) of spectacular terraced waterfall and is among Jamaica's most famous natural attractions. After a guided tour to the top of the falls, you can take a dip in the crystal clear pools at the bottom.
For a daytime activity that you and your friends will always remember, enjoy a once-in-a-lifetime experience by Rafting the Martha Brae River. Besides plenty of bikini-clad women, the 3-mile rafting adventure on this jungle river includes round-trip hotel transfers and a complimentary fruit drink upon your arrival.
Nightlife Activities
Take a guided tour around Luminous Lagoon on this Night Cruise in Jamaica. Round trip transportation is included in the price of the night cruise, and you can select from an number of departure locations.
The "car wash by day and strip club by night" Scrub A Dub Club in Negril specializes in group events and features hot exotic female entertainers who will make sure you and your bachelor party friends – especially the groom – have a great time.
View other Activities in Jamaica
Bars and Clubs
Selecting the best bars and clubs will depend on where you're staying, of course, so be sure to check with Google and your resort staff; two of the most popular bars in Jamaica are described below.
Voted the "best nightclub in the Caribbean and located in Negril, the Jungle features an upstairs, open air patio, seven bars, local and international cuisine, a VIP lounge and seating area perfect bachelor parties, and free shuttle service.
The Gen-X Sports Bar and Night Club is located in Ocho Rios offer a wide range of signature drinks, ice-cold air conditioning and even free mobile phone charging stations.
---
Cancun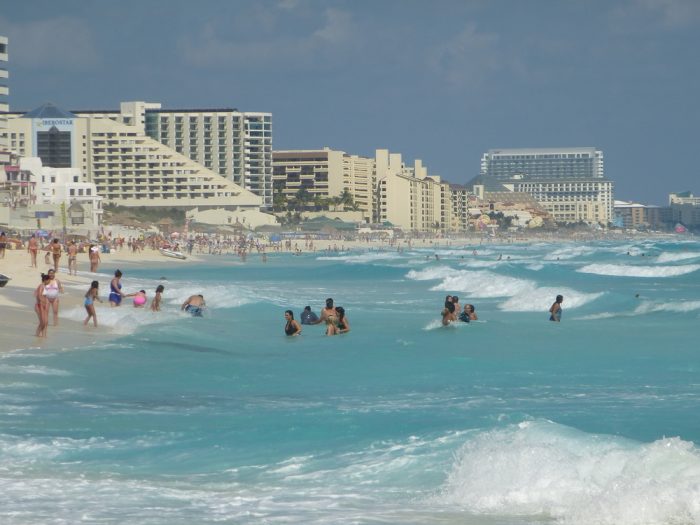 Also a major destination for spring breakers, Cancún is located on the Yucatán Peninsula which borders the Caribbean Sea. This specifically designed resort city is popular because of its great beaches, numerous resorts and nightlife scene. Cancun is comprised of two primary distinct: El Centro which is the traditional downtown area and Zona Hotelera which includes beachfront shops, restaurants, bar high-rise hotels, nightclubs.
Hotels & Resorts
The highly rated, all-inclusive Panama Jack Resorts Cancun resort includes all of the usual amenities and boasts luxury accommodations with ocean views, five restaurants and cafes, two oceanside swimming pools and a spa.
The top rated Hard Rock Hotel Cancun is also a luxury destination that includes a private beach, outdoor swimming pools with swim-up bars, and a spa. Don't be surprised if you see some major celebrities during your visit to the Hard Rock Hotel.
View all Cancun Hotels / Resorts
Hot Spots
The tagline of Senor Frog's is 'Unleash Your Fiesta" and this hot spot is hopping with spring breakers, but it's also a popular hot spot year round. With a water slide that ends in a lagoon, entertainment shows, and great drinks and music, it is little wonder this bar is crowded during spring break.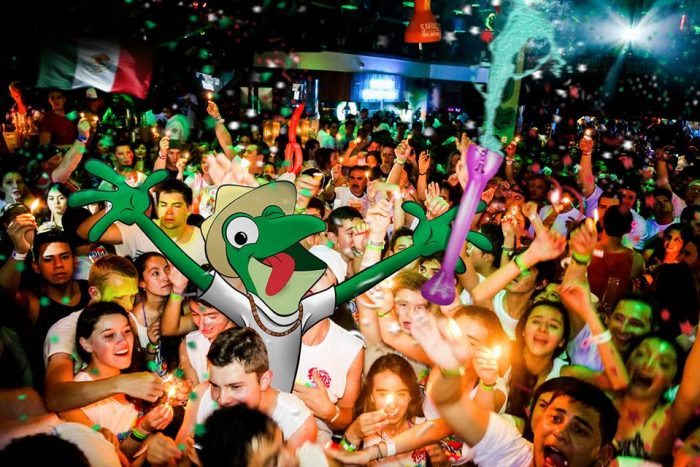 Typical Spring Break Scene at Senor Frog's
Located in the main downtown area of Cancun between Yaxchilan Avenue and Tulum Avenues, the Parque las Palapas is always popular with first time visitors as well as seasoned tourists. The Parque las Palapas offers numerous street food sampling opportunities from food stands and carts as well free live entertainment events.
Daytime Activities
For something really special, you can snorkel or scuba dive to tour the Museo Subacático de Arte located off the nearby coast of Isla Mujeres. The museum is actually an artificial reef that includes more than 500 life sized sculptures (including a VW Bug) and tropical fish species.
Another fun daytime activity that is popular year-round in Cancun is swimming in three underwater rivers that laze through the Yucatan Penisula and provide a relaxing way to spelunk.
Nightlife Activities
Enjoy a 3-hour evening cruise and show on the Captain Hook Ship Dinner and Show charters. With an open bar, a selection of dinner, menus, contests, and even a sea battle, you and your buddies won't be bored for a second.
You and your friends can avoid the long lines that are typical of the spring break season by taking a VIP Nightclub Tour of three different clubs with VIP entry access. Moreover, this guided tour features unlimited drinks at open bars at all three clubs.
View other Activities in Cancun
Bars and Clubs
The moderately priced Coco Bongo Cancun is the top rated bar in the city, and has even received TripAdvisor's Certificate of Excellence. Besides an enormous video screen, you'll find soap bubbles, balloons, confetti, streamers and other special effects that help create a real party atmosphere. The Coco Bongo also features bar top conga lines, flying acrobats, live bands and energetic DJs. This bar has been lauded by Rolling Stone Magazine, MTV, CNN, and Billboard Magazine among others.
Check out more information on Cancun spring break destination from studentcity.com
Need more information?  Check out our article on planning a bachelor party in Cancun, Mexico.
---
Cabo San Lucas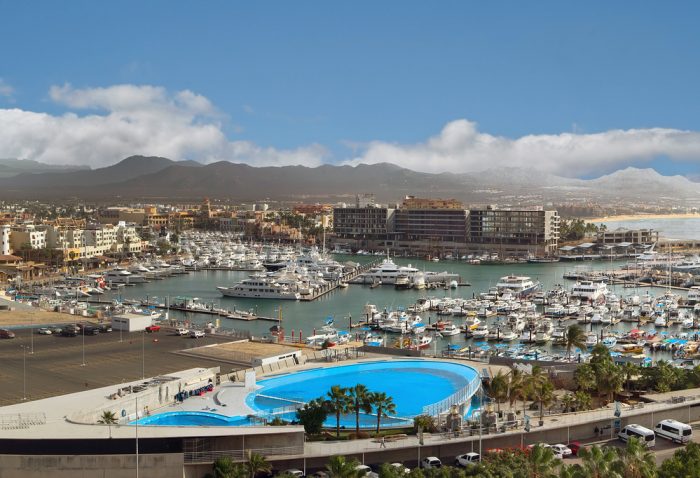 Located on the southern tip of Mexico's Baja California peninsula (see map below), Cabo San Lucas is a world famous resort city that is popular with many spring breakers for its beaches and nightlife activities.
Looking for more detailed information, check out our article on planning the perfect Cabo San Lucas bachelor party.
Hotels & Resorts
The top rated and all inclusive Cabo San Lucas Resort and Spa features a Dirty Dancing Night party and private terraces on its upscale suites which provide unrestricted views of the Pacific Ocean meeting the Caribbean. Besides all of the other amenities you'd expect from a luxury resort, the Cabo San Lucas Resort and Spa also has spa, bathroom robes and slippers for guests and 24-hour room service.
The all-inclusive Resort at Pedregal is situated right on the beach at the tip of the Baja California Peninsula. In addition to fireplaces in sitting areas with ocean views, the one- to four-bedroom suites at this luxury resort also include free breakfast, terraces with plunge pools, and 24-hour room service.
Hot Spots
Cabo's main beach and one of its leading year-round hot spots is Playa El Médano ("Medano Beach) which features a great swimming beach, numerous outdoor restaurants and bars, as well as all of the water sports activities you enjoy, including glass bottom boat tours and parasailing.
First-time visitors to El Squid Roe will be surprised at all of the space in this Cancun hot spot. The largest venue in town, El Squid Roe has three floors and five full bars that serve mile-high drinks, as well as private VIP areas that make this a great spring break bachelor party destination.
Daytime Activities
Specializing in bachelor party cruises, you can be confident of have a blast with Cabo Party Fun which offers two unique tours, a booze cruise or a pole dance private cruise, complete with human balls and pole dance parties (ask for Suzanne). In addition, Cabo Party Fun offers snorkel cruises, breakfast while whale watching and fajitas at sunset. What are you waiting for?
Explore Cabo San Lucas in style with Los Cabos Combo Tour with Free Photos: Boat Ride, City Sightseeing and Shopping. This full-day glass-bottom boat tour includes great views of tropical fish and El Arco as well as free transportation to and from your hotel or resort. You'll even receive a guided tour of a local glassblowing factory.
Nightlife Activities
In addition to scrumptious appetizers, an unlimited open bar with wine and other beverages, the Cabo Sunset Sailing Cruise specializes in groups and provides a luxurious way to tour the nighttime Cabo coastline as you and your bachelor party friends relax.
Sandos Finisterra Los Cabos offers a number of fun nighttime activities, including theme nights with shows such as Karaoke Night, Glow Party, and Mexican, Further, SandosFinisterra offer beach parties with music and themes such as the White Party and King of Sandos.
View all Activities in Cabo San Lucas
Bars and Clubs
If you only learn a few words of Spanish during your visit to Cabo, make sure that two of them are Uno Mas?, one of the top rated bars in the city. With the tagline "What happens in Cabo never happened," the Uno Mas? Bar makes it easy to have a great time enjoying their specialty fresh fruit cocktails, their numerous signature drinks and every kind of beer in the universe.
Despite its name, the Nowhere Bar is really there, providing fast friendly service and cheap drinks. Located on the Plaza Bonita, the Nowhere Bar also provides great views of the fishing boats and luxury yachts at the dock.
Check out more information on Cabo San Lucas spring break destination from studentcity.com
Need more information?  Check out our article on planning a bachelor party in Cabo San Lucas.
---
Key West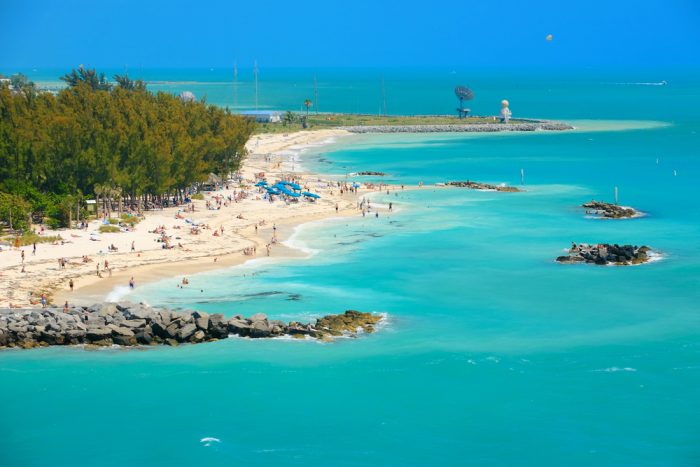 We saved our personal favorite spring break destination for last: KEY WEST!
Part of the Florida Keys archipelago and the state's southernmost point, Key West is an island city joined with the mainland by the Overseas Highway and is located only about 90 miles north of Cuba.
Although Key West has some good beaches, it remains a popular destination for spring breakers looking for fun in the sun for a number of other reasons as well. And with just 3 x 5 miles of land, you can explore the city and its surroundings easily on foot or by renting a golf cart style transport.
Hotels and Resorts
Hotels and resorts on Key West are VERY expensive, so you may want to consider making your visit a day trip and returning to Homestead where accommodations are cheaper. If you prefer staying on the island, though, consider the highly rated but moderately priced, beachside Ibis Bay Beach Resort which has luxury accommodations and amenities right on the beach. The hotel has an on site restaurant, swimming pool, and a bar and lounge as well as offering local excursions to local sites of interest.
Another top rated hotel in Key West is the Parrot Key Hotel & Villas which is also competitively priced for this destination. Besides a bar/lounge, restaurant, two swimming pools (one heated), and all the luxury amenities you'd expect, this hotel also offers free shuttle service.
Hot Spots
The absolute, number one hot spot in Key West for spring break or any other time is Duval Street. This street is lined with bars, restaurants, clubs, souvenir shops and happy people (you can legally drink on the streets in Key West!) morning, noon and night.
Another hot spot in Key West is the daily Mallory Square Sunset Celebration where visitors and locals alike gather each evening to listen to free live music, watch the pretty women dance, enjoy the cool breezes and a few margaritas while they relish the psychedelic sunset. If there's a cruise ship around at sunset, you may not be able to actually see the sun set, but that shouldn't discourage from you from attending this free and zany event.
Daytime Activities
Explore the city on a walking tour. Be sure to start at Duval Street and check out the colorful bars and eateries lining the avenue, but a number of different themes are available, including bar crawls, craft cocktail crawls (the women like this one), seafood lover's tasting and cultural tours, and the list goes on. .
Other popular daytime activities in Key West include diving, snorkeling and kayaking which are readily available, including guided tours of local sites of interest such as exotic coral reefs teeming with tropical fish, and combinations of snorkeling and evening cruises as noted below.
View Other Activities in Key West
Nightlife Activities
Enjoy a relaxing cruise on a luxury catamaran or yacht. Many of these cruises feature unlimited open bars or themes such as champagne and appetizers. This is one of the best nighttime activities in the country, and you and your friends will be glad you invested your time and money.
Other popular nighttime activities include exploring the bar scene along the above-mentioned Duval Street which really gets hopping after sunset.
Bars and Clubs
One of the most popular bars in town is Captain Tony's Saloon, purportedly the original home of the sloppy joe. Sit on Bob Dylan's or Al Pacino's bar stool (you can't miss them) and experience the same ambience as Papa Hemingway, JFK and Harry Truman who maintained his "Little White House" on the island (their bar stools are suspended from the ceiling).
Captain Tony's is also famous for the thousands of bras that have been signed and left as mementos as shown below.
Any bar that gets women to enthusiastically strip off their underwear and hang it from the ceiling is our kind of place.
The "first and last" bar in the United States is the Green Parrot which has been a local institution since 1890, making it one of the oldest continuously operating bars in the country. Recipient of the 2017 TripAdvisor Certificate of Excellence, the Green Parrot features live entertainment, ice cold drinks and even a liquor store.
Need more information?  Check out our article on planning a bachelor party in Key West.
Conclusion
The spring break bachelor party destinations described above only touch on a few of the many hot spots, night- and daytime activities and accommodations that are available, but these listing are representative of what you'll find during your visit. In addition, besides the representative daytime activities described above, virtually all of these ocean side resort destinations feature all of your water-based activities as well as zip lines, parasailing, boat rentals of all kinds and chartered cruise tours. If you agree that the benefits of a spring break bachelor party outweigh the disadvantages we discussed above, you and your friends should consider these popular destinations.