Bachelor Party Key West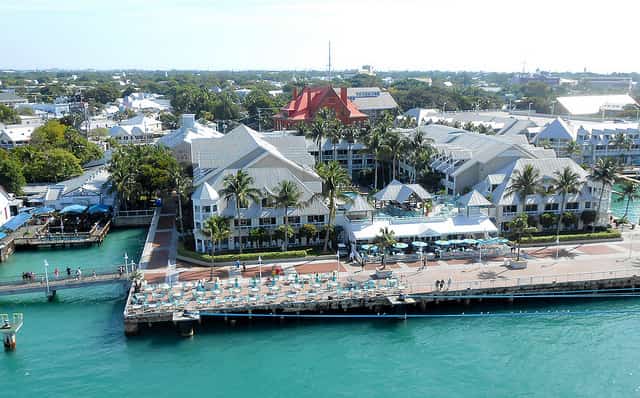 If your plans consists of around the clock drinking, your best bet is to choose Key West for your bachelor party.  Dozens of bars and clubs line both sides of Duval Street so finding a place to blackout will be rather easy.
How To Get There
Airport:
Key West is an amazing location for partying, but it's not easy getting there.  You can try to fly direct into Key West International Airport (airport code:  EYW) which will save you a lot of time, but there are not many flights that go in and out of that airport.  To make it worse there are not many direct flights into Key West.
The other option would be to fly into Miami International Airport (airport code: MIA) which offers a lot more flight options.  The only problem is you will need to take a van or shuttle bus to Key West from the airport which can take 3 1/2 to 4 hours and is also costly.
Starting on July 1, 2017 Uber and Lyft will resume service in Key West.  We recommend using these ride sharing services instead of cabs, for the following reasons:  
-the cabs charge a per person rate, so 4 people in a cab that goes 1 mile can cost up to $24 with tip, a rideshare on the same trip would cost $5.00
-there seems to be a cab shortage in Key West, meaning sometimes we had to wait 20-30 minutes to get a cab.  This is fine normally as everything is in walking distance.  However, when the temperature reaches 95 degrees, the last thing you want to do is walk a few miles to get somewhere and sweat through your entire outfit (which happened several times on our most recent trip).
 You can use our Lyft and Uber referral codes once the service becomes active and get free rides.  If you setup a new account on both services, you can get almost $40 in free rides.
What To Do
Daytime & Nighttime Activities for a Bachelor Party in Key West:
Dante's pool party is something your bachelor party must attend while in Key West.  If you are used to Vegas pool parties you will be greatly disappointed, but this is still a great spot for loud music, drinking, swimming, and people watching.  The doors open at 11am, but the party does not get bumping until 1ish.  They also have a VIP section which reserves you a table and chairs.
Irish Kevin's  – located directly on Duval Street this is a great place to grab drinks and get your balls busted.  The one-man guitar show is great especially when the entertainer shoots a flashlight (fleshlight?) at you and begins ripping you to shreds while the crowd laughs.  Great place for a bachelor party and reasonably priced drinks/shots.
Rick's Bar Upstairs–  also located on Duval Street, this is the closest you will come to a nightclub in Key West.  The bar/lounge/club is located on the second floor which features both outdoor and indoor bars.  The dance floor is located inside where a Djay is playing the latest hits.  Bottle service is available but there is no VIP table section located in the club part.
Rick's Bar Downstairs – when drinking too much makes you feel like a rock star, head over to Rick's for some killer karaoke.  This place always has a good crowd, relatively cheap drinks, and some decent quality singers.  A great place for a bachelor party to impress the ladies with their voices and their wallets.
Sloppy Joes – This is a great spot on the corner of Duval and Greene Street.  They have a live band every night of the week and the crowd is fun.  This place is known for its long list of amazing drinks and beers.
Strip Clubs for a Bachelor Party in Key West:
From personal experience and others opinions, there are two  good strip clubs in Key West.  By good we mean hot chicks, good atmosphere, ample seating, and great lap dances.
Red Garter Saloon – located directly on Duval Street in the heart of all the debauchery.  This club has two stages with plenty of beautiful women to mingle with.  The atmosphere is fun although it tends to get a little packed and stuffy during busy weeks and weekends.  You can reserve a bottle and have you own area but you will need to set that up earlier in the night.
Bare Assets – A decent walk from Duval Street on Truman Ave, but worth the calories burned.  This is a stand alone establishment with ample parking and room inside the club.  Also has a good variety of dancers and the drink prices will not leave you broke the following day.  This club does require a 2-drink minimum.
Where To Eat
Bachelor Party Restaurants in Key West:
Blue Heaven – Located at 729 Thomas Street, this place has excellent food and an even better atmosphere.  Make sure you put your reservations in early and request a table outside, because this place fills up fast.  Do not worry about the wildlife that will crawl around your table, but remember not to feed them.  For dinner I recommend either the Yellowtail Snapper, BBQ Shrimp, or the Jamaican Jerk Chicken.  Regardless of what you order you must not forget a slice of the key lime pie before you leave.  Menu
El Siboney – Located at 900 Catherine St, is the place you go to if you are looking for authentic cuban cuisine.  Some of our favorites are the cuban sandwich and the homemade salsas.  Make sure you wash your food down with their Sangria as it has a reputation for being one of the best around.
Paseo  – Located at 1000 Eaton Street, this Caribbean cafe will not disappoint.  This is a much more laid back kind of place that serves amazing Carribean/Jamaican dishes.  I would recommend getting either the Carribean chicken bowl, Caribbean Roast sandwich, and the Fire Roasted corn.  Menu #1:   | Menu #2
Better than Sex – This local eatery on 926 Simonton Street prides themselves on quality drinks and desserts and they have every right to.  I recommend the Peanut Butter Perversion, Cookie Nookie Pie, and Red Velvet cheesecake.  Although they have about 10 other desserts, these are the ones I have had over the years.  Ideal for a bachelor party that is looking for dessert after their main course.  Menu
Where To Stay
Best Bachelor Party Hotels / Resorts in Key West:
Marriot Beachside – this is about a 10 minutes taxi ride to Duval street but definitely worth it.  This newer resort has great amenities, comfortable beds, and very nice rooms.  You can also ask for the 3-bedroom master suite for your bachelor party.  Rooms during season run about $150 – $200 per night and more for the 2-3 bedroom suites.
Hyatt Key West Resort and Spa – the rooms are a little pricier here but worth the extra dough.  This hotel is literally on the water and only a block or two from all the action.  This is a nicer and cleaner establishment than your college dorm room, so you will not get away with as much as you would in a motel or rental house.
Best Houses to Rent for Bachelor Parties in Key West, Florida:
10-bedroom Real World House Key West – If you have a large group attending your bachelor party, this has to be your top choice for a rental house.  This house has everything you could possibly need for throwing the most insane after party.
When To Go
Regardless of when you head to the Florida Keys, make sure you get travel insurance, and protect your investment.
Best time for Bachelor Party to Travel to Key West, Florida (no budget restrictions):
Oct through April = Weather is always nice in Key West, but it tends to be busier during the winter months when it becomes colder around the U.S.
Best time for Bachelor Party to Travel to Key West, Florida (budget restrictions):
May through September are much hotter months so tourism tends to be down as are prices for hotels and airlines.
Current Weather:
What Else
Items to Purchase for your Bachelor Party in Key West:
Big Events in Key West Florida:
Fantasy Fest – October 20 – October 29, 2017.  This is a huge costume party where everything goes.  Yes, this means you may see 65 year old men and women naked or with pasties.  This is a great time to plan your bachelor party as the streets are packed Mardi Gras style.
Key West Bachelor Party Discounts:
Who doesn't like a discount.  No, we aren't going to make you walk around with a coupon book all weekend, but some of these Key West offers may help save some funds which can be used for "other things".
For all you ride-sharing fanatics, Lyft has just announced it is launching service in Key West on March 20, 2017.  This means you will be able to hitch a ride to the airport, beach, restaurants, or even ghost tours (if you are into that weird stuff).  This service is much cheaper and more convenient than traditional taxi service.  Also, if you signup with my Lyft link, you will get $5 off your first ride (new accounts only)
If you are opting to rent a house in Key West for your blowout weekend, make sure you use Airbnb, which has tons of rentals available throughout the Florida Keys.  Also, if you use my Airbnb link, you will get $40 off your total stay (new activation only).
Forum for Key West Bachelor Party:
Still have questions about planning the weekend to the Florida Keys with the guys?  Ask any questions you have in our forums and either someone from our community or another forum member will answer your question.  If you have already traveled to Key West for your bachelor party, please post reviews, recommendations, itineraries, in our forum so other groups can read.  Help our community grow.
Why Go
Rating:
Conclusive Review: 
In conclusion, Key West for your bachelor party is a gamble (without actually gambling) and a safe bet at the same time.  Yes, that was very confusing so let's explain further.  When choosing the southernmost point, you must take your fellow visitors into consideration.  A majority of the tourists that come to Key West are hipsters and stoners, which means a lot of loose skin and dreadlocks.  Yes, there are some hot chicks but it's like finding a needle in a haystack .  The best you are going to find is at the strip clubs.  However, if you gamble and win you can get a weekend where a lot of the tourists are good looking (it does happen).  As for a safe bet, you can't really have a bad time in Key West or get into a lot of trouble, as everyone is drunk all the time.