Boston Bachelorette Party (2019 Planning Guide)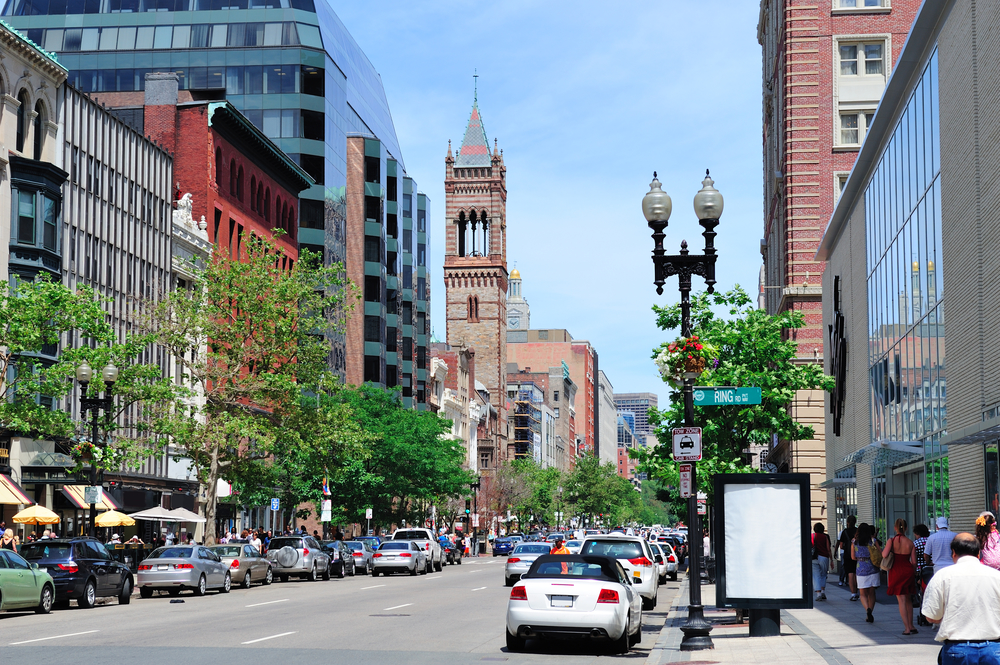 This post may contains references to products from one or more of our advertisers. We may receive compensation when you click on links to those products or services.
For the uninitiated, Boston, Massachusetts may not seem like a prime party spot.  However, if you have ever been to Boston then you know it is one of the country's best places, not only for people who like to party, but for people seeking just about any type of experience.  The city is one of the nation's hidden gems for tourism.  It has gorgeous sights to see, is full of history, has some of the nation's best bars, and is known for its varied approach to culture.  Combine these together and Boston becomes a great place for a once-in-a-lifetime bachelorette party, whether you are traveling to Boston or a lifelong native.
Boston is popular with tourists, which means that it has a lot of tourist-friendly activities that are easily adapted to a bachelorette party vibe.  These activities happen day and night, and there is plenty to do year-round, even though Boston is known for its brutal winter weather.  Of course, summer is the best time to plan a Boston bachelorette; the mild temperatures and gorgeous summer weather make it a fantastic destination, especially for people looking to escape brutal weather in other parts of the country.
How to Get There
Boston is located in the northeast section of the United States.  While it is an easy road trip for folks in the rest of Massachusetts or nearby New Hampshire, Vermont, Connecticut, or Rhode Island, it is not generally a road trip destination for most of the rest of the U.S.   Fortunately, Boston has an international airport with flights from all over the country on several different airlines.
Airport
Boston's Airport is General Edward Lawrence Logan Airport (airport code: BOS), which is usually referred to as Logan Airport.  The Airport code for Logan is BOS.  It is about 20 minutes by car and 45 minutes by subway from Logan to Downtown, where many people choose to stay for bachelorette parties.  If you are not renting a car, we suggest that you plan on booking a limo or van to take you from the airport to your hotel.  JB Livery offers limos and luxury vans for your convenience.  Boston has both Lyft and Uber, and we have a referral code that might make your first ride free!
When booking flights to Boston, make sure you check out priceline.com as they always seem to have the most affordable fares.
Getting Around Boston
Like most cities in the northeast, Boston has fantastic public transportation.  The Massachusetts Bay Transportation Authority operates subway lines, bus routes, commuter rail lines, and ferries in and around the Boston area.
If you have a big group and like the freedom of having your own car, you can always rent a car.  Enterprise has a rental at the airport, as do most of the other national car rental chains.  Car rentals might be a good idea for people who are not used to cities with great public transportation.
If you know that you will need to be somewhere at a specific time, you can also schedule car rides using a livery service like JB Livery or book a limo or party bus.
Things to Do
Boston is chock full of tourist attractions and things to do.  A truly historic city, Boston played a pivotal role in the American Revolution.  With a city so rich in history, it should come as no surprise that some of the top hot spots in the city are historic attractions.  However, while the city may be rich in history, it boasts tons of modern day attractions, offering something to please every tourist.
Daytime Activity Ideas
Daytime activity idea for Boston are extremely dependent upon the time of year for your visit.  While Boston has fabulous weather from late spring through early fall, if you plan any outdoor activities during Boston's long winter, you will certainly want to bundle up!
Although not unique to the Boston area, a spa day is always a great activity for a bachelorette party.  We love the idea of a full-service spa like Bella Sante Day Spa.  Whether you want facials, massages, eyebrows, or other custom spa services, Bella Sante can meet your needs.
Pole dancing lessons remains a popular bachelorette activity.  We love the idea because it gives a sexy, naughty twist to a bachelorette party without getting dirty.  Gypsy Rose Exotic Fitness offers great pole dancing lessons and can customize a bachelorette party for you.  Why do we love them more than some other Boston area pole dancing places?  Because they have props to help you feel sexy and get in the right mind set.
Boston's Freedom Trail is probably the city's most popular daytime tourist attraction.  Whether you follow it on your own or join up with a tour group, this 2.5-mile red brick trail winds through the city from Boston Common to Bunker Hill.  You can find great rates for guided tours on Groupon.
The wonderful weather makes Boston a great place for physical activities.  That is why you might want to consider a bike tour through the area; it is a great way to see the city, get some exercise, and enjoy gorgeous weather.
Boston is a sports town, known, not just for its great teams, but also for its over-the-top fans.  Head to Fenway Park to check out a Red Sox game or TD Garden to see the Celtics or the Bruins.
Bachelorette scavenger hunts are a ton of fun, and in a historic city like Boston, they can be really challenging.  While this Amazing Scavenger Hunt Adventure uses the whole city as a gameboard and takes about three hours to complete, you can also DIY a scavenger hunt or have one custom-created for your bachelorette.
The swan boats are one of the most famous Boston daytime activities.  A paddle boat decorated with a large swan, these inexpensive rides offer a tour of the Public Garden Lagoons.
View all other Activities in Boston
Nightlife Activity Ideas
Perhaps because it has to provide entertainment for so many local colleges and universities, Boston has a thriving nightlife scene.  In addition to some great bars and dance clubs, Boston also has some unique entertainment options that truly cannot be found anywhere else.
If you are from the southwest part of the U.S., then you might be a little wary of heading to any activity labeled a donkey show.  However, The Donkey Show does not refer to any of the XXX shows you might see just south of the border, but instead to one of the most interesting and entertaining live theater shows you can see anywhere in the United States.  It is difficult to describe it to the uninitiated.  At its hearts, the show is a retelling of the Shakespearean classic A Midsummer Night's Dream.  However, it also adds a dash of 70s disco, roller skating, and mirror balls.
Although not as well-known for comedy as New York or Chicago, Boston has a surprisingly vibrant stand-up comedy community.  Not sure what you want to see?  Well, if you are in town on a Friday night, head over to Laugh Boston and see their Dirty Disney show.
Heading out to the clubs?  Boston has some wonderful dance clubs, but if you are unfamiliar with Boston's dance scene, you need to know that the bean town party scene starts earlier than it would in other locations and that the clubs really do shut down around 2 am.
Venu Nightclub– Are you a fan of old-school hip-hop and a classic stylish lounge atmosphere?  Then Venu Nightclub is the place to be.  Just make sure and get to Venu early, because the lines get very long as the night goes on.
Estate Ultra Bar is extremely popular and is a great place to party.  You can choose the relative ease of bottle service or you can just flow through the club; it has plenty of bars so you will never be without a drink.  Need a temporary break from the chaos of the dance floor?  Retire to one of the lounges to get recharged.
Bars
Cheers- Probably Boston's most famous bar, the real-life setting for the TV show Cheers was once known as the Bull & Finch pub.  It has since been renamed to Cheers and is a must-see for most pop culture buffs.  Because of its iconic status, we put it on the bar list, but we actually think visiting this bar is just as well suited for daytime as it is for nighttime.  A great place for pictures and to have a drink, it is not where you will be doing the bulk of your bachelorette partying. 
If you are going to visit any bars in Boston, you really need to stop by the Bell in Hand Tavern.  Is it a great bar?  Depends on your definition of great.  It is the oldest bar in America, which means they are doing something right.  Very much still a tavern, the Bell in Hand is known for two things- fantastic beer (or ale) and great tavern-style food.
Faneuil Hall is not really a bar, but it does play host to some of the city's favorite bars and smaller clubs.  This busy shopping district/ marketplace has a number of popular restaurants and drinking spots, making it a great place to have a few drinks.
Male Reviews/ Male Strip Clubs
Boston is unusual for a smaller city, because it offers multiple male reviews for your bachelorette party entertainment.
Men in Motion is not Boston-based, but this traveling Magic Mike style male review frequently comes to the Boston area.
National chain Hunk-O-Mania, which is known for its high quality entertainers and its bachelorette party packages has a Boston location.  However, shows are only on Friday and Saturday nights, so plan your entertainment accordingly.
Where to Eat
Boston may not be one of the country's best known foodie cities, but it does have a great food scene.  A city on a harbor, you can expect to find very seafood-intensive menus and some of the country's freshest catches.
Breakfast / Lunch / Brunch
While Juliet actually serves all meals, it is a great place for breakfast/brunch/lunch.  Our favorite brunch item is the Gruyere omelet.  While their food is amaze-balls, we actually put Juliet on this list because of its concept as a restaurant.  Have you ever been to a restaurant in the United States where tipping was prohibited, the staff all made a living wage, and the entire restaurant is housed in a room so that dining becomes an experience.  It is a great place for dinner, too, and the prix fixe dinner menu means you can pay for it ahead of time.
Henrietta's Table in Harvard Square has a well-established reputation as one of Boston's best breakfast spots.  Everyone loves their waffles for a breakfast or brunch treat, but we are actually a fan of their lunches, especially the cornmeal-crusted monkfish sandwich.
Blunch is not quite a brunch place, and it is not exactly a lunch place, either.  Instead, think of a delicious breakfast in a sandwich.  It is a tasty place for breakfast or lunch, but, as the name implies, not exactly brunch.  The food is a bit more straightforward than you would expect at a brunch place and you are not encouraged to linger like you would at most brunches.  This is not a bad thing; the service is fast enough that you can have a great meal without spending hours there, and the food is absolutely delicious.  Our favorites?  We like the onion bagel with sausage, hot peppers, roasted red peppers, mozzarella, and a spicy aioli, but you can build your favorite.  Order one of their desserts, as well.  The best part?  Even if you have a drink or two and dessert, you will probably spend less than $20 on your whole meal!
Flour Bakery and Café is the place to go for a decadent breakfast experience, but it is also what we recommend if you want to have a delicious breakfast delivered to your door.  Their sweets are a very upscale take on the traditional breakfast pastry; think cinnamon cream brioche, sweet and savory scones, and hand shaped croissants.  Not in the mood for something sweet?  Try the mortadella sandwich.  This is a great place to go if you have any vegans or vegetarians in the group; they offer a good variety even for people with restricted diets.
Dinner
Bootleg Special is not your typical bachelorette dinner experience.  Instead of a complex menu in a fussy setting, it is a seafood boil in a rustic setting.  However, do not let this keep you away.  You get to custom build your boil, so you can get exactly what you want. We like shrimp and lobster with a moonshine sauce.
The Oceanaire Restaurant is one of our favorite seafood restaurants in a city full of great seafood restaurants.  Our favorite is the Seared New Bedford Sea Scallops.  Not a seafood fan?  No problem; you will also love the blue cheese crusted prime strip.
If you are a Boston native, then you have probably heard the buzz about Blossom Bar.  Although it is called a bar and has some amazing cocktails, both on and off the menu, its food is amazing. They offer Sichuan food updated for the modern palate.  We suggest the dan dan noodles.
No Name Seafood Restaurant is about as frilly as you would expect from its name. Do not let the lack of frills scare you away; this restaurant is one of the best seafood places in New England.  What to eat there?  Lobster, of course.  We also love the fried clams, and the Boston Cream Pie.
Where to Stay
Boston has been a popular destination for travelers since before the United States became the United States.  It has some great places to stay, and plenty of variety, whether you are looking for a period B&B, a luxurious resort, or a home rental.
Hotels and Resorts
What do we love about staying in a hotel?  The maid service.  The concierge service.  The pampering.  While home rentals are becoming an increasingly popular way to travel, it is hard to deny the appeal of a great hotel.
The Revere Hotel in Boston Common has everything you could want in a Boston hotel: history, great rooms, and amazing customer service.  The rooms are large and well-appointed, and the location makes it easy to get to many Boston attractions.
The Godfrey Hotel Boston is an extremely upscale urban hotel in the heart of Boston.  It is so plush that Conde Nast named it one of the best new urban hotels of 2017.
Boston is not really known for its resorts, though there are plenty of them nearby out in the cape area, which is the area of Massachusetts that extends, like a peninsula, into the water, and on islands like Martha's Vineyard and Nantucket.  For a resort-like experience in the city, you can try the Westin Boston Waterfront.  This hotel, with its three restaurants, health club, and swimming pool has a resort-like feel, though it does not have a spa or golf club.
Rental Houses
Boston is a very old city, at least by American standards, with a ton of history.  What this means is that it can be really cool to find a home to stay in while you are in Boston.  A home rental gives you a great common space for hanging out, tends to be less expensive, per person, than a hotel room, and gives you opportunities to save money by cooking meals at the house, and custom plan, like if you want to hire a dancer to come entertain your bachelorette party.  Fortunately, with services like AirBnB, VRBO, and Homeaway, finding a vacation rental is easier than ever.  Right now, you can even use our link to get $40.00 off your first AirBnB reservation.
AirBnB
This beachfront home has plenty of beds and even has its own bar.  Prior guests rave about its cleanliness, location, and the ease of the check-in process.
This Fenway Park area condo has nine beds, so it can accommodate even large groups.  The location makes it easy to get to many local attractions.
View all Rental Homes in Boston on Airbnb.com
VRBO
Part of the appeal of going to Boston is the history, which is why we love this historic home.  Renovated with modern conveniences, it allows you to enjoy the history of the area without giving up anything you have come to expect from modern living!
This Victorian might be one of the most charming rentals in all of Boston.  It has gorgeous flower beds, a great outdoor space, and a beautiful spiral staircase, all lending it very period-appropriate charm!
View all Rental Homes in Boston on VRBO.com
Homeaway
Are you a fan of the arts?  Then this Arthouse rental is just the thing for your bachelorette getaway.  The house is in a great location and full of amenities, but what makes it stand out from the crowd is its rotating collection of works by local artists.
Looking for beach access without losing convenient access to the city?  This beach access condo is located just 5 minutes from Blue Line Station, which can take you straight into the city.
View all Rental Homes in Boston on Homeaway.com
When to Go
Best Time
The best time to visit Boston is late spring through early fall, like June through October.  The weather is amazing and the scenery is gorgeous during this time of year.  While high tourist season is summer, the fall in New England is amazingly gorgeous.
On a Budget
Catching Boston a little earlier in the spring is more affordable, and watching the emerging buds and the spring green of the season can be amazing.  However, the weather may be a little less reliable than in the summer.
Worst Time
Boston's winters are absolutely brutal.  If you are not used to the weather, just getting out in the cold to travel from place-to-place can be intimidating.  However, if the cold does not intimidate you, the city looks beautiful in the snow.
Current Weather
What Else
Big Events
If you have not heard of Boston's famous St. Patrick's Day Parade, where have you been hiding all your life?  The biggest and most iconic of all of the St. Patrick's Day Parades, Boston says that everyone is Irish on St. Paddy's day.  
While it may only appeal to real athletes, the Boston Marathon, which is held every April, is the nation's oldest marathon.  How amazing to coordinate a bachelorette party around this iconic race if the bride is a marathon runner and can qualify. 
Of course, the biggest celebration in Boston is probably Harborfest, which is a multi-day July 4th celebration.  Just imagine spending the Fourth of July in the city where the American Revolution began?
What to Pack
Packing for Boston can be a little challenging, and what you pack really varies with the time of year.   Whenever you plan to visit, we highly suggest layers.  In the winter, layers are essential to keep you warm and allow you to be comfortable inside heated buildings.  In summer, the evenings and mornings can still get a little chilly, so you want some layers to make sure you are comfortable. 
Number one on our list for Boston is a cute, comfortable pair of shoes.  It is a walking city, and, while those stilettos may look cute, they probably are not practical.  We suggest something adorable, like these cute slip-on sports flats from Amazon:
Boston's weather can be changeable and might get a little moist, so we think you will want to have an easily packable and portable rain jacket:
Because Boston can be wet, you will also want to pack an umbrella.  While you may be thinking compact and lightweight, the reality of the winds that come in to Boston means you actually need a sturdy umbrella:
You may not think of Boston as a sunny destination, but you may be doing activities on the water, which means you need to think in terms of protecting your skin and your eyes. 
A great non-greasy sunscreen can keep you from getting burned:
These affordable aviator sunglasses let you buy multiple pairs, which we always suggest if you are anything like us and always losing your sunglasses:
Sample Itinerary
We are such a fan of Boston's big festivals that, to be honest, our sample itineraries would probably focus on St. Patrick's Day or Fourth of July festivities.  However, since not everyone can visit during those times, we put together an itinerary for a regular weekend in Boston.  Wake  up in your vacation rental and place your order from Flour.  By the time you are ready, you will have delicious breakfast at your home.  Head out for a tour of Boston's Freedom Trail, and, once you have worked up an appetite, head to Henrietta's Kitchen for a relaxing lunch.  Now that you are a little more familiar with Boston, spend the afternoon on a bachelorette scavenger hunt, then plan to feast on traditional New England seafood at No Name Seafood.  Make your plans early, so you can catch the early show at Hunk-O-Mania before heading over for an end-of-night drink at Bell in Hand. 
Bachelorette Party T-Shirts
Do you have to have matching t-shirts for a bachelorette party?  No.  However, they make really great, affordable favors. 
Is your group of girlfriends a little wild?  Then these funny bachelorette party t-shirts may be for you: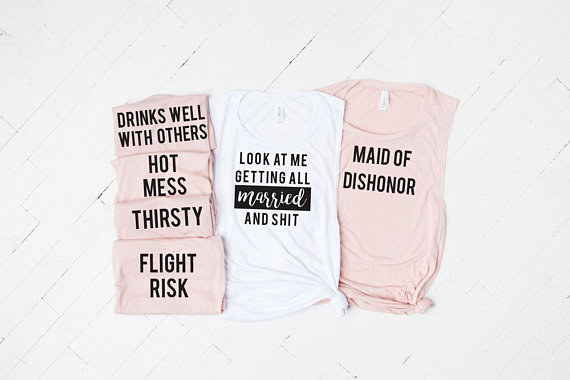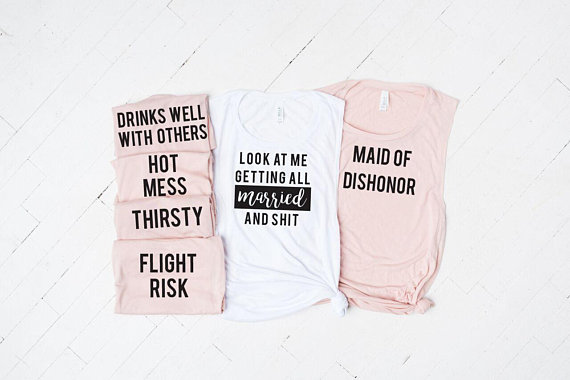 Because nobody chaperones the chaperone and brides can be a little boujee: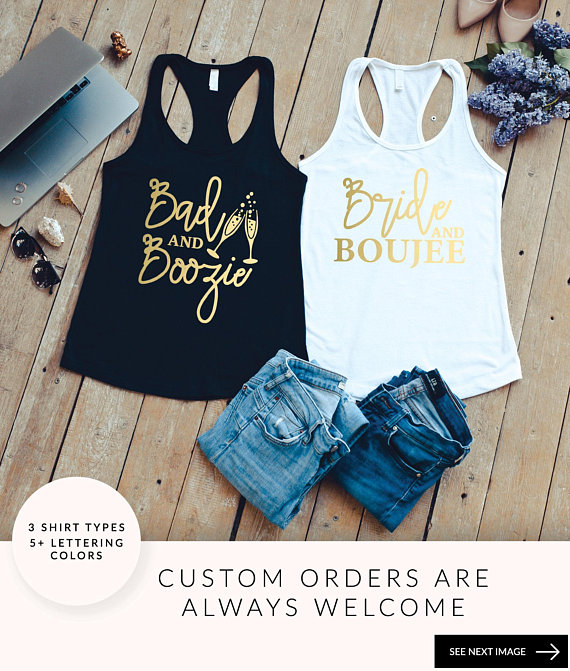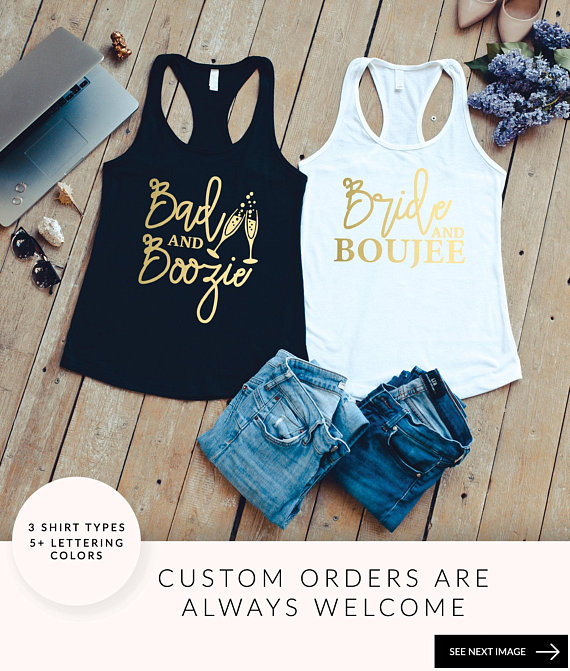 If your bride is a Harry Potter / Wizardry fan, we love these shirts: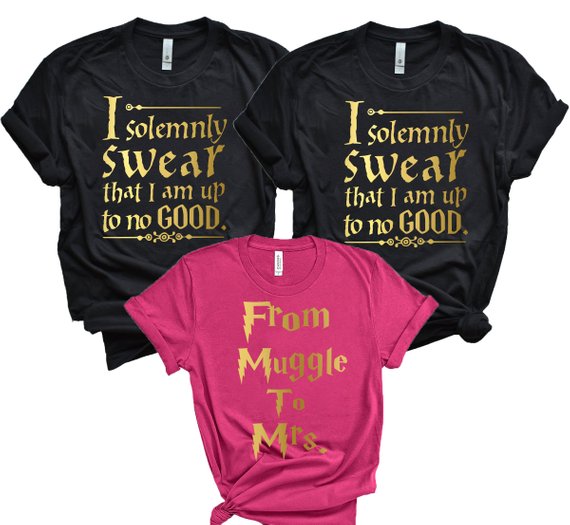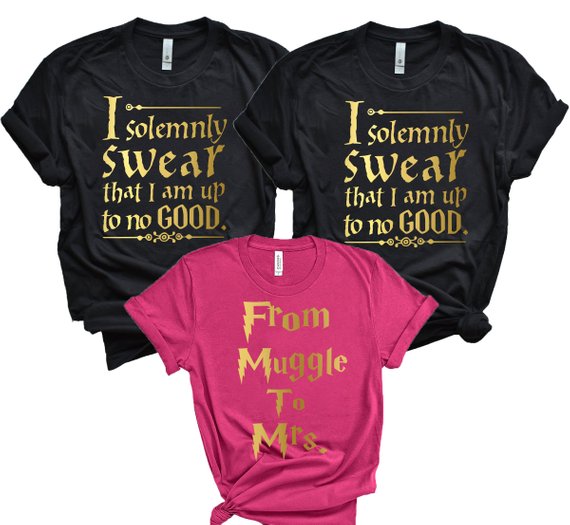 These customized shirts are perfect for a bachelorette: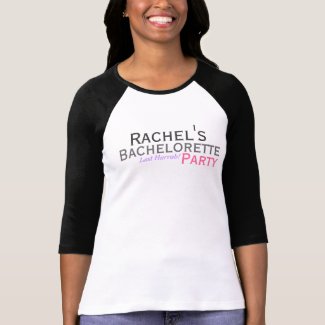 Travel Insurance
One thing we suggest for any trip is travel insurance.  Things happen.  Illness, bad weather, death in the family, or eek- a canceled wedding- can all derail a bachelorette party.  Getting travel insurance can protect your financial investment. 
Why Go
Boston is not usually the first thought people have when planning bachelorette parties.  That is a shame, because Boston might be one of the nation's best party cities.  We highly suggest heading to Boston during those parties if you are one that wants to get a little wild, but it is also fantastic for people who enjoy beauty and history.
Star Rating
While Boston is a great destination, it does not necessarily offer everything you could want for a bachelorette party.  That means that for some brides it is going to be a 2, while it will be a solid 5 stars for other brides. 
Conclusion
Boston is one of those destinations that seems to surprise people.  A lot more fun than you initially imagine, Boston can offer entertainment, history, and culture in many different ways.  It is also a surprisingly great foodie city, especially for seafood lovers.  However, because it is different than the traditional beachy or party-city bachelorette, make sure the bride is on-board for Boston before you start planning the bachelorette party!